Are you planning a vacation to Curaçao and checking out the Renaissance Wind Creek Curaçao Resort? We recently stayed here from a break from our Canadian winter and I'm excited to share this review with you!
The Renaissance Wind Creek Curaçao Resort makes for a fantastic base for exploring the historic and colourful city of Willemstad.
I hope this review of Renaissance Wind Creek Curaçao answers your questions – and makes you look forward to visiting the beautiful Dutch-Caribbean island.
This post contains affiliate links which means I earn compensation when you click on the links at absolutely no extra cost to you! Feel free to read my disclosure policy. Thank you for supporting my blog!
Plan your next vacation using these tools!

✈️ Book flights: SkyScanner
🏨 Book hotels: Booking.com
🚘Book car rentals: RentalCars.com
🎫Book tours: GetYourGuide
🌍Favourite travel item: Packing cubes
🧳Favourite travel bag: Osprey 40L Fairview
🩹 DIY Travel Medical Kit
💸 20 Cheap Travel Items Under $20
Things to know before travelling to Curaçao
Don't forget to fill out your digital immigration card! You can fill this out online up to 7 days prior to your vacation. You can show it on your mobile device or print it off to show at customs upon arrival.
The local currency is listed in NAF – Netherlands Antillean Guilder – commonly referred to as guilders. 1 guilder is the equivalent of $0.75 Canadian, or $0.56 USD.
Coming from Canada, we could not exchange our currency for NAF, but we did bring USD as it's widely accepted. Just note that if you pay in USD you may receive NAF back.
Driving is very easy in Curaçao! To experience the best of what the island has to offer, I recommend renting a car to check out all of the amazing sights, beaches, and natural attractions!
Check out some other helpful travel tips and what you should know before going to Curaçao!
Is Renaissance Wind Creek Resort Curaçao all-inclusive?
The Renaissance Wind Creek Curaçao Resort is available as an all-inclusive resort.
But after spending a week in Curaçao and travelling all throughout the island, booking this resort as all-inclusive would be doing a disservice to Curaçao.
There are so many fabulous cafes, restaurants, and bars to experience. From local markets and bakeries to upscale dining, you'll be able to try a diverse array of flavours that you won't find at Renaissance Wind Creek Curaçao.
We booked the European plan and it gave us access to all the amenities, and it's just a short distance to a variety of restaurants and dining options. For this reason, I can't review the dining options at the Renaissance. I highly encourage you to dine out!
I would highly recommend saving a few extra hundred dollars (seriously, it's a big gap) for the amazing restaurants you can find in Willemstad and around Curaçao.
Note: A buffet breakfast at the Renaissance Wind Creek is $28 USD per person – yikes! You can have a really nice breakfast at any number of adorable cafes in Willemstad surrounded by street art for much less just a few minutes away.
If you're anything like me, you're probably asking, "but what about the drinks?"
All-inclusives are definitely worth it for the drinks, but you have a few options here in Curaçao if you want to save money if you don't book Renaissance Wind Creek Curaçao as all-inclusive.
Bring alcohol with you if you're selective with your drinks! We brought two bottles of liquor from Canada with us. You can also stop at the duty free at the airport on your way out.
They have tons of different spirits and liquors we don't get at home – including some awesome Annabay Rum flavours!
There are also a number of convenience stores and supermarkets within walking distance where you can pick up beer and wine for a reasonable price.
The drinks at the hotel are very pricey – especially at the pool bar (where my brother and his wife bought two Coronas for $21 USD!).
The Five O'Clock Somewhere bar has drinks that compare to prices found in town – so there's no real difference there. We found ourselves meeting up here at the end of the night, and the staff are so much fun, too!
Once they found out it was my brother's birthday, they brought over a plate of dessert for him and sang and danced – without any extra charge! We felt like we got to know the staff there quite well that week, and we really cherished our time with them!
Renaissance Wind Creek Curaçao Resort Rooms
The rooms at Renaissance Wind Creek Curaçao are beautiful and you'll feel instantly at ease once you walk through your door. They're light and airy with lots of space. The beds are king-sized with plenty of outlets for charging devices.
You'll also notice the hooks on the wall with labeled stickers giving you ideas of what to hang there – we found that really convenient to use during the week!
The resort was recently renovated with tasteful decor and furniture, with a spacious bathroom with rainshower and handheld wand.
I absolutely loved the tile work in the shower and I'm wondering how to convince my husband to do the same at home. 😂
You'll also notice the cutest message that fades in and out on the mirror, which says "no hurries, no worries, you're on island time." This is a really sweet touch!
The balcony is quite spacious with a table and chairs – perfect for watching sunsets or enjoying a morning coffee. We were upgraded to oceanview and we were able to watch the cruise ships coming in and departing every day. It's quite fascinating to see all these massive ships pull up to port.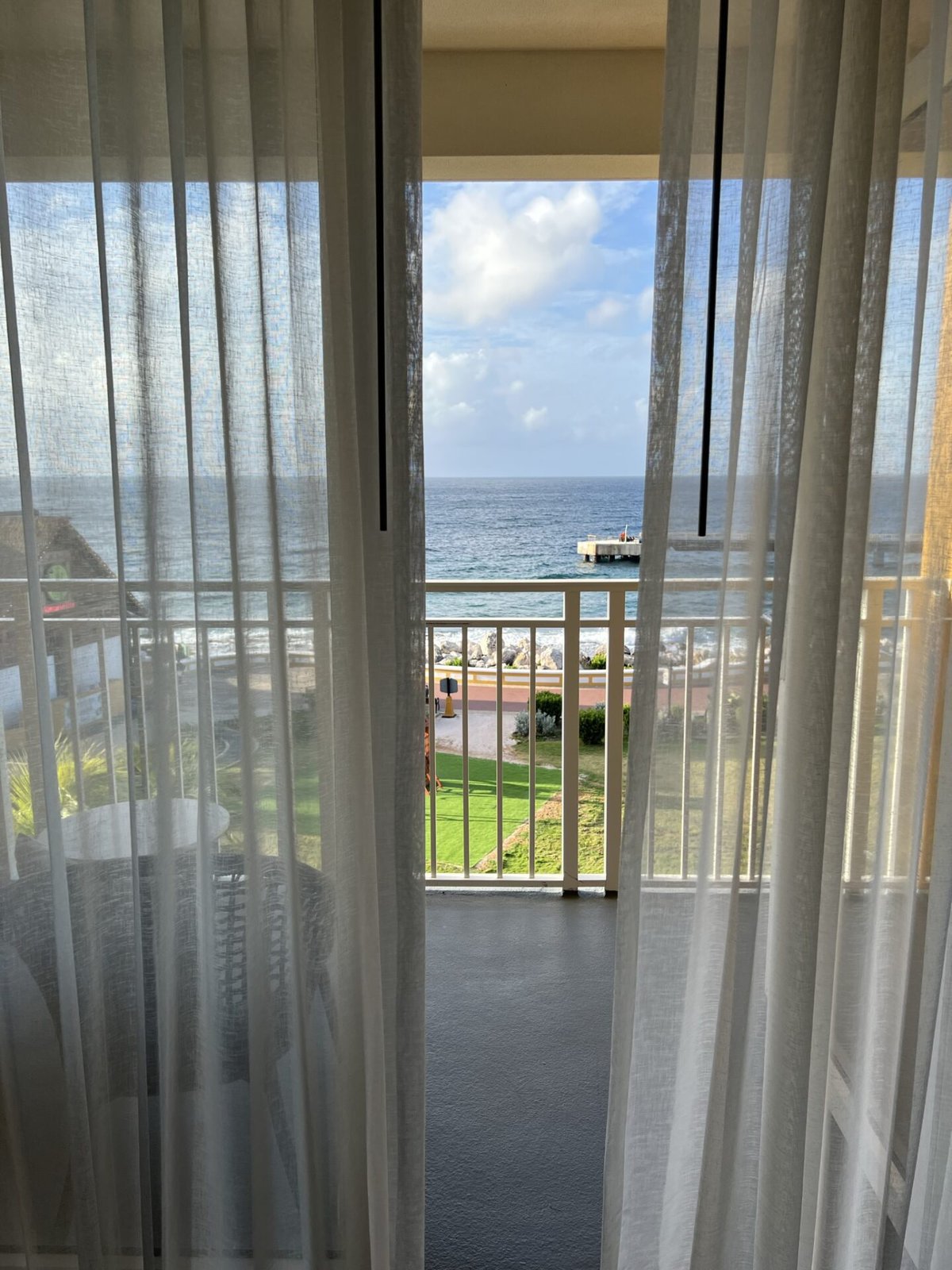 Our balcony also offered a nice midday reprieve from the sun and we often sat people watching at the cruise port on our balcony while enjoying a cocktail or two.
Note: I saw a lot of controversy prior to travelling to Curaçao that we'd need to bring an adapter from Canada. We ended up not bringing one. We didn't have any issues charging any of our devices (including iPhones, laptops, and iPads).
You'll find plush robes and slippers tucked away in the closet, with an icebox and two glasses on the top shelf, too.
Hidden away in the dresser is a mini-fridge and a safe. You'll also have a coffee maker there as well. There is a large TV mounted on the wall and various outlets to hook up electronics to to stream through the TV (if you wish).
Renaissance Wind Creek Curaçao Resort beach
The beach is the Renaissance's most unique feature.
It's located on the second floor of the resort and is man-made. It's designed as an infinity pool so it blends into the ocean behind it. What's cool about it is that it's actually a beach; there is a sandy shore and the entire pool is sand-filled.
A smaller pool is to the right of the beach if you don't want to get all sandy.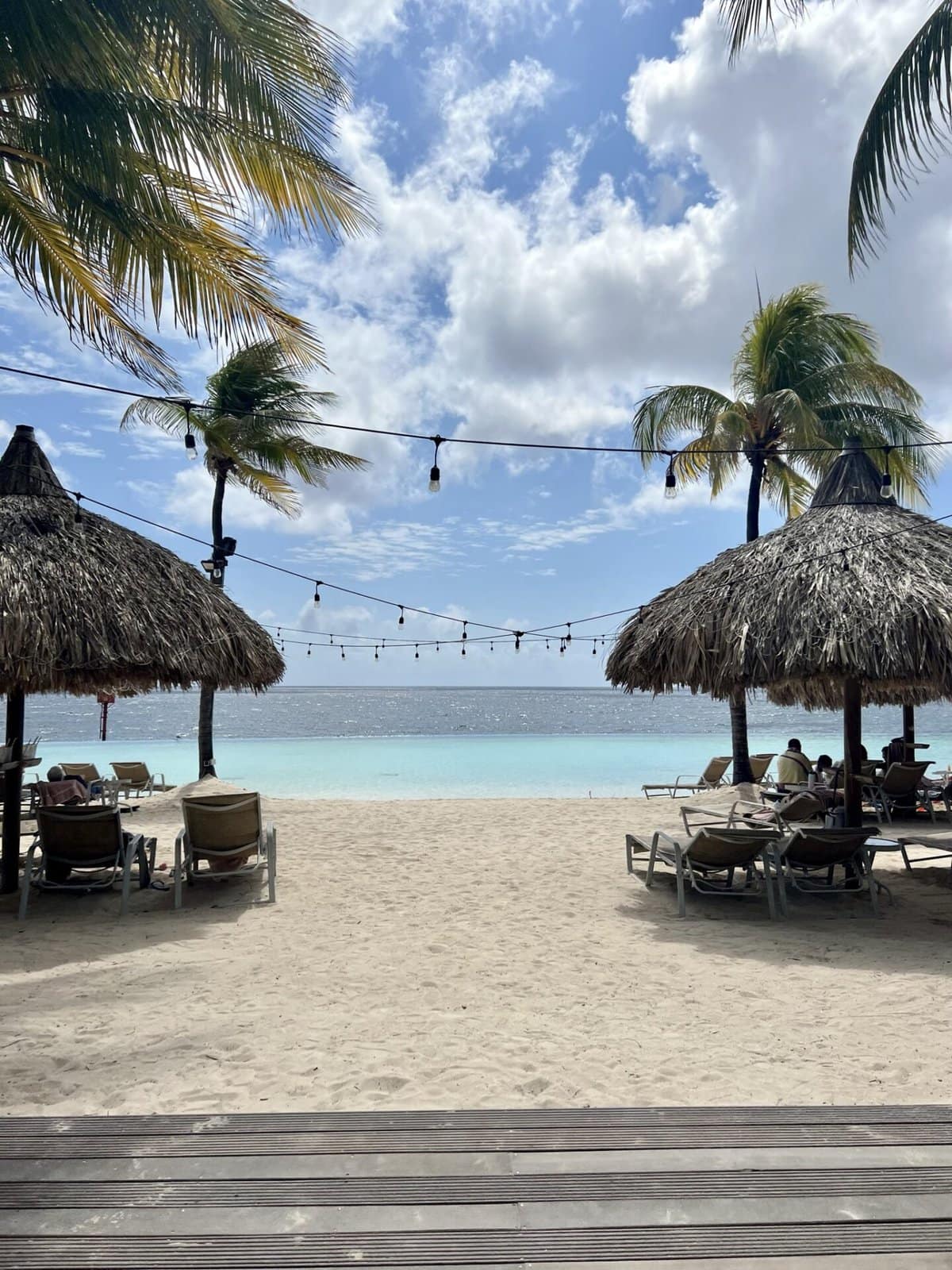 The beach pool and smaller swimming pool isn't heated, and on some days it felt warmer than others, but if you're lounging in the hot sun and need to cool off in a hurry, it instantly left us refreshed.
Beachside service is offered from the bar, or you can choose to walk over and order your drink to sit and have at the bar. There are also washrooms located down a set of stairs.
Note: We brought our own towels from home since we knew we were going to visit a few beaches, but you can pick up hotel towels upon entrance to the beach. You just need to give your room number.
Other notable features about the Renaissance Wind Creek Curaçao
Here on business? There is a Starbucks is located on the 2nd floor by the pool, with plenty of workstations. Or, if you're wanting to get some work done, there is also a large work station in the beautiful lobby of the resort.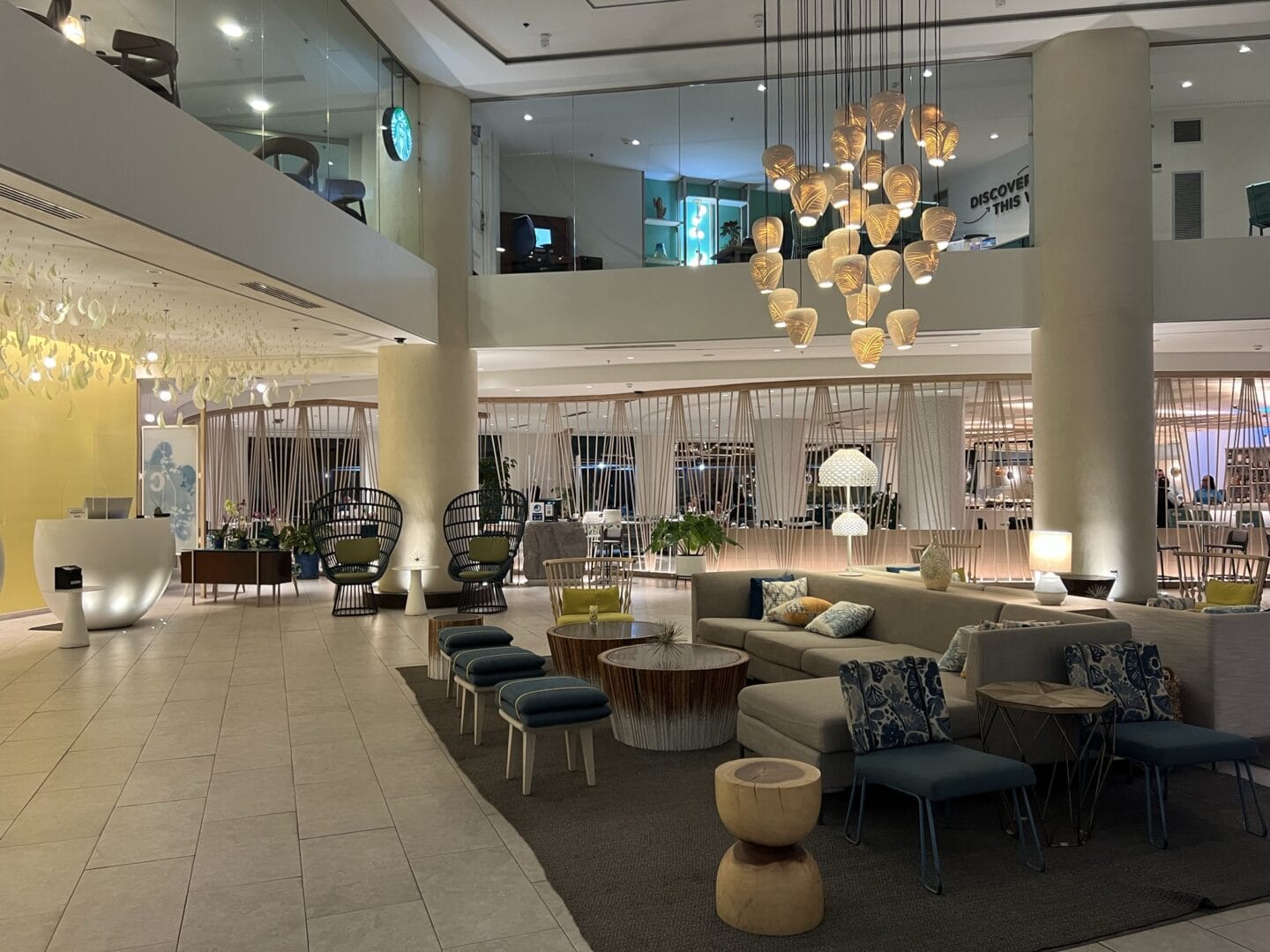 Try your luck at the casino! You'll get a free $5 USD voucher to gamble with upon check in.
Shops at Renaissance Wind Creek Curaçao
The Renaissance is located adjacent to the old Rif Fort – an old defence fort converted into shops and restaurants. It's an incredible area that should be visited on your trip to Curaçao. You can also climb up to the top and walk the perimeter of the old fort!
A large shopping complex takes up the ground floor of the hotel and the alleyway out front. You'll find a car rental shop there too, which I highly recommend renting a car in Curaçao if you want to tour around the island.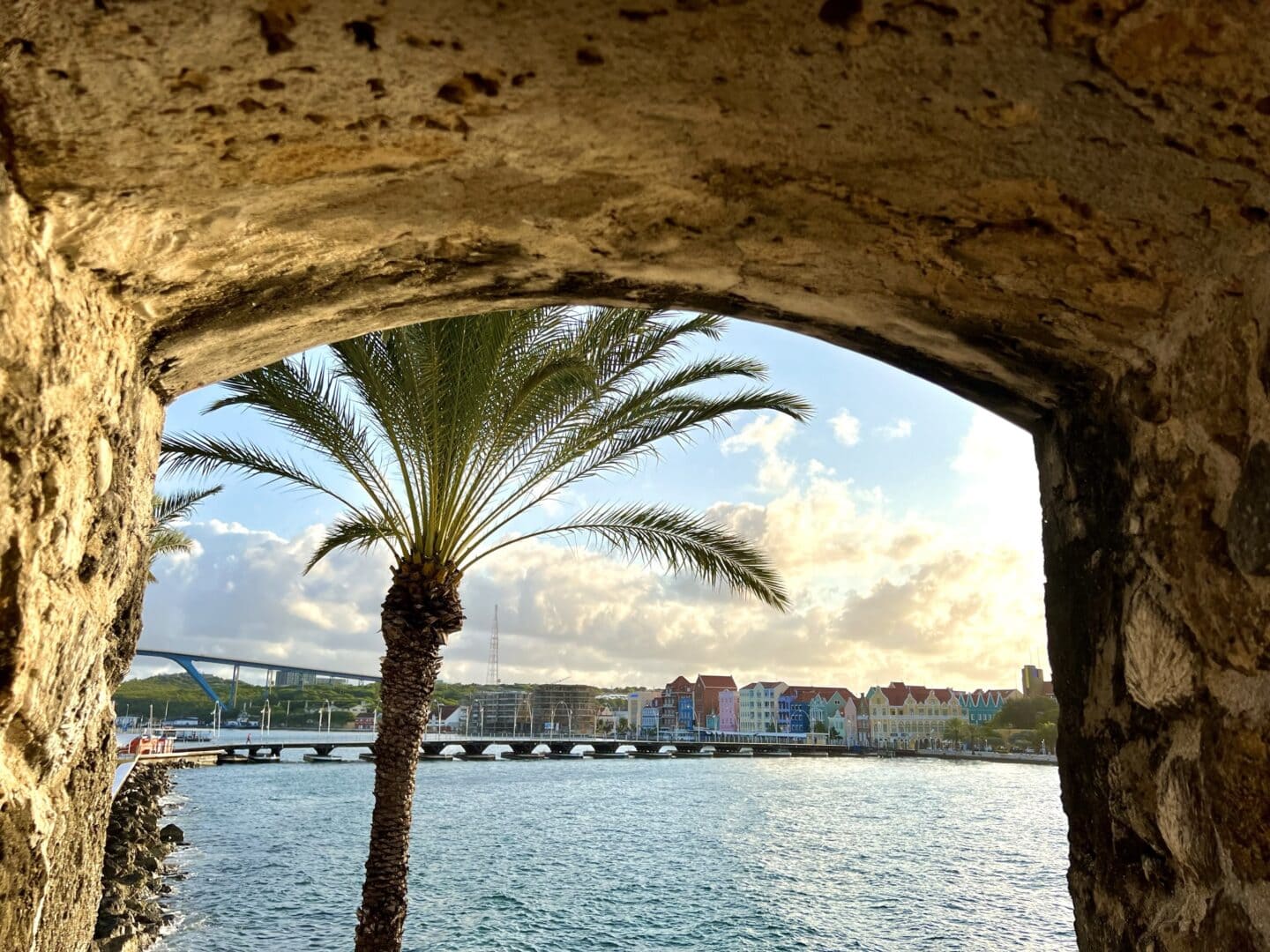 Overall impressions of the Renaissance Wind Creek Curaçao Resort
I hope this review of the Renaissance Wind Creek Curaçao provided you with some more information you were looking for!
This resort is in a fantastic location in Willemstad. Aside from AirBnBs, this is the only hotel in Willemstad located right in town. If you want to stay in the most convenient location close to shops, restaurants, historic sites, and all the amenities, this is the hotel to be at!
Related Posts
Pin it for later!