Planning a trip to Curacao and don't know where to start? Check out this guide of things to do in Willemstad!
Curacao's capital city of Willemstad absolutely has to be explored during your visit to this colourful Dutch Caribbean island.
Willemstad is a UNESCO World Heritage Site with a treasure-trove of things to do and best known for its candy-coloured architecture, multicultural districts, old military forts, incredible street art, and so much more!
Curacao is by far my favourite Caribbean island and it's a place where you truly become immersed in diverse culture and adventure.
Curacao is part of the ABC islands (Aruba, Bonaire, and Curacao) in the southern Caribbean. It's only about 40 miles from the coast of Venezuela and well known for a number of things including its beautiful beaches, history, and famous island liqueur, Blue Curaçao!
When searching for some of the best things to do in Curacao, I highly recommend spending time in Willemstad.
If you're visiting Curacao by cruise ship and only have a day or a few hours to check out Willemstad, there are a number of things to do to get the flavour of this vibrant island!
For those planning a vacation in Curacao, staying in Willemstad is a fantastic choice with endless dining options, shopping, local markets, museums, and a central access point to get to other must-see sites in Curacao.
The Otrobanda, Punda, and Pietermaai districts of Curacao's capital are colourful, rich with history and street art, and filled with culture, fun, and food.
Visiting Curacao for the first time? Here's what to know before going (plus helpful tips!)
This post contains affiliate links which means I earn compensation when you click on the links at absolutely no extra cost to you! Feel free to read my disclosure policy. Thank you for supporting my blog!
Plan your next vacation using these tools!

✈️ Book flights: SkyScanner
🏨 Book hotels: Booking.com
🚘Book car rentals: RentalCars.com
🎫Book tours: GetYourGuide
🌍Favourite travel item: Packing cubes
🧳Favourite travel bag: Osprey 40L Fairview
🩹 DIY Travel Medical Kit
💸 20 Cheap Travel Items Under $20
Best Things to do in Willemstad
Whether you just have a few hours or are spending the week in Willemstad, there are a number of things to do to occupy your time!
All of these things to do in Willemstad are within walking distance of the city centre, easily navigable from the cruise port as well as Renaissance Wind Creek Curacao Resort (where we stayed!), and any accommodations in Otrobanda, Punda, and Pietermaai.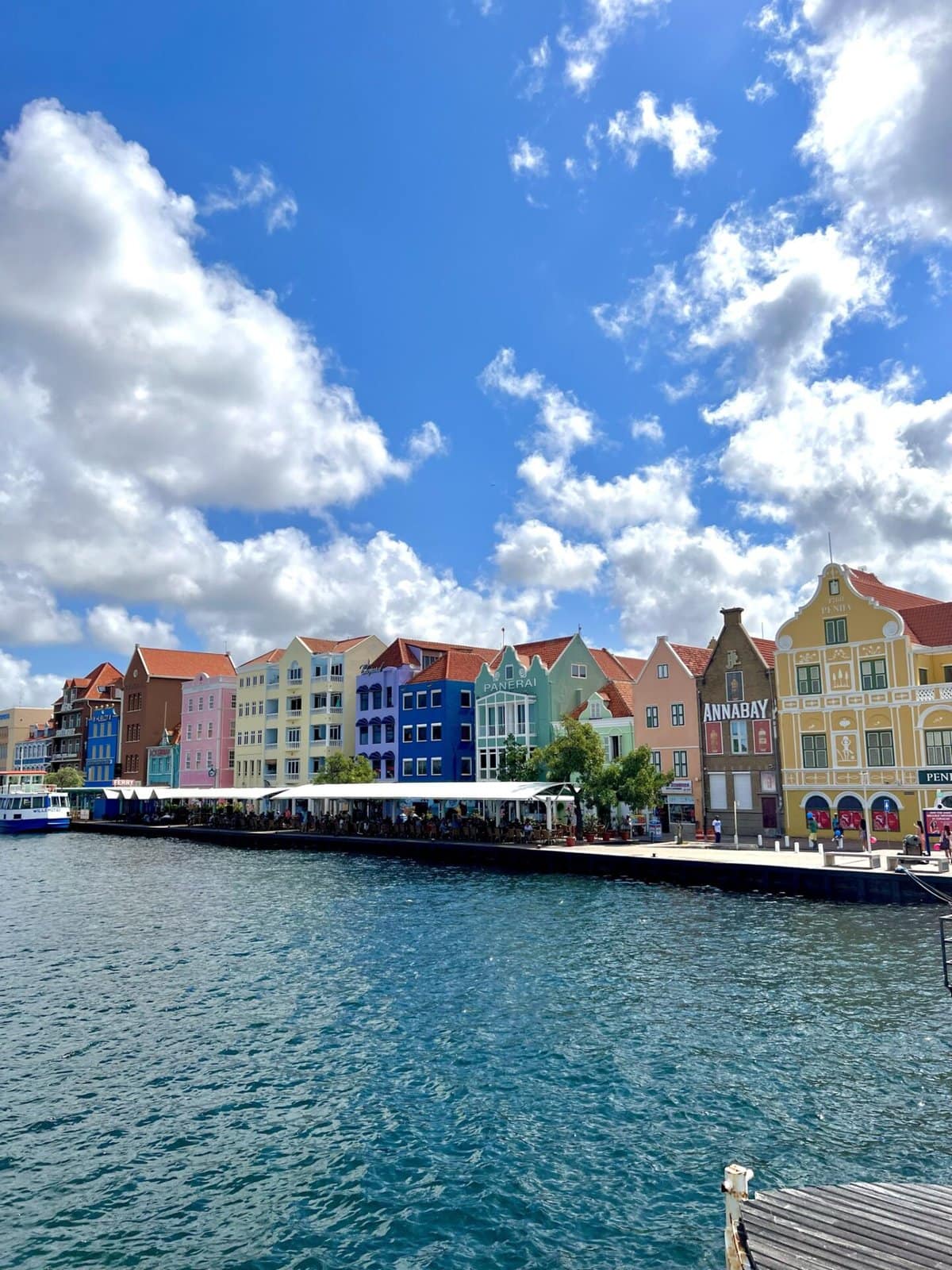 1. Go on a self guided street art tour
One of the best things to do in Willemstad is to go on a self-guided street art tour. No matter which area of Willemstad you decide to explore (they're all easily walkable!) colourful works of art will greet you at every turn.
My favourite area for viewing street art was in Otrobanda. It's not as frequented by tourists because it's not on the main drag, but to us, was the most vibrant.
Take a walk through the Kura Botanical Hotel and you'll pass by Rustiq – one of our favourite bars and restaurants, which is next to the Kura Hulanda Slave Museum.
Across the Queen Emma Bridge is the shopping district of Punda. Don't let the main shopping street fool you – turn down any alleyway and you'll be greeted with all sorts of street art and sculptures.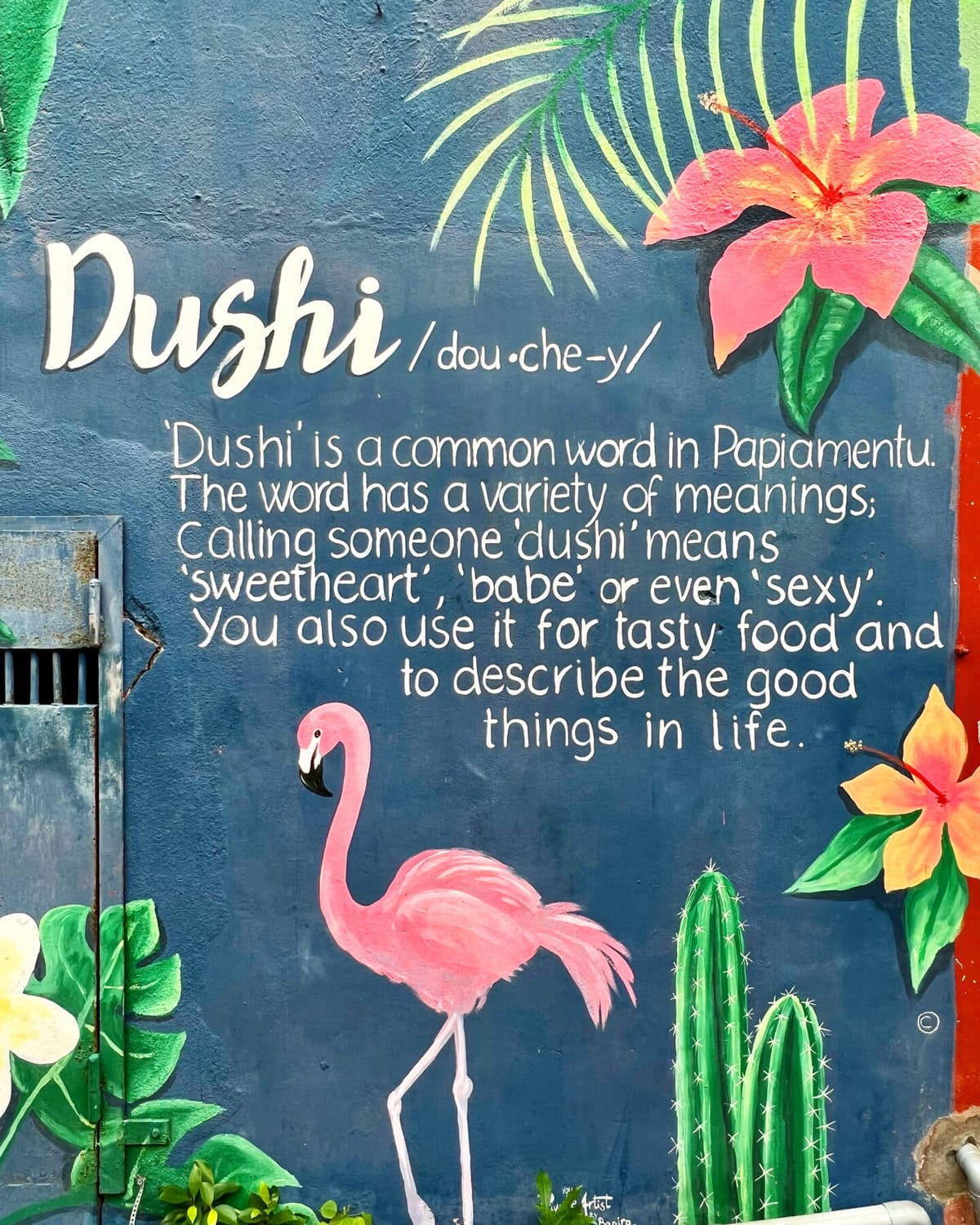 The colourful district of Pietermaai has a number of brightly coloured buildings that are a feast for the eyes and the architecture is something to marvel at.
The street art here in Willemstad is truly spectacular. You can wander aimlessly and some across all sorts of unique pieces of art.
2. Take a free walking tour of Willemstad
Depending what time your cruise ship docks at port, you can also take a free walking tour of Willemstad.
It lasts roughly 2.5 and provides a fantastic oversight of this city. The tour provides history of the island as well as takes you to some absolutely beautiful stops that are perfect for snapping photos.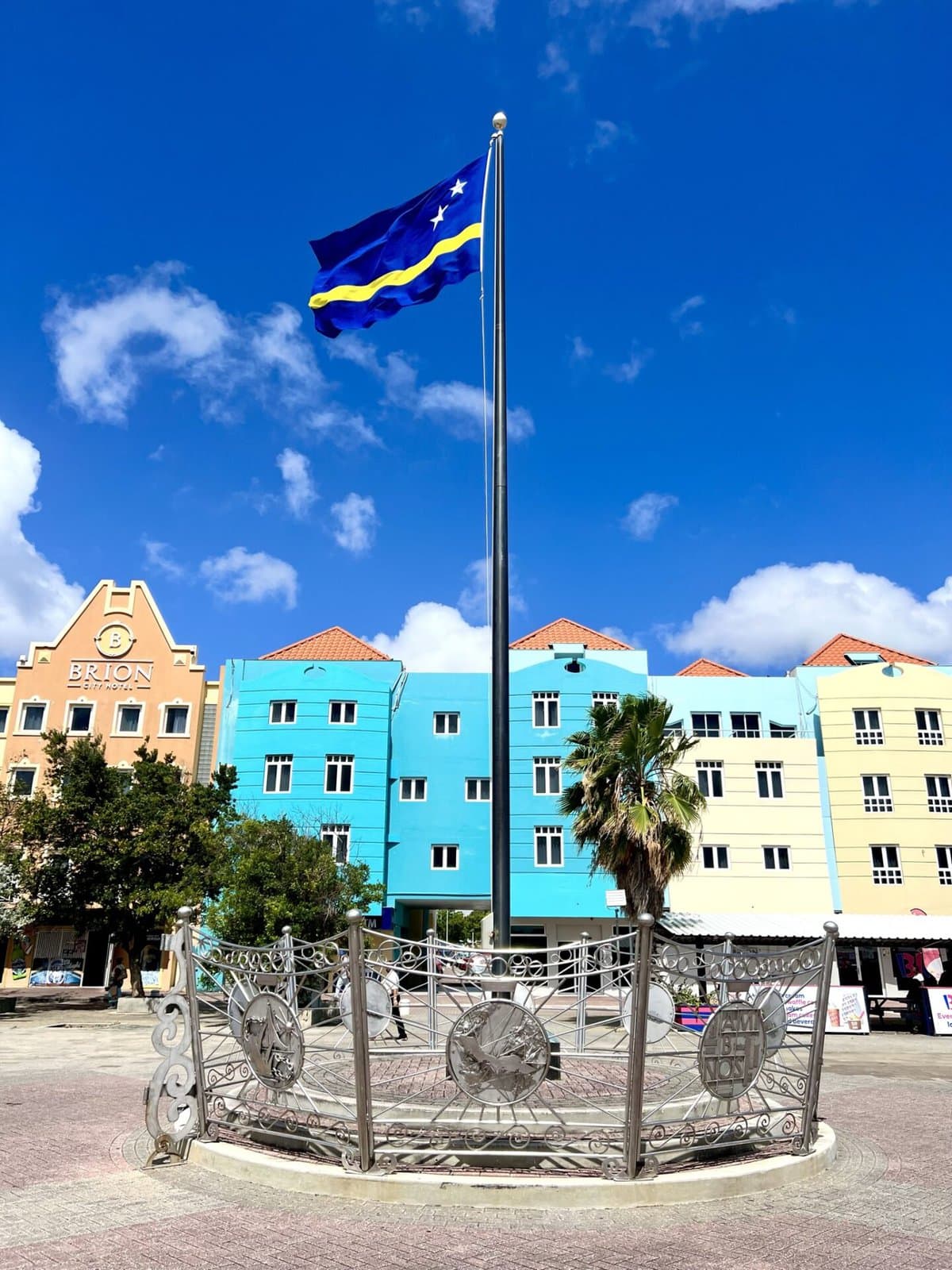 We booked our free walking tour of Willemstad with Free Walking Tours Curacao. Our guide was fantasic, funny, and provided us with so much history about Curacao. Our 2 hours flew by and we covered a lot of ground. We also saw a bunch of locations we knew we had to come back and check out some more!
While this free walking tour is actually free, the guides only get paid by tips. And truthfully, they deserve it! Tip suggestions are $10 USD – $15 USD per person. This is one of my favourite things to do in Willemstad and I recommend it to everyone visiting Curacao!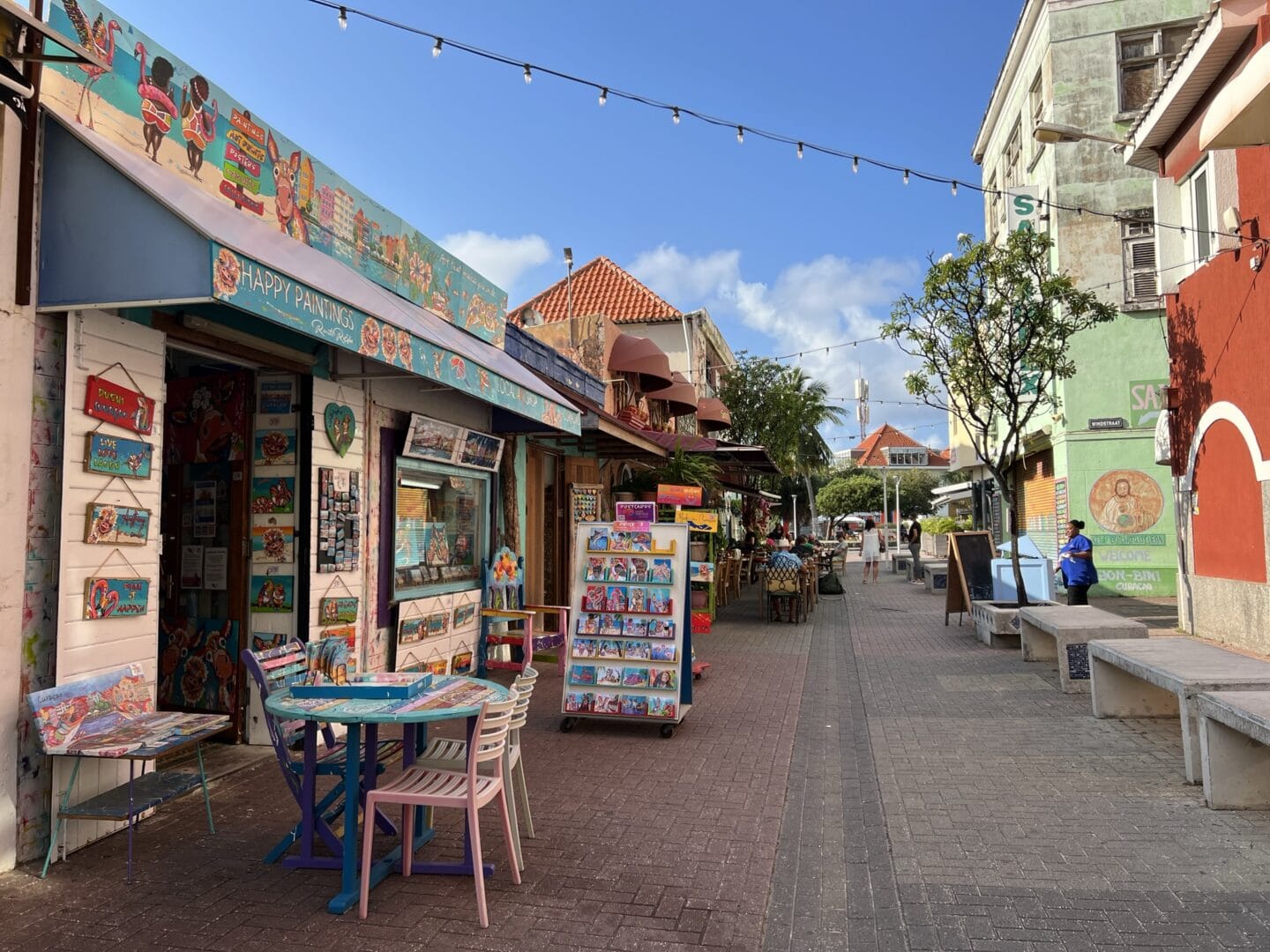 3. Walk across the Queen Emma Bridge – the Swinging Old Lady!
One of the most unique features about Willemstad is the huge floating bridge connecting Otrobanda to Punda.
Also known as the "Swinging Old Lady", this pontoon bridge is hard to miss!
When ship traffic comes through, the bridge swings open to allow for boats to pass by. Coloured flags indicate how long the bridge stays open for – and it all depends on how large the ship is that's passing through.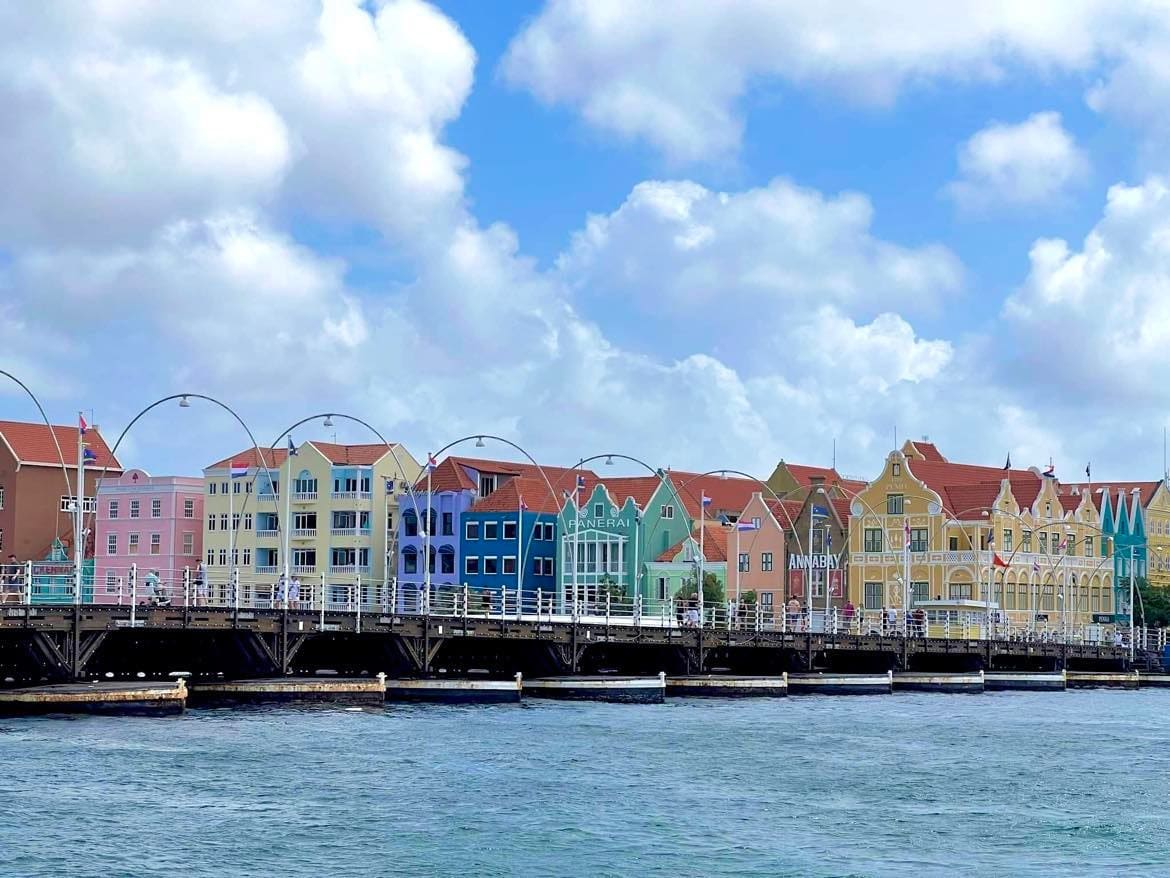 You can stay on the bridge as it opens, but just check the colour of the flag before you choose to stay on, since the bridge can be open anywhere from a few minutes to 30+ minutes!
An orange flag indicates the Queen Emma Bridge will only be open for a few minutes. A blue flag means it will be open for 30+ minutes.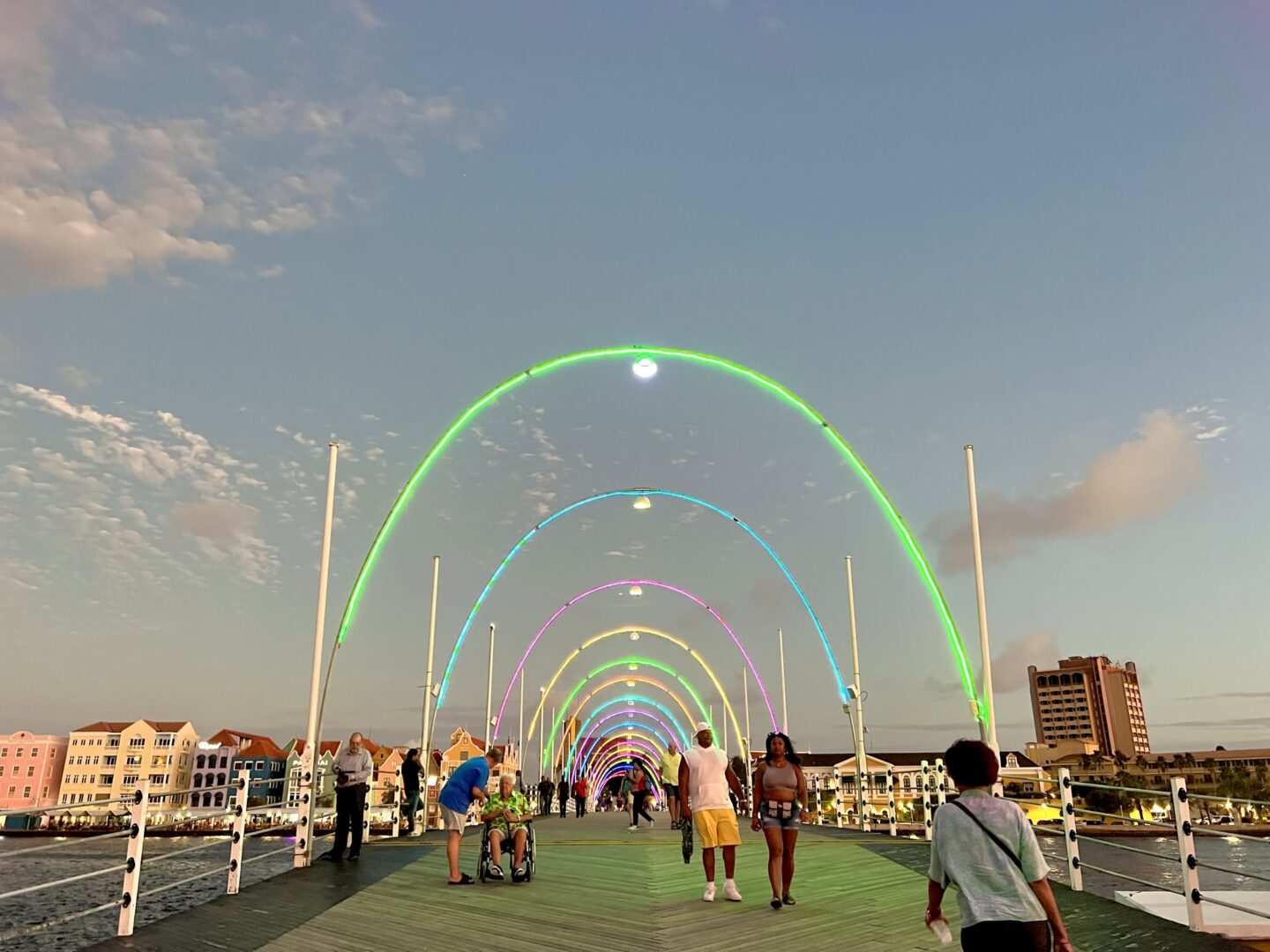 If the bridge is closed to pedestrian traffic and you can cross to either Punda or Otrobanda, you can take the ferry for free across to the other side! We did this a few times and it offered a different perspective of the opposing districts.
Don't miss your chance to catch the Queen Emma Bridge at night! It's beautiful when it's lit up. You can also dine on either side of the bridge in Punda or Otrobanda with views of the bridge. We could've sat there all day watching the ship traffic pass through!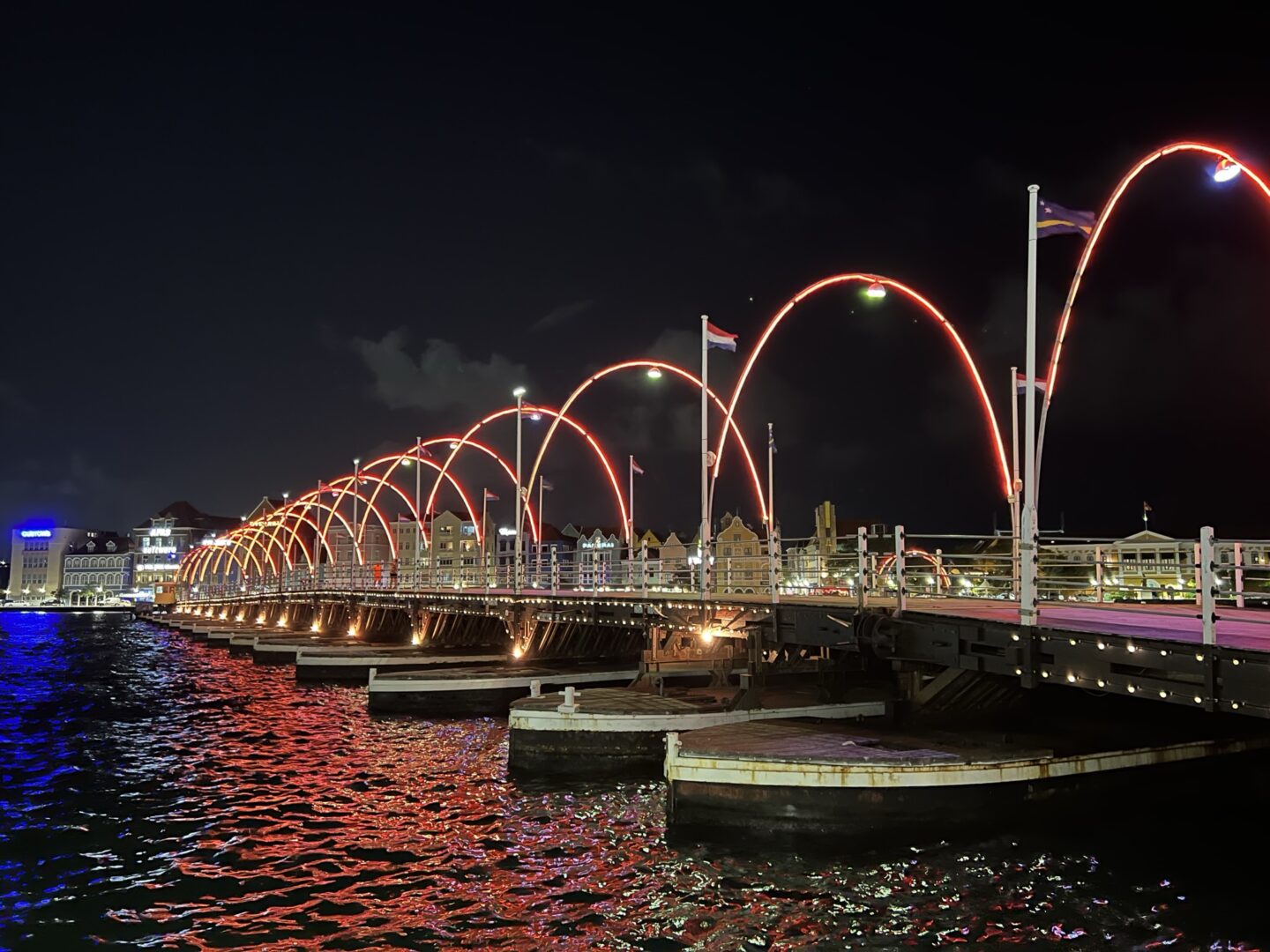 4. Eat like locals at Plasa Bieu
If you want to taste some Curacao flavours and local dishes, you absolutely have to head over to Plasa Bieu.
Now, if you're a cruise passenger, you may not decide to eat during your visit to Curacao since all your meals are included, but you should really try the local cooking at Plasa Bieu.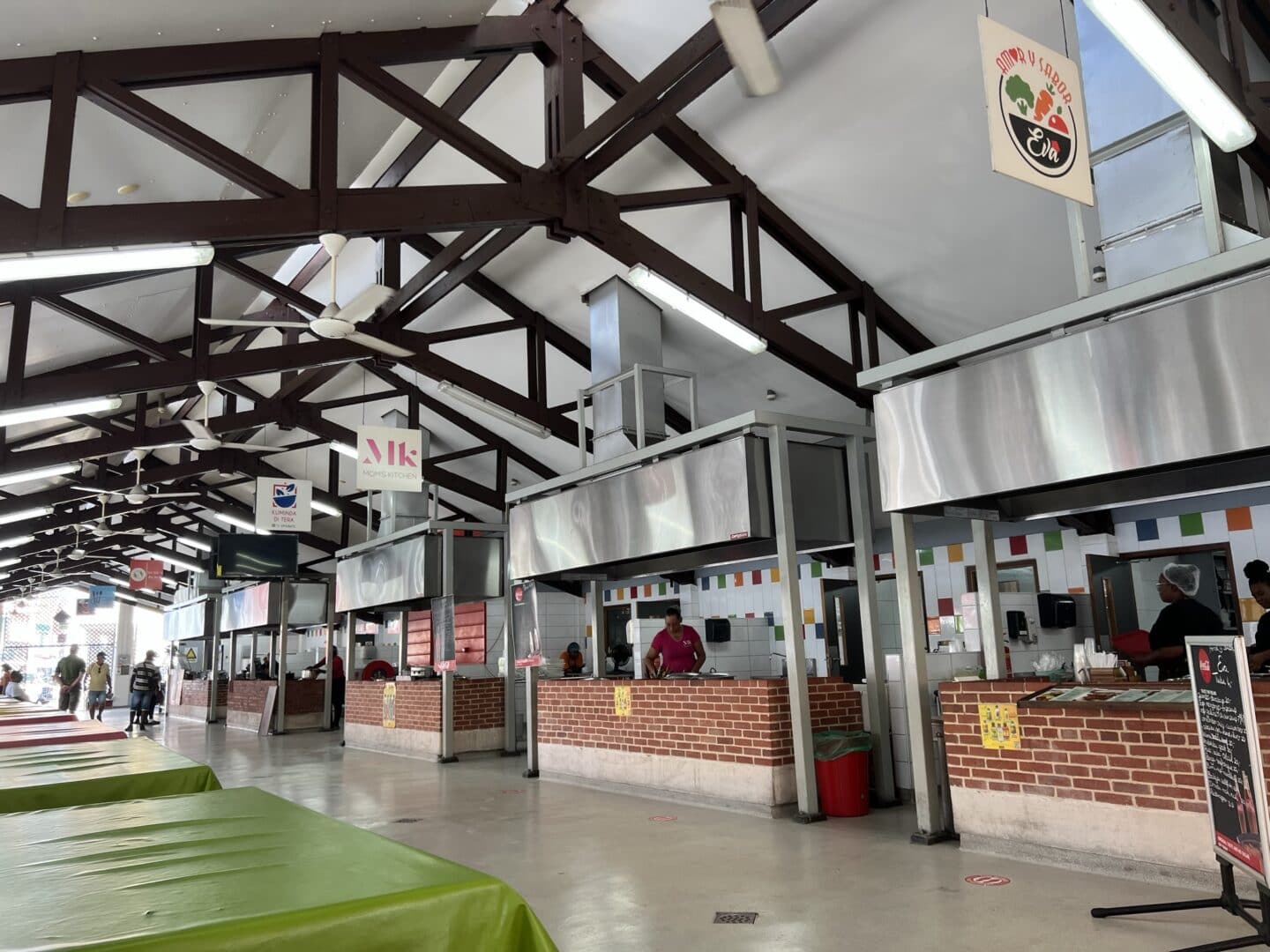 For about $11 USD you can get one of the most delicious meals you may have ever had in your life here. We really loved the curry goat, chicken, and saltfish dishes.
Meals come with a generous serving of rice and beans, salad, and plantain. You can also try pumpkin pancakes for about $1 USD. If you love food and are open to trying new flavours, Plasa Bieu is an absolute must!
Check out some other amazing places to eat in Willemstad!
5. Learn about Coral Reef Protection at Lionfish Caribbean
One of the most unique things we saw in Willemstad was Lionfish Caribbean. We were brought here on our free walking tour and learned how Lionfish – an invasive species – can damage coral reefs.
Lionfish Caribbean combines conservation, food, and art all in one. This company focuses on sustainability and uses all of the fish.
Serving dishes like lionfish dumplings, fish and chips, ceviche, and tacos, this isn't typically what you'd expect to see served on a menu.
Lionfish are very high in Omega 3s and low in mercury, making it a healthy fish to eat and a substitute for other fish like snapper and grouper that are needed to keep the reefs healthy.
We were encouraged to order Lionfish if we saw it on the menu, but we actually didn't see any during our week in Curacao!
Not only can you buy food items, you can also purchase jewellery made from lionfish scales. Bet you haven't seen that before!
Open Tuesdays – Saturdays. Store open from 9:00 am – 5:00 pm. Lunch is served between 12:00 pm and 3:00 pm.
Lionfish Caribbean is located within the Kura Hulanda Village.
6. Climb the Rif Fort
The old Rif Fort is located by the Mega Cruise Terminal and right next to the Renaissance Wind Creek Resort Curacao. If you're arriving by cruise ship, you'll be walking through 1 of 8 forts on the island!
The Rif Fort was built in 1828 to defend Willemstad's Otrobanda district.
After it stopped being used for military purposes, the Rif Fort was turned into a government building, then a police station, prison, and even a brothel before becoming Willemstad's main tourist and shopping centre!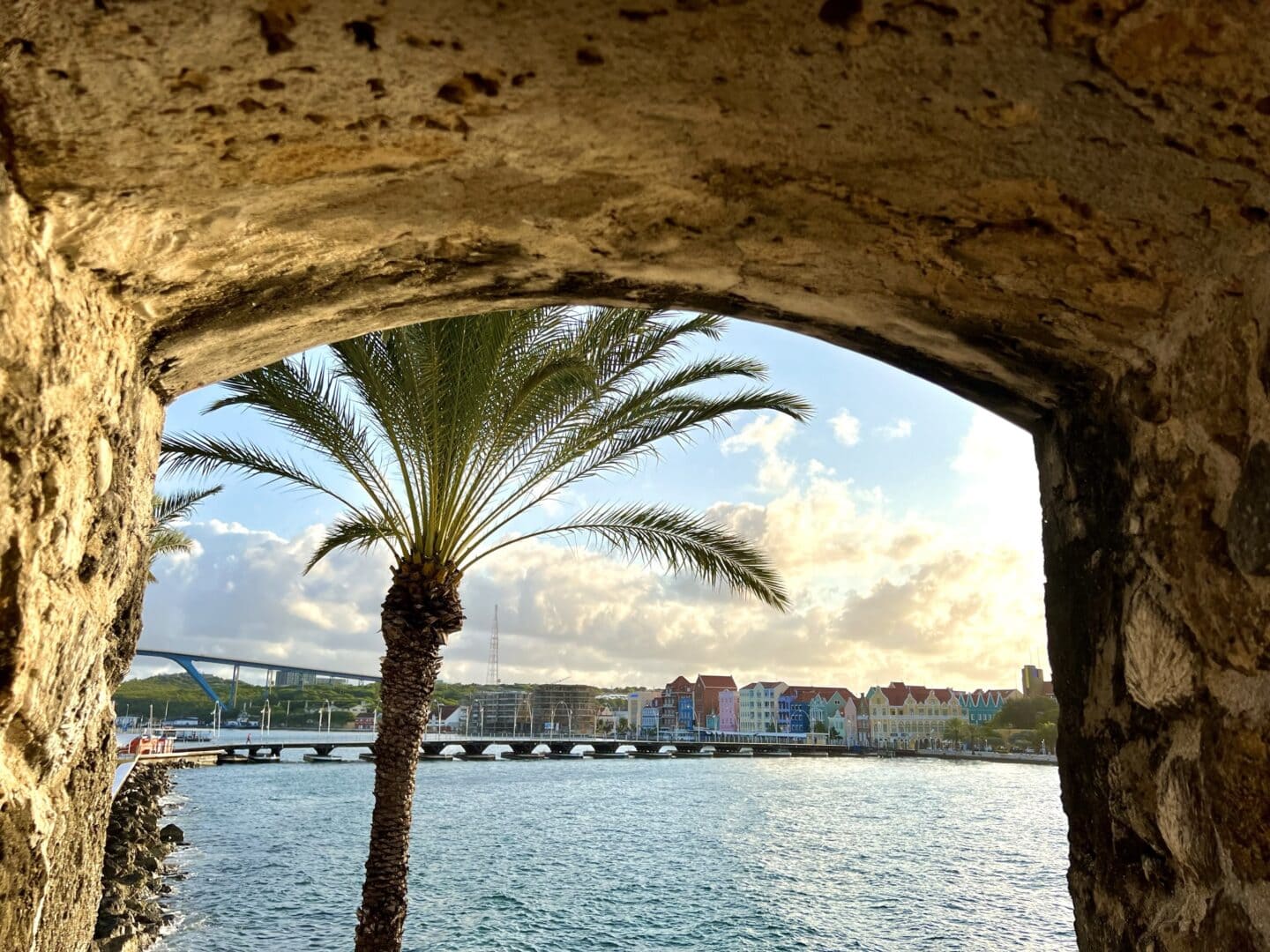 This old fort has been converted into a number of shops and restaurants, and you can also climb to the top (for free!) for views of Handelskade, Punda, Otrobanda, and St Anna Bay.
Climb the old stone staircase to the top level for beautiful views over Sint Anna Bay. There are also some restaurants located at the top level which provides an idyllic dining experience!
In Search of Sarah tip: If you're looking for souvenirs, the Rif Fort has plenty. However, they are more expensive than the market stalls located just outside the Riff Fort and before the Queen Emma Bridge. I bought a Curacao plate for $12 at the market stalls and it was priced at $20 inside the Rif Fort. Save those pennies!
7. Get a shot with the Curaçao and Dushi sign!
No trip to Curacao would be complete without snapping a photo of the CURACAO and DUSHI signs!
Located a short distance over the Queen Emma Bridge, these two vibrant signs can often be seen with a number of people around taking photos.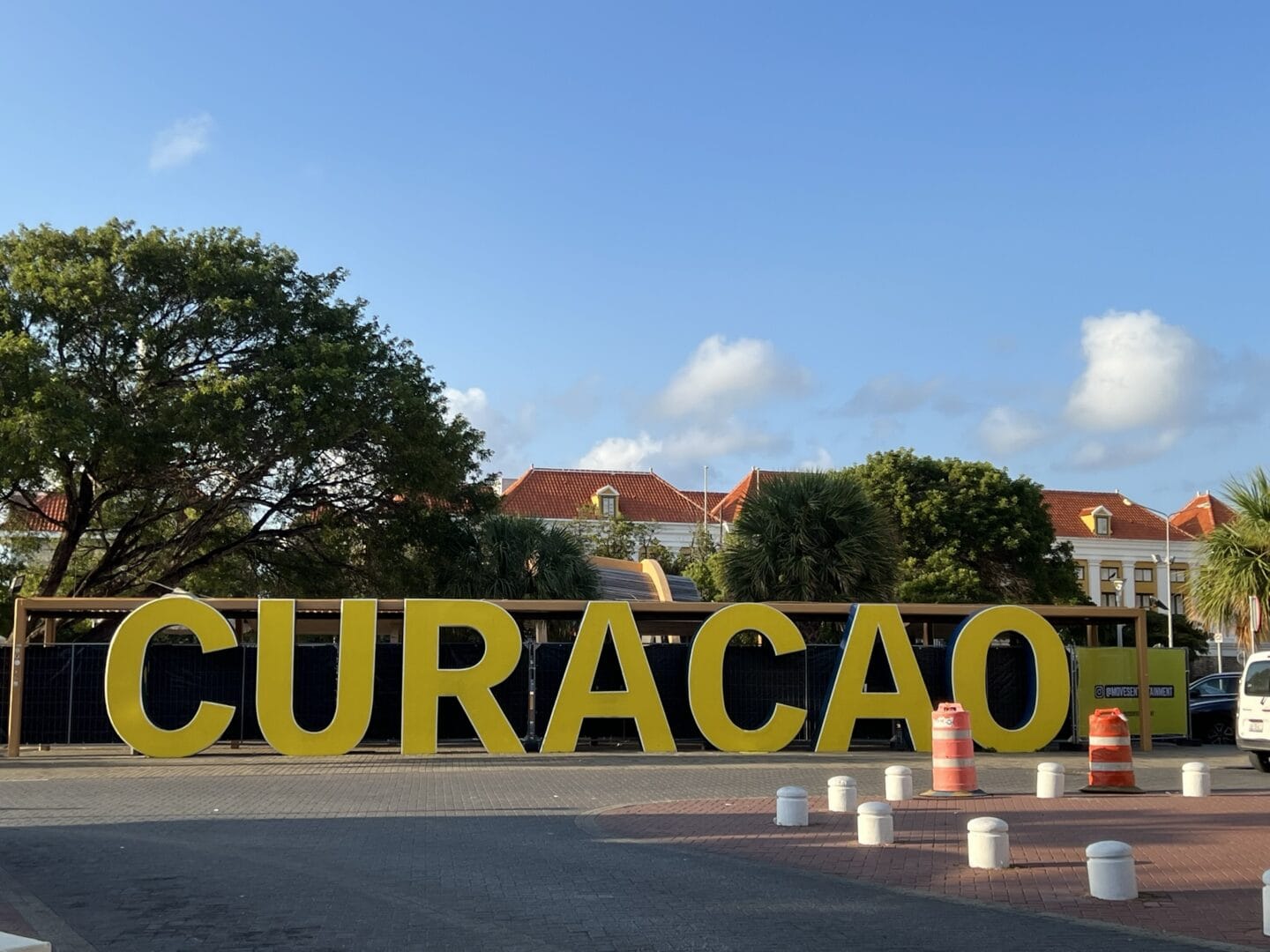 It's a fun way to capture the essence of Willemstad.
And if you're wondering what Dushi means, it means the complete opposite of what you may have grown up thinking it means.
Dushi in Papiamento (the local Creole language based principally on Spanish and Portuguese) for sweet, lovely, or sexy, and can be used to describe virtually anything that's nice. You'll see this word all over Curacao!
8. Visit a local beach
Tucked away behind the Temple Emanu-El (one of the oldest churches in Curacao!) and behind the DUSHI sign is the Marichi Pier, complete with its own beach!
It's tough to know it's there, especially with the new condo development being built, but this man made beach can be seen with locals lounging and swimming.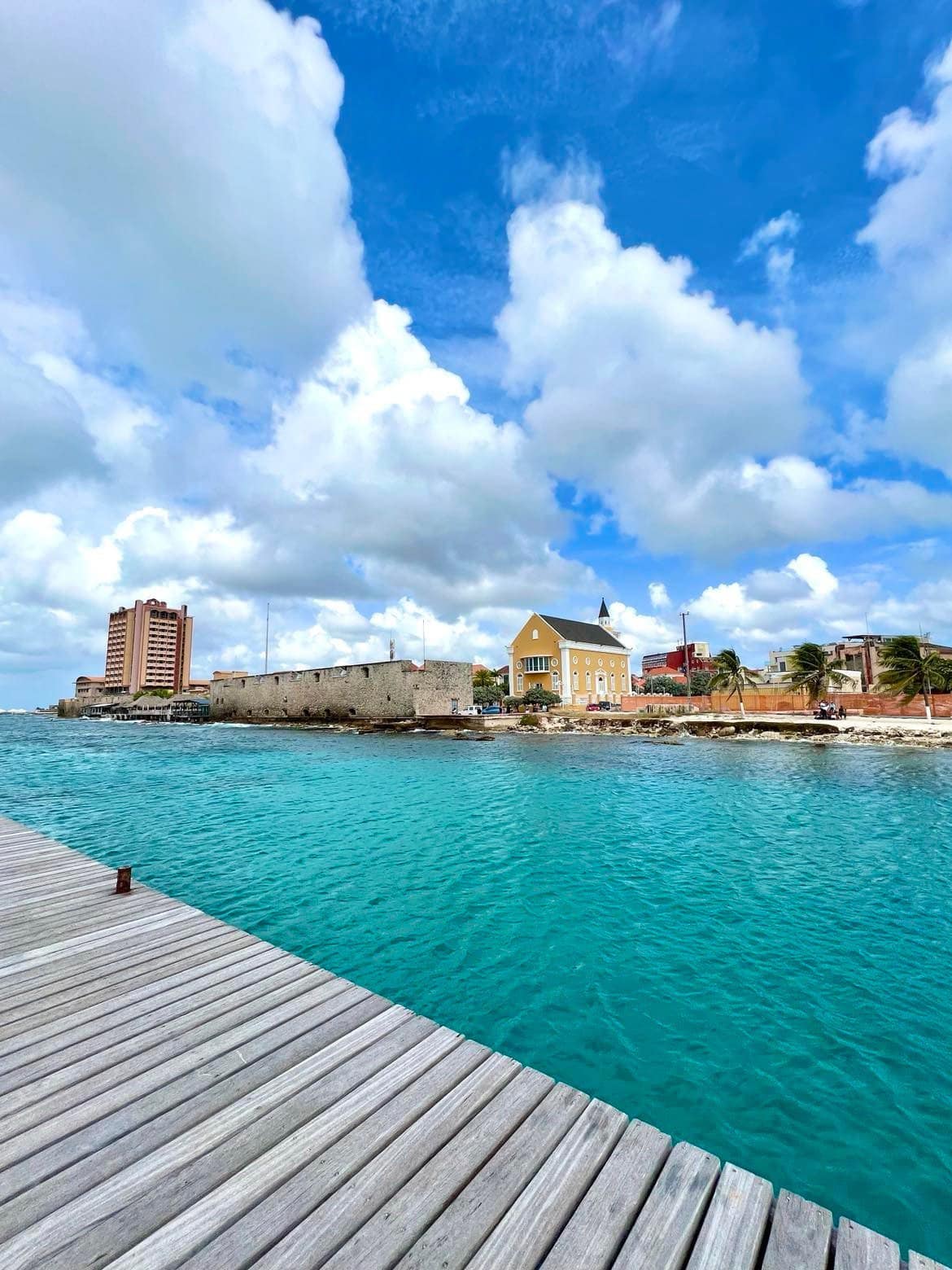 Marichi Pier offers a quick escape from the touristy spots of Punda and Pietermaai. The water is so blue and inviting and you'll often find locals enjoying a quiet reprieve on the beach or kids jumping off the pier.
Walk down the pier but hang on to your hats – it can be pretty windy!
9. Learn about the history of Curacao in Willemstad
If you need a break from the sun and want to learn some more history about the island, there are a number of museums in Willemstad that offer fascinating insight into the backstory of Curacao.
Some notable museums in Willemstad include:
Jewish Cultural Historical Museum: Offers 400 years of Jewish history in Curacao. The synagogue is the oldest synagogue in continuous use in the western hemisphere.
Maritime Museum: Without the sea, Curacao would essentially be non-existent! Its location and natural harbour made it a major commercial centre in early history. View 17th ship models and maps, some of which date back to the 1500s!

Open Tuesday – Thursday and Saturdays from 10:00 am – 3:00 pm. Also open on days when cruise ships are in port.
Admission: $10 USD/$7 USD for children under 17

Kura Hulanda Museum: Learn the history of when the Dutch once traded and transshipped enslaved Africans during the 17th-19th centuries. This museum exhibits the Trans-Altantic Slave Trade as well as the African and diverse cultural heritage that has influenced Curacao and Caribbean societies.

Open Monday – Saturday 8:00 am – 4:00 pm and Sundays 9:00 am – 2:00 pm.
Admission: $10 USD/$7 USD for children under 12
10. Lock your love on the Punda Love Hearts
Undoubtedly one of Willemstad's most unique pieces of art is the Punda Love Hearts.
This sculpture is designed for lovers to lock a padlock to it to seal their bond. First installed as a single heart in 2017 after the famous Pont des Arts bridge in France, two more have since been added because of its popularity.
The Punda Love Hearts are located across the Queen Emma Bridge on the Punda side.
Did you know: This tradition first started during WW2 when a schoolmistress and Serbian army officer wrote their names on a lock and placed it on the "Bridge of Love" in Vrnjacka Banja, Serbia.
Recap of things to do in Willemstad
Whether you're spending a day visiting Curacao from a cruise ship or are staying in the heart of this vibrant city for a vacation, there are a number of things to do in Willemstad.
Take a self-guided art tour through the streets of Otrobanda, Punda, and Pietermaai
Go on a free walking tour
Eat like locals at Plasa Bieu
Learn about coral reef conservation at Lionfish Caribbean
Climb the Rif Fort
Snap a selfie at the Curaçao and Dushi signs
Visit a local beach
Learn about the history of Curacao
Related Posts
Pin it for later!