Ever since I found out Curacao had caves, I knew we had to plan a visit to Hato Caves. This incredible cave system is a wonder for your senses.
If you have some free time to spend in Curacao and want to do something unique, Hato Cave offers an other-worldly experience. It doesn't take long to do, and it is utterly fascinating. It is a place where many parts of Curacao's history intertwine.
Here's my honest review of the Hato Cave – but first let's check out some incredible history about this unique cave in Curacao!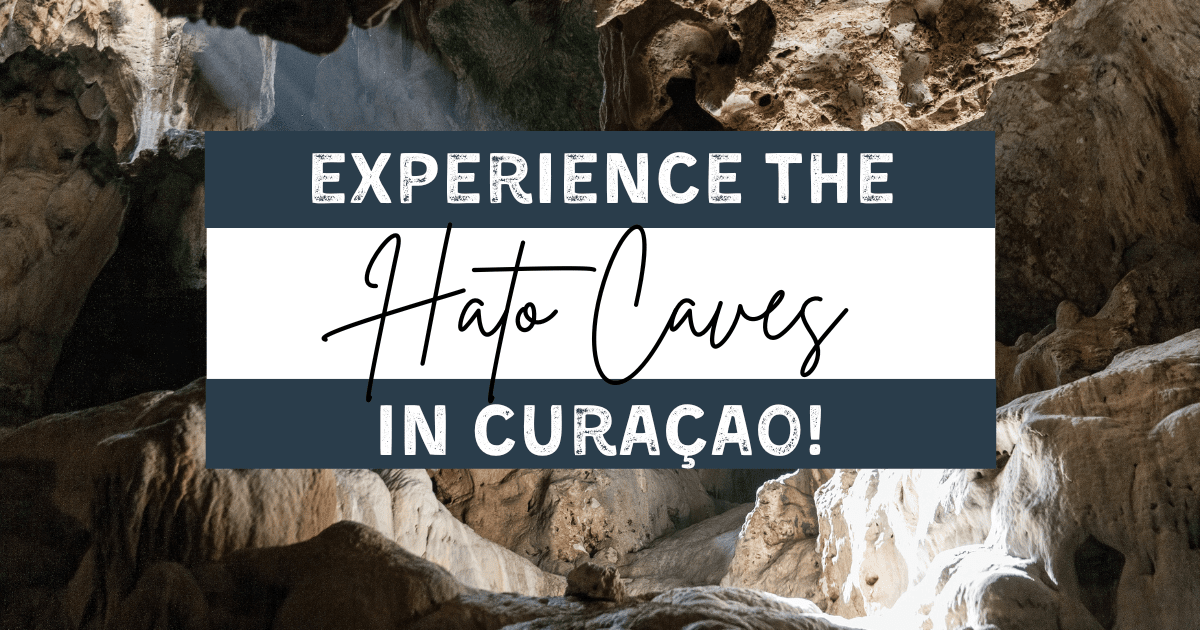 This post contains affiliate links which means I earn compensation when you click on the links at absolutely no extra cost to you! Feel free to read my disclosure policy. Thank you for supporting my blog!
Plan your next vacation using these tools!

✈️ Book flights: SkyScanner
🏨 Book hotels: Booking.com
🚘Book car rentals: RentalCars.com
🎫Book tours: GetYourGuide
🌍Favourite travel item: Packing cubes
🧳Favourite travel bag: Osprey 40L Fairview
🩹 DIY Travel Medical Kit
💸 20 Cheap Travel Items Under $20
What is the history of Hato Caves?
It's mind-boggling to know that this cave was once an underwater cave. Hato Cave is also more than 300,000 years old, and is the largest cave on the island.
Now, as a former geography major, I am obsessed with all things to do with the earth – but even for the average Joe or Jane, it really is awesome to see.
Curacao is formed in layers, called terraces. Most caves are found in the second terrace on the island, Hato Cave is found in the third. This means you have to go up to reach the entrance.
The cave is made of marine coral limestone which had accumulated over millions of years and after the sea levels dropped and were exposed to atmospheric corrosion and karst processes.
Need that in English? 😂
Basically, the cave was formed by the dissolving action of water. Pretty cool to see!
The history of Hato Cave is pretty fascinating.
Aside from the cave formation, there is a human history aspect to be learned about the caves.
The land was once part of a plantation, but the caves went undetected by the Dutch. Slaves would escape and run to the caves to hide and seek shelter, and you can see the scorch marks from their fires on the ceiling of the caves.
Up until 50 years ago, people could visit the caves and do as they wished. However, this caused damage to the caves as visitors would start breaking off fragile stalactite and stalagmite formations.
The government stepped in and it's now a protected area. The only way to see Hato Cave is by guided tour, which is included in your ticket price!
Review of Hato Cave
We arrived by car from our early morning hike at Mount Christoffel. It's an easy drive (and honestly everything is an easy drive in Curacao!) and is located right by the airport.
We pulled in and saw two huge coach busses parked beside them, until an attendant came to us and told us we could park inside the gate.
There is a small gravel parking lot where we parked. I assume most visitors arrive by coach bus from the cruise port, because the parking lot was pretty empty.
You'll be directed over to the ticket office to purchase your tour tickets. Entrance to the caves is only by guided tour. There is a clock indicating when the next tour starts (and you'll also be told by a guide standing near the ticket office).
P.s. Tours are provided in English, Dutch, and Spanish.
We arrived 20 minutes prior to the next tour which was great timing. There are washroom facilities and a bar to grab a cool drink while you wait, or after the tour.
You'll notice some large trees with signs on them stating they're poisonous and not to touch them!
Once the tour begins, you'll hand over your ticket stub to have the entrance portion torn off, and will be guided down one side of a line. From there, you're welcome to the caves and are told a bit about the tour.
The guided tour at Hato Cave lasts approximately 45 minutes.
There are 49 steep steps going to the cave entrance. Unfortunately, this makes the cave inaccessible to anyone with mobility issues, however, there isn't really a way around that. But I thought I'd mention that there are stairs leading up to the cave.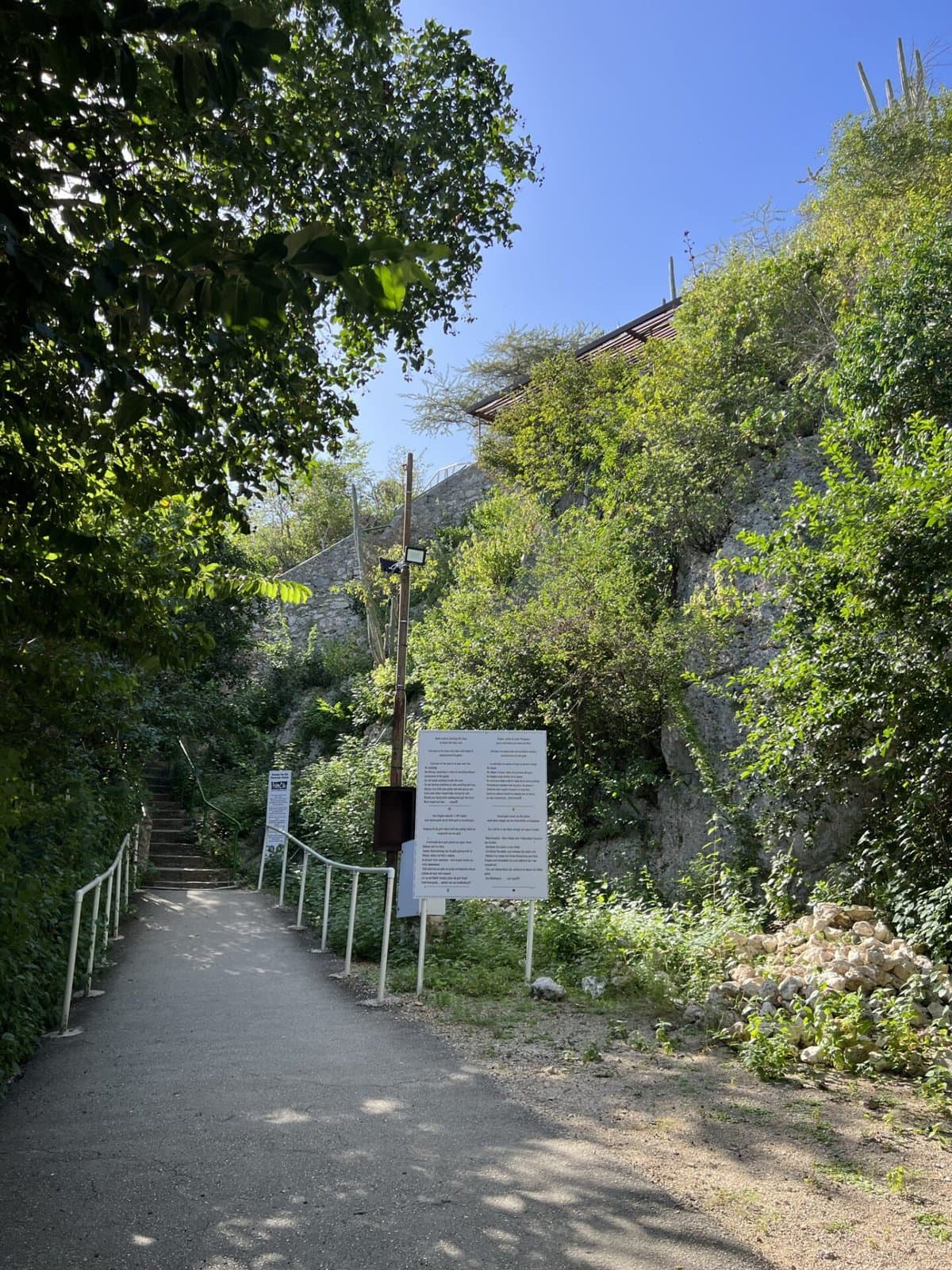 Note: You cannot take photos inside the caves except for one room. You will be told when you are able to take photos. I found this a bit disappointing, but it allowed me to enjoy the tour that much more!
Once inside, you'll pull over to one side and will be told about the fascinating stalactite and stalagmite formations. There is plenty of lighting to see what you're looking at, as well as fans to keep the air circulating (and to keep you cool!).
The cave system is made up of limestone, and when the water makes its way through the soft stone, it drips down and brings some limestone with it.
Throughout the centuries, rain water carried these minerals down to form stalactites and stalagmites within the cave. Since Curacao receives very little rainfall, these grow at a rate of 1 cm every 100 years – completely awe-inspiring when you look at the massive limestone columns!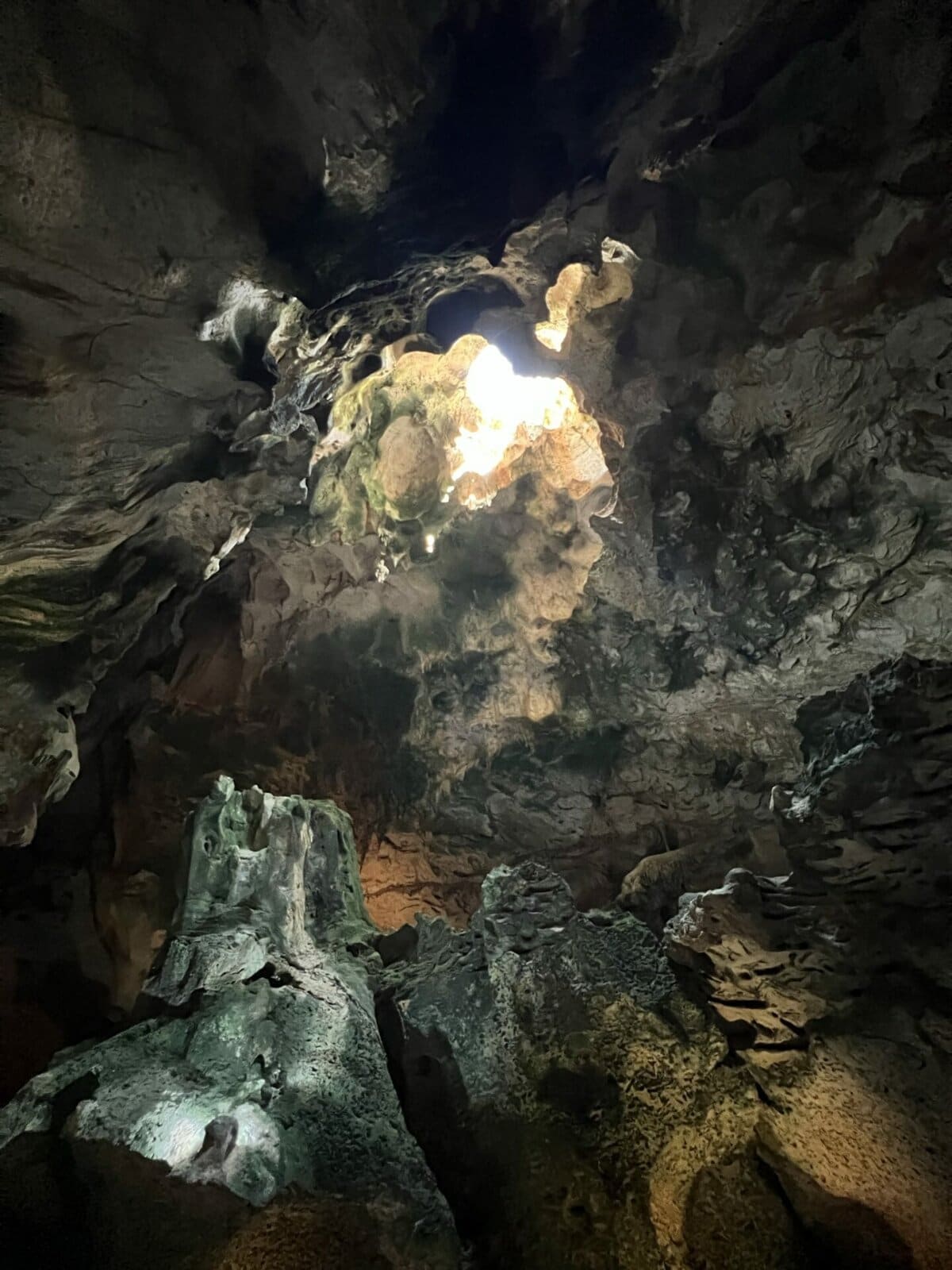 From there you will be brought down an easy set of stairs to a large cave area with water in it. The water never disappears entirely – and in fact, the water in this part of the cave acts as the water reservoir for the caves underneath.
Yes – there is another huge cave system underneath the accessible part of Hato Cave! What you see happening in this cave is happening beneath your feet.
There are a few parts of Hato Cave you can't go into, because it's still a natural area and it is protected. You will see bats in here flying around or sleeping. They're pretty cute!
Over 300 long-nose bats reside in the Hato Cave – you're almost guaranteed to see a few flying around!
Watch your head! Some areas are pretty low and even at my 5'5″ height I had to duck in some areas.
You'll be guided into a section with a hole in the roof – and this is where you can take photos! It's amazing to see the piece that fell out – limestone that was weakened from previous rainfall over thousands of years – just sitting there on the cave floor.
The last part of the Hato Cave tour brings you to the imagination room.
This is where your guide will point out unique formations that look like a pirate, herd of elephants, a mushroom, and even the Madonna. All you need is a bit of creativity to believe what you're seeing!
Hato Cave Park and Trails
If you want to get the full value of your admission, you can enjoy the cactus garden or walk around the Indian Trail and see Curacao's flora and fauna and see petroglyphs in the rocks (estimated to be at least 1500 years old!).
The park trail is accessible for all – including wheelchairs – since it's paved.
How long does Hato Caves take?
The Hato Caves tour lasts approximately 45 minutes. If time allows, you can also follow some nature trails around the park to look at the diverse plant species on the island.
It's an easy tour to take from the cruise port if you're a cruiser, and you can tie it in with something else close to the cruise ship, like Mambo Beach.
Do you need to book in advance to visit Hato Caves?
You do not need to book a Hato Cave tour in advance. We arrived by car and purchased our tickets for the next guided tour.
You can, however, book a tour in advance if you do not have a car rental or organized group tour from the cruise port. Most guided tours are combined with a couple other stops in Curacao, so it's well worth it!
How to get to Hato Caves Curacao
Hato Cave is located on the north side of Curacao. It's only 4 minutes driving from the airport (or a 12 minute walk) from Hato Airport. It's also easily accessible from downtown in a quick 15 minute drive.
Address: 53J2+3Q3, Franklin D. Rooseveltweg, Willemstad
Hato Caves temperature
While Hato Cave is very hot, there are numerous fans running. Still, it is quite humid, and some days can reach 100% humidity. We didn't find it too bad when we visited in February, but it would be nearly unbearable without any air moving around.
The cave, which was once an underwater cave, now sits above ground. The sun beams down on the limestone daily, and in essence, heats up the cave with nowhere for the heat to escape to.
Is Hato Cave worth it?
We paid $10 USD per adult to take the Hato Cave tour, which I thought was worth it. This is what we'd pay for something back home in Canada, and it's a unique thing to see in Curacao aside from the stunning views and beaches.
If you're arriving in Curacao by cruise ship and have the option to come here or to go to a beach, it all depends on what you want to see.
Curacao has almost 40 breathtaking beaches to discover, but if you've seen a beach or two during your travels, this is a unique tour to take while visiting the island.
I also liked that it was a short tour – and you can easily tie it in with another stop or attraction.
Is Hato Cave suitable for kids?
Absolutely! Let their imaginations run wild in this incredible cave system. It's best suited for kids ages 4 and up.
How much does Hato Cave cost?
Non-residents (aka tourists!) pay $10 USD for entry. Children are $8 USD. Residents of Curacao are charged $7 USD and $5 USD respectively.
This includes a guide of the caves and parking, if you arrived by car.
Should you choose to just walk around the park, admission is $4 USD, but honestly, it's worth paying the full price to see the caves!
Related Posts
Pin it for later!