Curacao's capital city of Willemstad is a foodie's delight. There are a number of incredible restaurants in Willemstad and places to dine, grab a coffee, or have a drink at the end of the day and soak in the ambience.
While there are a number of resources out there touting the best restaurants in Willemstad, I'm excited to share this piece with you about the best places to eat like locals while you're in Curacao.
One of my favourite parts about travelling is trying new restaurants and new food. In fact, travelling for food is one of my major motivators to explore the world.
If you're looking for some off-the-beaten path restaurants and places to grab a quick bite to eat, here's a list of my favourite places to eat in Willemstad.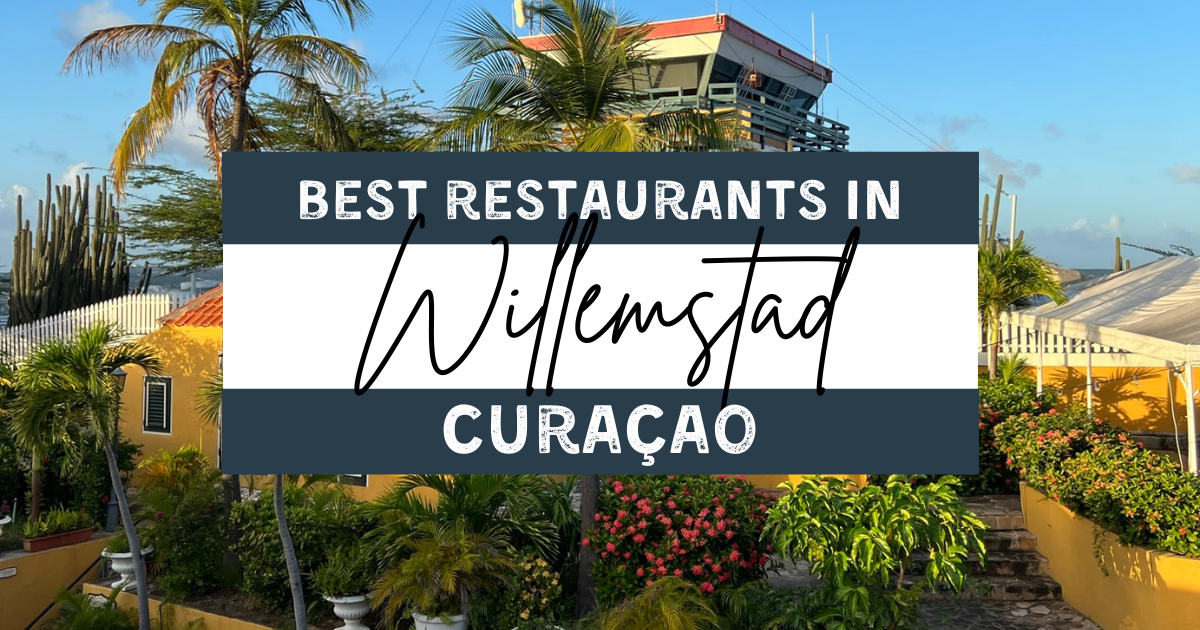 Note: While I love the dining options the Rif Fort offers by the Renaissance Wind Creek Curacao and the cruise port, there are so many other restaurants to check out around Willemstad. It doesn't take long to walk through the streets of Otrobanda, Punda, and Pietermaai, where an array of culinary delights await you!
This post contains affiliate links which means I earn compensation when you click on the links at absolutely no extra cost to you! Feel free to read my disclosure policy. Thank you for supporting my blog!
Plan your next vacation using these tools!

✈️ Book flights: SkyScanner
🏨 Book hotels: Booking.com
🚘Book car rentals: RentalCars.com
🎫Book tours: GetYourGuide
🍽️Local food experiences: EatWith
🌍Favourite travel item: Packing cubes
🧳Favourite travel bag: Osprey 40L Fairview
📱 ESims: Airalo
🩹 DIY Travel Medical Kit
💸 20 Cheap Travel Items Under $20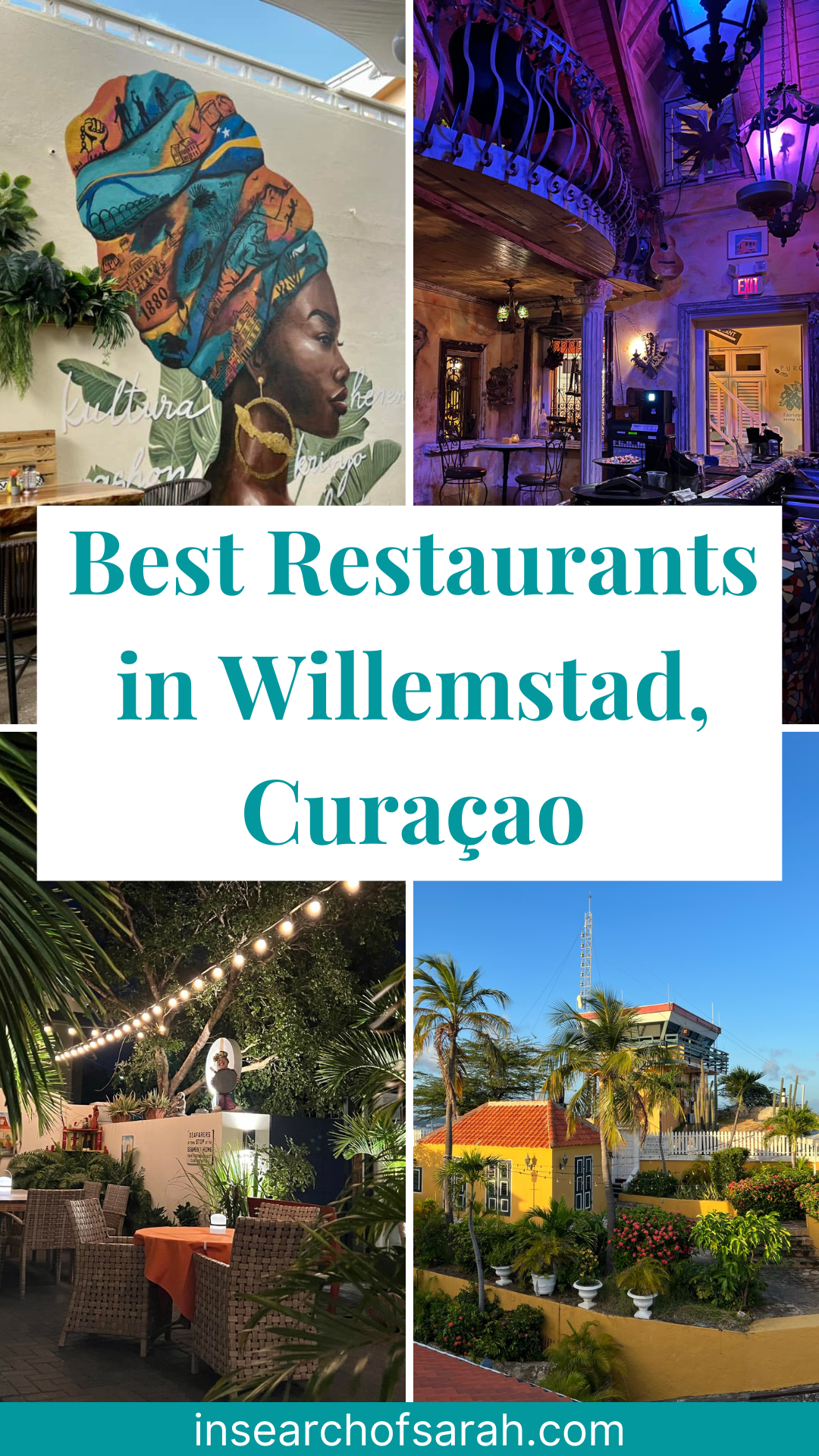 Where to eat like locals in Willemstad
While I realize this post is titled best restaurants in Willemstad, I can't bypass these amazing places to eat that are equally as worth of being mentioned and visited! If you want to eat like the locals do in Willemstad, pay one of these places to eat a visit!
Plasa Bieu: Best food in Curacao!
Of all the things to do in Willemstad, we were most looking forward to eating at Plasa Bieu. Seven market stalls are housed inside a large building, where local and independent chefs operate their own kitchens and serve the most amazing meals.
I am not exaggerating when I say the best food we had in all of Curacao was at Plasa Bieu. I wish we could've eaten here every day.
If you're wandering through Plasa Bieu and feel a bit overwhelmed – it's okay – there's a lot going on! Some of the stalls offer a lot of the same dishes, but they each have their own unique flair they add to it.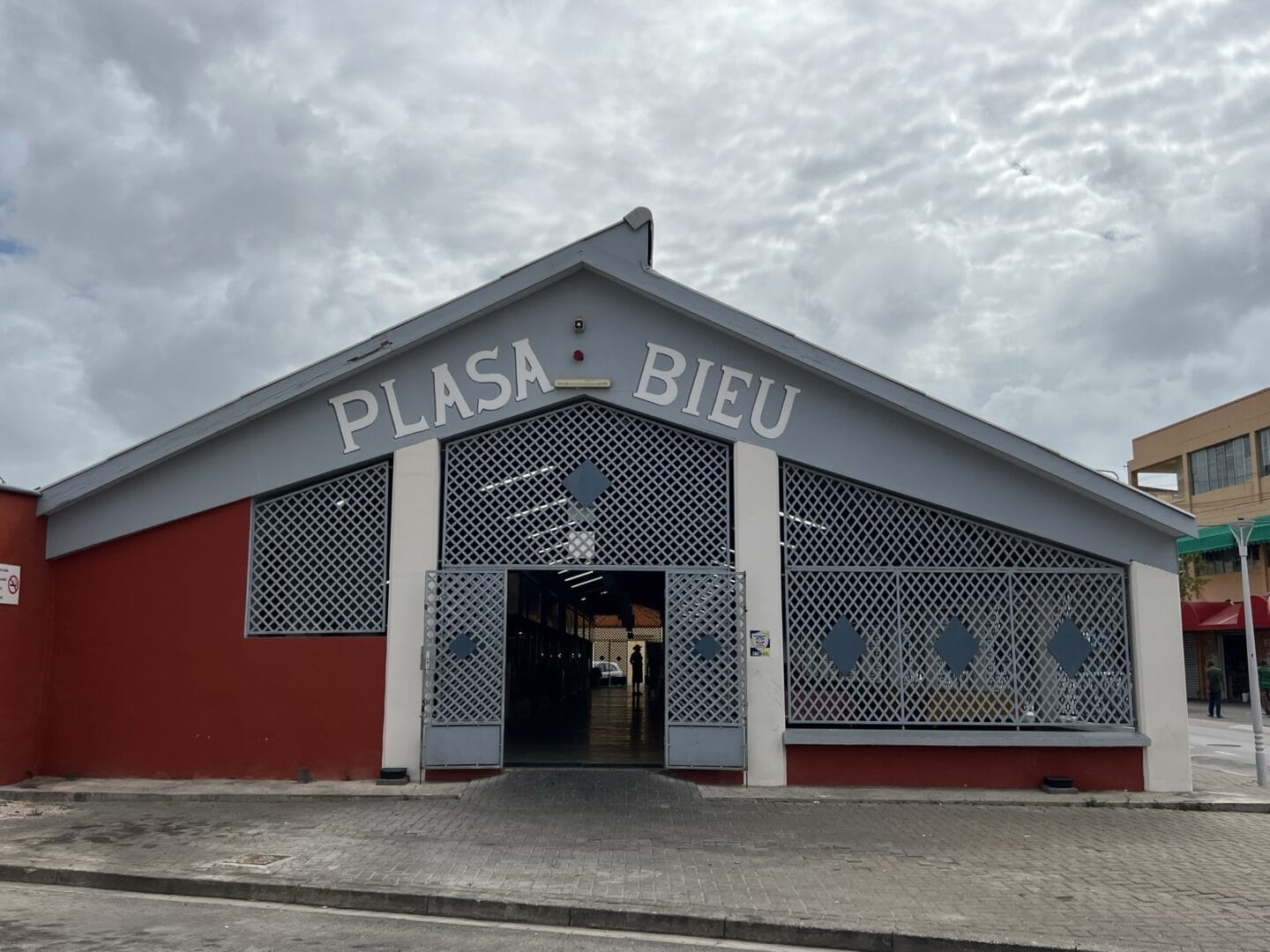 Our first day we ate at Kuminda de Terra on a Sunday and we sat down at one of the picnic tables and were greeted promptly with a hand-written menu with that day's offerings.
I settled for the saltfish with rice and beans, fried plantain, and salad, and Dana picked the chicken version of what I ordered.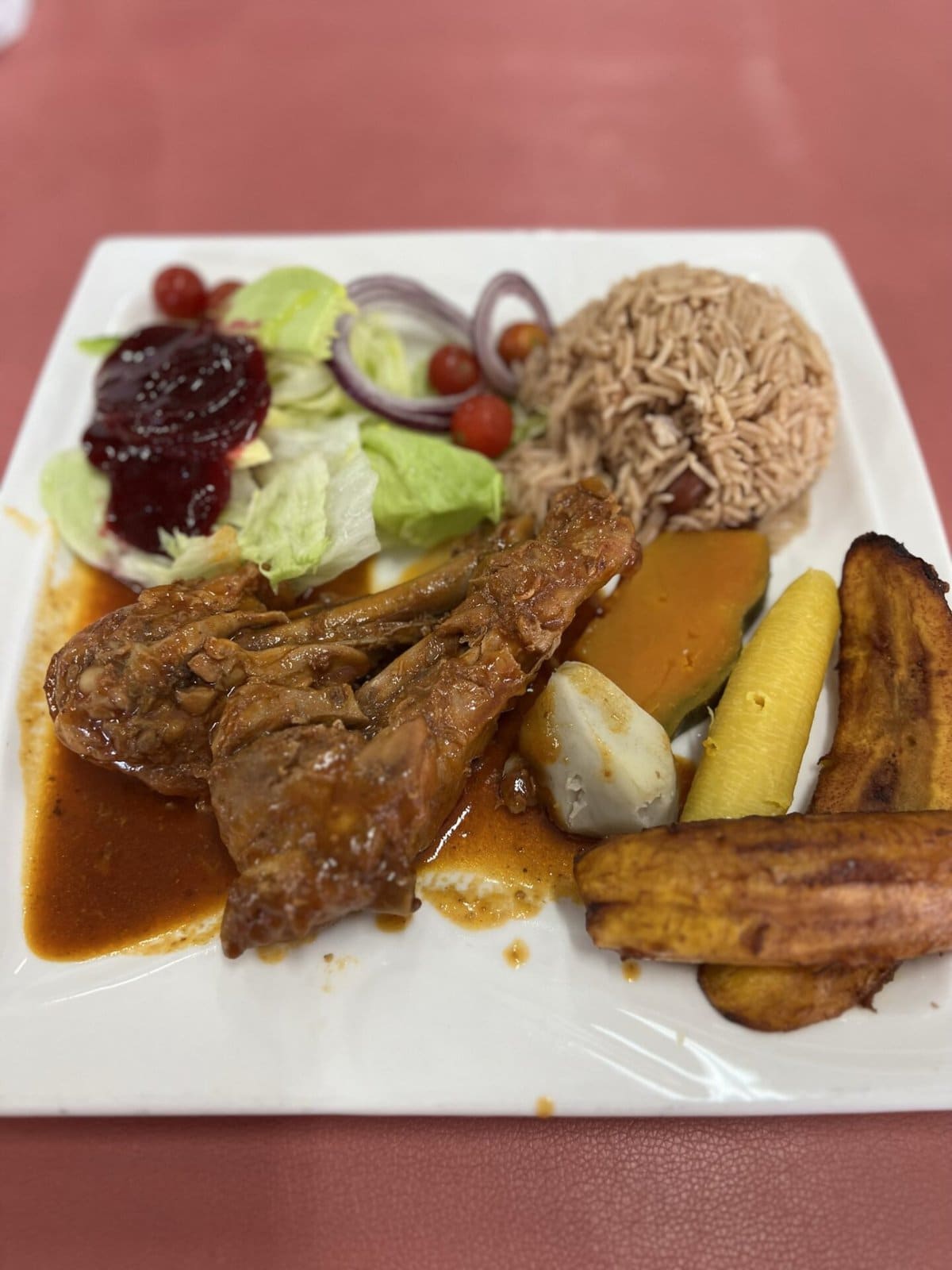 Let me tell you – the endorphins that ran through my brain on that first bite was unparalleled. I couldn't believe something so simple could taste so good!
Sadly it was three days before we could return to Plasa Bieu, and we tried the end stall since they're known for their pumpkin pancakes. Seriously – you need to try them! They're the equivalent of $1 USD so you can't not try them.
Dana had the goat and I thought I'd try something new – the papaya stew – without knowing if it was vegetarian or not.
It came with some sort of mystery meat and odd-looking bones that I couldn't quite place, and I'm fairly certain I had iguana in my stew.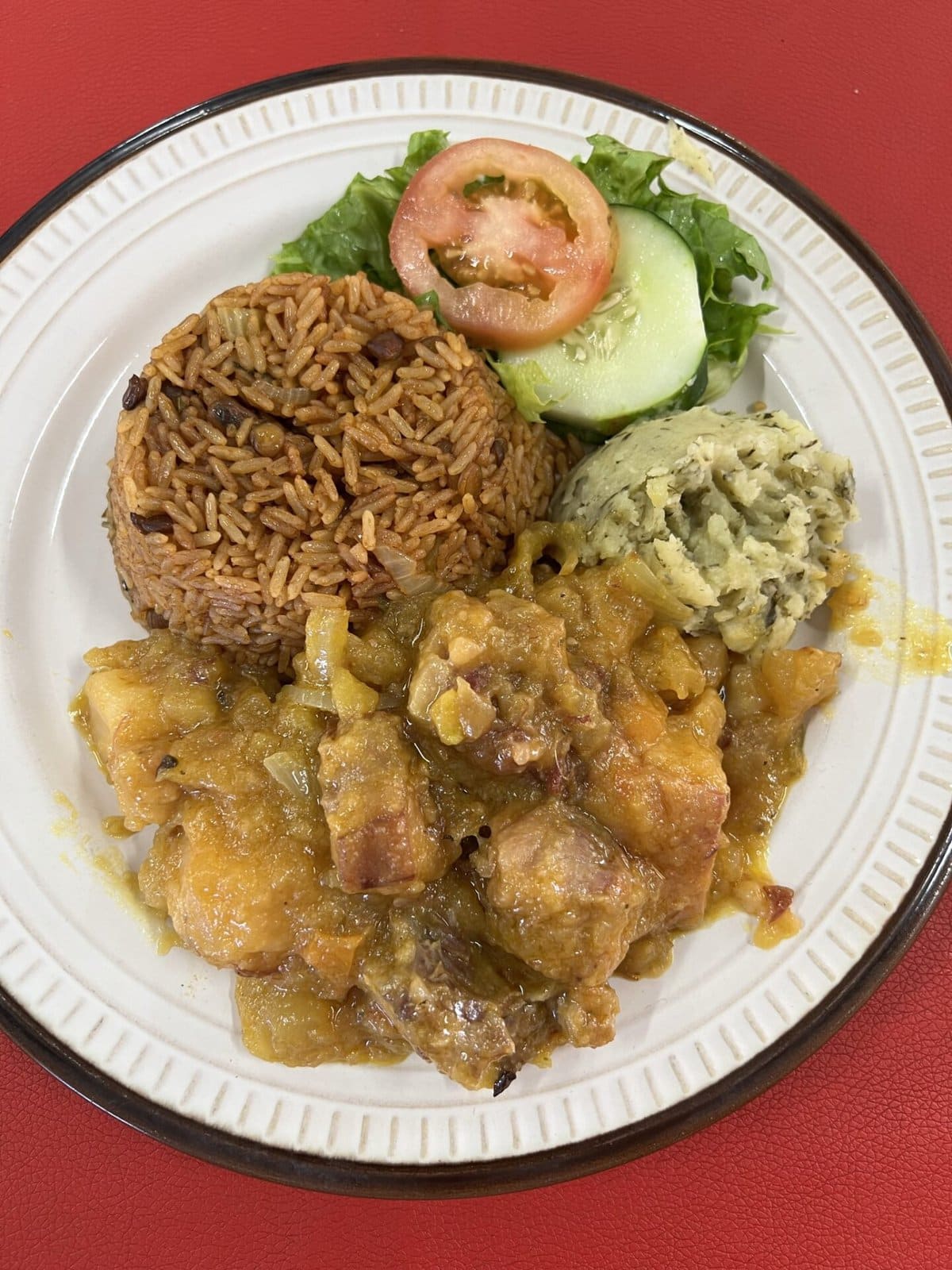 If this sounds weird, it's not at all uncommon to have iguana on the menu in Curacao – it's one of the local dishes. In fact, you can find it at many of the stalls at Plasa Bieu! If you're feeling adventurous, try something new!
Our last visit to Plasa Bieu was when they opened at 10:00 am – so I guess you could call it brunch. This time we were served our order on real plates and cutlery and it came with a massive portion of plantain, root vegetables, rice and beans, and chicken thighs.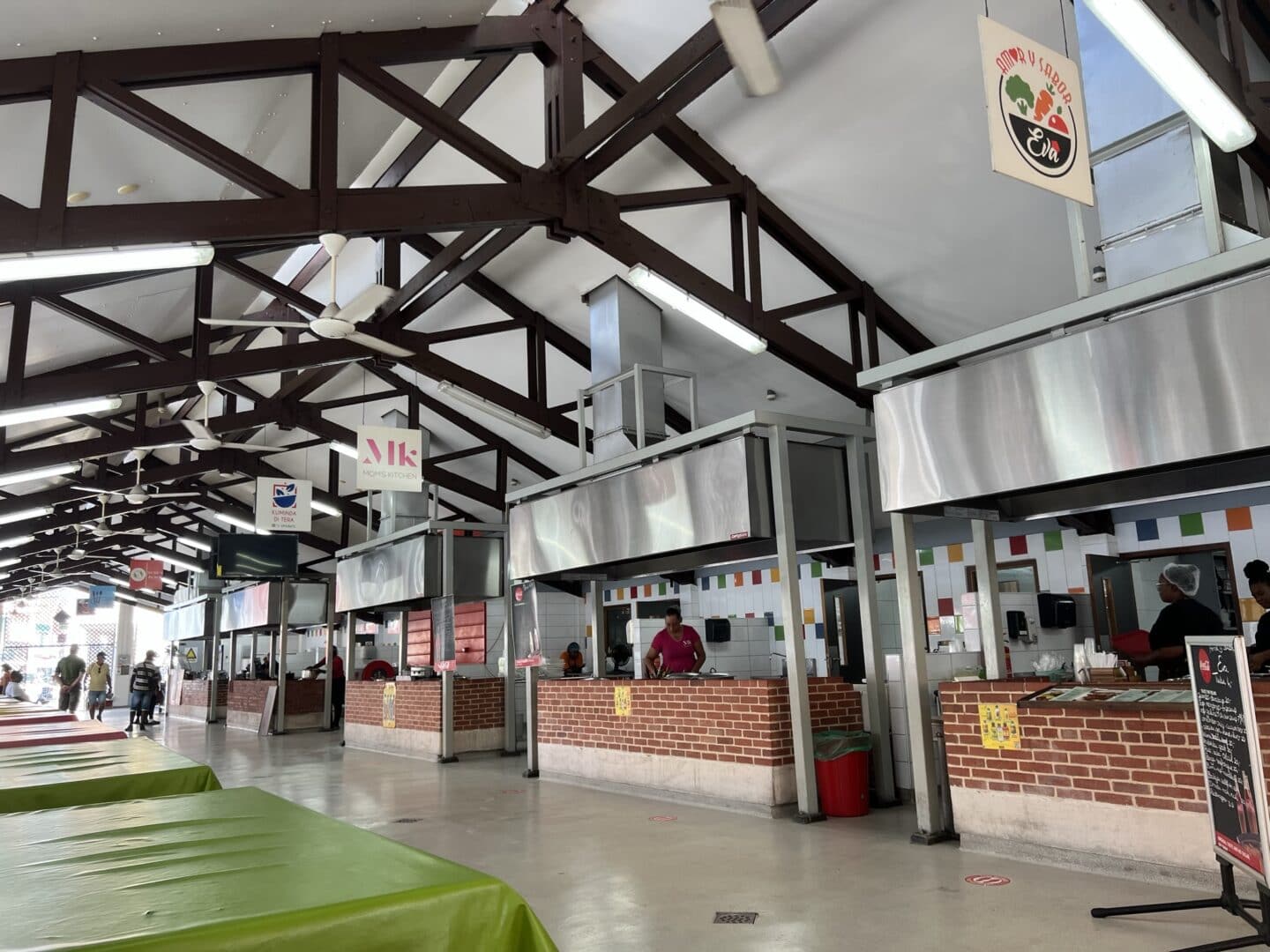 The ladies that run these kitchens are so sweet and kind. I can't wait to return to Curacao to eat here every day. It really was the best food we ever had.

By the way? Meals only cost between $10 USD and $15 USD – by far the cheapest meals you'll find on the island – and guaranteed the most flavourful!
Note: When you're finished your meal, they will bring you the bill. It will likely be presented in guilders. Just let them know you want to pay in USD, and they will calculate it while you're watching. Bring cash.
Address: 4339+QVH, De Ruyterkade, Willemstad, Curaçao
100% Batidos: Best fruit shakes!
One of my favourite things about the Caribbean islands is the fresh fruit! You can find a number of fresh fruit shake stands around Willemstad and Curacao, but our favourite has to be 100% Batitdos.
Did you know: Batidos translates to fruit milkshake. It's widely popular in Latin America! Shakes are blended with milk and sugar, but some stands offer plant-based milk options, too!
Located right by Plasa Bieu, you can find all sorts of unique flavours at this local shake stand.
You can pick from over 15 different flavours, like watermelon, soursop, pineapple, guava, passionfruit, tutti frutti, mango, and so much more!
It was really difficult picking what fruit shake to get next. I'm a sucker for soursop so we got that every time and tried other flavours like watermelon and tutti frutti.
A fresh fruit shake from 100% Batidos is the best way to cool down on a hot day in Curacao!
Price for 2 large fruit shakes: $8 USD. Cash only!
Address: 4339+VMP, De Ruyterkade, Willemstad, Curaçao
Panaderia Anarisa – Curacao Bakery
On many mornings we'd find ourselves at one of many amazing cafes in Willemstad for coffee. We aren't typically breakfast people, but we really enjoyed having morning lattes and cappuccinos outside (or in the cool air conditioning!) while making a plan for the day.
We're huge proponents of trying local places when we travel and supporting small local businesses. We happened upon Panaderia Anarisa, a Curacao bakery near Plasa Bieu.
We would often go for coffee, then head over to the bakery to pick out something new to try! Panaderia Anarisa had the best pastechi and Johnny cakes we tried while we were in Curacao. It's basically fried dough with cheese in it – but they were stuffed and definitely didn't skimp out!
We also tried a cinnamon bun and a very dense – but very delicious – bread pudding. We couldn't believe the prices either. We got huge bags of pastries to share with our group and it came to $15 USD. Most of the items were less than $1.50 USD a piece.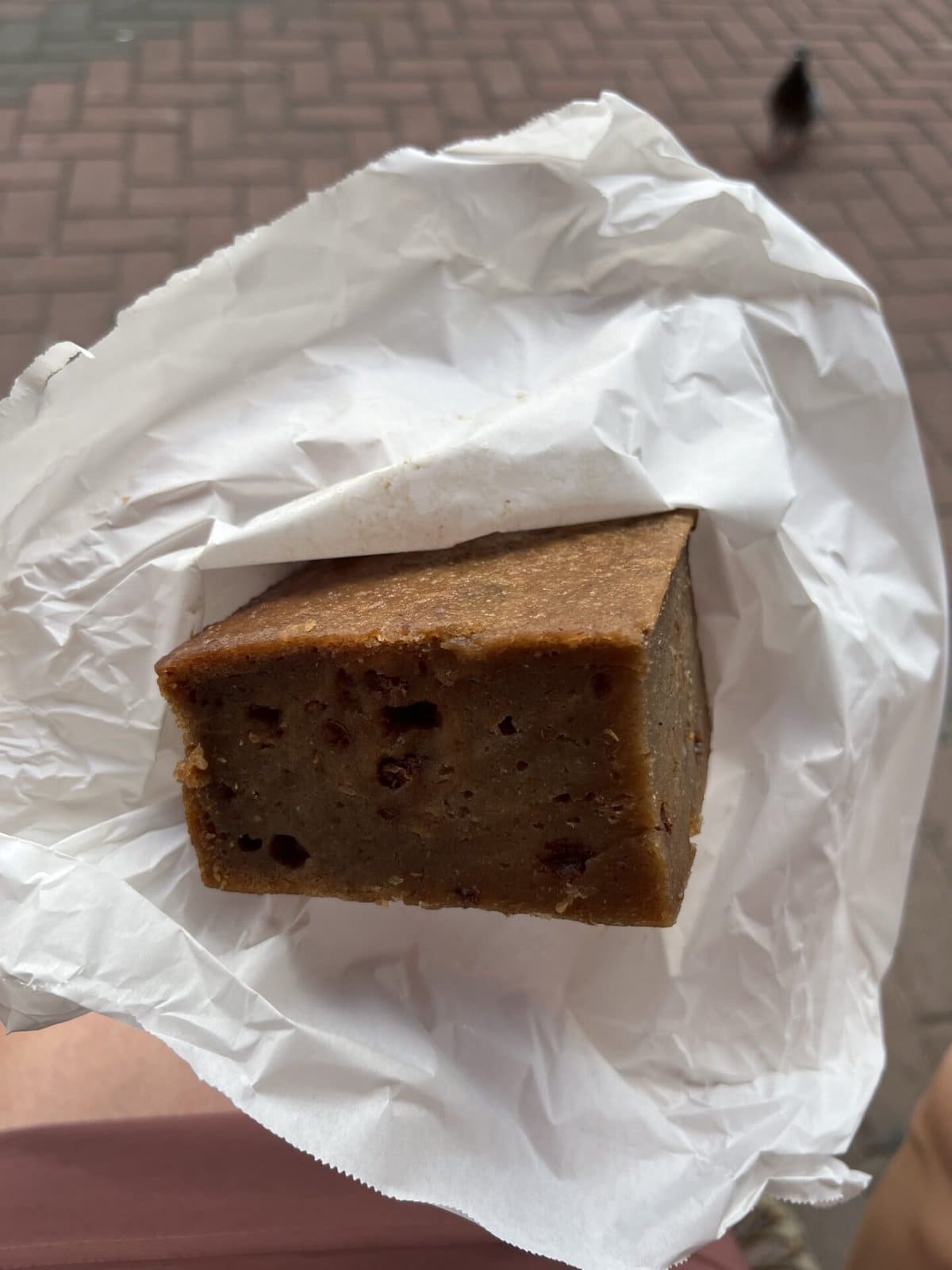 You can find all sorts of cakes,cookies, donuts, pastechi, and bread at this local bakery in Willemstad.
Plus, if you're an early riser, you're in luck! Panaderia Anarisa opens at 5:30 am daily.
Note: Only cash is accepted! We paid by guilders and USD on many occasions, and when we paid USD we were asked if we preferred guilders or USD back.
Address: 4339+WG3, Willemstad, Curaçao
Best Restaurants in Willemstad off the beaten path
Some of the best restaurants in Willemstad aren't ones that are overly busy.
In fact, being quieter is one of the appeals, because these restaurants are like hidden gems. Here's my list of best resaurants in Willemstad that are off the beaten path, quieter, and ones frequented by locals!
Rustiq Restaurant
We happened upon the newly-opened Rustiq on our free walking tour of Willemstad, located directly across from the Kura Hulanda Museum. The stunning mural, greenery lining the walls, and unique tables made out of tree trunks instantly pulled us in and we knew we had to return.
Rustiq is tucked away off the main footpath and pedestrian traffic, so it's not overly busy like some other more prominent restaurants. With the intention of only stopping by for a cocktail, their menu looked too intriguing to pass up.
We arrived at 7:00 pm on a Thursday and had no issue finding a table. Families and couples were seated throughout the open-air restaurant and the vibe was immaculately cozy.
Whether or not you drink alcohol, all of their cocktails and mocktails are used with fresh juice. There is no drinks menu, so we asked them to surprise us with one. I ended up with one made with passionfruit and you could definitely tell it was freshly pressed.
Our original starters (pumpkin soup) were unavailable, so we decided on the sharing platter for four. Right away we knew we made the right decision to dine at Rustiq. Polenta fries, chicken wings, meatballs, goat pastechi, and shrimp came out on a platter with enough for all of us to try.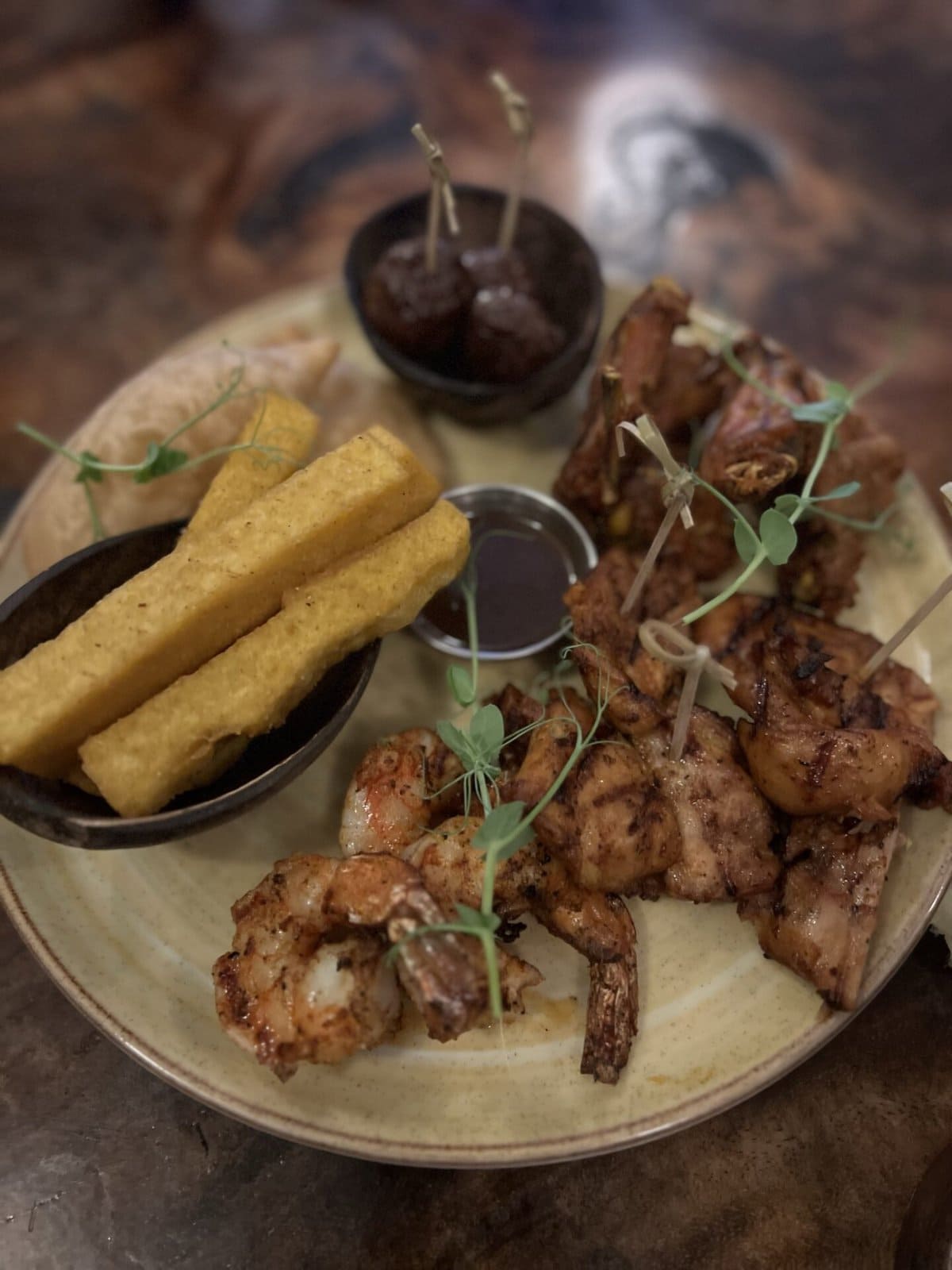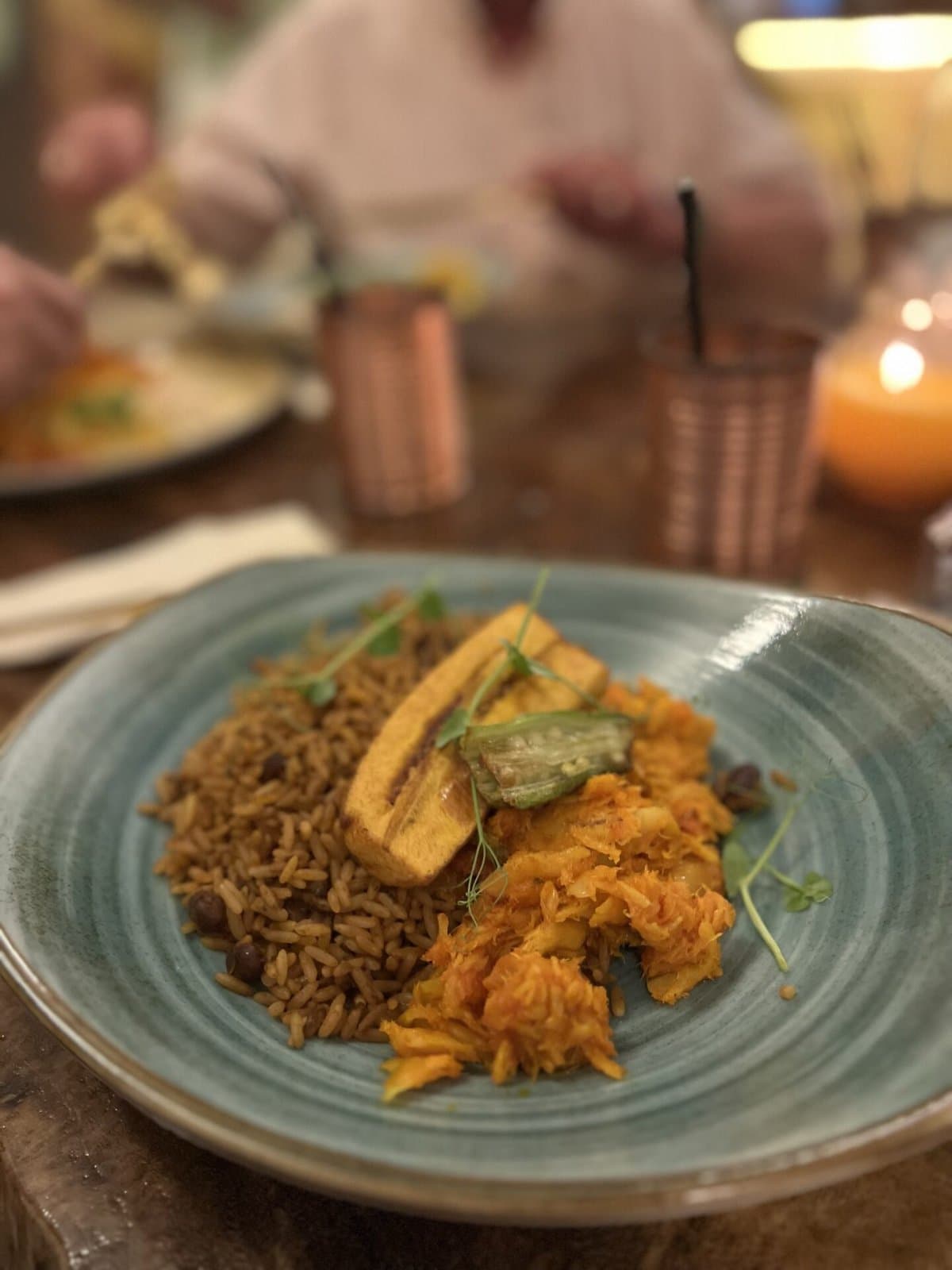 Wherever we are travelling, I try to order what's local to the area. For Curacao, it was goat and fish. I ended up with saltfish, rice and beans, and plantain, and I only wish I knew how to cook this well at home!
You can even purchase fresh coconuts to drink and they'll cut it open for you to eat the coconut meat afterwards.
Service at Rustiq was very good and was one of the restaurant highlights in Willemstad.
Ps. Rustiq Restaurant is also open for breakfast and lunch!
Price for 4 adults: $180 USD including cocktails, starters, mains, and dessert
Address: IJzerstraat, Willemstad, Curaçao
Mundo Bizarro
What we loved about Mundo Bizarro is that it isn't on a main pedestrian route. You can find busy restaurants along Handelskade and St Anna Bay, but it pays to venture a little off path to find a quieter place to eat!
Mundo Bizarro is located in charming Pietermaai, about a 10 minute walk from the Queen Emma Bridge.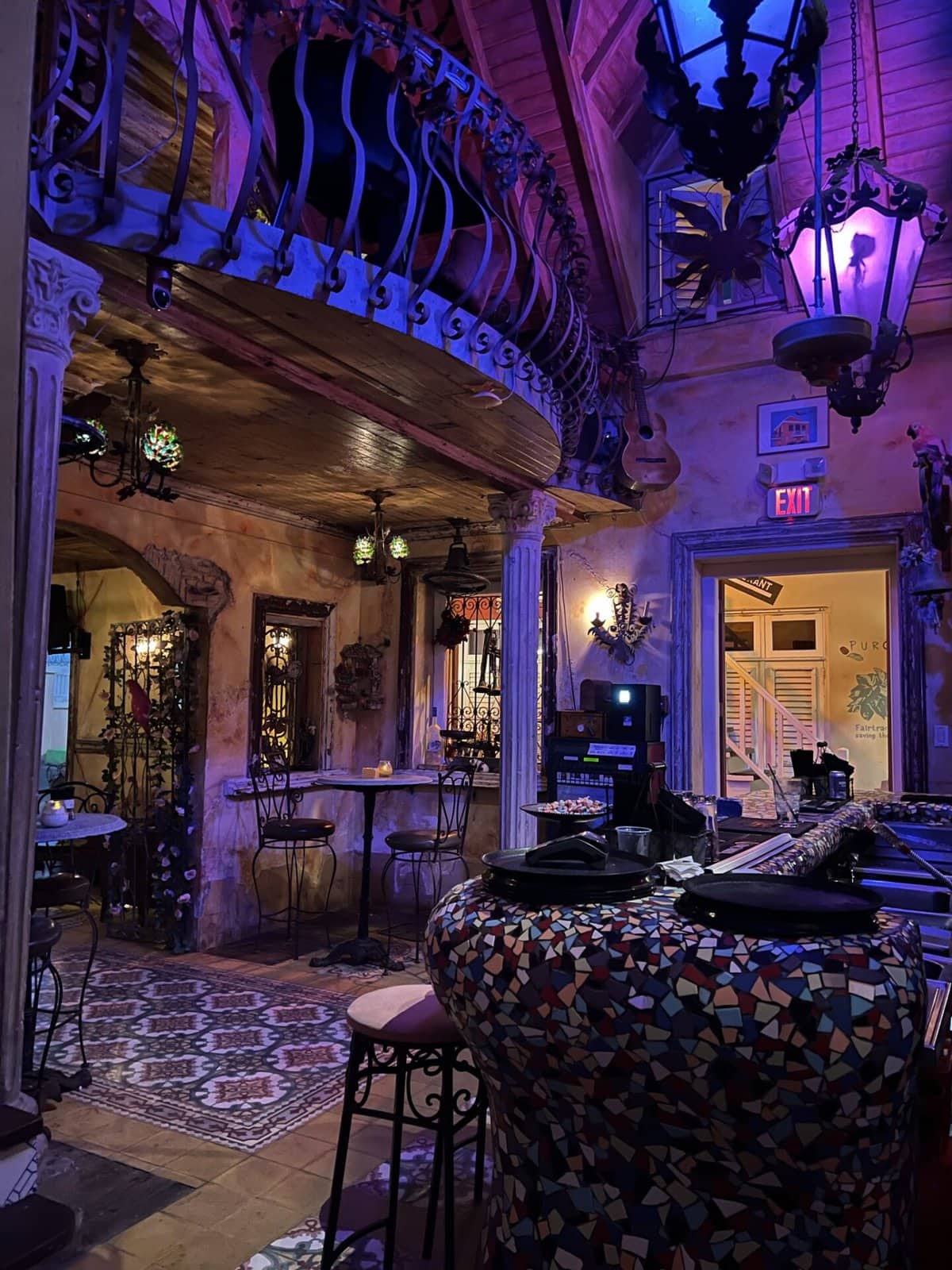 Mundo Bizarro is exactly that: bizarre! It's truly one of the most unique places we've ever dined at. Outside seating has mismatched chairs, none of the tables are the same, and that's when we fell in love.
There was no difficulty in finding a table for four around 6:30 pm on a Sunday, and we noticed a few couples and families enjoying a quiet meal outside in the warm breeze.
Its eclectic vibe drew us in along with the mottled walls, string lighting, and ornate interior with the most eye-catching bar I have ever seen!
Deciding what to order on the menu proved difficult, and after starting with soup and flatbread, all four of us settled for the beef stoba (cubed beef with rice and salad) and the portions were huge.
If seating is available, enjoy an after-dinner cocktail in the bar and enjoy a cigar (you can purchase these at Mundo Bizarro when the owner is in). The interior reminded me of a cigar lounge in Havana, with leather couches, chaise seating, and pieces of art remnant of the 1950s.
Price for 4 adults: $270 USD including starters, mains, a bottle of wine, and after-dinner cocktails.
Address: 12 Nieuwestraat, Willemstad, Curaçao
Rozendaels
Rozendaels is further out from the central heart of Willemstad. It's roughly a 20 minute walk from the Queen Emma Bridge. We took a cab there and back for $40 USD round trip, which is expensive, but if you want to dress up and be comfortable, a cab may be the way to go.
Rozendaels is warm and inviting, with soft lighting, lots of greenery, and an open air design.The gentle breeze was a welcome addition to a warm evening.
The service at Rozendaels is very attentive and the meals came quickly compared to some other restaurant in Willemstad we ate at.
It's hard not to choose a starter – they all sounded delicious! Most of us settled for the sweet potato with hazelnuts, chickpeas, and roasted vegetables.
Note: There are plenty of vegan options available at Rozendaels, too! Curacao is one of the most vegan-friendly Caribbean islands.
I tried a traditional dish – the Keshi Yena – which is pulled chicken with cheese, polenta, fried plantain, and coleslaw. I love trying local dishes everywhere we go and this one didn't disappoint!
We celebrated at Rozendaels for my brother's 40th birthday and they even brought out a complimentary dessert for him (and sang!), which was a sweet touch!
Price for 4: $210 USD including starters, mains, drinks, and dessert.
Address: 35 Penstraat, Willemstad, Curaçao
Fort Nassau
I couldn't round out this list of best restaurants in Willemstad without talking about Fort Nassau! This is a special place to eat if you're celebrating a special occasion or want to have a memorable romantic meal with awesome views.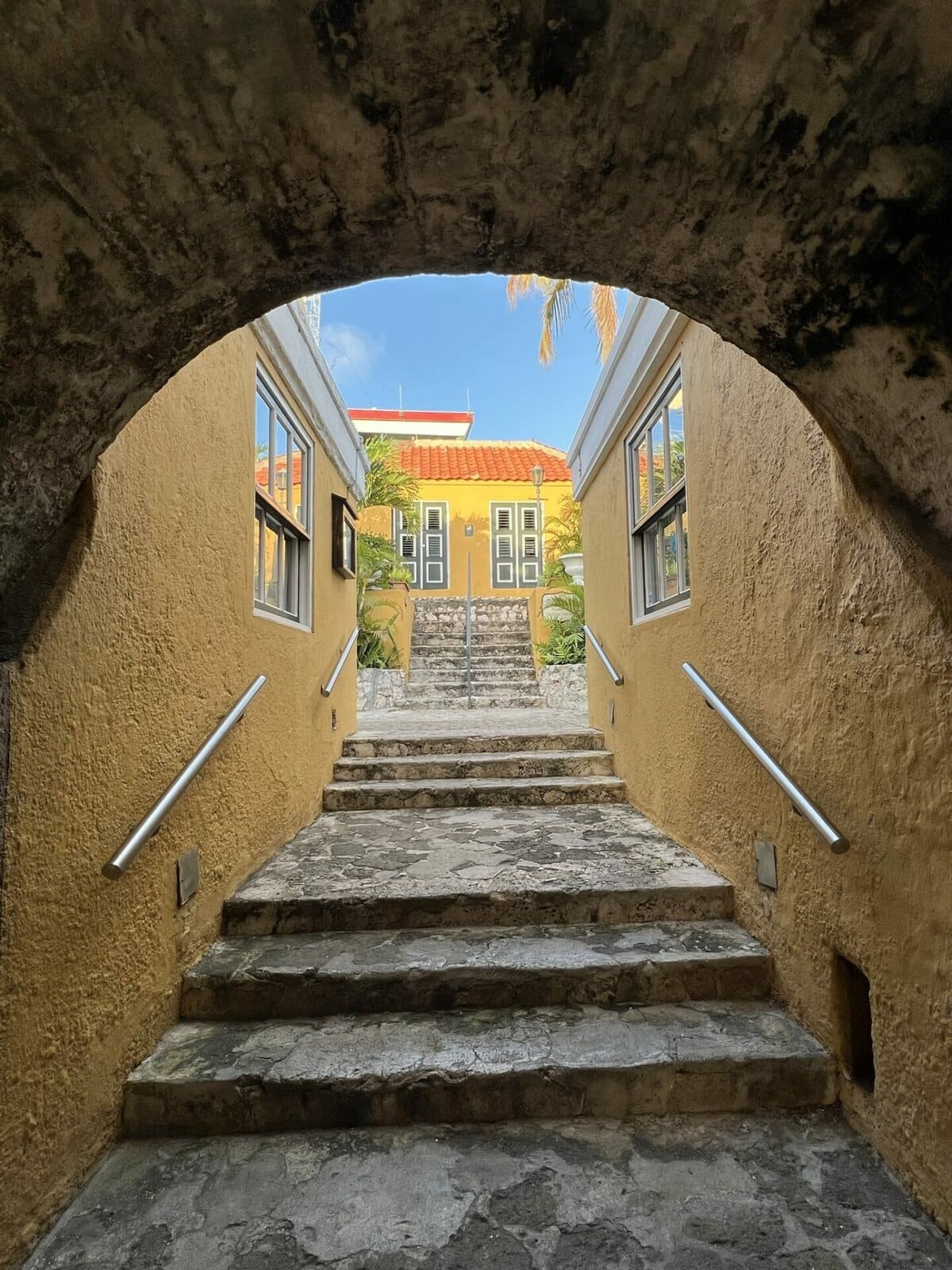 Undoubtedly one of the best places you can eat with a view in Curacao, Fort Nassau is perched 223 feet above Willemstad and is also one of the best places to watch the sunset! You'll have a view of the Queen Juliana Bridge, St. Anna Bay, and Otrobanda, which is magical once the sun sets and the lights turn on.
Fort Nassau was built in 1796 to protect Willemstad and St. Anna Bay against enemy attacks. It was also once used as a control tower for the Queen Emma Bridge and has been used as a restaurant since 1959.
Our seats were right against the wall with amazing views of the bay. Unfortunately, the clouds blocked our sunset, but thet views were spectacular from above. This may have been one of the best meals we had in Curacao, too.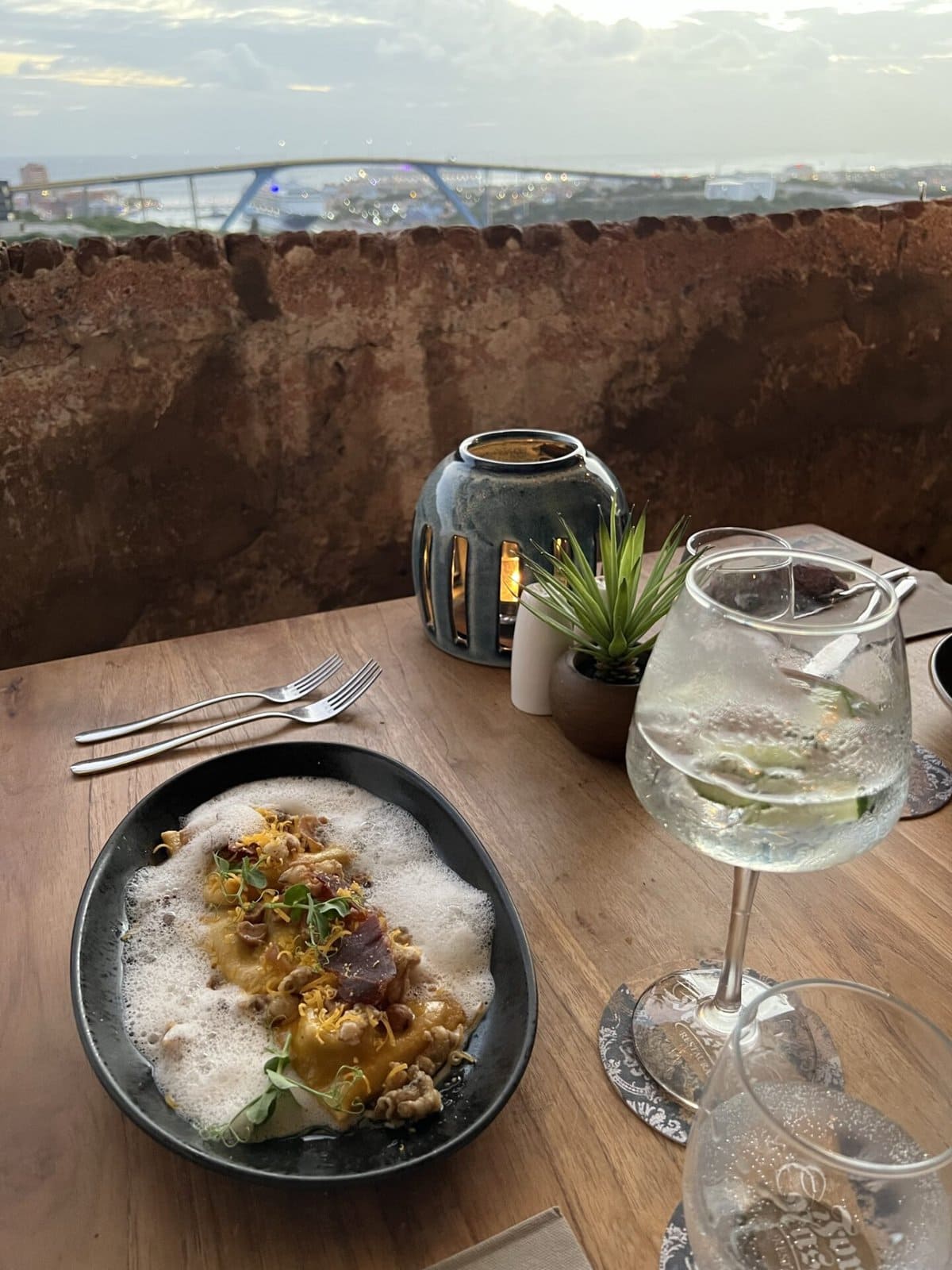 We ordered everything from mushroom ravioli to scallops, salmon to beef tenderloin, enjoyed great service and delicious cocktails and rounded out the meal with some coffee.
Reservations are highly encouraged. Try to book yours to be there in time for sunset, and be sure to arrive a little early to explore the grounds first!
You will need to book a taxi or rent a car to get to Fort Nassau.
Price for 4 adults: $350 USD including cocktails, starters, mains, and coffee
Address: Fort Nassauweg, Willemstad, Curaçao
Related Posts
Pin it for later!