One of the most unique places in Curacao to visit is Fort Nassau. Once an old military fort built in 1796 to protect St Anna Bay and Willemstad, Curacao's capital city, is now an incredible restaurant to dine at.
Fort Nassau sits 223 feet above Willemstad with views of the harbour's entrance. It's one of the best places on the island to watch the sunset!
You'll have a view of the Queen Juliana Bridge, St. Anna Bay, and Otrobanda, which is magical once the sun sets and the lights brighten up the city below.
If you are visiting Curacao and want amazing views and a memorable meal, then a visit to Fort Nassau is a must!
Visiting Curacao for the first time? Check out these Curacao Travel Tips and what to know before going!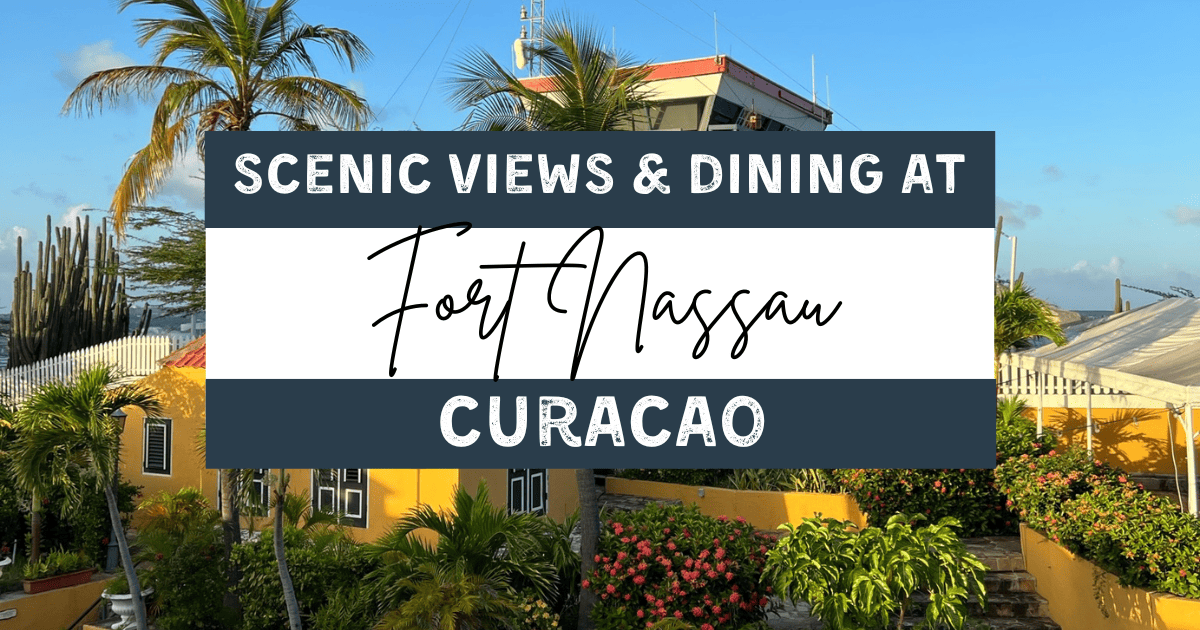 This post contains affiliate links which means I earn compensation when you click on the links at absolutely no extra cost to you! Feel free to read my disclosure policy. Thank you for supporting my blog!
Plan your next vacation using these tools!

✈️ Book flights: SkyScanner
🏨 Book hotels: Booking.com
🚘Book car rentals: RentalCars.com
🎫Book tours: GetYourGuide
🍽️Local food experiences: EatWith
🌍Favourite travel item: Packing cubes
🧳Favourite travel bag: Osprey 40L Fairview
📱 ESims: Airalo
🩹 DIY Travel Medical Kit
💸 20 Cheap Travel Items Under $20
Fort Nassau Curacao History
Fort Nassau was built in 1796 to protect Willemstad and St. Anna Bay against enemy attacks. The owner of the hill it sits on and the surrounding plantation was notified that a fort would be built on his property.
Believe it or not, it was actually required by the citizens to come up with the funds to build the fort; to the tune of $44,000 Canadian/$33,000 USD in today's market. After all that, the fort never played a very active role in defending the town.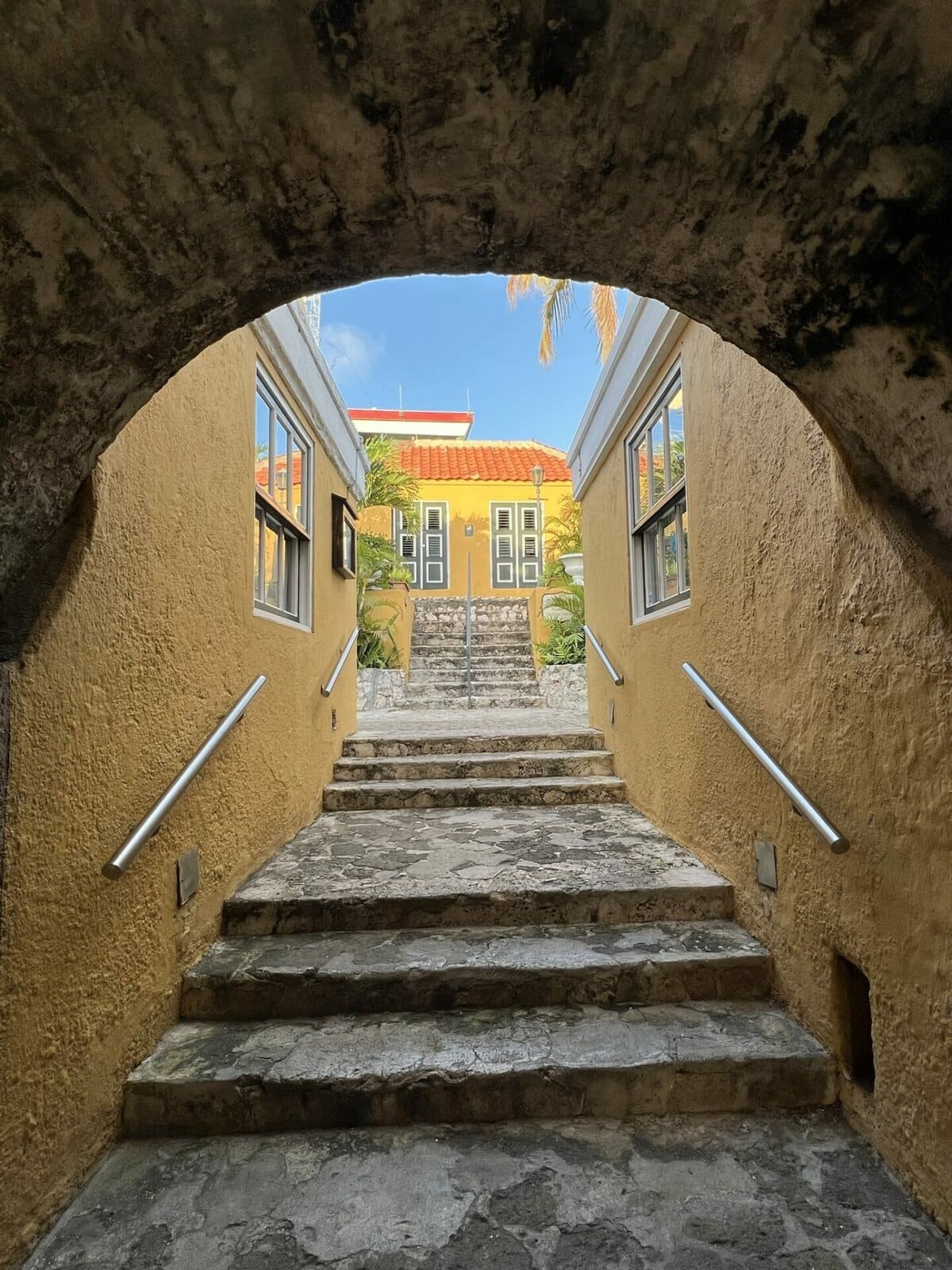 In 1807, the fort finally saw action, where it was captured by the British and was renamed Fort George. In 1816, the lasting peace between Holland and England resulted in the island of Curacao being given back to the Dutch.
The fort was renamed "Fort Orange Nassau", which over the years has become what we refer to as Fort Nassau.
By 1825, the fort lost its military purpose. Over the years it served as a control tower for the Queen Emma Bridge and has been used as a restaurant since 1959. It still remains important for the harbour and serves as a signal station for the vessel traffic through St. Anna Bay.
Related: 20+ Best Things to do in Curacao
Fort Nassau Curacao Restaurant
Dining at Fort Nassau was one of our most memorable meals! It's considered casual fine dining which was the most accurate description of the restaurant.
The Fort Nassau restaurant is located within the fort with plenty of seating along the wall with views of the Queen Juliana Bridge and harbour, with a perfect vantage point for sunsets.
There are also tables available to accommodate larger groups, but from what I saw, only seats of 2-4 had views along the edge of the restaurant.
Our seats were right against the wall with amazing views of the bay. Unfortunately, the clouds blocked our sunset, but the views were spectacular from above. This may have been one of the best meals we had in Curacao, too.
Fort Nassau's menu is small but represents the best of Curacao. The menu showcases meat, seafood, as well as vegetarian dishes. Wine from Europe and Latin America is featured on the menu, too.
We ordered everything from mushroom ravioli to scallops, salmon to beef tenderloin, enjoyed great service and delicious cocktails and rounded out the meal with some coffee.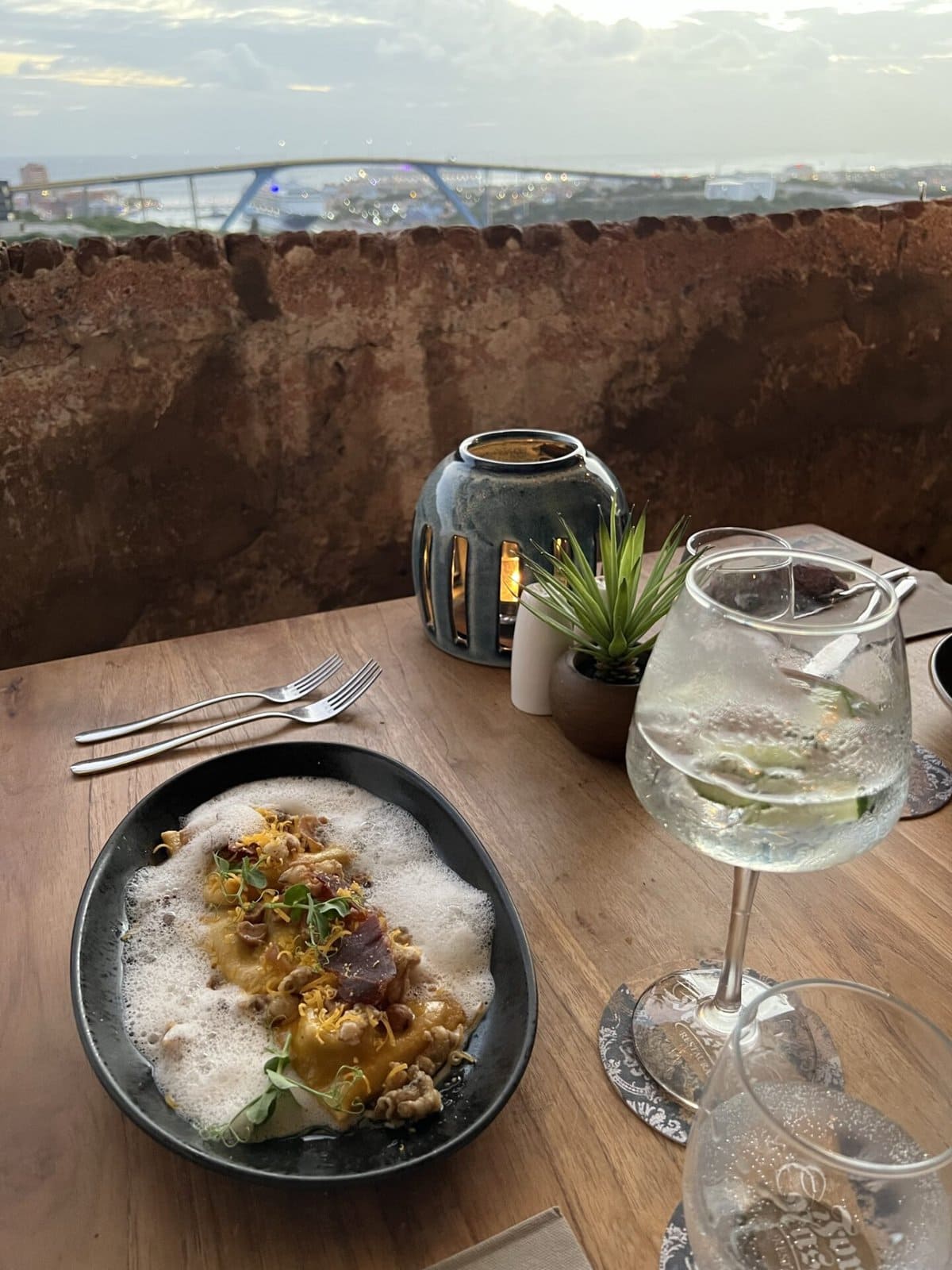 P.s. Vegans can also be accommodated – email or call ahead to make this request. In fact, there are a lot of vegan-friendly places to eat in Curacao.
Reservations are highly encouraged. Try to book yours to be there in time for sunset, and be sure to arrive a little early to explore the grounds first!
You can also visit Fort Nassau for lunch, which would be less busy than during dinner. If you aren't fussed about watching the sunset but still want some spectacular views, lunch at Fort Nassau would be a perfect option!
Regardless of when you decide to dine at Fort Nassau, the historical character of the 18th century fortress, combined with the contemporary interior, amazing views, and variety of menu items showcased make a meal here a memorable experience!
Just for reference, four of us dined here for $350 USD which included cocktails, starters, mains, and coffee.
Related: 6 Best Cafes in Willemstad
How to get to Fort Nassau
The easiest way to get to Fort Nassau is by driving. If you're planning a trip to Curacao, renting a car is the best way to get around the island. Taxis can be very expensive, and renting a car in Curacao is efficient and allows you to get around to all of the amazing places – plus parking is free!
Fort Nassau is located in Willemstad but is not within walking distance of town. In fact, Fort Nassau is a 10 minute drive from Willemstad.
Of course, if you really wanted to, you could walk it in about 20-30 minutes, but it's a long, hot, walk uphill and if you're going for dinner you'll be sweaty and exhausted by the time you reach the Fort!
If you are driving from Otrobanda in Willemstad, you will have to go over the Queen Juliana Bridge. Once you get to a set of lights on the other side, you will either have to do a U-turn (or if you're not comfortable with that, continue along the road until you find a better spot to turn around).
There is an exit on the right hand side once you turn around with a right-hand turn exit lane you can move over to for access to the road you'll follow to Fort Nassau.
The drive from Punda is much simpler! You just have to make your way to Fort Nassauweg Road and follow it until you reach it.
Of course, using Google Maps is your best bet. Fort Nassau pops up as a restaurant and will take you right there. Parking is free!
Tip: Arrive in time for the sunset! Plan to arrive at least 15 minutes prior to your reservation to walk the grounds and snap some photos to fully appreciate the beauty of Fort Nassau before it gets too dark.
Fort Nassau is one of the most memorable places to dine in Curacao, especially those seeking restaurants with amazing views and looking for a quiet place for a romantic meal. Meals here were only slightly more than restaurants in town, but the views were unbeatable.
Fort Nassau Hours
The restaurant at Fort Nassau is open daily from 6:00 pm – 11:00 pm for dinner and Monday-Friday 12:00 pm – 2:00 pm for lunch.
You are welcome to arrive on the grounds before your dinner reservation to explore the fort before dinner, since it'll be too dark afterwards to take photos!
Address: Fort Nassauweg, Willemstad, Curaçao
Can I visit Fort Nassau without dining at the restaurant?
If you choose not to dine at Fort Nassau, you are still welcome to come and explore the fort, take photos, watch the ship traffic, and enjoy the breathtaking 360 degree views from above!
Fort Nassau is completely free to visit.
Related Posts
Pin it for later!