Curaçao quickly became one of my favourite Caribbean islands. Here are some helpful tips and things to know before going!
Curacao is a southern Caribbean Dutch Netherlands Antilles island situated about 40 miles off the coast of Venezuela. Its vibrant capital of Willemstad is brimming with incredible street art, amazing cafes and restaurants, culture, and some of the most unique things to do on the island.
But for those of us who typically visit all-inclusive vacations in the Caribbean, you may not know what to expect. This isn't a Caribbean island you come to and sit on a beach and drink fancy cocktails all day. I mean, you can, but you would be doing Curacao a disservice!
Curacao is a place where you become immersed in the culture and the island. From jaw-dropping beaches to breathtaking mountain views, crashing waves and dense brush, this culturally diverse and historically rich island will surely awaken your senses like no other Caribbean island.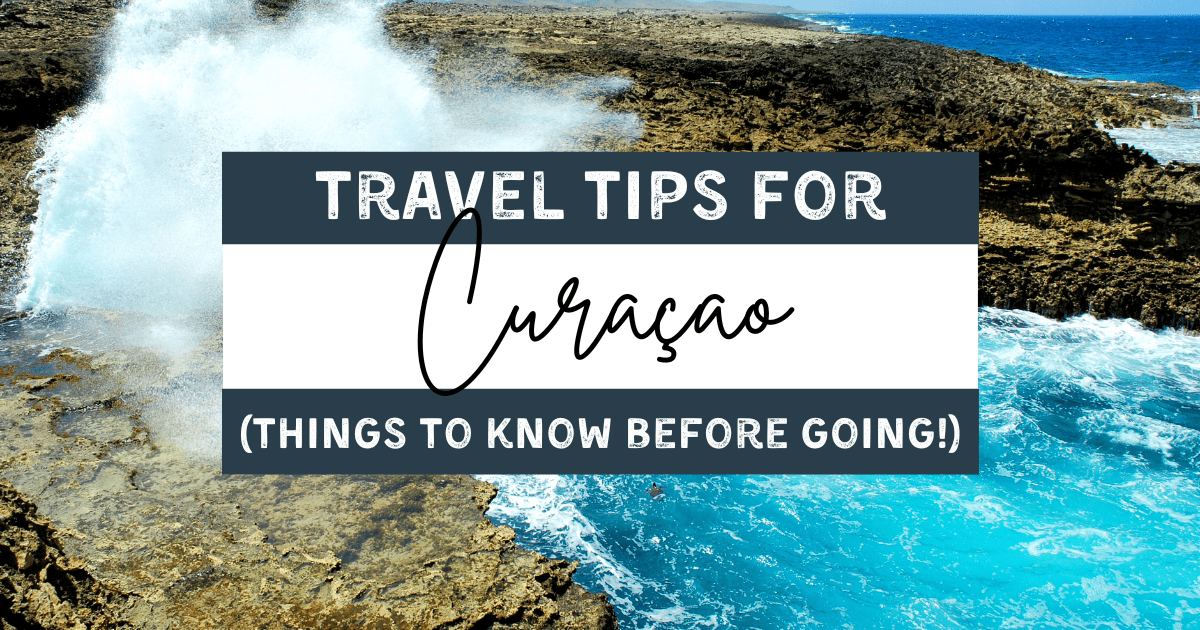 The island of Curacao is perfect for all types of travellers: couples, families, solo travellers, groups and more, with numerous activities, beaches, and things to do.
Here's what to know before going to Curacao!
This post contains affiliate links which means I earn compensation when you click on the links at absolutely no extra cost to you! Feel free to read my disclosure policy. Thank you for supporting my blog!
Plan your next vacation using these tools!

✈️ Book flights: SkyScanner
🏨 Book hotels: Booking.com
🚘Book car rentals: RentalCars.com
🎫Book tours: GetYourGuide
🍽️Local food experiences: EatWith
🌍Favourite travel item: Packing cubes
🧳Favourite travel bag: Osprey 40L Fairview
📱 ESims: Airalo
🩹 DIY Travel Medical Kit
💸 20 Cheap Travel Items Under $20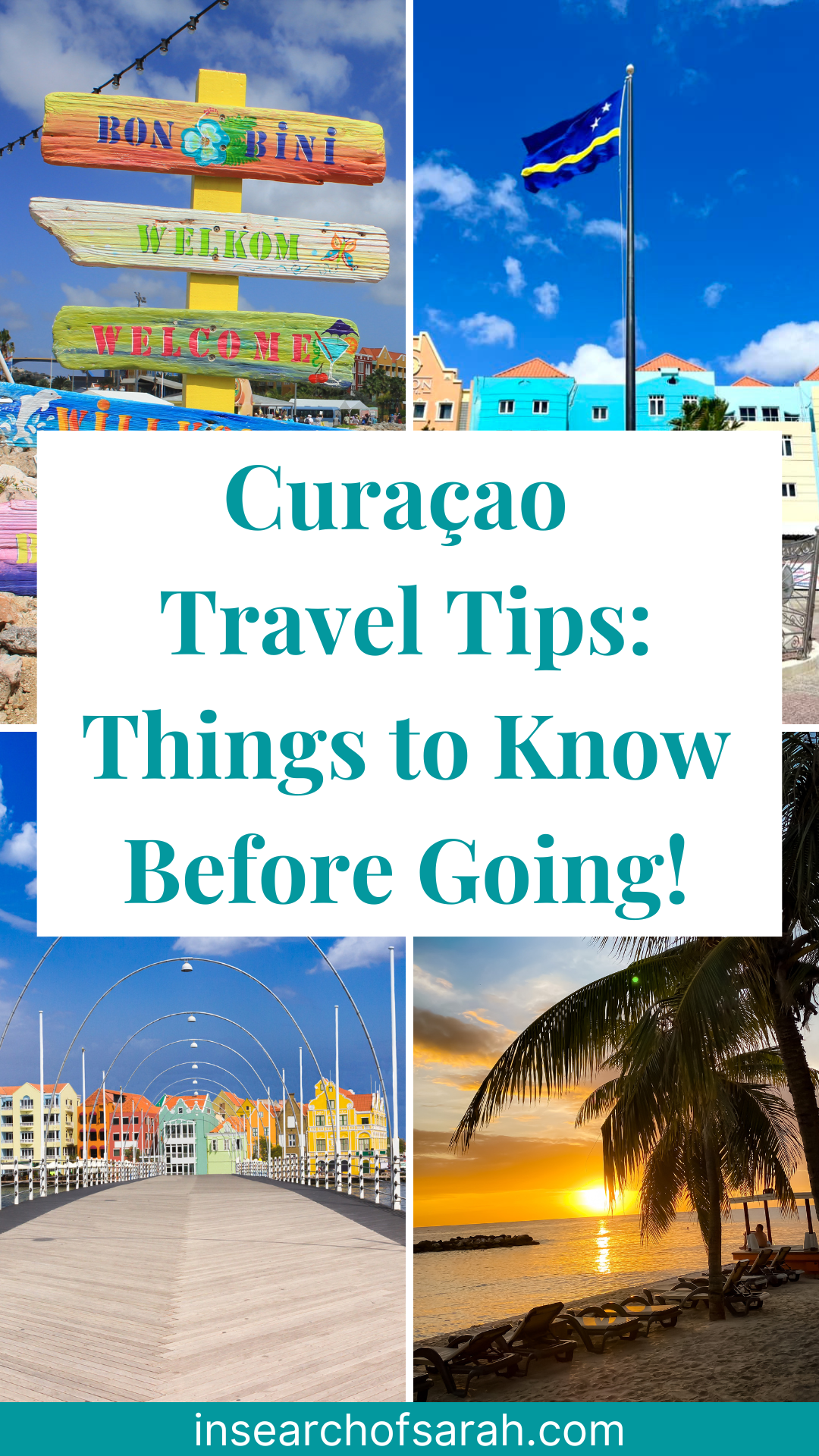 What to know before going to Curacao
First things first: how do you pronounce Curaçao? It's pronounced Kur-uh-sau, and many people haven't heard of this island before!
I wasn't really sure what to expect while travelling to Curacao but I knew it was going to be a trip to remember. We've never done a Caribbean island and not been at an all-inclusive resort, so we were really looking forward to dining out every day, renting a car, and exploring the island!
Curacao definitely exceeded my expectations and we can't wait to go back! Plus, Curacao is unique in that it's an autonomous country within the Dutch Kingdom, so you'll see lots of European influences around Willemstad.
Where is Curacao?
Curacao is located in the southern Caribbean, between Aruba and Bonaire, and makes up the "C" in "ABC Islands." It's only 40 miles north of Venezuela, which geographically you'd think it would be a part of South America.
Getting to Curacao isn't overly complicated, but coming to Toronto I only found one direct flight through Air Canada, with other flights connecting in the USA with lengthy layovers. I also found the flights to be insanely expensive which to us, was a huge drawback and almost the reason we didn't go at all. We decided at the last minute to just do it and I have no regrets!
A common debate most people have is whether to visit Aruba vs Curacao. Both islands have so much to offer, but Curacao definitely won our hearts!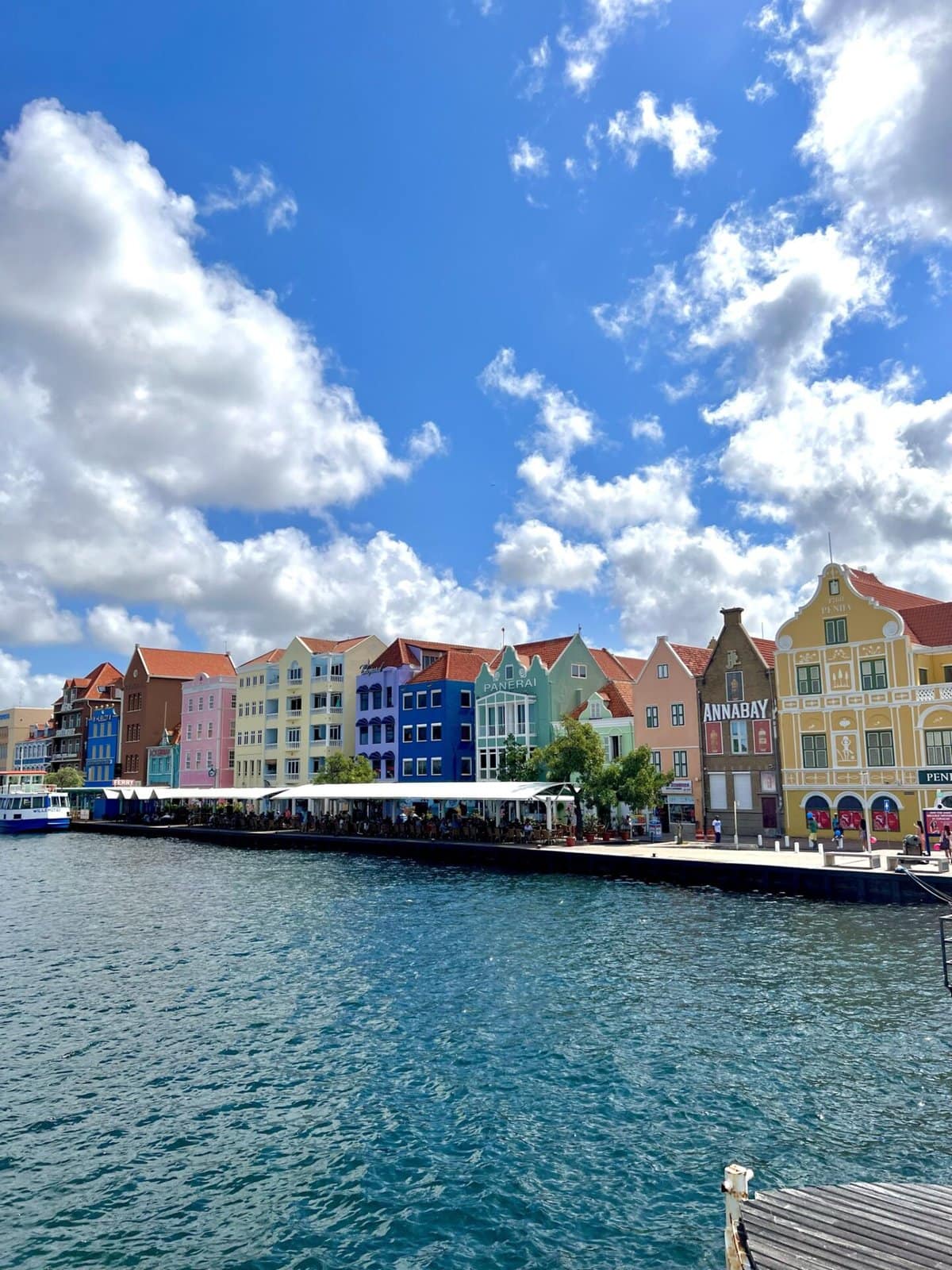 Weather in Curacao: When to Visit
There really isn't a bad time to visit Curacao! The island is located outside of the hurricane belt, which makes the island warm and sunny with very little precipitation year round.
Curacao is only 12 degrees north of the equator, and temperatures average in the mid 80 degrees year-round!
Rainy season is between October and December, but the rainfall is nearly nil and you'll notice much of the island is in desert-like conditions with an abundance of cactus!
Months with the least rainfall are February to June, with a mere 1 inch per month.
However, Curacao can be very windy – so hang on to your hats and dresses! We soon learned the breeze was our saving grace on those hot days in the sun.
Off peak months in Curacao are typically from May to November. You'll be fortunate to catch less expensive airfare and hotels during these months compared to high season.
What language do they speak in Curacao?
English is widely spoken in Curacao and you will be fine if that's the only language you speak. That being said, it doesn't hurt to try speaking a bit of the local language: Papiamentu.
Papiamentu is a Creole language derived from Portuguese, English, Spanish, Dutch, and French, along with African and Indian dialects.
Throwing in a bon dia (good day) or danki (thank you) into your interactions with locals is always welcomed.
Curacao played a heavy role in the slave trade, and many residents of the island identify deeply with their African heritage, which is apparent int their language and food.
Dutch is another prominent language in Curacao, as being a constituent country of the Kingdom of the Netherlands. Spanish is also spoken.
What is the currency in Curacao?
The currency in Curacao is the Netherlands Antilles guilder (ANG) – also referred to as the Florin. One guilder is the equivalent of $0.76 Canadian or $0.56 USD, but we often found it ranged throughout the island.
The good news is, USD is widely accepted throughout Curacao. This helped since we couldn't exchange money in Canada for guilders.
If you pay in USD, you can expect change in ANG, or you may be asked which currency you'd like in return.
P.s. Many ATMs in Curacao dispense USD!
Is tipping expected in Curacao?
The average tipping amount in Curacao is 10%, regardless of service. Check your bills to see if a service charge is already included in your total so you don't leave additional gratuity.
Is Curacao safe?
Curacao is one of the very few places I felt completely safe. I never had that sense of unease, even as we were driving down dark, unlit roads at 5:00 am on our way to hike Mount Christoffel!
Crime isn't a big issue in Curacao, but we were told when we picked up our car rental to not leave anything in our cars once we've parked. Better to be safe than sorry!
Look after your valuables on the beach. And while I haven't heard of anyone having anything stolen on beaches, it's always good to have someone watch your belongings. We also brought these waterproof bags with us to go snorkelling and they worked like a charm.
If you want to take photos underwater with your phone, these waterproof phone pouches are very effective and you can still take photos while underwater!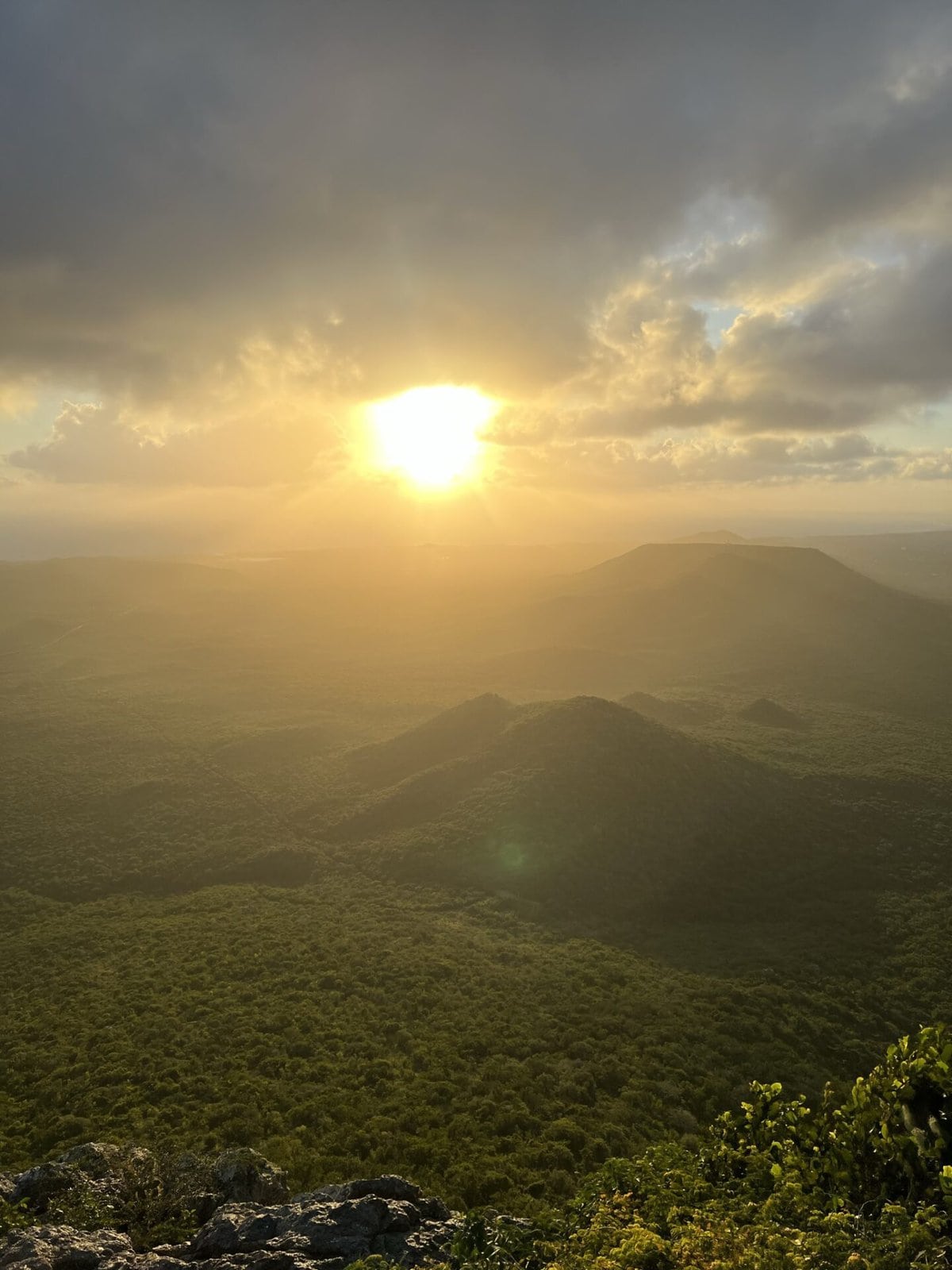 Do I need a travel adapter in Curacao?
I read a lot of varying responses to whether or not you need a travel adapter in Curacao.
The main voltage in Curacao is 120 V. Most sockets are American-style which is what you'll find in most hotels and updated buildings. It's best to check with your accommodations what type of voltage and outlets they have prior to travelling.
Curacao Travel Tips: Things to Know before Going
Here are some helpful Curacao travel tips to make your vacation planning a bit smoother.
Fill out your Digital Immigration Card
Curacao requires a digital immigration card to be filled out up to 7 days prior to your arrival. This means you have a full week to fill out and submit the digital immigration card.
You can print it out or bring it up on your mobile device. I printed ours – I found this the easiest way rather than fumbling with my phone, especially without hooking up to WiFi!
Tap water is fine to drink!
I was very relieved to learn that tap water is completely safe to drink in Curacao, and actually, it's delicious too! We drank the tap water at the Renaissance Wind Creek Curacao Resort and kept refilling our water bottles and chilled them in the fridge in our room.
This helped to save some money since we did not have the all-inclusive package and was really handy to have water accessible to bring our hike to Christoffelberg.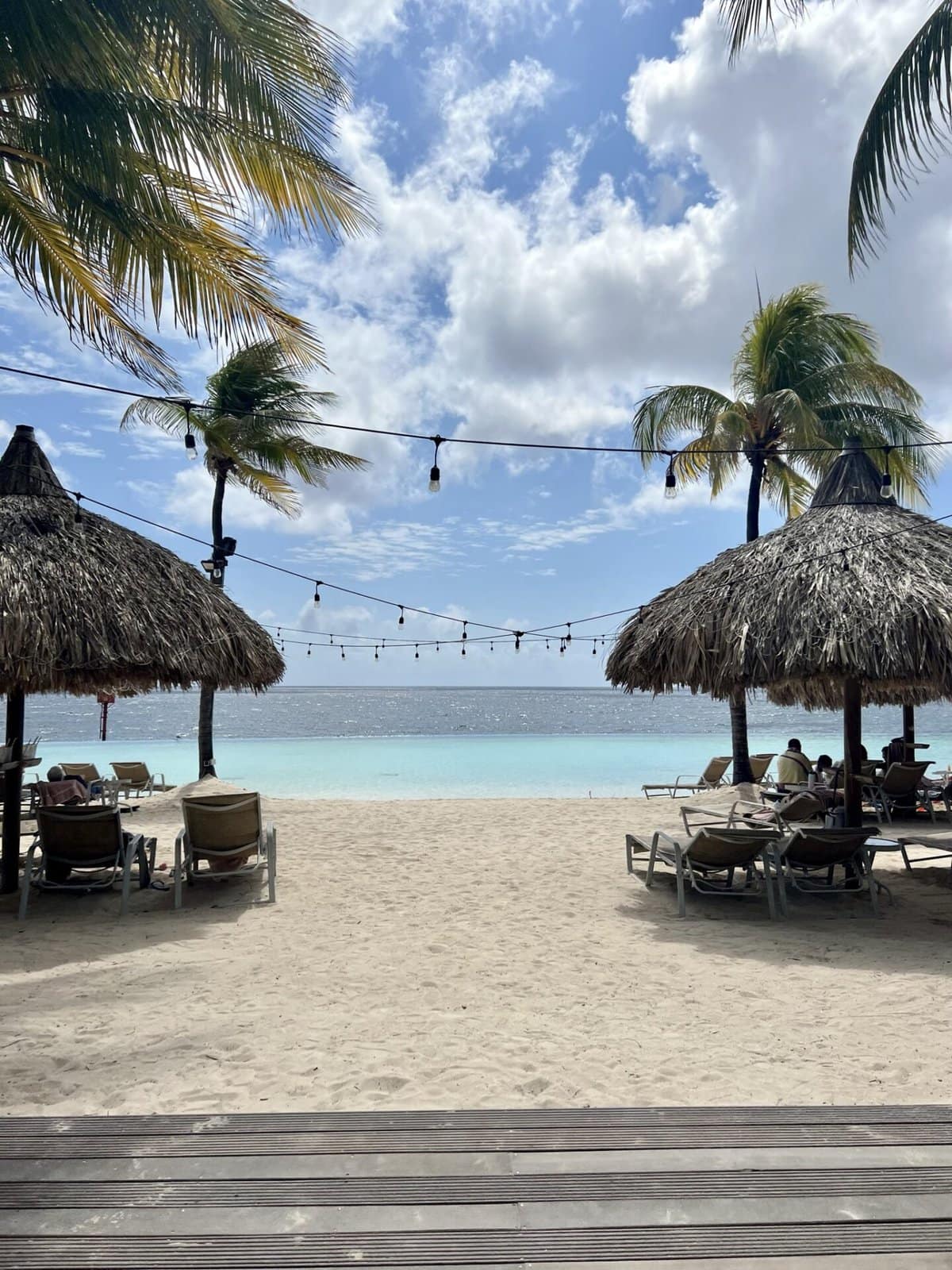 English is widely spoken
While a variety of languages are spoken in Curacao, the official language is the blended Papiamentu. This fusion of Portuguese, Spanish, and Dutch is widely spoken on the island, as well as Dutch.
We found it quite impressive that most locals speak 5+ languages through being taught in school as well as through the tourists that visit the island.
USD is accepted
You will be perfectly fine to bring USD as currency to Curacao. The official currency is the Guilder (also known as the Florian) to an exchange rate of $0.56 USD/$0.76 CAD. You may receive guilders back in change if you pay in USD, so be aware of the exchange rate.
The temperature is consistent year round
Curacao is consistently sunny and 80 degrees year-round. What's not to love?
There is no bad time to visit Curacao, though October-December are the wettest months.
That being said, rain usually occurs early morning or late evening and it's very short and localized rainfall. If you get caught in rainfall, it'll likely be felt as a nice reprieve from the sun!
You'll want to rent a car to get around – and book in advance!
Renting a car in Curacao is the absolute best way to experience what the island has to offer. Private tours and taxis can be expensive, but renting a car pays for itself.
Car rentals in Curacao aren't expensive, it's easy to drive there, and parking is free wherever you go. I highly encourage renting a car. For all you need to know about renting a car, check out my guide to what you need to know about renting a car in Curacao and why you need to rent one, along with some awesome car rental companies.
One of the best ways to experience a location is by trying the local food. Curacao has amazing seafood and goat dishes, but did you know that iguana is often seen on the menu?
It doesn't hurt to try it at least once…and I unknowingly had it in one of my delicious meals at Plasa Bieu.
Plasa Bieu is by far the place to go in Curacao to get the best – and cheapest – food.
We didn't have a bad meal in Curacao. From the fresh fish, amazing fried plantain, rice and beans and everything in between, there are a number of places to eat in Willemstad, Curacao's capital, for all diets and all price ranges.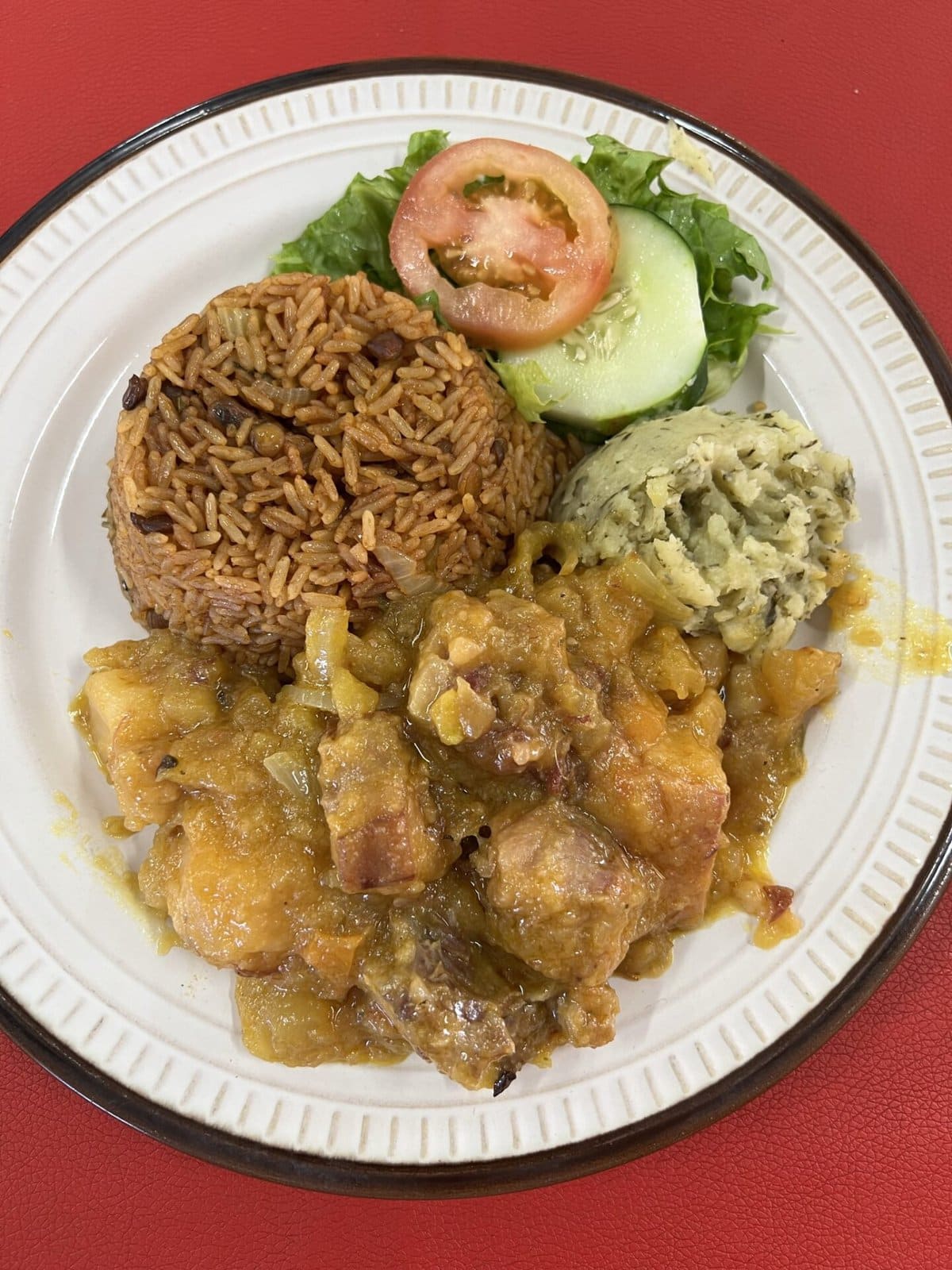 There are over 40 beaches to discover
One of the things Curacao is best known for is its incredible beaches. In fact, there are over 40 beaches to discover while visiting the island!
I have never seen bluer water than in Curacao, and it's so clear, which makes it great for snorkelling, too!
From beaches like Mambo Beach with lots of shops, restaurants, and amenities to quieter beaches like Daaibooi Bay, exhilarating beaches like Playa Forti to beaches with wild pigs at Playa Porto Marie, there is a beach for everyone!
Curacao's most beautiful beaches include Grote Knip, Cas Abao, Playa Jeremi and Playa Porto Marie, but you can be the judge of that!
P.s. You can also snorkel with sea turtles at Playa Piskado for free, but please do not touch the wildlife!
While some beaches may or may not charge admission, almost all of them will charge for a beach chair which is quite normal. Expect to pay anywhere from $2.50 – $5.00 USD for a beach chair. If you're planning to stay the day at a beach in Curacao, it's worth renting!
Drink what Curacao is known for – Blue Curacao!
Curacao is also well known for its striking blue liqueur, Blue Curacao! Made from orange peels and found in a variety of flavours, you can actually tour the place where Blue Curacao is made!
Located just outside the main centre of Willemstad is Landhuis Chobolobo. You can experience and learn about the distillation process of Blue Curacao which has been produced since 1896!
Guided tours start at $15 USD per person and last around an hour, plus it comes with a cocktail and you can taste the different flavours produced at the distillery.
Bring more sunscreen than you think you'll need
This is a travel lesson I am still trying to master! Always pack more sunscreen than you think you'll need. We reapplied sunscreen often while in Curacao because we were either sweating or swimming!
We typically travel with a carry-on only, so packing aerosols is out of the question, but you can bring a few cream sunscreen with you that will fit in a quart sized bag in your carry-on.
We ran out on the 5th day and almost bought sunscreen inside the Rif Fort, until we saw the price was almost $30 USD. Thankfully we had family members there that had enough to spare!
Ps. Planning on snorkelling? Consider a reef-safe sunscreen!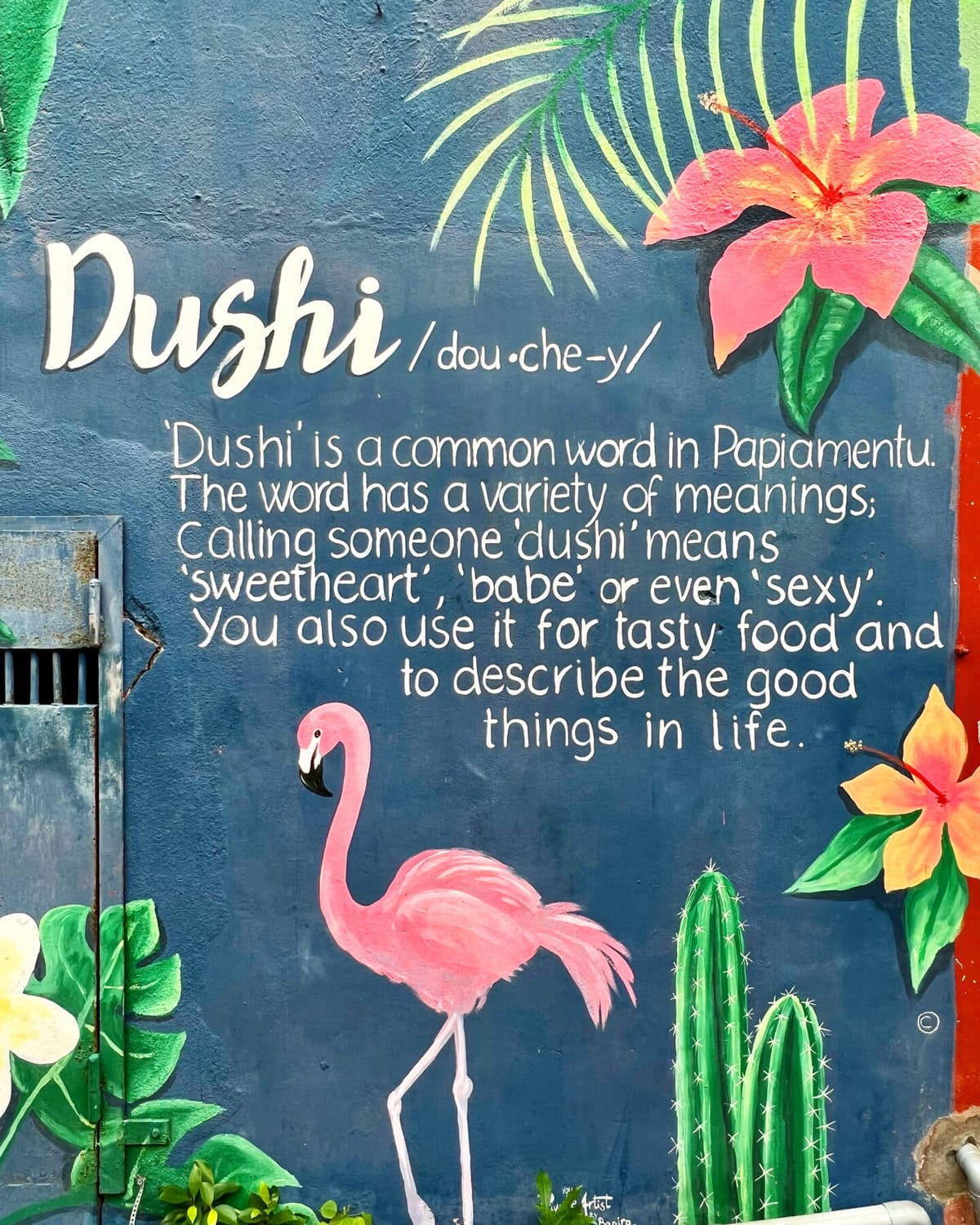 Cotton clothing will save you
One last helpful tip to know before going to Curacao is to bring cotton clothing. You will be sweating. A lot. You will want to be comfortable. I speak from experience.
Bring breathable, loose clothing with you. Cotton is best!
Side note for the ladies: I love wearing skorts, but if you wear skirts and have some discomfort with your thighs rubbing together, I absolutely love Monistat's anti-chafing gel. It has saved me so many times so now I tell everyone I know about this! It comes with me on all of our warm-weather travels!
Related Posts