Does finding a travel-related gift feel challenging for you? Because it does for me.
The pandemic has kind of sucked the fun out of everything relating to travel, but we've all found creative ways of keeping the wanderlust in our hearts alive, whether it's from armchair travelling or uncovering local hidden gems.
I'm here to tell you that yes, you can still find that perfect gift for your globetrotter that they can use without having to travel.
While this list applies to everyone at all times anyway, this year has proved especially difficult to source gifts for travellers when we can't travel easily.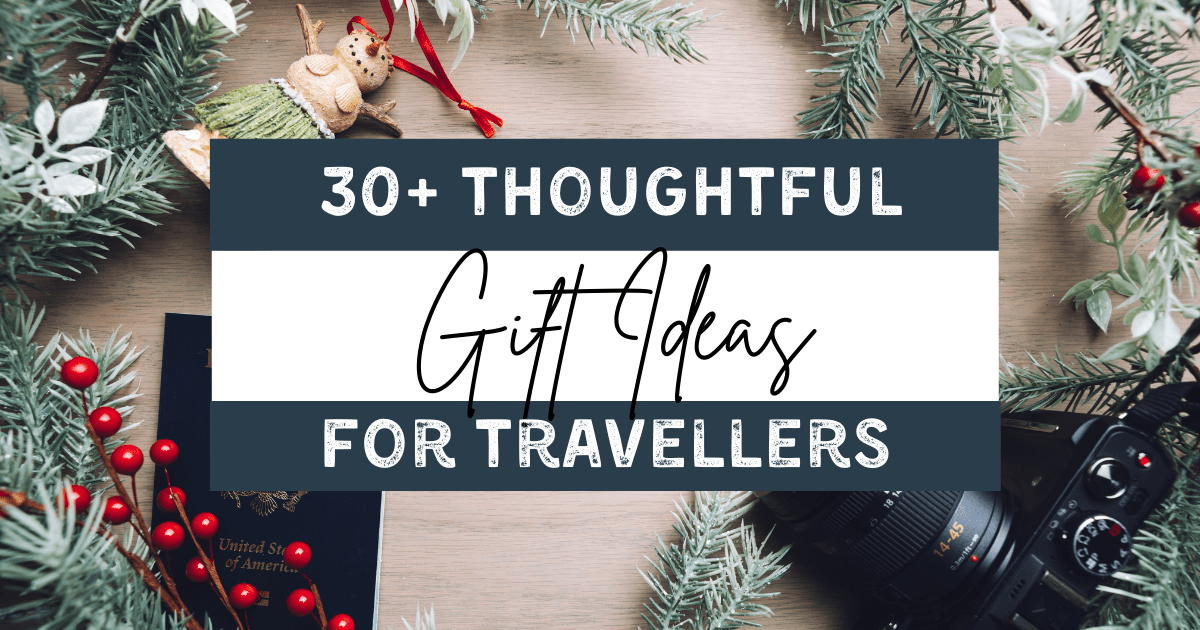 This post contains affiliate links which means I earn a small commission if you purchase through one of my links at absolutely no additional cost to you. Feel free to read my disclosure policy. Thank you for supporting my blog!
That's why I put this list together of unique and thoughtful travel gifts that will still fuel our passion for travel while keeping our feet on the ground.
Some of these I have, and some of these I want (hint hint, family!😂). They're useful for everyday activities, and since a lot of us have been sticking to local day trips or exploring our own towns, some of these are great for hiking and road trips, too.
There's something for every budget here, so no doubt you'll find that perfect gift for the travel lover in your life, and maybe one for yourself too!😉
23andMe Ancestry Kit
The 23andme DNA test is one of the coolest things I've ever done. With a simple saliva swab, you're able to uncover reports filled with a comprehensive ancestry breakdown and over 30 traits.
You'll learn about your origins, find out where your ancestors lived, discover how much Neanderthal DNA you carry, and discover relatives and DNA relationships around the world.
Ps. You can also upgrade to the Health test too – which will give you a breakdown of health predispositions and carrier statuses.
Mini Cork Globe
A new spin (haha get it? I just did) on the traditional globe. Since it comes with 50 push pins, it leaves a lot to the imagination in figuring out where your travel lover will want to go next.
A unique conversation piece, and doesn't take up a lot of room!
Kindle Paperwhite
Each time we travel, I usually pack at least 2-3 books, which as we all know, take up a lot of space and weight, especially if you're just travelling with a carry-on.
A Kindle is lightweight, and now has new features including waterproof and with backlighting, so it makes for the perfect travel accessory for avid readers, whether they're at home or travelling.
Save the space and some money, since e-books generally cost a lot less than paperbacks or hardcovers!
LifeStraw Go Water Filter Bottle
This is one of the best inventions ever made. The LifeStraw filters 99.9999 (shall I continue?) percent of waterborne bacteria and parasites. It reduces odour, chlorine and has no aftertaste. It accomplishes this without any chemicals or iodines and uses a microfiltration membrane to filter all the nasties out.
This is an awesome gift for camping, hiking, travelling, backpacking, and emergencies. Travel aside – I believe everyone should have one of these. You never know when you may need it!
And, for every LifeStraw purchased, a child in a developing community will receive safe drinking water for a whole school year.
Bluetooth Headphones
I use my Bluetooth headphones almost daily, whether it's for working out or actual work, these headphones are amazing and don't get in the way of anything. They also block out outside noise!
Small and easy to pack, these are perfect for future flights, too.
Whiskey Decanter Globe Set
Is this not awesome? This is one gift I would definitely buy two of so I could keep one for myself!
This beautiful etched-glass decanter has a little antique ship inside and comes with two matching glasses.
Whiskey Decanter Airplane Globe Set
As if the globe decanter wasn't cool enough, there is an airplane one, too!
4K WIFI Sports Action Camera
I'm a huge proponent of playing with new electronics at home before going on trips, so now would be a great time to gift a new piece of technology (or test out yourself!) at home.
This camcorder can record 90 minutes of activity, is waterproof to 100 feet, and is lightweight. You can't beat it for the price.
Camping Cookware Kit
For travellers who are exploring close to home for the forseeable future, this camping cookware kit is ideal for hiking, picnicking and camping.
This 10 piece kit comes with everything needed for an outdoor meal. All that's needed is the gas for the mini-stove.
FitBit
Ever since we got back from one of our Europe trips when we walked for hours each day, I wanted a way to keep track of my activity since the Health app on my iPhone didn't register my steps correctly. That's when I got my FitBit!
That trip was over 3 years ago and I still wear my FitBit daily. With features like a heart-rate monitor and sleep tracking, any traveller would appreciate this.
How much sleep did I get during that flight? Am I really that jetlagged? How many miles did we walk today so I can have an extra plate of pasta? These are important questions we need answered.😂
Travel Board Game
Travel the world from home when we can't travel with a travel-themed board game. Hey, it's less expensive!😉
Hot Sauces of the World
I love food and drink gifts, and for those who love trying new flavours and spices from around the world, a hot sauce gift set is a fun idea!
Coffee From Around the World
Not all coffee is the same! Gift a coffee sampler from around the the world for new flavours. Move over, Tim Hortons!
Travel Inspired T-Shirt
I love travel shirts. And I own a lot of them.
I always wear one while we travel but now I wear them hiking. You can't have too many! Keep the travel inspiration alive with these soft, cute travel-inspired t-shirts.
Customizable City Map Art
Gift your traveller map art of their favourite cities to remember their most-loved trips.
Travel Fund Piggy Bank
I know for a fact our travel funds are going to be nice and fat after all this (if we've kept up with saving!).
I haven't used cash since the beginning of this whole thing, so what better way to collect loose change than with a travel-themed piggy bank?
Hanging Toiletry Bag
Staycations and local getaways are going to be hot this winter. This hanging toiletry bag keeps everything organized and accessible.
Infinity Scarf with Hidden Pockets
Another great invention that I recommend to everyone. Serving dual-purpose of keeping your neck warm, it also has hidden pockets to avoid theft, and also to keep belongings tucked away (keys and phones) if a bag or purse isn't worn.
Great for hikers this winter, or on future trips abroad.
Travel Tumbler
I've been sourcing out more sustainable and reusable gifts. This travel tumbler eliminates the need for single-use cups and is great for road trips, hiking, camping, and general travel.
Lots of patterns and colours to choose from! I use mine daily!
Mini Skin Care Moisturizing Kit
This mini moisturizer set is great for travel – whether its to work or on the road!
Travel-Sized Poo-Pourri
This is always a crowd pleaser, and gets a lot of laughs too. But really, it's one of the most practical gifts for at home or while travelling. Just trust me. You'll thank me for it. 😂
They come in mini travel sizes too, which is awesome!
Travel-Themed Socks
Socks are the gift that we resented receiving as kids, but now can't get enough of. I can't even tell you how many fun socks I own, but every time I'm given a pair I get so excited.
Travel-themed socks are the perfect gift idea, whether it's to remember a favorite destination, or perhaps a grand reveal for a future travel plan! (Here's another hint for my husband. I would like the Paris ones please😂).
Wireless Mini Bluetooth Speaker
This is another practical gift, and we use ours all the time for our backyard campfires too. Whether it's used for a daytrip to the beach, camping, or in a hotel room, this mini Bluetooth wireless speaker packs a punch.
Weighing less than a pound and a guaranteed 6 hours of play time, it's the perfect gift for any time and anyone.
Fun Luggage Tags
You can never give enough luggage tags. I have so many that I change up every so often (or I lose them!). I'm always on the hunt for bright and colourful unique luggage tags!
Portable Charger
Here's another item we use constantly at home, on the road, at the office, hiking, etc. It's so nice having a battery backup on the days when I just know I'm going to take a bunch of photos, and when I know there won't be any access to power.
This is also one of those gifts I will give everyone, even if they don't travel, because it's so useful.
Travel Inspired Ornament
As an avid ornament collector, it was a toss up between a cute travel-inspired ornament or one with toilet paper on it.😂
Airplane Bottle Opener
An airplane bottle opener is a cute (and practical!) gift for any wanderluster.
Door Stop Security Alarm
I love the idea of a door stop security alarm, especially for solo travellers.
It's lightweight and easy to pack. Once wedged under the door, if any pressure comes in contact with it, an extremely loud alarm will sound and deter any intruder.
Portable UV Toothbrush Sanitizer
This practical gift is especially useful for this year, whether you're gifting this to those who are staying at home, or for staycations and local getaways
This portable UV toothbrush sanitizer kills bacteria to prevent infectious diseases and eliminates up to 99.9% of the germs and bacteria on your toothbrush.
Travel Inspired Jewelry
This thoughtful gift is a small way to remind your travel lover to keep their dreams alive (and to help them navigate all the challenges this pandemic has brought us!).
Scrubba Portable Washing Machine
This is one of the most genius travel items I've ever encountered and I wish I've found out about this much sooner!
The Scrubba Portable Washing Machine is a portable, lightweight, and durable washing machine to do pieces of your laundry on the go!
Looking for more inspiration? Check out this list of 20 cheap travel items under $20 that are surprisingly useful!
Pin it for later!
Related Posts