With the winding Grand River making its way through town, there are a number of incredible things to do in Brantford, from outdoor activities, museums and art galleries, unique shops, great restaurants, and so much more!
When people heard we were spending the weekend in Brantford, I heard a lot of comments of how this city is not a place they'd first think of for a weekend getaway. And honestly, I originally thought the same, but I'm surprised by how many things there were to do (and how much we learned!).
There's something for everyone in Brantford; from history lovers, foodies, outdoor recreationists, and those who love art and culture!
It wasn't until the pandemic hit that I realized how many amazing things there are to do in Ontario.
I've always been enticed to travel to foreign lands to experience new sights and flavours, but I was quickly humbled during Covid when all we had was our immediate surroundings to enjoy. Since then, I've enjoyed travelling around uncovering Ontario's hidden gems and underrated locations.
This post contains affiliate links which means I earn compensation when you click on the links at absolutely no extra cost to you! Feel free to read my disclosure policy. Thank you for supporting my blog!
Plan your next vacation using these tools!

✈️ Book flights: SkyScanner
🏨 Book hotels: Booking.com
🚘Book car rentals: RentalCars.com
🎫Book tours: GetYourGuide
🌍Favourite travel item: Packing cubes
🧳Favourite travel bag: Osprey 40L Fairview
🩹 DIY Travel Medical Kit
💸 20 Cheap Travel Items Under $20
Why is Brantford called the "Telephone City"?
Did you know that Alexander Graham Bell invented the telephone in Brantford?
You can actually visit the Bell Homestead where Alexander Graham Bell lived and created his inventions! But more on that later. 😉
How to get to Brantford
Brantford is only an hour away from Niagara! It's an easy drive via either the Red Hill Parkway to the Lincoln Alexander Parkway and down the 403 or down the QEW through Burlington to the 403. It takes about 45-60 minutes depending on time of day.
If you're coming from Toronto, it's a breezy drive down the QEW/403 all the way to Brantford. It takes roughly 1.15 hours without traffic.
Things to do in Brantford
Wondering what there is to do in Brantford? I was too, until I really looked at what was available! We filled an entire day and still left a lot uncovered.
We visited Brantford during the winter and were still surprised by how many things there were to do, even during the colder weather! Brantford is an all-season town!
P.s. Lots of these things to do in Brantford are free, too!
P.p.s. Irrelevant but little-known fact: Brantford is also the hometown of Wayne Gretzky! You can visit a statue of him at the Wayne Gretzky Sports Centre.
Shop for local goods at Brantford Farmers Market
We love visiting farmer's markets everywhere we go. To us, it's one of the best ways to experience the local flavours and food, and it gives us an opportunity to get to know the locals a bit better.
The Brantford Farmers Market has served the area since 1848 and offers fresh produce, dairy products, meat, fresh-baked goods, flowers, crafts and so much more.
We came across a lot of niche products, like hand-carved wooden toys, doll clothing, and bird houses. It was really nice to see the locals gathering for Saturday coffee, and you could feel the sense of community here.
You can even grab breakfast or lunch here, too!
The Brantford Farmers Market is open Fridays 9:00 am – 2:00 pm and Saturdays from 7:00 am until 2:00 pm.
Free parking is available on-site on Saturdays.
Address: 79 Icomm Dr
Go shopping in the Cordage Heritage District
Brantford's Cordage Heritage District was home to the largest cordage and twine manufacturer in Canada from 1901-1968!
Today there are a variety of unique shops located within this historic property.
We stopped in at Seventh Coffee Company and got a breakdown of all the coffee that's offered. We ended up leaving with 4 bags and sampled their nitro brew, too. You can also purchase pottery made by the pottery studio next door.
The Bathtub Bakery is probably the cutest shop I have ever been in, period. If you didn't know any better, you'd think it was all edible! Bathtub Bakery specializes in bath and body products like bath bombs, soaps, body butters, candles, and so much more.
After I sniffed all the candles (seriously, it's a major problem of mine…) I was proud I only walked out with 3, and a bag of mini donut bath bombs.
You can find adorable products like her bath bomb fortune cookies (complete with fortune inside!), maple waffle bath bombs, donuts, cookies, smores…etc!
Fancy a drink? Head to Mash Paddle for a local brew while you're browsing the shops. The Cordage Heritage District has been converted into a great usable space and is definitely worth visiting.
See Ontario's oldest surviving church: Mohawk Chapel
If you're looking for an epic photogenic spot in Brantford, the Mohawk Chapel is absolutely stunning. It's the oldest surviving church in Ontario.
It was also the first Protestant Church in Upper Canada.
Mohawk Chapel was built in 1785 by the Crown and was given to the Mohawk Loyalists, led by Joseph Brant.
You'll also find the final resting place of Joseph Brant and his son, John Brant.
There is a beautiful set of 8 stained glass windows. Each window depicts important events from the history of the Six Nations of the Grand River Territory and the Iroquois people.
You can also book tours here by appointment.
Address: 301 Mohawk Rd
Wilkes Dam
As the closest thing to a waterfall in Brantford you'll get, Wilkes Dam is a quiet and peaceful place at the end of a dead-end street nestled in a gorgeous neighbourhood.
Seriously, the houses surrounding this area are unreal. I'd love to stroll the streets during the warmer weather and check them out some more!
The dam is named after former Brantford Mayor, George Samuel Wilkes, who built the dam in 1853 to supply water to his business.
Address: 338 Dufferin Ave
Get talking at the Bell Homestead National Historic Site
A visit to Brantford isn't complete without visiting the Bell Homestead National Historic Site. This is where Alexander Graham Bell invented the telephone in 1874.
He and his family came to Canada from Scotland when he was 23. He was suffering from tuberculosis and found the weather in Canada drastically improved his health.
The guided tour of the Bell Homestead was once of the best tours we've been on. It was interesting to learn a piece of Canadian history, and the progression of the telephone over the decades.
You'll visit the study, kitchen, lounge, and bedrooms of the Bell family, along with where Alexander's second bedroom and workspace was.
Part of the tour also includes a visit to Canada's first telephone business office from 1877!
The home was moved from downtown Brantford to this location, and you'll be able to see what original switchboards looked like (including a functioning one from the 1930s!), and the design of phones throughout the years.
P.s. the phone I once used growing up is now in a museum, so honestly, I feel a bit old. 😂
Tours are $10.25 for adults and are recommended to be booked in advance by calling 519-756-6220.
Address: 94 Tutela Heights Rd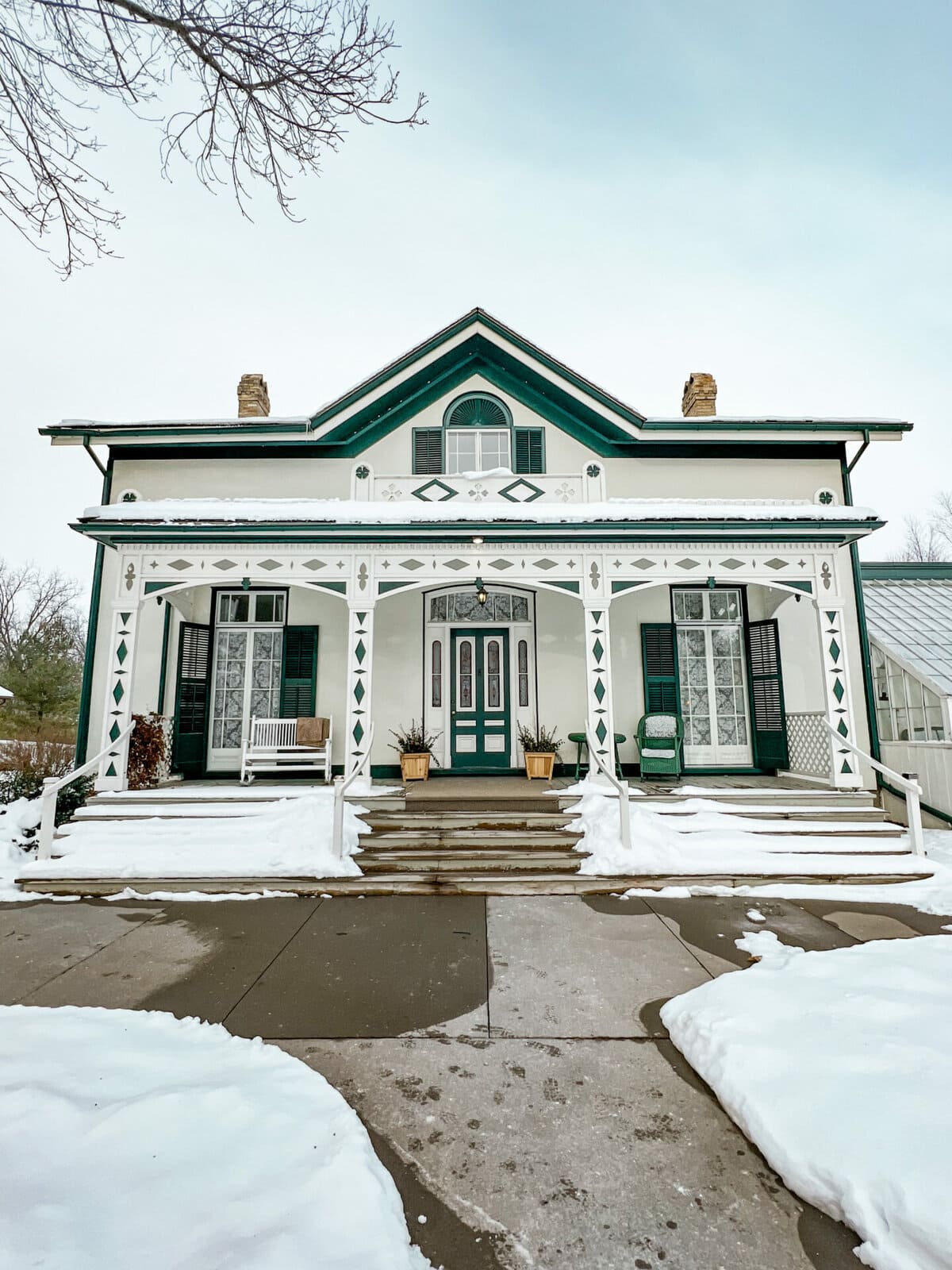 Learn some Brantford history at Brant County Museum
If you have an hour to spare while visiting Brantford, I encourage you to visit the Brant County Museum and Archives.
It's a free activity (donations are appreciated to preserve these historic memories!) and a fun way to learn about the local history of the town.
There is a temporary exhibit on the main floor. At the time of our visit, it was all about the origins of Chinese Laundries and Chinese restaurants in town.
Upstairs is set up like a heritage village, which we thought was really well done. Check out what an old pottery, grocery store, pharmacy, music shop, barber, and printery once looked like.
Address: 57 Charlotte St
Get a taste for local spirit at Manns Distillery
Wherever we go, we love sampling local offerings. We decided to make Manns Distillery our first stop in Brantford, and we loved all the different types of spirits and liqueurs.
There is upstairs seating with comfy couches and lots of bar tables to accommodate groups of people.
A flight of three 0.5 oz samples is just $7.50, and you can try flavours like watermelon vodka, haskap berry liquor (sourced just down the street from their farm!), coffee liqueur, chai liqueur, and various flavours of gin.
If neat samples aren't your style, there is a great menu of cocktails to try.
Address: 581 West St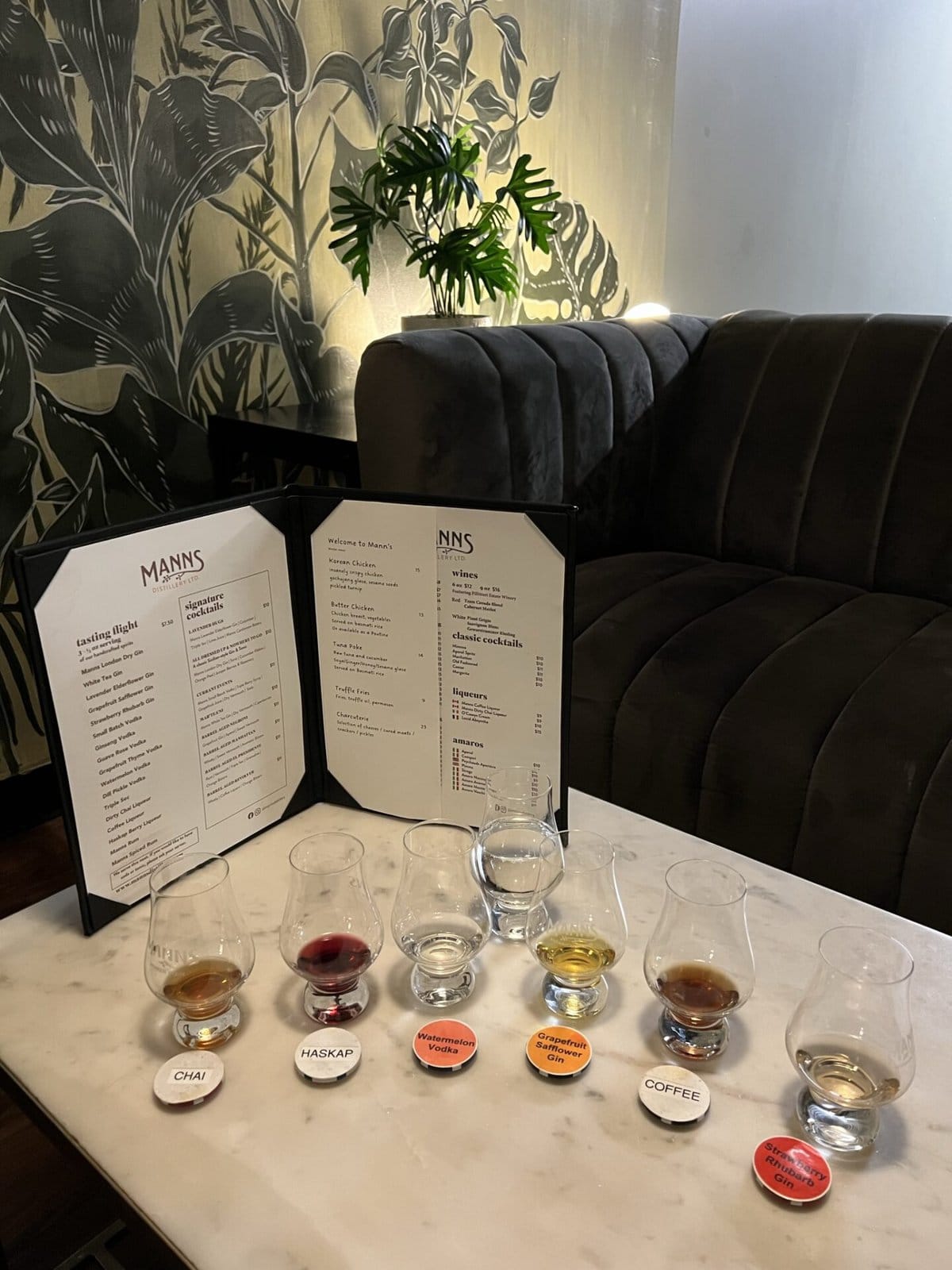 Get outdoors in Brantford: Take a Hike
Brantford is known as the "hub of Ontario trails". With the Grand River winding its way through town, it's not hard to imagine that many of these trails follow the scenic route of the river.
In fact, there are over 70 km of recreational trails in Brantford!
Many of these trails make their way to Port Dover, Hamilton, Paris, and beyond! While many of these trails intersect and connect their way to other towns, it's a great way to get out for some fresh air and scenic views.
Things to do in Brantford at night: Catch a show at the Sanderson Centre
We caught a show downtown at the Sanderson Centre and got tickets for the Original Wailers. If you don't recognize the name, it was founded by the Wailers of Bob Marley and the Wailers!
The Sanderson Centre for the Performing Arts is a cozy theatre and this concert attracted crowds of all kinds, swinging to the music, singing away. It was truly a united "One Love" evening.
There are a number of shows at the Sanderson Centre this year. Tickets are reasonably priced, as are the drinks and snacks!
Address: 88 Dalhousie St
Where to eat in Brantford
Brantford has an incredible array of dining options and great restaurants. We also noticed there are a TON of vegan and gluten-free options on all the menus we came across.
We were impressed by the great service that was consistent throughout Brantford – which just added to our overall impression of this city!
Best local restaurant in Brantford: Sociable Kitchen and Tavern
You can always judge how good a restaurant is by the local crowds. For a happening place to eat in Brantford, head to Sociable Kitchen and Tavern.
Right off the hop, we loved the atmosphere. Shipping containers, industrial finishes, a photobooth, and long, conversation-inducing tables welcomed diners.
We both tried the buttermilk fried chicken sandwich, and since I'm always a sucker for sweet potato fries, I had to get them. These wedges were huge. We also went for the pretzels with beer cheese (don't judge us 😂).
Overall the service was great, the food tasted as though it was made from scratch, and we loved all the little elements of this restaurant.
Address: 45 King George St.
Upscale dining in Brantford: Fume RestoBar
For an upscale dining option in Brantford, Fume RestoBar is the place to go.
Every morsel of food we tried was delicious. If nothing else, I implore you to get the "Beets!" salad. It's a concoction of beets, mascarpone cheese, figs, kiwi, pomegranate, and pistachio. We split it, but I wish I had one to myself.
I had the duck for main and my husband had the burger. The portions are generous and the prices are very reasonable. Plus, the cocktail menu is awesome!
Address: 150 Morrell St.
Best restaurant downtown Brantford: Nine North
We were looking for a restaurant in downtown Brantford to have lunch at, and Nine North caught our eyes!
We love a good Vietnamese-Thai restaurant. I especially loved that our waitress said that she loved the food here so much she applied to work at Nine North.😂
Everything from the service, bubble tea (hello, honeydew!), grilled chicken rolls, and vermicelli bowls were awesome. The food is absolutely delicious – so if you're into Vietnamese and Thai food, definitely stop in at Nine North!
P.s. Ask for the hot oil. It elevates your dish to the next level.
Address: 86 Dalhousie St.
Fun tip: After lunch, walk across the street to Harmony Square and visit Momoko Snacks Land – they have all kinds of Japanese, Korean, and Chinese snacks you can buy! We were greeted with samples which I thought was a nice touch, too. It's such a fun place and a great way to try some international treats!
Where to stay in Brantford
Our getaway package included a two-night stay at the TownePlace Suites by Marriott Brantford. It's located about 10 minutes from downtown Brantford with easy access to the 403.
Our King Studio was spacious with a full kitchen, complete with dishwasher, microwave, fridge, freeze, plenty of storage space, and even dishes.
The room itself is large and there is plenty of storage space and a large closet with hangers and shelving. This would actually be a great place for a long-term stay if you're working in the area.
There is a workstation with a table that slides in and out, pull-out couch, large TV (equipped with Netflix and Prime), and modern bathroom.
Breakfast is served daily from 7:00 am with coffee, tea, juice, fruit, yogurt, eggs (hard boiled and fried!), cheese, bacon, and pastries. There's also a waffle maker (fun for kids AND adults!) and cereal options.
The dining area provides ample seating and it was nice to have breakfast included in our stay!
Of course, you have other options for places to stay in Brantford, including the Hampton Inn & Suites by Hilton (it shares the same parking lot as TownePlace Suites by Marriott), Comfort Inn, Best Western, and Days Inn – all with quick and easy access to downtown and the 403.
I won a getaway package from Tourism Brantford and my husband and I had a fun weekend packed with all kinds of things to do in a new-to-us city!
Related Posts
Pin it for later!