Prince Edward Island's rugged coastline is breathtaking. From sand dunes to jaw-dropping red cliffs, rocky shores to vast beaches, PEI is home to incredible ocean views from tip to tip. Dotted around the coastline are the island's guiding lights – 63 lighthouses rich with maritime history.
Many of these lighthouses in PEI are no longer active, but over half still stand tall and remain to aid in marine navigation, shining brightly along the island's 1800 km of coastline.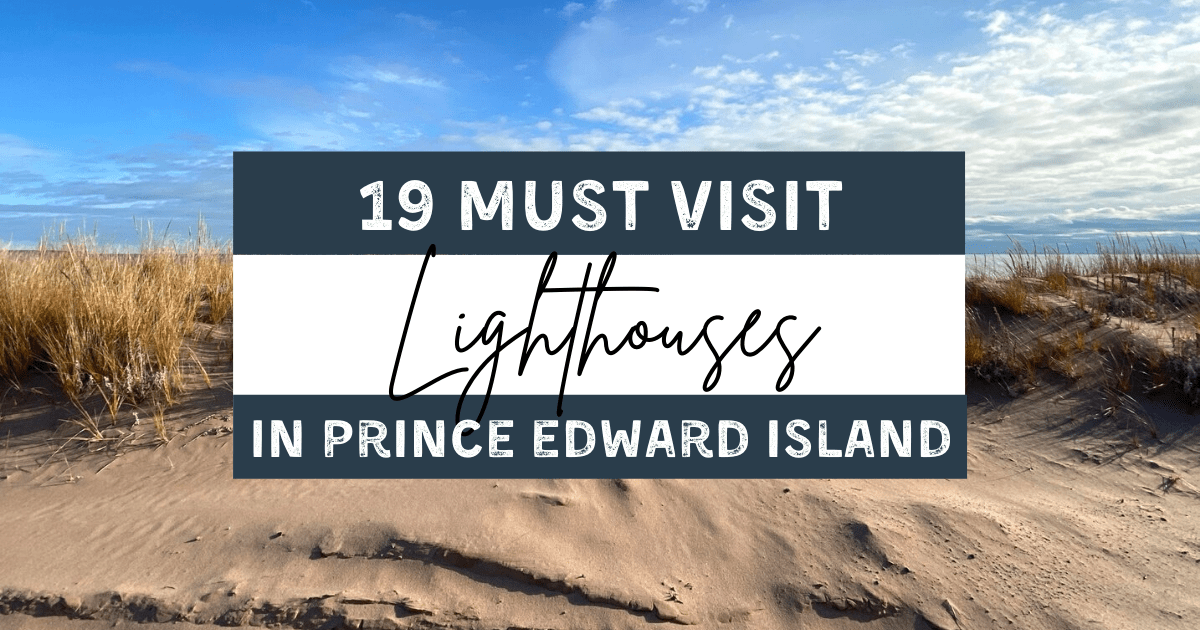 I have a bit of a lighthouse obsession – I don't really know why – I love the history and stories behind them, and I made it my goal on one of my trips to PEI to see as many as I could during my time on the island.
What I love about lighthouse hunting is often you'll come across these shining lights far away from everything, or in tiny fishing villages. Each of them is unique and gorgeous in their own way – some are weathered and in shambles, whereas others are in pristine condition, some of them you can tour during the summer months, some are easy to find or lead you on a treasure hunt, but above all, you'll have magnificent views of the water at each one.
With each lighthouse you'll find, it'll be a new adventure and a new view – with that soothing salty air instantly relaxing you. Here are 19 must-visit lighthouses in PEI that will take you all across the island!
Don't have enough time to read through this all right now? Save it for later!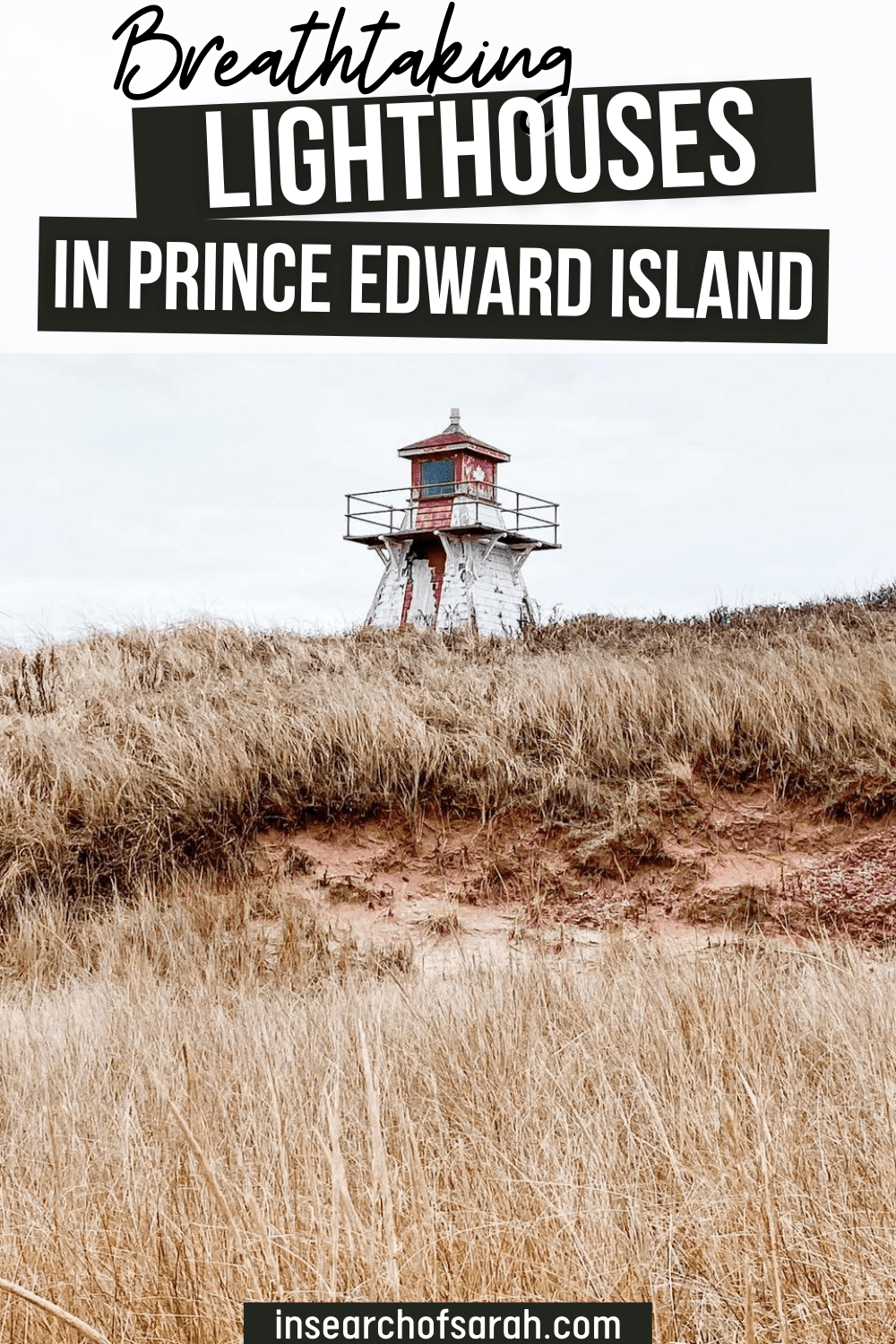 A brief history of lighthouses and lighthouse keepers
The pupose of a lighthouse is to warn mariners of dangerous reefs and to guide ships safely to harbour. Before lighthouses were built, many ships and lives were lost, and ships had been guided by beacon fires by lookouts.
A lighthouse keeper was responsible for caring for a lighthouse – namely the light and lens when oil lamps and clockwork mechanisms were used. They were also responsible for the fog signal during periods of low visibility and the weather station as well as playing an important role in search and rescue.
The evolution of lighthouses progressed to electrification in the 1960s and as such, the need for lighthouse keepers dwindled.
How many lighthouses are in PEI?
There are 63 lighthouses in PEI, 35 of which are still active to this day! At just 224 km long, Prince Edward Island is believed to has the highest concentration of lighthouses in North America. There are 7 lighthouses are privately owned and 9 of them are National Historic Sites.
These 63 lighthouses account for part of Canada's total 750 lighthouses!
What are the best places to visit for lighthouses in Prince Edward Island?
Point Prim Lighthouse
Point Prim Lighthouse is PEI's oldest lighthouse, and is also the oldest working lighthouse in Canada! You can climb this 61 foot high lighthouse during the summer months for just $5 for sweeping views of the Northumberland Strait and Hillsborough Bay.
Point Prim is one of only two lighthouses in Canada constructed of brick – the other being Fisgard Lighthouse in British Columbia. The exterior bricks began to deteriorate after years of being exposed to the harsh maritime conditions and is now covered in wooden shingles. However, you can see the brickwork from inside!
Tip: if you visit Point Prim Lighthouse from mid-June through the end of September, you absolutely must visit the Point Prim Chowderhouse. You won't find better tasting seafood chowder anywhere!
Built: 1845
Address: 2147 Point Prim Rd, Belfast
Cape Tryon Lighthouse
Cape Tryon Lighthouse is by far my favourite lighthouse in PEI. It's remote location and incredible views of the coast will instantly make you fall in love. It guided mariners along the northern coast of PEI and sits close to breathtaking sandstone cliffs towering 100 feet above sea level.
Cape Tryon is featured in Lucy Maud Montgomery's (author of Anne of Green Gables) novel, Anne's House of Dreams.
Built: 1905
Address: Cape Tryon Rd, French River, turn at the dirt, single lane driveway where the dirt road meets asphalt. There is no marker for this lighthouse off of Cape Road.
New London Lighthouse
Just a few km down the road from Cape Tryon at Yankee Hill is New London Lighthouse. It used to be the only lighthouse in the area designed for the fledgling fishing industry.
The famous three-masted clipper ship Marco Polo – one of the fastest ships in the world- was wrecked on sandbars in 1883, just five miles east of the lighthouse. The wreck site is a National Historic Site.
New London Lighthouse is also notable for having one of the few female lighthouse keepers in Atlantic Canada. Maisie Adams served from 1943-1955.
There's lots of history at this little lighthouse, and for a time this could be leased out during the summer months as a cottage.
When I was finding parking at this lighthouse, I stumb-led across an old Pioneer cemetery in the woods that was very well-preserved. Markers range from 1828-1904. It's quite a unique sight that's worth a wander through while visiting New London Lighthouse!
Built: 1909
Address: 821 Cape Rd, Kensington
Malpeque Outer Range Front Lighthouse
While visiting Thunder Cove Beach and the Teacup Rock, you'll notice a weathered, unmanned lighthouse known as Malpeque Outer Range Front Lighthouse.
Satisfying my need to see as many lighthouses in PEI, I had to investigate. It's worn look gives it character and its gorgeous setting makes for some quintessential seaside photos.
Despite its rugged and battered appearance, this lighthouse remains active to this day, almost a century after it was built.
Built: 1922
Address: 115 Lighthouse Rd, Kensington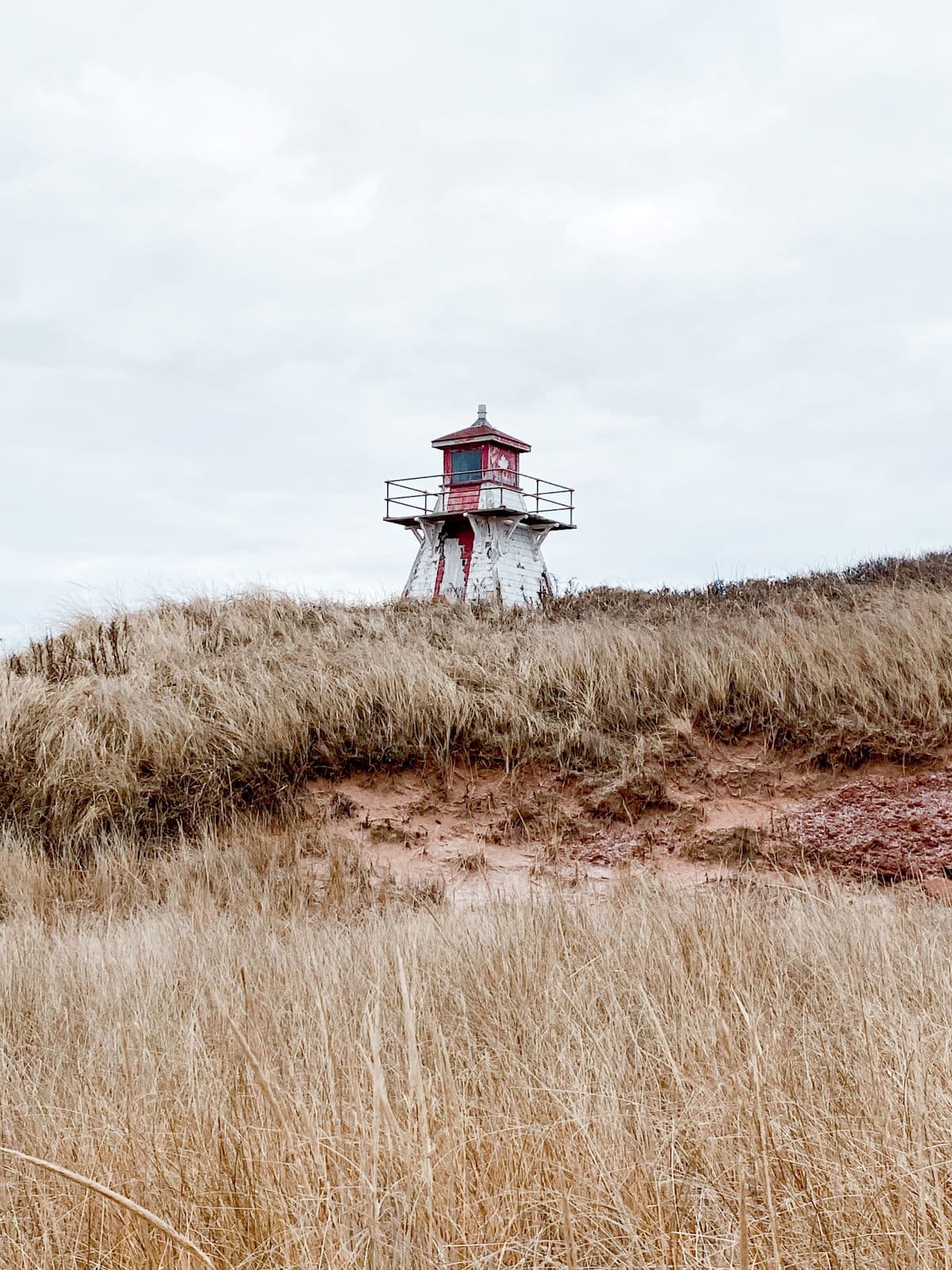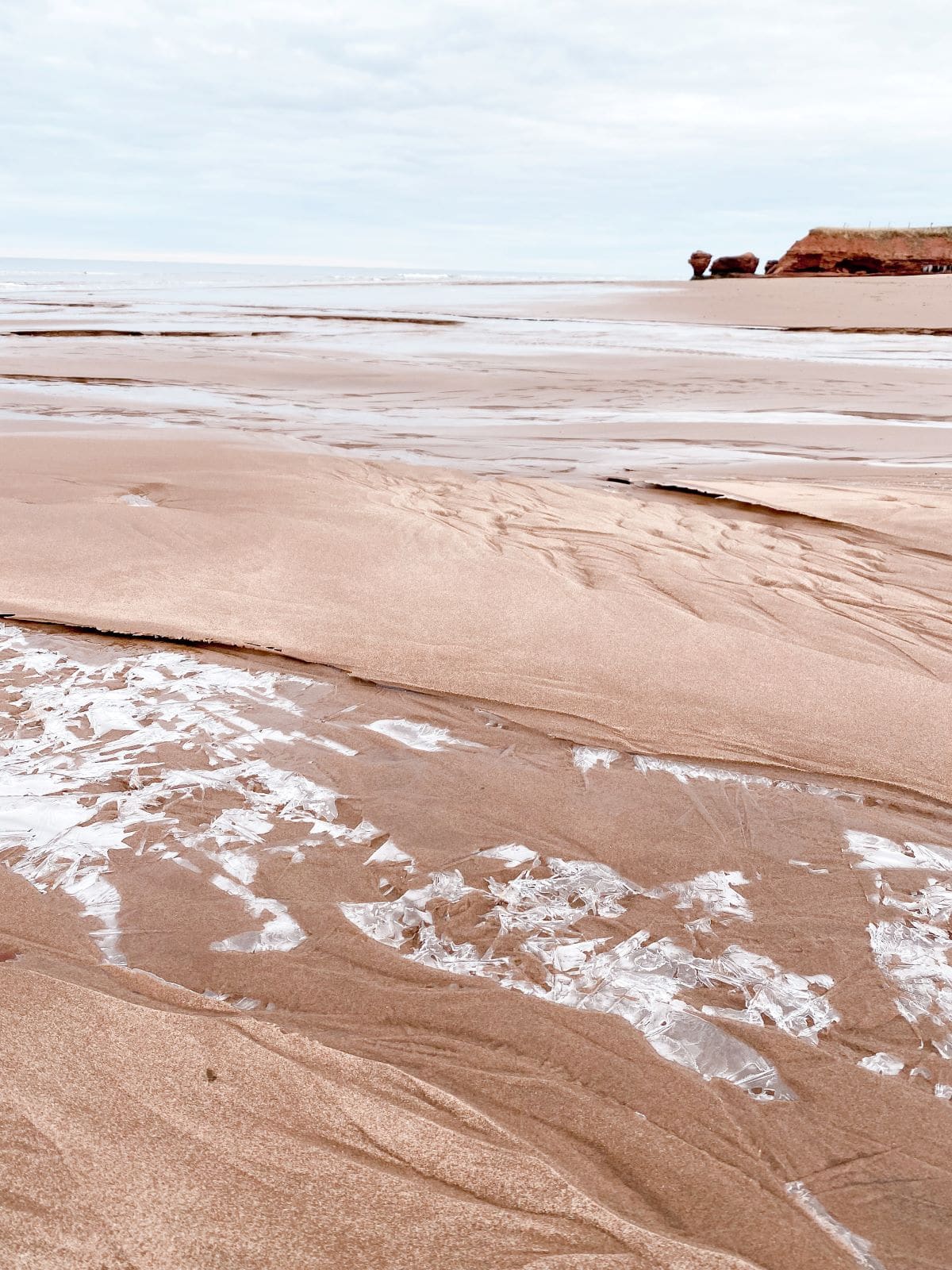 Malpeque Outer Range Lighthouse is located on one of the best beaches in PEI!
Covehead Harbour Lighthouse
Covehead Harbour Lighthouse located at Brackley Beach and is one of the cutest lighthouses on PEI and is a reminder to the maritime past of fishing and shipbuilding.
It's also a heritage lighthouse given its community, architectural and historical values. It's one of the most photographed lighthouses in Prince Edward Island and has been important to the fishing community, guiding mariners to the entrance of Covehead Bay.
The style of this lighthouse is that of a square tapered one – a favoured design because they were easy to maintain and more economical to build. It features a 100 year old bull's eye Fresnel Lens which was formerly used at Dalhousie, New Brunswick.
Access to this lighthouse is only by coming to Brackley-Dalvey at PEI National Park, which you will need a Canada Parks pass for, unless you visit during the off season from October – May (and in my opinion, one of the best times to visit!).
Built: 1975 (original 1967)
Address: 1430-1530 Gulf Shore Pkwy E, York
East Point Lighthouse
East Point Lighthouse is the farthest point on Prince Edward Island that you can access! Built in 1867, it's known as being "Canada's Confederation Lighthouse" – as it's the only lighthouse that was established the same year as Canada!
East Point Lighthouse was one the busiest guiding lights for marine navigation. The history of shipwrecks in the area proves the meeting of the three tides to be one or of the most difficult to navigate: the Atlantic Ocean, Northumberland Strait, and the Gulf of St. Lawrence all meet at the most easterly point.
During the summer months the museum is open and you can climb the tower for a small fee for views of the meeting tides and even seals if you're lucky! There's also a cafe and gift shop on site along with a bird watching tower, where migrating pelagic birds pass through.
Be sure to stop by stunning Basin Head on your way to East Point.
Interesting fact: All five lighthouse keepers who looked after this light have passed away, and all are buried in the same graveyard.
Built: 1867
Address: 404 Lighthouse Rd, Elmira
Souris East Lighthouse
Souris East Lighthouse overlooks Colville Bay, the Northumberland Strait, Souris, the Îles de-la-Madeleine ferry, and if you visit on clear days, views of the Cape Breton Highlands. This square tapered wooden lighthouse sits atop a cliff and has been the symbol of the town and still stands guard over the harbour that is home to fishing vessels and the ferry to the Magdalen Islands.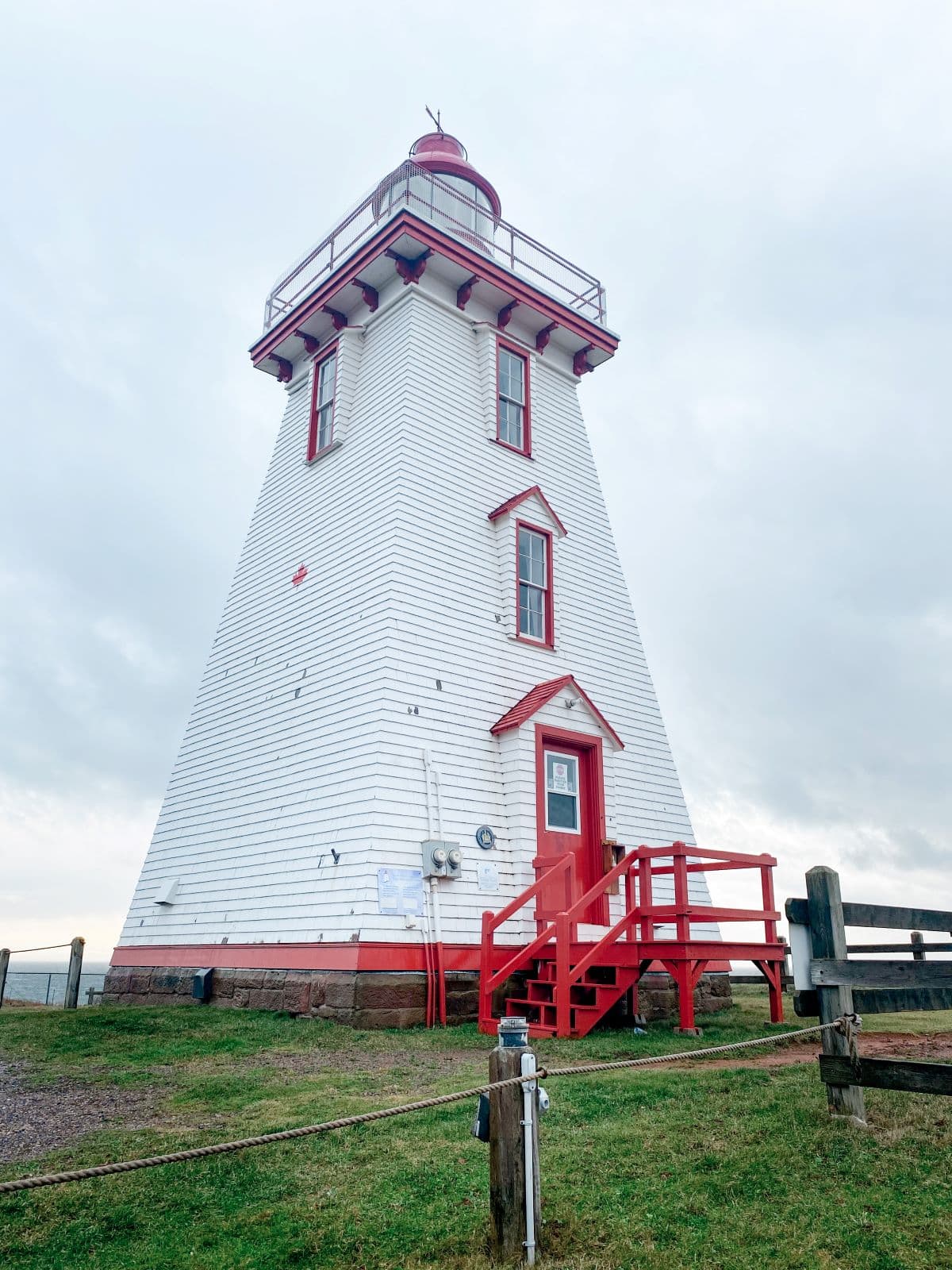 The last lighthouse keeper here retired in 1991.
You can climb the tower from May – October for $5. The lighthouse also has an interpretive centre with the history of sea glass, a treasured item on the island.
Built: 1880
Address: 134 Breakwater St, Souris
St Peter's Harbour Lighthouse
St Peter's Harbour Lighthouse may be one of my favourites because of how remote it is. This stunning lighthouse sits surrounded by large shifting sand dunes along the north coast – just barely visible from the actual beach.
The road to St Peter's Lighthouse is a 1.5 km dirt road that turned sandy the closer we got to the beach. We drove this early on a rainy day and it was a bit precarious – I'm sure if we waited until later in the day there's a good chance we could've been stuck. That being said, the drive to the lighthouse is gorgeous. Nothing beats a red dirt road!
St. Peter's Harbour Lighthouse has withstood over 130 years of exposure to Atlantic Canada – a tribute to its craftsmanship. This guiding light was discontinued in 2008, and buoys now mark the harbour entrance.
We also tried to stop and see Shipwreck Point Lighthouse in Souris, which is only about 30 minutes from St Peter's Lighthouse on the way to East Point, but it was being repaired! I couldn't believe it – and it was kind of funny actually, but we were able to pass through a beautiful tiny fishing village so it all worked out!
Built: 1865
Address: 302 Lighthouse Rd, Morell
Panmure Head Lighthouse
The drive to Panmure Island is stunning – with sand dunes skirting the road and a red, sandy beach on either side. As PEI's oldest wooden lighthouse, Panmure Head Lighthouse is the second lighthouse built on the island.
There are two horses in the field in front of the lighthouse, making for a gorgeous photo opportunity if you can time it right!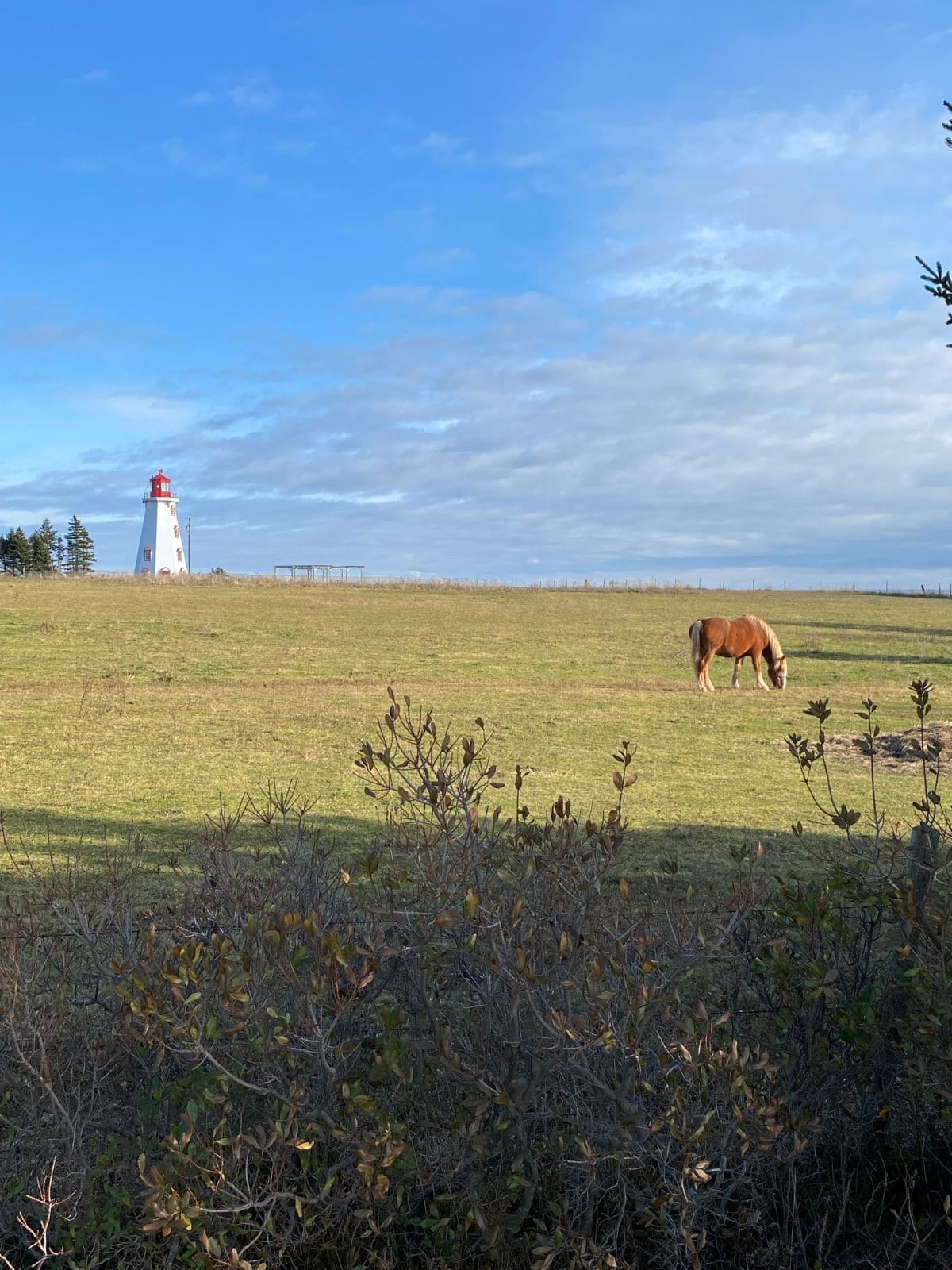 I stopped along the road to check out some frozen sand dunes on the way back, and the drive through Montague is so scenic. Stop in the charming town for a coffee or some photo opportunities.
Built: 1853
Address: Rte 347, 62 Lighthouse Rd, Montague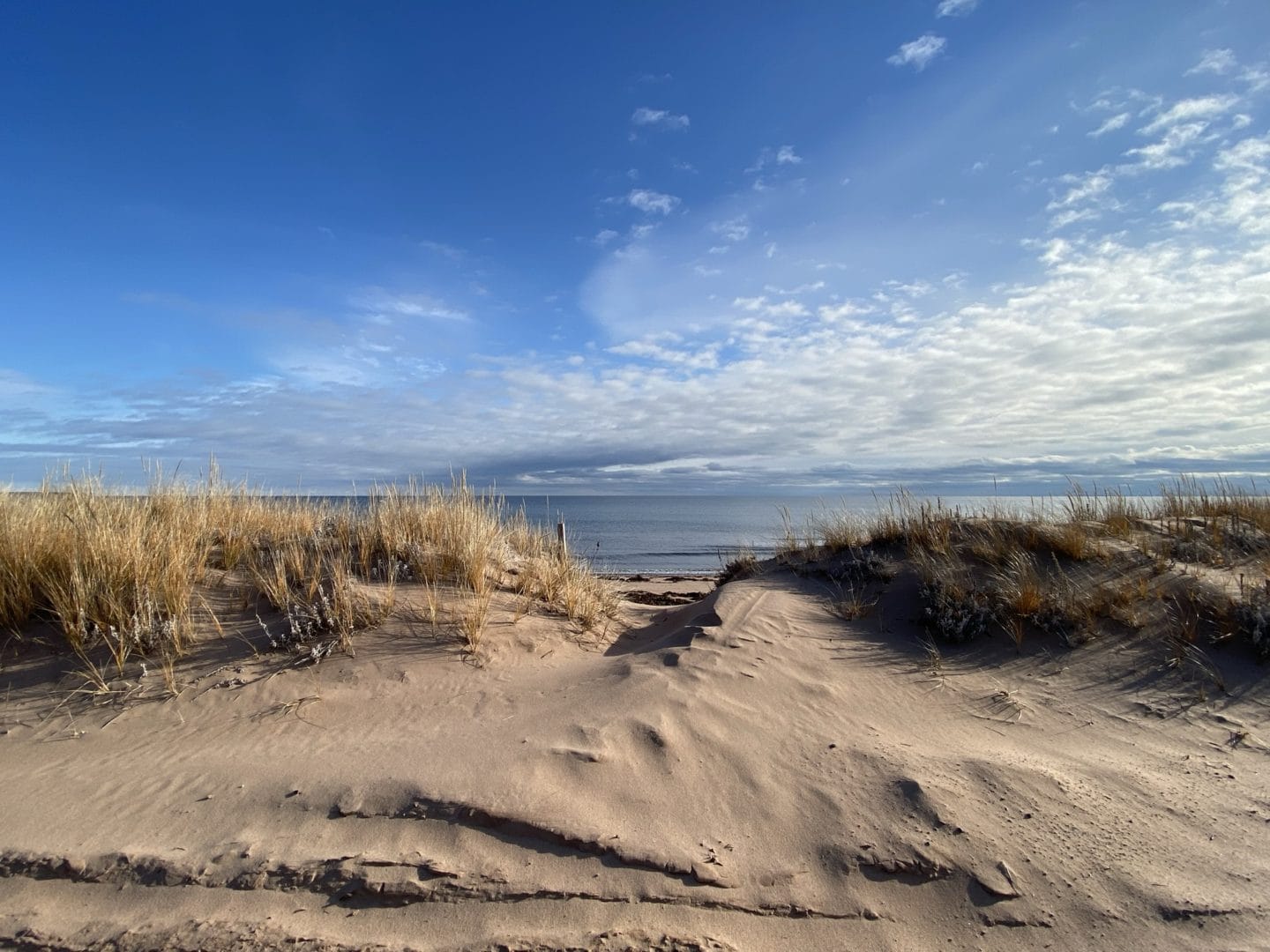 Murray Harbour Front Range Lighthouse (Beach Point Lighthouse)
When I first pulled up to Murray Harbour Front Range Lighthouse (also known as Beach Point Lighthouse), I realised part of the road was closed to motorised vehicles, which meant I had to walk 0.5 km (not far!) to it. There's a dirt road you can follow but I highly recommend taking the beach at least in one direction to this little beacon of light.
This little lighthouse is only 24 feet tall, and during storm surges in 2010, it was washed away and the Department of Fisheries and Oceans dragged it back to shore and left it lying on its side.
The town of Murray Harbour collected 1700 signatures and formed the Beach Point Lighthouse society to repair the beloved lighthouse.
The beach here is one of the most beautiful that I've seen, and with shallow waters at low tide, you'll be able to see all kinds of shells and sandbars.
Built: 1867 (original), 2011 (current, after damage from storm surges)
Address: 162 Beach Rd, Murray Harbour
Cape Bear Lighthouse
Cape Bear Lighthouse sits on PEI's southeast coast. Built in 1881, this lighthouse has guided sailors and fishermen along the Northumberland Strait. Take in sweeping views of the water, Nova Scotia and Cape Breton Island on clear days, and the dramatic sandstone cliffs.
You can go into this three-storey lighthouse during the summer months, where views from the tower uncover secluded beaches and marine life like seals and porpoises.
In 1905, a Marconi Wireless Telegraph Station was built next to Cape Bear Lighthouse, which provided a way to communicate with ships at sea. The Marconi Station was the first to receive the distress signal in Canada from the Titanic on April 14, 1912. The wireless station ceased operations in 1922 and the building has been relocated and is now a family home.
During WW2, Cape Bear Lighthouse spotted German U-Boats approaching the coast. Several were spotted along the shore but disappeared while being tracked.
Cape Bear Lighthouse has been moved 500 feet away from the eroding shoreline (at a rate of one meter a year!) and has been at its new location since April 2015.
Built: 1881
Address: 42 Black Brook Rd, Murray Harbour
Wood Islands Lighthouse
I was surprised to see not one, but two lighthouses here at Wood Islands! You'll have a clear view to the ferry terminal – the site of Northumberland Ferries – which will take you to Nova Scotia ($82 round trip).
The Wood Islands Lighthouse tower has an attached two storey, six bedroom home that has been converted into a museum where you can see what a typical bedroom, kitchen, radio room, and keepers quarters would be like during service.
There are other displays as well, featuring the history of the Northumberland Ferries, a shipbuilding gallery, the legend of the phantom burning ship, seaglass, iceboat landing, and much more about the history of lighthouse and lighthouse keeping on the island. Wood Islands Lighthouse is known as the most family-friendly lighthouse on the island!
Built: 1902
Address: 173 Lighthouse Rd, Belle River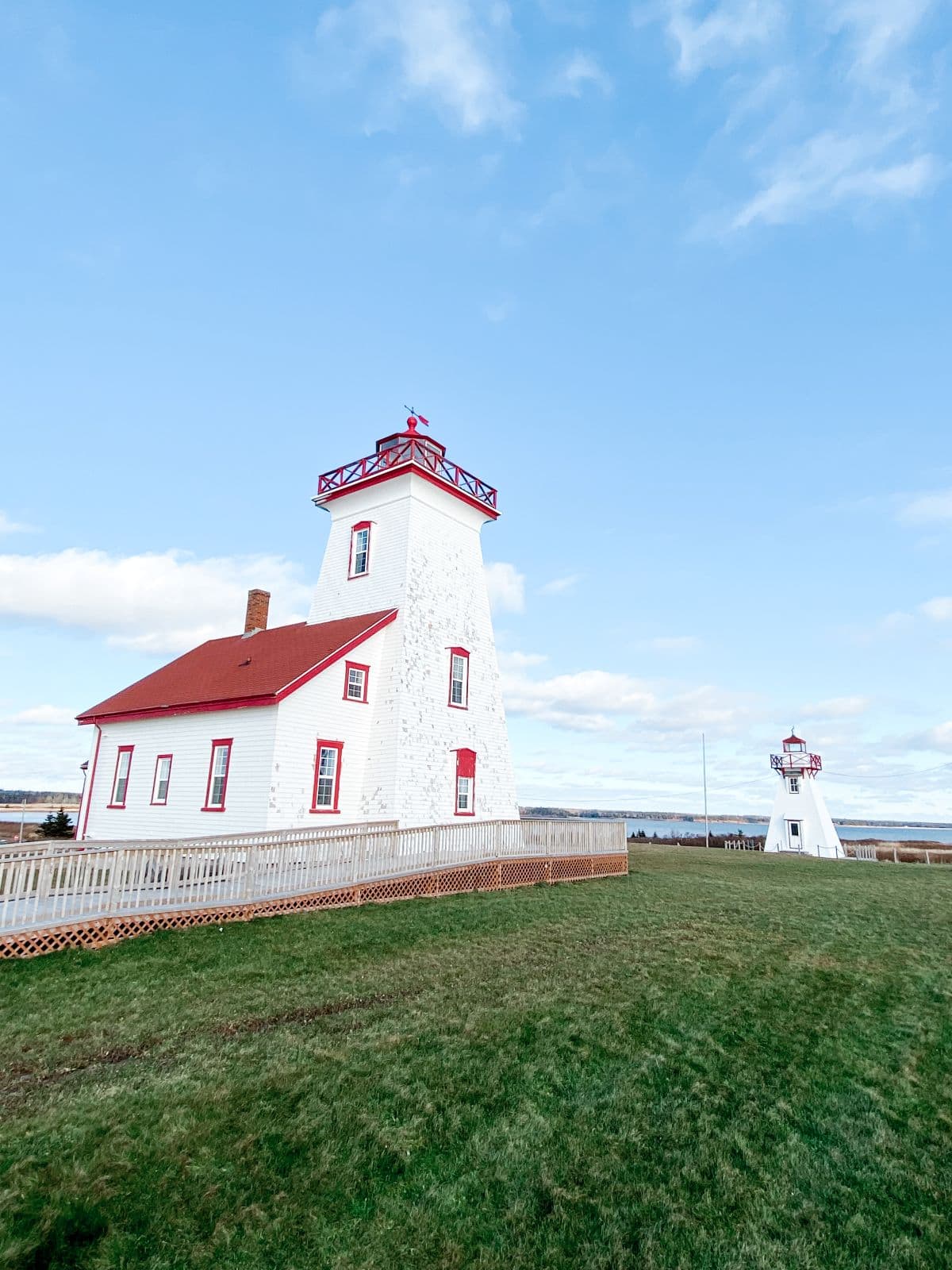 Phare avant de Warren Cove (Warren Cove Range Front Lighthouse)
This gorgeous lighthouse sits perched overlooking Warren Cove.
It was built in just a day to provide safe passage into Charlottetown Harbour. It is located on the west side of the harbour within Skmaqn-Port-la-Joye-Fort Amherst National Historic Site, the first permanent European settlement in PEI.
Note: there is a way to access this lighthouse from the National Historic Site. My Google directions took us down a cottage road dirt lane with a dead end – it was a gorgeous drive with private homes, and while manageable, I suspect it's much easier to park over at Fort Amherst. We had to walk along the beach and marshy area to access this lighthouse, which would be nearly impossible with more rain or snow, but this walk was stunning. And bundle up!
Built: 1907
Address: Fort Amherst
Warren Cove Back Range Lighthouse
We stumbled across this lighthouse by chance! When I first started plotting routes for lighthouses in PEI, I only came across Phare avant de Warren Cove. It was a snowy, overcast day when we visited and the light from the Warren Cove Back Range Lighthouse caught my eye. It was only signposted that it was 0.6 km away, so we decided to walk down the flat trail to see it.
It's nestled within evergreen trees and still remains active. The Back Range Lighthouse, along with its counterpart, was also built in just a day.
Built: 1907
Address: Fort Amherst
Blockhouse Point Lighthouse
Blockhouse Point Lighthouse is one of my favourite lighthouses in PEI.
It was once the site of Mi'kmaq gatherings and in the 1720s, the French established Port-la-Joye and in the late 1750s, the British built Fort Amherst to assert control over the area. It is the second oldest lighthouse in Prince Edward Island.
You could lease out this lighthouse (with its two-storey attached home) during the summer months as a rental which would've been the perfect isolated area!
You have to drive down a dirt road to access it, and it can become quite slick and muddy after rain or snow – so be prepared! It's a short drive from Fort Amherst National Historic Site.
Built: 1876 (original 1846)
Address: 285 Blockhouse Rd, Rocky Point
Victoria Seaport Lighthouse (Leards Range Front Lighthouse)
Victoria by the Sea is such an adorable town and was once one of the island's busiest seaports! The colourful homes and cute buildings lead me to believe this is a popular place during the summer. Of course, nothing (literally nothing!) was open during my visit, but the lighthouse is a stunning landmark in this tiny picturesque town that was founded in 1819!
Be sure to stroll or drive the streets and you'll come across the quaintest of homes, shops, restaurants, and even its own hotel!
Leards Range Front Lighthouse (also operated as Victoria Seaport Lighthouse Museum) is open during the summer months where you can climb the tower for views of the harbour along with history of the village.
Built: 1878
Address: 2 Russell St, Victoria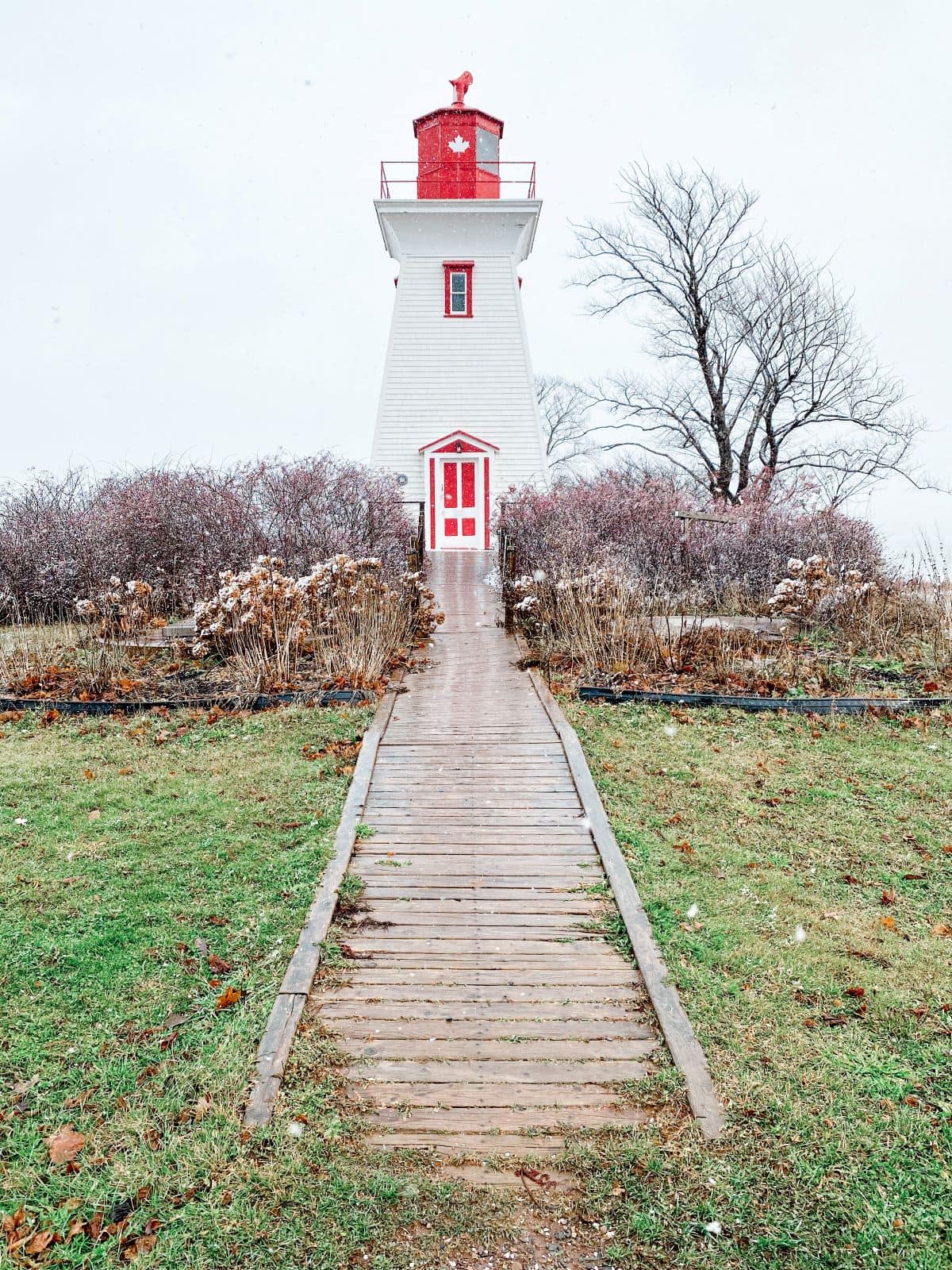 Port Borden Back Range Lighthouse
Just past Victoria is Port Borden Back Range Lighthouse. This charming lighthouse sits at Marine Rail Park and offers amazing views of Confederation Bridge.
Before the arrival of ferries, iceboats were used to transport passengers and mail to and from PEI during the winter. Port Borden Range Lights were established to gugide marine traffic into the harbour.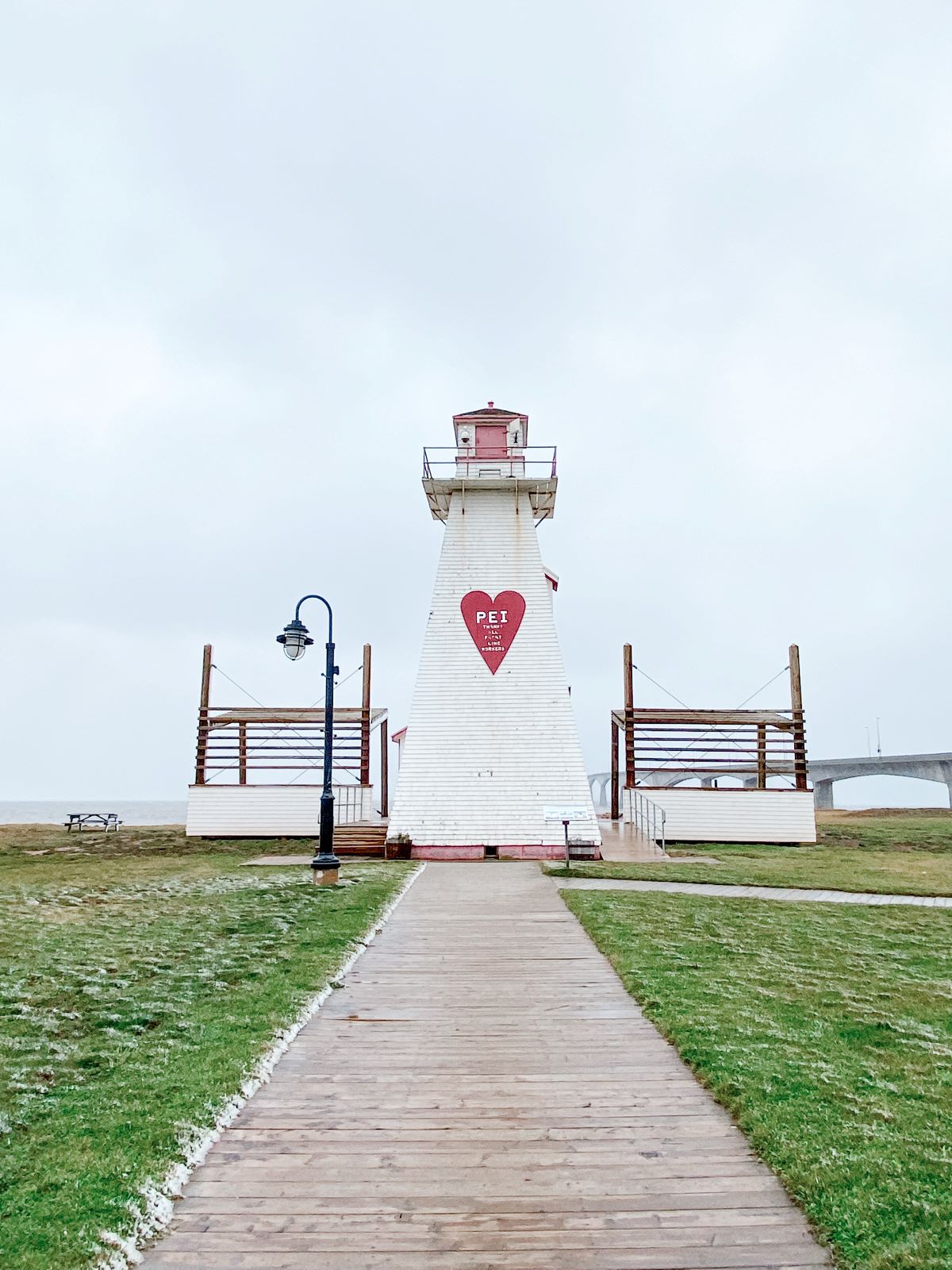 The Front and Back Range Lighthouses were put out of service when Confederation Bridge opened in 1997, bringing 80 years of ferry service to an end. It's now the sweetest lighthouse in PEI – complete with a red heart
We also saw the Front Range lighthouse when we took a wrong turn – half the size of its counterpart, abandoned and neglected – but still beautiful.
Built: 1918
Address: 228 Carleton St, Borden-Carleton
West Point Lighthouse
Located on Prince Edward Island's western shore – this stunning 69 foot lighthouse is situated within Cedar Dunes Provincial Park facing the Northumberland Strait. It was the first lighthouse to be built in PEI since it entered Confederation in 1873.
West Point Lighthouse is also the tallest lighthouse in PEI!
West Point Lighthouse was manned from 1876 until the light was automated in 1963, and there are numerous reports of this lighthouse being haunted!
You can even stay overnight at this beautiful black and white striped 5 storey lighthouse – even in the Keeper's Quarters directly in the tower!
Built: 1875
Address: 364 Cedar Dunes Park Rd, O'Leary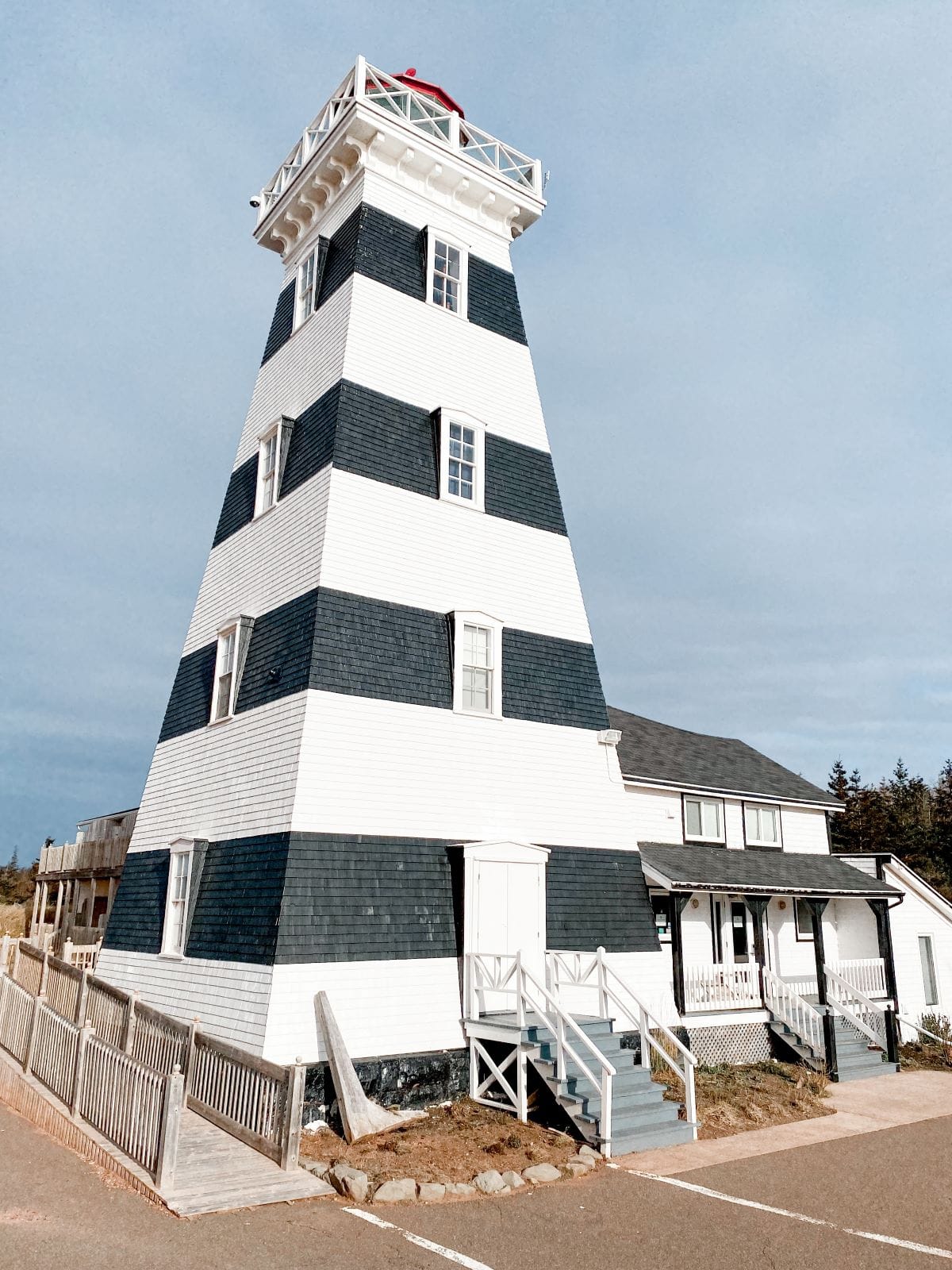 Seacow Lighthouse
Seacow Lighthouse was actually named after the abundance of walruses that were present in Prince Edward Island during the late 19th century, which may be a bit of a surprise to some!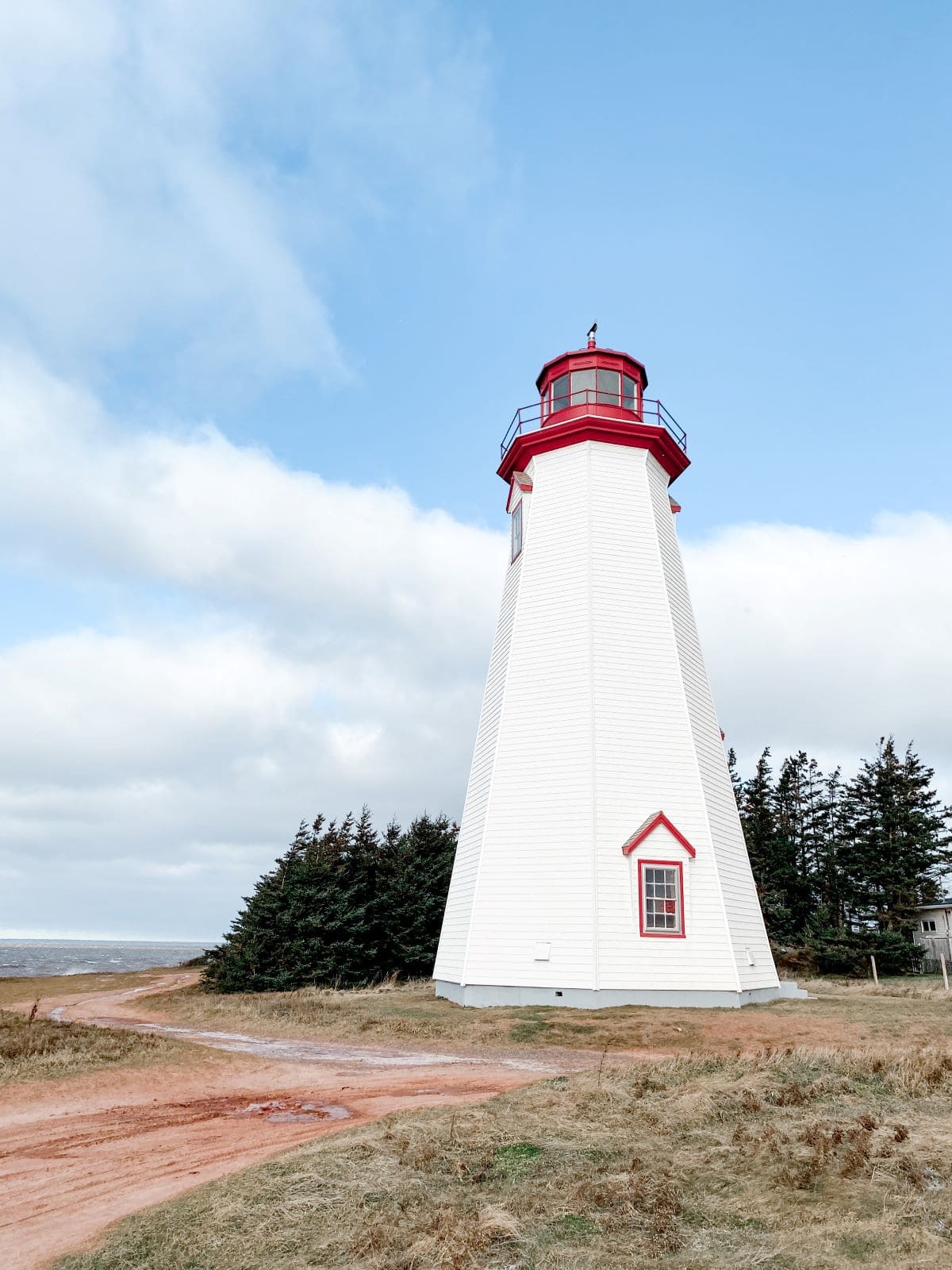 The view alone was absolutely breathtaking (quite literally actually, as it was -16 the day we visited and the wind was whipping through here to the point it made opening the car doors incredibly difficult!).
Straight across from Seacow Lighthouse is an expansive view of Confederation Bridge, quite a unique sight and one less-seen by visitors. It really makes you appreciate the scale and work that went into building this impressive bridge (and also the longest bridge over ice-covered waters at 12.9 km!).
Built: 1864
Address: Lighthouse Rd, Bedeque
Can you go into these lighthouses?
You can go into 9 of these 63 lighthouses in PEI seasonally, generally from June – September (with a few with longer seasons than that). You can climb 7 towers for a small fee and for great views of the water!
West Point
Tignish Run
Leard's Front Range Light (Victoria by the Sea)
Point Prim
Wood Islands
Cape Bear
Panmure Island
Souris
East Point
Why are Canadian lighthouses red and white?
The contrast of red against a white backdrop makes these guiding lights easy to spot and helps seafarers navigate! There is one unique black and white striped lighthouse – West Point – which were actually red stripes until 1915 when they were changed to black, as black was thought to be more resistant to colour fading.
Are Canadian lighthouses still manned?
There are 53 lighthouses in Canada still manned, according to Fisheries and Oceans Canada. However, no lighthouses in PEI are manned. The last lightkeeper in PEI retired in 1991 from Souris East Lighthouse.
Can you stay in a Lighthouse in PEI?
You can stay at Canada's first inn at an active lighthouse – at West Point Lighthouse! There are 11 renovated seaside suites featuring the Tower and Keeper's Quarters you can book seasonally from June through September.
Where is the oldest lighthouse in PEI?
Point Prim is the oldest lighthouse in PEI. It was built in 1845.
What is the tallest lighthouse in PEI?
West Point Lighthouse is the tallest lighthouse in PEI, towering 69 feet above!
Which PEI lighthouses are National Historic Sites?
There are 9 lighthouses designated as National Historic Sites: Point Prim, St Peter's Harbour, Panmure Head, Northport Rear Range, Covehead Harbour, Cape Tryon, Cape Bear, Brighton Beach Front Range, and Annandale Rear Range.
Things to remember about lighthouse hunting
While there are over 60 lighthouses in PEI, they are not all public.
You will want AWD for the winter season – the dirt roads can become challenging when muddy, snowy or icy. If you're renting a vehicle,
Some of these lighthouses are down private laneways/private property and may not be accessible.
Many of these lighthouses do not have facilities nearby. Plan accordingly and bring snacks!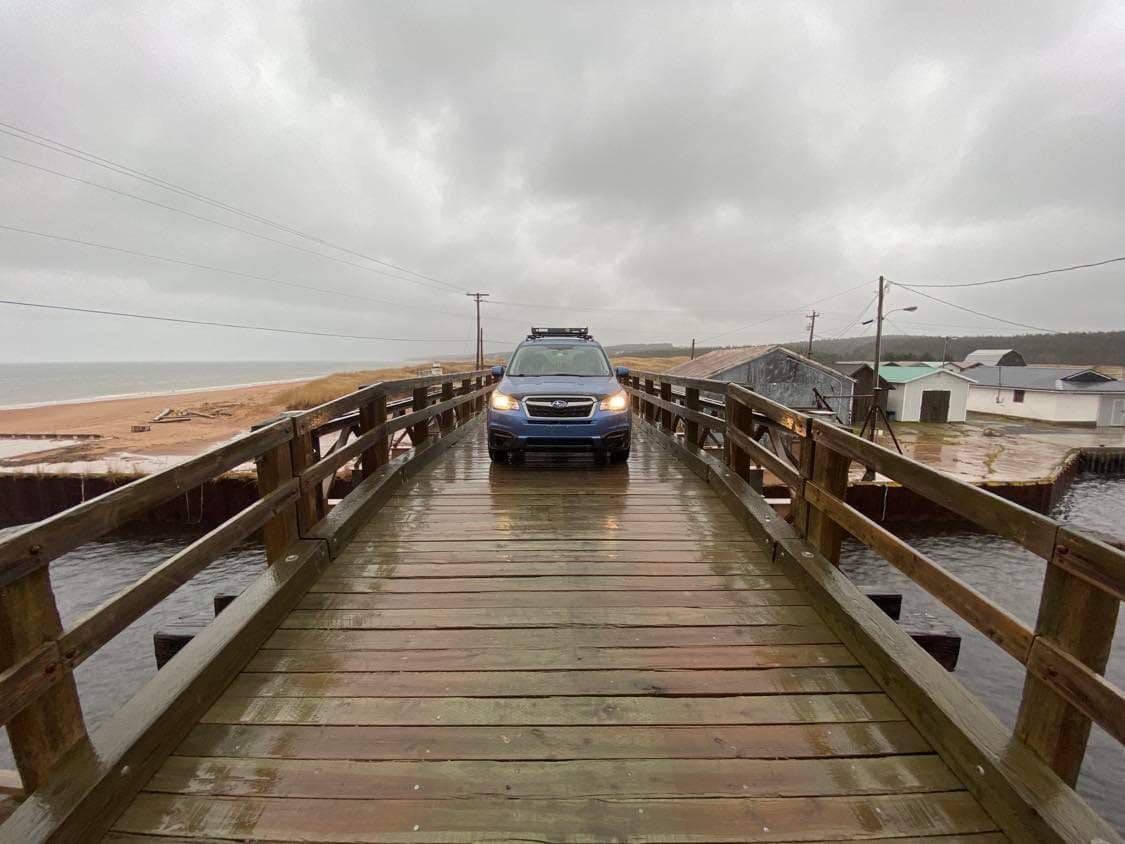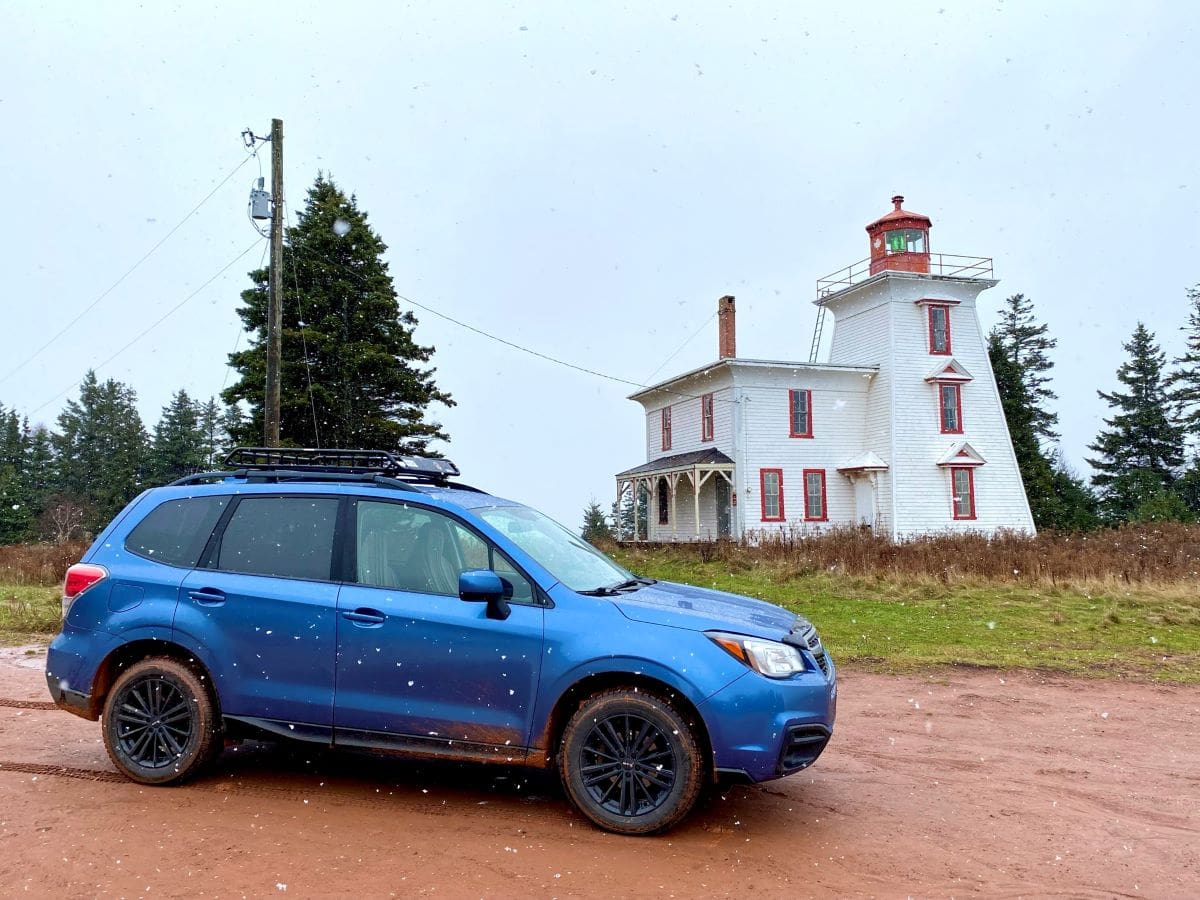 Related Posts
Pin it for later!