Looking for vegan restaurants and bakeries in Niagara? Or vegan-friendly places to eat?
Chances are, we all know someone who is vegan, or trying to eat a more plant-based diet. With so many awesome vegan restaurants in Niagara, it's not hard to make the switch either.
Up until a few years ago it was SO hard to find any store-bought products or restaurants that offered good vegan food. You were stuck stuck eating sad lettuce or plain rice with fried veggies – yeah – not very enticing.
With vegan eating on the rise, I'm so excited to share a list of restaurants in Niagara that offer vegan food and baked goods. Between reimagined comfort foods, desserts, and power-packed menu items, there's something to satisfy everyone's taste buds.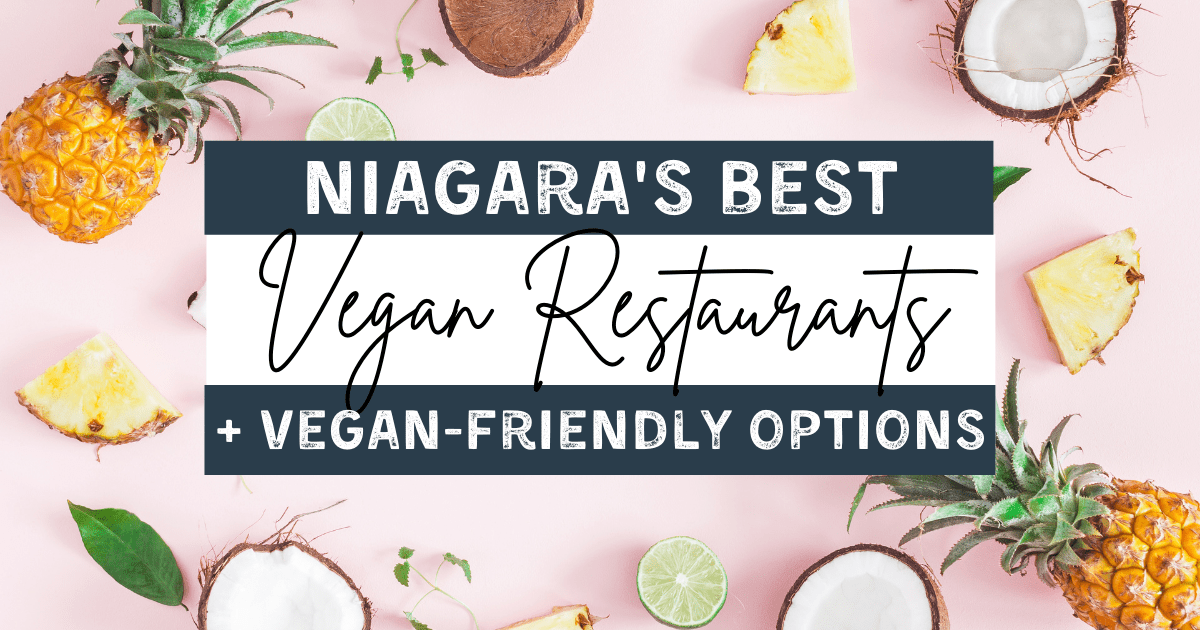 Full disclaimer: I am not vegan! I do, however, appreciate quality meals packed full of nutrients, and I love trying different and interesting dishes. So whether you're vegan or just want to try something new, you may be surprised by how many vegan restaurants and bakeries (and vegan-friendly ones) there are in Niagara!
Here's a list of restaurants in Niagara where vegan plates are the star of the show, and not just a side dish, so you don't have to sit there and eat a plate of steamed veggies!
This post contains affiliate links which means I earn compensation if you make a purchase through one of the links at no additional cost to you. Feel free to read my disclosure policy. Thank you for supporting my blog!
What is considered vegan food?
Vegan food doesn't contain any animal products – so no meat, poultry, fish, eggs, dairy, or honey, whether it's for health, ethical, or environmental reasons. Vegan food consists of fruit, vegetables, whole grains, legumes, seeds, nuts, and products made from a combination of these foods!
Usually vegan food gets a bad rap of being boring or bland, but there are huge improvements in vegan products available and with the help of creativity and seasoning, there are endless options for tasty and healthy vegan dishes!
Here's a great starting point for anyone wanting to learn more!
Sale
Vegan Restaurants in Niagara
We are fortunate to have so many places in Niagara that offer vegan dishes, and will accommodate for a vegan diet!
Vegan Restaurants in St. Catharines
Rise Above, St. Catharines
Looking for vegan comfort food? Rise Above is your go-to spot! From sandwiches, pastas, burgers, baked goods, customer cakes and more, Rise Above is an entirely vegan restaurant in St. Catharines, and was actually Niagara's first 100% vegan restaurant and bakery!
Try awesome menu items like seitan wings, sweet chili spring rolls, creamy Cajun linguine, tourtière, Nanaimo bars, and milkshakes – just to name a few.
Certain dishes can be made gluten free on request.
You can even get your vegan takeout through Doordash!
Location: 120 St. Paul St., St. Catharines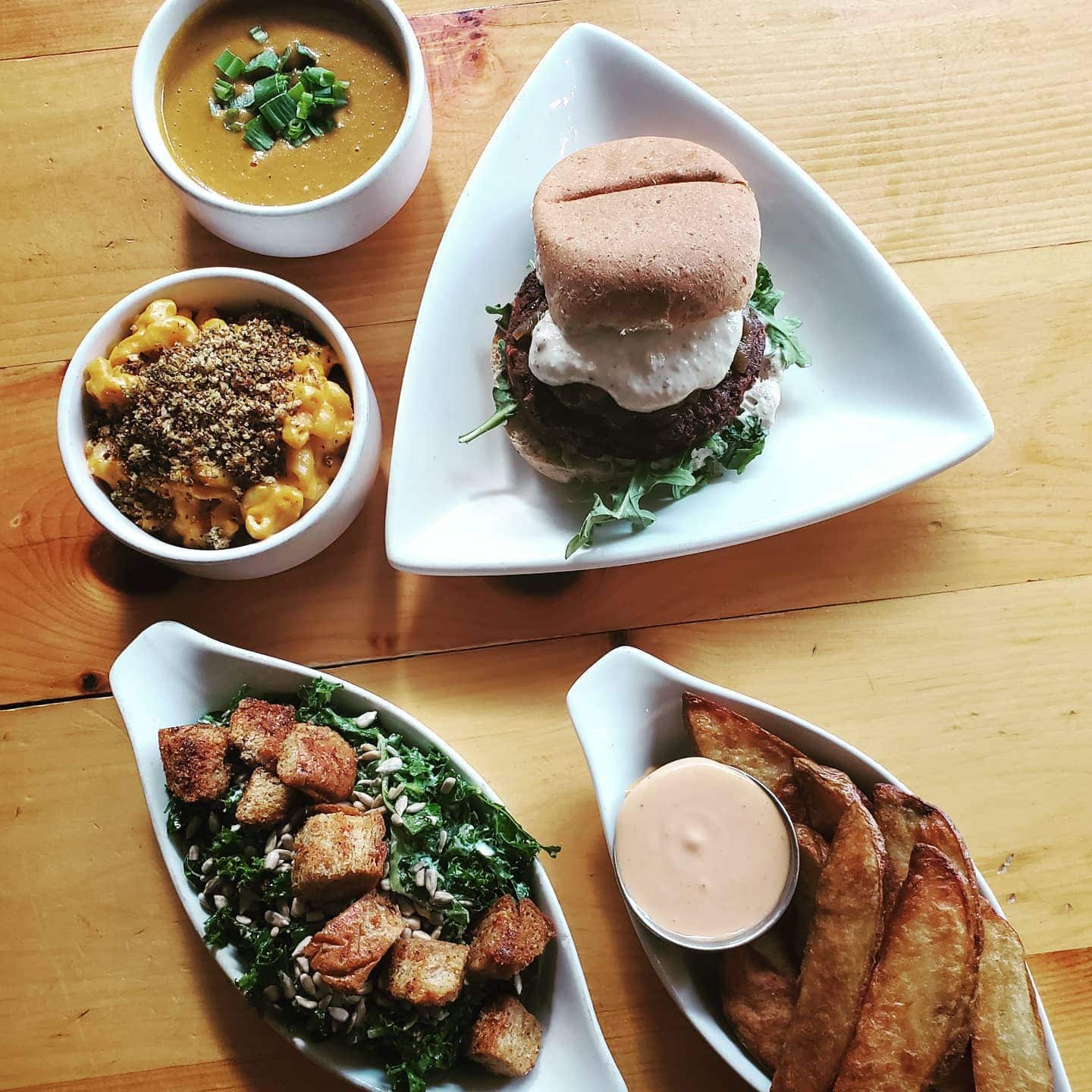 The Lemon Tree, St. Catharines
Vegan food with a twist! The Lemon Tree Bistro features fresh and homemade 100% vegan food operated by a husband and wife team who are both originally from Europe!
Meditterean eating with all the comforts you're used to – and entirely vegan. You'll find dishes like calamari (breaded root vegetables), spicy feta and tzatziki dip, falafel wraps and bureks (traditional phyllo pastries stuffed with spinach and feta), pizzas, burgers, moussaka and much more.
In addition to their unique vegan menu items, they are also a bakery! Pick from sorbets, baklava, or cheesecake!
Location: 395 Ontario Street #A1, St. Catharines
Vegan Restaurants near St. Catharines
Seeds Restaurants, Fonthill
Seeds Restaurants has quite an extensive menu of vegan options to tempt you. I really love their Waldo Walnut salad, but I would try every single item listed if I could! There are so many choices, even down to smoothie bowls, juices, toast, and even kids meals.
You can build your own burrito, salad bowl, or noodle bowl, with a choice of 6 proteins, 60 toppings, and 16 dressings!
They also offer vegan keto bowls! If you order online, each menu item is broken down with calories, carbs, fats, and protein.
Seeds recently announced they now have franchising opportunities available. They're hardcore focused on health and also offer meal plans for those looking for a starting point with a vegan diet.
Location: 130 Hwy 20 E Unit E3, Fonthill
The Vegan Hippie Chick, Welland
Welland's first fully-vegan restaurant!
From a 40 Creek Whisky BBQ rib sandwich to eggplant parm, fried "phish", mozzarella sticks and crabless cakes, you'll be hard-pressed to order just a couple things at The Vegan Hippie Chick!
Many options are also gluten-free or can be made gluten-free.
Tuesdays are for tacos! Every Tuesday tacos are on special. Pick from General Tao cauliflower, pulled BBQ jackfruit, Hawaiin chicken and more.
The Vegan Hippie Chick also offers amazing vegan charcuterie boards with a variety of vegan cheese, which is hugely popular! Who doesn't love a charcuterie board?!
Location: 91 E Main St., Welland
Where to eat Vegan in Beamsville
Root 8, Beamsville
Root 8 is really the only vegan restaurant in the west end of Niagara! Known for their cali wings (carried at some Sobeys), their colourful creations are also organic and gluten-free, with raw food options.
Offering takeout as well as frozen meals to go, Root8 is a convenient place to grab some great vegan food in Niagara. They have since shifted to takeout-only, but you are still able to go in and grab some of your favourite meals to go!
P.s. their cali wings come in 6 different flavours, from buffalo, sweet thai chilli, to Hollywood Boulevard (maple garlic) and more!
Location: 5041 King St., Beamsville
Vegan Bakeries in Niagara
Vegan Bakeries in St. Catharines
Fortunately for those looking for a vegan bakery in St. Catharines, there are some really awesome options for you!
Beechwood Donuts, St. Catharines
I distinctly remembered the first time I laid my eyes on the Beechwood Donuts storefront. There was a lineup down the street for them, so naturally I was curious. I was amazed to discover this is an entirely vegan donut shop, and they are magnificent.
You'll find unique flavours here you won't get anywhere else! Seriously – they're crazy! You'll find flavours like Nanaimo, Tiramisu, Sweet Potato Marshmallow, Chai Cake, and even a Chocolate Orange Cronut. And they're all 100% vegan!
Location: 165 St Paul St, St. Catharines
Edible Options, St. Catharines
I remember being so excited when Edible Options opened in 2017 when I was looking for paleo treats.
And get ready for this: Edible Options is a 100% gluten-free bakery with vegan, paleo, raw, corn-free, soy-free, wheat-free, dairy-free or sugar-free offerings! From baked goods to bread and much more, Edible Options is your one-stop shop for vegan desserts and treats, bread and more!
They also don't use imitation sugar (like Splenda) – but rather they use natural sugars like ripe bananas, dates, or maple syrup.
The cakes are true works of art, like this pistachio cream layered cake with fig and raspberry!
New location as of April 6, 2022: 395 Ontario St, St Catharines
Vegan-Friendly Restaurants and Bakeries in Niagara
There are lots of restaurants and bakeries with vegan options, so you never have to eat a boring salad again.
Where to Find Vegan Food in Grimsby and Lincoln
Station 1 Coffeehouse, Grimsby
The ambience at Station 1 Coffeehouse in Grimsby is quirky and cozy. This neat cafe resides in Grimsby's old firehall, built in the 1960s! It's since been converted using reclaimed wood, unique pieces of furniture, and a long service counter that dates back to the 1800s.
What I really love about Station 1 Coffeehouse is their generosity. They regularly give back to the community. A portion of their sales proceeds go towards local charities and it changes from month to month!
From delicious Buddha Bowls, vegan chilli, to avocado toast, smoothies and more, Station 1 makes for a great vegan-friendly cafe in Niagara!
Offer: Fair trade coffee, and vegan, gluten free, and vegetarian options.
Location: 28 Main St E.,. Grimsby
270 Bench Kitchen, Grimsby
270 Bench Kitchen is the holy grail of sandwiches in the Niagara Region. I don't think there is a better place to grab one and you'll be dreaming about the next time you can have one.
There are some really tasty vegan sandwiches here, like the Vegan Smoke with smoked tofu, maple mustard and sauerkraut, and their Cauliflower and Potato Smash made with corn, hummus, green onion and mixed greens.
It's also served with a side of pickle – which everyone always raves about!
Sandwiches are served on freshly-baked sourdough or focaccia, which you can buy as well. They also offer meals to go, including a variety of soups!
Location: 270 Main St E, Grimsby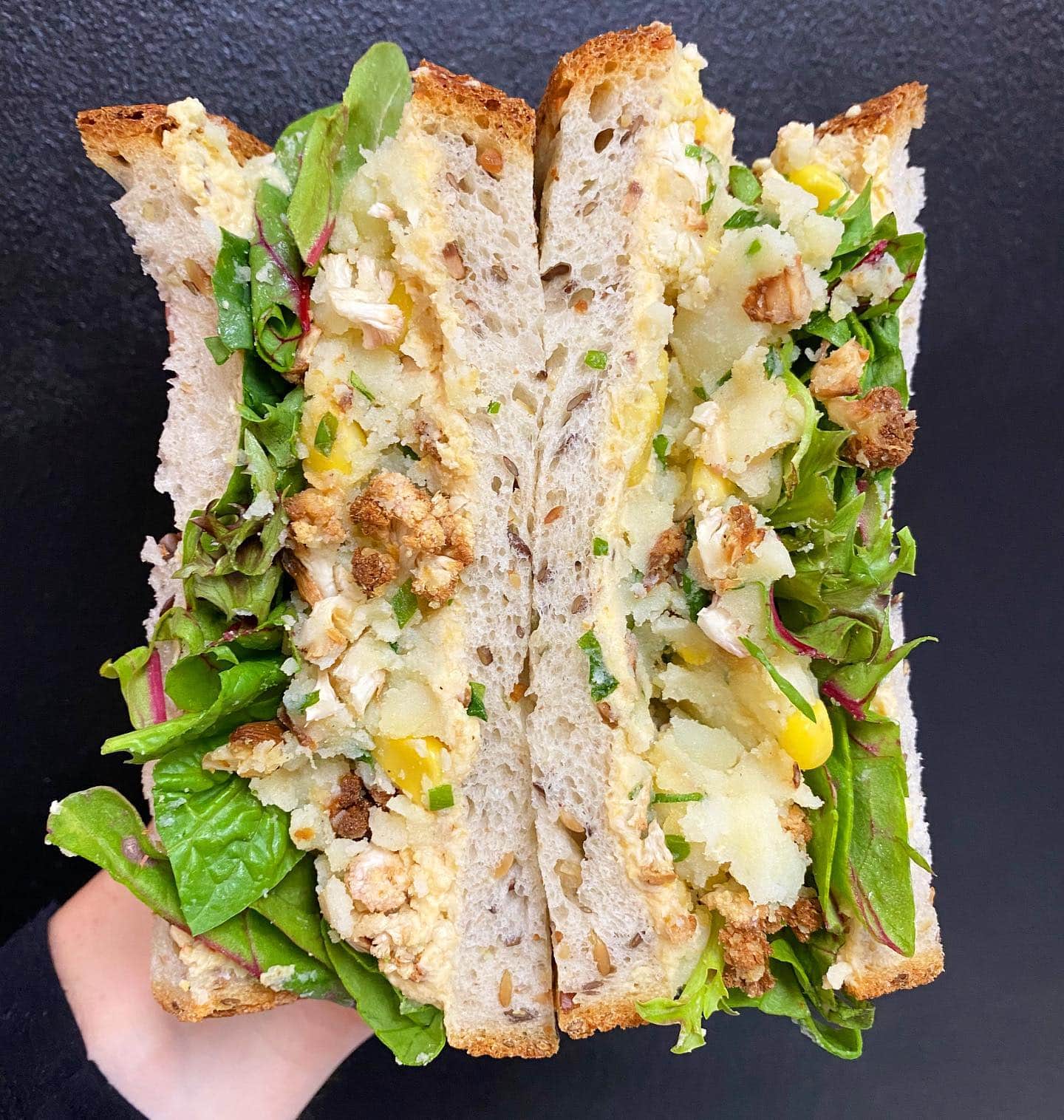 Indian Hut, Grimsby
Indian Hut in Grimsby has so many delicious offerings to choose from, and you can even specify what spice level you want. Just be sure to specify vegan when you place your order since some of the vegetarian dishes are made with cream.
I really love the aloo matar (potato curry in a mild tomato sauce), matar methi malai (green pea curry in a spicy cashew sauce), and the dal makhni (lentils in a ginger garlic tomato sauce), just to name a few.
Not only do they have a lot of vegan dishes, but 99% of their menu items are gluten-free, too!
Location: 3 Mountain St, Grimsby
If you're in town, stop by the lake to visit the
Painted Ladies of Grimsby!
Revalee Brunch Cafe, Vineland
Rĕv-a-lē is derived from the French verb "réveil", which means to "wake up". This is exactly what you'll do once you see the menu offerings here at Revalee Brunch Café in Vineland.
There are plenty of unique vegan options on the menu, in addition to seasonal coffees, teas, and local Niagara wine and beer.
Menu items are local and organically sourced when possible and include incredible offerings including blueberry and earl-gray French toast, vegan rancheros tostada, a Lebanon lunch (fried shawarma-spiced cauliflower and falafel), amongst other exciting vegan options.
If you're looking for a great vegan-friendly place for brunch, Revalee is a great choice!
Location: 4100 Victoria Ave, Vineland
pssst…looking for some cute plant-powered inspired shirts?
Check these out!
Tay's Treats, Jordan
You can't miss Tay's Treats while you're driving through wine country. This adorable little pink bake shop is located in historic Jordan Village.
Tay's Treats offers baked goods and desserts by special order, and during the winter months, frozen soups are regularly in stock, like roasted carrot, butternut squash, lentil, and more! There are canned goods available for purchase and also numerous gluten-free options available.
During the summertime, dairy-free vegan sorbet is offered (lemon-lime, anyone?).
Location: 3771 Nineteenth St, Jordan Station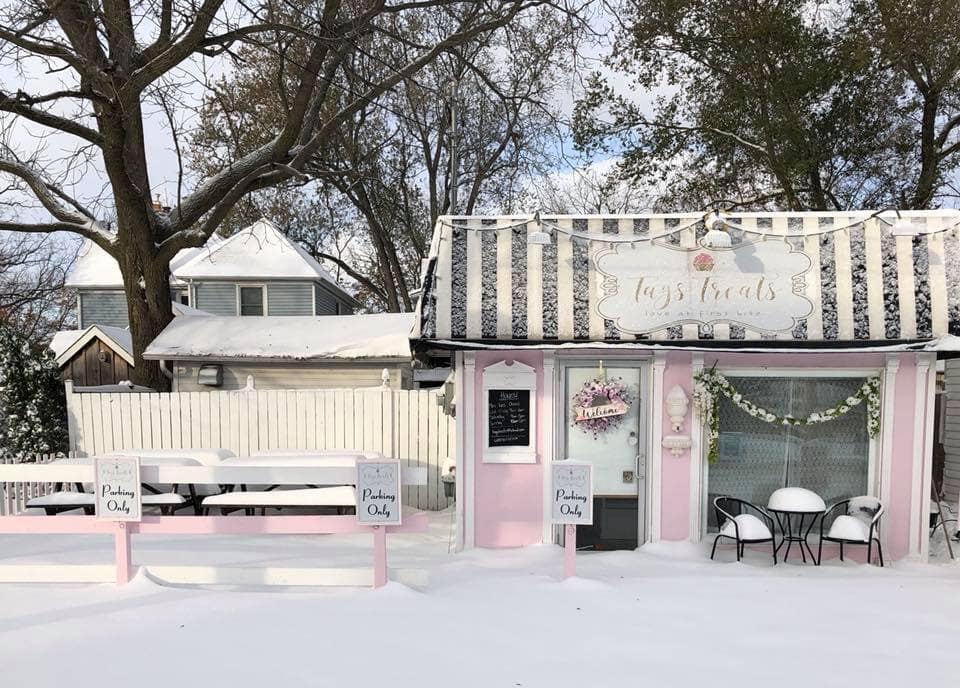 Blossom Bakery, Jordan
Blossom Bakery is a small charming bakery located in Jordan on a family fruit – quite literally in the heart of the orchard.
Known for it's vegan and gluten-free treats, Blossom Bakery also sells amazing cashew cheese (which is highly addictive!) and delicious flatbreads. Some of their offerings can even be found locally around Niagara.
In need of a vegan cake or baked goods for a special occasion? Blossom Bakery has you covered! They also do custom orders.
Location: 2323 Honsberger Ave. Jordan
Vegan-friendly Restaurants in St. Catharines
St. Catharines is no stranger to awesome vegan options! Downtown St. Catharines alone has so many vegan restaurants within walking distance of one another.
Bella Noella's Pizza, St. Catharines
Your go-to gourmet pizza joint for vegan! Bella Noella's is the place to order your vegan pizza from. I couldn't believe how many different types they have!
From vegan pierogi pizza, spicy buffalo, to vegan pulled pork (slow cooked jackfruit) and more, there are lots of vegan-friendly pizza options!
Vegan options are available for almost any pizza listed on their menu. Gluten-free pizzas available too.
Location: 159 St Paul St, St
The Feathery Pub, St. Catharines
I LOVE the Feathery Pub – their food is just so good!
There are plenty of vegan options available for you at this Irish Pub to curb your pub-fare cravings, including vegan poutine, vegan chicken bites, vegan buffalo potato skins, vegan buffalo chicken wrap, burgers and more.
Pair it with one of their 23 draughts on tap.
P.s. did you know Guinness is vegan? Go Irish. Bottoms up!
Location: 420 Vansickle Rd., St. Catharines
The Merchant Ale House, St. Catharines
Frequented by vegans, The Merchant Ale House has some unique vegan options that will tantalize the taste buds of vegans and non-vegans alike.
From a smoked mushroom burger, vegan shawarma, to vegan chicken wings, vegan fried chicken sandwiches and pizza, there's no shortage of options here!
Pair it one of their craft beers!
Location: 98 St. Paul St., St. Catharines
Fiddler's Pour House, St. Catharines
Just down the street is Fiddler's Pour House – with awesome vegan menu options including cauliflower bites (I'm obsessed), samosa, sweet potato wedges served with maple dipping sauce, vegan pulled pork and vegan fried chicken sandwiches!
P.s. speaking of maple, did you know Niagara has some awesome Sugar Bush farms? Check them out and find unique maple products you won't get anywhere else!
Location: 149 St. Paul St., St. Catharines
The WORKS Craft Burgers and Beer, St. Catharines
This awesome burger joint isn't the first place you'd think of with vegan options, but there's actually a surprising amount of vegan-friendly menu items here!
Vegan options at The Works are clearly labelled on their menu – including everything from buns, patties, toppings, and drinks! Try their Beyond Burger patty with a side of sweet potato fries and pick from 20+ vegan-friendly toppings.
Location: 60 James St, St. Catharines
Eh José Taqueria, St. Catharines
I fell in love with Eh José years ago when José himself was at the St Catharine's Farmer's Market. You're instantly drawn to his personality and he'll have you laughing in no time. Over the years he's catered numerous family functions of ours, including our wedding shower!
I'm so excited that José and his business partner Jesse opened their very own Taqueria in St. Catharines, and they offer lots of vegan-friendly options too!
Vegan tacos and menu items at Eh José Taqueria include Taco de Tinga made with jackfruit, Taco al pastor made with cauliflower, vegan huevos rancheros (their huevos rancheros are everything!!!), taquitos with sweet potatoes, tamales and more.
Give Eh José a visit – you leave wondering when you can visit again!
Location: 45 James St, St. Catharines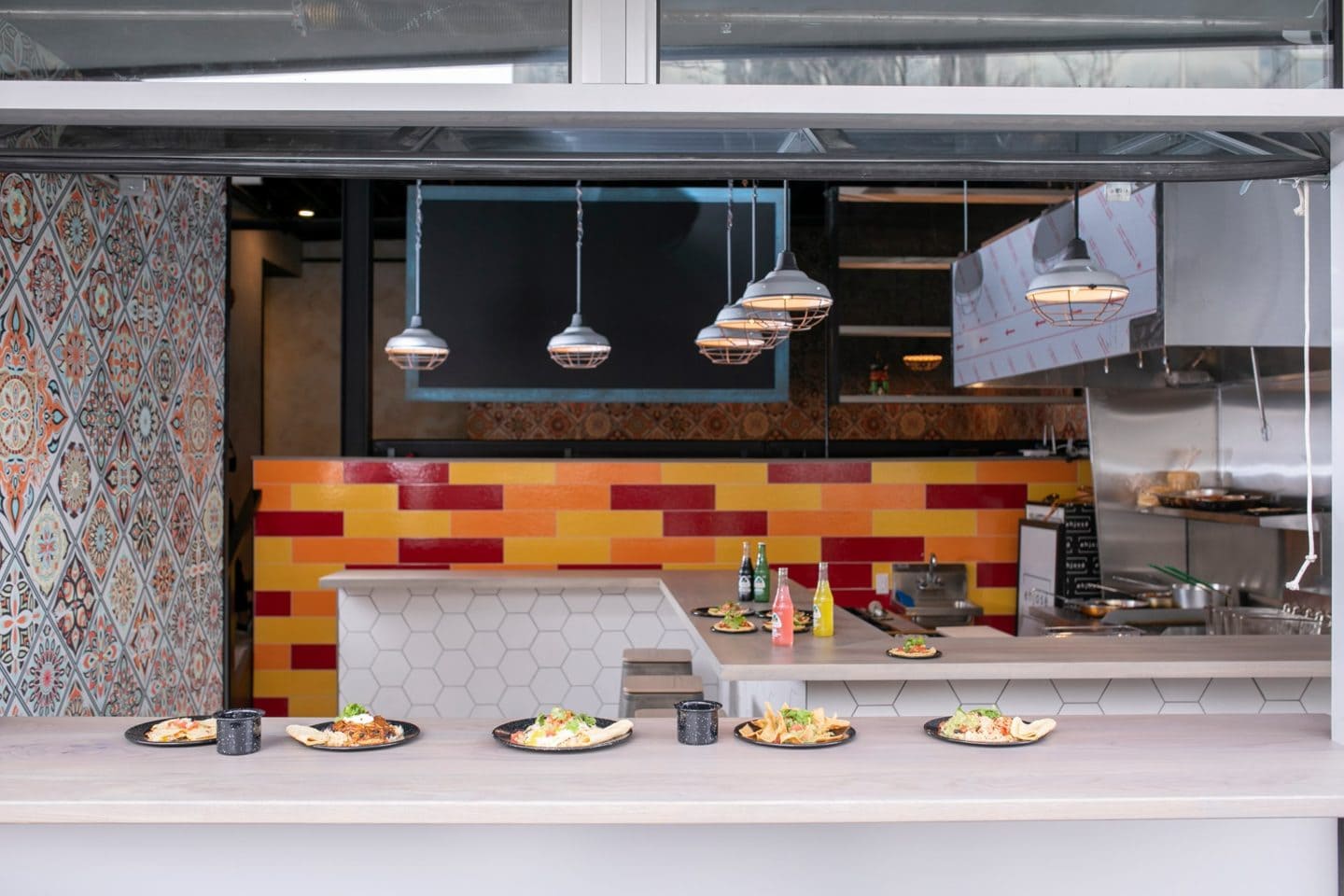 Brass Monkey Local, St. Catharines
Brass Monkey Local is an awesome vegan-friendly restaurant. Many of their menu items can be made vegan (as indicated by a V on their menu).
They even have an epic starter called the OG Vegan Dirty Box – which comes with cauliflower bites, crispy fries, killer dillers quesadillas, onion rings, nacho chips, and dips (which are vegan-friendly!). Vegan poutine, nachos, wings and more.
Your go-to spot for all-things vegan bar food!
Location: 67 St Paul St, St. Catharines
Rollin' Pizza Inc., St. Catharines
No more cheeseless pizza for vegans! Rollin' Pizza in St. Catharines offers handcrafted pizzas and pastas with an entirely "secret" vegan menu!
Their sauce is made using a generations-old family recipe and their pizzas offered are a unique combinations of flavours are offered such as Vegan BBQ Jackfruit, Dill With It (dill pickles!), Island Heat, All-Dressed with vegan bacon and pepperoni, and more! Feel free to build your own pizza with a variety of toppings.
You can also grab tempting pasta dishes like vegan pesto chicken, smokey mushroom mac (smokey sauce made with cashews), vegan chicken parm, and shareables like vegan mozza sticks and vegan poutine.
The husband and wife duo combined their love of travel and food to create the epic menu we see today!
Location: 314 Lake St, St. Catharines
Other pizzerias in St. Catharines offering vegan-friendly options
Spicy Thai, St. Catharines
In the mood for some Thai specialities? Head to Spicy Thai for favourites like mango salad, Pad Thai, curries, and other fried rice and noodle dishes.
Many of their dishes are offered vegetarian and can be made vegan upon request.
As a bonus, many of their dishes are also gluten-free!
Takeout and delivery available.
Location: 208 Church St., St.Catharines
Chile & Agave Mexican Grill
Who doesn't love Mexican food?
Chile & Agave has tons of vegan options on their menu, including quesadillas made with vegan cheese, vegan chimichangas, a vegan choriqueso dip, vegan enchiladas, fajitas, tacos and lots more!
Location: 51 Hartzel Road, St. Catharines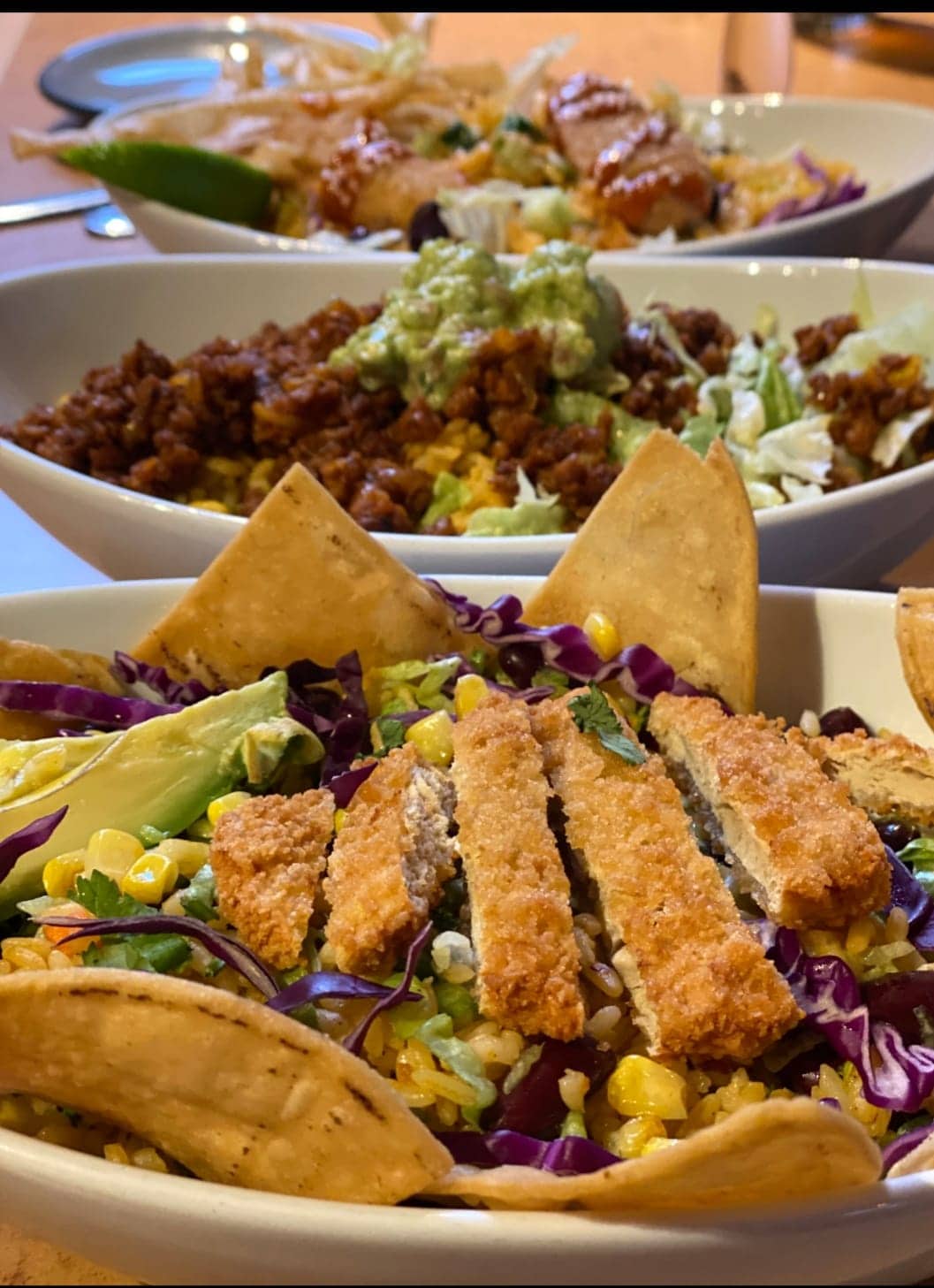 Vegan-Friendly Restaurants in Niagara-on-the-Lake
Niagara's Finest Thai, Niagara-on-the-Lake
Oftentimes we find Asian cuisine to have a plethora of vegan options – but be clear to state you would like their dish to be vegan (so no fish-base stock is used). Many dishes can be made vegan by a few simple switches which is why Niagara's Finest Thai is a popular option.
From rich coconut soups to pad thai, stir frys and curries, Niagara's Finest Thai is accommodating and their menu indicates which dishes are served entirely vegan (and gluten free).
Location: 88 Picton St., Niagara-on-the-Lake
Looking to spend a scenic day outdoors? Head over to Queenston Heights for awesome views of the Niagara River, and learn all about the War of 1812 (and more historic sites!).
Niagara Oast House, Niagara-on-the-Lake
If you're in Niagara-on-the-Lake and want a brewery setting with great beer, Niagara Oast House is the place for you. Offering an awesome smokey squash reuben and salt and vinegar fries, these menu items pair well with their awesome craft beers.
Menu items change seasonally. You can order food online to pick up on-site! You can also buy beer to go at their pickup window.
In non-lockdown times, the patio at Niagara Oast House is awesome and overlooks a vineyard. Grab a pint and relax! My favourite is their Pitchfork Porter.
Location: 2017 Niagara Stone Rd., Niagara-on-the-Lake
Looking for things to do in Niagara-on-the-Lake, aside from wineries? Here's what to do!
Vegan-Friendly Restaurants Near St. Catharines
Pelham Street Grille, Fonthill
Craving brunch? The Pelham Street Grille in Fonthill has recently introduced a separate and entirely vegan menu!
From a vegan breakfast special, avocado toast, porridge, burgers and wraps featuring Beyond Meat products, it's great to see a breakfast and brunch café dedicating a whole menu to vegan offerings.
Location: 1507 Pelham St., Fonthill
Vegan-Friendly Restaurants in Niagara Falls
Taps Brewhouse, Niagara Falls
Taps Brewhouse is another restaurant and brewery that surprised me with the amount of vegan-friendly options!
Their vegan offerings are clearly marked on the menu and you can enjoy dishes like black bean hummus with pita, fried pickle spears with a vegan garlic and dill mayo, a vegan bratwurst sausage, vegan chicken tenders, wraps, burgers and more – even a warm vegan chocolate cake.
Their beers are awesome – I recommend trying a tasting flight of their beers brewed on-site! Taps is our go-to place to drink and eat in Niagara Falls.
Location: 4680 Queen St, Niagara Falls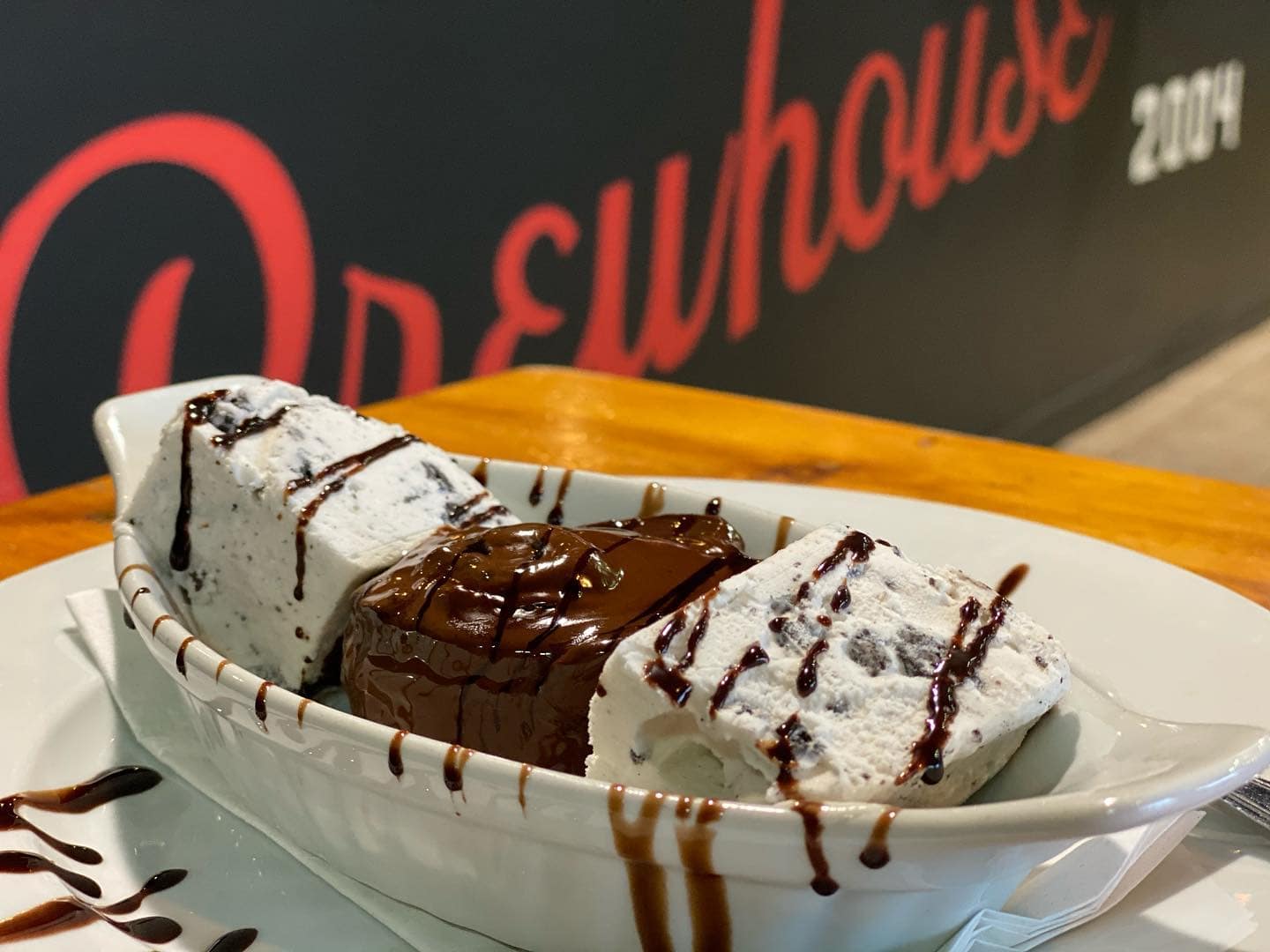 Queen's Coach Restaurant, Niagara Falls
Since 1955, the Queen's Coach has been offering a variety of home-cooked meals using simple ingredients. And now, vegans can indulge in some comfort foods too! The Queen's Coach has an entirely separate vegan menu for any time of the day to take the guess-work out.
From vegan breakfast platters, oatmeals, waffles and pancakes, pastas, burgers, wraps and even desserts (including an oreo rice crispy square!), you won't leave hungry here!
Location: 2845 St Paul Ave, Niagara Falls
Looking for things to do in Niagara Falls?
Here's what you can do for free!
Moksha Indian Bistro, Niagara Falls
Fortunately whichever Indian restaurant you visit, there are bound to be vegan options. Located in the heart of Niagara Falls, Moksha Indian Bistro has a separate vegan menu!
Moksha is popular amongst vegans in the area and for good reason! From velvety saag paneer to spicy vindaloo, you'll be hard-pressed to order just one thing!
Location: 5993 Stanley Avenue, Niagara Falls
Ready to Try Vegan Food?
There are numerous other restaurants that will accommodate for a vegan diet. Many sushi restaurants are vegan-friendly upon request!
Sale
Best Seller
Related Posts
Pin it for later!