Maple syrup is one of those typical Canadian things that we've become famous for. It's one of those gifts we always bring with us on vacation, what we pour over our pancakes with fervor, and is a popular natural sugar substitute for recipes!
The Niagara Region is home to charming maple syrup farms, commonly known as a "sugar bush" that are well worth visiting! These are great spots to stop in at to purchase your maple products and support local business.
Yes – we can buy maple syrup at the grocery store – but isn't it better to support a local business, especially during the year we've been having?
These cute sugar bushes are worth visiting to buy your 100% pure maple syrup, even if it's just to purchase from their store. You can also pick up tons of other maple goodies too!
Maple Syrup is just so Canadian and is a great gift to send overseas to family and friends. There's a variety of unique maple products that you won't find anywhere else!
Save this post for later!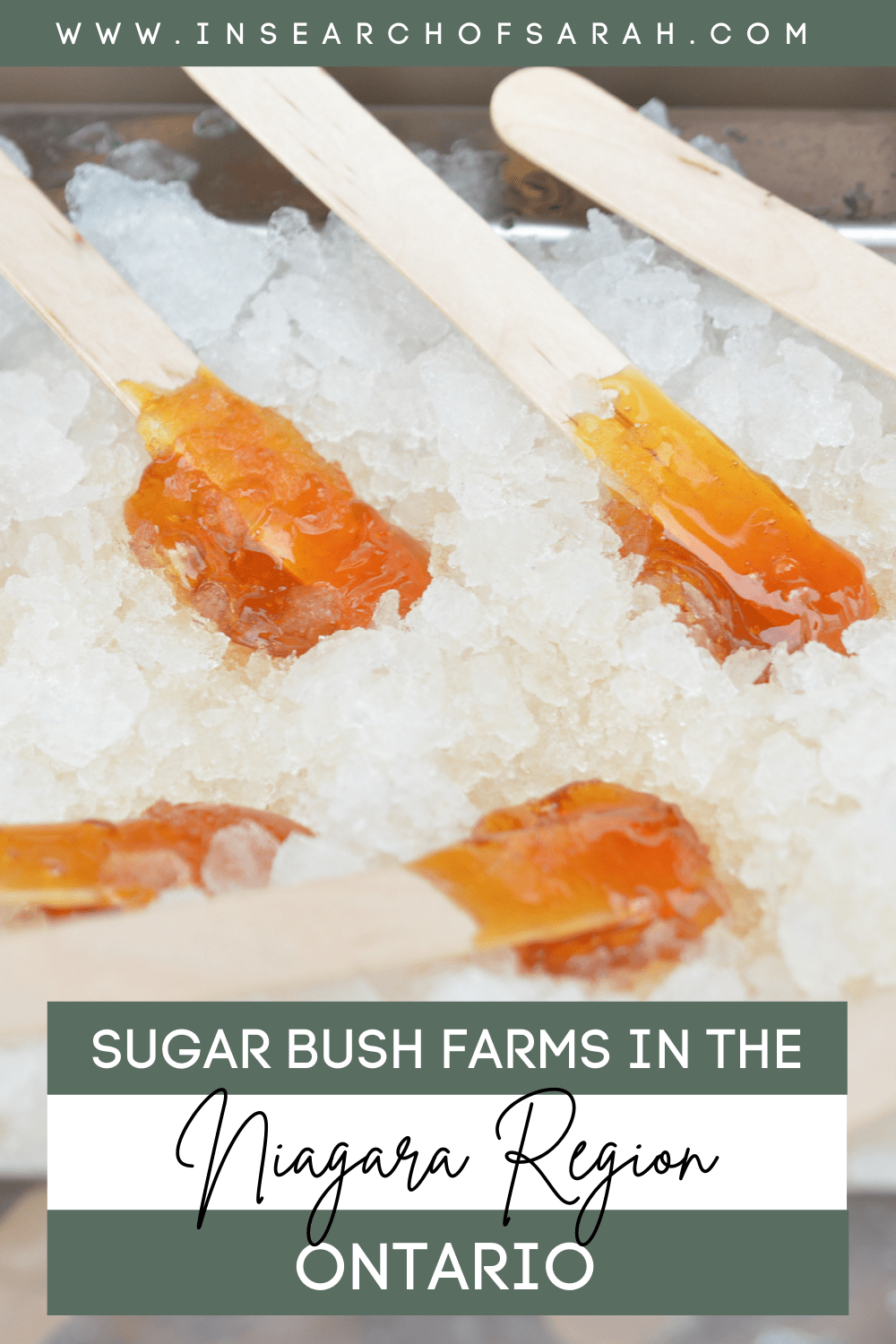 Maple Syrup Facts
Did you know Canada produces 80% of the world's maple syrup and Ontario alone produces over a million litres a year? It can be made from any species of Maple tree, too!
Surprisingly, maple trees aren't ready for syrup tapping until they're around 30-40 years old! And 40 seems to be a common number, because that's how many gallons of raw sap it takes to make 1 gallon or maple syrup!
Maple syrup was also used as the standard sweetener until cane sugar became available in 1875.
Most of our maple syrup is exported, but we do our very best to consume as much as we can, in a surprising amount of different ways. To Canadians, it's like liquid gold. It's part of our culture. And most of us were raised on it. 😂
How was Maple Syrup Discovered?
Although there are no written records of how maple sap was first discovered, many legends share the same tales. The most common one is that of a chief throwing his tomahawk into a maple tree and a bucket underneath the tree caught the sap overnight.
The next day, his daughter used the sap to boil their meat for dinner, which turned into syrup as it boiled.
It then became a part of their diet and was used as a source of energy (which is not hard to see why!).
When is Maple Tapping Season and How is Maple Syrup Made?
Prime time for maple sap tapping is between February and April, depending on the weather. The sugar is produced in the trees during the summer before it's stored in their root tissues in the winter. In late winter – early spring, the starch is converted into sugar that rises in the sap.
The maple trees are then tapped by drilling holes into their trunks to collect the sap, which is then processed to reduce as much of the water as possible, leaving the beloved maple syrup we know!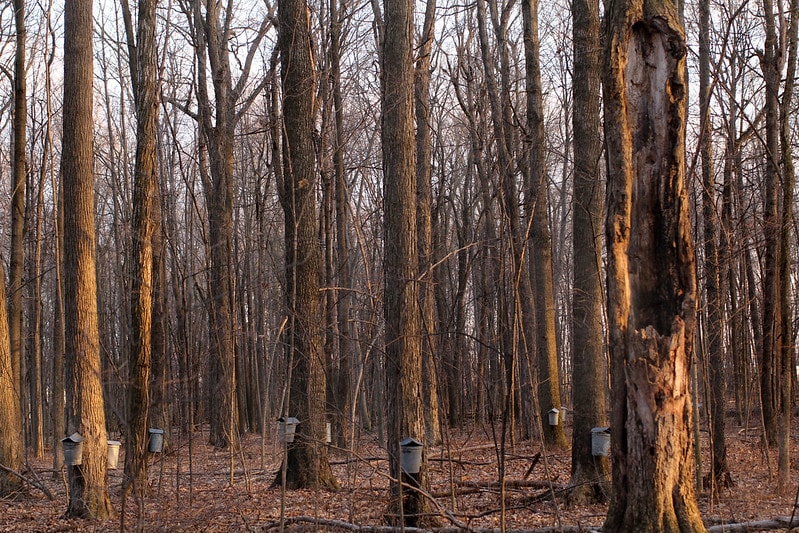 Which Grade of Maple Syrup is Best?
There are four types of maple syrup "grades":
Golden – delicate taste, sweet and buttery with gentle maple notes and clear gold in colour.
Amber – rich in taste. The most recommended for gift purchases and commonly served at restaurants.
Dark – robust in taste. A great choice for anyone wanting a strong maple flavour and holds up to recipes calling for maple syrup in marinades and oven-dishes or pastries.
Very Dark – exactly what it sounds like! This almost-black syrup is very bold and isn't normally consumed over pancakes. It's an awesome choice for glazes over meats and is a great alternative for a natural sugar substitute.
All grades contain the same amount of sugar, and the different types can taste sweeter than others. Many say the darker the maple syrup, the sweeter it is.
Did you know that the syrup is lighter in colour and milder in maple flavour near the beginning of the season? As the weather becomes warmer, the syrup becomes darker and there's more of that maple taste we all love!
I personally prefer Dark maple syrup, especially over pancakes and waffles!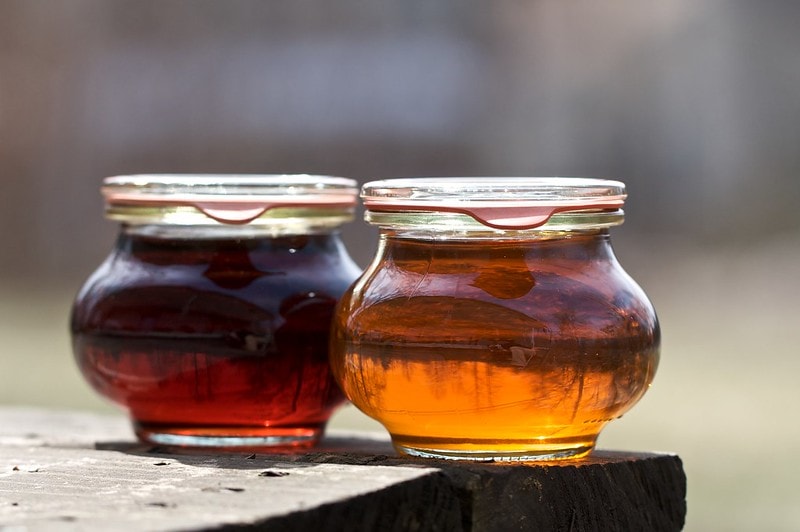 Maple Syrup Farms and Sugar Bush Farms in Niagara
White Meadows Farm, St. Catharines
White Meadows has been family owned since 1937! Ever since the first-generation owner, Adam, decided to harvest maple syrup with his son in 1940, they've continued crafting some of the best maple syrup in Ontario they collect from over 150 acres of sugar bush!
Offers: Their Maple Sweet Shop offers four types of maple syrup, a maple syrup "tasting pack" of jellies, BBQ seasoning, vinegar, mustard, and dressing, maple cookies, maple apple crisp, maple almonds, maple baked beans, maple tarts, maple cheese, maple coffee…the list just goes on!
You can also buy your farm fresh eggs here along with fluffy buttermilk pancake mix!
For those looking for firewood – yep – they have that too!
Tasting boards in the Sugar Shack are back! Stop by during store hours at the Maple Sweet Shop at the farm daily! Sample their different grades of maple syrup with pancakes. We did this and it was so much fun trying all the products White Meadows offers!
Sugar Bush Campout Lunch from March 4 – April 15th and daily from March 11th- 18th. Go for a tractor-pulled wagon ride down groomed trails to the edge of the sugar bush, where you'll be greeted with your own campfire, cozy blankets, and three course meal! Book online here.
Sugar Bush Trek from March 4 – April 15th and daily from March 11th- 18th! This 1.5 hour guided tour takes you on a tractor-pulled wagon ride through the meadow and farmland. A 45 minute walking tour teaches you about the Sugar Maple trees, Native camp, Pioneer Camp, Flat Pan station and more! Tap a tree, collect sap, and eat delicious maple syrup rolled in snow!
Hours: Monday-Saturday 10:00 am – 5:00 pm, Sundays 11:00 am – 5:00 pm. Find them on Facebook for updates.
In store shopping, curbside pickup and free local delivery on orders over $50.
Location: 2519 Effingham St, St. Catharines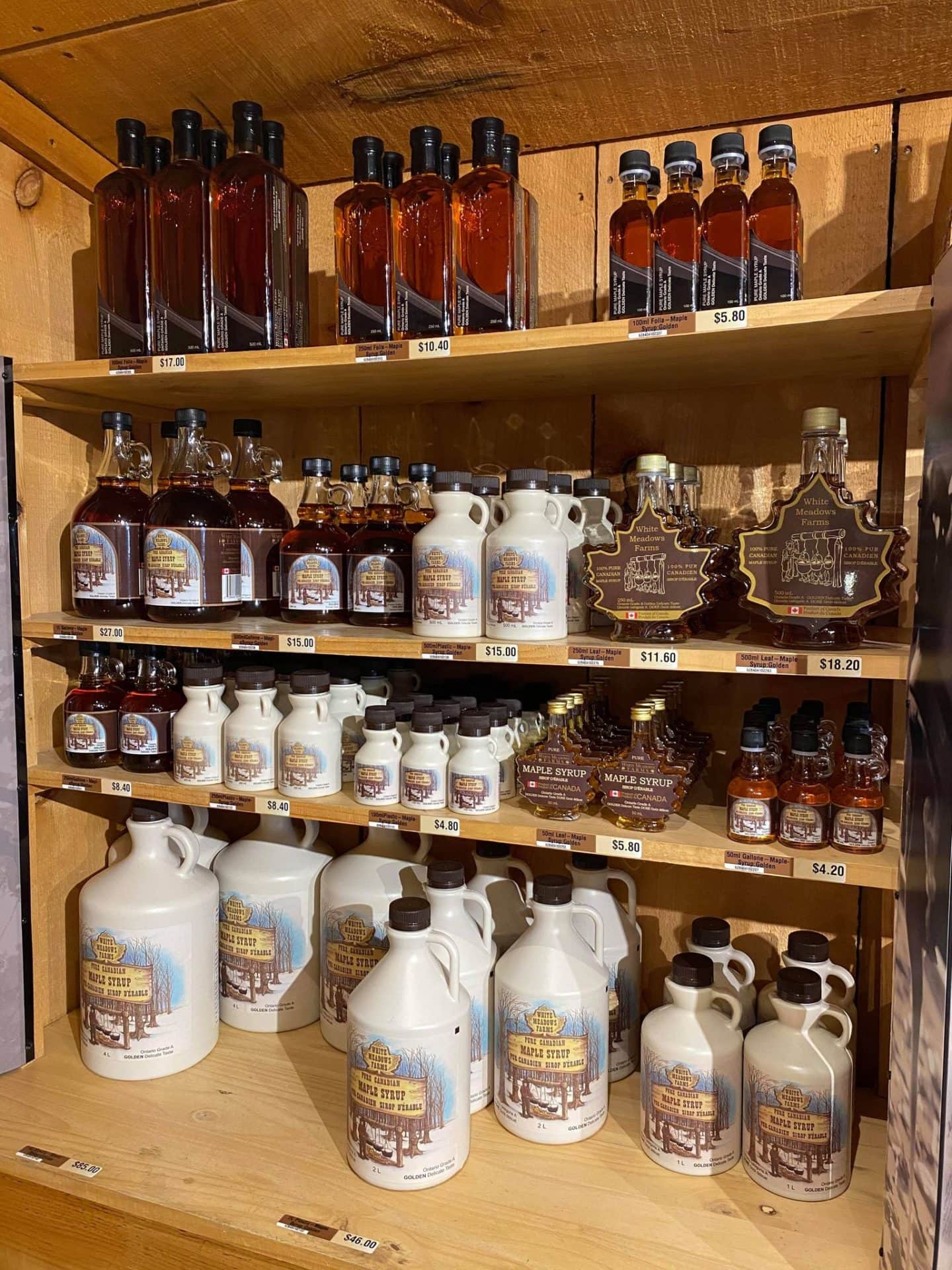 Agape Valley, Ridgeville
Situated in the heart of Niagara, Agape Valley Sugar Bush has been producing maple syrup since 1992 and has well over 500 maple trees on their property!
You can even buy Elk Droppings – chocolate covered raisins. 😂
Maple Syrup Days. Entry to the sugar bush and parking is free! A shuttle hayride will take you down into the sugar bush where a tour guide will meet you. You'll learn about how sap has been collected over the years, and see how we turn it into maple syrup! Their pancake house will be serving pancakes and sausage.
Agape Valley is requiring visitors to prebook a reserved time to enjoy the Sugar Bush.
Pre-register your parking pass for free online. Take-out will be available (no call in orders) and they will have additional seating outside available if the weather permits.
Offers: different kinds of maple syrup (golden, amber, dark, and very dark – and if you've never tried them, there is a difference!), maple cream spreads, maple lollipops and toffee, maple popcorn, maple peanuts, maple chocolate bars, maple tea, maple dressing, maple BBQ sauce, gift baskets filled with maple syrup products…need I go on?
Hours: Every Saturday in March and April 1st from 8:30am – 3:30pm and daily March 13-17th.
Find updates on Agape Valley's Facebook page or call 905-892-4273.
Location: 392 Kilman Rd, Ridgeville
Richardson's Farm and Market, Dunnville
While not technically within the boundaries of Niagara, Richardson's Farm and Market couldn't be left out! It is located just south of the Grand River in Dunnville and along with growing fruit and vegetables, they produce maple syrup and run agritourism activities seasonally!
Their sugar bush tours should be marked on your to-do list for local winter activities for the future. Take a wagon ride to their sugar bush to see how maple syrup is tapped from the trees and watch the sap become boiled before enjoying pancakes with pure maple syrup!
Maple syrup production remains a long-standing family tradition (now in their 5th generation!) at Richardson's Farm, which dates back to the early 1900s!
Sugar Bush Tours: Take a wagon ride into the sugar bush and learn how sap is collected and sample some pure delicious maple taffy! Learn about the yearly journey of sap and maple syrup production through the centuries. $10 per person ages 4+. Save on admission when you purchase your ticket online!
Purchase tickets for pancakes and sausage online.
Hours: March Break Tuesday March 14- Saturday March 18
Family Maple Experience: Not your regular trip to the sugar bush! On this unique sugar bush experience you will engage all your senses as you tap a tree, collect and boil sap in a hollowed log, make maple taffy on snow, taste sap at different stages of boiling and enjoy a tasty brunch topped with pure maple syrup – and their menu looks amazing! Available Saturday March 4, 11th or 25th.
Tickets: $54 per adult $42 per child (3-11 years) $180 (2 adults, 2 children) Reserve your tickets online!
Offers: in addition to maple syrup, you can also shop for your produce here! From squash to corn, apple cider, baked goods, meats, soup, and even maple pepper which I hadn't even heard of before!
Hours: Tuesday – Friday 10:00 am 4:00 pm, Saturdays 10:00 am – 3:00 pm. In-store shopping available along with curbside pickup and local delivery. Follow their Facebook page for updates.
Location: 131 River Rd., Dunnville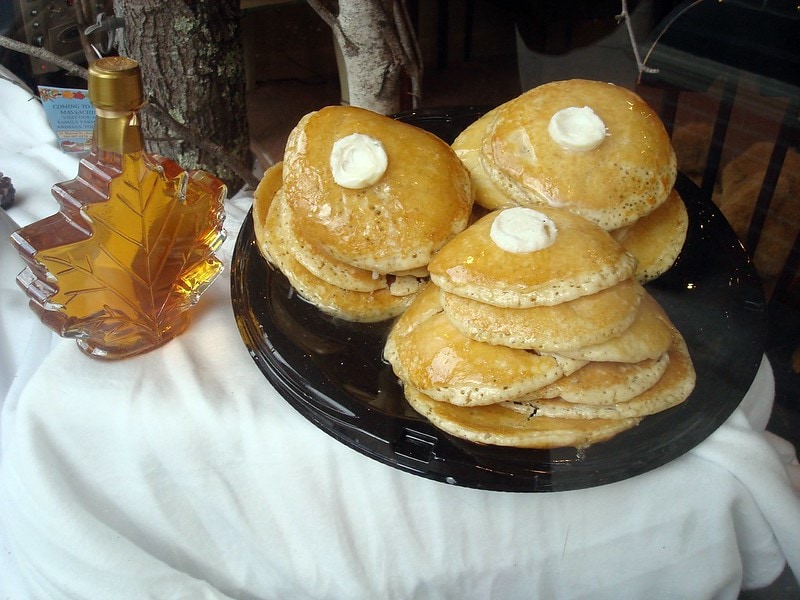 Of course, there are so many other ways to use maple syrup than just on pancakes! Check out some of these recipes using maple syrup!
Pin it for later!
Related Posts