Over the years I've seen some creative ways to honour loved ones at weddings – sweet sentiments and tributes to keep those they love close to their heart on a day that means the most to them.
Your wedding day is a special day, where you want everyone important to you to be there with you. If some one of your loved family members have passed, it's natural to feel their absence as you lead up to your wedding day.
For destination weddings, you have to deal with the logistics of travelling with these memorial pieces, which is why these small but impactful ways to honour your loved ones are the perfect addition to your wedding day.
From memorial tables to bouquet charms, there are lots of different ways you can remember those most important to you at your wedding.
This post contains affiliate links which means I earn compensation when you click on the links at absolutely no extra cost to you! Feel free to read my disclosure policy here. Thank you for supporting my blog!
Thoughtful Ways to Honour Loved Ones at Your Wedding Ceremony
Your wedding ceremony holds such importance to you, your future spouse, and your families. Something that may be weighing heavily on your mind is how special it would be with your loved ones there with you by your side, even if only in spirit.
Include one of their favourite flowers in your bouquet or boutonniere. You can also ask to add one solitary white flower (or flowers) in your bouquet to remember your loved ones.
Add a photo locket, piece of jewellery, or piece of fabric to your bouquet. Photo lockets can also be placed on a pin inside of a suit jacket, so they can remain close to the heart. Photo lockets and bouquet charms are a sweet and simple but impactful way to carry those you love with you down the aisle.
Use a piece of fabric from your loved one's clothing in the shape of a heart and sew it inside your dress or jacket. Many brides also use this as their something old and something blue, if you're into wedding traditions!
If you are looking for ways to honour your father who has passed away, walk down the aisle to one of his favourite songs.
Incorporate a piece of their handwriting into embroidery for handkerchiefs, pocket squares, or fabric used to sew inside of your wedding dress or suit jacket.
Use an old shirt and have it made into a ring bearer pillow. One of the most touching ones I saw was a ring bearer pillow made out of the bride's dad's shirt with "I loved her first" embroidered on it.
Wear memorial cufflinks or a tie that belonged to someone special.
Reserve a seat to honour your loved ones. Many brides have done this and it is so impactful. You can also leave a flower on each chair. Some also include a photo and have framed quotes or placed a sign at their seat.
Leave a flameless candle at your signing table as a reminder they are there with you. You can also include a photo of them at your register table so they can be a part of your certificate signing.
Incorporate them into your vows. Mention what your loved one thought about your new bride or groom and what you loved about them.
Wear a piece of jewelry made with their handwriting. The first time I saw a bride wear one of these bracelet's made with their mom's handwriting I teared up.
How to Remember Loved ones at your Wedding Reception
I understand the pain felt when celebrating your wedding without some of your favourite people there, but it is still possible to remember and honour your loved ones with a joyful heart during such an exciting and uplighting day. These wedding tribute ideas are ones commonly done by past brides:
Many brides opt to create a memorial table, filled with special photos to celebrate those who have passed. Old wedding photos are especially touching. You can also include a memory box, where guests can share some of their favourite memories with your departed loved ones.
Acknowledge them during your wedding reception speeches.
Save them a seat at your head table. I love this idea – it's subtle but very sweet. You can also incorporate this at your ceremony.
Make a toast to them with one of their favourite drinks – or even make it into your wedding's signature drink. Some brides have left a sign at the bar with a favourite bottle of their loved one's liquor to take a shot in honour of them.
Use one of your father's ties and incorporate it into your garter.
Dance to one of their favourite songs.
Do you have some of your own idea of how to remember loved your loved ones and honour them at your wedding? I'd love to hear your ideas! Please leave a comment below – your ideas will help future brides!
Looking for packing lists?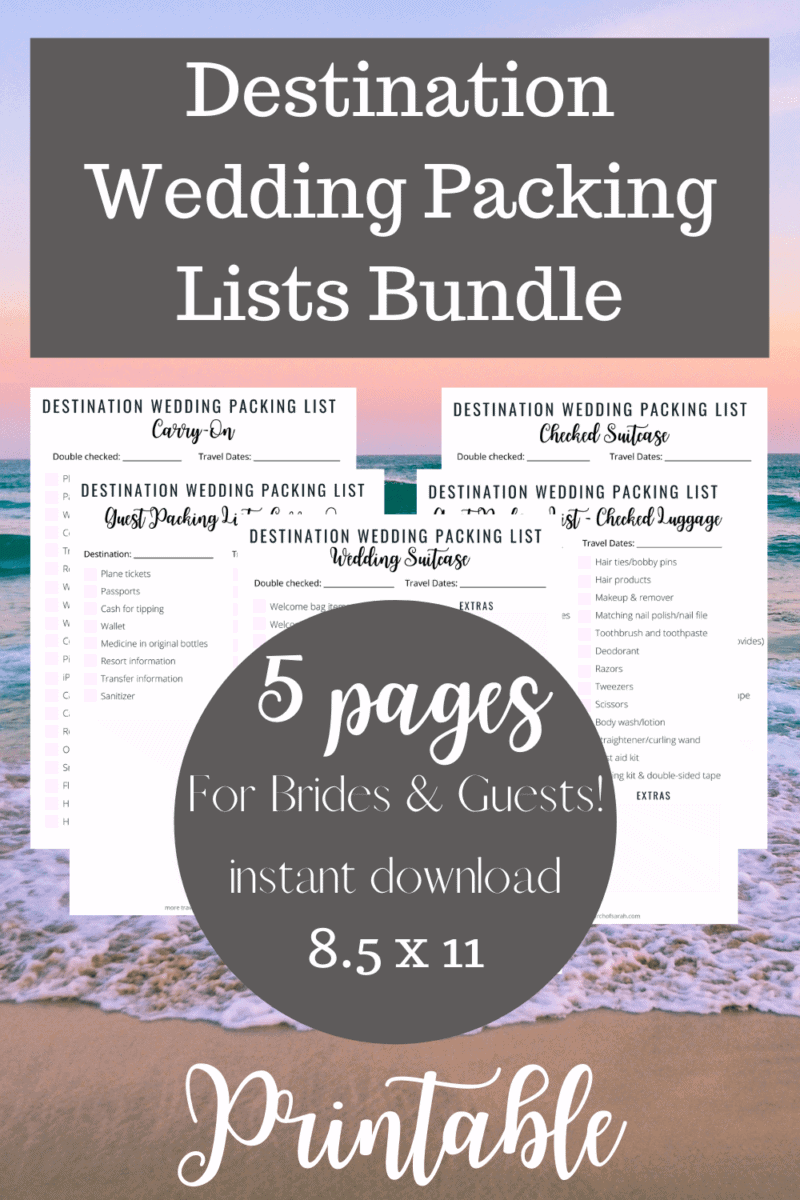 Related Posts
Pin it for later!