Putting together our destination wedding welcome bags was probably my favourite part of planning our wedding.
Are you looking for ideas of what to include in your welcome bags? Whether you're getting married in Mexico, Jamaica, Dominican Republic, Cuba or elsewhere, these items are applicable for all destination weddings, no matter where you're planning on saying "I Do!"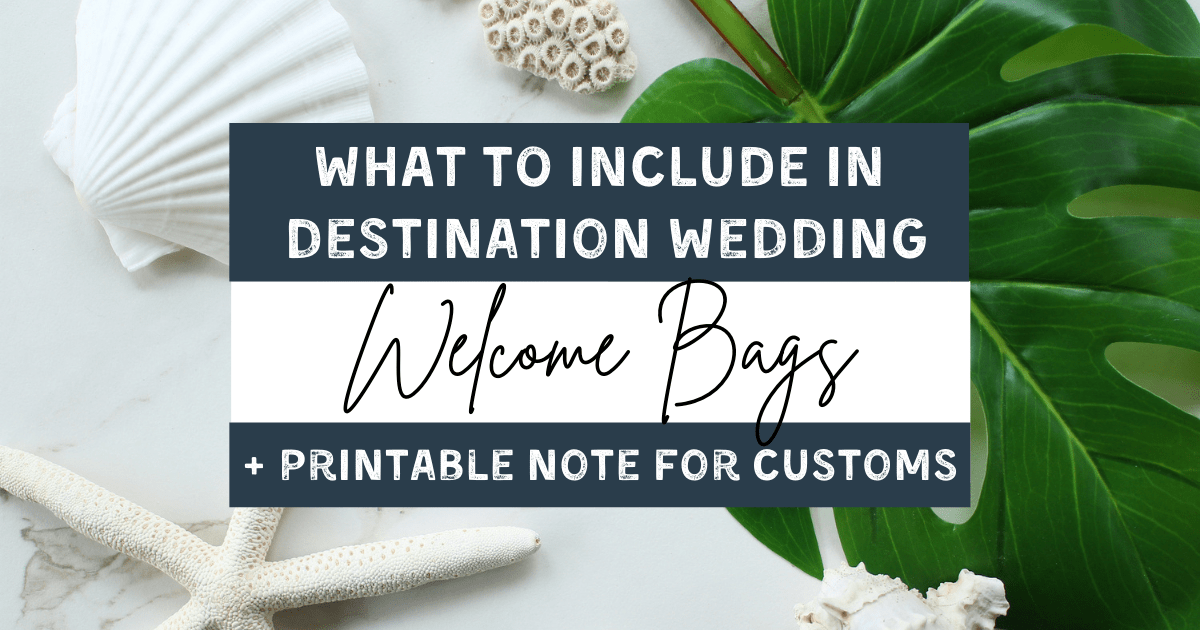 From inexpensive items to personalized ones, putting together welcome bags was so much fun and was one thing I loved doing. No two wedding welcome bags are alike! That's the beauty of it. They can include as much or as little as you want, depending on your budget.
I hope these ideas will spark some inspiration to create your own!
Be sure to grab your note to stick in your suitcase below!
This post contains affiliate links which means I earn a small commission when you purchase through my links at absolutely no additional cost to you. Thank for you for supporting my blog!
What are Wedding Welcome Bags?
Essentially, welcome bags are a goodie bag for your guests. They're a thoughtful way to say "thanks for making the journey!" and include practical and fun items they're likely to use while they're there.
They tend to include treats and information about your wedding and any wedding events you have planned.
Do I Need to Give out Welcome Bags to my Guests?
Firstly, no you do not. You aren't obligated to hand out wedding welcome bags for your destination wedding. Many opt to skip the welcome bags in favour of doing a group excursion or giving favours.
There really isn't a right answer to this. I did welcome bags because I was really excited to make them, and I was looking forward to it!
It is an added expense, so if it isn't in your budget, you can opt to leave some wedding favours instead.
That being said – they don't need to be expensive. You can easily create your destination wedding welcome bags without spending a lot of money.
Related: Fun Affordable Destination Wedding Favours (Starting Under $2!)
How Much Should you Spend on Wedding Welcome Bags?
This is the beauty of making welcome bags – they can be as inexpensive or extravagant as you want! They don't have to cost a fortune either.
Of course, this will all depend on what you want to include, if you want to personalize any items, if you're planning on DIY-ing anything, your budget, and how many guests you have.
Budget Tip: If your budget is tight and you want to hand out welcome bags, you can always opt to hand out one per couple/one per room (unless friends are sharing a room). This is a popular option amongst brides.
We only had 18 guests, so I handed out one per couple. I also DIYed a lot of items, so they weren't expensive to make.
What do you put in Destination Wedding Welcome Bags?
First – let's start with the bag itself.
Welcome bags are one of the most popular gifts for destination wedding gifts – and for a good reason! These bags are not only practical for the trip (and their future travels) but they're also great to fill with other goodies and useful items.
There are sooo many options for a destination wedding welcome bag. From paper bags to custom canvas totes, it all depends on your budget!
There are a few popular places where brides have ordered their bags: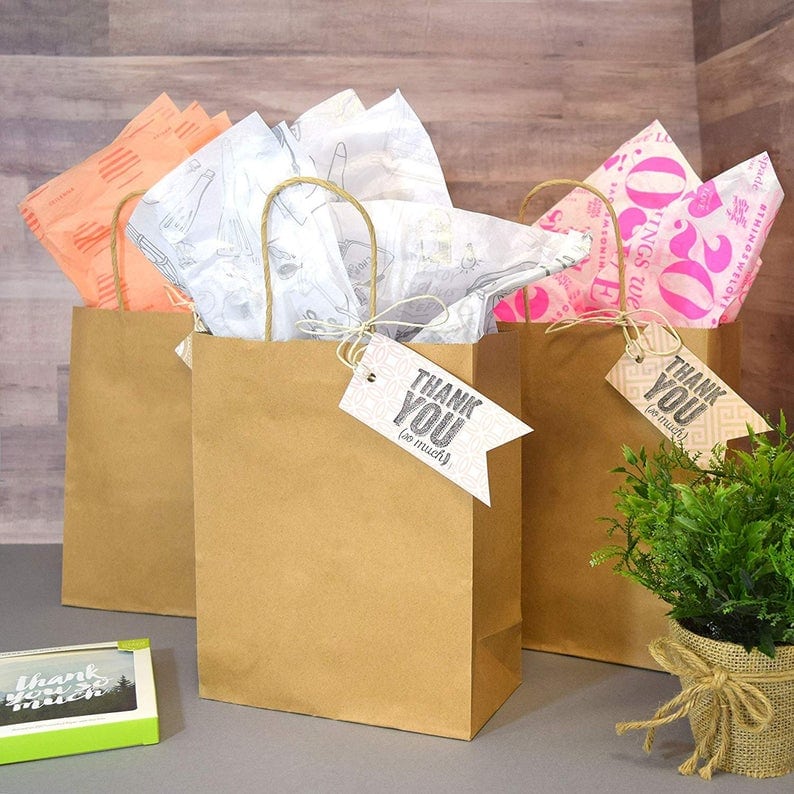 There are also plenty of other cheap welcome bags you can get if you don't want to personalize them.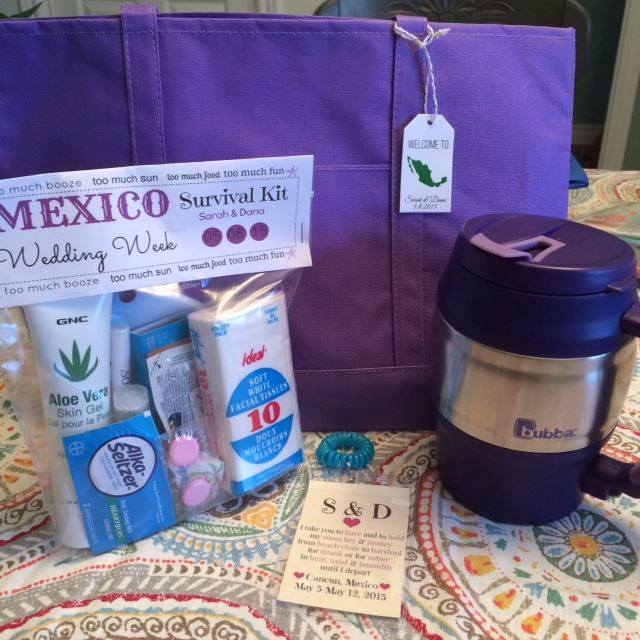 Budget tip: I actually got mine from Dollar Tree! You can't beat $1/bag. They were big enough to fit a beach towel and some other personal items in for a day at the pool or beach.
I got custom tags, similar to these ones made up to attach to the handle. Done!
Destination Wedding Welcome Bag Contents
Welcome Letter for Destination Wedding Guests
I personally feel this is an important item to include in your bags. A welcome note is a simple (but impactful) way to welcome your guests and let them know how much it means for them to travel and join you!
It's easy to forget that it's a big sacrifice for your guests to use their vacation time and money to attend your destination wedding (although I would be the first one to RSVP as attending 😂).
A welcome letter adds a small personal touch to show your appreciation. You can DIY them yourself, or get some gorgeous custom ones made up.
You can also double this welcome note as an itinerary to keep guests informed of your wedding events and a timeline. This is especially important, since we all tend to forget while on vacation!
Money-saving tip: You can also DIY these in Word or Canva! However, the majority of these destination wedding welcome letters and itineraries are inexpensive because they are digital downloads. If you can spare a few extra dollars, you can get all kinds of beautiful custom welcome letters made up!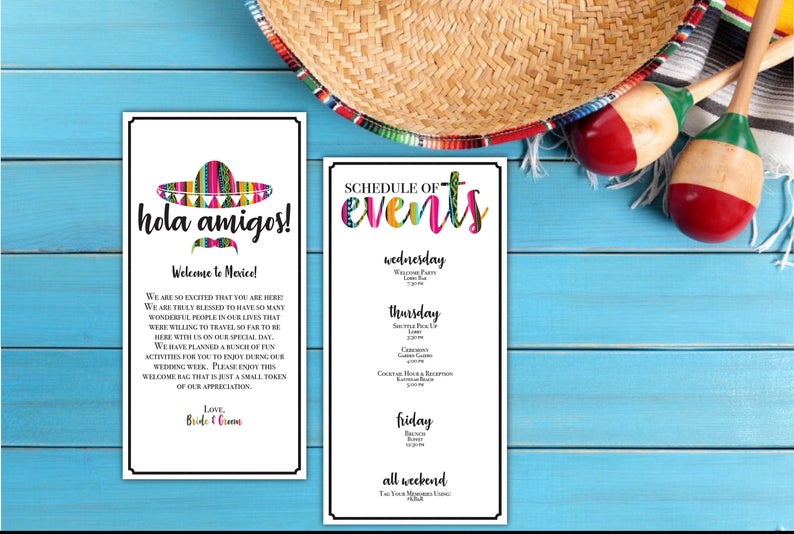 Room Key Holders for Destination Weddings
These were one of the most popular items at our wedding! We intended for them to be room key holders for our guests, but some even started carrying their money around in them too.
If you buy these, you have a couple of options: ones that seal and ones that don't. We actually ended up getting the ones that didn't seal, and they were pretty snug, but for an added level of protection (and it makes them waterproof), opt for ones that seal.
You can get all kinds of fun design inserts.
If you're into DIY like I was, you can always create your own inserts using Word or Canva. I also got my own cute wrist coils in a variety of colours.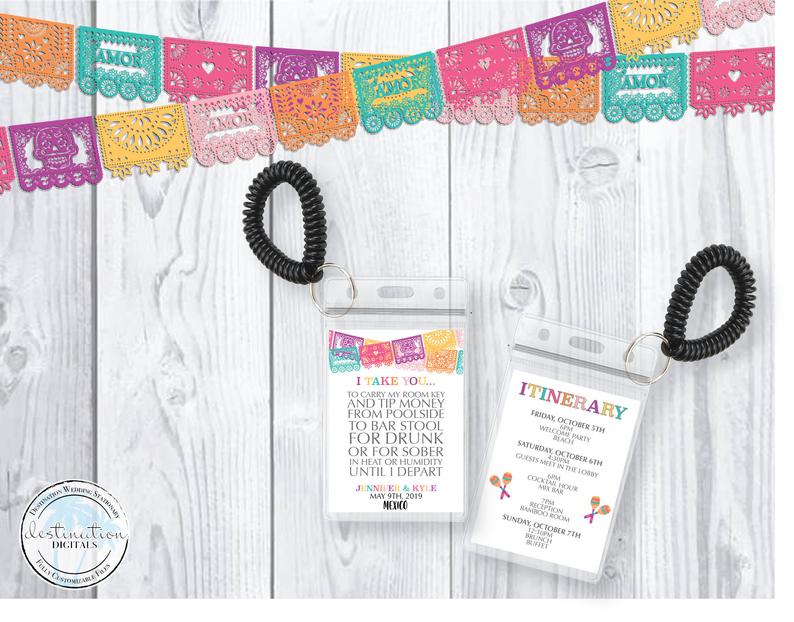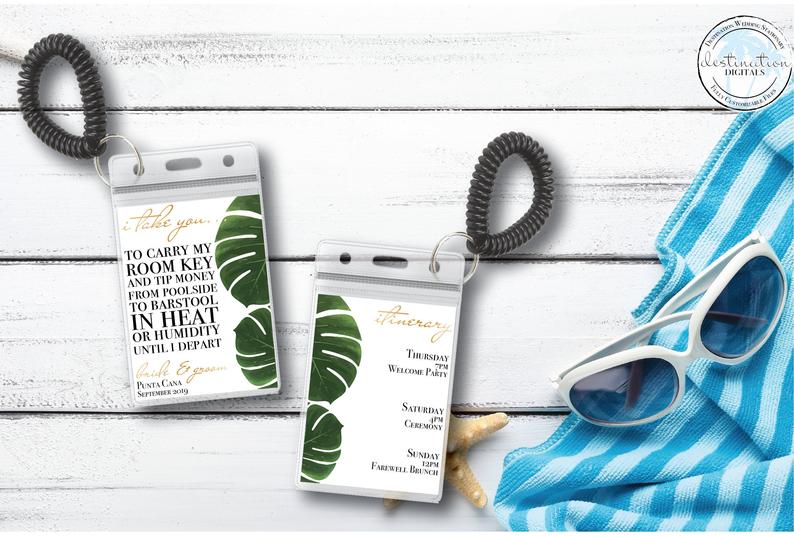 Tumblers
This was one I was most excited to include in our welcome bags, and was one of the more "big ticket" items. Tumblers aren't necessary, but I really wanted to include them in our bags.
We love bringing tumblers with us on vacation, either for water by the pool or beach, but more commonly to load up at the bar so you don't have to keep going back!
Typically tumblers are larger than the cups they provide, so if you want to avoid going back and forth to the bar or having your server come by, here's your answer!😂
You can personalize your tumblers!
Personalized tumblers are fun way to let other guests know there is a wedding group at the resort. It's also eco-friendly – why toss cups when you can use the same one? This goes for straws too. Many resorts now offer biodegradable straws or do away with them completely, but you'll find a lot of tumblers come with their own.
Discount Mugs has a lot of tumbler options too and is a popular option.
Budget tip: you can purchase tumblers inexpensively from places like the Dollar Store or Amazon and design them with your own custom stickers!
Tumbler Stickers
If you don't want to splurge on getting your tumblers engraved or customized, you can easily add a sticker to it! DavetDesigns on Etsy is the most popular place to get them from. They're waterproof and they last!
Hangover Kits and Emergency Kits
An emergency kit (also known as a hangover kit or survival kit) is an absolute must for any destination wedding welcome bag. They're so easy to put together and also are very inexpensive to make.
Hangover Kit Bags
You have a couple of options when it comes to hangover kit bags. You can either make your own (I did!) or buy cute ones from places like Etsy or Amazon.
Hangover Kit Bag Toppers
If you're planning to make your own hangover/emergency kit, you can easily do so by placing your contents into a quart-sized ziploc bag with a custom bag topper.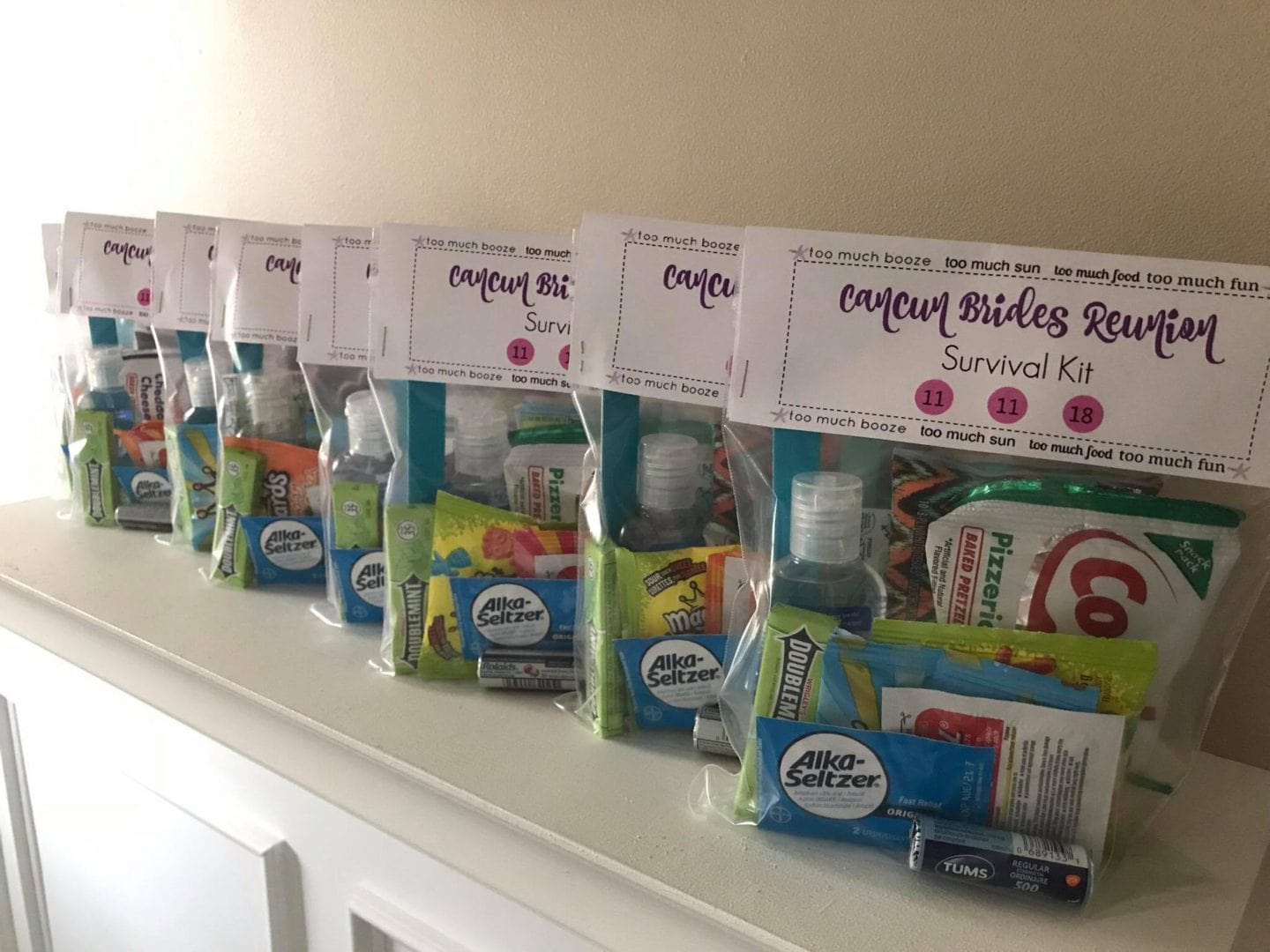 You can make these bag toppers yourself, or purchase a digital download (or get them shipped to you).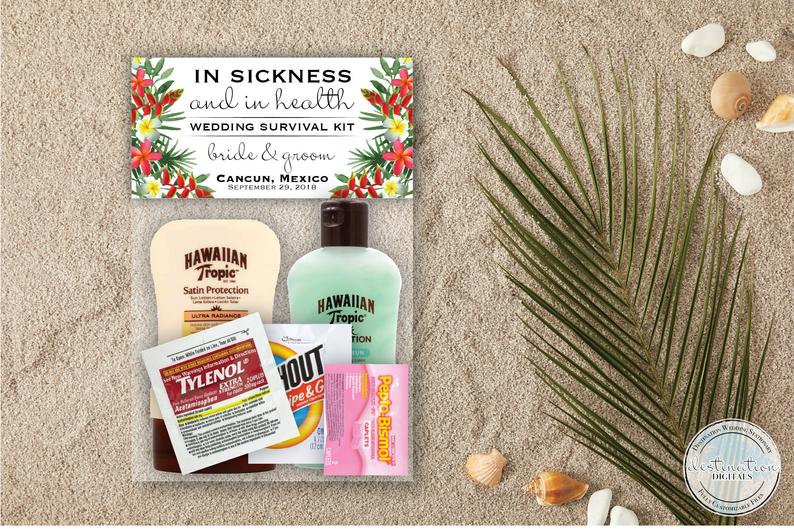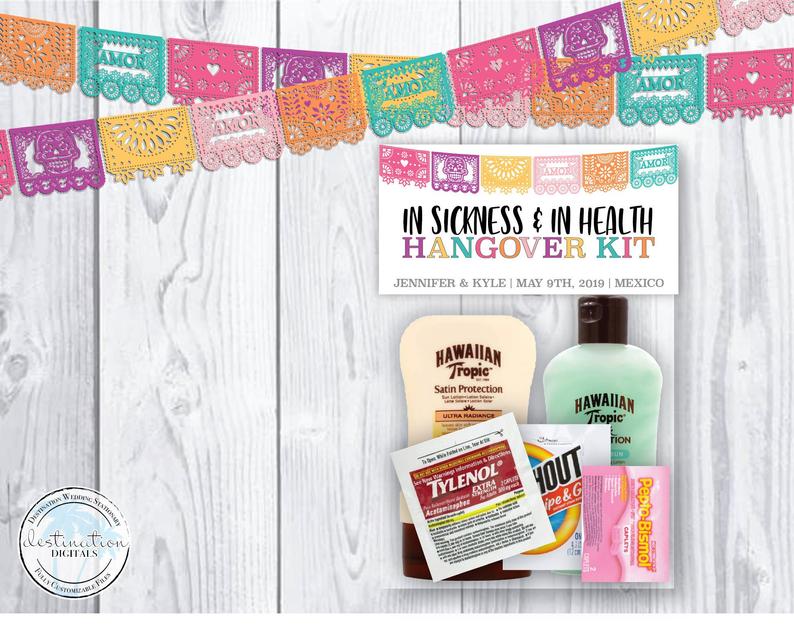 What to Include in a Destination Wedding Hangover Kit
You can get as creative as you want with what to include in these kits. Pricing will also range from where you buy these items and if you get them personalized or not.
Other Ideas for What to Put in a Destination Wedding Welcome Bag
Door hangers – DestinationDigitals offers a bunch of cute ideas for guests to display outside their door. Designed to fit any hotel room door.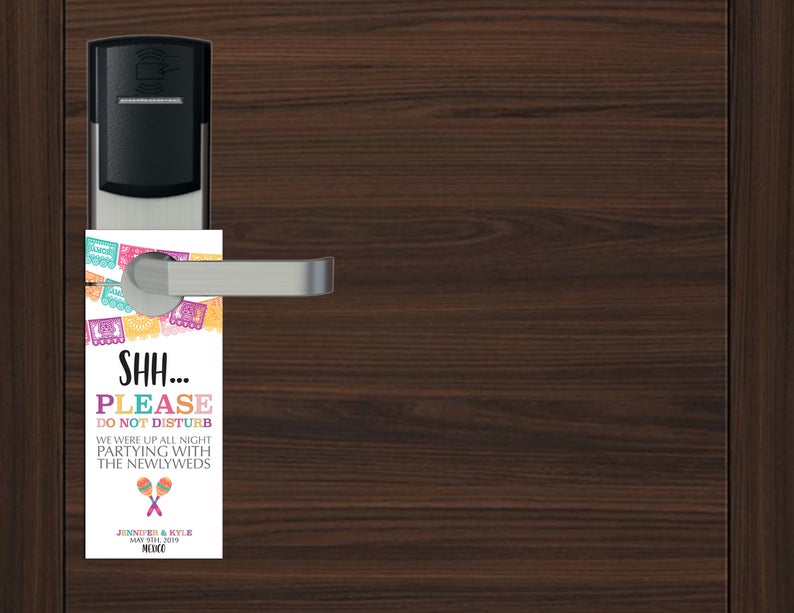 Snacks – just nothing that will melt! Salty snacks and candy go over well! If your wedding is a couple months after Halloween, then is the time to stock up on individually wrapped items!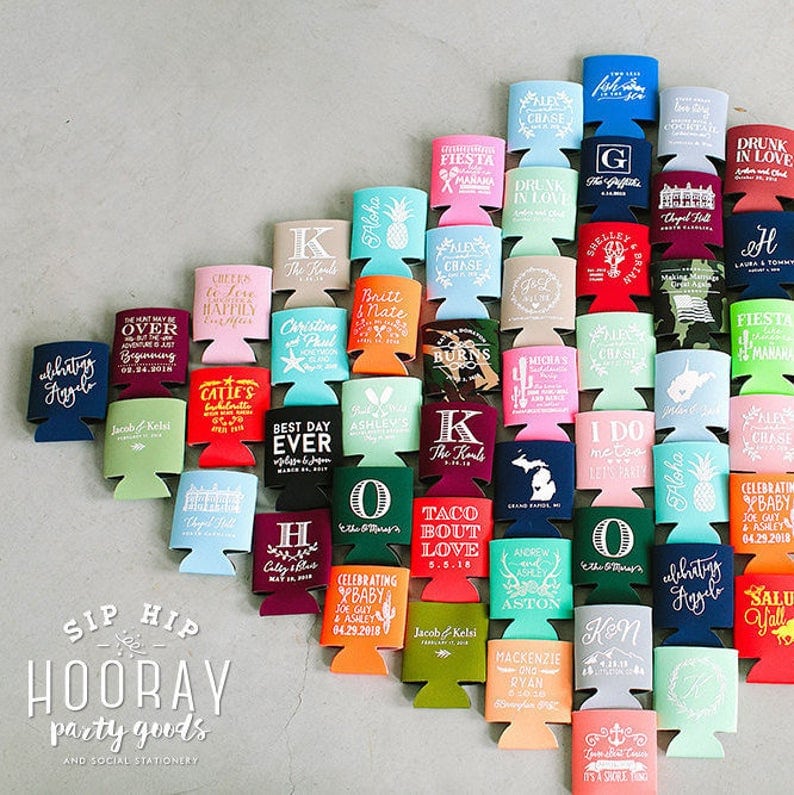 What not to put in a Destination Wedding Welcome Bag
Bottled water – it'll be in the hotel rooms and will just add extra weight and expense for you to travel with.
Things like shampoo and moisturizer – they're in the hotel rooms!
Towels – it'll just add bulk to your own suitcase and they are plentiful at the resort.
Snacks that will go stale or melt, like chocolates or custom cookies.
Things to Keep in Mind
Just remember that you don't have to completely fill your welcome bags. You don't want to overwhelm your guest with added items they may have to carry home with them (especially if they travel with just a carry on).
Include items you know they are likely to use, such as consumable items (snacks) or things like Advil, sanitizer, aloe vera, etc.
When to Hand Out Wedding Welcome Bags
This is a fairly common question. Again, it will depend on a couple things:
How many bags you have
How many guests you have
If you're having a welcome event
If you're willing to greet each guest when they check in
If you have a budget to have the resort hand out the bags
Lots of brides have a welcome event, like a welcome cocktail, dinner, or beach bonfire, and will hand out their welcome bags at that point. This is your best option.
Others who aren't having events will greet their guests when they check in. However, I wouldn't want to wait around all day in the lobby (hoping that guests show up when they're supposed to!). This wouldn't be bad if it was a couple of guests, but I see this as a big time waster.
Many resorts also offer the option to hand out the bags at check-in or drop off to the room. I'd personally avoid this option because I'd be paranoid of the bags going to the wrong room (or if guests decide on an upgraded room upon arriving). You're also going to be looking at $2-$5+ per bag to have them delivered to each room.
You can always enquire about them being handed out at reception, but there may be a fee for doing so – and hoping that each guest will receive their bag.
Suitcase Note for Wedding Welcome Bag Items
Include this note with your packed items for your welcome bags. If your suitcase happens to be searched, it will let whoever inspects your luggage know these items are for your wedding, and not for you to sell.
I highly recommend bringing your receipts for these items too, if you have them. The more information, the better!
If you want to use Canva to edit the template, you can sign up for a free account.
Here is the link to edit the template with Canva.
Here is the PDF version to copy the text and edit in Word.
Looking for packing lists?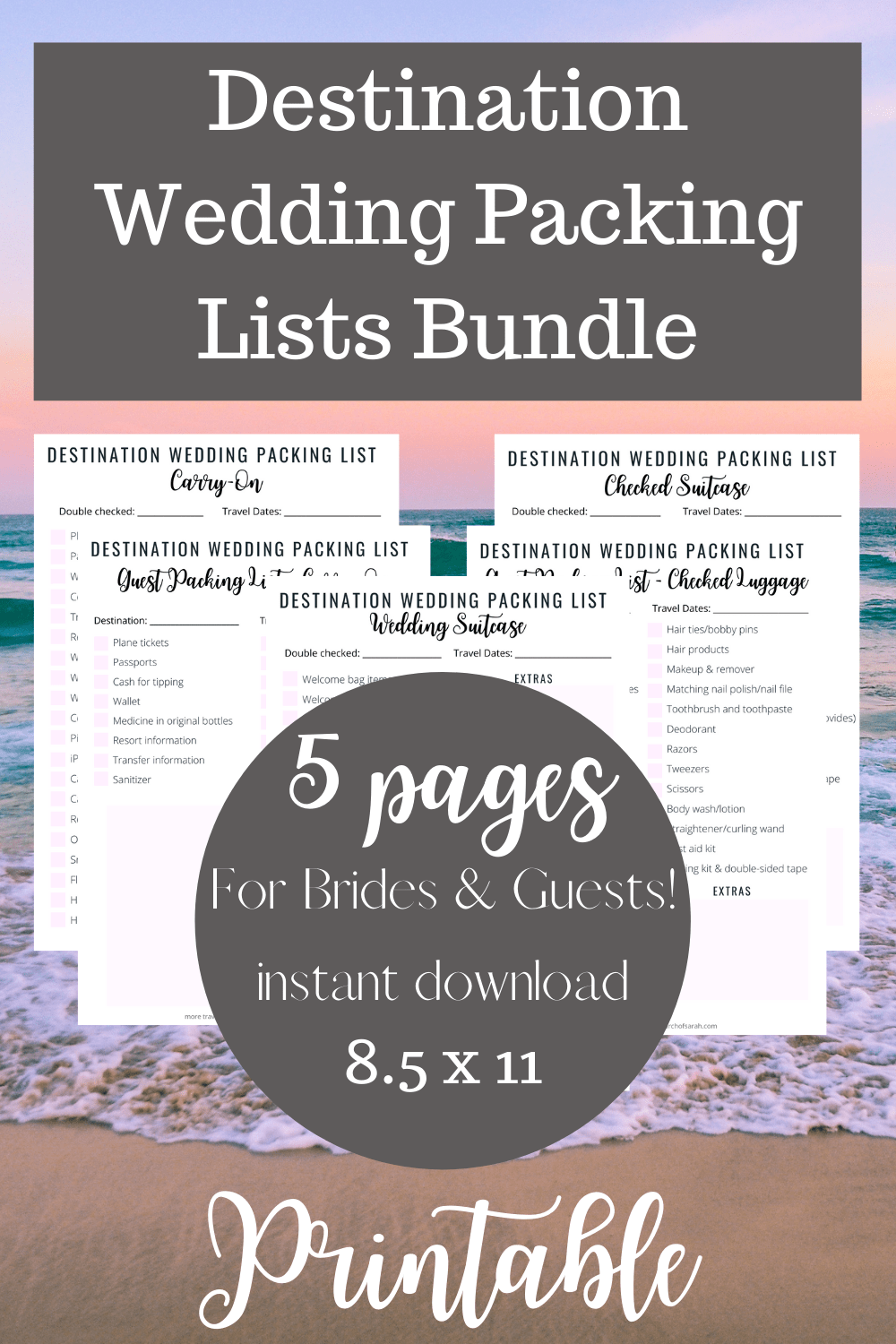 Looking for ideas on what to pack for an all-inclusive resort? Grab this printable checklist.
Related posts
Pin it for later!