When it comes to destination wedding favours, lots of people will have varying opinions. Are they required? Are you obligated to give them? What favours are easy to travel with? What are some affordable wedding favours for destination weddings?
There are so. many. questions…so let's take a look!
Wedding favours, especially at destination weddings, are a fun little addition to your day. That being said, wedding favours can definitely add up, especially if you have a lot of guests attending your wedding!
These destination wedding favours are easy to travel with and are lightweight, plus I'm giving you some other alternative options for ways to say thanks to your guests for making the trip!
Favours don't have to be expensive to make a big impact and a nice added touch! This list of destination wedding favours is for all budgets, starting at under $2 a piece!
This post contains affiliate links which means I earn compensation when you click on the links at absolutely no extra cost to you! Feel free to read my disclosure policy here. Thank you for supporting my blog!
Do I have to give a wedding favour?
First off, no you don't. And, with destination wedding "rules" and etiquette being all over the board, you have carte blanche with what you want to do. It's up to you!
Many brides like to give a little gift to say thanks for making the journey. These wedding favours do not have to be expensive.
You can give welcome bags when guests arrive, or favours at your wedding, or both, or none! The choice is totally up to you and there is no right or wrong answer.
Favours are an added expense to your wedding, so don't feel pressured into giving them out! You are not obligated to.
Related: How to Fly With Your Wedding Dress (Stress-Free!)
What can I do instead of favours at my destination wedding?
Not really feeling giving favours? Here are some other ways to say thanks to your guest for making it to your destination wedding!
Give Welcome Bags
Many brides opt to hand out welcome bags in lieu of wedding favours (I did!). Destination wedding welcome bags were probably the most fun thing I did when it came to planning my destination wedding and you can get really creative with them! Check out my guide to what to include in destination wedding welcome bags!
I was a budget bride. And I'm talking about putting together dollar store items for my welcome bags (which were awesome, by the way!) and opting to not go with any décor for my wedding and instead reusing what was at the ceremony.
I gave welcome bags to our guests because I really wanted to (plus it was a lot more fun than sifting through the nitty gritty wedding details)!
Organize a Group Excursion
You can also organize a group excursion as a thank you to your guests! Plenty of brides opt for an experience-based "thank you" rather than a material one, which is super memorable. This can (obviously) add to your expense of your wedding trip, but it's a ton of fun for everyone involved.
Just a note on this – if you're planning a water activity like a yacht or catamaran, just remember not everyone is into water. You can always make this an optional excursion.
If you're in Cancun or the Riviera Maya, there are some awesome companies I have used and have recommended:
You can also hold an organized group excursion outside of it being a thank you. I've done this with a group of friends and it's easy to set up with your chosen company. Make it an optional excursion and have your guests pay their own way!
Related: Fun Excursions in Cancun and the Riviera Maya
Donate to a charity
I've seen this done quite a few times! The newlyweds will opt to donate to a charity in lieu of physical favors and leave a note at their guests' seats.
Destination Wedding Favours
If you're looking to bring wedding favours from home, there are tons of options for you, and for all budgets! I'm a huge proponent of giving practical gifts that guests will use after the wedding.
Favours are an added expense to your wedding budget, which is why it's so important to find useful wedding favours give to your wedding guests. There is just no sense in wasting money on items people will never use!
Over the years I've seen what plenty have brides have done to know what's popular (and a big hit for guests!). Here are some popular destination wedding favours, including some ideas for kids, too!
Many brides on home soil give food items at their wedding, but just a note on food if you choose to go this path: you'll want to go with something that won't melt in the heat, so things like chocolate aren't always the best idea!
Destination Wedding Favours Under $2
Do you have a lot of guests attending your destination wedding? Want to stick to a budget? These wedding favours under $2 make a big impact and fit any budget!
Personalized sunglasses
These personalized sunglasses come in white or hot pink and are under $2 a piece! They come blank with a sheet of stickers to apply yourself, but it's very easy to do so! Brides rave over how big of a hit these are at their weddings!
Airplane bottle openers
These adorable (and practical!) airplane-shaped bottle openers are the perfect and fitting idea for your destination wedding favours. Easy to travel with, these bottle openers come in a cute box labelled "our adventure begins."
Flip Flop Bottle Openers
If you're looking for more of a beachy feel, these cute flip flop bottle openers are the perfect fit (haha, see what I did there?). They come boxed, but you can also personalize it with a tag or sticker!
Destination Wedding Favours Under $3
These destination wedding favours under $3 give that added personal touch to your big day!
Glass coasters
Another fun idea for your wedding guests (and favours that they'll use forever!) is a personalized glass coaster, with your name and date on it, plus a choice of 49 different designs and an array of colours!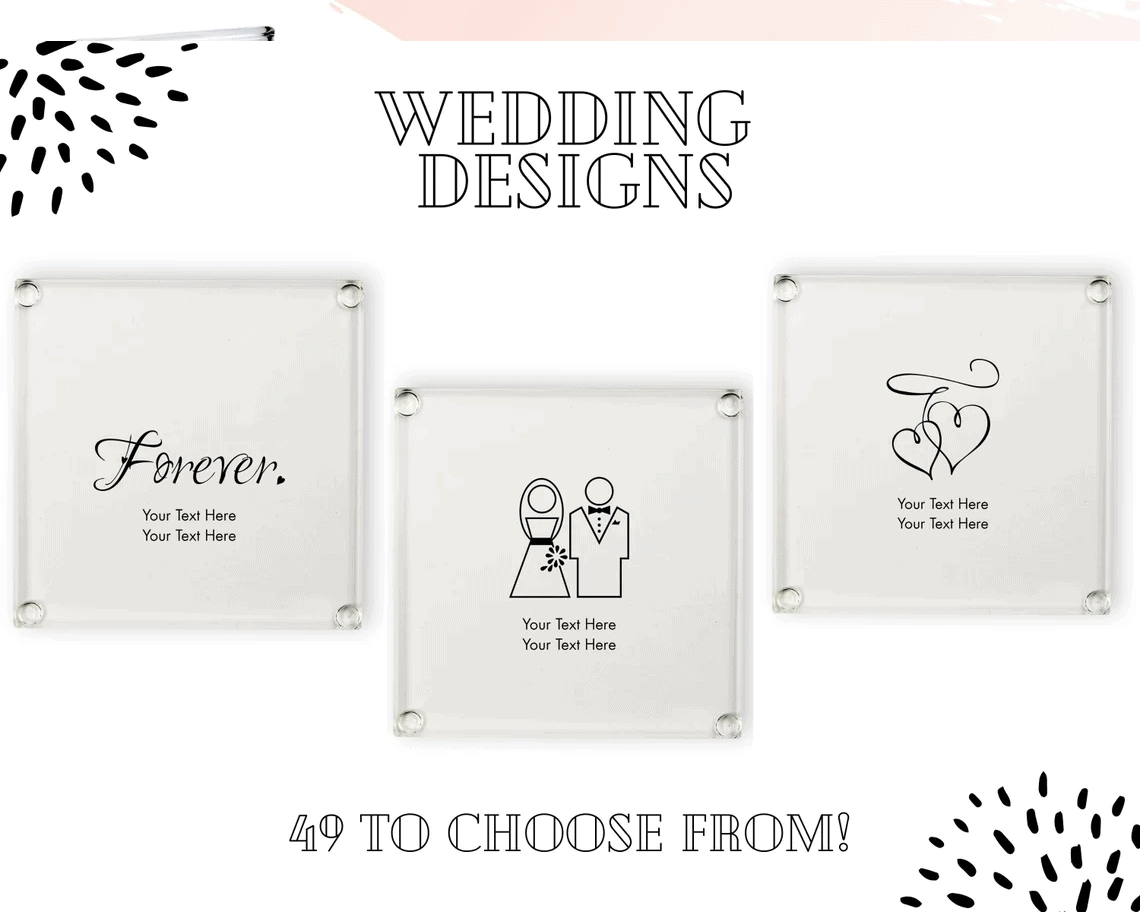 Custom Shot Glasses
A popular destination wedding favor is custom shot glasses! Easy to pack and travel with, these fun little shot glasses are the perfect addition to your wedding – and a great item to use at your wedding, too! Cheers!
Starfish wine stoppers
Another super easy destination wedding favour to travel with, these starfish wine stoppers are a cute way to commemorate your beachy wedding!
Palm Leaf Playing Cards
I saw these palm leaf playing cards and fell in love. I love the beachy tropical feel to them and they're easy to travel with! Ready to challenge some of your guests to a game of Poker?
Personalized Lip Balms
Another huge hit for destination wedding favours is personalized lip balms.
I know countless brides who have gone this route and they're adorable! These lip balms travel well and your guests will thank you after all those days in the sun!
Destination Wedding Favours Under $5
If your budget allows spending a bit more on your favours, here are some perfect additions to your destination wedding!
Custom bottle openers
These adorable custom bottle openers have a magnetic back on them so they'll never be misplaced once they're put on your guests' fridges!
This is popular destination wedding favour! These luggage tags are such a cute thank you to your guests and they're practical! They come in just under $5 a piece, and the more you order the less they are!
These leather luggage tags come in a variety of colours and come in just under $5 a piece (and the more you order the less expensive they become!).
Personalized frosted shot glasses
These personalized shot glasses offer a bit more customization with font and colours and are a fun way to celebrate your wedding day.
Gold Coconut Palm Tree Bottle Openers
How adorable are these palm tree bottle openers? They're a perfect favour for a tropical wedding!
Plus, sign up to this vendor's email list for 10% off your order – what a deal!
Personalized cork coasters
I realized at this point you must be thinking Jeez Sarah, you're listing a ton of drink-themed favours, but they're just so practical for everyone, inexpensive, and super cute! These personalized cork coasters come in under $5 a piece and come in a variety of designs.
The bonus about this destination wedding favour is that they're super light to travel with (no added luggage fees for you!!).
Custom Wedding Sunglasses
These custom wedding sunglasses offer more colour options, font styles, and designs! They come already imprinted so all you have to do is pack them in your suitcase to distribute at your wedding!
Destination Wedding Favours Under $8
Ceramic Bowls
I am obsessed with these colourful ceramic bowls. I think they're the perfect match for a destination wedding! These vibrant bowls will be a fun addition to your guests home and they'll be reminded of your wedding day when they use it! They're microwavable and dishwasher safe.
You have the option to purchase the bowls only, and package them how you wish, or opt to have them boxed and tagged.
Hand painted Maracas
These gorgeous hand painted maracas are the number one destination wedding favour given by brides in Mexico, which isn't hard to see why!
These are a stunning addition to your table décor and they're a fun way to remember your wedding!
Engraved flip flop bottle openers
If you like the look of the flip flop bottle openers but want something a bit more custom, these engraved flip flop bottle openers are your perfect match!
These cute bottle openers come in a variety of colours and styles to match your destination wedding.
Gold Pineapple Bottle Opener
These adorable pineapple bottle openers would definitely be one of my top picks for destination wedding favours. They're super beachy, easy to travel with, and practical! What's not to love!
Starfish Bottle Opener
I know there's a lot of bottle openers listed here, but can you blame me? They're all so perfect for destination weddings, like these starfish bottle openers.
They come boxed and ready to add to your wedding reception tables!
Tumblers
If you're not doing welcome bags but still want to give your guests tumblers for beachside or poolside, here's your answer! Tons of brides have given tumblers as wedding favours, and you can do it inexpensively.
These 20 oz stainless steel tumblers come in six different colours and in a pack of 8, making them just $7.50 a piece, which is a great deal! They're insulated, come with a straw, and keep drinks cool for 9 hours.
Get custom stickers for an added touch! Opt for vinyl waterproof stickers that will last!
Destination Wedding Favours for Kids
It can be hard to think of destination wedding favours for kids! These cute ideas will surely keep them entertained!
Kids Activity Book
Give the kids at your destination a personalized favor that will keep them occupied and having fun throughout the night! These activity booklets contain 16 pages including colour sheets, tic tac toe, connect the dots, maze, scavenger hunt, word search and more!
Crayon Wedding Rings
Want to make the kids feel included on your wedding day? Check out these adorable recycled crayon rings! Just add some paper and you're all set!
Bubbles
Bubbles are always a staple at weddings! These mini heart bubble wands come in a pack of 56, so you can even give these to your guests, too (super cute photo idea!).
Source a Local Vendor for Destination Wedding Favours
Your other option is to source locally! If you have a lot of guests coming and don't want to lug all the added extras, or want to support local, there are a ton of awesome local vendors in Cancun, Riviera Maya, Tulum, and other areas where you can order local favours from and have them delivered to your resort with no vendor fee.
These favours can range from maracas, shot glasses, local food products like jam, spices, etc. and more!
Of course all of my destination wedding posts are going to be geared towards Mexico, so if you're planning on getting married the Cancun area, some local vendors you can contact are:
These are vendors I know and I know plenty of brides who have used their services and have been really happy using them!
Hire an outside vendor for a unique addition to your destination wedding
You can also hire an outside vendor to give your day an added touch in lieu of physical favours! There are all kinds of unique additions you can find for your wedding. Vendor fees will apply for these services, so be sure to ask your wedding coordinator!
Some examples for Cancun and the Riviera Maya include:
Related: Outside Vendor Fees at Destination Weddings (+ Tips on How to Get Around Them)
Looking for packing lists?
Related Posts
Pin it for later