Planning a destination wedding? It's one of the most exciting times of your life! Chances are you have a budget in mind for the cost of your wedding and you've narrowed down your options.
You think things are running along smoothly and you've allocated your budget wisely, until you find out that there are fees associated with bringing in a photographer or makeup artist that isn't at the resort.
These are called outside vendor fees, mostly implemented by all-inclusive resorts, and they can really sneak up on you! It's important to ask your destination wedding resort coordinator prior to booking any outside vendors if you choose not to use the in-house vendors.
Why?
In some instances, resort vendor fees can be $1000 PER VENDOR! Yikes!
That being said, I tell brides all the time that you can get so much more bang for your buck by hiring an outside vendor, even with the vendor fee.
These fees can range anywhere from $100-$1000+ per vendor or per person per vendor, and they vary greatly amongst resorts. Because of this, it's very important to do your homework and determine the specifics of these fees before committing to an outside vendor.
But fear not! Let's take a more in-depth look at what exactly these outside vendor fees entail and tips on how to work around them!
Note: while this post is applicable to all destination weddings, examples here are Mexico-specific. Be sure to check your contract and ask your wedding coordinator about any rules and costs associated with hiring an outside vendor.
Important: Not all resorts allow outside vendors!
It's important to remember that while you're planning your destination wedding and checking out outside vendors to hire for photography, makeup, videography, DJ, florist, etc., that you check to see if your resort even allows outside vendors. You don't want to get stuck paying a deposit and having to lose out if you find out you can't bring an outside vendor in! Food for thought!
Some resorts work with a preferred vendor list, which are vendors that pay a fee to work with the resorts and kind of secures them in having brides directed their way when planning their wedding.
Don't let the outside vendor fee scare you!
Real talk – this is what the resorts expect.
They want you to be thrown off by the hefty fee associated with bringing in an outside vendor because they'd much rather you use the photographer, florist, or makeup artist who is already on property, so they gain from it.
And I get it, but some of these vendor fees are quite honestly atrocious and many brides say it's highway robbery.
It is. I can't lie.
Brides see the vendor fee and instantly put blinders on.
I was scared off by my $200 vendor fee years ago and ended up using the resort photographer, which is my biggest regret. Plus it cost me just about the same if I hired an outside vendor but I got a lot less for the same amount of money.
HOWEVER! If you do your research and price compare, often you'll find that even with the vendor fee, you're still coming out ahead! Crazy, right?
Related: How to Fly With Your Wedding Dress (Stress-Free!)
How do I find out what my vendor fee is for my destination wedding?
This is one of the questions to ask your wedding coordinator.
It will also be listed in your contract – go by what's listed in there and not by anything verbal. It's always good to have these things in writing because often policies change so often.
A better way for me to explain this is if you start planning your wedding a year from now. If you sign your contract and get your date secured, you are able to go back and reference the vendor fee at the time of signing your contract, in the event the fee goes up at any point during the year leading up to your wedding.
Many brides have fought the new vendor fee by referencing their signed contract.
If you have questions or if things aren't clear, ask the specific questions. Some resorts charge per person, per vendor (so if there is a photographer and assistant, that is two separate charges). If there is a hair and makeup team of three people, there are three charges. Or it could be a flat fee for the service. Just make sure you ask and get it in writing!
Can I get around outside vendor fees at my resort?
It depends.
First, you can always use your in-house photographer, DJ, florist, or salon for hair and makeup (more on this later).
If you have your heart set on a certain vendor, then your second option is to check with your resort to see if there is a list of preferred vendors available. This is a collection of companies the resort uses and works with, and by doing so, there is either no fee (or a minimal) fee associated with working with them. Their list may be minimal, but your first choice may be on that list!
Failing that, and depending on which vendor you're looking to hire (photographer, makeup artist, etc), there may be some options for you:
Ask your vendor if they're willing to work and negotiate with you to offset the cost of the vendor fee (more on this later!). You'd be surprised by how many vendors will willingly work with you to accommodate this!
If you're hiring a hair and makeup artist, you have the option of going off-resort and renting a room at a hotel or AirBnB, or hiring a travelling makeup artist that will travel to your resort. One example is the Beauty Bus by VO Evolution in Cancun.
Some resorts offer a waived vendor fee if your vendor stays 3 nights at your resort. Check with your wedding coordinator! This is often a much cheaper option for you!
Keep in mind that even if there isn't a way to reduce your vendor cost, it's still worth it (to me) to work with someone you love and are excited to work with. Trust is very important, and having a relationship with a vendor you've wanted to photograph your wedding or do your hair and makeup is worth the extra money, right?
Related: What to Include in Destination Wedding Welcome Bags
Can't I just pay for a day pass for my vendor?
This is not a wise decision, and you'll find that most reputable vendors will decline that option.
Many hotels and resorts regularly work with the local wedding vendors in Cancun and Riviera Maya. You wouldn't want to jeopardize their relationship with the resort and risk not having a photographer or makeup artist!
Won't it cost more to hire an outside vendor with the vendor fee?
This is not necessarily true, and it pays to do your research!
In many cases it is significantly cheaper to use an outside vendor. Let's take a look at one bride's cost comparison:
DJ at resort for 3 hours, dance floor and rental of sound system: $2260
Outside DJ for 4 hours, lighting, dance floor, decorations + vendor fee: $1250
Savings of $1,010!
Another example…
Floral arrangement at resort: $14,000 (yes, flowers are SUPER expensive!)
Outside vendor: $4,000 + $500 vendor fee
Savings of $9,500!!🤯
In-house vendors usually have a heftier price because 1) they are able to get away with it because they count on brides taking the easy route to hire who is at the resort already, and 2) they have to pay the resort a certain percentage of their earnings, since it's not free to have their business there. It makes sense.
Why should I look at hiring an outside vendor? Why can't I use who is at the resort?
You can! There is no one saying it's wrong or bad to use the in-house services. But for those who have their heart set on using a certain company, it's good to know what options there are when it comes to hiring an outside vendor.
In my experience over the past 7 years of helping destination wedding brides, you will absolutely get more bang for your buck by hiring an outside service, PLUS the talent, quality, experience, and reputation. You'll be able to build a connection which will help put you at ease.
You kind of take a gamble with in-house vendors. You may not know who you are getting, know their style or quality, or see their work. Do you want to take a risk like that on one of the most important days of your life?
Again – I'm just writing this post based on what I've seen and what I've experienced. I'm not getting paid to write this by a team of outside vendors, but I wanted to share my knowledge and my own person experience with you to help you see that you're not stuck with using the in-house vendors.
Related: Alternative Destination Wedding Guest Book Ideas
Should I be worried about the lower prices offered by my outside vendor?
Absolutely not. If these vendors are reputable and you do your homework to check reviews (Facebook groups are great for that!), you have no reason to worry about the lower costs.
Resorts can charge more because they're counting on you being thwarted by the outside vendor fee. Outside vendors know this, and try to reduce their costs to offset the fee. See how that works?
Don't be afraid to ask about offsetting the vendor fee!
Vendors are very aware of the astronomical vendor fees and will work with you to help reduce the burden on you. It never hurts to ask, and most are prepared for this question and are willing to help!
How do I ask my vendor to negotiate their prices to help offset the vendor fee?
Just be honest! Let them know they are your first choice of vendor but the vendor fee is putting you over budget. Most are more than willing to accommodate and negotiate their prices.
Where does my vendor fee go?
Well, for one thing, it doesn't go to your vendor. It's not their fault!
There is no clear cut answer to this, other than "to the resort". It doesn't get dispersed to employees, but rather to their bottom line as additional income.
Related: The Ultimate Guide to Tipping at Destination Weddings
Does the vendor fee include the meal you have to provide the outside vendors, or is that an extra cost?
The vendor fee does not include meals. You will have to pay for a separate vendor meal (so account for that, too!). Vendor meals are a fraction of what it costs for a guest meal.
Outside vendor fees for resorts in Mexico
Since my past 7 years have been involved with helping destination wedding brides in Mexico, I've asked some current brides (2022) what their vendor fees are (in USD) at their resort. This gives you an idea of how much they vary.

And remember – even though I'm listing these here, be sure to get yours in writing! I'm not liable!😂
Excellence Riviera Cancun: $600 for photography/videography; $500 for makeup
Dreams Vista Cancun: $150 per person per vendor (if there are two people from your photography team, that is $300)
Majestic Elegance Costa Mujeres: $1000 per vendor plus $90 for every person that assists that vendor
Hyatt Ziva Cancun: $1000 per vendor
Dreams Riviera Cancun: $250 per person for photography/videography; $150 per person for hair and makeup
Finest Playa Mujeres: $500-$600 depending on service
El Dorado Royale: $800 per vendor
Planet Hollywood: $850 per vendor
Secrets Akumal: $300 per vendor for up to 2 people
Hard Rock Riviera Maya: $1500 per vendor. If that vendor provides more than one service, it is $1500 per service, plus $127 per person who works with that vendor.
Moon Palace Cancun: $1000 per vendor. $500 per vendor if they are staying on resort for 3 nights or more ($500 vendor fee + hotel cost)
Grand Palladium Costa Mujeres: $800 per vendor
Xcaret Hotel: $200 – $800 depending on service
Royalton Riviera Cancun: $850 per vendor except makeup: $450
Sandos Cancun: $500 per vendor
UNICO 20°87°: $1000 per vendor plus day pass. Photographers can have that fee waived with a 3-night stay
Barcelo Maya: $750 per vendor
Secrets Playa Mujeres: $150 per person
Hyatt Ziva Los Cabos: $750 per vendor
The Fives: $800 per vendor
Hilton Tulum Riviera Maya: no charge
Ocean Riviera Paradise: $500 per vendor
Grand Hyatt Playa Del Carmen: $350 per vendor
Sandals: $1000 per vendor + $500 for each assistant
Riu: $250 per vendor
Sensira Resort and Spa: $500 for DJ, $300 for hair and makeup. No fee for photography or videography.
Atelier: $1000 per vendor
Looking for packing lists?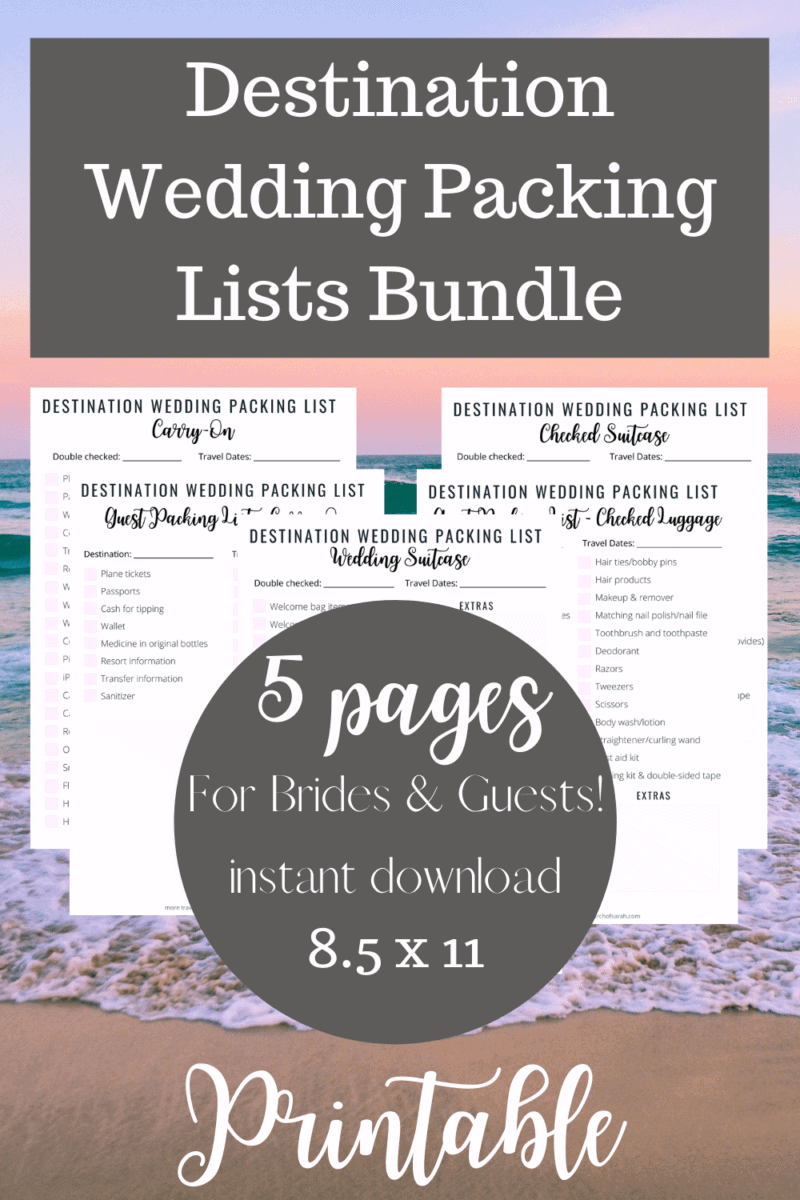 Related Posts
Pin it for later!