When we were initially planning on having a destination wedding, I knew I wanted to get married with my feet in the sand.
Barefoot sandals, foot jewelry, or footless sandals are a widely popular choice amongst destination wedding brides. They're elegant, inexpensive compared to other footwear, and easy to wear!
Walking on sand can be challenging on the best of days, and I knew there was no way I was going to be able to pull off wearing any type of shoe. My husband even picked out nice dress shoes and opted last minute to go barefoot!
Fortunately, there are so many beautiful styles of barefoot sandals out there that are perfect for a beach wedding.
I was so set on getting married barefoot, it didn't even occur to me until later that I would need a pair of shoes for our reception. 😂
This post contains affiliate links which means I earn a small commission when you purchase through my links at absolutely no additional cost to you. Thank you for supporting my blog!
What type of footwear should I wear for a beach wedding?
My number one recommendation will always be barefoot sandals, BUT this post is not to dissuade you from wearing heels to your wedding! I suggest barefoot sandals because I find them to be the most practical for a beach setting.
I'm sharing my personal experience and love of barefoot sandals, and providing some popular options for you.
Can you wear heels to a beach wedding?
If you want to wear heels to your destination wedding, wear them! But opt for a wedge, block heels, or flats (or something with more stability – you get the idea!). Don't even consider heels – you'll sink right down into the sand.
Buy your dream wedding shoes for your reception. Since many receptions are on a flat surface, you'll be fine to wear whatever you have your eyes on.
Won't the sand be hot?
Usually most weddings are in the late afternoon or early evening, so the peak heat of the day has passed. But even during the day, while walking around on the beach, it isn't scorching hot. To be completely honest, I didn't even notice (while my dad was dragging me down the aisle 😂).
With thousands of brides getting married barefoot, I don't think I've heard of one saying the sand is too hot to stand in. The sand never really gets hot – but it will feel nice on your feet!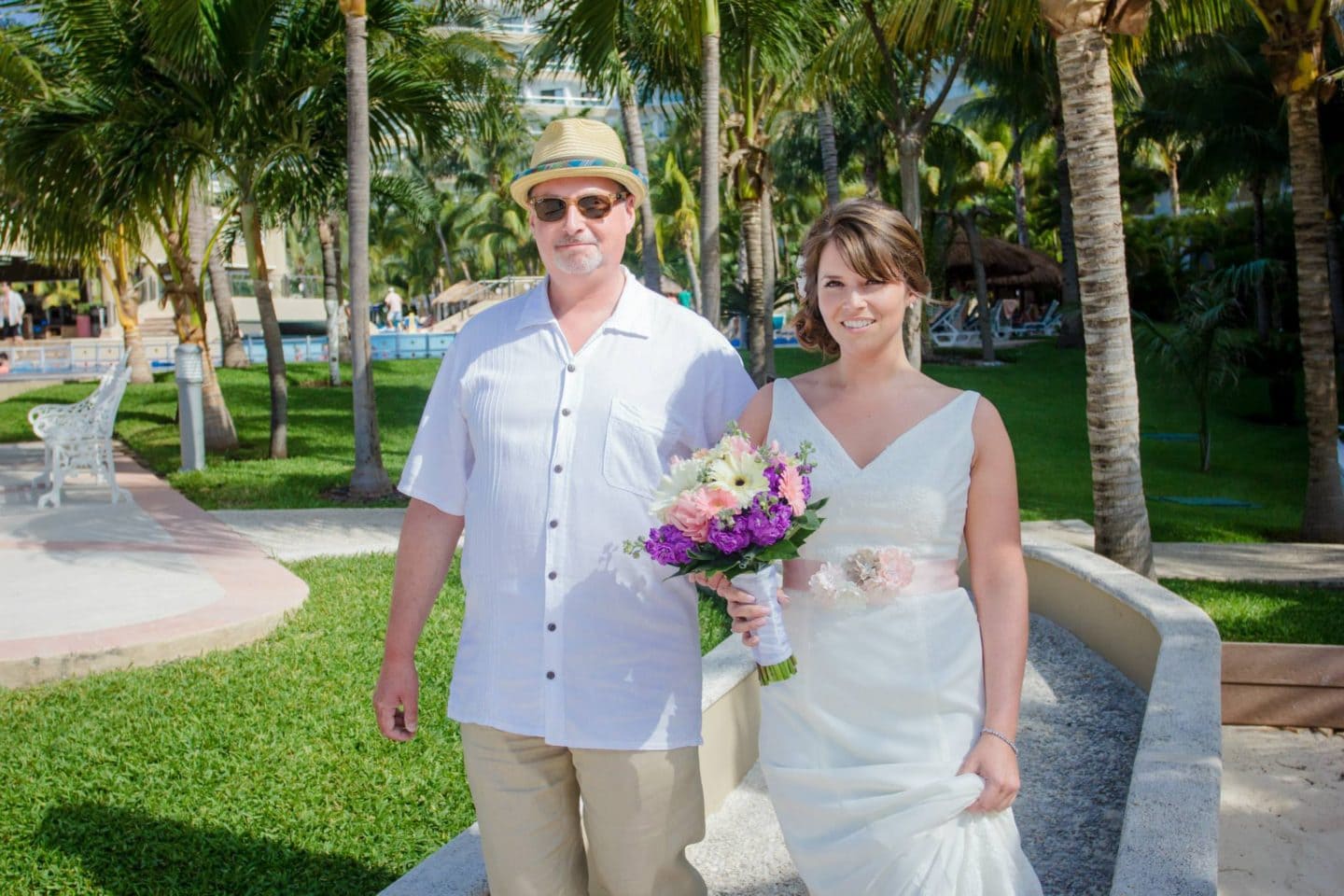 But how do I get from my room to the ceremony? Won't the concrete be hot?
Your wedding coordinator should be walking down with you to your ceremony. If you want, wear a pair of flip flops down from your room or bridal salon. Arrange with your wedding coordinator beforehand – your options will be to take them off and leave them to the side (and your wedding coordinator will fetch later) or put them in a bag and hand them to her.
I walked down barefoot from the room, which is a bit strange, but this was one of those things I just didn't think about!
If you're worried about your flip flops going missing, Old Navy (or even the dollar store!) sells cheap ones.
You won't be standing on concrete for long, since you will be walking. It can be a bit warm to walk on, but it'll probably be one of the last things on your mind. 😉
Barefoot Sandals for Destination Weddings
These beautiful alternatives to formal footwear are perfect for a beach wedding!
How adorable are the starfish??
Barefoot sandals are so easy to wear and put on.
These ones are stunning. They look awesome in beach photos, too!
Barefoot sandals are also a popular bridesmaid gift!
LOVE these ones!
I ADORE these ones. I think they look awesome!!! These ones are a sleeve-type piece of footwear, giving you the illusion that you've jeweled your feet.
The starfish really give these a beachy feel.
These barefoot sandals will add your "something blue"!
Vendor: BarmineClub
Vendor: DITANIA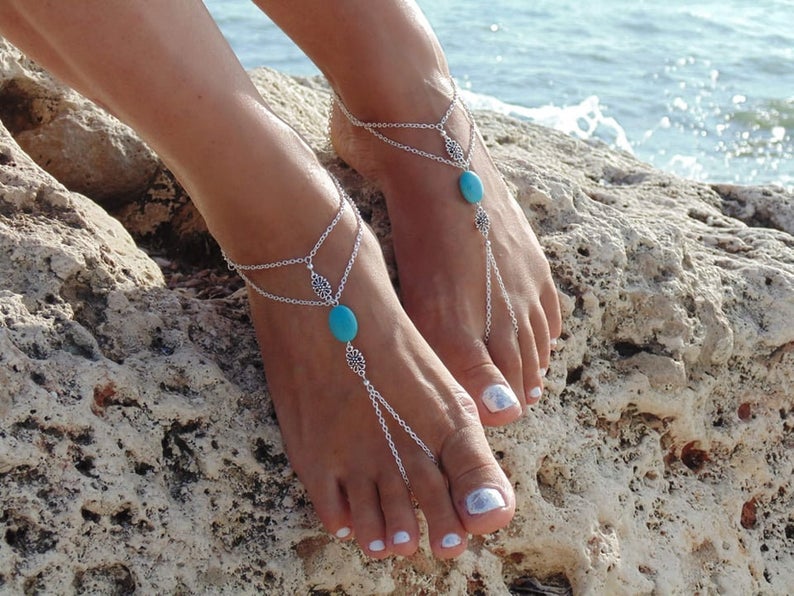 Vendor: Barmine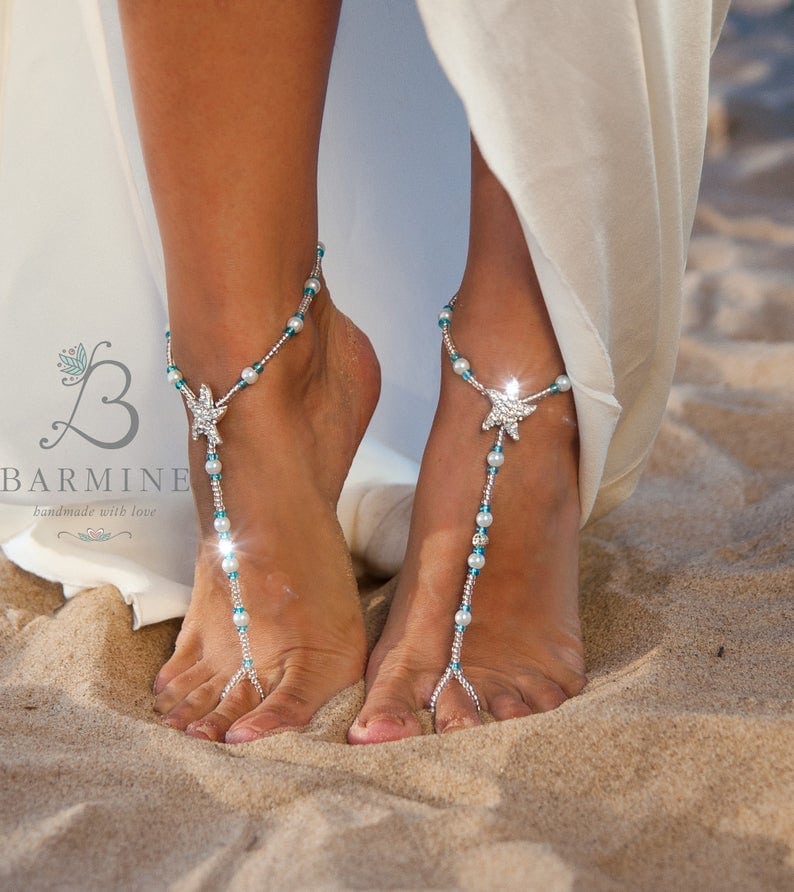 Things to Keep in Mind
Hem your wedding dress to the length of your reception heels. This is advice from seamstresses. This will mean your dress may seem a little long while you're walking barefoot, but for the 30 seconds or so you have to walk with it (I picked mine up a bit to the side), it's manageable. Hemming to your ankle will not be the right length if you are wearing heels for your reception.
Just remember that shoes can be really hard to walk in on the beach! You won't even see your footwear in your wedding photos.
Always check before ordering if your footless sandals come individually or as a pair. This happened to me! 😂 Thankfully I had enough time to order a second one, but it made me question…who orders just one???!
Related Posts
Looking for packing lists?
Pin it for later!