If you're visiting Niagara Falls, Canada and are wondering how to get the best views of the Niagara River in all its splendour, then you absolutely need to visit the Whirlpool Aero Car!
This historic red and yellow cable car is suspended 250 feet above the teal water and Class 6 rapids of the Niagara River. Hands down the Whirlpool Aero Car is my favourite activity, so if you're debating whether or not to do it, this is your sign!
The Whirlpool Aero Car travels between two Canadian points of the Canadian shoreline as it takes you on an unforgettable 3500 foot journey across the Niagara Gorge.
Let's take a look at the cable car's history and what to expect on your visit to this awesome attraction in Niagara Falls!
Fun Fact: Due to the positioning of the US/Canada border and the way the Niagara River is situated, you actually cross the US border four times during your journey – no passports and no customs required!
This post contains affiliate links which means I earn compensation when you click on the links at absolutely no extra cost to you! Feel free to read my disclosure policy. Thank you for supporting my blog!
Plan your next vacation using these tools!

✈️ Book flights: SkyScanner
🏨 Book hotels: Booking.com
🚘Book car rentals: RentalCars.com
🎫Book tours: GetYourGuide
🍽️Local food experiences: EatWith
🌍Favourite travel item: Packing cubes
🧳Favourite travel bag: Osprey 40L Fairview
📱 ESims: Airalo
🩹 DIY Travel Medical Kit
💸 20 Cheap Travel Items Under $20
History of the Whirlpool Aero Car
The Whirlpool Aero Car was once called the Spanish Aero Car, as it was designed by Spanish Engineer Leonardo Torres Quevedo. This one-of-a-kind mechanism represented a new type of aerial cable method. To this day it remains the only one of its kind in existence.
The name was changed in 2004 to better represent the area it features.
Related: 10+ Interesting Niagara Falls Facts (You May Not Know!)
What to expect at the Whirlpool Aero Car
I always love visiting the Aerocar because it's quieter than the hustle and bustle of the tourist centre of Niagara Falls. It's located about 5 minutes down the Niagara Parkway and has a large parking lot and gift shop.
There is a good chance there will be a lineup, and for good reason. As a local, I really do believe this is one of the best activities for getting views of the Niagara River and a unique experience not really offered anywhere else!
If you have an attraction pass, you can head right to the staircase to the left of all the buildings, covered in a red canopy. If you don't have tickets, just pop over to the ticket office located on the other side of the stairs.
If the lineup is to the top of the stairs, you can expect to wait roughly 20 minutes for your turn to ride. This is because the Whirlpool Aero Car fits 40 people, which isn't really a whole lot, however, with rides running every 10 minutes, the time goes by quick.
You'll also have a great vantage point of the Niagara Whirlpool and the cable car crossing back and forth over the Niagara Gorge, which is fun to watch!
If you're lucky, you'll also be able to see the Whirlpool Jet Boat tours running. I'm not brave enough (yet) to go on these super-soaker boat rides, but it's mesmerizing to watch as the boats battle the Niagara rapids!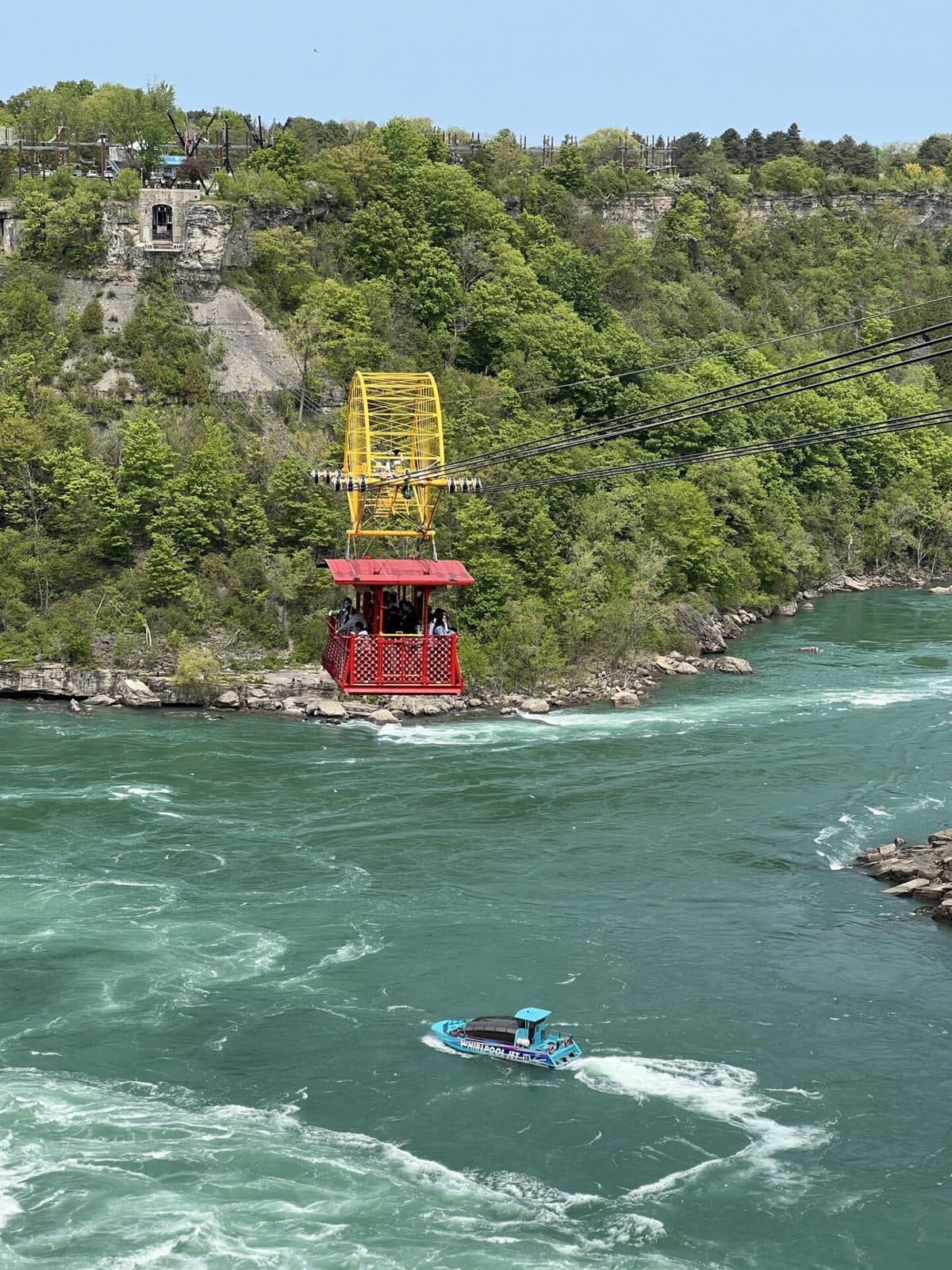 There are two sides of the Whirlpool Aero Car and a middle section. It doesn't matter which side of the cable car you board, as midway through you switch sides so everyone can enjoy the views from all directions!
If you are bringing a child or are carrying a child, you'll be asked to go in the middle section, which is a safety precaution (and makes total sense)! The views are just as spectacular from here.
It can be a bit chilly with the wind, so consider bringing a sweater during the spring and fall days.
You'll have an unforgettable ride across the Niagara Whirlpool rapids and the Niagara Gorge at a comfortable 4.2 km/hr. As someone who frequently visits the Niagara Glen for hiking, I didn't think the views could get much better than that. How wrong I was!
This activity by far offers the absolute best views of the Niagara Gorge as you make your way smoothly back and forth. I highly recommend it to anyone who is visiting (or sitting on the fence if this activity is worth it!).
The Whirlpool Aero Car is definitely worth it!
By the way: If you happen to arrive and the lineup is crazy, you can still have incredible views from the free viewing platform! This is a great vantage point if you don't have time to wait in line for a ride across.
How long does the Whirlpool Aero Car take?
The actual ride on the Whirlpool Aero Car is 10 minutes (5 minutes each way). If you factor in waiting in line, and depending on how many people are in line, it could take approximately 45 minutes.
My husband and I arrived when the lineup was to the top of the stairs. Since the Aerocar only fits 40 people, we had to wait 2 crossings before our turn. It does go fast, though! We were there for 45 minutes, which is the average time to wait.
Tip: Arrive first thing in the morning to get a better chance on being on the outside of the cable car if you want unobstructed views for photos!
How high is the Whirlpool Aero car?
The Whirlpool Aero Car soars 250 feet/76 m above the turbulent waters of the Niagara Whirlpool.
How deep is the Niagara Whirlpool?
The whirlpool's deepest point is 125 feet/38 m. The average speed of hte whirlpool water is roughly 35 km/hr or 22 mph.
It's mesmermizing to watch from above!
Related: Did you know Niagara Falls has its very own Shipwreck?
Do I need my passport to ride the Whirlpool Aero Car?
No, you do not need your passport to ride the Whirlpool Aero Car! Both ends of the ride are on the Canadian side, but it's a fun thing to say you crossed the US border during your journey!
Is the Aerocar safe?
Yes! The Whirlpool Aero Car is completely safe and has a number of safety features. In fact, there has never been an accident and has a flawless safety record.
In the rare instance where there are any emergencies, there's a small rescue car kept in the cave at the Thompson Point terminus (the side the cable car travels to). It can hold 6 people and was installed as a backup in 1985.
Recent reburishments happened in 2023, where the cable car was actually removed from its tracks and sent to Quebec. Brand new mechanical parts, a non-slip floor, roof, and fresh coat of paint allows for passengers to enjoy this fun attraction for years to come.
Fun fact: Over 100,000 individuals ride the Whirlpool Aero Car each year!
Is there a Whirlpool in Niagara Falls?
Yes! And you'll be able to soak in unbelievable views of the swirling whirlpools below you as you make your way across the gorge.
This unique natural phenomenon offers amazing photo opportunities. These whirlpool rapids formed over 4200 years ago, caused by erosion in the Niagara Escarpment. Massive flows of water crashed their way into what once was referred to as the Great Gorge, and turned into what we know as the Niagara Whirlpool Rapids.
Today it's a popular spot for fisherman, hikers, and those partaking in the incredible Whirlpool Jet Boat tour!
The whirlpool basin measures 1700 feet long by 1200 feet wide and is where the Niagara River elbows at a right-angle turn. Strangely enough, the whirlpool vortexes travel counter-clockwise, known as the reversal phenomenon.
This is caused by pressure build up when the water tries to cut across itself and the pressure forces water under the incoming flow.
However, when the water flow is diverted for hydroelectric purposes at 10:00 nightly,, it travels clockwise through the whirlpool basin.
P.s. If you want a great backstory of how Niagara Falls was formed, visit Niagara's Fury! This immersive, multi-sensory 4D movie is fantastic for kids and provides a great history lesson!
Why is the Niagara River water so green?
The striking green colour of the Niagara River may have some people thinking it's contaminated. The real reason is because of minerals; 60 tons of dissolved minerals are swept over Niagara Falls every single minute.
Let that sink in!
The teal colour comes from salts and very finely ground rocks from limestone, shale, and sandstone beds.
How old is the the Aero car?
The Aerocar has been in operation since 1916! That makes it over 100 years old, which really is impressive that a feat like this was done all those years ago.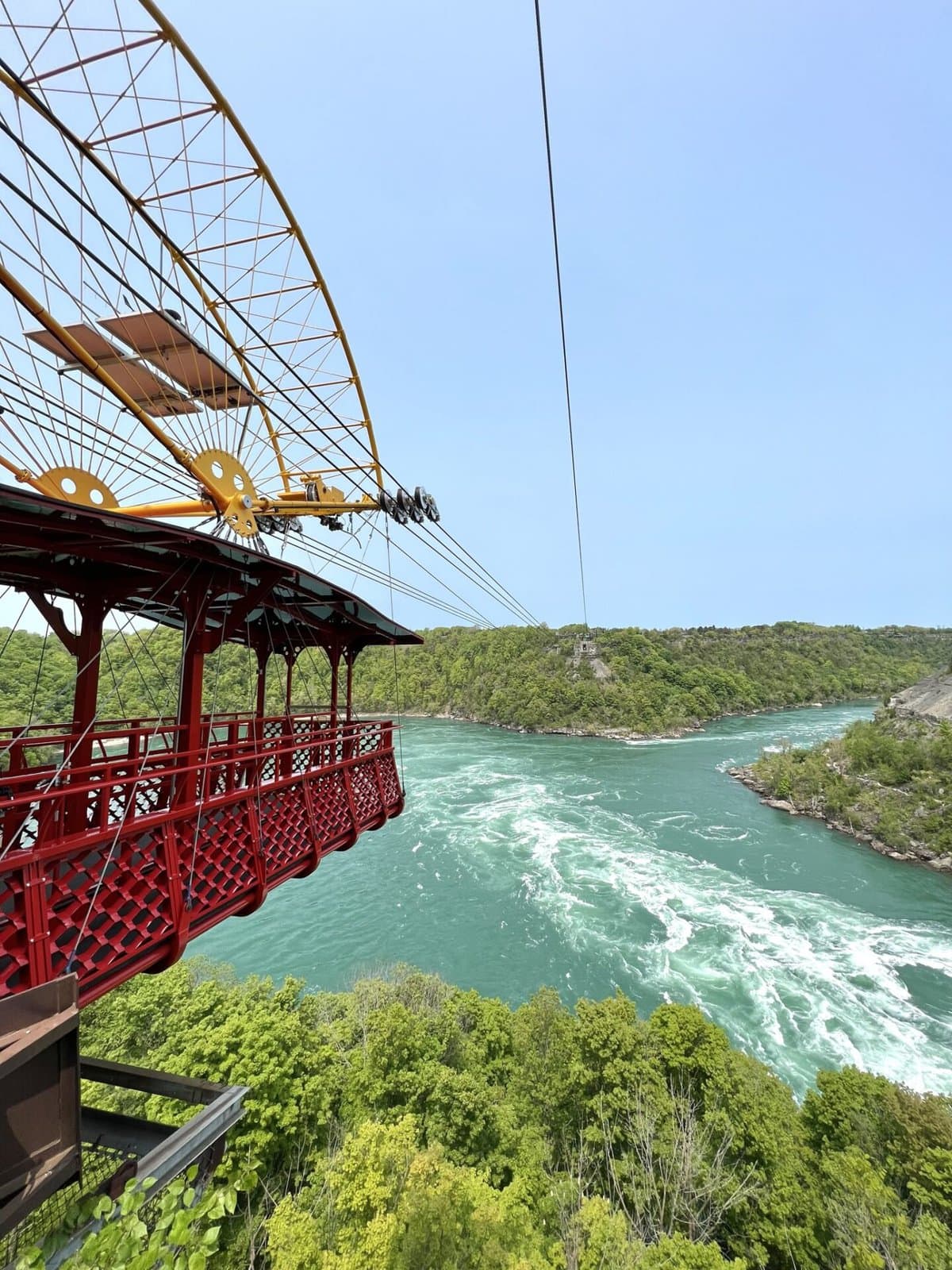 How much does the Whirlpool Aero Car cost?
You can purchase tickets on-site at the Whirlpool Aero Car.
Adults 13+: $17.50
Children 3-12: $11.50
Under 2: Free
If you are spending a weekend in Niagara Falls, I highly recommend purchasing an attraction package.
It gives you admission to the best Niagara Falls attractions (like Journey Behind the Falls!) and can save you up to 53% if you purchased them all individually! It's one of the best ways to save money while visiting Niagara Falls.
My recommendation is the Adventure Pass Plus for $99, which includes
Niagara Parks Power Station + The Tunnel
Whirlpool Aero Car
Butterfly Conservatory
2-day Falls Incline Railway
2-day WEGO
BONUS:
4 Historic Heritage Sites
Niagara-on-the-Lake Shuttle
All of these attractions would cost you well over $200. Save your money and purchase the pass if you are planning to see and do a few things while visiting the falls.
Visiting on a budget? No worries! There are a ton of awesome free things to do in Niagara Falls.
How to get tickets for the Whirlpool Aero Car
Tickets for the Whirlpool Aero Car are available as a single-activity or as a part of one of the many Niagara Falls Attraction Passes.
You can easily purchase tickets for the Aerocar on-site during operating hours.
Alternatively, you can purchase an attraction pass at home! You can either pick your pass up at any Niagara Parks attraction by showing your order confirmation on your phone, or print it at home to bring.
What are the Whirlpool Aero Car hours of operation?
Hours for the Whirlpool Aero Car fluctuate with the seasons, but during April and May and beginning in September, it is open from 10:00 am – 5:00 pm. During the summer months, you can visit even earlier at 9:00 up until 8:00 pm. Sunset is an amazing time to cross the Niagara Whirlpool!
The Whirlpool Aero Car is open from early April to mid-November, giving you lots of options to visit during some of the most beautiful seasons of the year!
Where to park for the Whirlpool Aero Car
Parking for the Whirlpool Aero Car is FREE! There's lots of free parking here and I've never seen the parking lot full, so you shouldn't have any problems getting a parking spot.
Address: 3850 Niagara River Pkwy
Alternatively, if you are visiting Niagara Falls without a car, you can hop on the WEGO Green Line for a trip to the Aerocar (and many other Niagara Parks attractions!).
Cost:
24-Hour Pass: Adults 13+ $12.00/Children 3-12 $8.00
48-Hour Pass: Adults 13+ $16.00/Children 3-12 $12.00

Related Posts
Pin it for later!