The White Water Walk is one of the best things to do in Niagara Falls! While marvelling at the majestic Niagara Falls is a must for anyone visiting the area, there are so many other fascinating things to see and learn about.
This natural attraction is just as awe-inspiring as Niagara Falls itself, and is a family-friendly and accessible boardwalk that gets you right up close to the Class 6 White Water Rapids where you can feel the force of the water rushing by you.
One of my favourite things to do in Niagara Falls is the White Water Walk! It is gorgeous no matter what the season and it's one of those activities that never gets boring. It's definitely worth the money, especially if you aren't up for a long or strenuous hike to get views like this!
This post contains affiliate links which means I earn compensation when you click on the links at absolutely no extra cost to you! Feel free to read my disclosure policy. Thank you for supporting my blog!
Plan your next vacation using these tools!

✈️ Book flights: SkyScanner
🏨 Book hotels: Booking.com
🚘Book car rentals: RentalCars.com
🎫Book tours: GetYourGuide
🍽️Local food experiences: EatWith
🌍Favourite travel item: Packing cubes
🧳Favourite travel bag: Osprey 40L Fairview
📱 ESims: Airalo
🩹 DIY Travel Medical Kit
💸 20 Cheap Travel Items Under $20
Why the White Water Walk is Worth It
This beautiful boardwalk trail has some of the best scenic views in Niagara Falls. The White Water Walk skirts along the wildest section of the Niagara River and provides fantastic photo opportunities as well as plenty of informative plaques about the history of the area and geological facts.
Marvel at the raging beauty of the Niagara River and discover how the Niagara Gorge was created along this 1000 foot/305 metre/¼ mile boardwalk!
The White Water Walk is one of the most unique attractions in Niagara Falls and is well worth the money. You are so close to the rushing waters in a natural setting; the feeling can't be compared!
👉 Book your tickets to White Water Walk!
What to Expect at White Water Walk in Niagara Falls
Once you arrive at the White Water Walk, you'll have your pass scanned (or tickets purchased) before you take an elevator down 230 feet/70 metres deep down into the Niagara Gorge. You'll make your way through a 240 foot tunnel until you reach the pavilion and start of the boardwalk, right along the rushing Niagara River!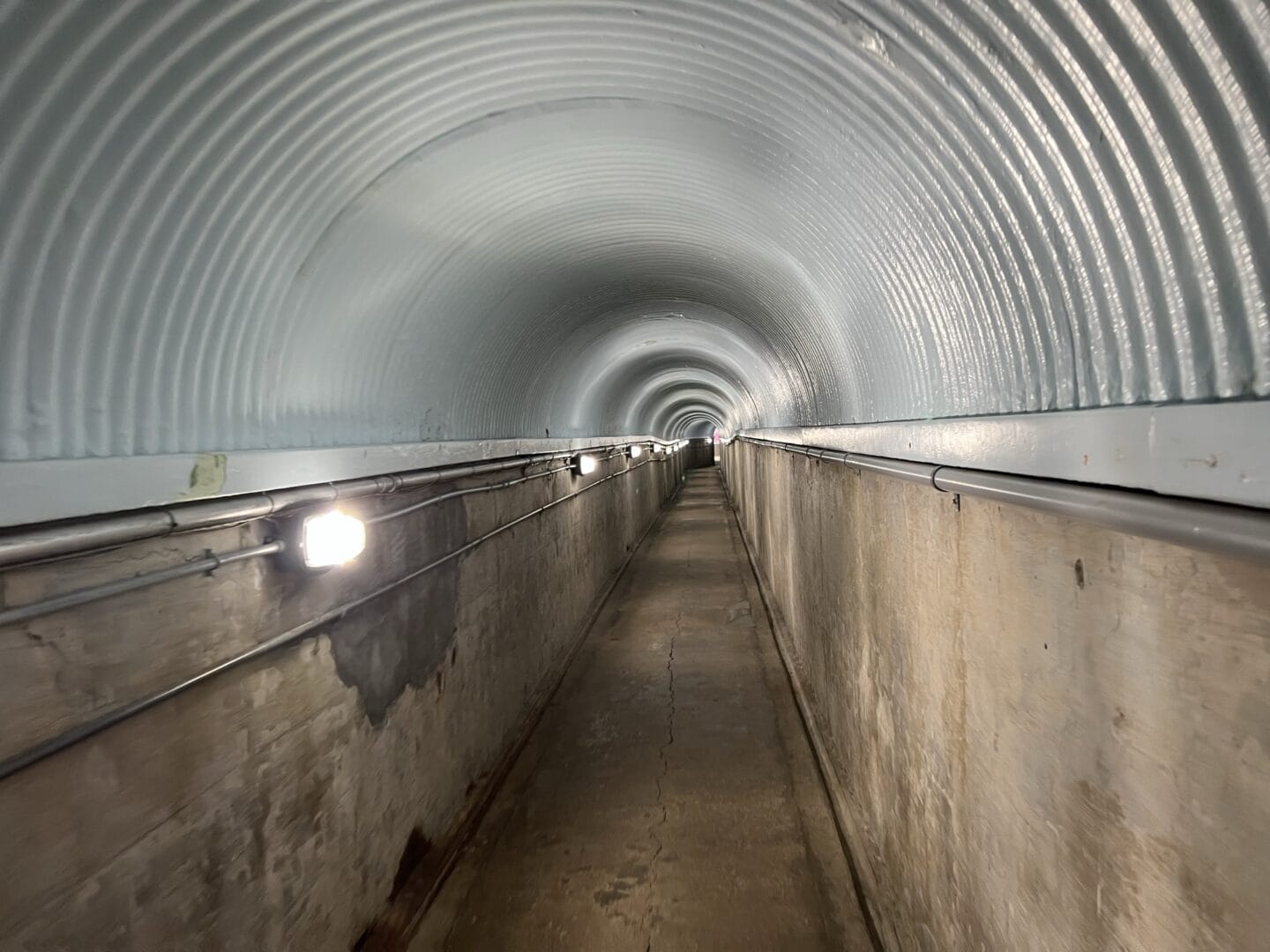 Once you step out of the tunnel, the sound greets you before the sight. There is something oddly comforting about the deafening sound of the roaring water.
Stroll along the 1000 foot boardwalk
Since the tour is self-guided, feel free to spend as much time as you like as you stroll along the 1000 foot boardwalk right next to Class 6 White Water Rapids – some of the most treacherous rapids found on earth!
Be sure to stop and read the facts about the plant and animal life you may see on your visit, along with facts about daredevils who used to cross the Niagara River! There is tons of history surrounding you in Niagara Falls – it really is something to marvel at!
As you make your way down this riverside boardwalk, take a moment to look at the 410-million-year-old rock layers of the Niagara Gorge.
It's incredible to imagine what this must've sounded and looked like during the forming of the Great Gorge.
Viewing Platforms
In addition to a quarter-mile boardwalk, there are also two viewing areas with stairs leading you even closer to the Niagara Rapids! Sections of this may be open seasonally, but the views are breathtaking as you watch the water flow by you at 48 km/hour.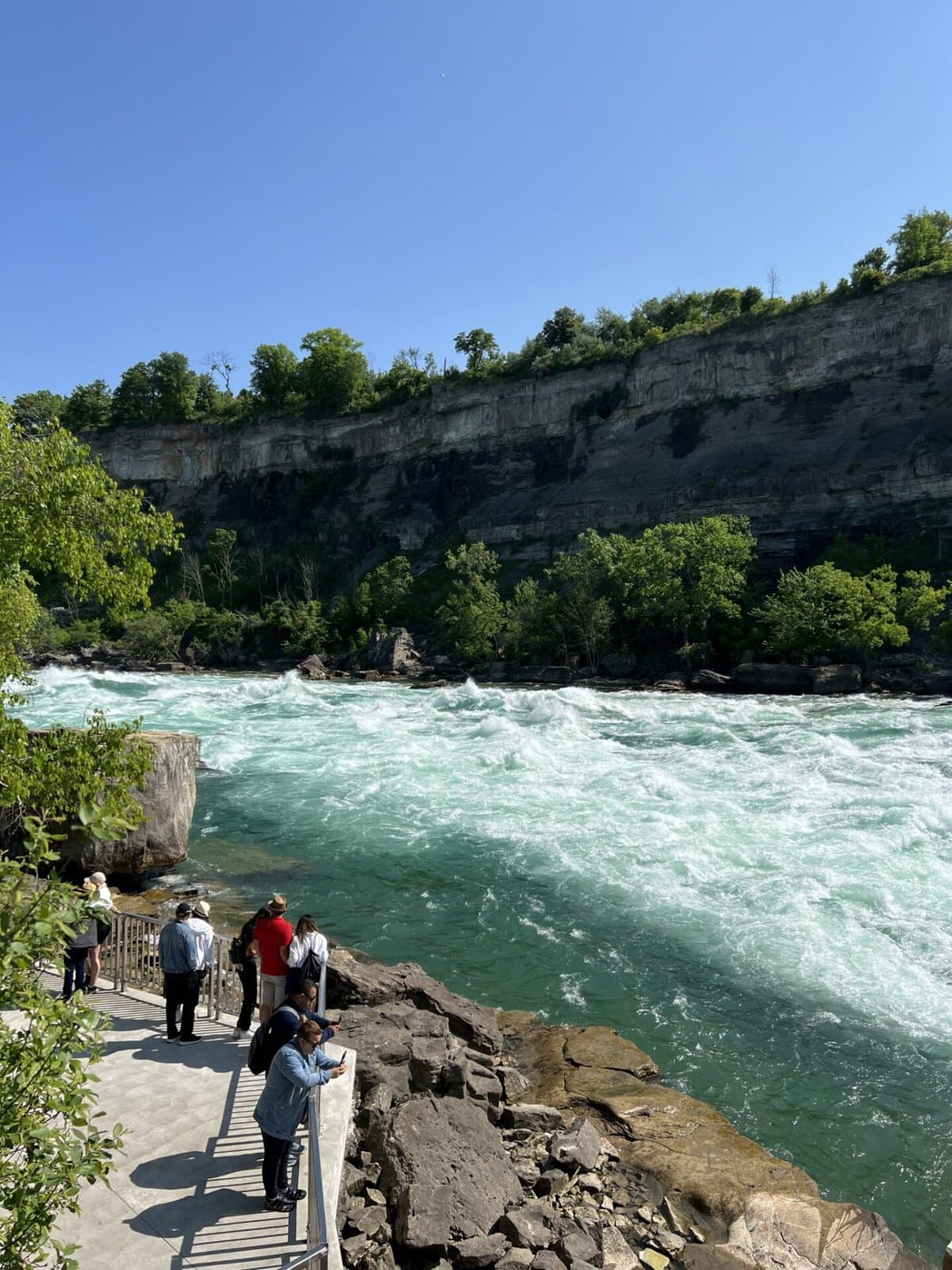 You will definitely get some of the best photos and views of the Niagara River from these viewing platforms!
Note: The White Water Walk is an accessible attraction, except for two sections with stairs that lead down to viewing areas.
Tip: Visit first thing in the morning when the White Water Walk opens, which is as early as 9:00 am during the summer! You'll have the boardwalk to yourself and it's so peaceful with no one else around. The later in the morning it gets (especially on weekends) you can be waiting in line for your turn to take the elevator down and it can be quite crowded.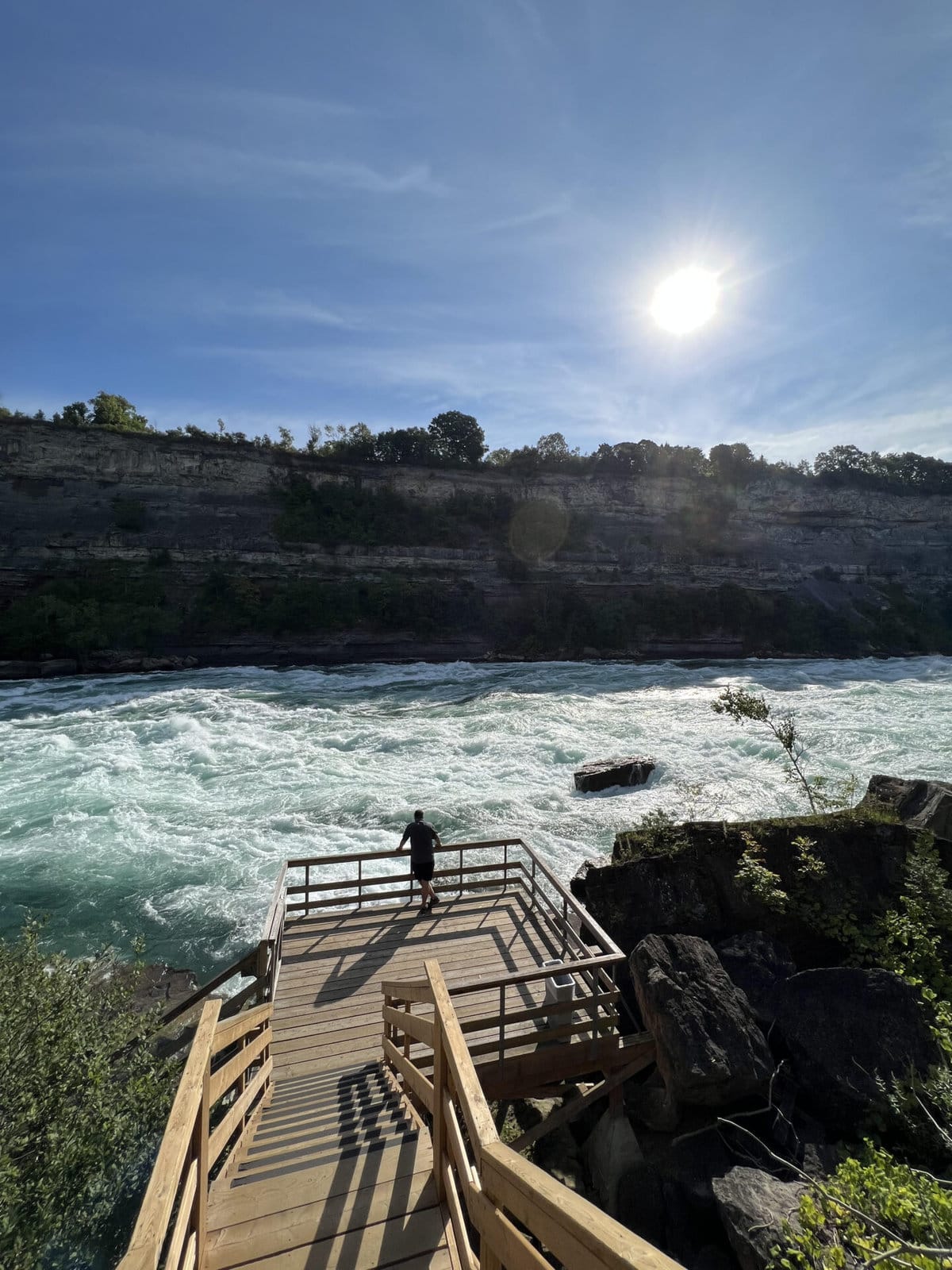 How long does the White Water Walk take?
How long the White Water Walk takes is up to you! Most people spend around 30-60 minutes here, but that all depends on how many photos you want to take, if you stop to read all the informative signs, and whether you just want to stop and soak in the views!
Each time we have visited we spend at least 45 minutes at the White Water Walk. The scenery is beautiful, the Niagara River is mesmerizing, and there is just something so energizing about being by the rushing water.
The boardwalk is about 1000 feet, which allows you to stretch your legs and take in some pretty incredible views. Enjoy the moment!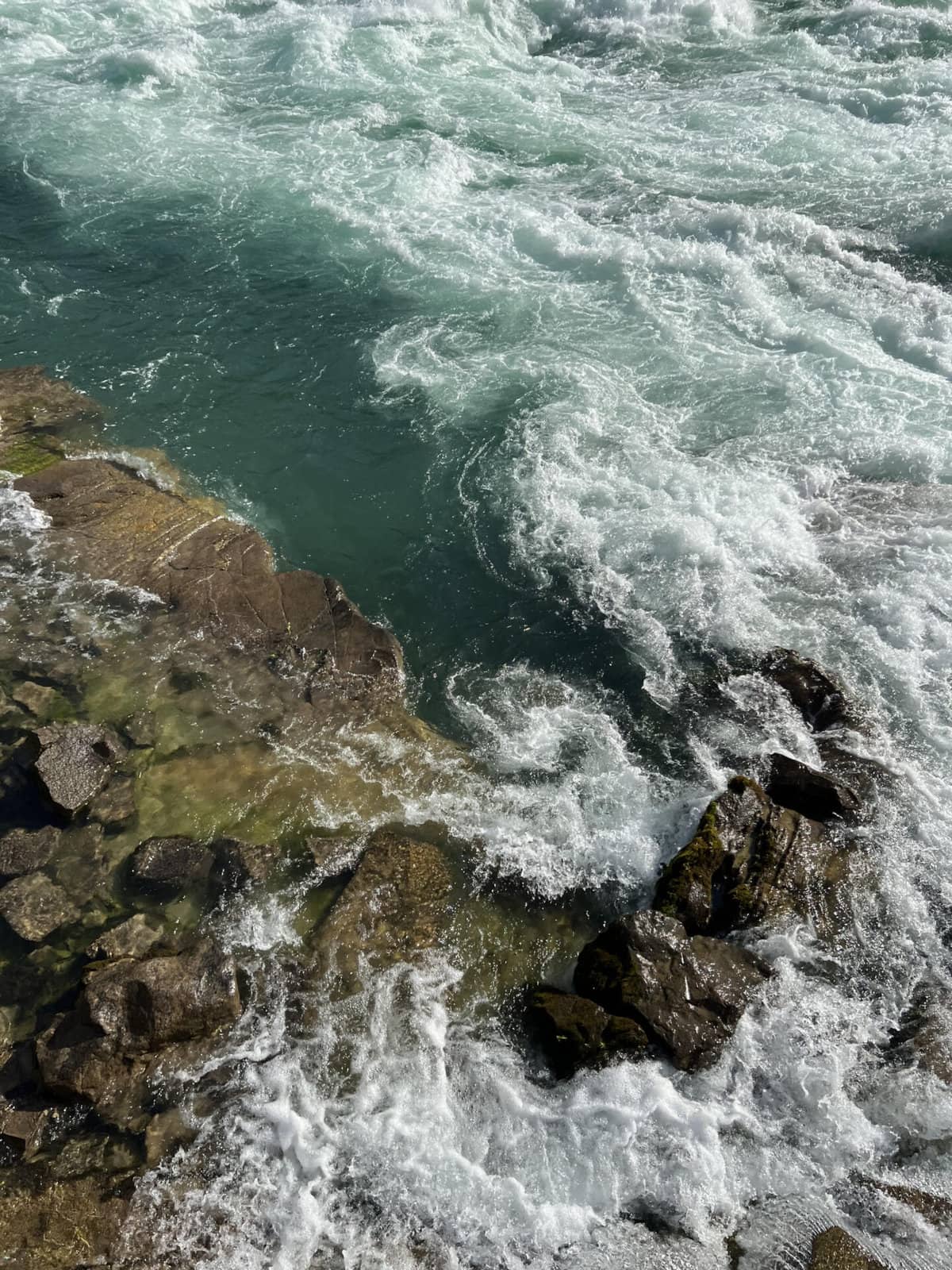 Do you have to pay for White Water Walk?
The White Water Walk is a paid activity in Niagara Falls. You can choose to purchase admission for the White Water Walk, or you can buy a Niagara Parks Adventure Pass and have it included in a pass with a few other popular attractions.
This is usually what most people do. You get the best bang for your buck by buying a package that includes a couple activities.
The most popular Niagara Falls Adventure Pass Plus saves you 53% admission compared to you buying admission individually! There are three to pick from, so depending on how long you plan to spend in Niagara Falls, you can choose your package accordingly.
Admission is $17.50 + tax per adult 13+, and $11.50 for children 3-12. Children 2 and under are free.
If you are looking for similar views for free in Niagara Falls, grab a pair of sturdy shoes and a water bottle and head to the Niagara Glen Nature Centre at 3050 Niagara River Parkway!
From here, you can take a metal staircase deep down into the Niagara Gorge. There are a variety of scenic trails that wind their way around massive boulders, beautiful forest, and striking views of the Niagara River. Just pay for parking!
Related: How to Save Money in Niagara Falls (5 Best Tips)
White Water Walk Tickets
You can purchase tickets for the White Water Walk at the attraction itself. There are two lines; one for ticket holders, and one to purchase tickets.
If you are planning to spend some time in Niagara Falls and checking out some of the best activities in the area, I highly recommend purchasing a Niagara Parks Adventure Pass.
The Niagara Falls Pass is $79 and includes some of the best things to do, like Journey Behind the Falls, Whirlpool Aero Car, Niagara Parks Power Station, Niagara's Fury, and a two-day Falls Incline Railway pass and two-day WEGO pass.
If your visit to Niagara Falls is between May – September, I would recommend purchasing the $99 Niagara Falls Adventure Pass Plus, which includes everything in the Niagara Falls Pass, plus four heritage sites, Niagara-on-the-Lake shuttle, and the Floral Showhouse.
These passes are designed to save you money if you want to see it all – so it's well worth the investment!
If you do not want to buy a pass, and don't want to wait in line buying tickets, then you can buy your tickets ahead of time through Get Your Guide! This will save you time from having to wait in line to first purchase your tickets, and you can enter through the ticket-holders line once you arrive.
👉 Book your tickets for White Water Walk!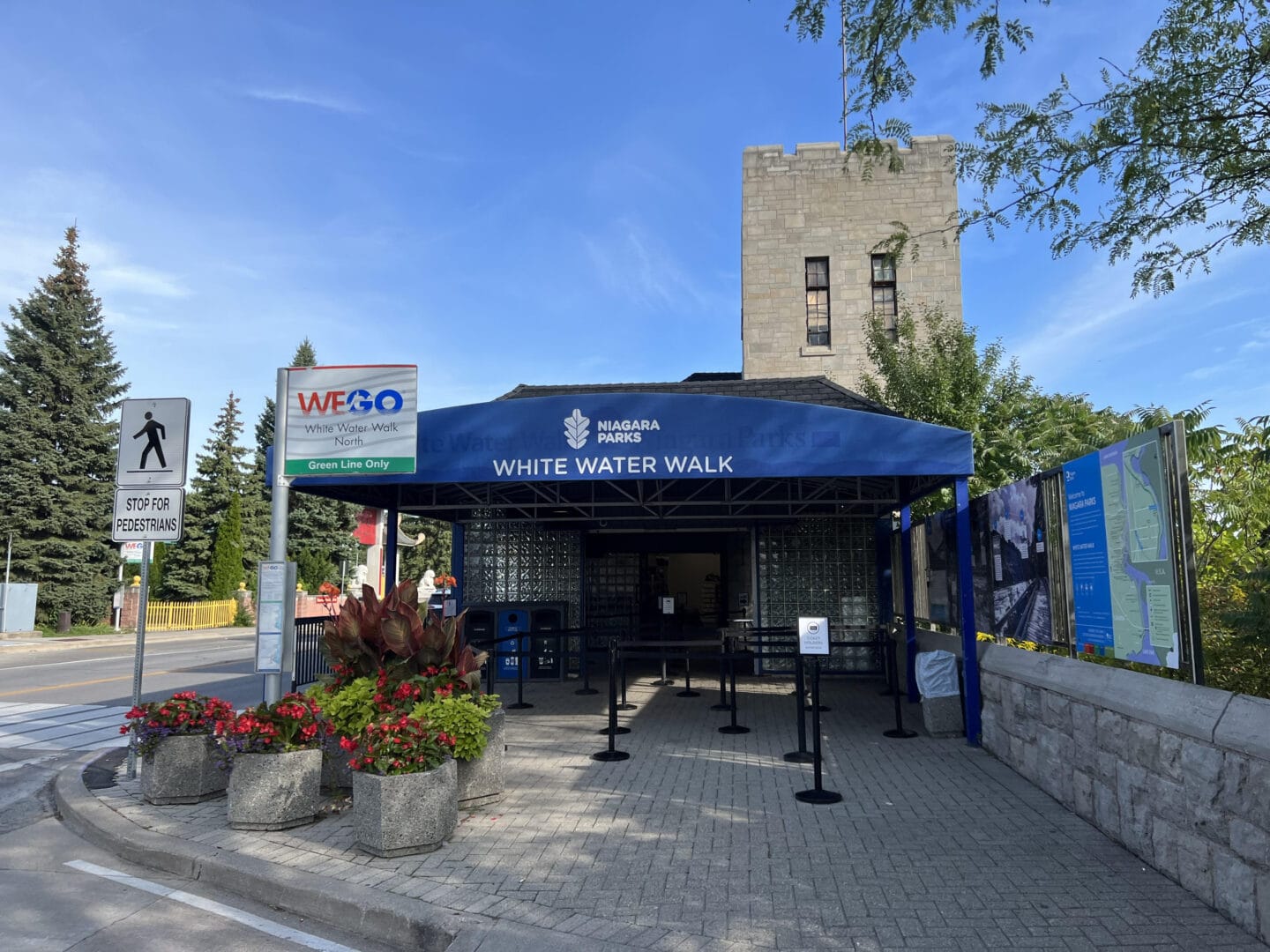 P.s. If you're a Niagara local like we are, there is also the Niagara Falls Annual Pass for $150, which gives you unlimited admission to every single Niagara Parks attraction, plus discounts on food and shopping! This pass has more than paid for itself and we've had so much fun visiting these attractions during all seasons.
Parking at White Water Walk
Driving to the White Water Walk? You have two options for parking. The first is angled parking along Niagara River Parkway right before the entrance for the attraction. This is usually where we park, and there is a parking metre where you can pay for your parking ($5/hour).
If this is full (which it can fill up quickly on busy weekends!) you can also park across the street from the White Water Walk, at 4345 River Road.
Good to know: You can get FREE parking at the White Water Walk if you purchase your ticket for the attraction on-site. Just let them know you need your parking validated when you buy your tickets!
If you've read some of my other Niagara Falls posts, you will see I'm a huge proponent of purchasing the Niagara Parks Annual Parking Pass for a mere $40.
This pass pays for itself even if you're only in Niagara Falls for the weekend. Parking at Table Rock Welcome Centre is $35/day! Imagine paying that, plus paying for parking at a few other attractions?
This pass is only available to residents of Ontario, but includes 2 passes for the same household and is valid for 365 days from the date of purchase.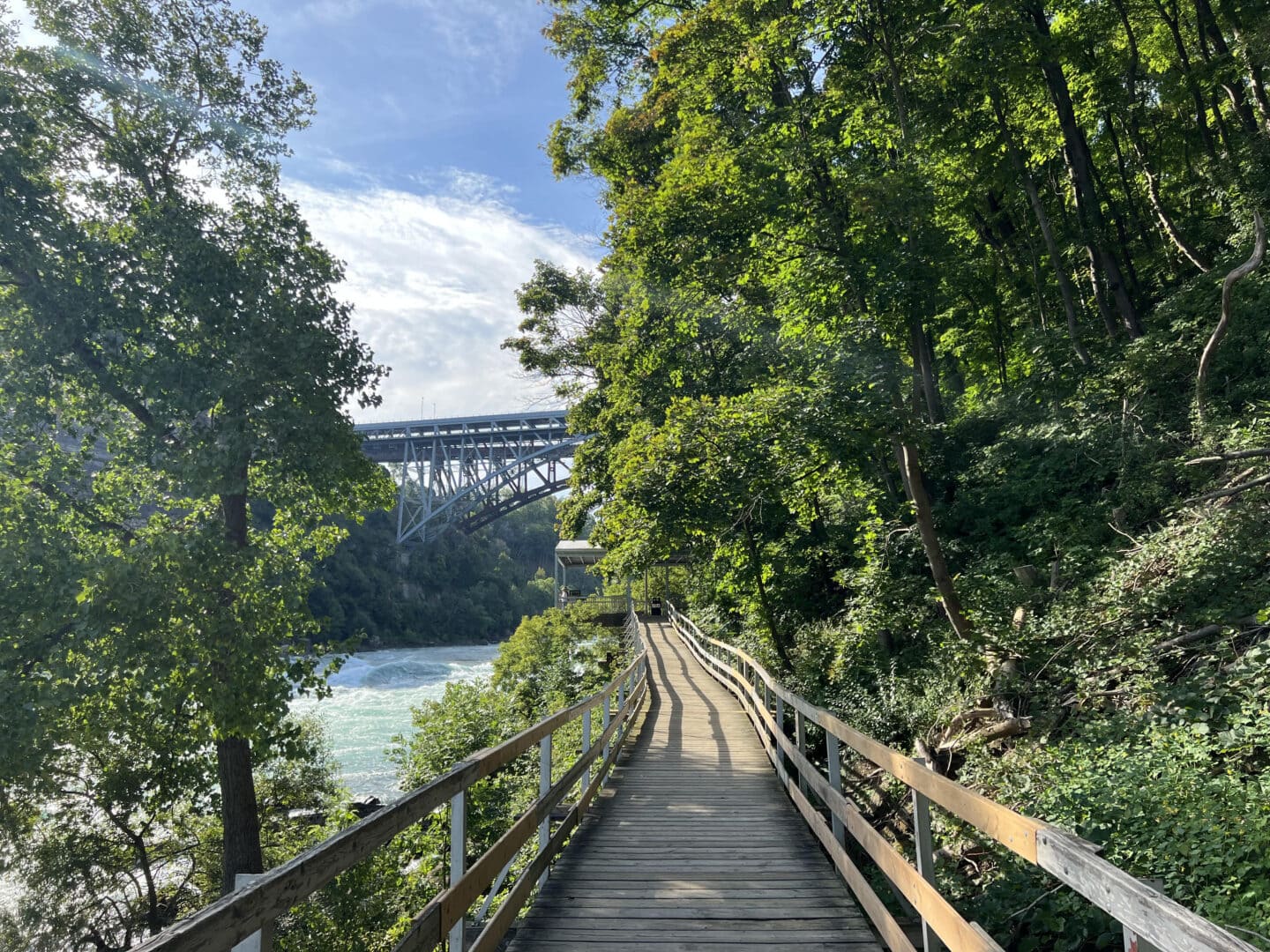 Do you get wet on White Water Walk?
While the intention is to not get wet at the White Water Walk, if you are on a lower viewing platform and if the water crashes just right, you may get a bit wet! Just watch for the waves if you don't want to be cooled off. 😉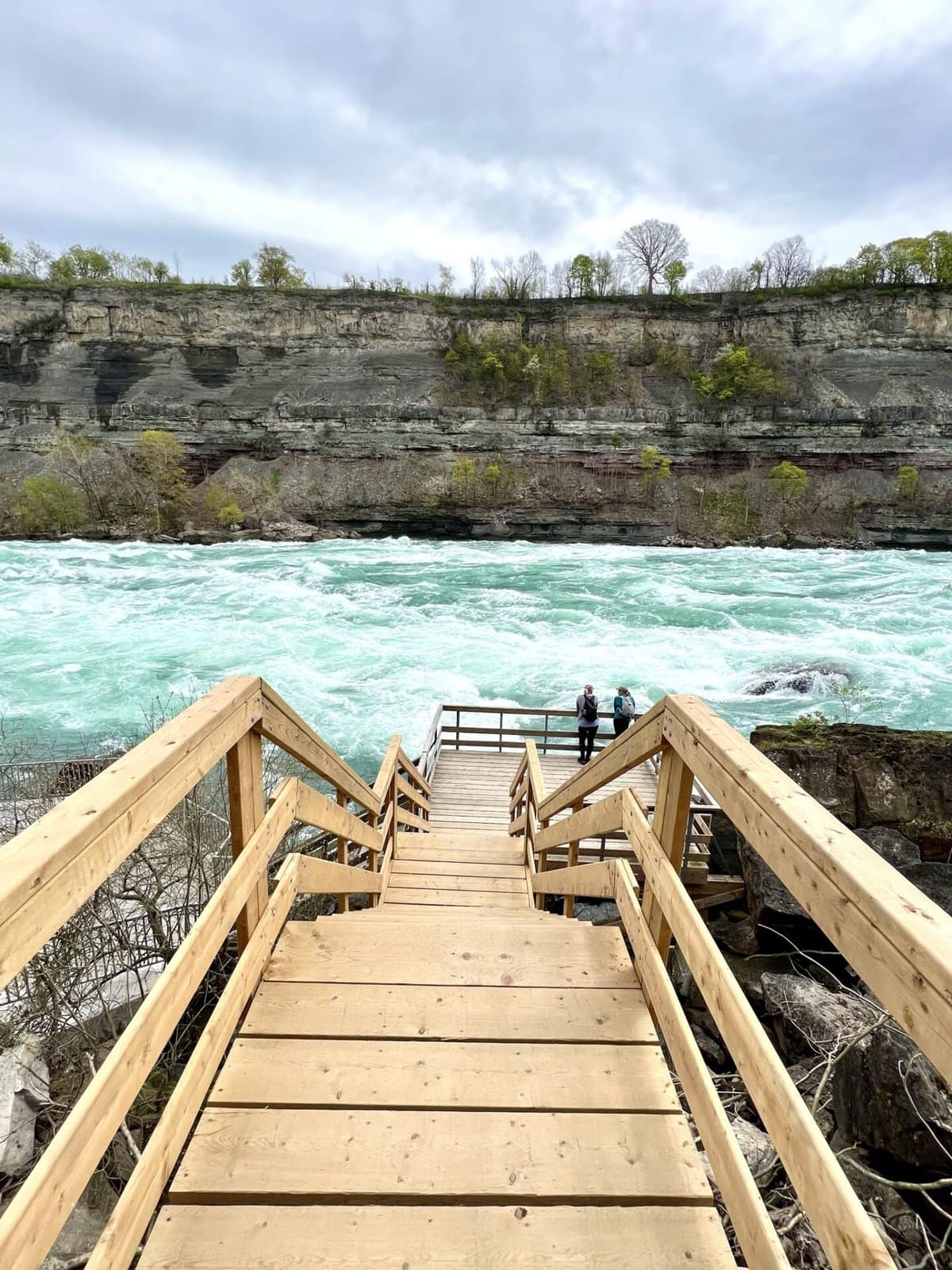 White Water Walk hours
It's important to note that the White Water Walk is a seasonal Niagara Falls attraction. It's open from mid-April to mid to late October, weather depending.
From April – May long weekend, the White Water Walk is open from 10:00 am – 5:00 pm.
At the end of the school season (end of June) this awesome attraction is open from 9:00 am – 8:00 pm daily!
Once Labour Day rolls around, the hours go back to 10:00 am – 5:00 pm until the weather turns unfavourable near the end of October/beginning of November.
Where does the White Water Walk start?
The White Water Walk starts at 4330 River Road, Niagara Falls. It's an attraction on the Canadian side of Niagara Falls. While it's a bit out from the heart of the tourist area in Niagara Falls (roughly 3 km/2 miles), it's easily accessible by WEGO or by car.
If you are purchasing a Niagara Parks Adventure Pass, you get a two-day WEGO pass included. This allows you to travel around Niagara Falls with ease and without having to worry about parking!
Good to know: There is no washroom located in the building for the White Water Walk. However there is a public washroom across the street in the parking lot. There is no bathroom once you take the elevator down, so plan accordingly!
How to get to the White Water Walk
The easiest way to get to the White Water Walk is by driving down the Niagara Parkway a short 3 km, or by hopping on the WEGO Green Line.
Niagara Falls Attraction Passes include a WEGO pass, or you can purchase a 24 hour or 48 hour adult pass for $12/$16, or kid's pass for $8/$12 respectively. Children under 2 ride free.
Related Posts
Pin it for later!