As the oldest property owned by Niagara Parks, McFarland House is a stunning Georgian-style home dating back to the 1800s.
Set along the Niagara River Parkway in Niagara-on-the-Lake, it's the only building that pre-dates the War of 1812 – and survived! It stands as a symbol of good taste and stature and you can tour this historic building during seasonal operation in late spring – early October.
You'll learn all about its story, legacy, and involvement during the War of 1812. Be sure to stay for a charming afternoon tea at the Conservatory Tea Room!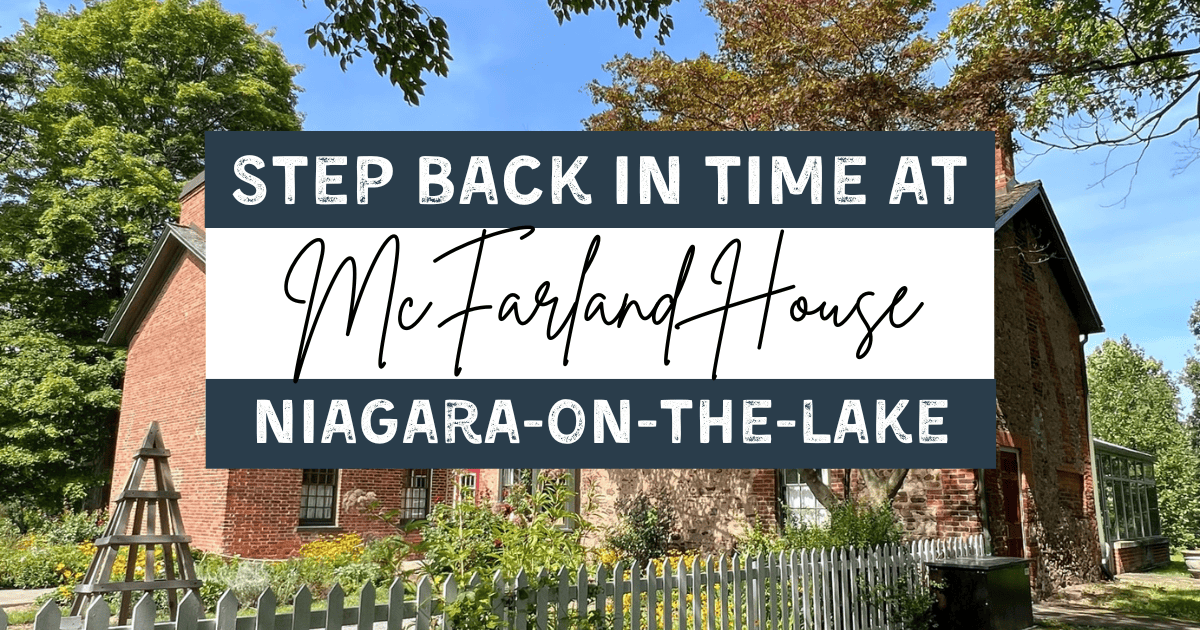 This post contains affiliate links which means I earn compensation when you click on the links at absolutely no extra cost to you! Feel free to read my disclosure policy. Thank you for supporting my blog!
Plan your next vacation using these tools!

✈️ Book flights: SkyScanner
🏨 Book hotels: Booking.com
🚘Book car rentals: RentalCars.com
🎫Book tours: GetYourGuide
🍽️Local food experiences: EatWith
🌍Favourite travel item: Packing cubes
🧳Favourite travel bag: Osprey 40L Fairview
📱 ESims: Airalo
🩹 DIY Travel Medical Kit
💸 20 Cheap Travel Items Under $20
McFarland House History
McFarland House is one of my favourite homes in the Niagara Region. It's fascinating to learn the history behind it, and it's situated on a beautiful piece of land surrounded by tall trees.
This Georgian style home was built in 1800 by John McFarland, on land granted by the Crown. He immigrated from Scotland in 1793 and was granted 600 acres of land for his 35 years of service as a boat-builder.
This makes the McFarland House one of the oldest surviving structures in Niagara. John manufactured his own bricks and built the home as a symbol of his success and stature.
He and his first wife had 5 children together, but she passed away. There isn't much history about how she died, but John remarried and had another 5 children. Even in a home as large (for the time) as McFarland House, having 12 under the same roof likely would've been quite cramped!
During the War of 1812, it was used as a hospital and headquarters by both the Americans and the British. It was later used as a gun battery to help guard the Niagara River.
John McFarland was taken prisoner by the Americans after the capture of Fort George in 1813 and was forced to walk to Greenbush, New York. This is over 300 miles and reportedly took John 52 days to do. He was 56 at the time and it was likely an unpleasant journey.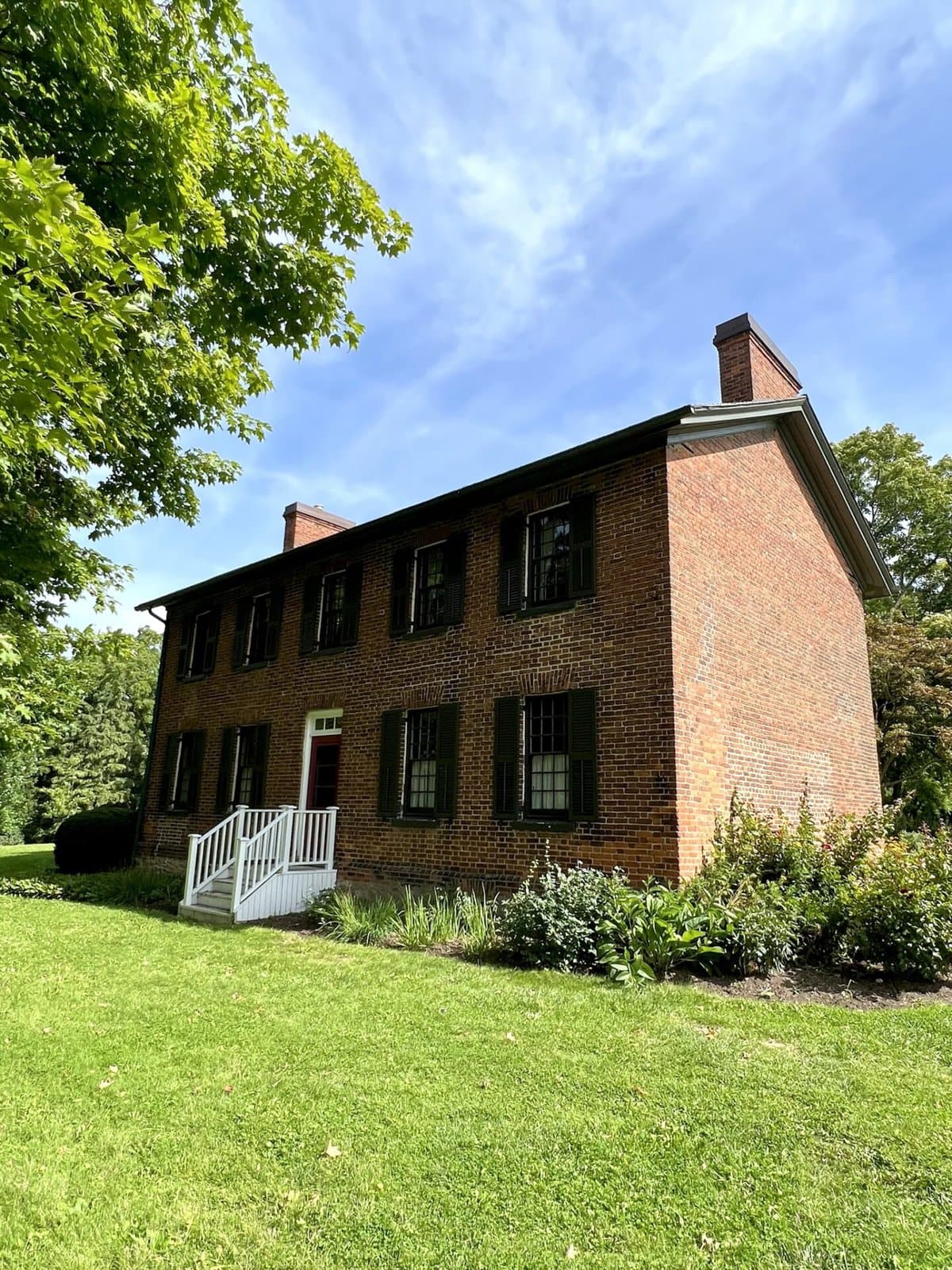 Remarkably, this prestigious home survived the burning of Newark (present-day Niagara-on-the-Lake) which took place when American forces were driven out of Fort George and retreating the area.
He returned in 1815, and came across his beloved home in shambles. Sadly, he was so heartbroken he became ill and only lasted 2 months before he died. His family restored it to its former glory and the home stayed in the family for the next 140 years.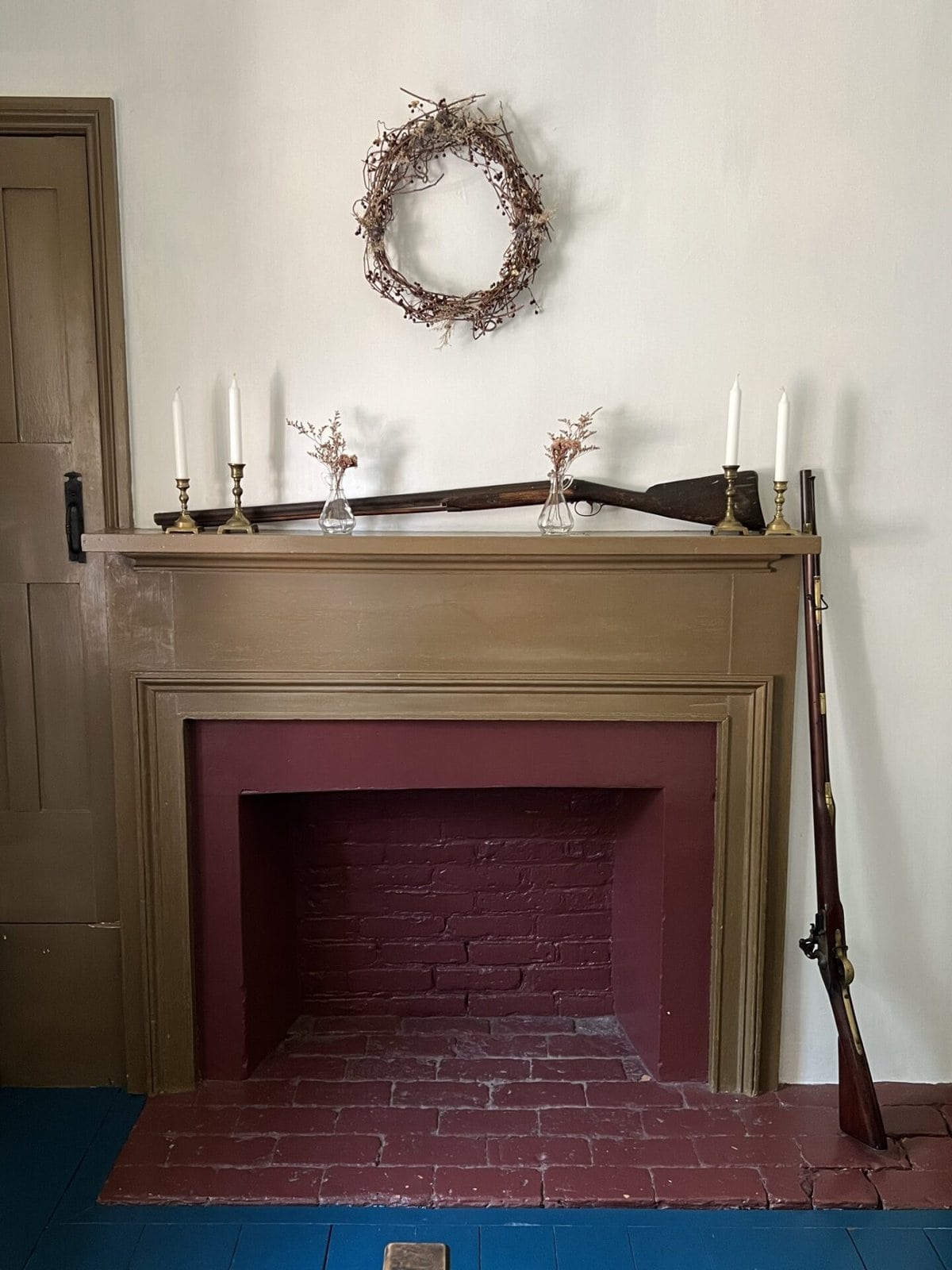 The home was acquired by Niagara Parks in 1940 and was lovingly restored to how it would've been with the McFarlands living there with their 10 kids. It was opened to the public in 1959.
McFarland House Tours
The tours of McFarland House are definitely worthwhile. We visited on a quiet weekend and had the entire tour to ourselves! Our guide was in full costume and was very knowledgeable about the history and stories residing in the walls of the home.
What impressed me the most were the striking Prussian Blue floorboards throughout the home. This colour was deemed incredibly rare and it was unusual to have floorboards painted – let alone in this colour – and painted so often to keep up appearances.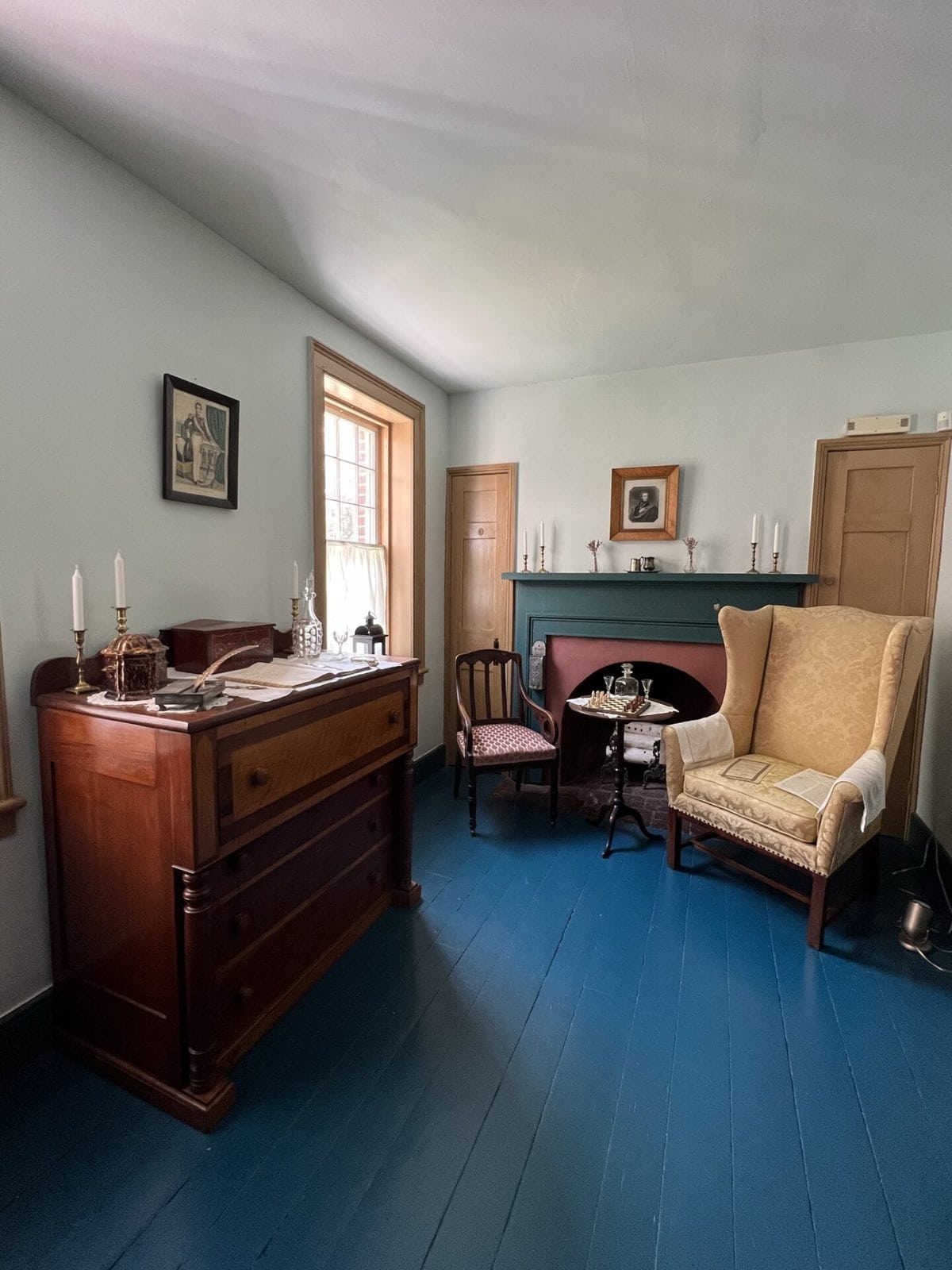 I also loved how many antiques and artifacts are here, including original possessions and pieces of furniture once owned by the family!
The wallpaper in the master bedroom is absolutely stunning. Imported from England, it would've been quite costly to put up sheets of wallpaper, since the printing presses at the time only printed sheets approximately 8'' x 11''!
You'll tour through the living room, dining room, formal parlour, and various bedrooms upstairs. You'll notice there's no kitchen; kitchens were often separate from the home incase of fires.
Archaeological digs in the dooryard garden give indications that the kitchen resided near the McFarland House sign at the white picket fence at the edge of the property.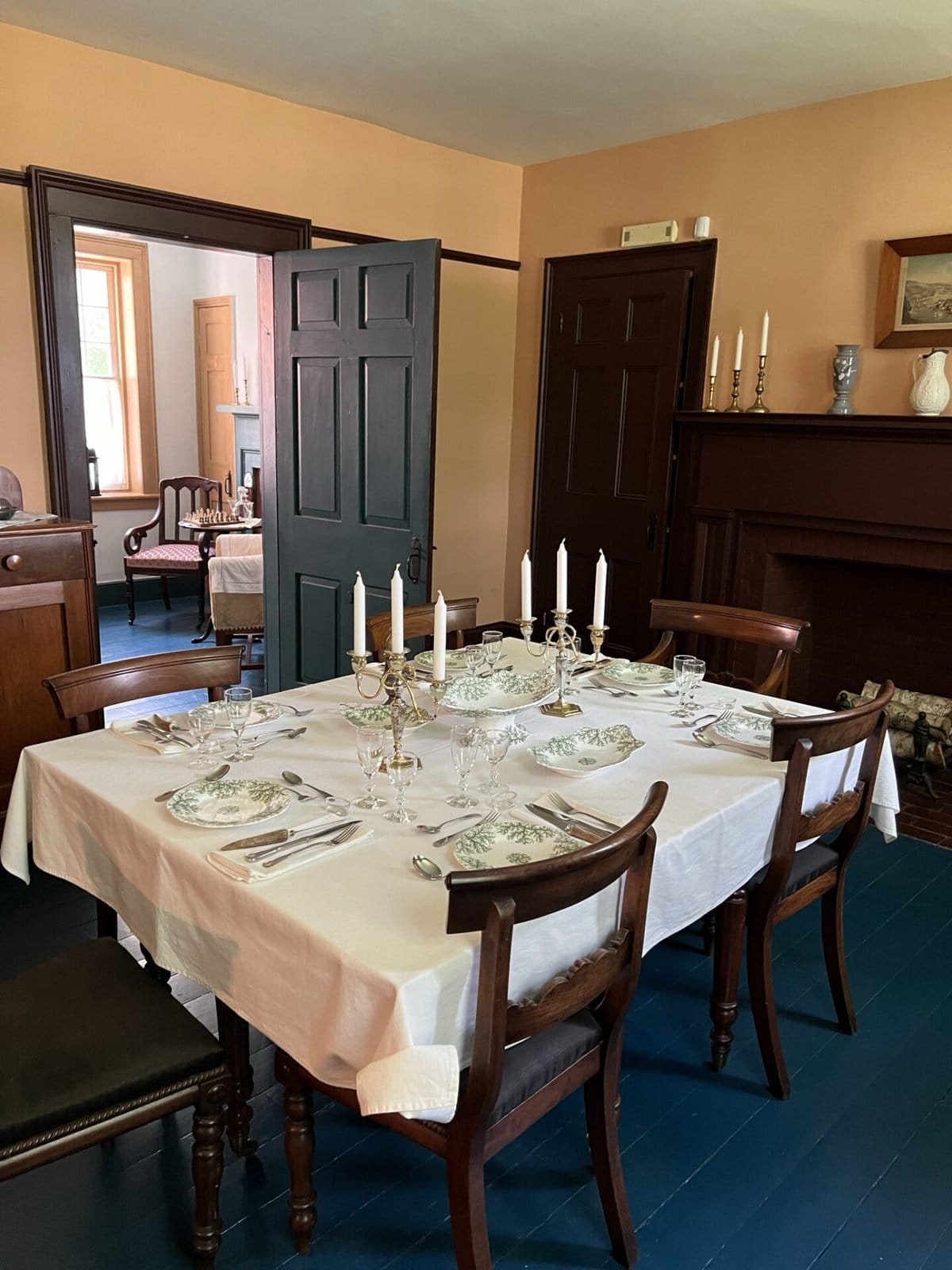 There was also no bathroom – surprise! While there's no talk of what they did for a bathroom, you'll find chamber pots in the bedrooms and baths were virtually unheard of. It was usual for families to take baths once a year, starting with the man of the house.
The youngest was the last to have a bath…imagine that water!
The gardens were even recreated to represent a characteristic garden from the 19th century. It really is a stunning property and is one of my favourite heritage sites in the Niagara Region.
McFarland House tickets
Tickets for McFarland House tours can be purchased directly on site. Tours run every 30 minutes beginning at 0:15 and 0:45 past the hour.
Tours last approximately 30 minutes.
Adults: $7.75 + hst
Children 3-12: $5 + hst
Under 2: Free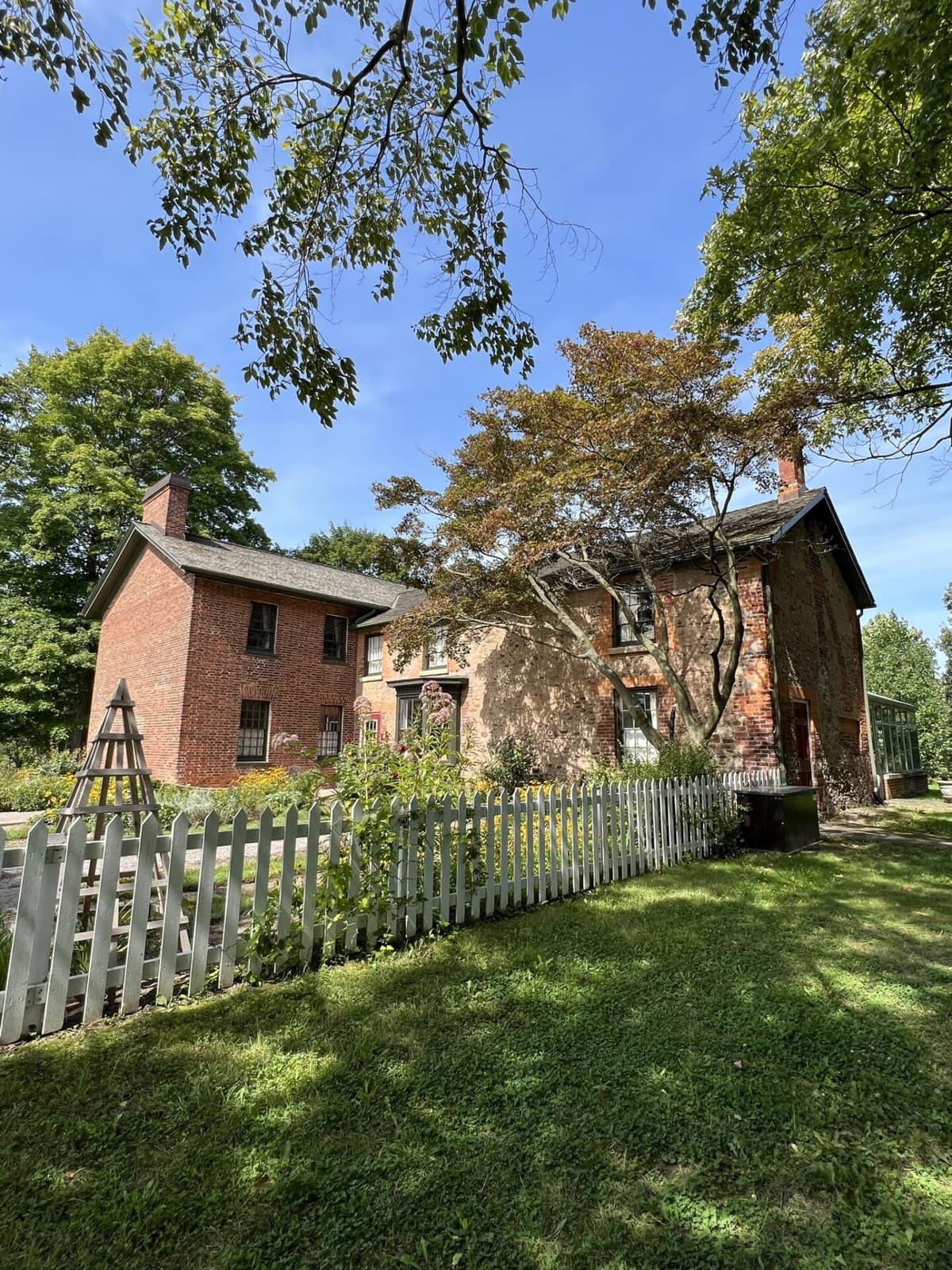 McFarland House as a part of Niagara Parks Heritage Pass
Are you a history lover or have one in your family? Niagara is home to some fascinating historic sites. Niagara Parks offers a Heritage Pass for $35 which includes admission to 6 heritage sites from Niagara-on-the-Lake to Fort Erie.
The Heritage Pass includes admission to Old Fort Erie, Laura Secord Homestead, Mackenzie Printery, McFarland House, Fort George, and Brock's Monument at Queenston Heights.
It's important to note that these heritage sites are open seasonally, so you will only be able to use the pass from late spring – early fall. However, you can save some money by buying this pass as opposed to purchasing tickets for each attraction individually!
McFarland House Afternoon Tea Room
One of my favourite things about the McFarland House is that during the summer you can also partake in a gorgeous afternoon tea in the Conservatory Tea Room!
This glass-enclosed tearoom is attached to the back of the McFarland House where you can enjoy sumptuous treats, sparkling wine, and local tea. It's the perfect experience to enjoy as a couple, with a group of girls, or for a mother-daughter day!
If you are planning to go for afternoon tea in Niagara, McFarland House is a fantastic option – you won't be disappointed!
Picnic Area at McFarland House
The McFarland House is situated in a beautiful area to enjoy a picnic in Niagara-on-the-Lake. This gorgeous property is set on sprawling green acres ideal for picnicking. During the summer you can even order picnic baskets from McFarland House to enjoy under the shade of the trees.
Parking is paid at the meter for $5/hour. This is also a great access to hiking and biking trails along the Niagara River Parkway and has washroom facilities, too. You'll even find a covered picnic pavilion for up to 250 people here!
How to get to McFarland House
The address for the McFarland House is 15927 Niagara Parkway, Niagara-on-the-Lake.
This property is best reached by car, and is located roughly 20 minutes from the heart of Niagara Falls' tourist area. If you are planning to visit McFarland House from Niagara-on-the-Lake, it's a short 6 minute drive from historic Queen Street.
There is dedicated parking for McFarland House closest to the house. Your parking can be validated if you purchase tickets on-site. Just let them know you need parking! Parking otherwise is $5/hour.
McFarland House is also reachable by WEGO seasonally from April to early October. It's one of the best ways to get from Niagara Falls to Niagara-on-the-Lake without a car.
Check the WEGO schedule and plan your visit accordingly! The Niagara on the Lake WEGO shuttle begins at the Butterfly Conservatory and goes all the way to Fort George.
A one-way trip is $10 for adults or $16 roundtrip, and $5/$10 for children respectively.
Related Posts
Pin it for later!