Wondering where to go for the best afternoon tea in Niagara? Treat yourself and indulge in luxurious pastries, finger sandwiches, and decadent teas at these beautiful tea rooms in the Niagara Region!
Niagara is home to a few special afternoon tea spots, some of which you'll feel as though you've transported yourself to London! These uber-royal tea rooms offer a relaxing place to enjoy with loved ones, whether you're celebrating a birthday, anniversary, bridal shower, graduation, retirement, or just because!
One of my favourite things about going to England is enjoying a traditional afternoon tea, so it was only fitting to find the best afternoon tea spots in Niagara.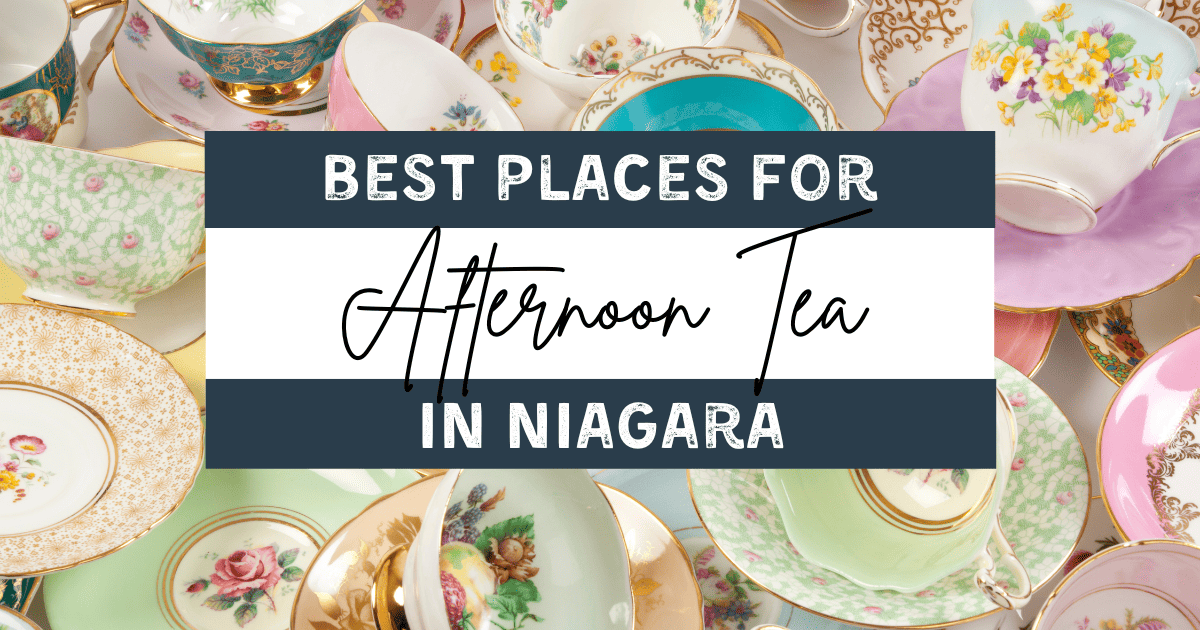 These tea rooms in Niagara are typically referred to as places to visit for afternoon tea, rather than high tea. Wondering what the difference is? High tea, while similar to afternoon tea, as it's also served with pastries, little sandwiches, cakes, and scones, also includes heartier servings of meat, potatoes, and vegetables.
Did you know: Afternoon Tea has been tradition for well over two centuries! Anna Maria Russell, the seventh Duchess of Bedford, is credited for the British institution of afternoon tea. The long gap between a light lunch and late evening meal simply didn't suit, so to satisfy her hunger, she would have her maid bring her a pot of tea and sweet and savoury snacks to her room. She rather enjoyed this arrangement, and quickly started asking her friends to join her for afternoon tea.
This post contains affiliate links which means I earn compensation when you click on the links at absolutely no extra cost to you! Feel free to read my disclosure policy. Thank you for supporting my blog!
Plan your next vacation using these tools!

✈️ Book flights: SkyScanner
🏨 Book hotels: Booking.com
🚘Book car rentals: RentalCars.com
🎫Book tours: GetYourGuide
🍽️Local food experiences: EatWith
🌍Favourite travel item: Packing cubes
🧳Favourite travel bag: Osprey 40L Fairview
📱 ESims: Airalo
🩹 DIY Travel Medical Kit
💸 20 Cheap Travel Items Under $20
1. Prince of Wales
If you're looking for an afternoon of luxury and to feel like you're royalty, the Prince of Wales in Niagara-on-the-Lake has the perfect Afternoon Tea for you! Located in their gorgeous Drawing Room, the Prince of Wales offers an absolutely gorgeous and decadent tea. With various packages to choose from, you'll enjoy the peaceful ambience in a light and airy space, with delicate teas, pastries, finger sandwiches, and scones – with all the proper British offerings!
Niagara-on-the-Lake is well known for its stunning wineries, but when it comes to visiting this historic town, there are a number of things to do that don't include visiting a winery – and an afternoon tea should be one of them!
I was honestly blown away by how beautiful the Drawing Room is. Plush seating, ornate decor, beautiful china plates and teacups, and antique furniture add to the high-end feel of the experience. It would be the perfect space for bridal showers, celebrations, anniversaries, mother-daughter getaways, or just to treat yourself!
Packages start at $55/adult which includes a pot of tea and a selection of pastries and sandwiches – which was a lot and we had to take some home! You can add-on from there, and add sparkling wine, mimosas, or a kir royale to your Afternoon Tea (which we did, naturally!). You can also choose to select Afternoon Tea packages with charcuterie, cheese, and scotch.
We brought my 10-year-old niece with us, and were excited to see a Little Prince/Princesses package for $26 which included a smaller pot of tea and assortment of pastries.
Price: From $55/person (or $26/children under 12)
Hours: Daily 11:00 am – 5:00 pm
Address: 6 Picton St., Niagara-on-the-Lake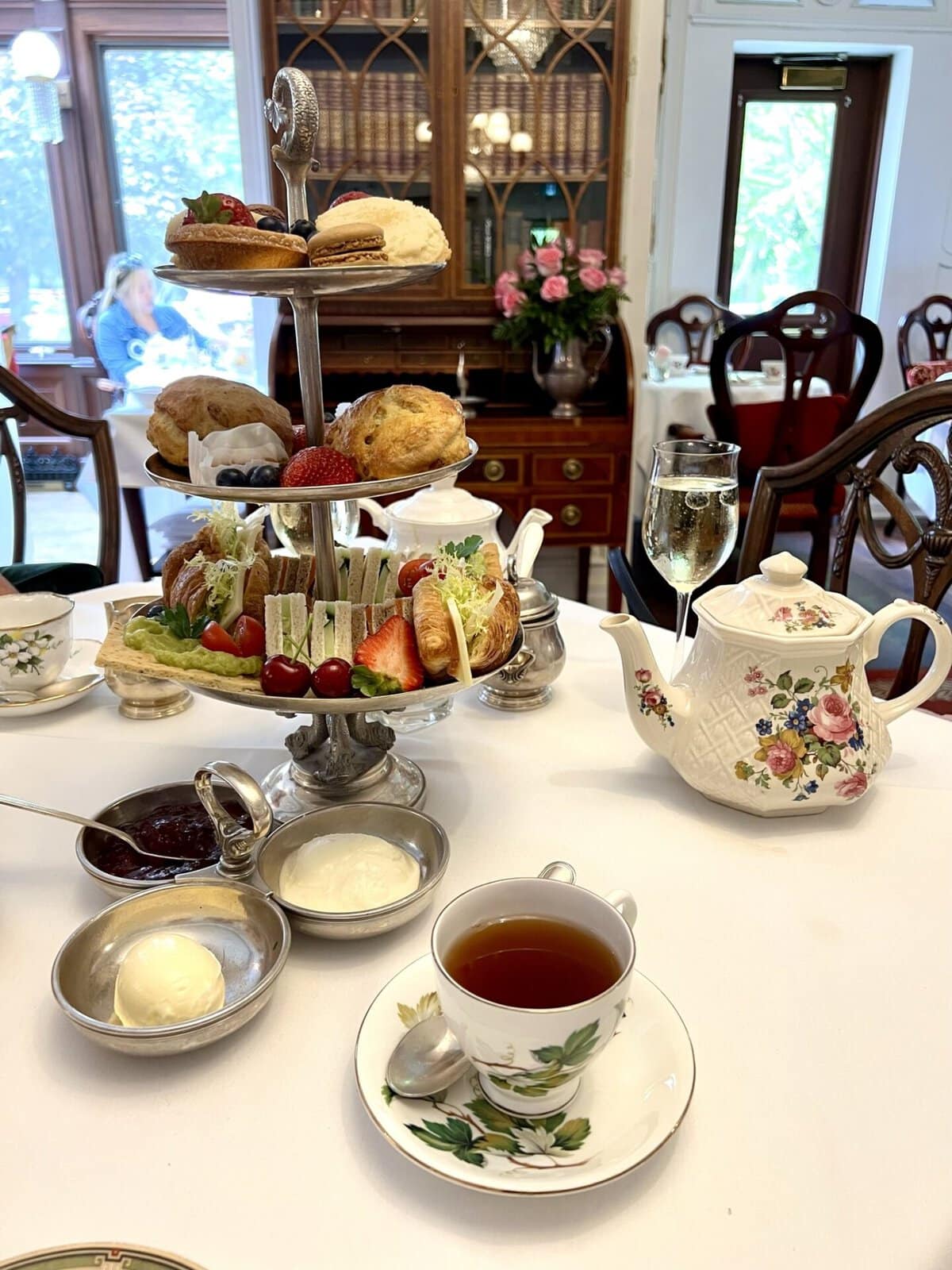 2. McFarland House
One of the lesser-known places to go for Afternoon Tea is at the historic McFarland House, along the Niagara Parkway in Niagara-on-the-Lake.
McFarland House has been around for more than two centuries and played a prominent role during the War of 1812 where it served as a military hospital by the Americans and the British. It stands as a monument to gracious living and fine taste that epitomizes Niagara-on-the-Lake.
The tea room at McFarland House is in a stunning glass-enclosed room, serving delicate desserts and scones with traditional afternoon tea. A variety of options are presented, all handmade using period-appropriate ingredients and preparation!
Afternoon tea packages start at a reasonable $39.95 per person. You can, of course, opt for the package that includes sparkling wine (I always do this!) for $44.95. There is also an afternoon tea option for children, too, for $24.95.
While you're visiting for afternoon tea, you can also take a tour of the McFarland House, guided by costumed interpreters. This is the oldest property owned by Niagara Parks, and is a scenic spot for walking or cycling along the Niagara Parkway, as well as a beautiful spot to picnic in Niagara-on-the-Lake.
Price: From $39.95/person
Hours: Thursday – Sunday 12:00 pm – 5:00 pm. Last seating for the tea room is 3:30 pm. The Afternoon Tea is available seasonally, after Victoria Day weekend until September.
Address: 15927 Niagara Parkway Recreational Trail, Niagara-on-the-Lake
3. Flour Mill Restaurant
The Flour Mill Restaurant, located at the Old Stone Inn Boutique Hotel in Niagara Falls, offers afternoon tea in their Earl Grey Tea Room on weekends. Their traditional afternoon tea includes a cup of tea, finger sandwiches and housemade pastries. This quiet setting offers a decadent experience, with teas supplied locally from Tealise Organic Teas, located in Virgil.
The atmosphere at the Flour Mill Restaurant is nothing short of spectacular and offers a truly magical afternoon tea experience.
Price: $59.99/person
Hours: Friday – Sunday, 11:00 am – 2:00 pm.
Address: 6080 Fallsview Boulevard, Niagara Falls
4. The Watering Can
It seems as though everyone in the Niagara Region has heard of the Watering Can and their amazing flowers and floral arrangements, but did you know they also offer afternoon tea?
Afternoon tea at the Watering Can in Vineland is nestled among a gorgeous green tropical jungle and has recently moved to their outdoor covered patio. They've called it their Garden Tea Experience, which is quite fitting!
Their enchanting afternoon tea experience combines creativity and plants – what's not to love! This unforgettable experience isn't your typical polished afternoon tea with crisp white linen; instead, you'll find whimsical mismatched china teacups and saucers! The food takes centre stage, where delicious pastries and savoury treats are made in-house that'll surely awaken your taste buds.
Price: $40/person. Gluten-free and vegan afternoon tea available for $45.
Hours: Monday – Saturday 11:00 am – 12:30 pm, 1:00 pm- 2:30 pm, and 3:00 pm – 4:30 pm.
Address: 3711 King St., Vineland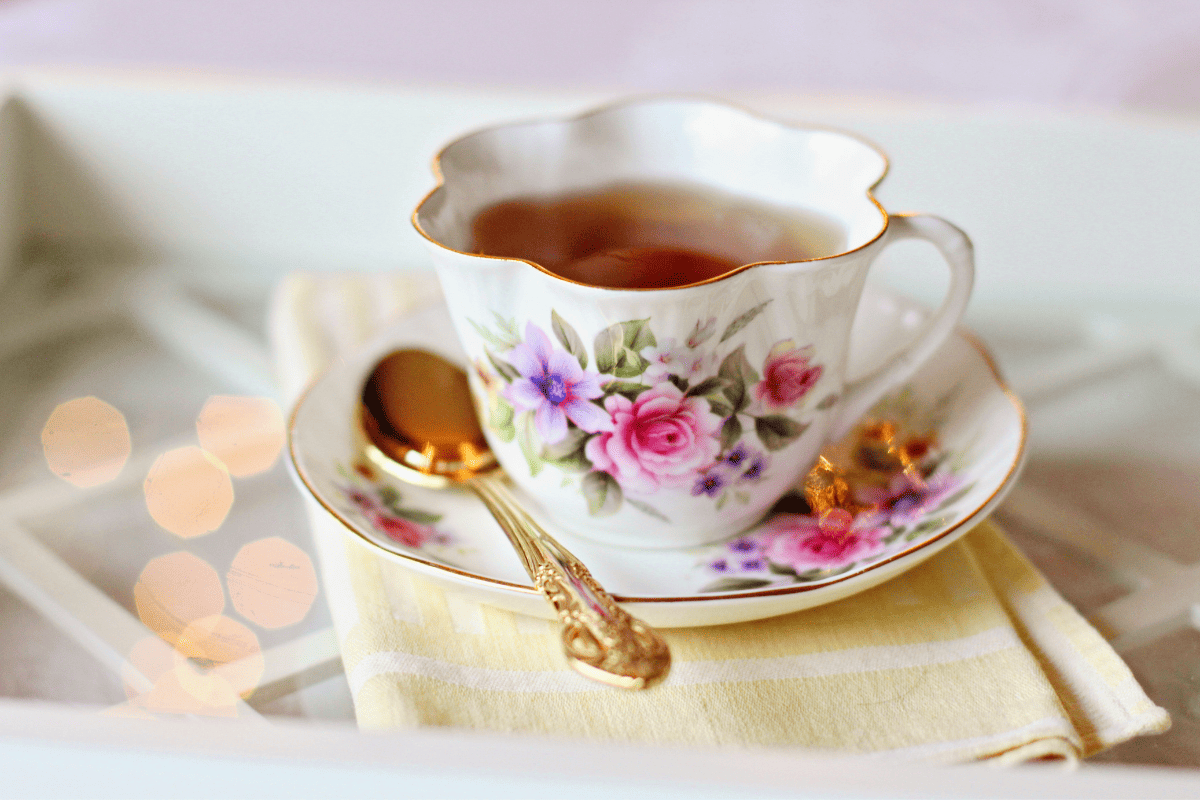 5. Tea on 3
Tea on 3 is an underrated place to go for afternoon tea! This quaint tea room in Wainfleet offers a three-tiered array of delicate treats and pastries for their afternoon tea. Visitors speak about the passion the owners put into their tea room, and they've just moved to a larger space to accommodate more guests, as well as an expanded menu.
Attention to detail, fantastic service, and beautiful decor all make Tea on 3 a perfect spot for afternoon tea in Niagara!
Price: Afternoon Tea $45/person. Vegetarian options available. Other afternoon tea packages available, including packages for children for $25/child.
Hours: Wednesday – Sunday with seatings at 11:00 am, 1:00 pm, and 3:00 pm.. Reservations required.
Address: 11609 ON-3, Wainfleet
6. The Savoy Room
Situated in St Catharines, the Savoy Room is an excellent afternoon tea option in the Niagara Region. With an elegant Victorian atmosphere, fine bone china, white linen, and an assortment of delicate pastries and savoury treats, the Savoy Room is a perfect spot for bridal showers, birthdays, anniversaries, retirement parties, and so much more!
The Savoy Room can accommodate groups up to 45, but also offers an intimate setting for a quiet afternoon tea.
The Savoy Room is located right beside Cafe Garibaldi.
Price: $38/person
Hours: Thursday – Sunday 12:00 pm – 4:00 pm. Private functions are available by reservation 7 days a week (minimum numbers required).
Address: 375 St Paul St., St. Catharines. The Savoy Room is located right beside Cafe Garibaldi. Parking is available out front for $1.75/hour.
Related Posts
Pin it for later!