Did you know that there are flamingos in Curacao? Curacao doesn't get as much coverage about flamingos compared to its neighbour, Aruba, but there are a few beautiful places to see them around the island!
These stunning pink birds have claimed parts of Curacao as their habitat, and if you're looking for where to find flamingos in Curacao, you can spot them at a few unique places that are open to the public.
Curacao is a protected habitat for flamingos – there are hundreds that live on the island! Most days you'll be fortunate to see a few dozen wading the waters and strolling the salt flats around the island. Finding flamingos is one of the best things to do in Curacao, and all of these locations are free to visit!
Visiting Curacao for the first time?
Check out these Curacao Travel Tips and what to know before going!
This post contains affiliate links which means I earn compensation when you click on the links at absolutely no extra cost to you! Feel free to read my disclosure policy. Thank you for supporting my blog!
Plan your next vacation using these tools!

✈️ Book flights: SkyScanner
🏨 Book hotels: Booking.com
🚘Book car rentals: RentalCars.com
🎫Book tours: GetYourGuide
🍽️Local food experiences: EatWith
🌍Favourite travel item: Packing cubes
🧳Favourite travel bag: Osprey 40L Fairview
📱 ESims: Airalo
🩹 DIY Travel Medical Kit
💸 20 Cheap Travel Items Under $20
Where to find flamingos in Curacao
There are a few places in Curacao to see flamingos; these elegant pink birds have made their home at the Jan Kok salt pans (also known as the Flamingo Sanctuary), the Jan Thiel salt pans, and Sint Michielsbaai/Saint Michael's Bay.
Most flamingos can be found at Jan Kok, but you won't find them on the beaches in Curacao! Go off the beaten path and witness these stunning birds in their natural habitat around the island.
P.s. You may want to bring a camera with a powerful lense or zoom – sometimes these flamingos are found further out and may be hard to photograph or see in detail. If you do happen to get up close to these regal animals, remember to not disturb them or try to feed them.
Jan Kok Salt Flats – the Flamingo Sanctuary
The Jan Kok salt flats were once the old salinas of Rif-Sint Marie, which was a former salt mine plantation. It's now a protected habitat for flamingos in Curacao.
Located in Willibrordus (locally referred to as Williwood) and often called the Flamingo Sanctuary, this expansive salt flat seems to extend for miles and is surrounded by beautiful scenery.
You can park along the road (watch out for thorny bushes as you get out!) and walk right down to the salt flat. There's a watch tower you can climb for even better views over the landscape.
You will also find a few trails leading further into the salt flat at Jan Kok, which will take you even further to the flamingos!
Be sure to arrive early – and I mean early – for the best chances to see the flamingos in large groups. We arrived late morning and saw three off in the distance, so lesson learned!
There is a unique statue located at the Flamingo Sanctuary, and that's the statue of a hand with a broken iron shackle. Created in memory of the slave revolt in 1795, it stands as a reminder of the fight the slaves found against the plantation lords.
Related: The Complete Guide to Hiking Mount Christoffel in Curacao
Jan Thiel Salt Pans
If you want to head to a more remote area to escape any crowds, you can drive over to the salt flats of Jan Thiel.
Enter through Parke Sorsaka/Den Dunki National Park and wander through the trees until you get to the clearing of the salt pans. It's a beautiful place for a scenic hike, as the views are beautiful!
The salt pans of Jan Thiel are home to a small flock of flamingos, but you can also see other tropical birds and reptiles here!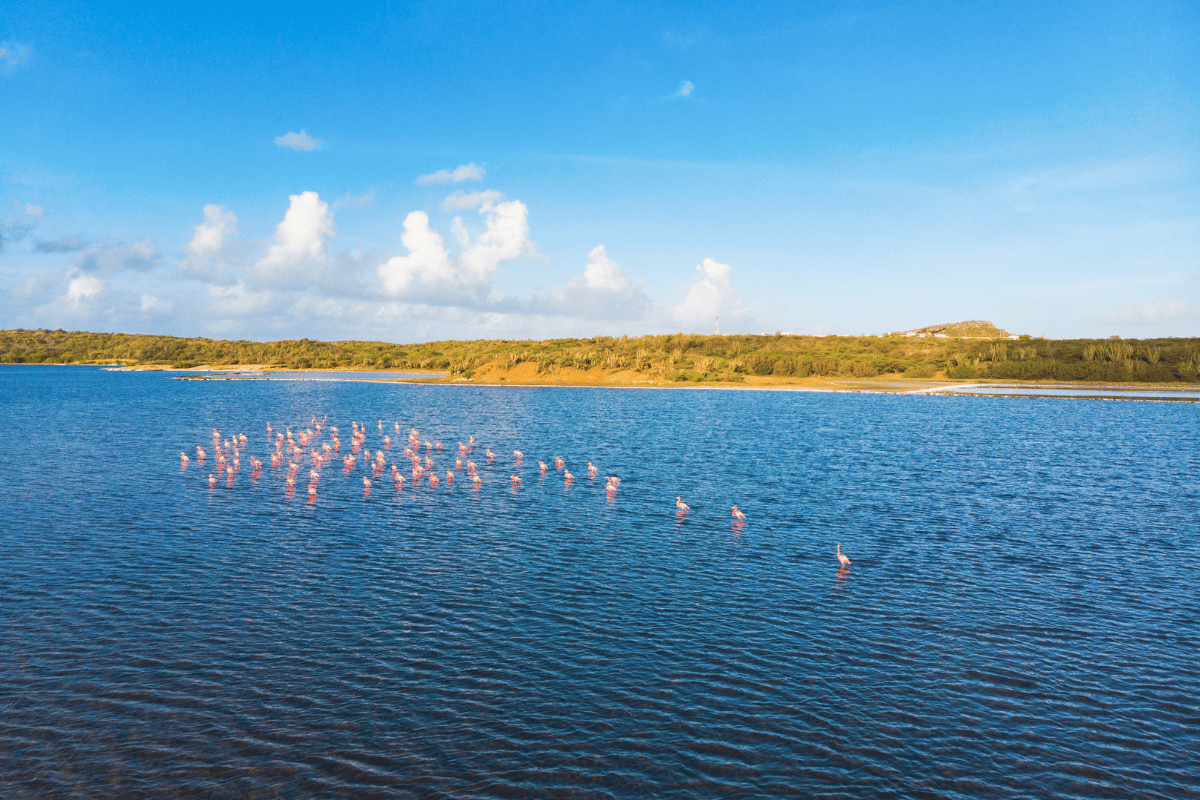 Saint Michael's Bay (Sint Michielsbaai)
A lesser-known spot to see flamingos in Curacao is Saint Michael's Bay/Sint Michielsbaai. This large salt pan is home to vibrant pink flamingos which makes them easy to spot.
There's ample food source for them here and since it's less-frequented, it's become a popular hangout for flamingos! It's also a gorgeous place to go for a hike in Curacao, or visit the beach.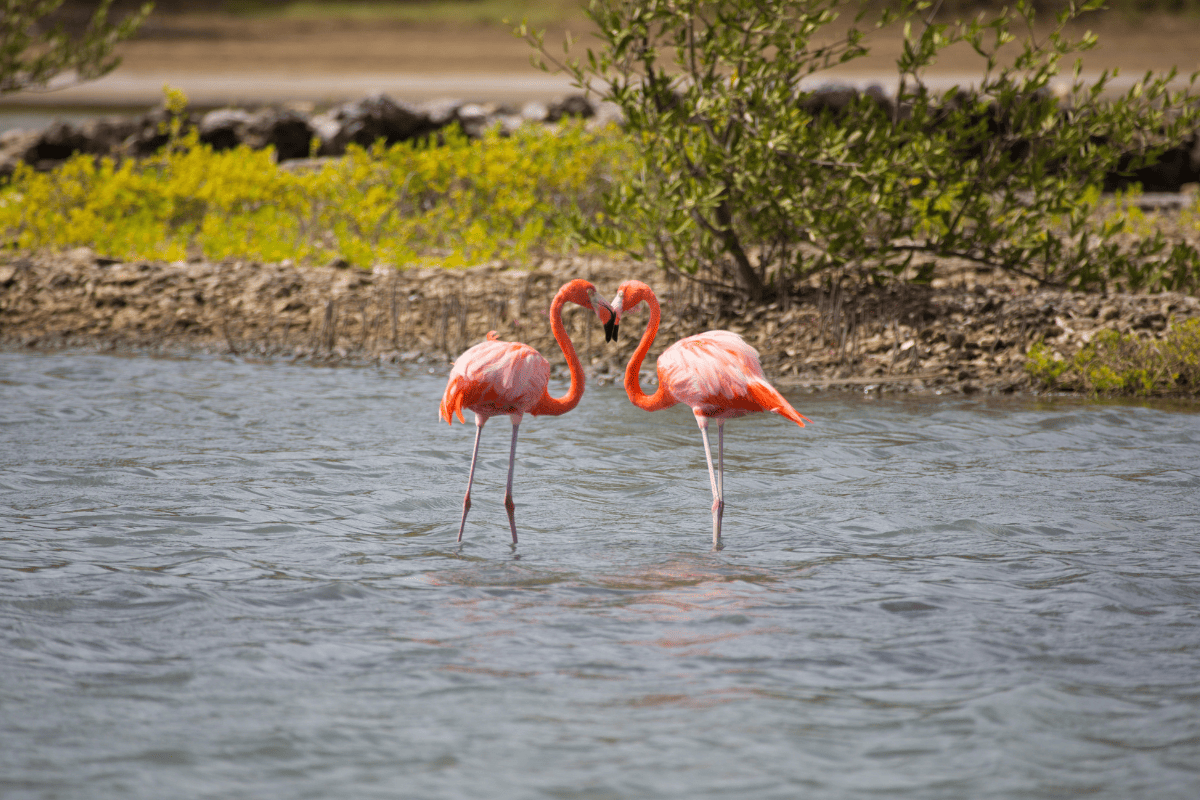 You can enter to see the flamingos from two sides of Saint Michael's Bay; first, you can drive along Weg Naar Bullenbaai and park along the road. You may be able to see flamingos close to the road. Or, head to Boka Sint Michiel (Saint Michael Beach).
You can get the best of both worlds here! Visit a quieter, local beach and visit the salt flats of Saint Michael's Bay to see the flamingos. The colourful Niffo Huts make a great stop for a tropical drink or bite to eat.
There is also a hiking trail from Saint Michael Beach to Kokomo Beach, if you're up for a trek through rugged terrain. The view of the azul-blue water is stunning from up there and the hike takes roughly 40 minutes (one way).
Related: Exploring Hato Cave in Curacao
Where is the best spot to see flamingos in Curacao?
The best spot to see flamingos in Curacao is at the Jan Kok salt pans. It's one of the easier places to reach by car, plus it's a great stop along the route to many of the stunning beaches on the west side of Curacao.
Best time to see flamingos in Curacao
If you have your heart set on seeing flamingos, be sure to start your day early. Many people recommend between 6:30-7:30 am (for sunrise) or in the early evening. There's a greater chance of seeing these beautiful birds during these times of day rather than midday, when the birds will have moved on.
You can choose to take a flamingo tour in Curacao or rent a car and head out on your own to explore. I highly recommend renting a car during your visit to Curacao. There is so much to see and do on this incredible, small Caribbean island!
Related Posts
Pin it for later!