London has no shortage of unique dining experiences. This multicultural city offers every type of cuisine imaginable, many of them in unusual places with creative decor.
London is one of those cities you can never get tired of, or experience all the fun varieties of unique dining experiences!
If you're looking to grab a bite to eat somewhere unusual while exploring the city, here's a collection of some creative ideas for your next trip to London!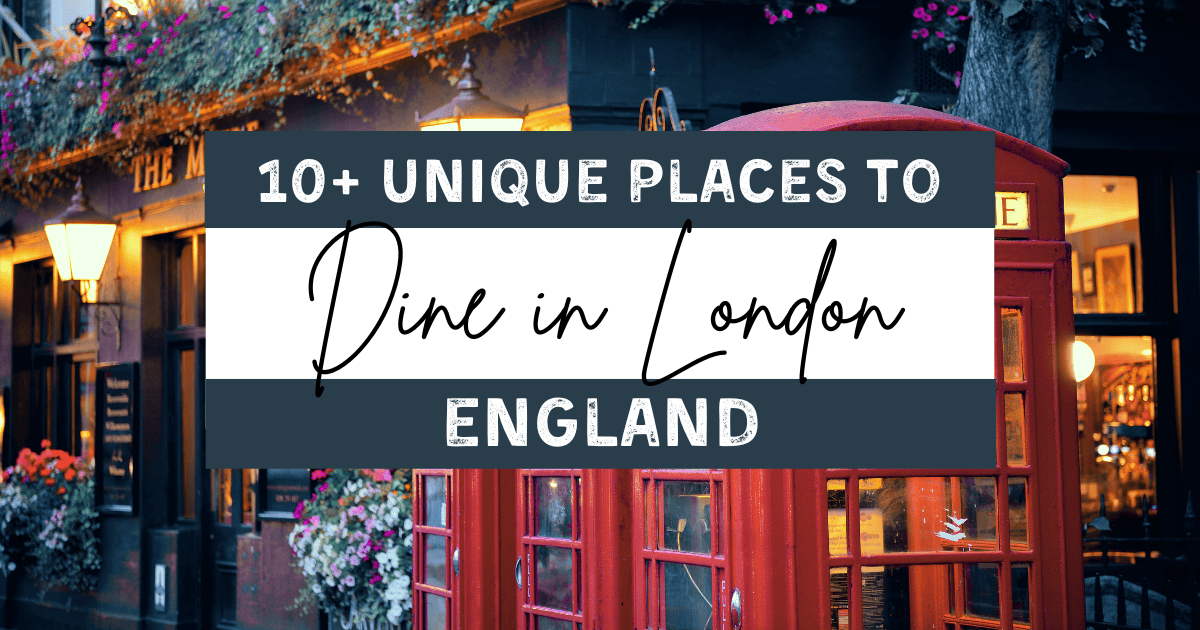 This post contains affiliate links which means I earn compensation when you click on the links at absolutely no extra cost to you! Feel free to read my disclosure policy. Thank you for supporting my blog!
Plan your next vacation using these tools!

✈️ Book flights: SkyScanner
🏨 Book hotels: Booking.com
🚘Book car rentals: RentalCars.com
🎫Book tours: GetYourGuide
🍽️Local food experiences: EatWith
🌍Favourite travel item: Packing cubes
🧳Favourite travel bag: Osprey 40L Fairview
📱 ESims: Airalo
🩹 DIY Travel Medical Kit
💸 20 Cheap Travel Items Under $20
Tattershall Castle
Don't let the name Tattershall Castle fool you – Tattershall Castle is actually a former passenger ferry converted into a restaurant!
Moored on the Thames with views of the London Eye, this unusual dining experience is conveniently located between the Westminster and Embankment tube stations.
While dining on the water may not be appealing to everyone, Tattershall Castle is an all-weather dining venue. From dining on the deck, the cozy Wardroom, to intimate gatherings in the Bridge, Tattershall Castle can also host large groups (and weddings!) in their Stateroom. Each room has its own character and offers a unique dining experience in London.
Visit at night to see the Thames and London Eye lit up. Visit on Sundays for their Sunday Roast, or just grab a drink on the deck to soak in the views.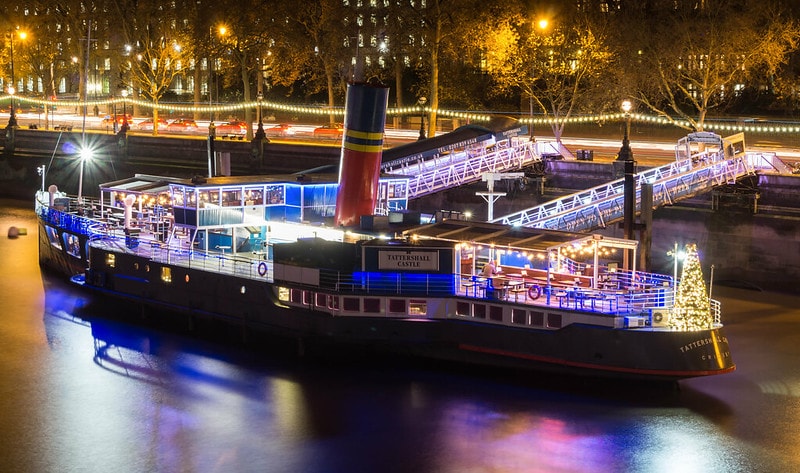 Cafe in the Crypt
For a unique dining experience in London that not many people know about, head to Cafe in the Crypt!
You can dine in an underground crypt right by Trafalgar Square, and it's one of London's best kept secrets.
Cafe in the Crypt at St. Martin-in-the-Fields is a hidden cafe that's been there for over 30 years. Go underground to be surrounded by original brick-vaulted ceilings dating back to 1726 in a cozy space.
You'll even find historic tombstones lining the floors – but not to worry, the crypt's bodies were removed in the 1800s.
There is plenty of dining space in this cavernous room and food is self-service with a variety of options. If you're looking for a quiet yet unusual place in London to escape the crowds after exploring Trafalgar Square, the subterranean Cafe in the Crypt is a great spot to come to.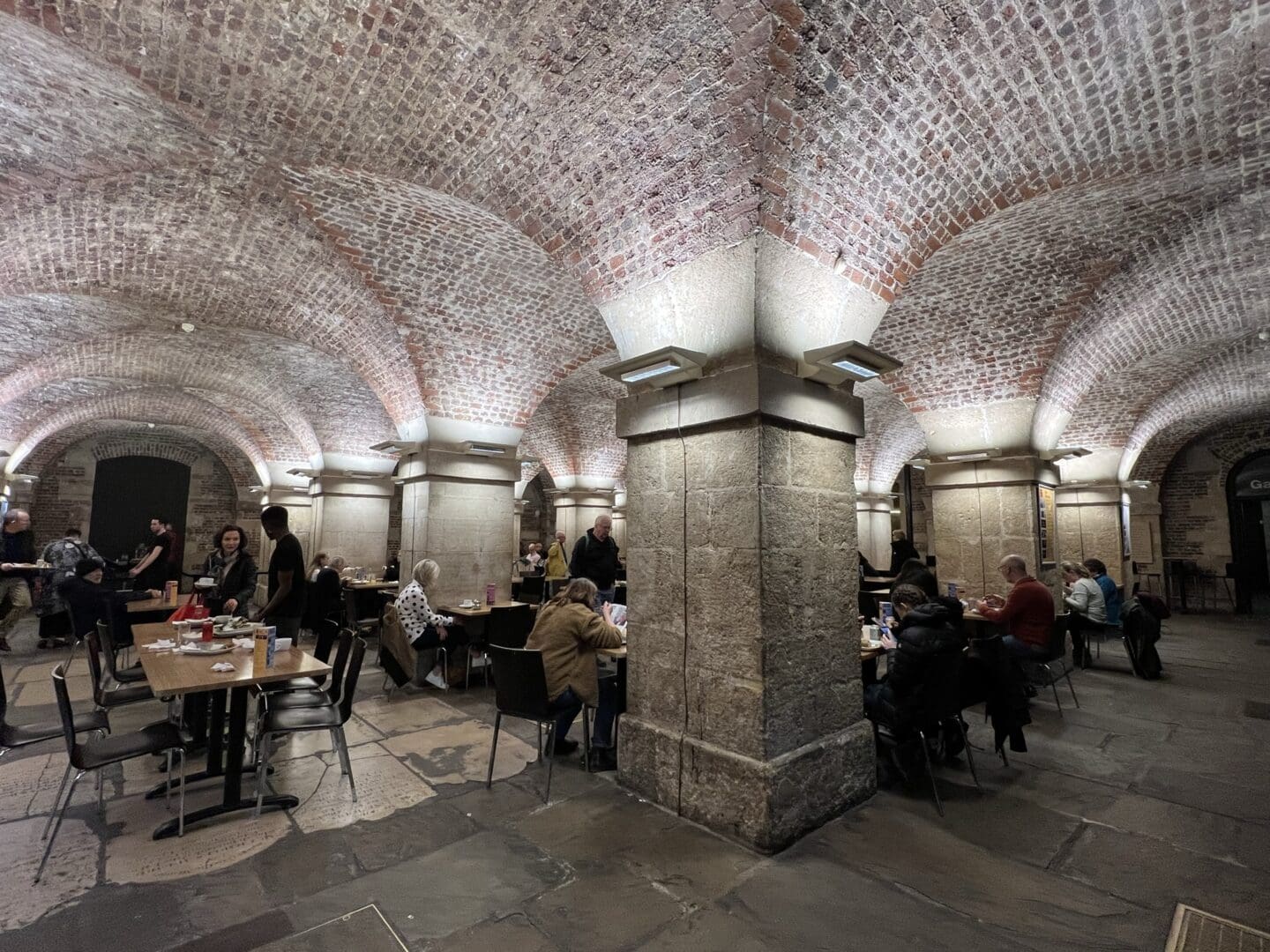 Piano Works
Piano Works provides the most fun dining experience in London, United Kingdom. The restaurant is known for its incredible musicians, who entertain you throughout your meal.
The Piano Works has two branches, one in West End and the other in Farrington. The musicians here play live songs requested by the audience. The music goes on without a stop till the end of the night.
The diners must write the song name on paper and hand it to a server To request a song. The server passes it down to the band to play. Be ready to witness an evening of great energy and a lot of dancing around.
Diners can choose from the regular menu or the special gluten-free menu. Both have a variety of options for starters, mains, and desserts. Piano Works also has an impressive selection of wines and cocktails. The restaurant has a semi-formal dress code and only allows people over 18.
Recommended by The Holiday Story
Circus Restaurant and Cocktail Bar
Circus in Covent Garden is a restaurant with a difference. Every 30 minutes or so, a circus performer takes the stage on a central table for 5 minutes. The acts might include aerial performances, fire-breathing, contortionists and dancers, but they are different every time.
It's a fun and extravagant venue, perfect for a date night or girls' night out. There are also special sessions including a Mentalist with illusions and hypnosis, and brunch sessions with a comedy bingo performance.
The restaurant serves an excellent pan-Asian menu and delicious cocktails, but the entertainment is what sets it apart from other London restaurants. Booking is essential as it is very popular, and for a surcharge you can dine at the stage table to get a close up view of the performances.
To ensure the atmosphere is exciting but not disruptive, it is 21+ only. Single sex groups of more than 8, and stag and hen dos aren't allowed at dinner service, but they are welcome at the brunch sessions.
Recommended by Following Fiona
Jurassic Afternoon Tea at The Ampersand
If you're a dinosaur fan visiting the Natural History Museum then you might be interested to know that The Ampersand Hotel offers a really fun dining experience in the form of a Jurassic themed afternoon tea.
The Ampersand is just a 5-minute stroll from the Natural History Museum and serves a dino-themed afternoon tea daily from 12 – 5.30pm.
The tasty treats include mini savoury bites, traditional scones with jam and cream and then some very inventive and absolutely delicious dinosaur themed cakes and sweet treats. All of this can be paired with a trio of Jurassic themed cocktails or champagne.
It is not just adults that will enjoy this afternoon tea. It is also one of the best London afternoon teas for kids with a special kids' menu just for little dinosaur lovers.
They will love the dino print shaped sandwiches and searching for chocolate dinosaurs in the chocolate fossil kit but the highlight will be the dramatic dry ice poured over the entire dinosaur shaped tea stand.
Make sure to arrive with an empty stomach as there is so much food!
Recommended by The Flashpacking Family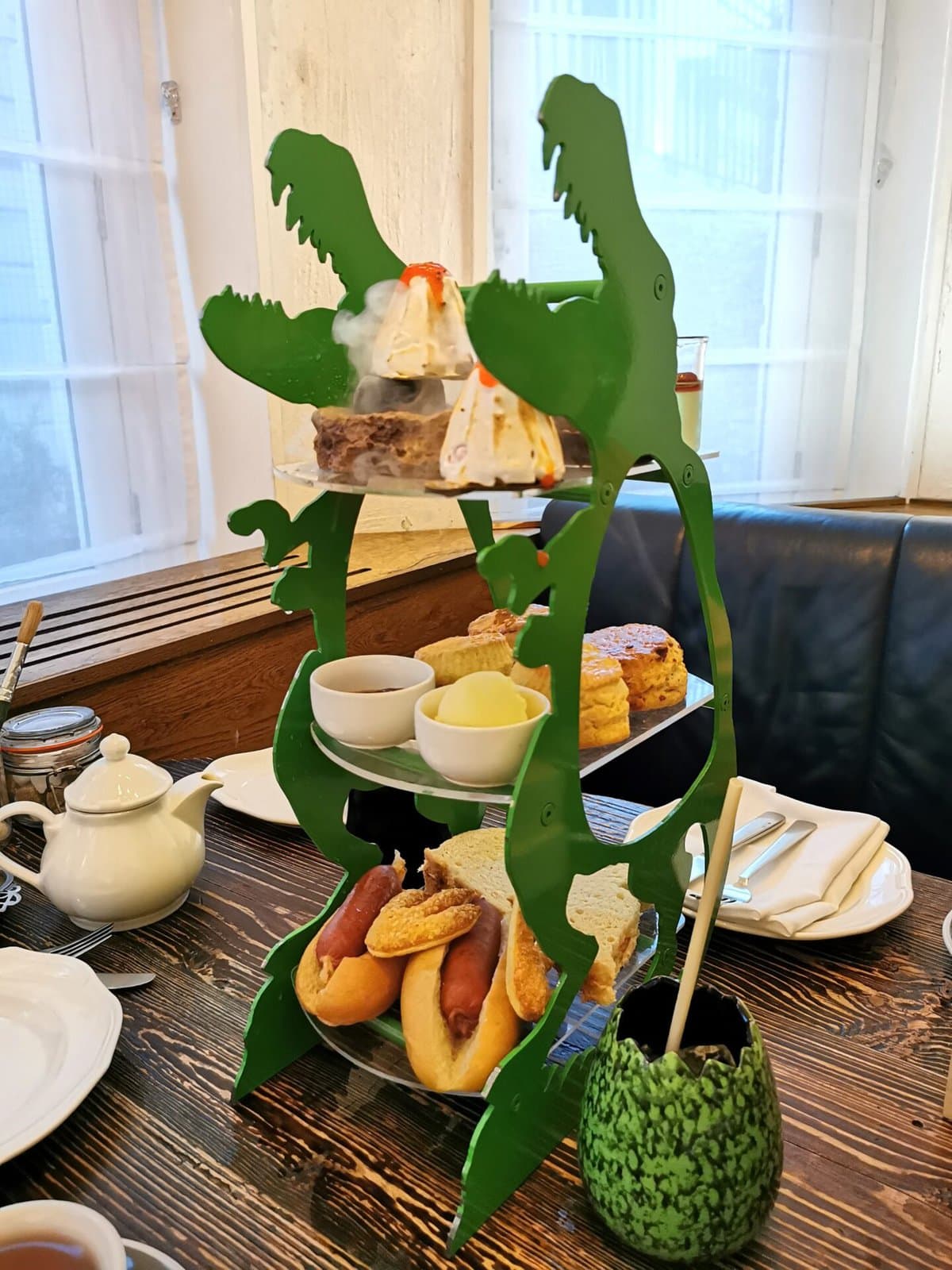 Aubaine Selfridges
Aubaine Selfridges is the perfect place for a sophisticated afternoon feast. This chic brasserie offers guests an unforgettable dining experience from start to finish.
From its eye-catching wisteria ceiling, very chic white tables and chairs to its exquisite selection of delicious dishes, Aubaine Selfridges is perfect for a fun dinner experience in the capital.
Its location in the shopping centre of the iconic Oxford Street is ideal. You can eat there during a London Christmas tour from late november to december, or just after a shopping afternoon.
The menu features a range of traditional French dishes as well as some inventive modern takes on classic favourites, such as a beef fillet, stone bass or roasted aubergine.
The restaurant also has a selection of desserts that are sure to satisfy the sweet tooth, such as crème brûlée or chocolate mille-feuille. To complement the meal, Aubaine Selfridges offers an impressive selection of fine wines and champagnes.
Recommended by On the Road Diary
Afternoon Tea at Fortnum and Mason
Fortnum and Mason is home to the definitive afternoon tea experience in the capital and certainly the most historic, as the shop was founded in 1707, long before other contenders such as the Savoy or the Ritz.
The huge building is located in Piccadilly in central London and is the epitome of old world, classic charm.
The building is of a neo-Georgian design fitted with a truly glamorous décor in their famous eau-de-nil colours, with sumptuous deep carpets, polished mahogany staircases, wrought iron fixtures and displays of quality and delectable items for sale.
The afternoon tea is served in their Diamond Jubilee Salon where you are welcomed in as the resident pianist plays on the Steinway, your coats are whisked away, tables are covered in immaculate white linen and everything is served on delicate, eau-de-nil bone china.
Tea arrives on a three tiered cake stand with dainty sandwiches, a plate of scones and some incredible cakes which are replaced the minute you finish them. Everything tastes as delicious as it looks and you can wash it all down with fine leaf tea or champagne.
It is a fun, beautiful, and novel dining experience and one which leaves you feeling very civilised as well as very full.
Recommended by Slow Travel UK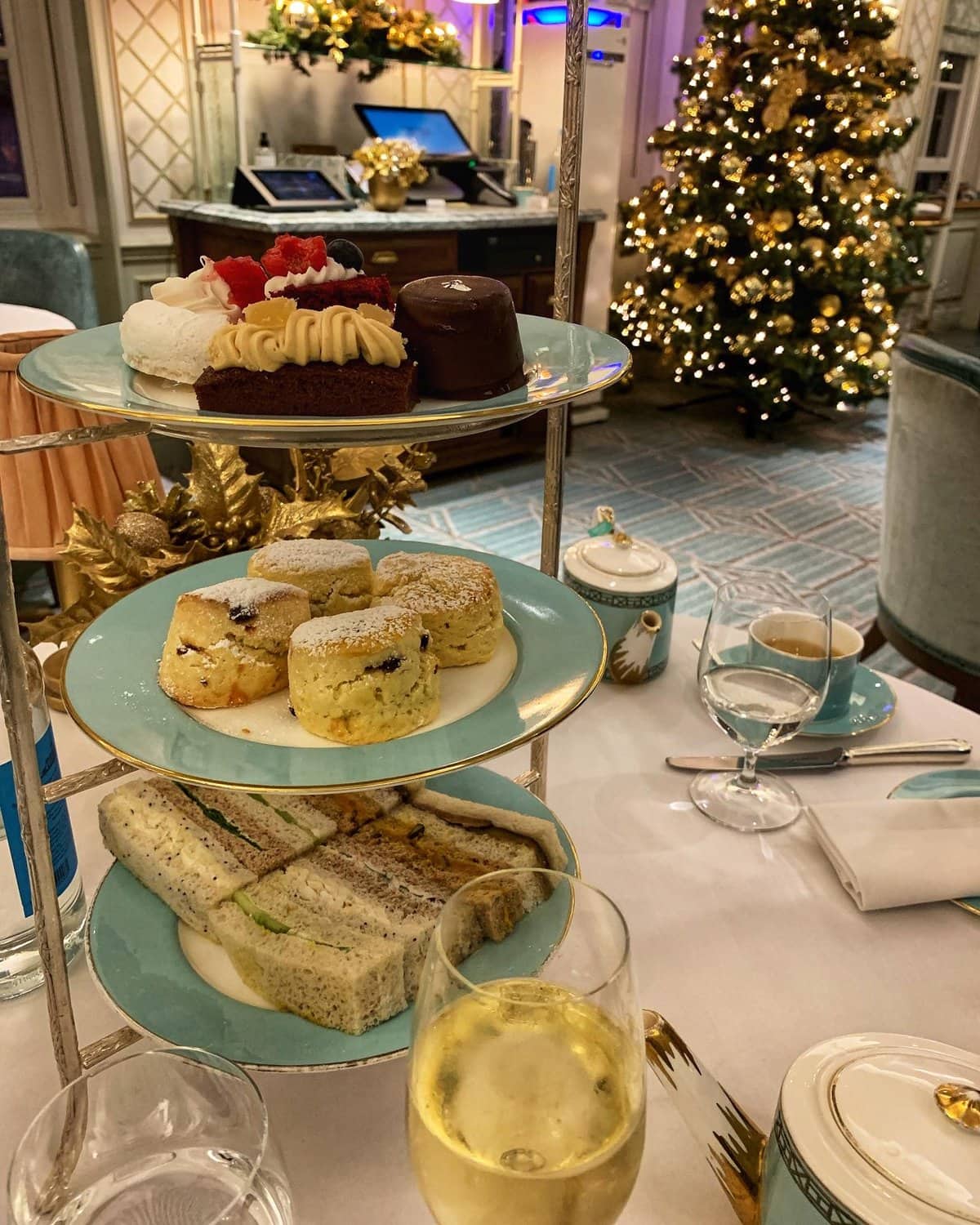 Coppa Club Riverside Igloos
Are you looking for a fun and unique dining experience in London? Look no further than Coppa Club's winter wonderland igloos situated on the banks of the Thames.
Dining in an igloo provides the perfect backdrop for an intimate and memorable dining experience. The igloos are encased in glass, providing a stunning view of the river and London skyline.
The cozy decor including plush blankets, fairy lights, and plants create the perfect ambiance for a romantic evening or a fun night out with friends. The view of the Tower Bridge and the River Thames really is the showstopper.
The menu itself is a treat. Coppa Club offers a variety of delicious dishes, from their famous truffle fries to hearty burgers and even vegetarian options. They also have an extensive cocktail menu and great wine list.
This is a dining experience that is sure to impress. The igloos are equipped with heaters making them perfect for chilly winter nights. The views of the Thames and lively atmosphere truly sets the stage for an unforgettable evening out.
Be sure to book in advance as these igloos fill up quickly. Make sure to add this amazing experience to your London Itinerary and head down to Coppa Club and dine in an igloo on the banks of the Thames for a one-of-a-kind dining experience.
Recommended by Poor in a Private Plane
The Tube Supper Club
Dining in an old Victoria Line tube carriage is one of the most unique foodie experiences in London. The Tube Supper Club is an experience created by a Colombian chef who highlights the cuisine of Latin America through a delightful six course tasting menu. The dishes are inspired by South American classics, but with the chef's modern twist, using locally sourced seasonal ingredients. The menu changes with the seasons as well.
This experience takes place at the Walthamstow Pumphouse Museum, which is easily reachable from Liverpool Street, in about 25 minutes: 15 by overground and another 10 by walking.
The dining experience is quite intimate, due to the limited number of seats in the carriage. There are two types of tables – the tables for two people, and the booths for larger groups. If you want a booth it's best to book in advance. If you are celebrating a special event, make sure to let them know, for a small surprise at the end of the meal.
Recommended by The World in My Pocket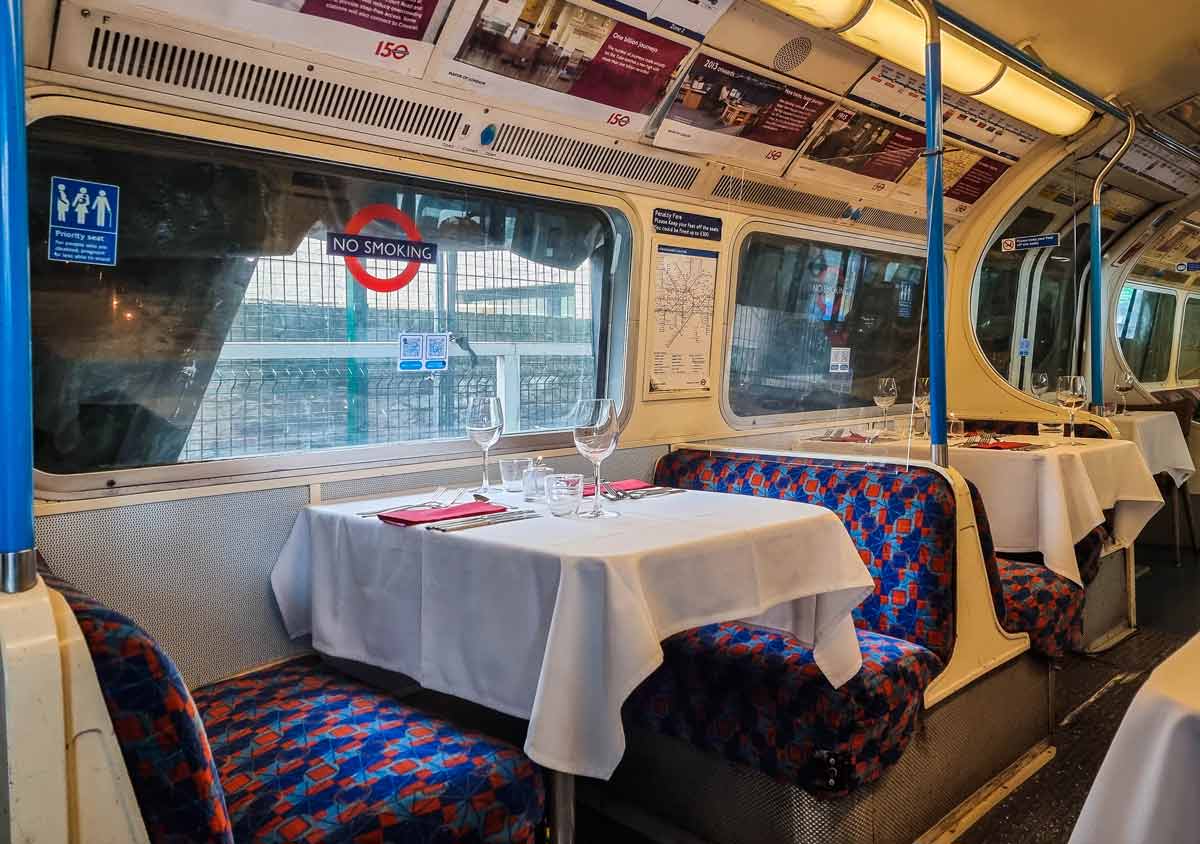 At Home Farm
Did you know that nestled at the end of the London tube map lies a serene and picturesque destination unlike any other? At Home Farm is a true hidden gem, and the perfect spot for anyone looking to enjoy a fun and unique dining experience.
The At Home Farm al fresco dining experience offers an escape from the bustling city life, transporting you to a magical pastoral land far far away. Picture this: live jazz music, delicious wood-fired meals curated by famous chefs, and a communal table set under a glorious oak tree with nothing but endless green fields as your backdrop. It's an unforgettable experience that you won't find anywhere else in London.
And if you're looking to make a night of it, why not stay over? Their luxurious glamping area is the perfect way to extend your experience and enjoy the beautiful surroundings for longer… And to wake up to the sound of birds chirping and the fresh country air!
Whether you're a local looking for a fun day out or a tourist looking to explore something new while in London, Home Farm is a must-visit spot that is worth adding to your list!
Recommended by Goya Galeotta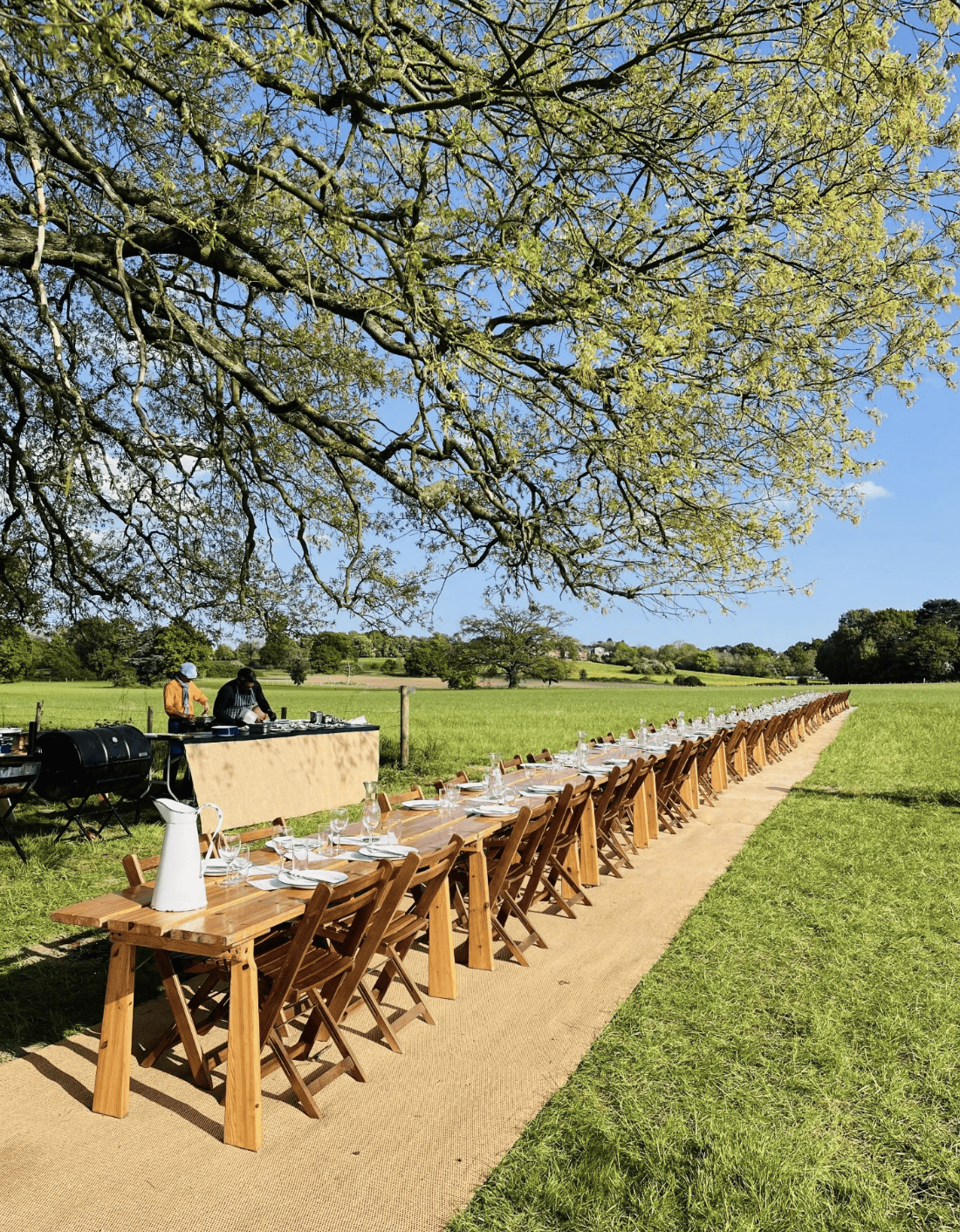 Lady Dinah's Cat Emporium
If you're looking for dinner and a show, then you're bound to adore Lady Dinah's Cat Emporium.
This is one of London's best cat café's and is home to an impressive collection of permanent residents and adoptable furry friends. Although you can book in and just sit around with the cats, it's worth shelling out for their afternoon tea (or a cocktail!).
Alternatively, you can head down for your birthday and get a delicious glass of pink lemonade and a tasty cupcake!
There's no denying that the cats are the stars of the show here as you can freely interact and play with them. But you shouldn't sleep on the décor either.
It's designed in a Mad Hatter/Alice in Wonderland theme with floating hats, green mossy banks, and even giant mushrooms!
Plus, you're just a stone's throw from the quirky bars and entertainment spots in London's vibrant Shoreditch neighbourhood.
Now that's what you call a purr-fect day out!
Recommended by Pixie Dust and Passports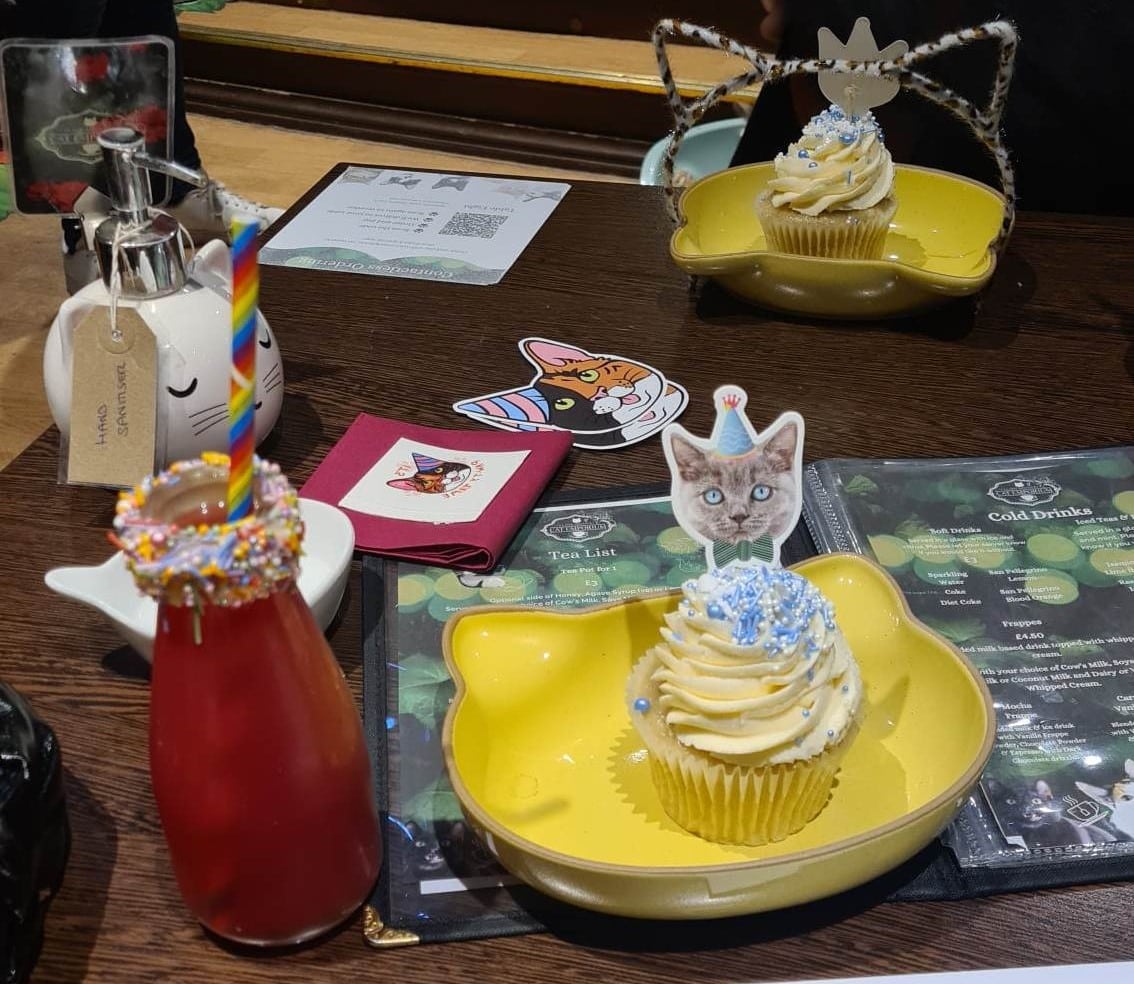 Related Posts
Pin it for later!