I've easily been to the Canadian Warplane Heritage Museum at least 10 times, yet I haven't written about it until now. Probably out of fear that I won't do it justice. This fascinating museum is just one of those places you have to come and experience for yourself to grasp the full effect!
With close to 50 military planes from the past and present, there's something for everyone to enjoy at the Canadian Warplane Heritage Museum! The warplanes on display were flown by Canadians and the Canadian Military from the beginning of World War II to the present.
Interactive displays and exhibits help you grasp the magnitude and sacrifice of military combat. I have family members who served in the RAF during WWII, and that is something I can never wrap my head around. When you look at these warplanes (and how little there is to their body!) it's hard to imagine what flying in these during missions was really like.
Located in Mount Hope directly beside John C. Munro Hamilton International Airport, the Canadian Warplane Heritage Museum is a fantastic activity to do rain or shine.
It's a great place to bring the kids, too! There are lots of fun interactive displays for them to keep them engaged – and who knows – maybe even spark an interest in becoming a pilot!
From museum events, a flight simulator, private functions, speaking engagements, to booking your own flight on a vintage aircraft, if you haven't already visited the Canadian Warplane Heritage Museum, you need to add it to your list of things to do in Hamilton.
Thanks to our friend Bill Rouw – Volunteer and Flight Engineer at the Canadian Warplane Heritage Museum – for a great behind-the-scenes tour and an inside look at some of these amazing warplanes!
This post contains affiliate links which means I earn compensation when you click on the links at absolutely no extra cost to you! Feel free to read my disclosure policy. Thank you for supporting my blog!
Plan your next vacation using these tools!

✈️ Book flights: SkyScanner
🏨 Book hotels: Booking.com
🚘Book car rentals: RentalCars.com
🎫Book tours: GetYourGuide
🍽️Local food experiences: EatWith
🌍Favourite travel item: Packing cubes
🧳Favourite travel bag: Osprey 40L Fairview
📱 ESims: Airalo
🩹 DIY Travel Medical Kit
💸 20 Cheap Travel Items Under $20
Planes at the Canadian Warplane Heritage Museum
The Canadian Warplane Heritage Museum has a collection of 48 military planes listed, including one of only two air-worthy Lancasters left in the world. What's even more special is that you can actually purchase a flight on the Avro Lancaster.
If you live in Hamilton or Niagara, you may have heard the rumble of the most famous Allied bomber of the Second World War.
Each of the planes on display has been lovingly and carefully restored by engineers.
Every plane has a story – and you can find detailed displays throughout the museum sharing historic events from Canadian history from flying experiences during wartime to what became of the planes after military combat.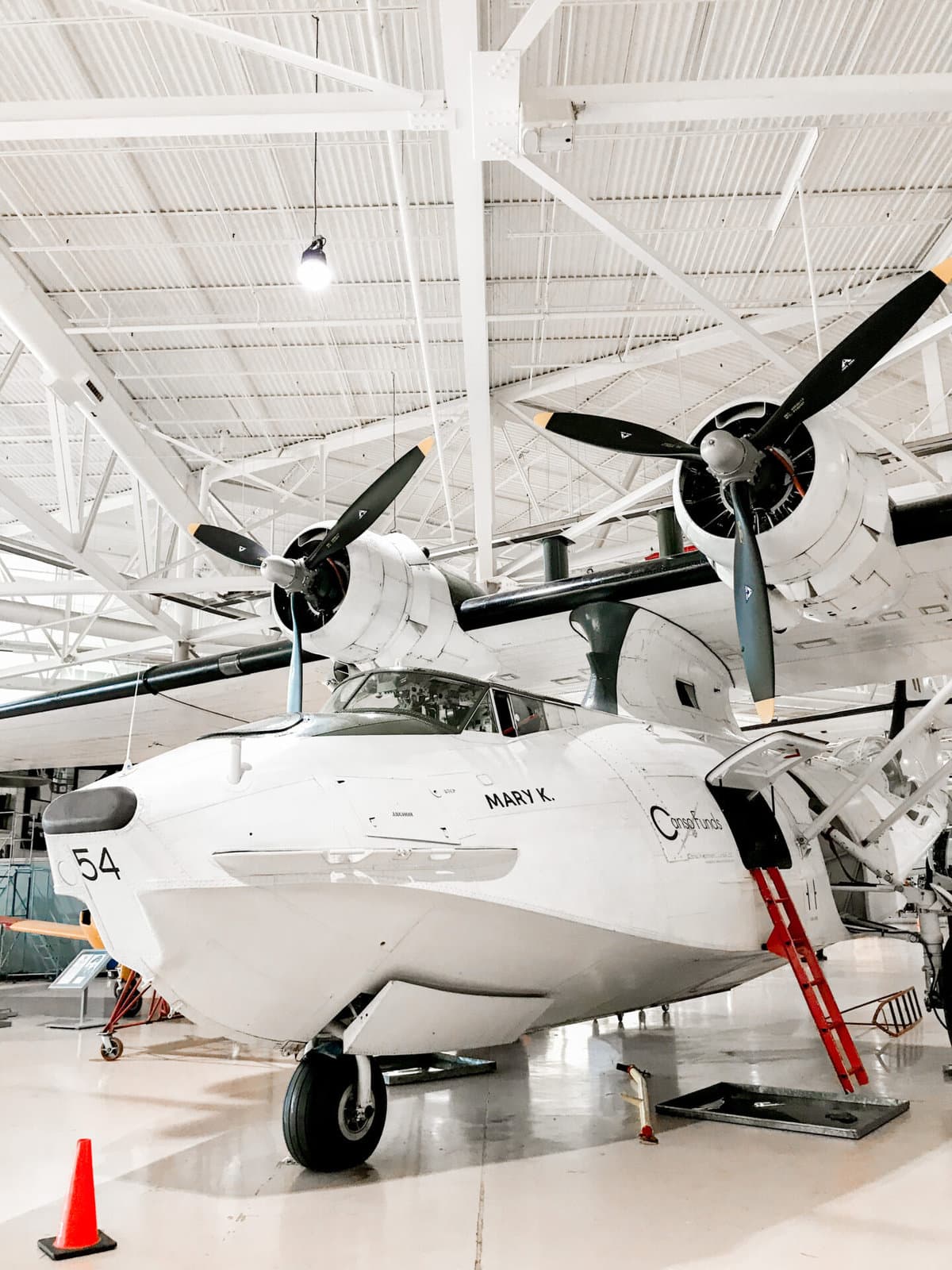 If you're visiting and have your heart set on seeing some warplanes in the sky, be sure to check the flight schedule. It's dependent upon the weather, but you can get a general idea of which plane is flying on what day, based on member-booked flights.
Each plane at the museum has a story, and when you visit you'll be able to learn all about planes such as:
Avro Lancaster
The Lancaster has to be the most famous Allied bomber of WW2. The first production Lancaster was flown in October 1941, after 10 months of tweaking the prototype.
This four-engine heavy bomber was the Royal Air Force's only heavy bomber capable of carrying a ginormous bomb load; the 12,000 lb Tallboy and 22,000 lb Grand Slam bombs.
Imagine the weight of those bombs. And when you visit the Warplane Museum, you'll be able to stand under the bomb bay doors and take a peek inside.
Thousands of Canadian airmen and ground crew served with the RCAF (Royal Canadian Air Force) and RAF Lancaster Squadrons in England. By the end of 1944, Canadian No. 6 Group of Bomber Command operated 13 squadrons of Lancasters.
Hard at work at home were thousands more Canadians – approximately 9,500, including ¼ women workforce – working at Victory Aircraft in Toronto (near present day Toronto Pearson Airport), producing 430 Lancaster Mk. Xs between 1943-45.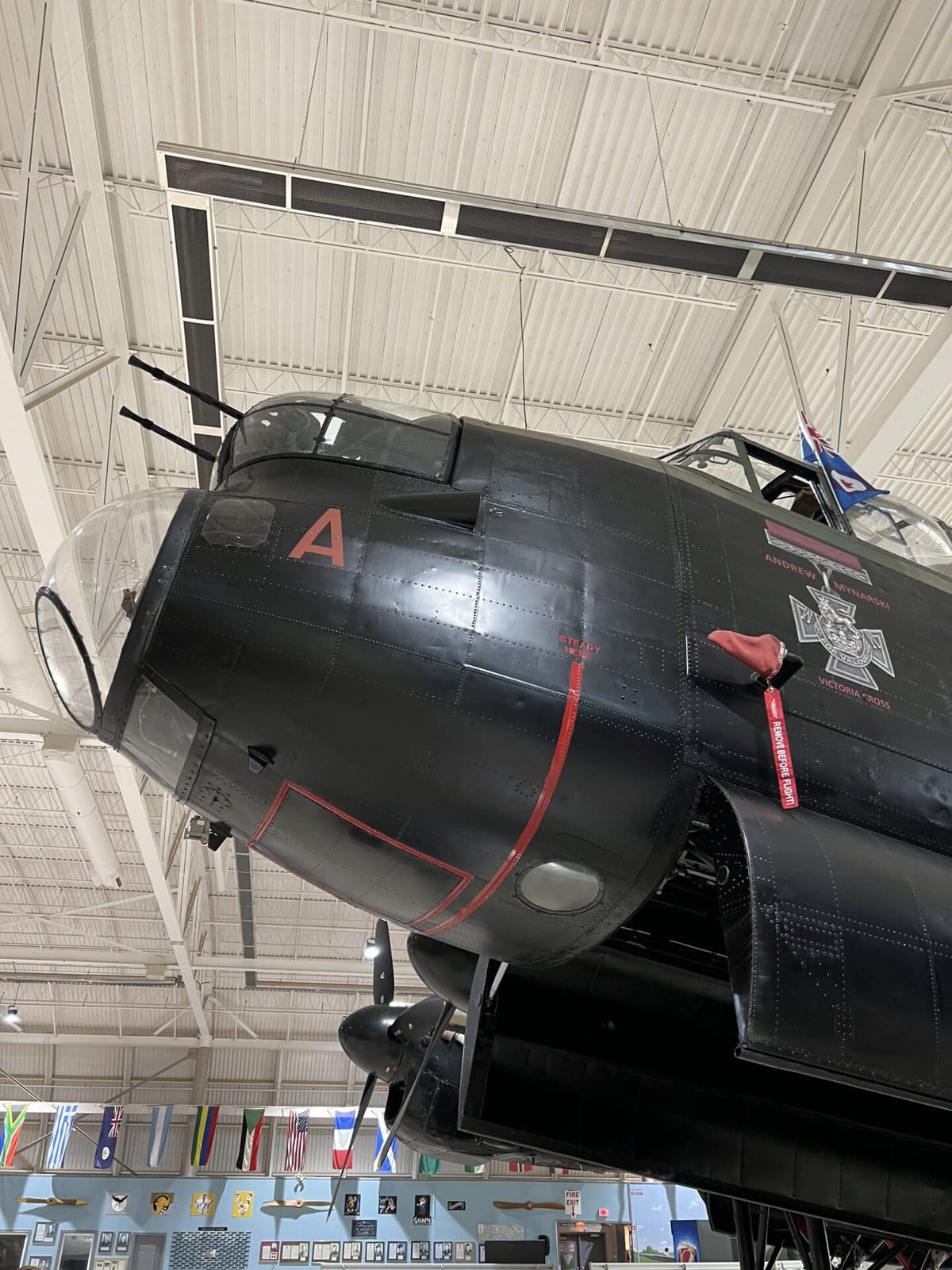 7,377 Lancasters were produced in Britain and Canada during WWII, yet remarkably, only 17 remain today. Of those 17, only two are in flying condition, and one of those is at the Canadian Warplane Heritage Museum!
My grandpa's brother Darrell was a RAF Lancaster Bomber and Wireless Operator during WWII. He was 24 at the end of the war. My grandpa was a Liberator Navigator during the war and was later assigned as an Education Officer for several months at the age of 20 while in India.
He met his brother Darrell by chance in Madras, India after Darrell had ended a tour of operations over France and Germany. They spent Christmas together and sent this photo home.
Douglas C-47 (Dakota)
The Dakota you see at the Canadian Warplane Heritage Museum dropped paratroopers into Normandy on D-Day. It later served as an air ambulance, and you can even see signatures along the walls inside from wounded soldiers as they were anchored along the cabin walls on a stretcher.
The development of the Douglas DC-3 started in 1935, with orders soon pouring in from the US and overseas airlines. The US Air Corps ordered a military version, which is the C-47 Dakota.
In addition to being able to drop paratroopers and supplies, it also evacuated the wounded, transported troops, and towed gliders. Approximately 10,000 C-47s were built for the US military.
The RAF received about 1,930 Dakotas during WWII, and they became their main wartime transport aircraft. Its most important actions included towing gliders for the airborne landings at Arnhem and the Rhine Crossing.
During October 1944, they were also used to drop supplies to British troops in India while fighting the Japanese in the jungle.
Nearly 13,000 DC-3s were built, and many are still in service today. The Dakota at the museum flew in a remarkable 224 operational trips, including two major airborne operations in Normandy and the Rhine Crossing. Almost 300 casualties and 450 prisoners of war were repatriated.
B-25J Mitchell Bomber
The iconic B-25 Mitchell is one of my favourite planes at the Canadian Warplane Heritage Museum. The first production flew in August 1940 and went into service a few months later.
The B-25s played an important role during WWII; the first long range bombing of Japan in April 1942. Sixteen B-25s took off from a deck off the USS Hornet (an aircraft carrier) 800 miles off the coast of Japan and bombed Tokyo and other surrounding cities.
I have flown on the Mitchell, and the experience is unlike anything else. I couldn't imagine doing missions on these; they're loud, not insulated, and you can really get a whiff of high octone gas even when you're inside.
That may not sound all that appealing to us nowadays as we fly on modern aircraft, but if you ever get the opportunity to book a flight on the B25 Mitchell, take it. You'll really get to grasp what it might've been like flying on these during the war.
The Mitchell found itself playing a part in all roles of the war, from flying with RAF Desert Air Force in North Africa , operations over Belgium, France and Holland, and action over North West Europe. Roles included tactical bombing, anti-ship strikes, tank busting, navigation training, photo reconnaissance, and transportation.
800 B-25Js (Mitchell III) were modified to include a solid nose containing eight machine guns. This, combined with the other ten guns mounted on the warplane, a total of eighteen guns made the B-25 the most lethal aircraft of WWII.
While the Mitchell at the Warplane Museum – also known as "Hot Gen" – never saw military service (it was assembled in early 1945), it displays the markings of a B-25J of RAF No. 98 Squadron which fought over North West Europe during 1944-1945. It is dedicated to Canadians who flew with that squadron.
Wondering why it's called Hot Gen?
The first reason is pretty obvious. The painted nose art on the Mitchell is characteristic of the pin-up art or comic strip characters painted on the noses of WWII warplanes and bombers.
But did you know there's another reason? Hot Gen also refers to information – general information was also known as 'the Gen'. If you got the information within 20 minutes of your mission, you had the Hot Gen. This information ranged from mission destination to location of anti-artillery aircraft. Everybody was looking the Hot Gen.
👉 Book a flight on a vintage warplane!
Canadian Warplane Heritage Museum Flight Simulator
Ever wondered what it's like to fly in a fighter aircraft? The Fly Zone at the Canadian Warplane Heritage Museum allows you to control the action of fighter aircraft – from a WW2 P-51 Mustang to a modern-day F-18 Hornet.
Try a jet fighter flight simulator complete with working heads up display, replica flight controls and a giant view of the world outside your cockpit. A VR headset, matched with the motion of the gaming chair and realistic graphics is as close as you can get to the real thing.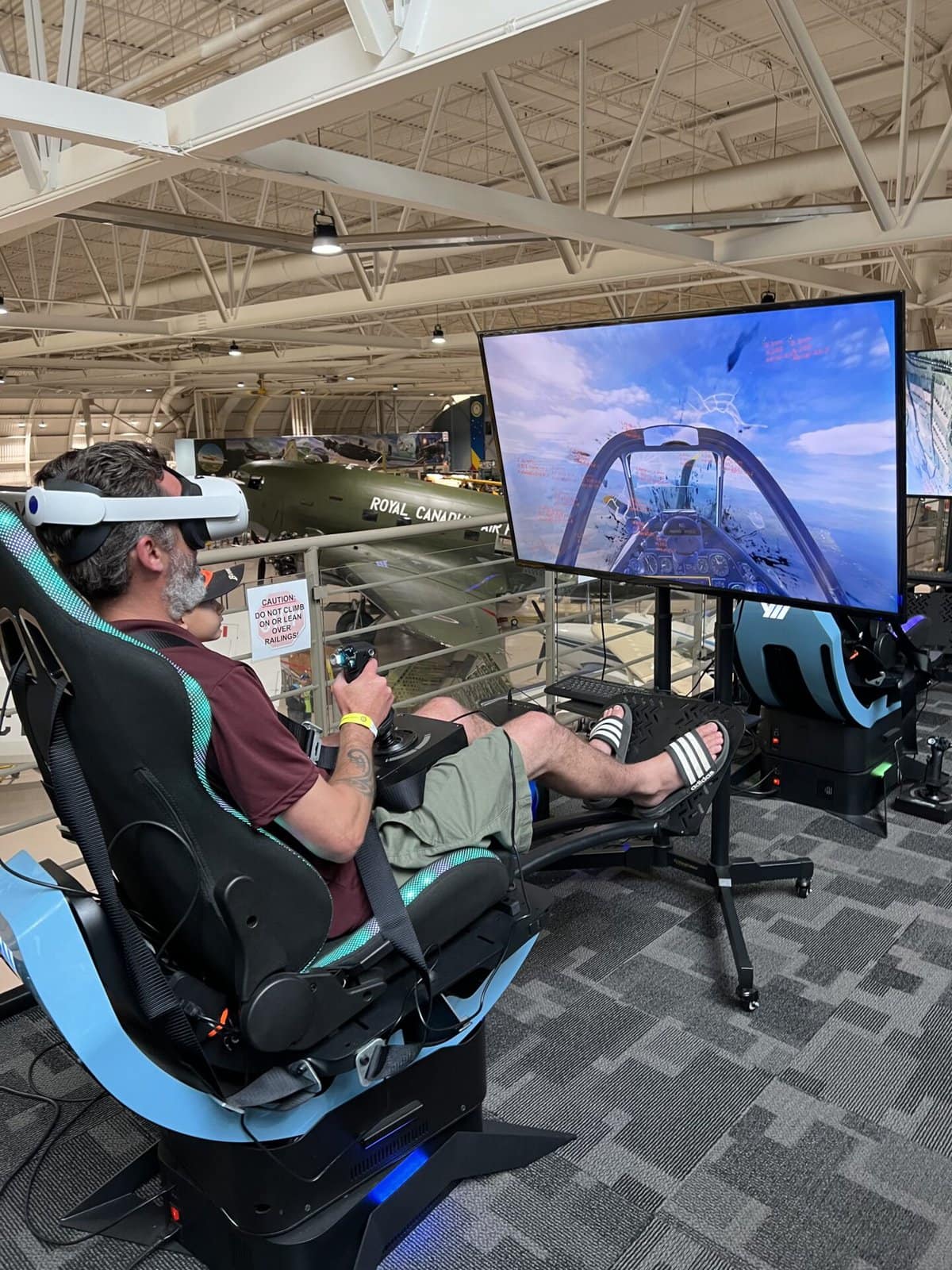 Engage an enemy on-course and complete a bombing run!
Children can also participate in the Fly Zone, although they will be headset free, since the headsets will be too large for them to wear.
Passes can be purchased online for 30 minutes ($29.99) or 60 minutes ($49.99). Plus, you get free admission to the museum when you buy online! Kind of a no brainer when adult admission is $16!
Events at the Canadian Warplane Heritage Museum
Did you know there are numerous events at the museum year-round? There are rotating special exhibits that change throughout the year that allow you to see something new if you visit a few times a year.
Rotating Exhibits at the Warplane Museum
I've been to the Anne Frank exhibit, which featured stories and artifacts never before displayed in Canada. There was even a Anne Frank House virtual reality experience which allowed you to discover the secret annex and the hiding place of Anne and her family.
More recently, the "Even a Dog Enlists – Animals in Wartime Propaganda" features posters from the Wildman Collection representing symbolic examples of animals' roles during the First and Second World Wars.
Animals were represented to generate enlistment and national pride, not only in Canada, but throughout the Allied countries.
Private events and weddings at the Canadian Warplane Heritage Museum
If you're looking for a unique wedding venue in Hamilton, I highly recommend checking out the Canadian Warplane Heritage Museum.
This one-of-a-kind venue is not only incredibly affordable compared to other venues, but what's more unforgettable than celebrating your marriage with vintage aircraft as your backdrop?! There are different wedding packages to choose from, and you can also book corporate and private events, too!
I had the great fortune of attending a private birthday party at the Warplane Museum last year. It was absolutely breathtaking. The wing of the Canso hung over the event space, the food was fantastic, and it's something people still talk about to this day!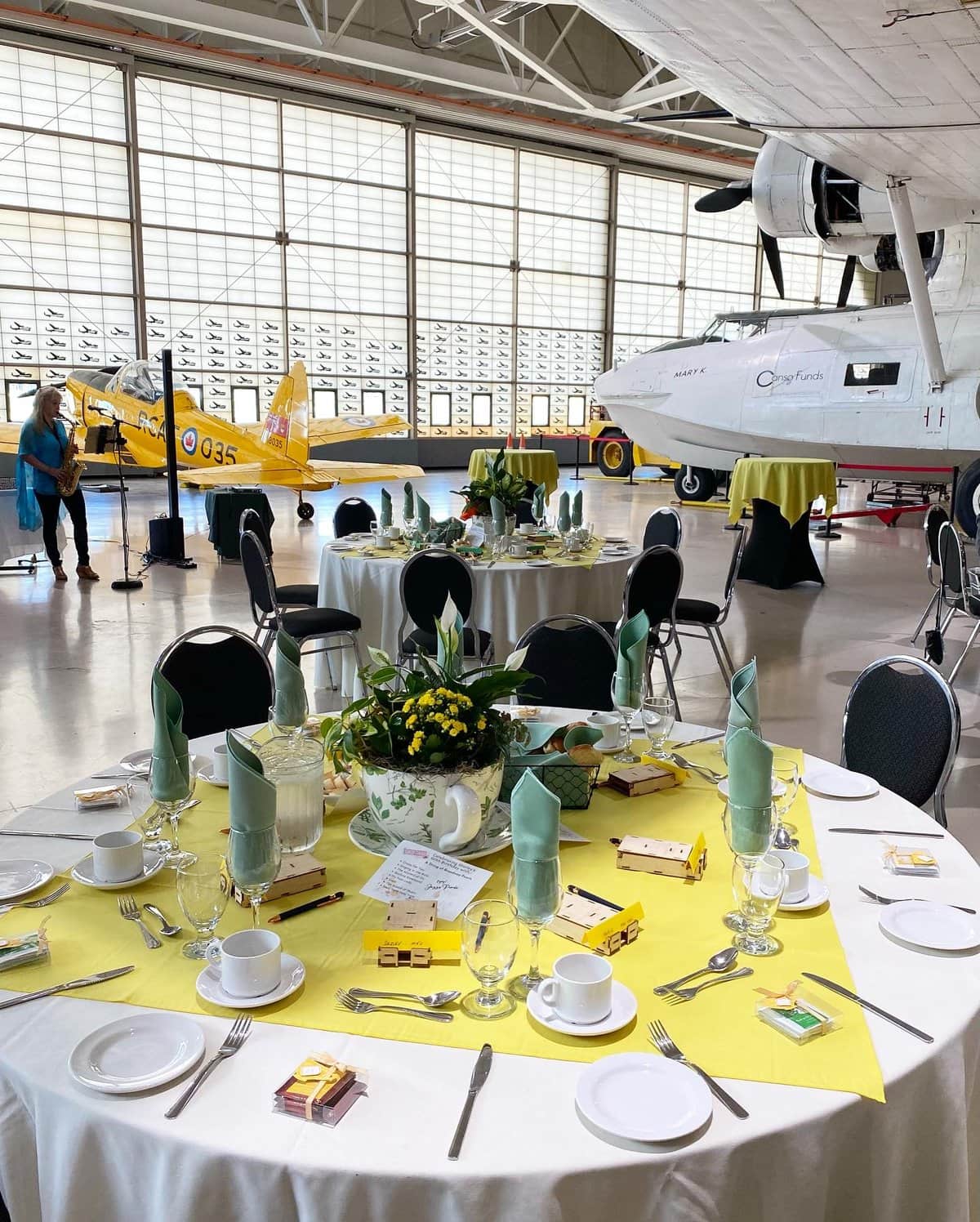 Vintage Wheels and Wings
My all-time favourite event at the museum is the Vintage Wheels & Wings Car Show. This very popular event is held annually during the summer and hosts upwards of 250+ vintage cars.
If you have a car that's at least 20+ years old, you can pre-register (and make sure you do, since this event has been at capacity for numerous years!), display your vehicle, and tour the museum and hundreds of other cars.
It's one of the best events in Southern Ontario – and I highly recommend visiting. If you're bringing a vehicle, you can donate $5 to have your vehicle's photo taken with vintage aircraft.
Swing Out to Victory Dinner & Dance
Taking place annual every mid-November is the Swing Out to Victory Dinner & Dance! This fun event at the Canadian Warplane Heritage Museum includes a delicious buffet dinner and 1940s tunes by Toronto All-Star Big Band. Dance among vintage aircraft during this memorable evening.
This exceptional night encourages its guests to dress in 1940s vintage fashion and Allied Forces uniforms – although it's not required, it's definitely encouraged! It adds to the ambience and transports you back to the mid 1940s.
The Swing Out to Victory event sells out every November, so mark it on your calendars and book your space early! Even if the Dinner and Dance option is sold out, you can also purchase dance-only tickets.
Remembrance Day Ceremony at the Canadian Warplane Heritage Museum
One of the events the Canadian Warplane Heritage Museum is known for is their Remembrance Day Ceremony on November 11. I remember attending a few years ago and it was incredibly moving. Hundreds of people attend this indoor event, where those who served our country are honoured and recognized.
Parking and admission are free, but donations to the Warplane Museum helps continue their work. This free event offers limited seating, so be sure to arrive EARLY.
Weather permitting, the Lancaster performs a fly by for the Remembrance Day service at 11:02.
If you can't attend the event, CHCH streams it online so you can catch this moving ceremony.
How to Support the Canadian Warplane Heritage Museum
There are a number of ways to help support Canada's largest flying museum. The simplest of course, is to visit the museum! Admissions help the Canadian Warplane Heritage Museum acquire, document, preserve, and maintain their collection of aircraft as well as numerous artifacts, books, and periodicals.
Annual memberships are very affordable (at $125/adult and comes with a spouse card), so when you consider adult admission is $16, a membership pays for itself in four visits. Plus, with numerous events throughout the year your membership grants you access to, it's well worth it!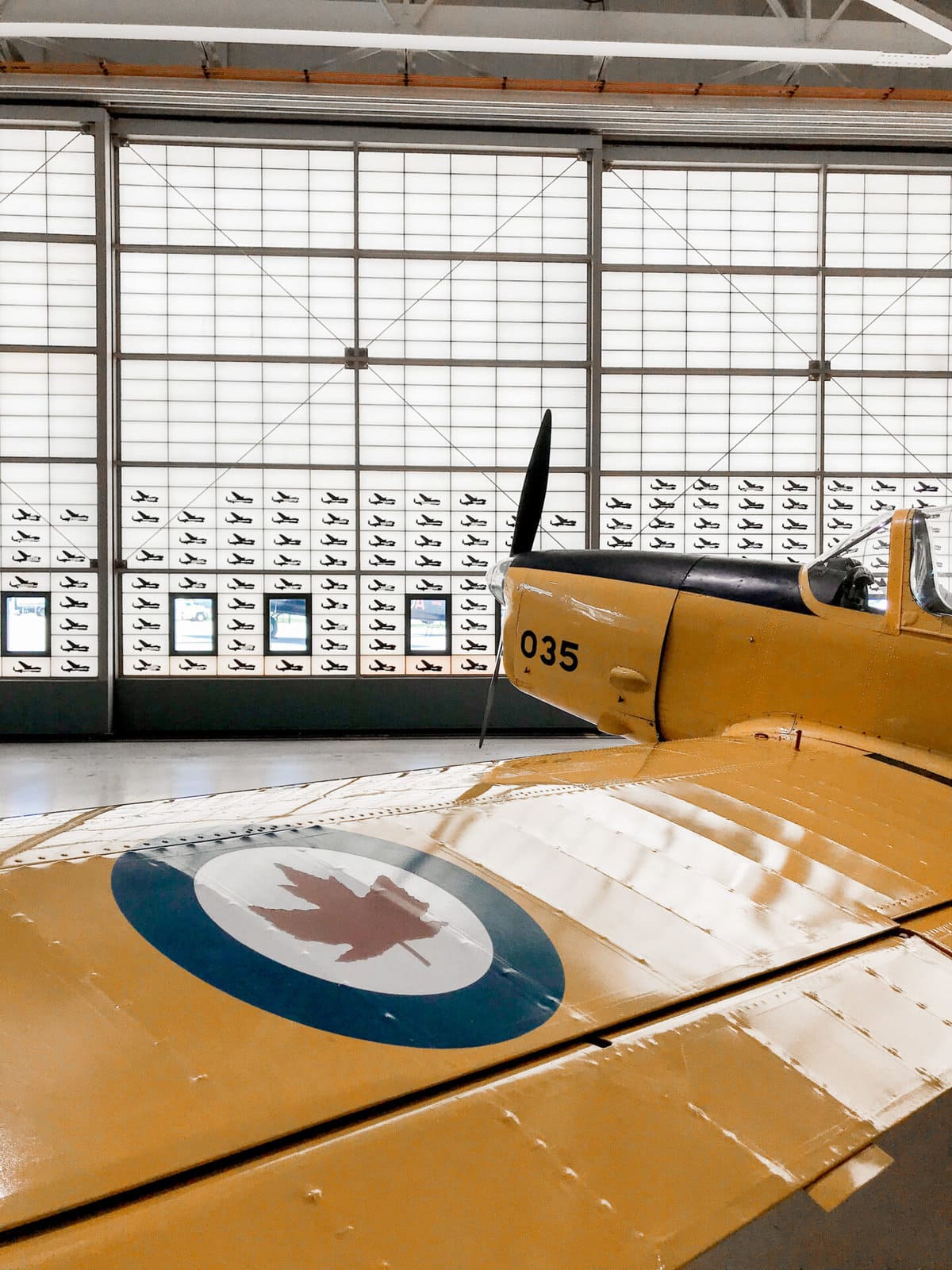 Want to support a great cause and have a thrilling experience? Book a flight in one of these spectacular warplanes.
Purchase flight seats from $200 for an unforgettable experience. You do have to be a member of the Canadian Warplane Heritage Museum in order to purchase a flight in a vintage aircraft.
Be sure to check out their gift shop – it's an entire destination in itself! It's packed with all-things-military, from clothing, books, calendars, plane models, and lots of fun things for kids, too.
You can always register to be a volunteer, too! There are a variety of volunteer opportunities available. Demand may exceed positions available, but your application will be held for 6 months.
Hotels near the Canadian Warplane Heritage Museum
If you're planning to spend a day at the Warplane Museum, or are attending an event and don't want to make the journey home, there are a few options for hotels nearby.
Hamilton has a huge abundance of amazing restaurants, historic sites like Dundurn Castle, antique shops, beautiful hiking trails, and so much more! If you are visiting the Hamilton area, it's worthwhile checking out.
If you're visiting with kids and want a cute hands-on experience to round out the day, visit Triple C Farm, just a short 7 minute drive away to interact one-on-one with rescued farm animals.
Related Posts
Pin it for later!