If you're looking for a fun and hands-on place to take your kids near Hamilton, and support a good cause while you're doing it, pack up and head over to Triple C Farm in Ancaster!
This livestock sanctuary and petting zoo near Hamilton, Ontario allows you to get up close with goats, chickens, rabbits, pigs, alpacas, and horses without a barrier. You go right in with the animals and make your way through the paddocks, stopping to pet and visit whichever animal you like!
Triple C Farm was established in 2015 to provide a friendly place for families to spend time together and enjoy the company of animals. As a family-run farm run by Tricia, Pascal, and their three autistic sons Geoffrey, Michael, and Richard, the farm was purchased to teach the boys skills and responsibilities needed to become productive adults.
Originally a horse boarding facility, the three sons wanted to rescue animals, so they searched for animals to rehome them from neglectful and abusive situations, and such the animal sanctuary became the main focus.
It has also become a safe place for adults with disabilities to join the farm and learn useful skills, and Triple C Farm has now become a volunteer program for adults with developmental disabilities.
What animals you'll see at Triple C Farm
As soon as you pull into Triple C Farm, you'll be flanked by paddocks full of horses!
Once arriving at the farm, park on the grassy area up on the left of the driveway and walk to the main brick house area. You'll likely see some chickens foraging in the dirt, and someone will be there to greet you, check you in, and sanitize your hands before entering the paddocks.
You'll first be brought into a large paddock with all kinds of goats and sheep before being brought into a smaller area with rabbits. You can spend as long as you like here, and the hour booking time is more than enough to make your way through the various areas on the farm.
Once you're done visiting the rabbits, get up close and personal with the charismatic goats and sheep. You'll probably be called in all directions by them! I found they really loved their head scratches and taking selfies.
You'll also see a pair of zebu – a small breed of cattle with one hump, originating from South Asia!
Be entertained by the alpacas and llamas – I didn't find them wanting much interaction with humans, but they were fun to watch!
Along the way you'll also see some pigs, ponies, and rams, all sharing the same space.
Some animals are kept separately; many of these animals are rescues and have not been socialized, so they are kept in their own cozy paddock so they feel safe.
Once exiting the paddock, grab a handful of feed for the ducks, chickens and geese you'll see wandering around the farm.
It's proven that spending time with animals is good for your health and well-being, and you can feel even better doing that while supporting a great cause!
How to plan a visit to Triple C Farm
Triple C Farm is by appointment only. Walk-ins are not accepted!
Book your time slot online for $10 + hst (for up to groups of 5). This is done to ensure the animals are not overwhelmed by large groups of people and to also give you and your family ample space and time to interact with the animals.
Entrance is by donation for a minimum of $5 per person; there are a couple contribution boxes for cash around the farm but they also accept E-transfer to [email protected].
Triple C Farm is open 6 days a week from 9:00 am – 4:00 pm. The farm is closed on Wednesdays.
Address: 500 Carluke Road West, Ancaster, L9G 3L1
Where does my money go?
It can be mind-boggling how much it costs every month to look after an animal, let alone 150 animals at Triple C Farm!
The family works tirelessly to care for these animals at their forever home, and that includes feeding them, sheltering them, vet services, and specialized equipment.
A $5 donation per person is incredibly affordable when you consider a shelter to house some rehomed sheep is $6000, or a sling to keep Buddy (pictured below) upright while getting his feet trimmed is $2000.
All donations to Triple C Farm are greatly appreciated and provides not only a great experience for us as visitors, but also a safe and loving home for the animals!
I am not normally a fan of petting zoos, but this animal sanctuary cares for its animals and they're well looked after – you can tell by looking at them! I felt good leaving this place knowing they provide forever homes for these animals while also providing educational opportunities for families and unique interaction experiences.
And p.s. – Triple C Farm isn't just for kids! It's a great place to visit as a couple – who doesn't want to bond over adorable animals?
Classes and Events at Triple C Farm
If goat yoga has ever been on your bucket list, don't miss out at Triple C Farm! These classes sell out quickly, but are you surprised? Stretch and relax with adorable baby goats!
You can also participate in walks with Alpacas, movies with animals, host your child's birthday party at the farm, take hand-led horse rides, and go for horse and carriage rides! The options are endless to help you create a memorable day for your family.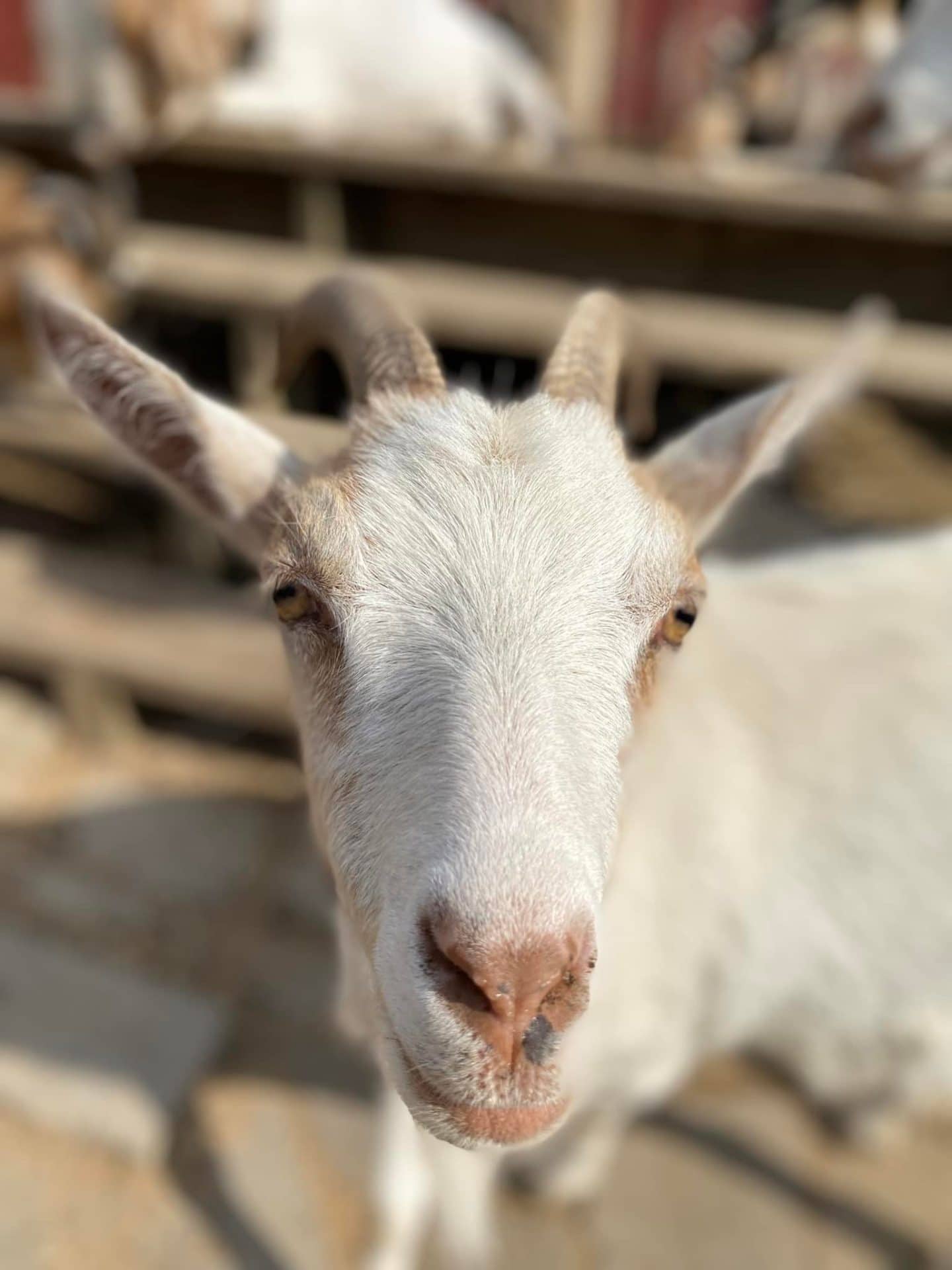 Looking for more ways to help Triple C Farm?
If you're looking for more ways to help, you can also Shop & Give directly off their website for some of their most-needed items!
Have some extra time and want to make a difference? Consider volunteering at Triple C Farm! This includes administrative assistance, landscaping, barn maintenance, construction, and more!
You can also sponsor an animal! It was interesting reading the stories about some of these farm animals online prior to arriving, and some have been removed from neglectful situations. Many of them are available for adoption online.
Related Posts
Pin it for later!