The presence of fresh strawberries at farm stands means summer is here! If you've never gone strawberry picking, it's a great way to take advantage of the sunny warm weather and the Niagara Region's abundance of fresh fruit offerings!
We're fortunate to have numerous pick your own strawberry patches available in Niagara! It's a great outdoor activity to do with your family and begin a summertime tradition, so if you're wondering where to go, here's a list of PYO strawberry fields in the region!
Why buy from a grocery store when you can harvest your own?
Pricing was accurate at time of publication. Please reach out to the farms prior to visiting if you have questions about pricing!
When is strawberry season in Ontario?
Strawberries are typically ready mid-June through to early July. Their season is short – sometimes only three weeks – so be sure to take advantage of this sweet opportunity to pick your own!
Strawberry picking tips
While picking strawberries is fun for people of all ages, it can definitely take a toll on your back, so be prepared for a lot of crouching. It's a delicate process for picking berries – you want to make sure you gingerly remove the berry from the plant without damaging either. Ripe berries will come off easily, and the best strawberries are ones that are bright or deep red in colour.
If you can, try to visit during the week instead of the weekend – less crowds and more chances of picking the best strawberries!

There is also no shade in the strawberry patches, so be sure to bring a hat and apply sunscreen!
Pick your own strawberries in Lincoln
Hildreth Farms
A field full of families picking strawberries is a common site along Greenlane in Beamsville! Locals visit Hildreth's for their PYO fruit as well as their incredible farm market full of fresh produce, flowers, and locally sourced baked good!
Pricing is $2.50 per pound, which equates to $3.00-$3.50 per quart. Baskets are available, but you can also bring your own!
Address: 5529 Greenlane, Beamsville
Phone: 905-563-4423
Tigchelaar Berry Farms
Tigchelaar Berry Farms is a great place to come strawberry picking! There are a lot of strawberry bushes here and ample parking!
You can choose from a variety of sizes of containers to fill, which is great if you have small kids. Baskets available for a couple dollars, which you can keep!
If you choose to bring your own (approved) container to Tigchelaar Berry Farms, strawberry prices range from $3.50 for a 1 litre container to $24 for 7 litres.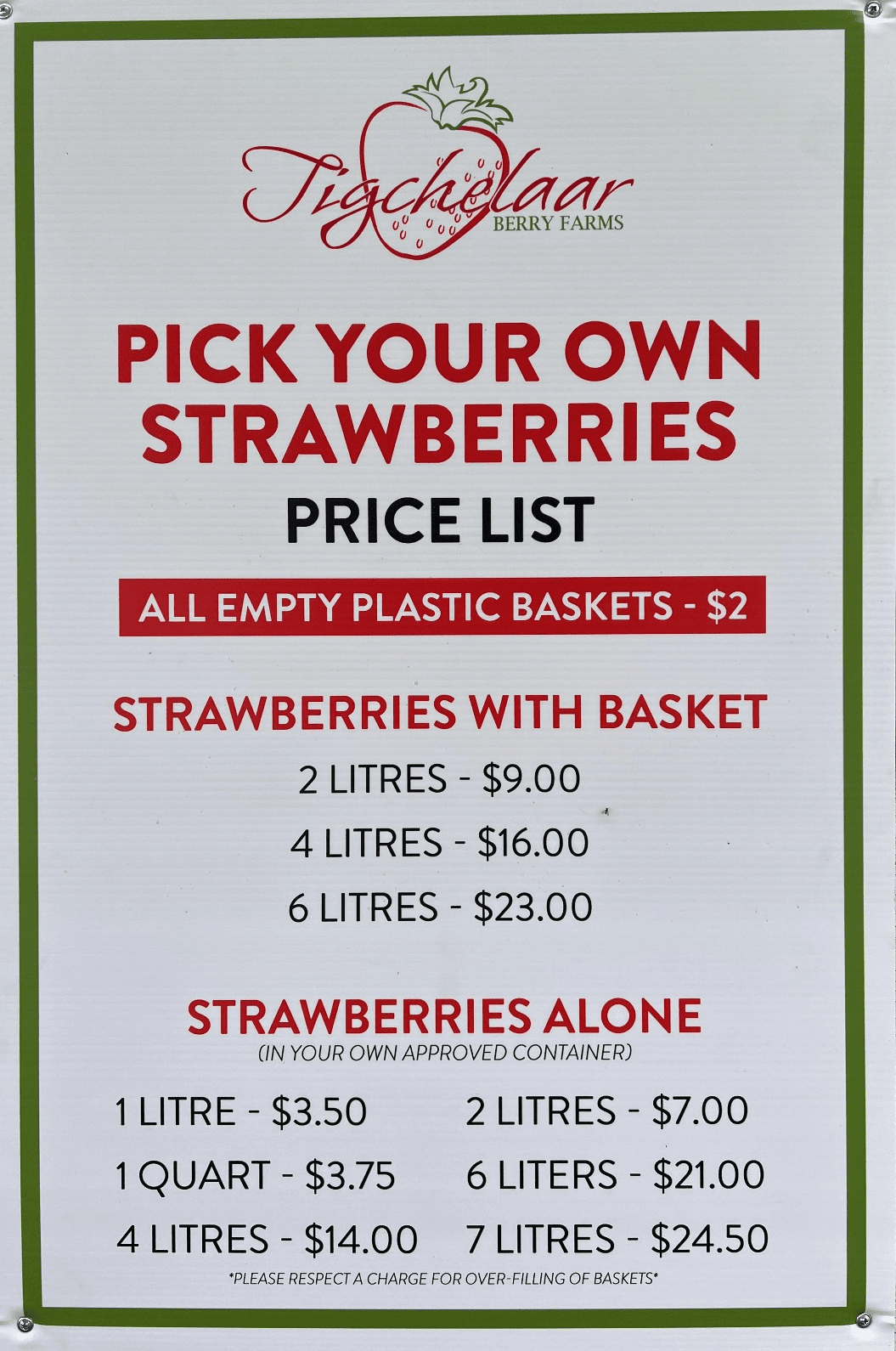 Tigchelaar Berry Farms recommends calling ahead or checking their Facebook page for updates on picking conditions prior to coming to the farm.
Address: 4159 Jordan Rd, Jordan Station
Phone: 905-658-2265
PYO strawberries near Niagara Falls
Fenwick Berry Farms, Fenwick
This first generation farm operates on 150 acres of land, producing fresh berries and vegetables! Fenwick Berry Farms also operate with the sustainable practice known as Integrated Pest Management – meaning they use biological controls, like host plants, instead of pesticides. These host plants attract the "good bugs" which keep the "bad ones" at bay!
Address: 1760 Balfour St., Fenwick
Phone: 905-892-8231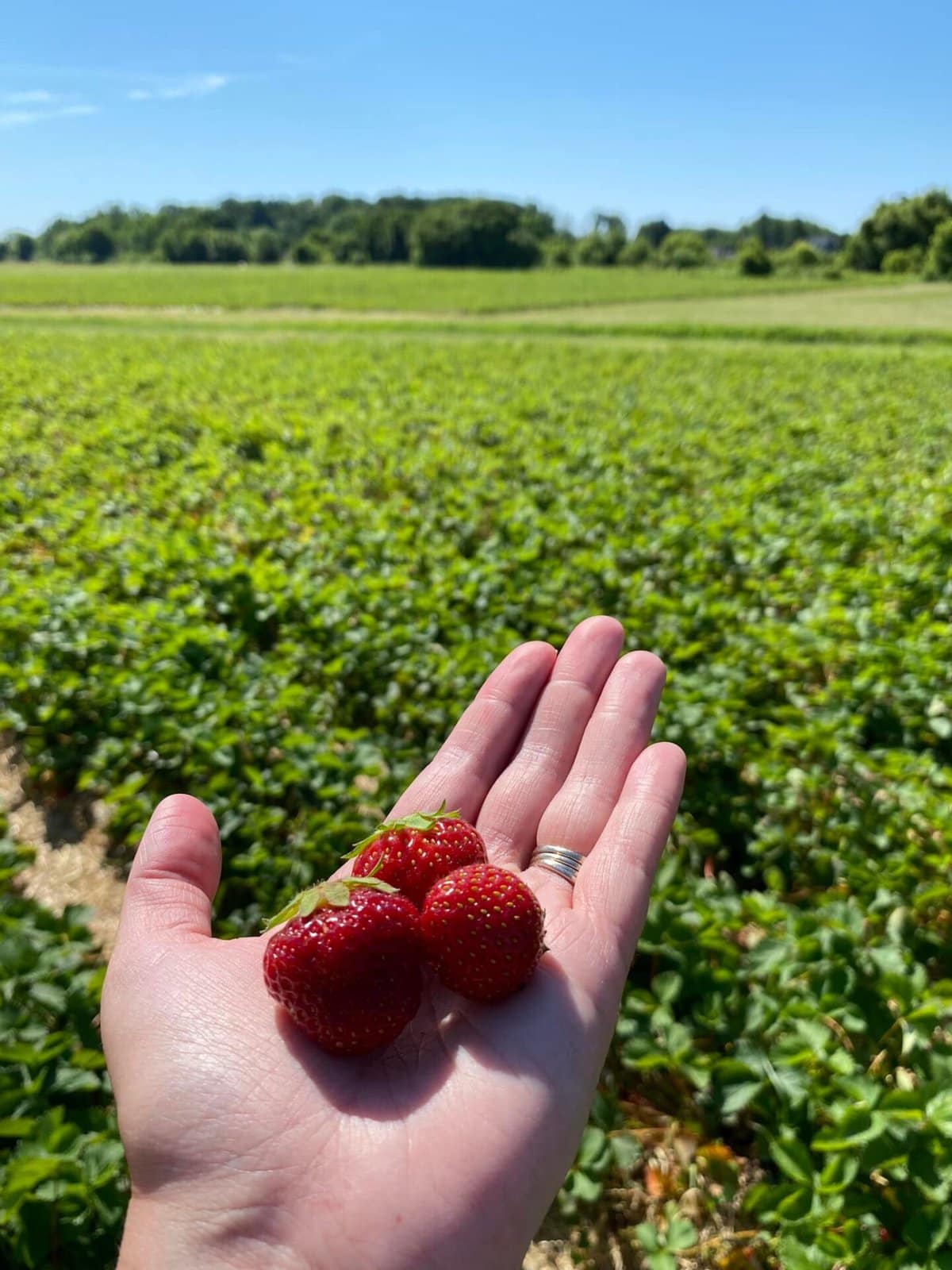 Devries Fruit Farm, Fenwick
A popular choice for berry picking right in the heart of Niagara, Devries Fruit Farm has been operating since 1984!
In addition to offering PYO strawberries, you can also purchase pre-picked fresh fruit and veggies including blueberries, peaches, plums, pears, cherries, squash, corn and much more!
Address: 825 Canboro Rd, Fenwick
Phone: 905-892-8724
Strawberry patches near Niagara
Blueberry Knoll, Dunnville
Blueberry Knoll is probably one of my favourite farms around here. Their strawberries are incredible, and they also offer raspberry and blueberry picking, too!
There's lots of parking and ample room for everyone, making this a great picking location.
Be sure to visit their market for baked goods and fresh produce, including ready-picked fruit! And ps. You have to buy their fruit pies (especially the four-berry!) – they're incredible!
Address: 1091 Hutchinson Rd, Lowbanks
Phone: 905-774-7732
Richardsons Farm, Dunnville
Richardsons Farm claims that strawberry picking is good for your health, and they aren't wrong! There are so many benefits to being outdoors in the sunshine, picking fresh fruit packed with nutrients!
Be sure to check their guidelines prior to visiting.
Pricing ranges from $7 for a 1.5L basket to $16 for 4L.
Address: 131 River Rd., Dunnville
Phone: 905-774-7507
Related Posts
Pin it for later!