Visiting the Harry Potter Studio in London has long been on my bucket list. As an avid Harry Potter fan, I made it a priority on our recent trip to the UK to visit the Warner Bros. Studio since we didn't know when we'd get another chance. I'm so glad we did.
If you're a Harry Potter fan visiting London, you will definitely want to make time for the Harry Potter Studio Tour. You'll be able to tour through the Warner Bros. Studio where most of the filming took place, which is an incredible experience to imagine what went on during the ten years of filming.
Get up close and personal with iconic sets from 4 Privet Drive, the Forbidden Forest, the Great Hall, Gringotts Bank, and Diagon Alley.
Even if you're not a Harry Potter fan, and are visiting with your kids, the tour of Warner Bros. Studio is well worth doing.
Plus, in addition to visiting the film sets, you can indulge in tasty treats like Butterbeer and Butterbeer ice cream! Let's not forget about the incredible gift shop which has more Harry Potter merchandise than you can imagine!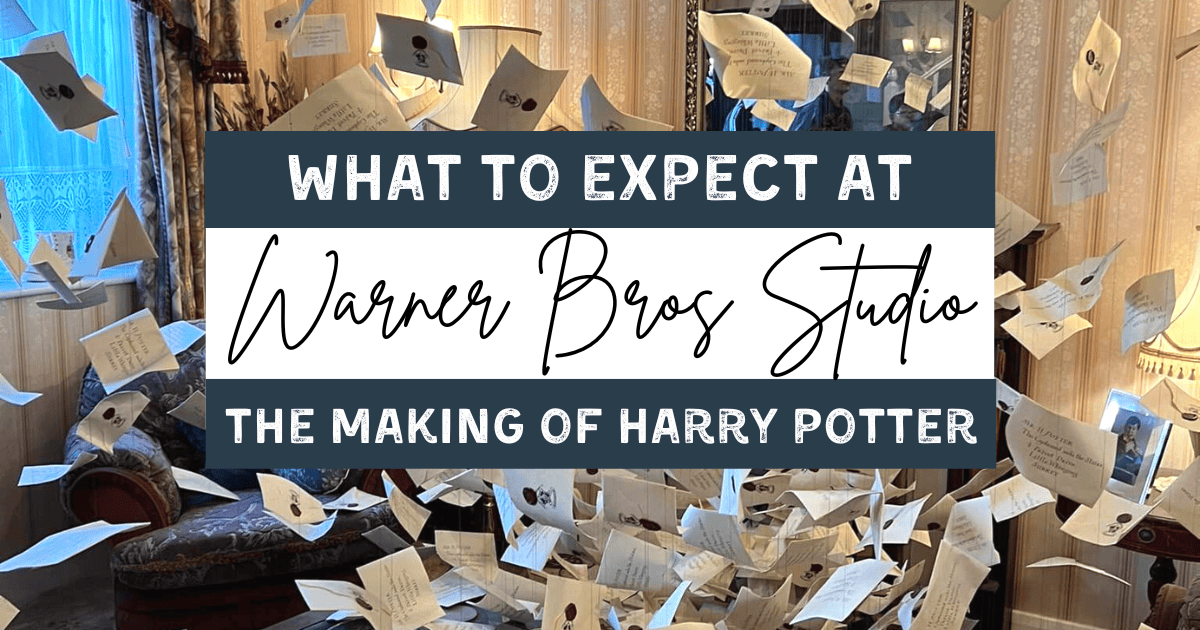 Whether you're a die-hard Harry Potter fan or a parent of a witch or wizard, the Harry Potter Studio Tour is enjoyable for all. You're able to see the entire sets, props, and costumes from the actors. You are also given numerous chances for some fun photo and video opportunities to either take yourself or purchase.
After watching all 8 Harry Potter movies (again!) prior to our visit back to London, I felt well-equipped to tour the studio and know exactly what I was seeing. For parents visiting with Harry Potter fans, it is an incredible experience even to see behind the scenes and to tour the same walls the actors spent 10 years of their lives.
This post contains affiliate links which means I earn compensation when you click on the links at absolutely no extra cost to you! Feel free to read my disclosure policy. Thank you for supporting my blog!
Plan your next vacation using these tools!

✈️ Book flights: SkyScanner
🏨 Book hotels: Booking.com
🚘Book car rentals: RentalCars.com
🎫Book tours: GetYourGuide
🍽️Local food experiences: EatWith
🌍Favourite travel item: Packing cubes
🧳Favourite travel bag: Osprey 40L Fairview
📱 ESims: Airalo
🩹 DIY Travel Medical Kit
💸 20 Cheap Travel Items Under $20
What to expect at Warner Bros. Studio Tour London – The Making of Harry Potter
Get ready to go behind the scenes for hours of fun and exploration of the beloved Harry Potter films at the Warner Bros. Studio Tour in London.
Once you walk through the doors of Warner Brothers Studios, you'll be guided into a holding room. What I loved about the Harry Potter Studio Tour is that they only let a certain number of people through at one time, so it's never overcrowded.
This meant that while there was a large group of people first entering the tour, it's self-guided and people went every direction so you never have to fight to see or read anything.
You are first sent into a room to watch various fans tell their stories on why they love Harry Potter so much, and you'll even see appearances on the screen from actors during this time.
The next room is movie-theatre style, so you'll be able to sit and rest your feet for a few minutes as Harry, Ron and Hermoine come on screen to tell their story. I won't ruin the surprise for what's next, but it certainly took my breath away.
The magic is still real here at Warner Brothers Studio and you certainly will not be disappointed during the Harry Potter tour.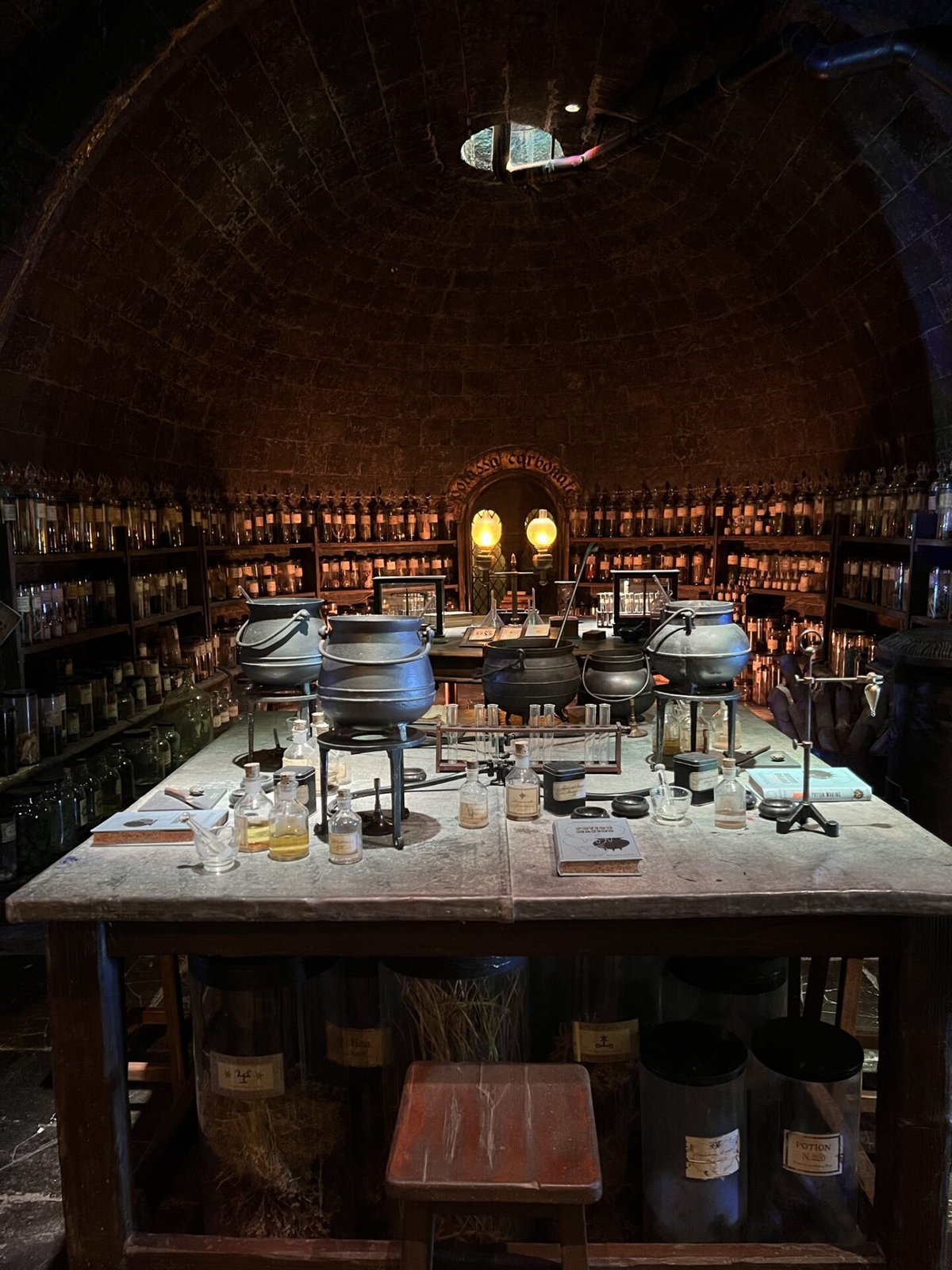 Once you are free to explore on your own, have fun! There are loads of displays, interesting facts, incredible photo opportunities, and neat things to see throughout.
My favourite parts were actually seeing 4 Privet Drive, Hogwarts Express, Platform 9 ¾, the Knight Bus, the Great Hall, and Gringotts Bank. They truly are magical in every sense.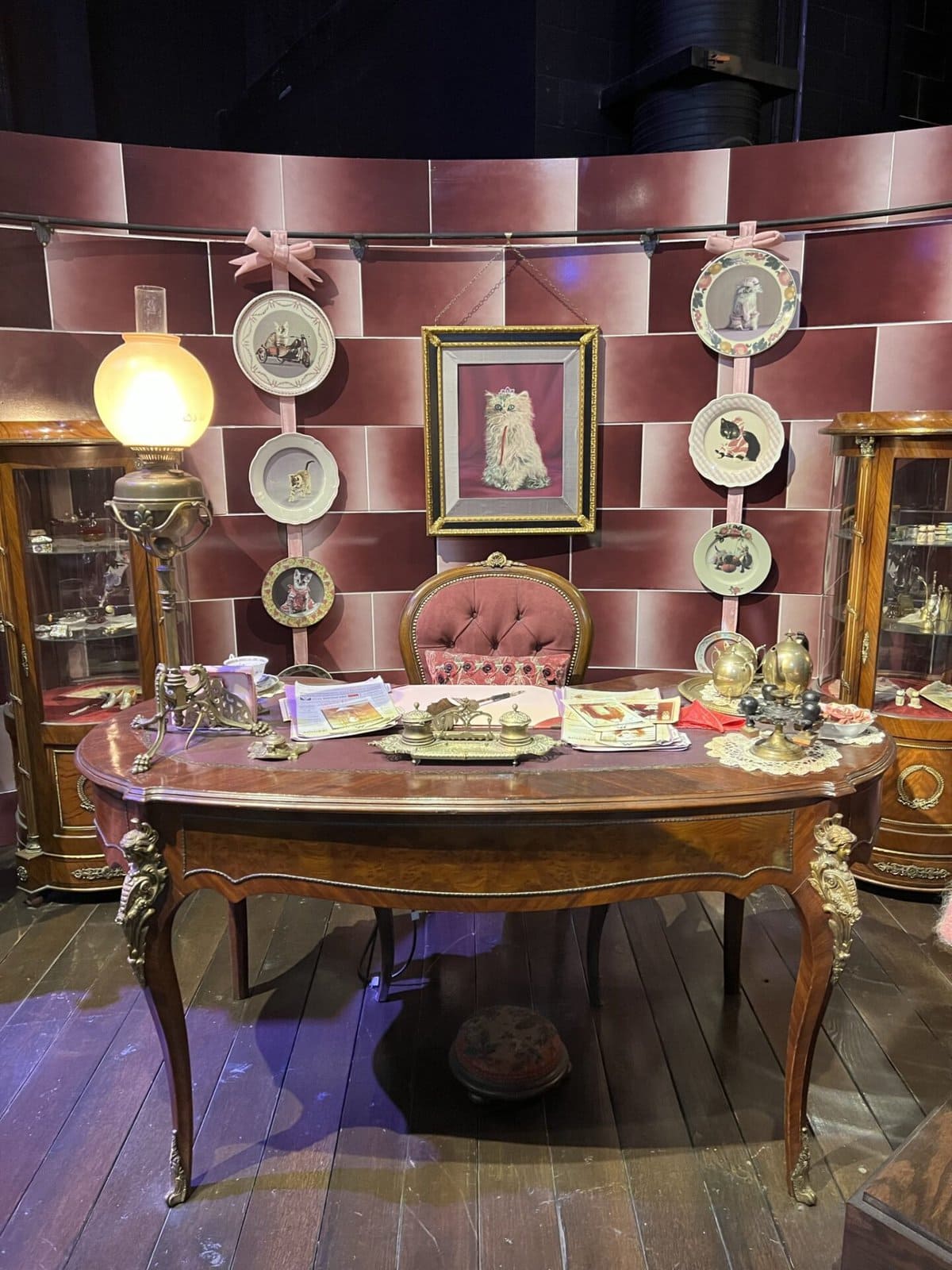 There are numerous interactive displays as you make your way through all the sets and view the props. It's fascinating to see the costumes, learn about the animal actors, examine the finest details, and learn behind-the-scenes tricks on how they made the magic happen!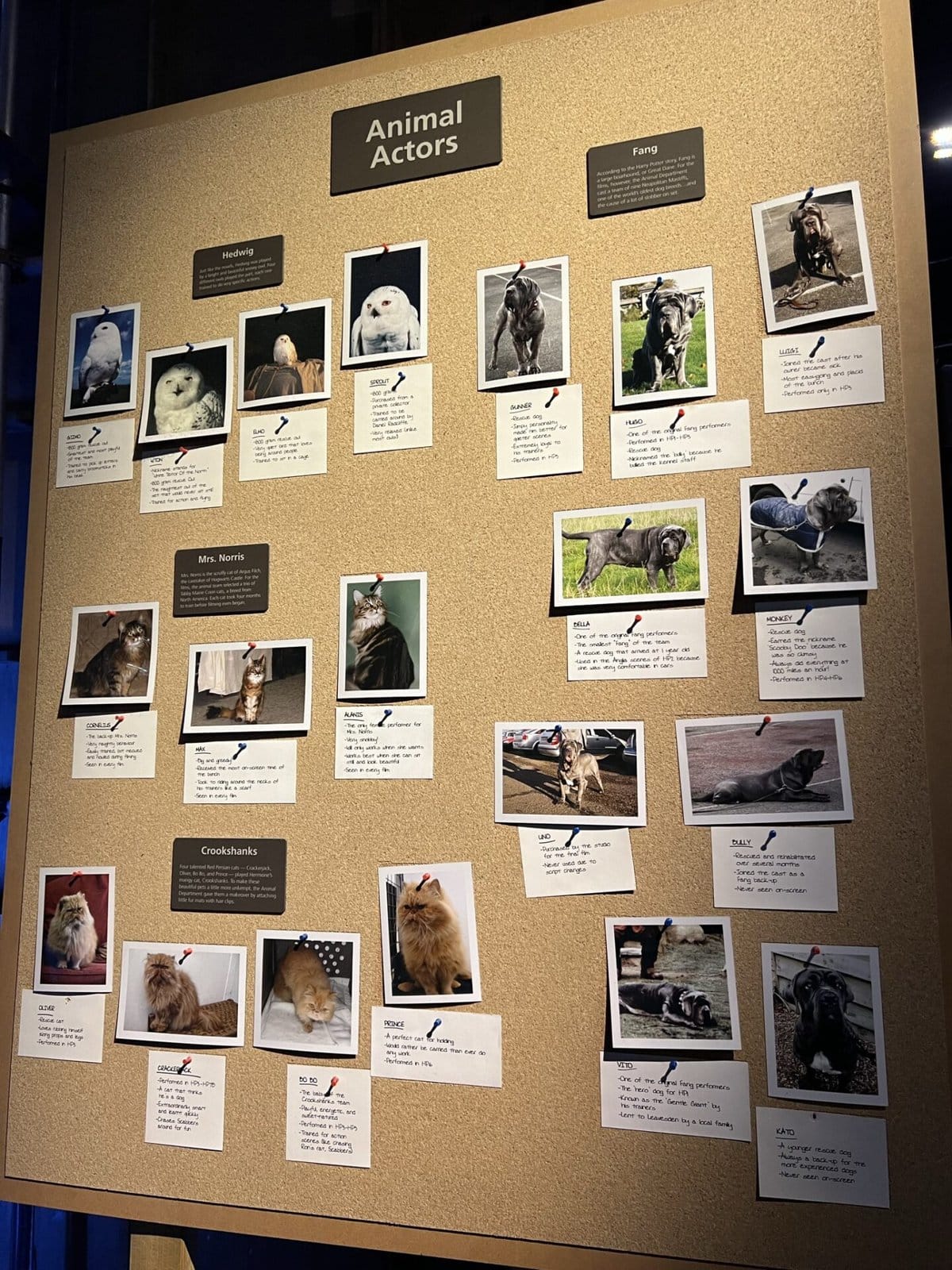 Seeing all of these Harry Potter props and sets is an eye-opening experience and makes you appreciate the work that went into filming the 8 Harry Potter films, right at Warner Bros Studio in London!
Be sure to save time to wander through the gift shop. It's a destination in itself!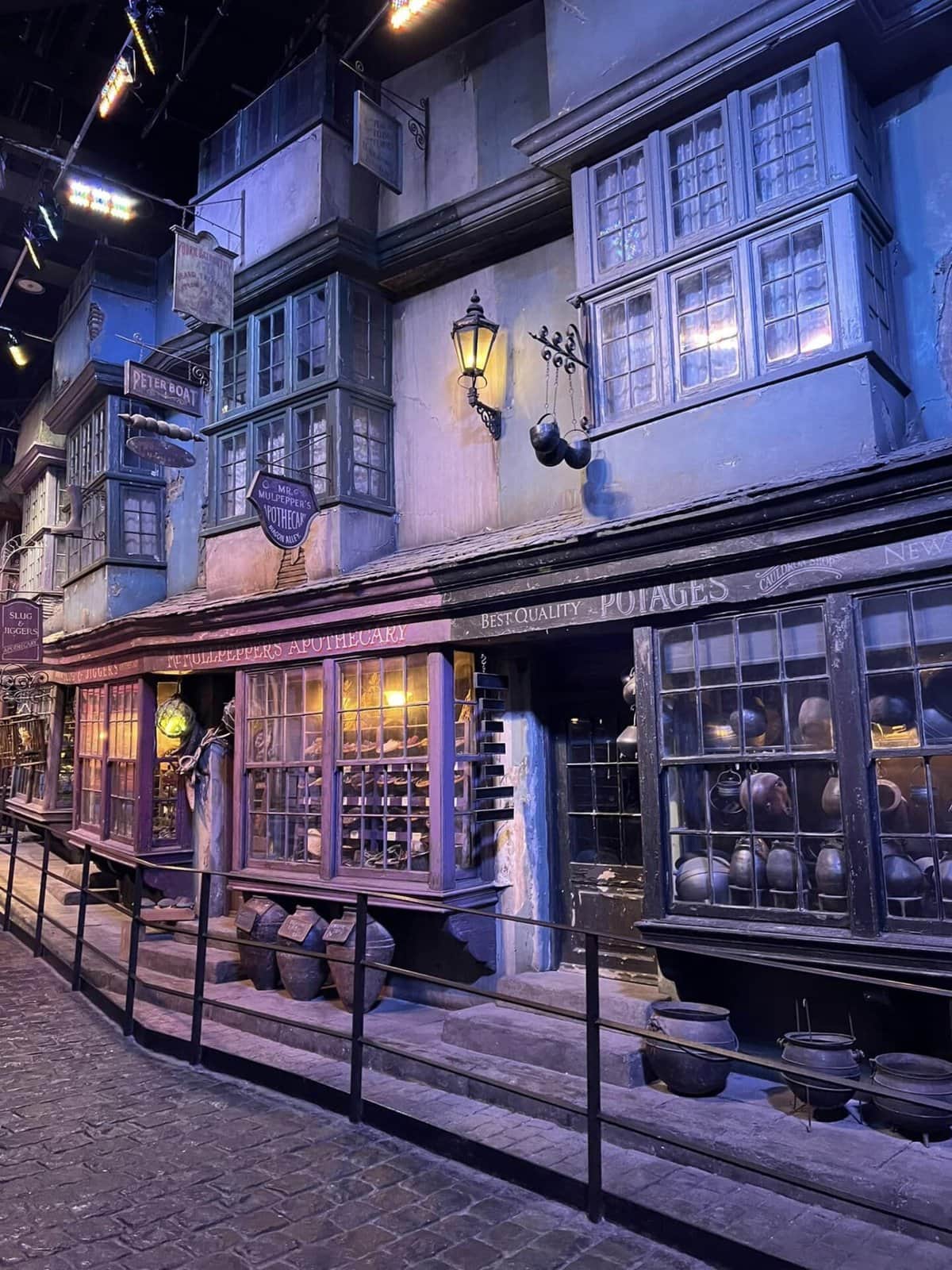 How to get to Warner Bros Studio in London
Did you know the Harry Potter Studio Tour, which takes place in the Warner Bros. Studio, is actually outside of London? It's in Leavesden, near Watford, which is about 20 miles northwest of London, or about an hour's drive (if going by bus or tube), give or take the traffic.
There are a few ways to get to Warner Brothers Studio. The easiest way is to arrange a Harry Potter tour with transportation included. This is what we did, and it alleviated some stress with figuring out how to get there.
Our tour was booked through Get Your Guide which included a bus transfer from Victoria Station. We took the tube which was quite simple, or you can walk depending on where in London you are.
If you are booking the tour, I would recommend being at least 20 minutes early if not more from your start time in the event of hiccups (which we faced!). Tube delays can be common and the bus leaves precisely at the start time, so don't be late!
That being said, I tried to book our tour through the website and find our own transportation there, as it's really not that complicated. You just have to allow ample time to get there. Once you arrive at Watford Junction, a free bus will take you back and forth to the studio right up until 10:00 pm.
Getting from London to the Harry Potter Warner Bros Studios.
Getting from London to Warner Bros. Studios is actually quite easy, but just remember to leave some extra time! Leave from London Euston Station for Watford Junction.
Once you arrive, a free shuttle bus will take you directly to the studios. The entire journey will take about 35 minutes in travel time with the train journey from London Euston to Watford Junction taking 20 minutes and the shuttle bus 15 minutes to the studios. Allow time for connections!
Buses run at least every 30 minutes from 9:20 am (with additional services available from 8:15 am when the first tour is at 9:00 am). The last return shuttle bus back to Watford Junction will depart Harry Potter Studios when the studios close, which is 10:00 pm.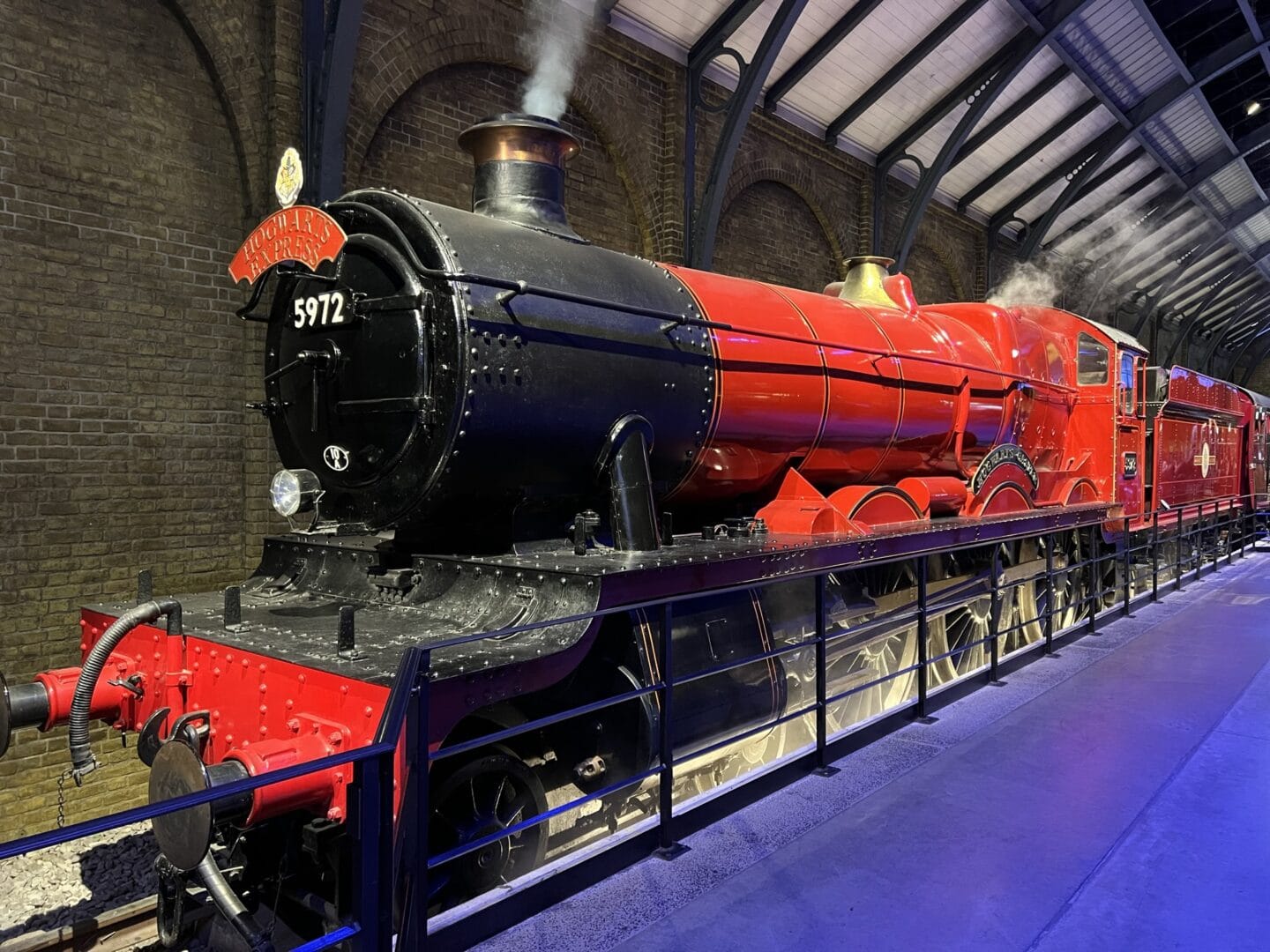 How long does it take to go through the Harry Potter Studio Tour?
You can freely tour the Warner Brothers Harry Potter Studio for as long as you like. We knew it was a large area to tour through, but we found it quite manageable and made it through in two hours.
The average tour length is 3.5 hours, which to be quite honest, I can definitely see taking that long. We hurried through a lot of it because we thought we were going to be short on time.
The tour of Warner Bros. Studio the Making of Harry Potter is self-guided, except for an introduction at the beginning. Take as long as you like to explore the studios. There is a lot to discover.
The midway point is when you reach the cafe. Sit and relax with a pint of Butterbeer or other tasty treats before making your way into the courtyard where you can discover the Knight Bus, 4 Privet Drive, and the Covered Bridge.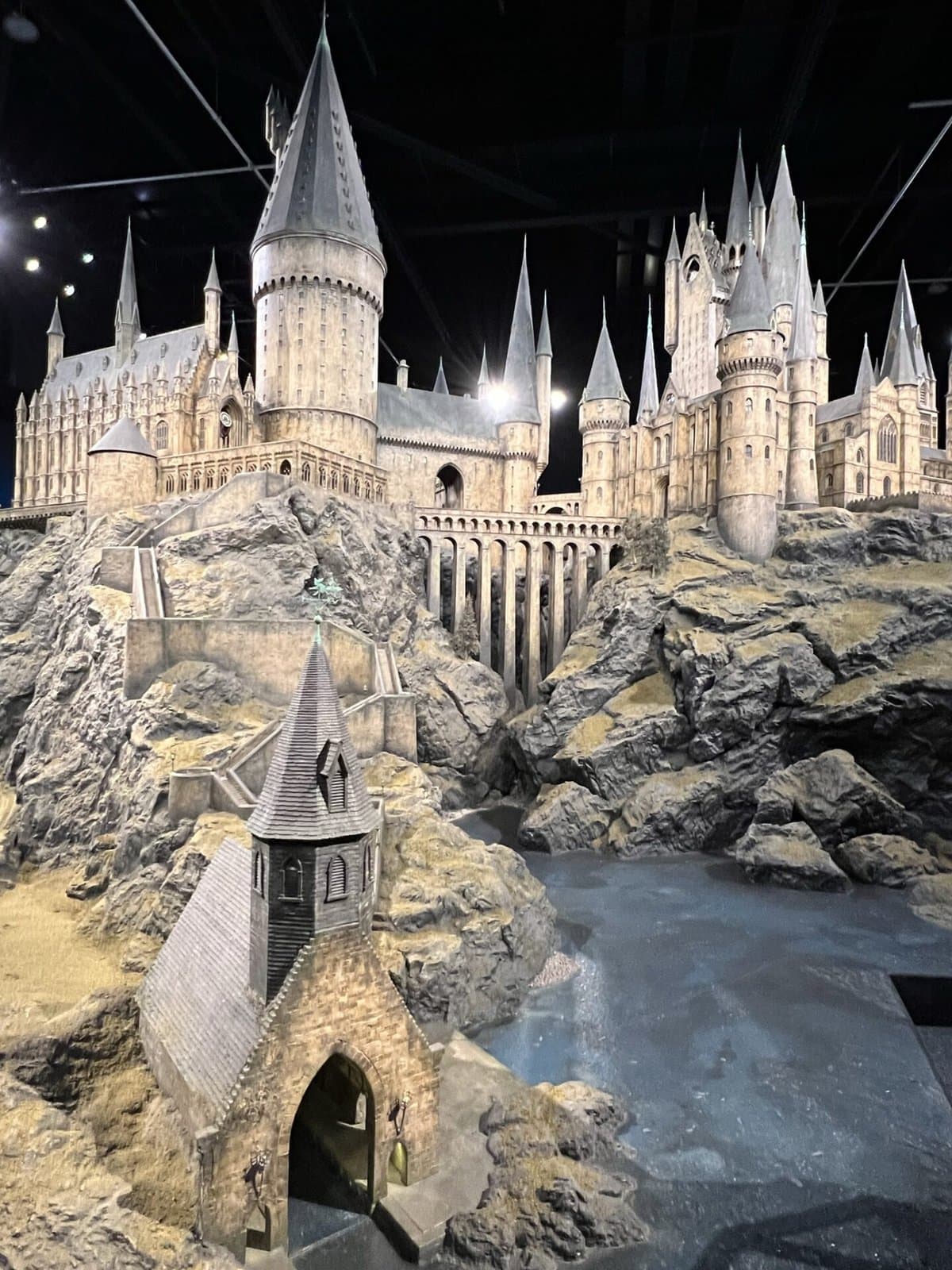 The only downside of a booked tour is you have a set pickup time, so you are either confined to their schedule and will either have to rush through or wait until your transfer.
If you do have to wait, the gift shop is huge and there is also a cafe as well as a Starbucks to sit and relax until it's time to hop back on the bus.
Best Harry Potter Studio Tours
If visiting the Warner Brothers Harry Potter Studio is high on your priority list on your trip to London, be sure to book your tour or buy your tickets as soon as possible. This tour is one of the most popular tours in London (it's not hard to see why!) and it can sell out months in advance. Book early to avoid any disappointment!
Most Harry Potter tour companies will allow around 4 hours to tour the studios. Of course, you can compare these across tour companies to pick the one that best suits you.
Harry Potter Studio Tour tickets without transportation
If taking a Harry Potter organized tour isn't for you, you can purchase tickets online directly from Warner Bros. Studios the Making of Harry Potter.
They are timed tickets, and they sell out fast. I mean, fast. So, you will need to plan well in advance. I originally looked online four months in advance and some of the days I selected only had 6:30 pm entrance available. Yikes!
Tickets must be booked in advance, so keep that in mind if you plan to visit on your own!
How Much Does the Harry Potter Studio Tour Cost?
Tickets for the Harry Potter tour directly from Warner Bros. Studios (as of August 2023) are:
Adult: £51.50
Child aged 5-15: £40
Children under 4: Free
Family: £160 (two adults and two children or one adult and three children)
Carer: Free
Is the Harry Potter Studio Tour Accessible?
Yes, the entire Harry Potter Studio Tour is accessible! Plus, visitors can bring one carer free of charge.
The studio itself is accessible, but there are a few exceptions, like the Hogwarts Express, or Hogwarts Bridge. It's good to know that Diagon Alley has an incline and cobblestone streets.
Wheelchairs and mobility scooters are permitted but mobility scooters cannot be wider than 86 cm.
Guide dogs are also welcome – and water bowls can be provided. There's even a dedicated pet relief area!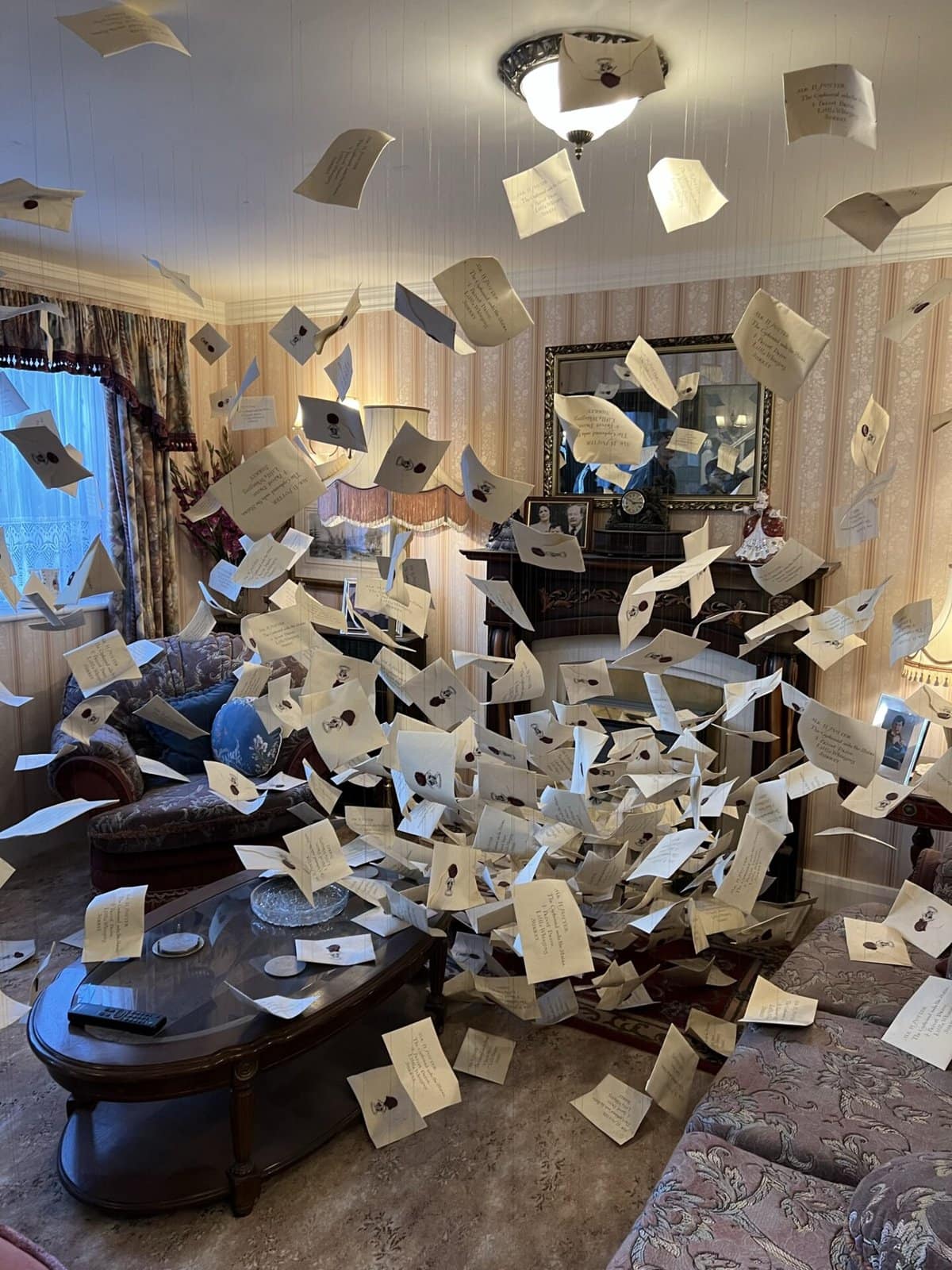 Hotels near the Harry Potter Studio Tour
If you're wondering where you should stay when visiting Harry Potter Studios, and want to stay nearby instead of travelling back and forth to London proper, then you have a variety of options to pick from!
Hotels near the Harry Potter Studio Tour include:
If you want to stay in hotels close to Victoria Train Station in London for an easy self-transfer or for guided tour pickup (which is where most start from!), nearby hotels include:
For those taking the train from London Euston, and want to consider staying somewhere for an easy self-transfer to Warner Bros. Studios, nearby options include: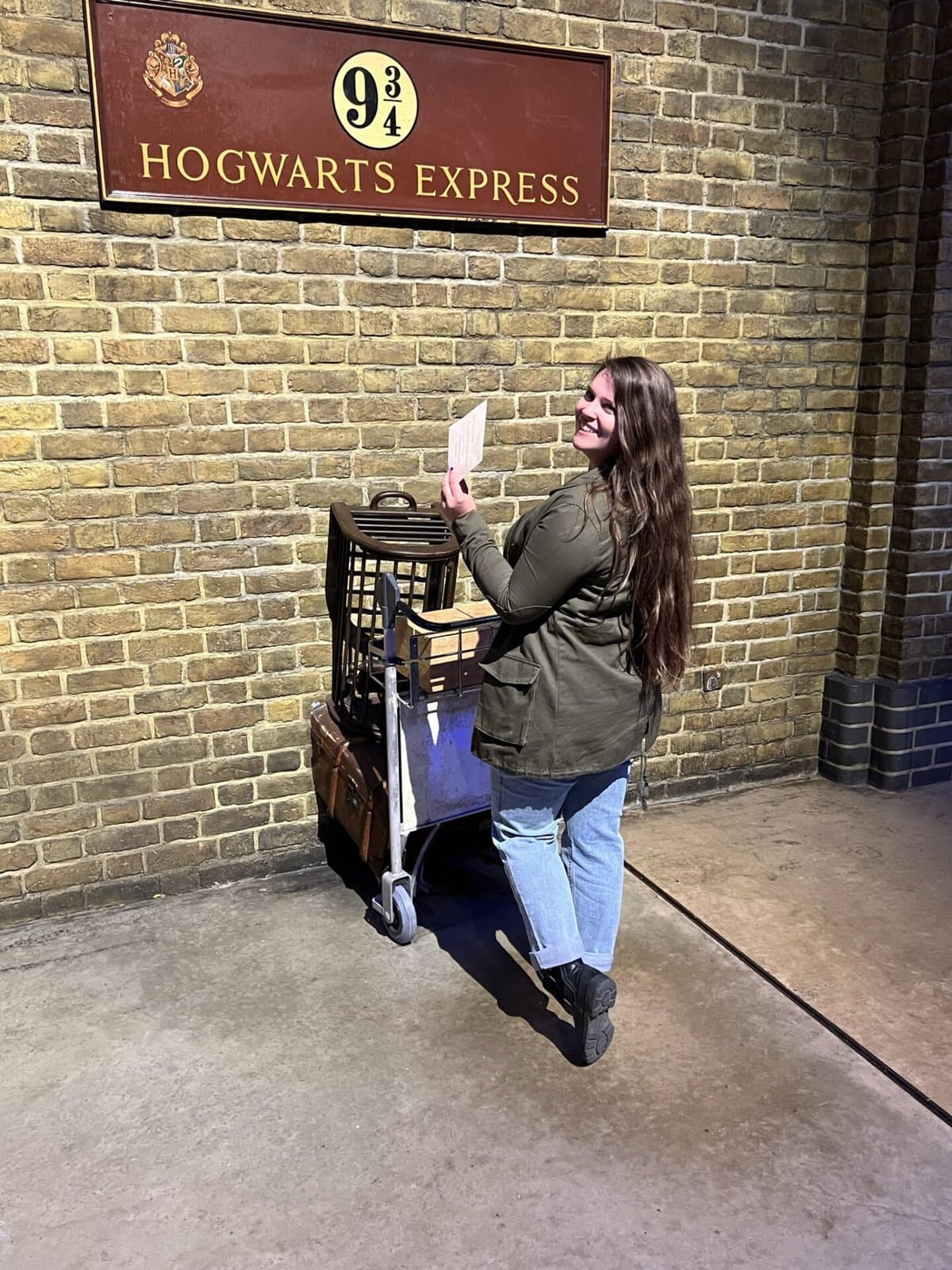 Harry Potter Studios opening times
The opening hours for Warner Bros. Studios the Making of Harry Potter varies week to week throughout the seasons.
Generally, the studio opens at 8:30 during the summer and 9:30 during the fall and winter. The studios close at 10:00 pm throughout the year, with some nights closing at 8:00 pm. It's best to verify the Warner Bros. Studio opening times directly online prior to booking.
Harry Potter Studio Tour tips
Quick tips for visiting the Harry Potter Studio Tour:
Book tickets or tours well in advance. The sooner, the better!
Wear comfortable walking shoes. You'll be on your feet a lot.
Be sure to bring a camera or your phone for tons of amazing photo opportunities!
Bring cash if you want to purchase Butterbeer or Butterbeer ice cream. You can pay by card, but we found the lineup much shorter if you pay cash instead.
Allow enough time to walk through the gift shop!
Related Posts
Pin it for later!