Stuck in London on a rainy day? Don't let the rain get you down! There are a number of amazing things to do in London when it rains. From museums to markets, afternoon tea to historic sites, London offers endless ways to spend a day in the rain.
If you have luck like I do (and given that London is known for its rain!), it's best to have some ideas in mind for ways to spend a day in the city when it's raining.
With an exceptional public transit system – the London Underground – you won't be exposed to the weather for long. Just bring an umbrella, a packable rain jacket, and set out to explore London in the rain!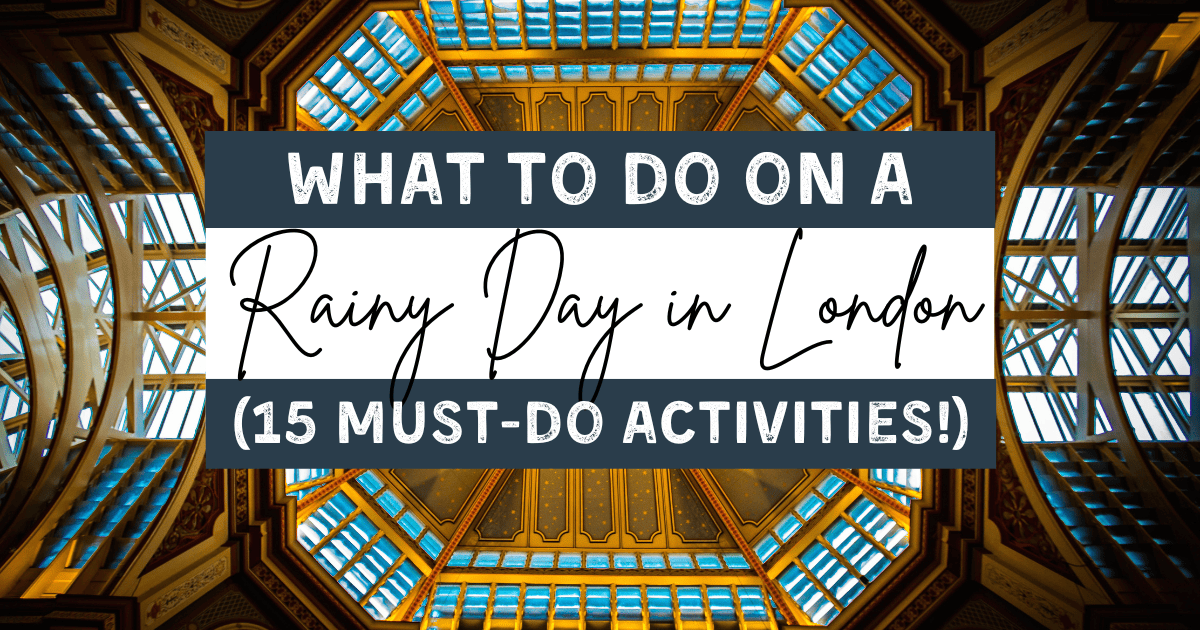 This post contains affiliate links which means I earn compensation when you click on the links at absolutely no extra cost to you! Feel free to read my disclosure policy. Thank you for supporting my blog!
Plan your next vacation using these tools!

✈️ Book flights: SkyScanner
🏨 Book hotels: Booking.com
🚘Book car rentals: RentalCars.com
🎫Book tours: GetYourGuide
🍽️Local food experiences: EatWith
🌍Favourite travel item: Packing cubes
🧳Favourite travel bag: Osprey 40L Fairview
📱 ESims: Airalo
🩹 DIY Travel Medical Kit
💸 20 Cheap Travel Items Under $20
Warner Bros. Studios: The Making of Harry Potter
While this activity is perfect for any given day, visiting Warner Bros. Studios: The Making of Harry Potter is the perfect rainy day activity in London!
You can easily spend a half-day touring the Harry Potter Studio, and it's an absolute must for any Harry Potter fan. You'll get an inside look at all of the sets, costumes, and props used in all 8 films where Daniel Radcliffe, Emma Watson, and Rupert Grint spent 10 years of their lives!
Start your adventure in the Great Hall and make your way through the Dark Forest, Gringotts Bank, and step inside 4 Privet Drive! There are incredible photo opportunities and a behind-the-scenes look of the films and how the magic tricks were made.
Whether you're a parent of Harry Potter fans, or grew up reading the novels and watching the movies, it is amazing to learn what made the movies so magical.
The easiest way to get to Warner Brothers Studios is by guided tour. You will board a bus at Victoria Station in London and travel an hour north to Watford. Alternatively, you can find your own transportation there and take a free bus back and forth from Watford Junction and explore the Harry Potter Studio at leisure!
You'll remain covered the entire time except for the short walk from the bus to the studio entrance, and there's a free coat check, so you don't have to worry about bringing your raincoats and umbrellas in with you!
P.s. Be sure to save some time for the gift shop – that is an adventure all in itself!
Churchill War Rooms
If you're wondering how to spend a rainy day in London and learn more about London's history and involvement during WW2, the Churchill War Rooms makes the perfect choice.
Located steps from St James's Park, the War Rooms provide a fascinating insight to Britain's role in gaining victory over Axis forces. Tours come complete with an audio guide and are self-paced; you can easily spend 2-3 hours underground to wait out the rain.
You'll not only learn about Churhill's role during WW2, but also the history of life and his sense of humour; it's evident that those who worked with him adored him. He found ways to be comedic and maintain some sense of normalcy even during difficult times.
Once you tour through the Churchill museum, you'll pass through the Cabinet War Rooms, where staff would often spend 18 hours at a time underground with the threat of bombing just a few feet above their heads.
See the rooms where prominent government figures gave their speeches, worked, and slept, all while in a secret underground lair. There's even a cafe midway to stop for a bite to eat or a cup of tea in what was once a room used by switchboard operators.
Bookings aren't mandatory and walk-ins are accepted which is good news for an unexpected rainy day! Tickets cost 27.25 GBP for adults ages 16+. Ages 5-15 are 13.60 GBP.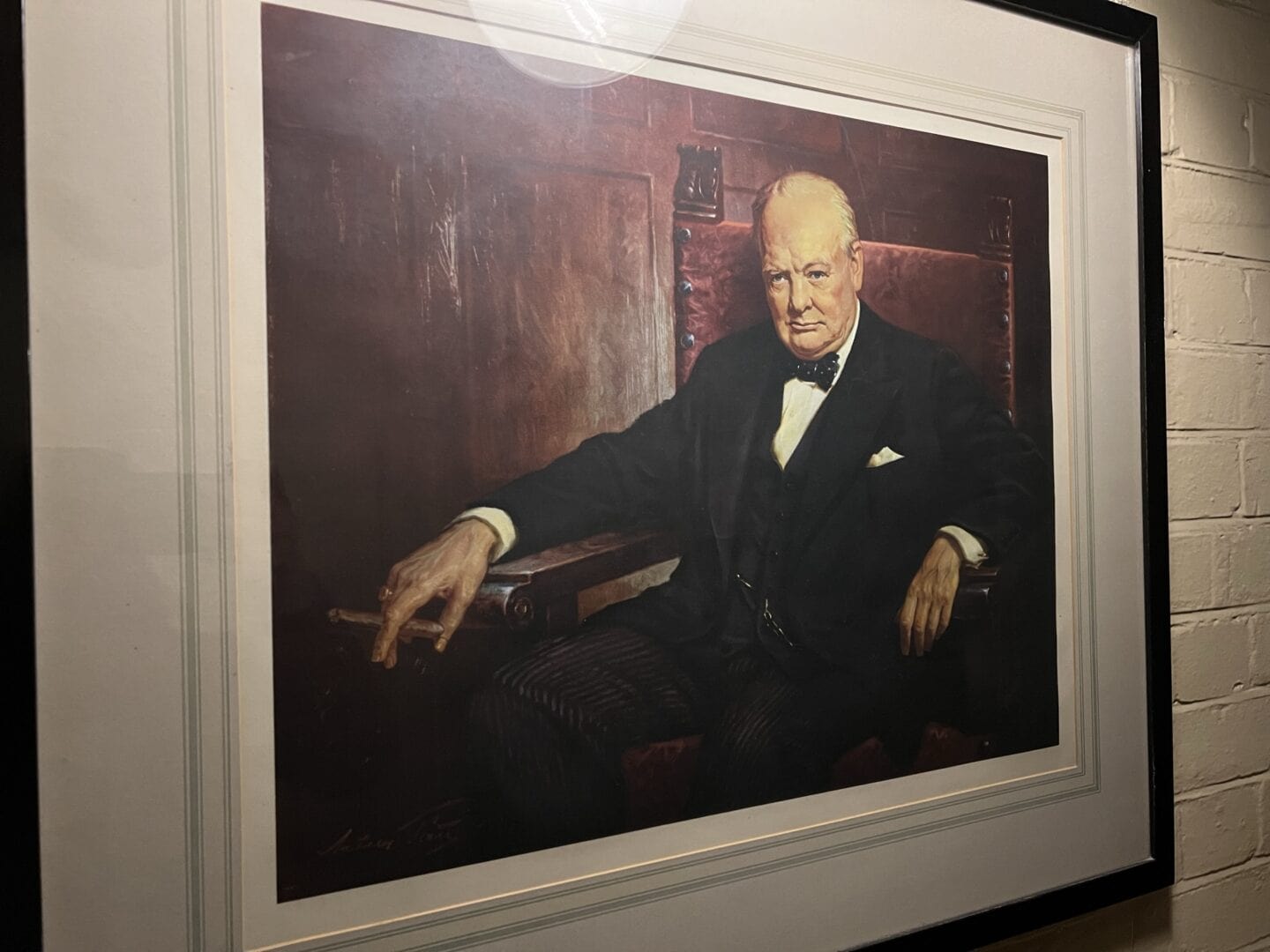 See a show in the West End
If museums aren't really your thing or if you've already been on your feet all day, head to a show in London's West End! With afternoon and evening performances, there's enough variety to escape a rainy day in London.
It's undeniable that one of the best things to do in London is to see a theatre show. Some of the world's best talent can be found in the vibrant West End, where stage performers give their all every single day.
With shows like Grease, Matilda, Harry Potter and the Cursed Child, and the Lion King (plus so much more), there's enough variety for everyone. Whether you prefer musicals, comedies, or dramas, you'll be able to snag some cheap same-day tickets at the Leicester Square Last Minute ticket booth, or find your tickets online!
Tickets are heavily discounted, so if there's a show you've always wanted to see, take advantage of a rainy day and head indoors to the theatre.
National Portrait Gallery
Visiting London is a great experience no matter the weather, but for those rainy days, the National Portrait Gallery is one of the best activities to undertake. The gallery can act as a beacon of light and knowledge in Trafalgar Square, even on those dreary days. With artwork and artefacts ranging from the sixteenth century to the modern day, the National Portrait Gallery has something to offer everyone.
Upon entering the gallery, visitors are greeted by a vast array of portraits from the world's most renowned artists. There are inspiring works of art featuring iconic figures like Winston Churchill, Queen Elizabeth I and David Beckham.
In the gallery, visitors can delve into the fascinating stories behind the people these portraits represent. From actors to musicians, these works will surely transport you to that moment in history. Not only will visitors learn exciting facts about these figures, but they can also admire the creativity, detail, and skill that went into producing the artwork.
Additionally, the National Portrait Gallery also hosts various exhibitions displaying a wide variety of art forms. Ranging from sculpture to film, visitors are exposed to the works of many established and cutting-edge artists. It's an amazing way to explore and appreciate the wide range of the arts across the centuries. Moreover, there are many interactive activities and workshops to participate in, making it fun for the whole family.
Recommended by Plane Beauty
Covent Garden
With more museums that you can think of, many of them actually free to visit too, and lots of fantastic "department stores" where you can shop for hours, there certainly is no shortage of things to do in London when it rains. If you want to get a good combination of sightseeing, shopping and museum visits, however, consider heading to Covent Garden.
There are enough things to do in Covent Garden to keep you busy and out of the rain for a day for sure!
Make your way to the London Transport Museum first. This is a fantastic place to learn more about the history of London buses and the famous London Tube, and it has an exhibit that will equally entertain adults and children.
After that, simply head to the Apple and the Jubilee markets, the two covered markets that once were the famous flower market. Today, you will find some nice souvenir shops and upper scale boutiques. That's also where you can sit for a drink while you listen to some musicians play their music.
Most street performances happen in front of St. Paul's Church, but you may want to stay away if it rains. However, you can head to the lovely Petersham Nurseries for a fantastic dining experience.
Recommended by My Adventures Across The World
The Wallace Collection
The Wallace Collection in Marylebone offers a refuge from the rain into a beautiful collection of Baroque and Rococo decorative arts and paintings. The museum is housed within an 18th century townhouse and showcases the collection of Sir Richard Wallace and the four Marquesses of Hertford.
The museum offers an insight into the opulent art collections showcasing European art from the 17th-19th centuries. The Wallace Collection is one of the best small museums in London, and it is free to enter.
As the building was a townhouse, the rooms are filled with antique furniture and objets d'art and each has a unique and elegant colour scheme. The Great Gallery holds masterpieces by Old Masters such as Rembrandt, Titian and Velázquez. Fragonard's iconic painting The Swing is on display at the Wallace Collection, as is a quartet of paintings by Boucher in the Oval Drawing Room. The gallery has regular temporary exhibitions, such as a delightful one filled with portraits of dogs, which require a paid ticket.
The museum is also home to an elegant tea room in a covered courtyard, providing further protection from the rain in London. The Wallace Collection has a reasonably priced yet beautiful afternoon tea available to book here.
A rainy day in London is not so bad when places like the Wallace Collection are there to provide shelter.
Recommended by Art Distance
Related: 30+ Amazing Free Things to do in London
London Transport Museum
The London Transport Museum is in the heart of central London located in Covent Garden, which is located on the Piccadilly Line.
To visit the museum you will need to pre-purchase tickets as you need to reserve a timed entry into the museum. When you purchase your tickets this ticket entitles you to a year of visits with your annual pass, adult's tickets are £24 and children go free.
When exploring the transport museum there are two floors of the museum to enjoy. The museum transports visitors through time and allows you to engage in displays from different eras of London. Displays throughout the museum are all interactive and engaging for visitors of all ages.
Visitors can climb aboard different vehicles and experience what it would be like to drive a bus or old tram while also gaining a deeper appreciation of the way that London's transport networks keeps the city alive.
The Transport Museum also organizes different seasonal events and workshops for visitors of all ages. They run weekly craft sessions for children as well as museum lates for adults wanting to explore the museum after hours. There are also many different hidden London events that the London Transport Museum runs which explore secret tunnels and stations of London. Make sure to check out their website for all their upcoming events and exhibitions.
Recommended by Our Salt Souls
Buckingham Palace
No visit to London is complete without passing in front of the magnificent Buckingham Palace! But did you know that during a 10-week period during the summer, the palace is open to the public? That's right! If you are in London during their opening days, you will be able to step into the splendid rooms of the palace. As all the rooms are inside, Buckingham Palace is great for a rainy-day activity.
Once you enter the palace, you will be given an audio guide to accompany you in all the rooms you will be visiting. The audio guide has all the important information you will need as there are information boards around the palace.
During your 2.5-hour visit, you will have the chance to experience the Throne Room, the impressive Ballroom, the Grand Staircase and lots more. Besides, you will get to see many of the gifts given to the royal family over the years.
If the weather clears up by the end of your visit, you can also have a walk around the Palace Garden. Alternatively, you can extend your sightseeing session by heading to the Royal Mews to marvel at some exquisite carriages and the Queen's Gallery to browse various art pieces from the royal collection.
Both of them are just around the corner from Buckingham Palace and if you want to visit them all, it's best to purchase a combo ticket. Keep in mind that the Royal Mews and the Queen's Gallery are open throughout the year, which means that they are a great alternative for a rainy-day activity if Buckingham Palace is closed.
Recommended by Empnefsys & Travel
Royal Observatory
The borough of Greenwich offers a wonderful escape from the busyness of central London, and even on rainy days when the picturesque views from Greenwich Park are not as great, the Royal Observatory is an excellent alternative.
Being one of the top things to see in Greenwich, the Royal Observatory still has a lot to offer even if it's too wet to hang around the courtyard for a selfie with the Prime Meridian line.
For those with an interest in science, astronomy, or history make sure to check out Flamsteed House which is the original observatory building dating back to the late 1600s. Here you can learn about the recording of time, the significance of longitude, and the remarkable Harrison clocks. Additionally, a camera obscura provides a real-time panorama of Greenwich street views, allowing visitors to appreciate the scenery even on gloomy days.
Next to the observatory, the Planetarium hosts daily shows about the wonders of modern astronomy. The shows are tailored to both younger children and the general public and are a great idea when bad weather conditions dampen your plans. Note that tickets for the Planetarium should be obtained in advance, but they don't need to be purchased alongside entrance tickets for the Observatory.
Recommended by Lost in Landmarks
Gordon's Wine Bar
Gordon's Wine Bar's subterranean wine cave is an atmospheric escape from a rainy day in London, and a must-stop on your London travel itinerary. With an extensive wine list and sharing boards of meats and cheeses, Gordon's is the best way to leisurely spend a rainy afternoon. This 19th-century wine bar is thought to be the oldest wine bar in London, dating back to 1890. From the moment you walk into the bar room, you are surrounded by history and transcend into another time.
While there are a few seating options, the vaulted cellar is the most coveted seating area, and for good reason. The cave offers a cozy hideaway, lit only by candle light. To get a seat in the wine cave, arrive early or be prepared to wait. Weekday afternoons are your best bet.
Gordon's Wine Bar is just off the Embankment stop of the London Underground, making it easily accessible in the rain. Take the Circle, District, Bakerloo or Northern line to Embankment and walk one minute up Villiers St.
Whether you share a bottle or just need a glass of wine to wait out a passing shower, Gordon's Wine Bar is a romantic alternative to London's pub scene and a great way to spend a rainy evening in London.
Recommended by Quick Stays and Getaways
Visit the British Museum
A great activity to do in London on a rainy day is to visit the British Museum.
Visiting the British Museum on a rainy day is perfect as it's all indoors. And with its permanent collection of eight million pieces, the British Museum is the largest museum in the world. You could spend an entire day here from the time it opened until the time it closed and still not have seen everything!
When you visit the British Museum be sure to ask at the visitors' desk for a brochure/map that highlights the "must see" pieces and exhibits within the museum. A few of these include the Elgin Marbles, Rosetta Stone, Easter Island Head, Egyptian mummies, Samurai Armour, and more. There truly is something for everyone to enjoy here!
A great perk about the British Museum is that admission is free. Though, it's recommended to book a ticket (time slot) in advance to ensure your entry. The museum is open daily from 10am-5pm except for Fridays when it's open until 8:30pm. It's easily accessible by public transportation and the closest tube station is Tottenham Court Road.
Enjoy your rainy day visit to the British Museum!
Recommended by Adventures of Chels
P.s. Enhance your visit to the British Museum on a rainy day by booking an afternoon tea!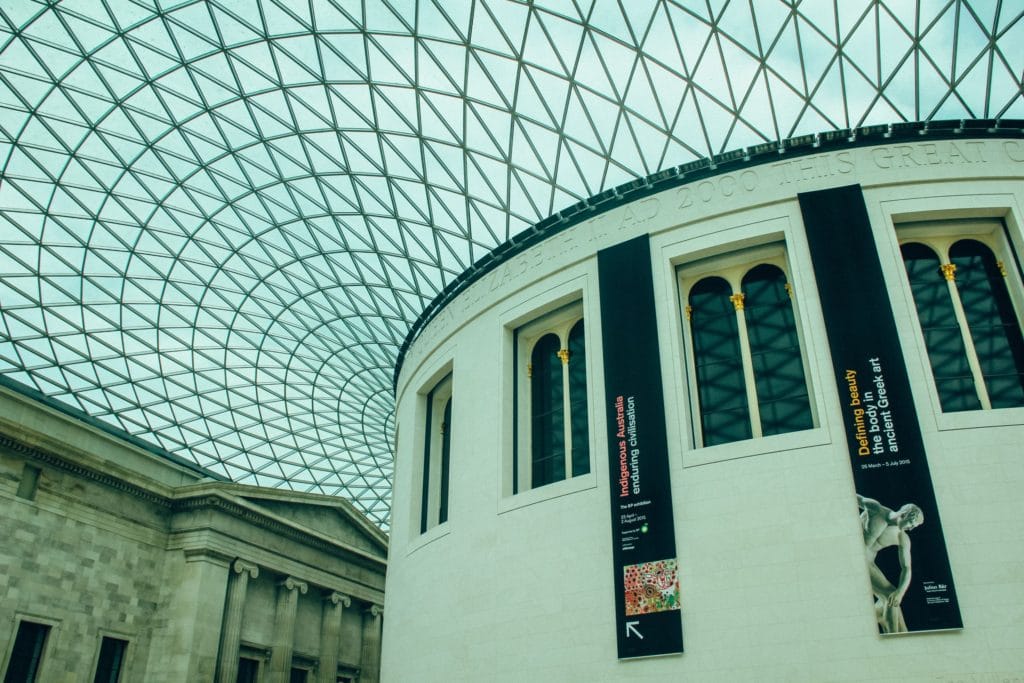 National Army Museum
The National Army Museum in Chelsea is the perfect place to while away some time in rainy central London. For a start it is free to visit, no booking required, so it can be visited on a whim as the rain clouds gather. Although inside a brutalist 1970s building, the interior has recently been revamped and it is divided up into five eye-catching galleries.
There is far more to it than a chronological look at the history of the British Army since its inception in the Civil War; one gallery takes you through the life of a soldier to show the harsh realities of what a life in the army can be like. Another has some fascinating artefacts which include Napoleon's horse, the saw used to hack off a man's leg mid battle, and Florence Nightingale's famous lamp.
There is a whole gallery focused on the ethics of war, and displays of anti-war protests over the centuries. It tackles many of the difficult questions associated with war and does not shy away from uncomfortable subjects. For fun there are several interactive displays which include being taught how to march by a drill sergeant who shouts at you when you get it wrong, and learning how to fire a gun.
It is an informative, thought provoking and fun museum and the ideal place to wait out the rain.
Recommended by Slow Travel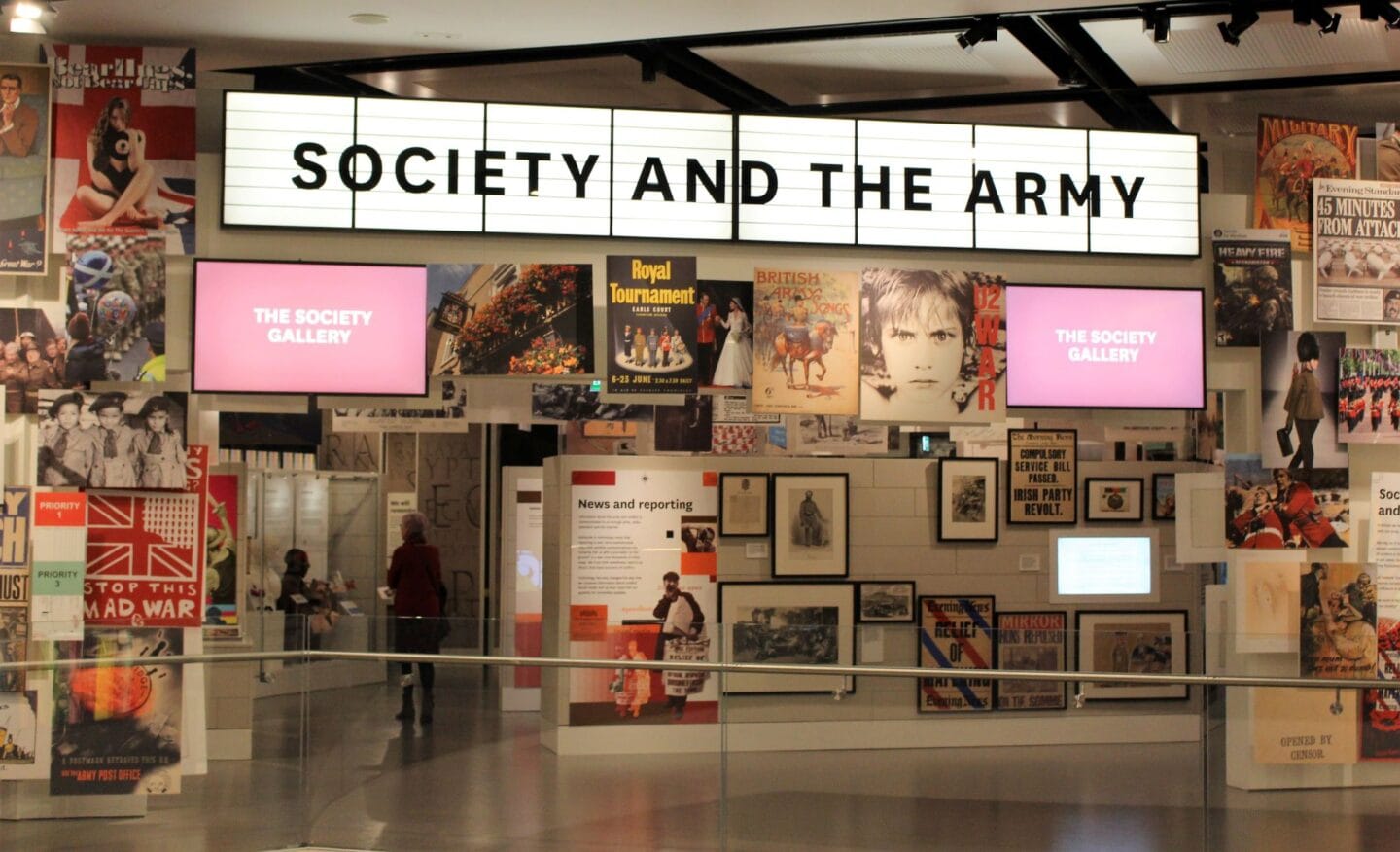 Indulge in Afternoon Tea at the Goring
If it's raining outside, never fear – it's the perfect excuse to enjoy a decadent afternoon tea. And there are not many places in London more decadent than the Goring Hotel.
Located in Belgravia, just behind Buckingham Palace and a short walk from Victoria Station, the Goring Hotel has been serving afternoon tea since 1910, with a little break during WWI when it became the US Army Headquarters.
These days it's the overflow hotel for guests from Buckingham Palace and in 2011 the Middleton family booked it out and stayed there for William and Kate's wedding.
But you don't need to be staying in one of the 69 rooms to enjoy the fabulous afternoon tea on the Veranda, or the Dining Room on Saturdays, both with views of the garden. Sink into a sumptuous chair and look around to see if you recognize your fellow diners – you probably will.
The Goring is the holder of The British Tea Guild Council's Top London Afternoon Tea Award and The Award of Excellence. You'll be served pastries and scones with homemade jam, savouries like crayfish mousse and finger sandwiches, and delicate tea blends, with the option of adding a glass of Bollinger. The menu changes with the season.
The dress code is smart-casual and while jackets are not required for men, they are preferred and can be removed when seated.
For a drink with a view, London's rooftop bars offer cool vibes and great selfie opportunities.
Recommended by Blogger at Large
Leadenhall Market
Leadenhall Market is one of the best places to visit on a rainy day in London. This covered market offers boutique shops, restaurants, pubs, fresh produce, cheese, flowers, and more. It's a perfect place to escape when London weather doesn't cooperate with your travel plans.
Dating back to 1321, Leadenhall Market began as a meeting place for poulterers and cheesemongers in the centre of Roman London. Today, Leadenhall Market attracts locals, tourists, historians, architecture enthusiasts, and Harry Potter fans. The current covered market, built in 1881, features charming cobblestone streets, soaring arches, skylights, and ornate Victorian-era details.
A perfect setting for a movie, scenes from Harry Potter and the Philosopher's Stone were filmed in Leadenhall Market. It's where Hagrid escorts Harry to the Leaky Cauldron. Today, the Leaky Cauldron entrance is actually an optometrist office. Additionally, Leadenhall Market inspired Diagon Alley, the shopping area for wizards
Where is Leadenhall Market? Leadenhall Market is located in the heart of London's financial district in Square Mile on Gracechurch Street (aka City of London). The nearest Underground stations to Leadenhall Market include Monument Station, Bank Station, and Aldgate Station. All are within a four- to eight-minute walk of this historic covered market.
Another iconic covered market to visit on a rainy day is located in Oxford – a convenient day trip from London by train. Some of the top things to do in Oxford, England include visiting even more Harry Potter filming scenes.
Recommended by KMF is Writing
God's Own Junkyard
Without a doubt one of the best things to do in London on a rainy day is visit God's Own Junkyard.
This concept and site was first developed by the artist Chris Bracey who dedicated his life to neon signs. Following his dream, Bracey started pulling together and collecting, preserving and showcasing some of the beauty that neon craftsmanship has to offer!
Nowadays, his north-east London exhibit is filled to the brim with wonderful vintage memorabilia, movie props, bar and beer signs and much much more!
However, to make things even better, God's Own Junkyard has its own cafe!! Despite seemingly being small in size, the cafe has a wide range of drinks, treats and main courses to choose from. From American Style pancakes to Steak Frites to crepes, there really is so much on offer and well worth stopping for a bite to eat whilst sat in this incredible exhibit! This is the perfect excuse to make a day for it!
The best way of getting here is taking the "overground" tube line to Wood Park, or the W16 bus, before commencing on a short walk to the warehouse.
Make sure this experience is not missed out on any rainy day itinerary as it really is a great experience and you can spend hours looking at the well preserved artwork!
Recommended by Alex and Leah on Tour
The Victoria & Albert Museum
The Victoria & Albert Musuem (also known as the V&A) is one of the best museums in London; chic, varied, interesting, but if that wasn't enough, the building itself is a marvel. Whilst it has the iconic red-brick exterior, it also has ornate stonework and decorative sculptures inside, intricate carvings and sculptural figures.
If that wasn't enough, it has more than a whopping 2.3 million artefacts to its name! The means that the exhibits are exceptionally varied; if you're looking for sculptures, paintings, fashion, ceramics, pottery, books, manuscripts, cartography, jewellery, metalwork, photography and much more!
It comes with a number of famous sculptures too; keep a look out for Michaelangelo's David, the famous statue of Neptune and Triton and last but not least, The Three Graces. The Three Graces depict 3 women which represent charm, beauty and creativity.
The V&A is a perfect for a rainy day in London. And after you're done milling around the exhibits, it's worth a stop for some food at their restaurant or café. They have the world's oldest museum restaurant which is utterly stunning, or stop in the covered section of their café for freshly baked bakes and scones. The perfect day out on a rainy day. And the best thing is that it is completely free!
Recommended by Wanderlicious
Related Posts
Pin it for later!