The Eternal City of Rome has endless things to do. If you're visiting Rome for the second time, you've probably already seen the major sites and attractions like the Vatican, Colosseum, Roman Forum, and Pantheon. Rest assured there are a multitude of activities waiting to be discovered.
In fact, I'd argue that visiting Rome over and over again gets better each time!
Visiting Rome for the second time allows you to get off the beaten path, check out hidden gems, and wander your way through thousands of years of history.
Here's a list of the best things to do in Rome for second-time visitors.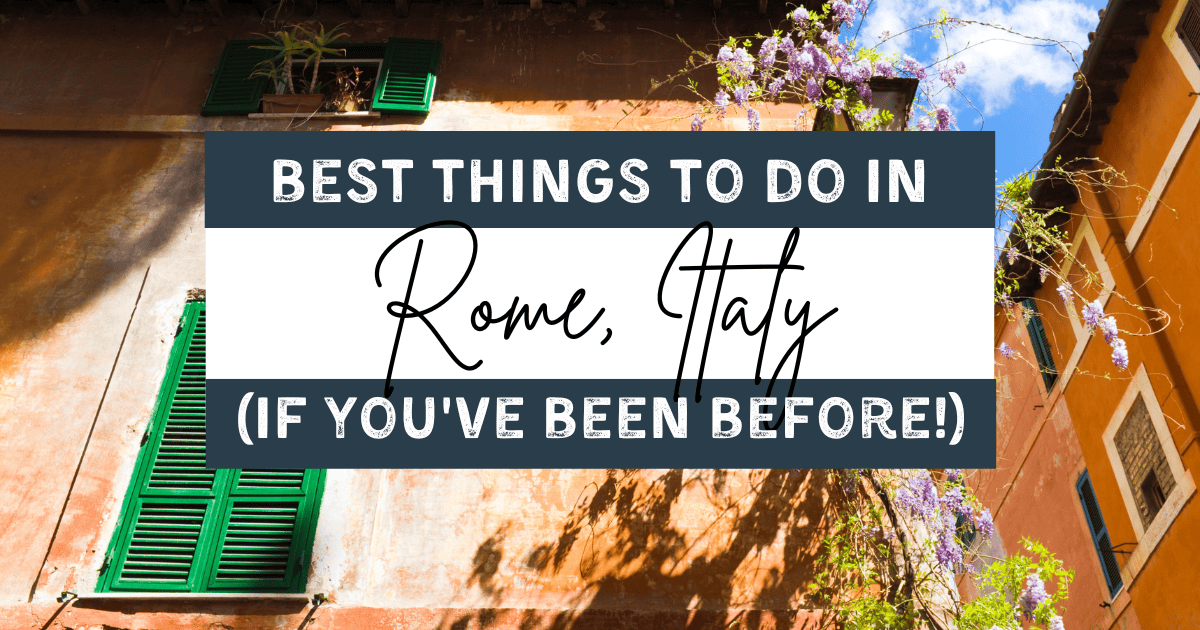 This post contains affiliate links which means I earn compensation when you click on the links at absolutely no extra cost to you! Feel free to read my disclosure policy. Thank you for supporting my blog!
Plan your next vacation using these tools!

✈️ Book flights: SkyScanner
🏨 Book hotels: Booking.com
🚘Book car rentals: RentalCars.com
🎫Book tours: GetYourGuide
🌍Favourite travel item: Packing cubes
🧳Favourite travel bag: Osprey 40L Fairview
🩹 DIY Travel Medical Kit
💸 20 Cheap Travel Items Under $20
If you've been Rome before, test your knowledge with these fun facts about Rome!
Be Mesmerized at the Doria Pamphilj Gallery
The Doria Pamphilj Gallery is a must-visit for anyone who's been to Rome before and wants to check out a unique museum. This 16th century palace is still family-owned to this day, and contains over 400 paintings dating from the 15th-18th century!
Remarkably, these paintings are still in their original positions on the walls. You can see works done by Caravaggio, Berninin, and Carracci – just to name a few!
The art is spectacular, but the real showstopper is the palace itself. Four wings of the gallery surround a courtyard of lemon trees. Every inch of the walls are decorated with frescoes, chandeliers, and tapestries.
You'll want to spend time in the Gallery of Mirrors – it's the most beautiful corridor you'll ever see. It's decorated with Venetian mirrors and statues. There are over 1000 rooms in the Doria Pamphilj Gallery, many of which you can tour.
The Doria Pamphilj Museum is open 7 days a week and costs 14€ per adult.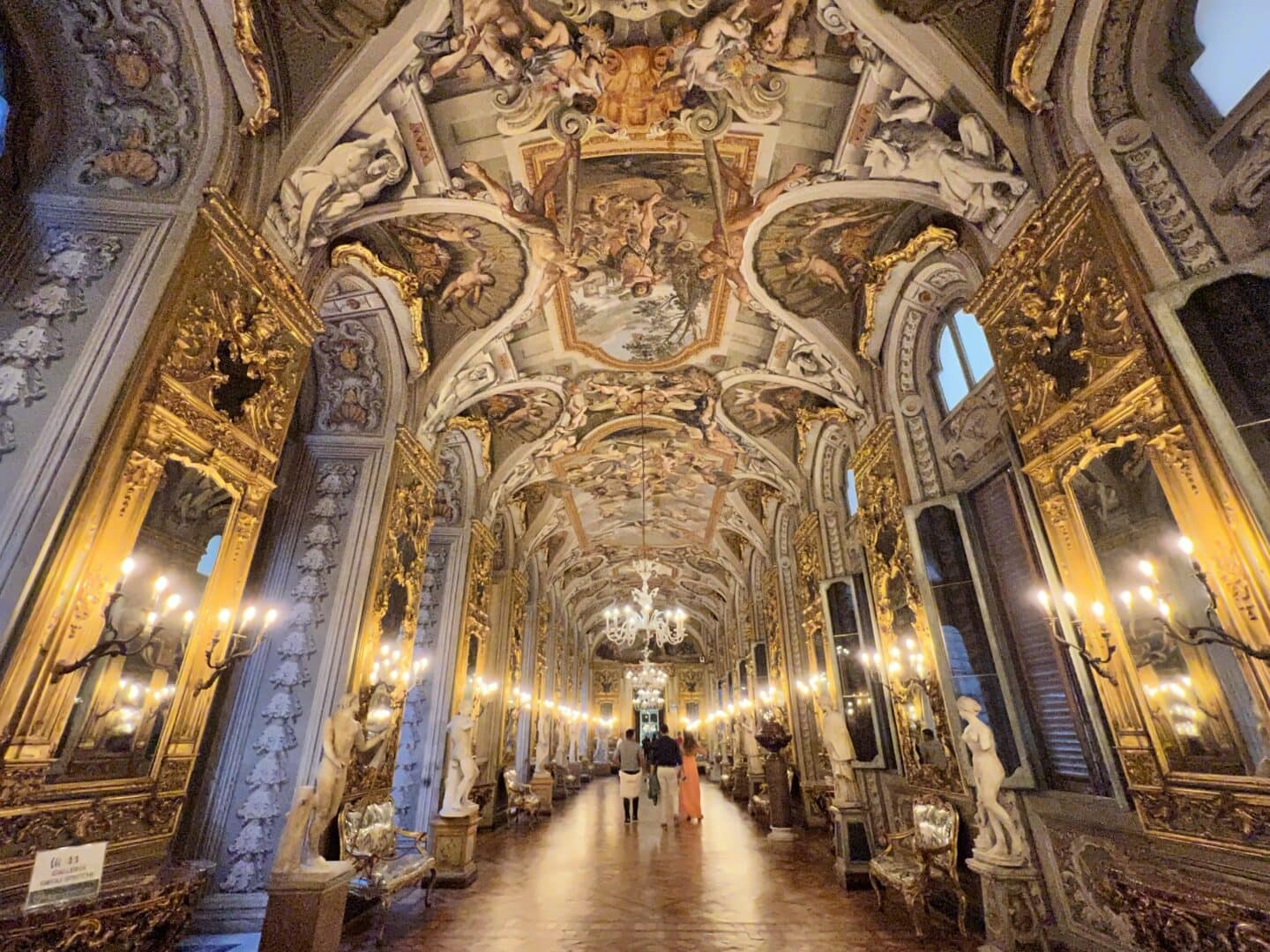 Visit a Secret Crypt in Trastevere
If you're looking for something more off the beaten path in Rome that people don't really know about, then this secret crypt under Basilica di San Crisogono in Trastevere is for you!
Under this ancient church in Trastevere lies a hidden gem dating back centuries, and you can explore it for just 3 euros.
Basilica di San Crisogono dates back to the 4th century (between the years 314-335!) and is one of the oldest churches in Rome. You can tour its original remains below ground. A narrow stairwell leads you to an underground crypt chock-full of history.
You'll be able to see frescoes in remarkable condition, old floor tiles, columns, basins used for laundry, and even old open tombs with bones inside!
You can spend as long as you like in the crypt of Basilica di San Crisogono; this self-guided tour has lots of interesting things to look at, although you may find it a bit unsettling being down there alone!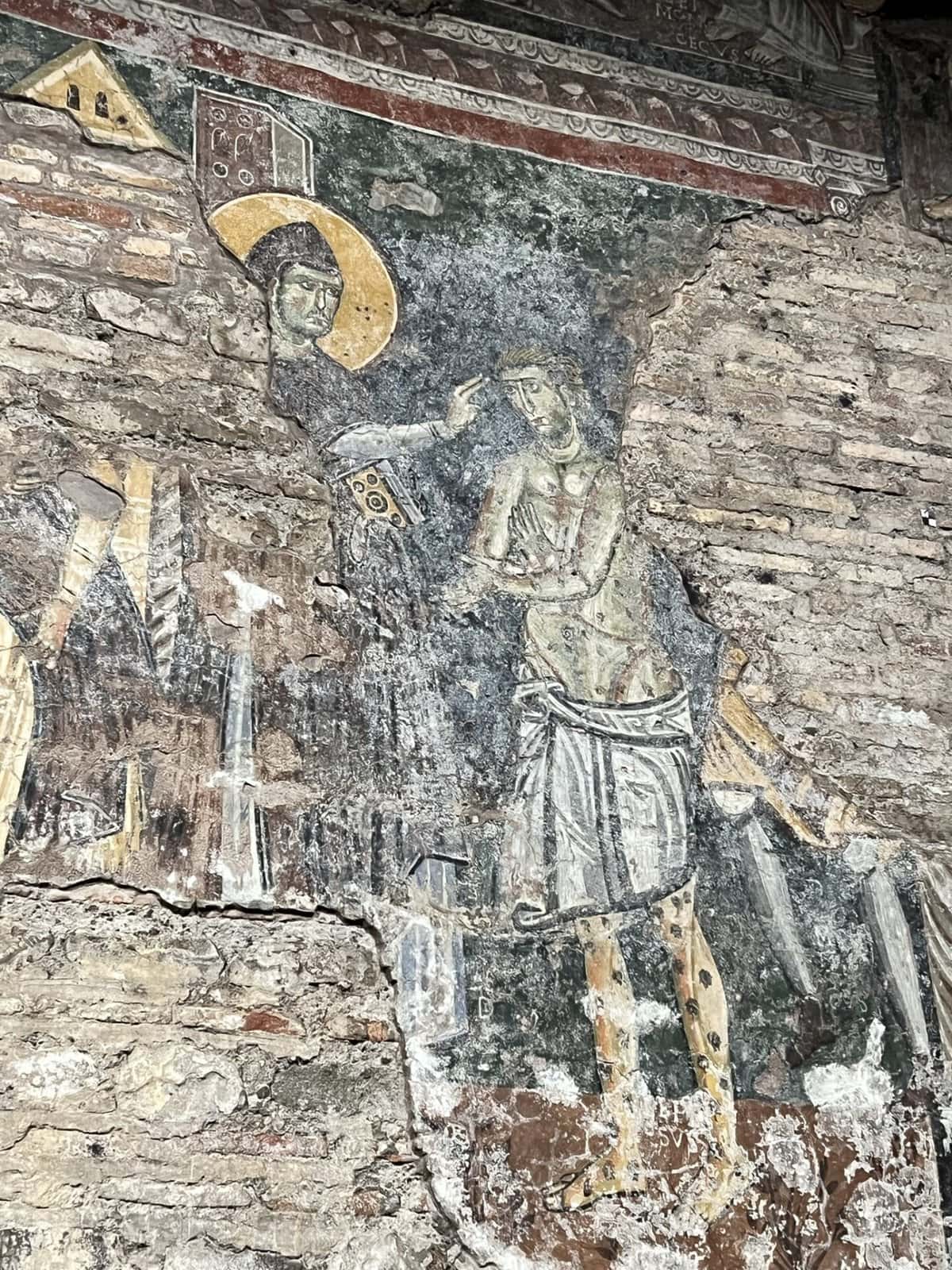 Soak in the views at Villa Medici
Villa Medici is a must for anyone looking for something a little less trafficked but full of history, beautiful architecture, and incredible views of Rome.
This stunning Renaissance palace was purchased by Ferdinando de' Medici in 1576 and remained in the family's hands until Napoleon took it over in 1801 for the French Academy.
Guided tours last 90 minutes and lead you through the palace and beautifully manicured gardens sprawling 17 acres and containing ornamental and medicinal plants. You can also find one the best views of Rome from Villa Medici.
English tours run every day of the week except for Tuesdays and are offered at 11:00 am, 3:30 pm and 5:00 pm for 14 euros per adult.
Villa Medici is located on Pincio Hill, right next to the Borghese Gardens. Be sure to stroll through the gardens for some peaceful ambience and relaxation.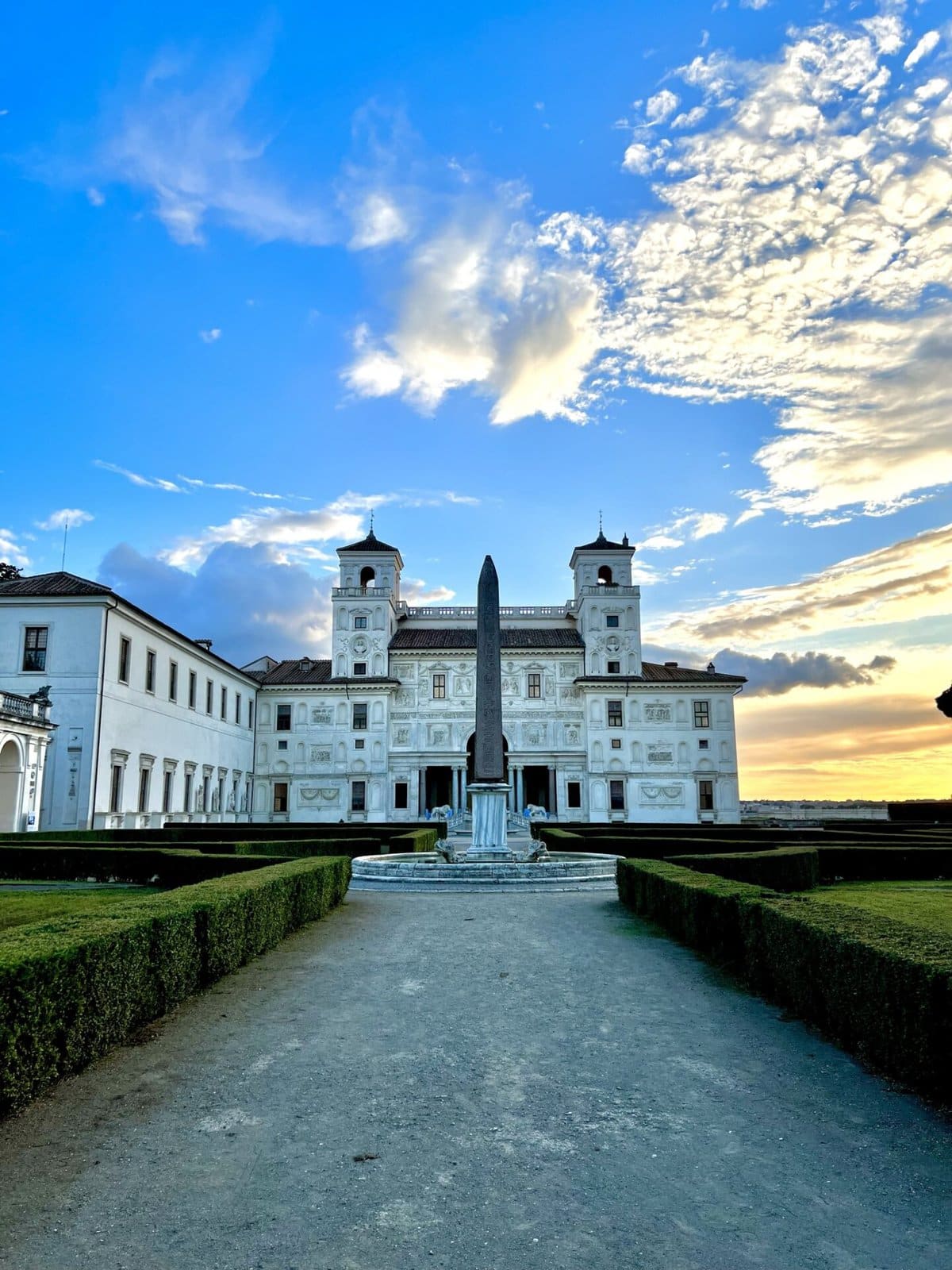 Dine with a local
One of the best ways to immerse yourself in the culture of a new place is to connect with locals! One way to do this is by dining with a local, hosted in their own home!
A highly recommended evening is with Federica & Barbara through EatWith. EatWith promotes private culinary experiences led by passionate hosts, and is surely a night to remember!
With Federica and Barbara, you'll taste authentic Roman cuisine, prepared right in their home in charming Trastevere. All drinks are included too, making this a worth-while experience!
These hosts have also won TripAdvisor's Excellence Award for garnering over 800 5-star reviews. Will you be the next one?
Stroll through the Jewish Ghetto
A visit to the Jewish Ghetto shouldn't be missed on anyone's second time in Rome. Located inside Rione XI – Sant'Angelo, the Ghetti di Roma, or the Jewish Quarter, is one of Rome's hidden gems chock full of archaeological, cultural, religious, and architectural history.
It's known as being the oldest ghetto in the world, dating back to 1555! The people inside had to reside there and were forever marred as belonging to the Jewish community.
Rome's Jewish Ghetto is also one of the best areas to dine at while in the Eternal City. Culinary specialties can be found here that have inspired Roman cuisine. Fried artichoke, anyone?
The Roman Ghetto is close to the Father of the Altarland (Vittoriano) and is a must-visit spot. Colourful alleyways are packed with secrets. Keep an eye out for the gold "stumbling stones" which pay homage to those who were taken during the roundup on October 16, 1943.
There are some interesting things to see surrounding the Jewish Ghetto, like Porico d'Ottavia, a large portico complex built by Augustus for his sister around 27 BC. It was once the site of Rome's largest fish markets during medieval times.
Be sure to explore each inch of the Roman Ghetto for some other hidden treasures amongst its surroundings.
Take in the views of Rome from above (for free!)
One of the most underrated things to do in Rome is to visit some of the piazzas and terraces that have amazing views of Rome. There are plenty of places to find the best views of Rome for free.
For those up for a climb, Belvedere Gianicolo is a quiet place to soak in panoramic views of the Eternal City. It's more off the beaten path since it's on the other side of the Tiber River and through Trastevere, but visitors will be rewarded with beautiful tree lined streets complete with Roman busts of historical figures.
Be sure to stop by the beautiful Fontana Acqua Paola at Belvedere Niccolò Scatoli for more views. It is undoubtedly one of the most beautiful fountains in Rome.
Climb the Vittoriano (Father of the Altarland, or the Wedding Cake) for free with more views of Rome from 360 degrees.
For a peaceful and gorgeous park and fantastic views of Rome with easy access to the Knights of Malta Keyhole and Mouth of Truth, head to the Orange Gardens (Giardino degli Aranci). There is also a water fountain at this park, so bring a reusable bottle!
All of these are entirely free! In fact, there are a number of amazing free things to do in Rome, especially if you've missed them on your first visit!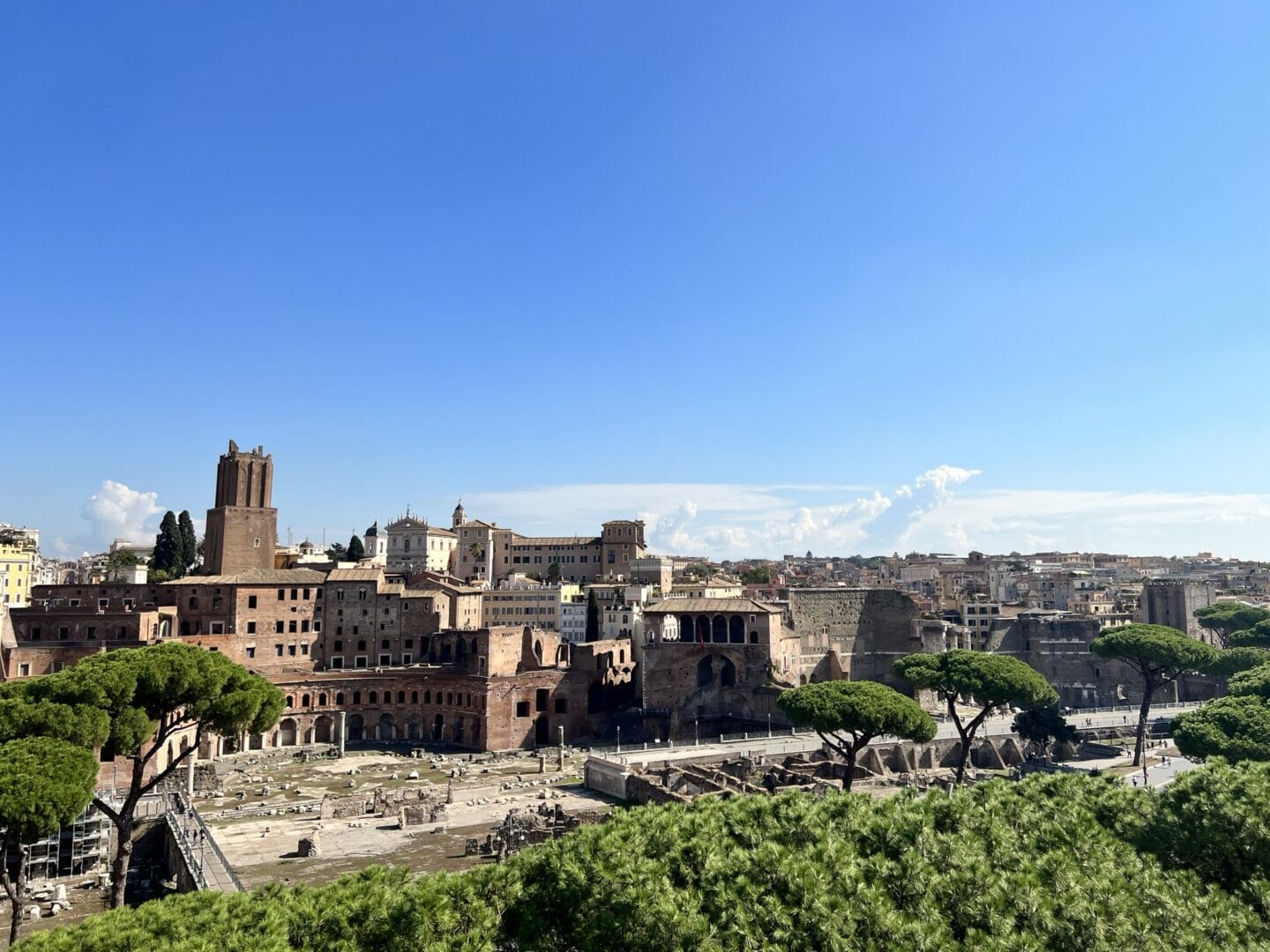 Stroll through Campo di Fiori Market
Campo di Fiori is Rome's oldest market that dates back to 1869! Named after a flower field that was here before the piazza, Campo di Fiori should be on anyone's list during their second time to Rome.
Many people miss this market on their first trip to Rome, but if you are near Piazza Navona, it is well worthwhile to check out! Every morning from Monday – Saturday, Campo di Fiori has tons of colourful stalls selling produce, spices, flowers, merchandise, and baked goods. It's the only piazza in Rome without a church!
Browse through the offerings of different vendors and sample some of the best of what Rome is known for. The market makes a great place to grab breakfast or a snack on your way to other sights and attractions.
Campo di Fiori is intriguingly known as a place of punishment and executions. You'll notice a monument to philosopher and friar Giordano Bruno, who was burnt alive in 1600 after being tried by the Roman Inquisition for heresy.
Visit the Botanical Gardens of Rome
The Botanical Gardens of Rome offer a lush, tropical oasis in the heart of the bustling city.
Located in the authentic and less touristy district of Trastevere, the gardens provide a tranquil escape perfect for second-time visitors seeking a break from the city's crowds and noise.
With an entrance fee of just €5 per adult, it's a budget-friendly attraction that won't break the bank.
Within the gardens, you are instantly immersed in an eclectic mix of towering woodland and giant palm trees. Take time to explore its stunning fountains, as well as themed gardens from around the world, including a bamboo forest and Japanese garden.
For an additional €5, visitors can also visit the Butterfly Garden for the unique opportunity to walk freely below some of the World's largest and most beautiful butterflies.
The Botanical Gardens of Rome are a hidden gem that offer a unique and enchanting experience for all ages. Whether you're a nature lover or just looking for a peaceful retreat, this botanical paradise is not to be missed on your next trip to Rome.
Recommended by The Flains Travel
Check out Romes's Dark History: Crypts, Bones and Catacombs Tour
Looking for a unique experience when visiting Rome over a weekend for the second time?
Look no further than the Walks of Italy Crypts, Bones and Catacombs Tour.
These expertly crafted tours take you on a thrilling journey through the city's rich history and culture, with small groups and experienced guides leading the way.
The tour starts with a spine-chilling adventure through the Capuchin Crypt. Here you experience the eerie underground crypt and come face-to-face with over 4000 bones from Capuchin Monks & Friars, indigent Romans, and even children.
But these bones aren't just lying around – they've been used to create intricate decorative shapes, from rosettes to crosses and even coats of arms.
Next, explore the Santa Priscilla Catacombs, a sprawling underground cemetery that dates back over 150 years before Christianity was legalized. The sheer size of the catacomb and its cold, eerie, windy tunnels will leave you with a lasting impression of the ancient world.
And if all that wasn't enough, the tour is wrapped up with a tour at the incredible 4th-century Basilica San Clemente that takes you on an underground journey through time. The real magic happens when you uncover a secret temple and apartments from the 1st century!
So if you're looking to experience the darker side of Rome's history, this tour is an absolute must-see!
Contributed by Jolene from Wanderlust Storytellers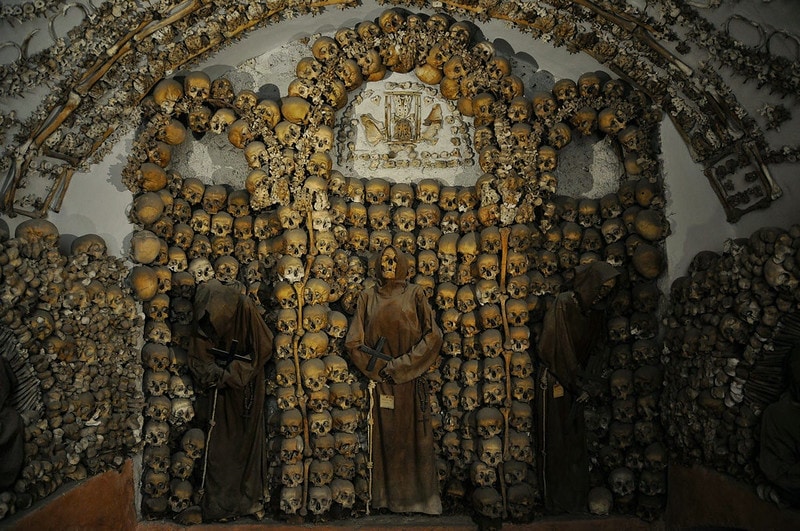 Get a taste of Rome with a Trastevere Food Tour
A food tour is a great way to delve deeper into a city's culinary scene and learn more about local life and customs.
One of the most popular areas in Rome for food tours is Trastevere, a charming, photogenic neighbourhood located just on the other side of the Tiber River from the major tourist attractions.
On a Trastevere food tour you'll go on a guided walking tour of the neighbourhood, visiting beloved local shops and restaurants that many tourists miss.
You'll sample signature Roman dishes such as fried artichokes, pizza al taglio (rectangular pizza slices that are a popular snack in Rome), pasta all'Amatriciana (spicy red sauce with pork cheeks) and filetti di baccalà (Roman fried cod), all washed down with sips of local wine.
And of course no Italian meal would be complete without a visit to a gelato shop, where your guide will explain how to tell the difference between high-quality gelato and inauthentic versions.
Recommended by Destinations & Desserts
Check out the Rome Aqueducts
The millennial aqueducts of the Parco degli Acquedotti are in a dramatic, advanced state of ruin. This urban green area holds six of the eleven structures that transported fresh water to Ancient Rome.
However, not all aqueducts date back to Antiquity; some were, in fact, added during the Middle Ages. Spanning over 240 hectares, it is one of the most fascinating parks in the city.
The real draw is the pristine natural setting of these spectacular ancient remains. It's no wonder that, in the afternoon, people come here to jog, have a picnic, or simply hang out.
The park makes for a perfect laid-back break for the visitor already acquainted with the city, moving them one step closer to the local culture.
No need to worry about the Roma Pass when it comes to this attraction: the entrance to the park is free. It is also very conveniently located. The closest metro stations are Giulio Agricola and Lucio Sestio.
Recommended by Travel Choreography
Most visitors see the famous Piazza Navona on their first visit to Rome. However, not many know that right underneath Piazza Navona, there are the ruins of the Stadium of Domitian.
The Stadium of Domitian, also known as the Circus Agonalis, was an ancient Roman sports venue. Built by Emperor Titus Flavius Domitianus in the late 1st century AD, it was used primarily for athletic contests and competitive games, such as foot races and other athletic competitions, including boxing and wrestling.
The stadium was designed to accommodate approximately 30,000 spectators and featured a U-shaped seating arrangement around a central track. The Stadium of Domitian is the first and only example of a masonry stadium of the Greco-Roman era.
It is declared a Unesco World Heritage Site and is located about 5 meters below the street level. The underground levels of Piazza Navona were opened to the public in 2014 and visitors can now tour the ruins.
Recommended by Travel Addicted Unicorn
See some Stunning Architecture at Quartiere Coppede
A visit to the Quartiere Coppede neighbourhood in Rome is a unique and off-the-beaten-path experience that's best suited for second-time visitors to the city.
Walking through Quartiere Coppede feels like stepping into a different era. Whimsical architecture designed by architect Gino Coppedè in the early 20th century is a blend of Medieval, Baroque, Renaissance and Art Nouveau styles.
Each building has its own distinct ornate facade featuring mythological creatures, gargoyles, frescoes, and mosaics.
Some of the standout buildings in Quartiere Coppede include the Palazzo del Ragno, with its spider web motif and Gothic influences, and the whimsical Fountain of Frogs. The neighbourhood is also home to several restaurants and cafes, making it a great place to grab a bite to eat or a drink after exploring.
Its stunning architecture and charming atmosphere make it a must-visit destination for anyone looking for something different in the Eternal City.
Recommended by Dream Plan Experience
Peer through the Keyhole
It's not uncommon for there to be a queue for the Keyhole at The Knights Of Malta (or the Order of Malta). But don't worry – it's not an over-exposed landmark plagued by scammers and souvenir-sellers. The reason there's a queue is that only one person can experience the keyhole at a time.
That's because it's literally a keyhole: a small hole in a door of the estate of the Order of Malta that people stand in line to look through.
And the reason people do that is this keyhole gives a unique view of Rome: you look through the hole into a tunnel of hedges in a garden. At the end of the tunnel, perfectly centred, is the dome of St Peter's Basilica. Sure, you've seen the dome before, but not in this setting.
Discover the Keyhole at The Knights Of Malta on a free self-guided walking tour of Rome. Though you might have to queue, the queue moves fast, as it doesn't take long to see the view and enjoy it.
Ps. If you're curious, the Order of Malta is a Catholic lay religious order linked to the Knights Hospitaller, which was founded during the Crusades in Jerusalem. The estate with the keyhole is their headquarters in Rome.
Recommended by May Cause Wanderlust
Visit the Pyramid of Rome
In Rome, near Porta San Paolo, there is a pyramid, It seems incredible but it is the truth
The curious story of the Pyramid of Cestius is very ancient. It all began in the 1st century BC. when Caius Cestius, an important politician of ancient Rome, decided that the pyramid would be the ideal choice as his funerary monument.
The pyramid stands out in the urban context for its considerable size and the candid white that the marble with which it is covered gives it.
For centuries it remained in an isolated position dominating with its mass over the ancient "via Ostiensis" until it was incorporated into the defensive walls of the city built by the emperor Aurelian (274-277 AD).
The Cestia Pyramid is more than 36 metres high and has a square base of about 30 metres on each side, it is composed of a concrete core with a brick curtain; the external cladding is made up of slabs of Luni marble and the inscription bearing the name and titles of Cestius is engraved on two sides.
During this period, the Pyramid of Cestius is closed to the public due to the restoration works which should end in 2025 to coincide with the Jubilee.
Recommended by Inguaribile Viaggiatore
See a lesser-known Church: Basilica di San Giovanni in Laterno
When visiting the Eternal City for the second time, it is time to explore Rome off the beaten path. One of the great sites that many first time visitors miss out on is the imposing Basilica di San Giovanni in Laterano.
Being one of Rome's four papal basilicas, you will be surprised it does not receive more attention. It was founded in 313 resulting in it being the oldest church in Rome. It has been rebuilt several times after being destroyed in earthquakes and fires, but still today, it is one of the most stunning churches to enter.
The interior is decorated with imposing statues (as is the façade) and frescoes designed by Michelangelo and painted by one of his students.
Besides the Basilica di San Giovanni in Laterano, you can visit the palace that was the residence of the Popes for 1000 years before they moved it to the Vatican.
Recommended by Brainy Backpackers
Visit a Magic Door: the Porta Alchemica
Porta Alchemica, also known as the "Magic Door" or the "Alchemical Portal," is a mysterious monument built in 1678 by Massimiliano Palombara. It is an off-the-beaten tourist destination located in the middle of Piazza Vittorio. The doorway is covered with various esoteric symbols and inscriptions, with a pair of sculpted Egyptian deities guarding the door.
The history of the Porta Alchemica is concealed in mystery, and there are various theories about its purpose and meaning. Some believe that alchemists built it in the 17th century as a portal to another dimension or a place for performing magical rituals.
Some believe it holds secrets and mysteries waiting to be discovered, while others view it as a beautiful and enigmatic work of art. Porta Alchemica remains an intriguing and captivating monument that inspires and intrigues visitors.
Today, the Porta Alchemica is a popular destination for those interested in the occult and alchemy, and it continues to be the subject of much speculation and fascination. If you are into alchemy, discover the mysteries of this hidden gem of Rome, this is one of the best and most unique things to do in Rome.
Recommended by The Backpacking Executive
(Don't) Tell lies at the Mouth of Truth
A great place to check out in Rome for second-time visitors is Bocca della Verità, or the Mouth of Truth.
The Mouth of Truth is a sculpture located near the church, Santa Maria in Cosmedin. It's circular and has a man's face on it with his mouth open. Legend is that it will bite off the hands of liars who put their hands in its mouth.
While this statue may not be one that everyone thinks to visit on their first trip to Rome, it is known enough that there's typically a line to wait in to take your photo with it. Arrive early if you'd like to avoid the line.
The Mouth of Truth is widely known from its appearance in the film "Roman Holiday." Replicas have also been incorporated into other artists' work. The original is a fun little photo op to take advantage of on your next trip to Rome.
Recommended by Adventures of Chels
Take a Bike Tour
The proximity of so many of Rome's great monuments makes a bike tour a unique activity on a return trip to the Eternal City.
If your first trip to Rome included all the must see experiences of the city, a bike tour allows you to peddle past those sights for a new perspective. Rome is built on seven hills.
While first visits typically only include the historic center, a bike tour will have you riding up Aventine Hill to see Rome's most exclusive neighborhood and to walk through the charming Savello Park.
Or you can experience the city and beyond by peddle along the Tiber Bike Trail or Pista Ciclabile Tevere, a 27-mile paved bike path that begins at the Ponte Bella Musica bridge and goes all the way to the seaside port of Ostia Antica.
Regardless of what you see, experiencing Rome on two wheels is something you'll never forget.
Recommended by 3 Tickets Please
Soak in Rome's Street Art
If you are a repeat visitor to Rome, you may be wondering what the Eternal City has to offer in terms of contemporary art.
Rome's street art scene is very much alive. There are several neighborhoods famous for street art: Ostiense, Trullo, Quadraro, and Tor Marancia. According to locals, the most spectacular murals are those in Tor Marancia.
The Residential Museum of Tor Marancia in Rome is an open-air museum featuring stunning street art on 22 walls of a public housing block on Tor Marancia St.
The suburb has a rich history dating back to the 1920s when inhabitants were forced to relocate due to the opening of Via Della Conciliazione. They ended up in stilt houses that locals nicknamed "Shanghai." Later, apartment blocks replaced the houses.
The Residential Museum of Tor Marancia, also known as "Big City Life," was launched in 2015 and has become a source of pride for the local residents.
The museum is free to visit, and the street art on display is from internationally renowned artists such as Vhils, Jaz, Gaia, Moneyless, Pantonio, Satone, Guido Val Helten, Matteo Basilé, Diamond, Albernero, Danilo Bucchi, Domenico Romeo, and Jerico. Their artwork is impressive, and the project even participated in the Venice Biennale. The museum's address is Viale di Tor Marancia, 63.
Recommended by Travel Connect Experience
Rent a Row Boat at the Borghese Gardens
Most people know that you can walk in the footsteps of gladiators at the Colosseum, and climb the famous steps of the Piazza di Spagna, but most people don't know that you can row a boat in the Villa Borghese.
Within the enormous gardens, you will find a man-made lake encircled by sweeping greenery with the Temple of Asclepius at its center.
It is common to see couples as well as families with young children paddling on the water. Renting the boat costs a modest €3 per person for 20 minutes. This is more than enough time to paddle around the lake among turtles and ducks.
The row boats are still considered a hidden gem as few guidebooks include this activity when mentioning Villa Borghese. It's a relaxing activity and a welcoming escape from the busy streets of Rome.
Recommended by Lovicarious
Related Posts