While the churches in Rome are all beautiful, there are a few that contain little known secrets, like the Basilica di San Crisogono in Trastevere. There is a hidden crypt underground that leads through thousands of years of history!
While everyone is aware that visiting Rome is a never-ending feast for the eyes and mind with all sorts of historic monuments, museums, ruins, and spectacular architecture found at every corner, there are some little-known treasures scattered throughout this ancient city.
The Basilica di San Crisogono is a hidden gem in Rome. This church is often overlooked by many visitors who explore the picturesque Trastevere neighbourhood. In fact, many locals don't even know about this secret excavation site and still remains largely unknown.
This basilica dates back to the 4th century and hides an extraordinary archaeological site that can be easily visited! If you're looking for a quiet place to explore without the crowds, head to Basilica di San Crisogono!
This post contains affiliate links which means I earn compensation when you click on the links at absolutely no extra cost to you! Feel free to read my disclosure policy. Thank you for supporting my blog!
Plan your next vacation using these tools!

✈️ Book flights: SkyScanner
🏨 Book hotels: Booking.com
🚘Book car rentals: RentalCars.com
🎫Book tours: GetYourGuide
🍽️Local food experiences: EatWith
🌍Favourite travel item: Packing cubes
🧳Favourite travel bag: Osprey 40L Fairview
📱 ESims: Airalo
🩹 DIY Travel Medical Kit
💸 20 Cheap Travel Items Under $20
Hidden Gems in Rome: A church under a church!
Trastevere is a must-visit area while in Rome. Just across the Tiber River leads to streets packed full of character and amazing places to dine. If you're looking for something a bit unique, then a visit to Basilica di San Crisogono is the place for you.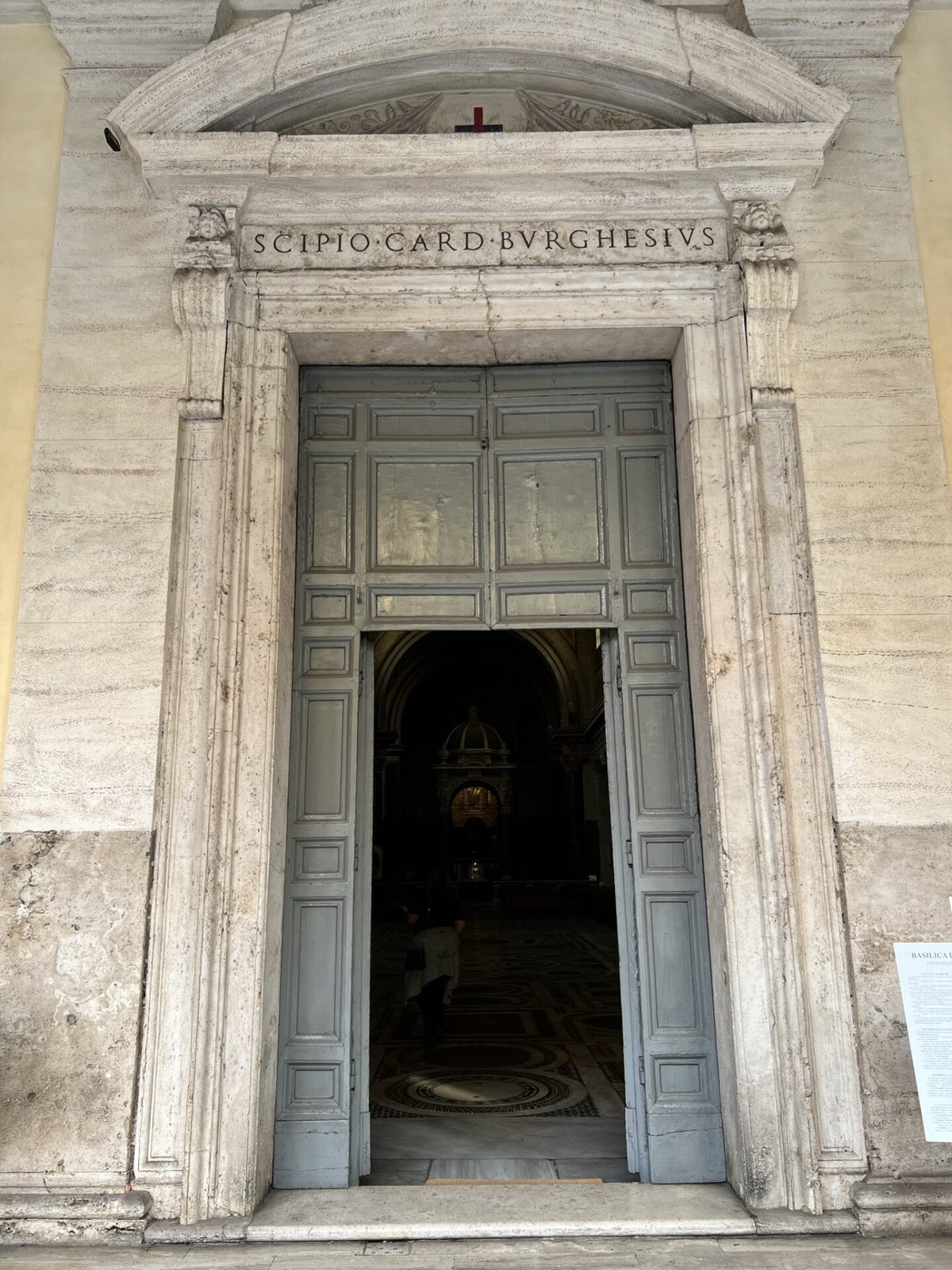 While the interior of the church is stunning, with 22 granite columns and an ornately decorated ceiling, the real showpiece lies underground.
There is a crypt underneath with the remains of the original 4th century church. If you didn't know it was here, you would completely miss it.
Remnants of this centuries-old church have vivid medieval frescoes in incredible condition that hide beneath this old basilica.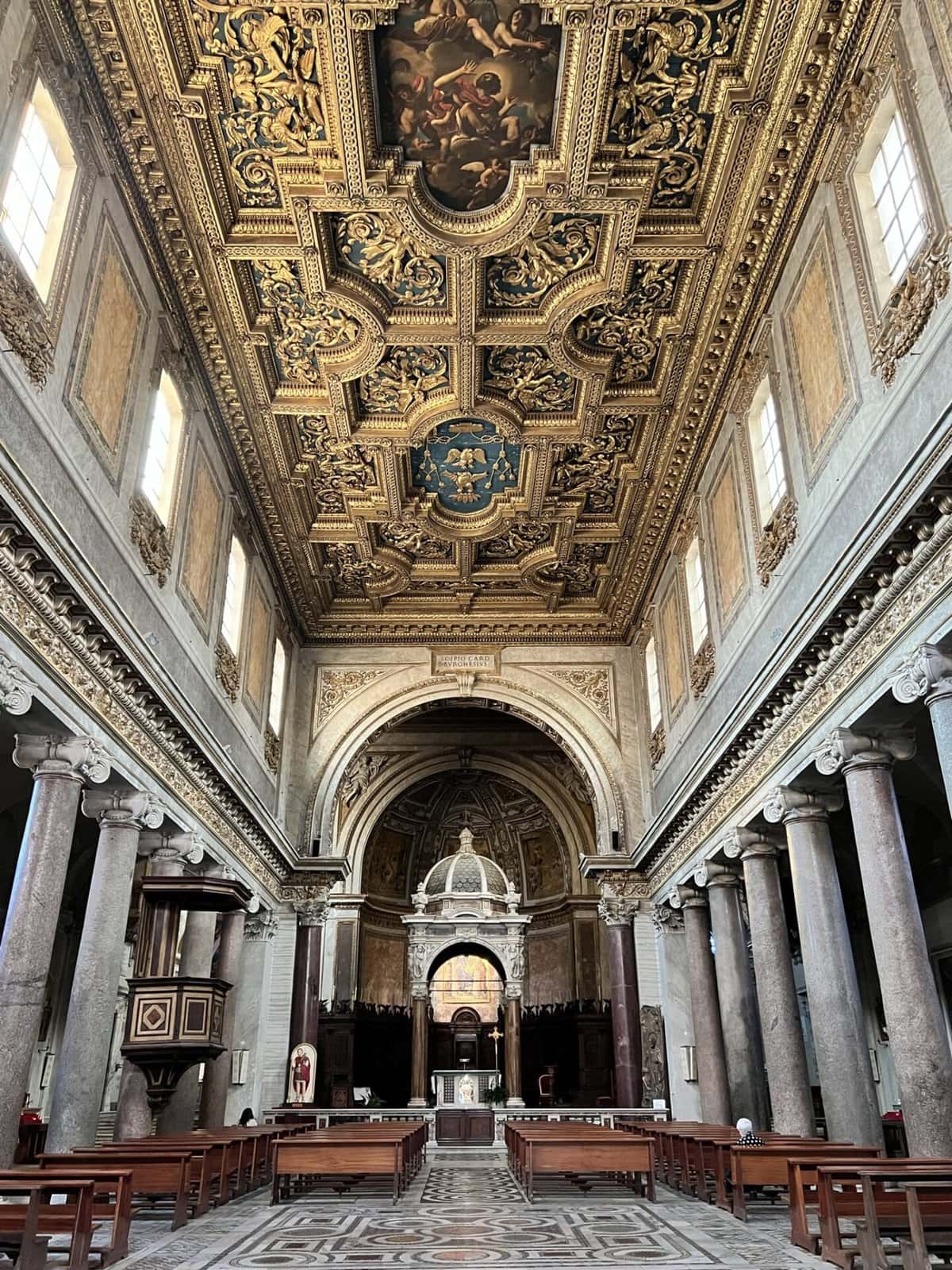 Discovered in 1907, the crypt in Basilica di San Crisogono is definitely something to be seen if you're looking for off the beaten path things to do in Rome.
You'll find all kinds of frescoes – some still vivid as day, columns, tile floors, and even a few tombs – one of which still has bones in it!!!
It costs 3 euros a person which is a steal for what you're getting access to – the ruins are massive and you have free reign to wander through the various sections.
What's odd to me is there are no signs telling you not to touch anything nor is there any monitoring. Given how old it is, you would almost expect there to be some signage.
You can access the crypt in the Basilica di San Crisogono by walking to the back room on the left side of the church. If the attendant is there, he will open the door for you..
Looking for another crypt to explore in Rome? 10 minutes away, still in Trastevere, is the Basilica Santa Cecilia. If you time it right, you can buy entrance through the bookshop for 3 euros. The Basilica Santa Cecilia in Trastevere is open from 9 – 1 and 3 – 7 daily.
History of Basilica di San Crisogono: How old is the church?
Many people compare the Basilica di San Crisogono to a layered cake. The first church, underground, was built under Pope Sylvester I (314-335). This was during the reign of Constantine.
The church was entirely rebuilt on top of the original church by Cardinal Giovanni da Crema (1123-1129) due to regular flooding which made it a necessity to raise the level of the church. The bell tower was also added during this time.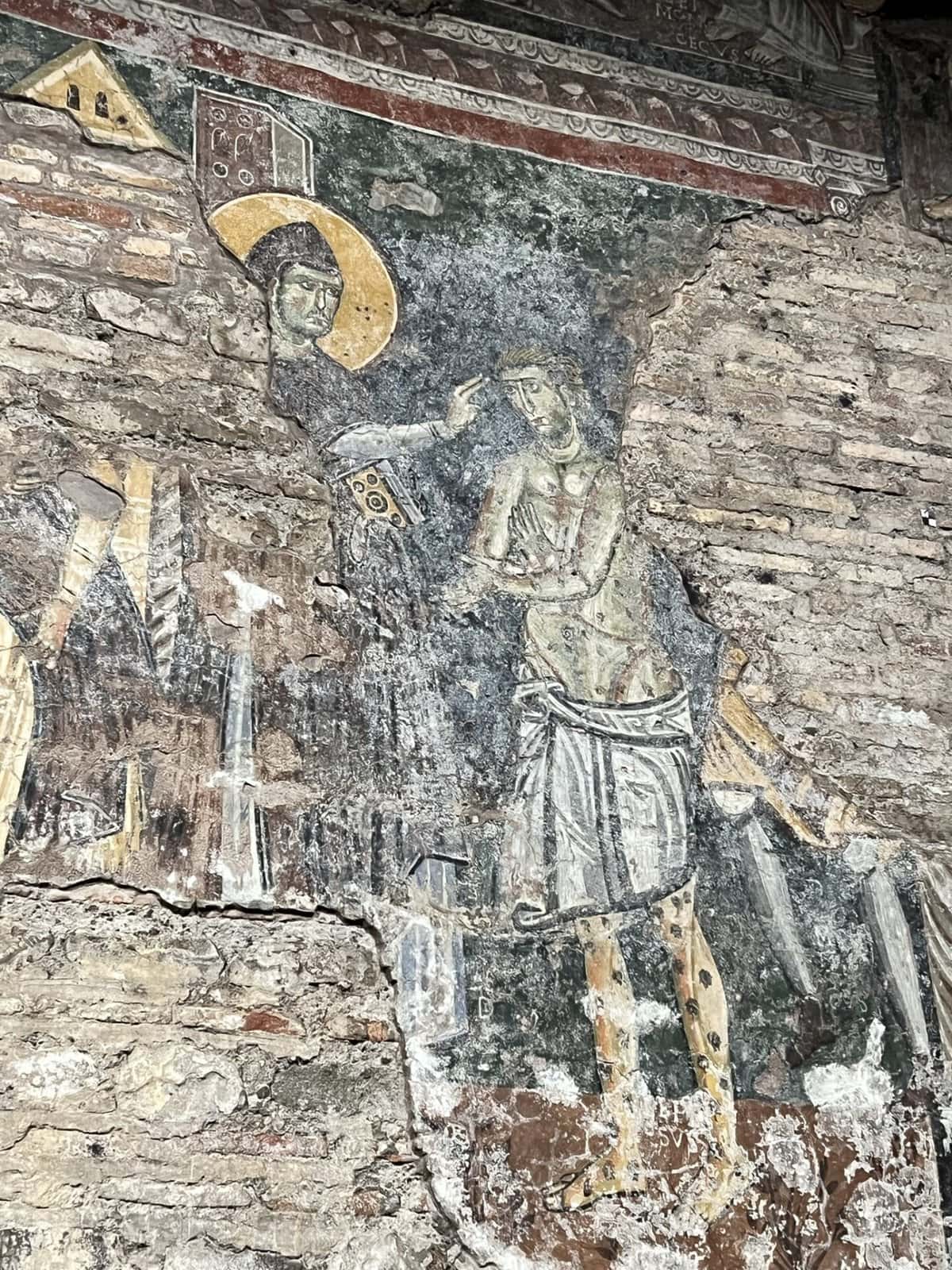 Once again in 1626 the basilica was rebuilt by Giovanni Battista Soria on commission of Cardinal Scipione Caffarelli-Borghese.
The ruins cannot be completely excavated due to the foundation of the upper church obstructing the structure below, which means the full history of this ancient church may never be uncovered. It's still fascinating to visit and unlike any other experience in the eternal city.
What to expect at the crypts of Basilica San Crisogono
A door being a desk leads you down a narrow staircase to the underground excavation site. You are allowed down there unattended and free to explore the area.
It's humid down there but much cooler than aboveground, and you'll soon find yourself getting tacky from the moisture. There is plenty of lighting down in the church crypts, but it is a bit eerie being down there unattended, especially if it's just you down there.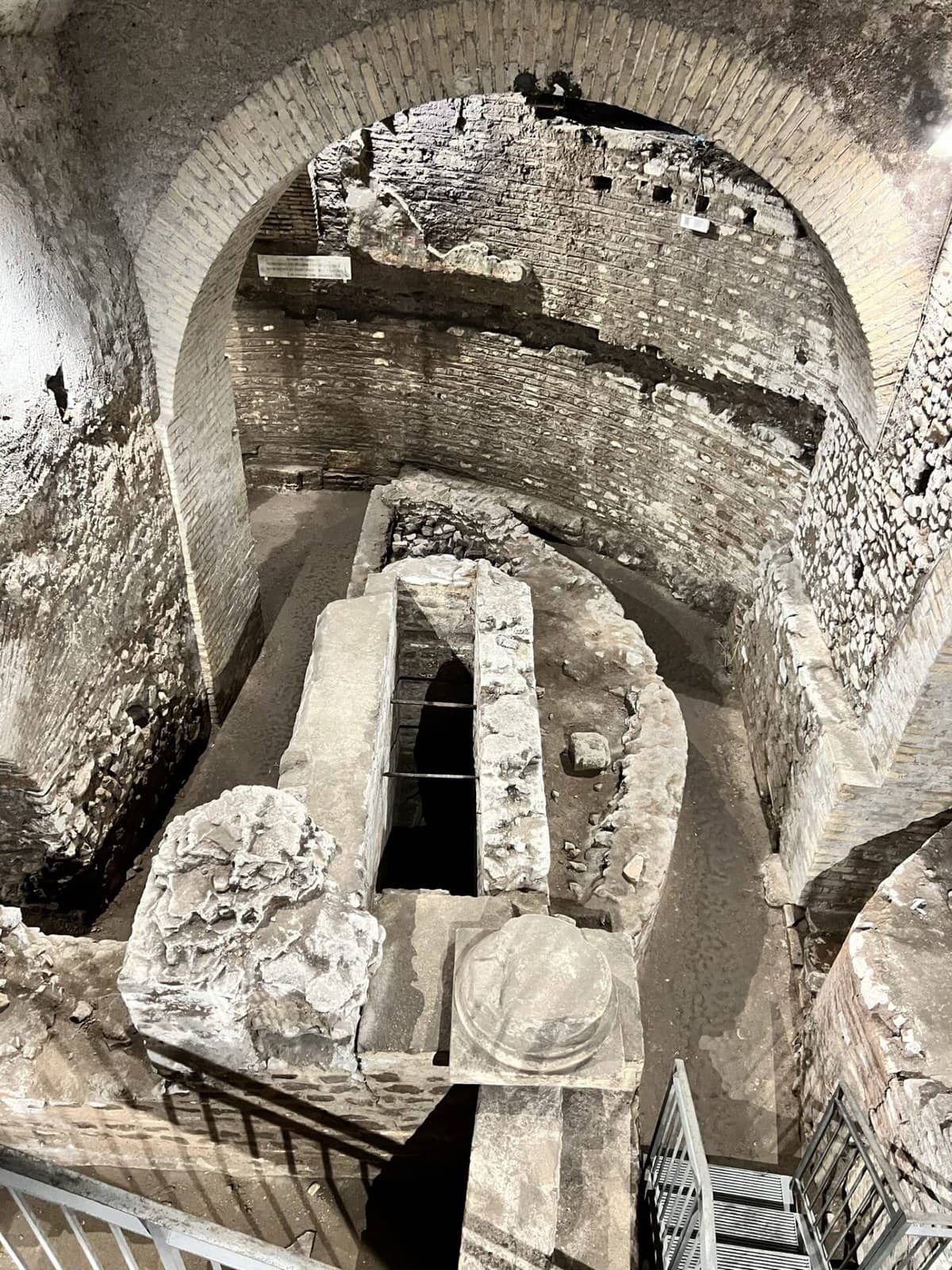 Once downstairs, you'll see an amazing revealed 4th-century church, which is amongst the oldest in Rome! The church was centred around the martyr Saint Chrysogonus (who is rumoured to be martyred in Rome) and would've been a private location prior to the recognition of Christianity.
The crypt was unearthed well over 100 years ago, in 1907. It's 20 feet below the basilica and many unique areas have been uncovered.
The site is well-preserved and locations such as the robing room and baptistery have been located, as well as parts of the baptismal font are still visible. Other structures, like basins, have been found, which is speculated to be the location of a modern–day laundry room.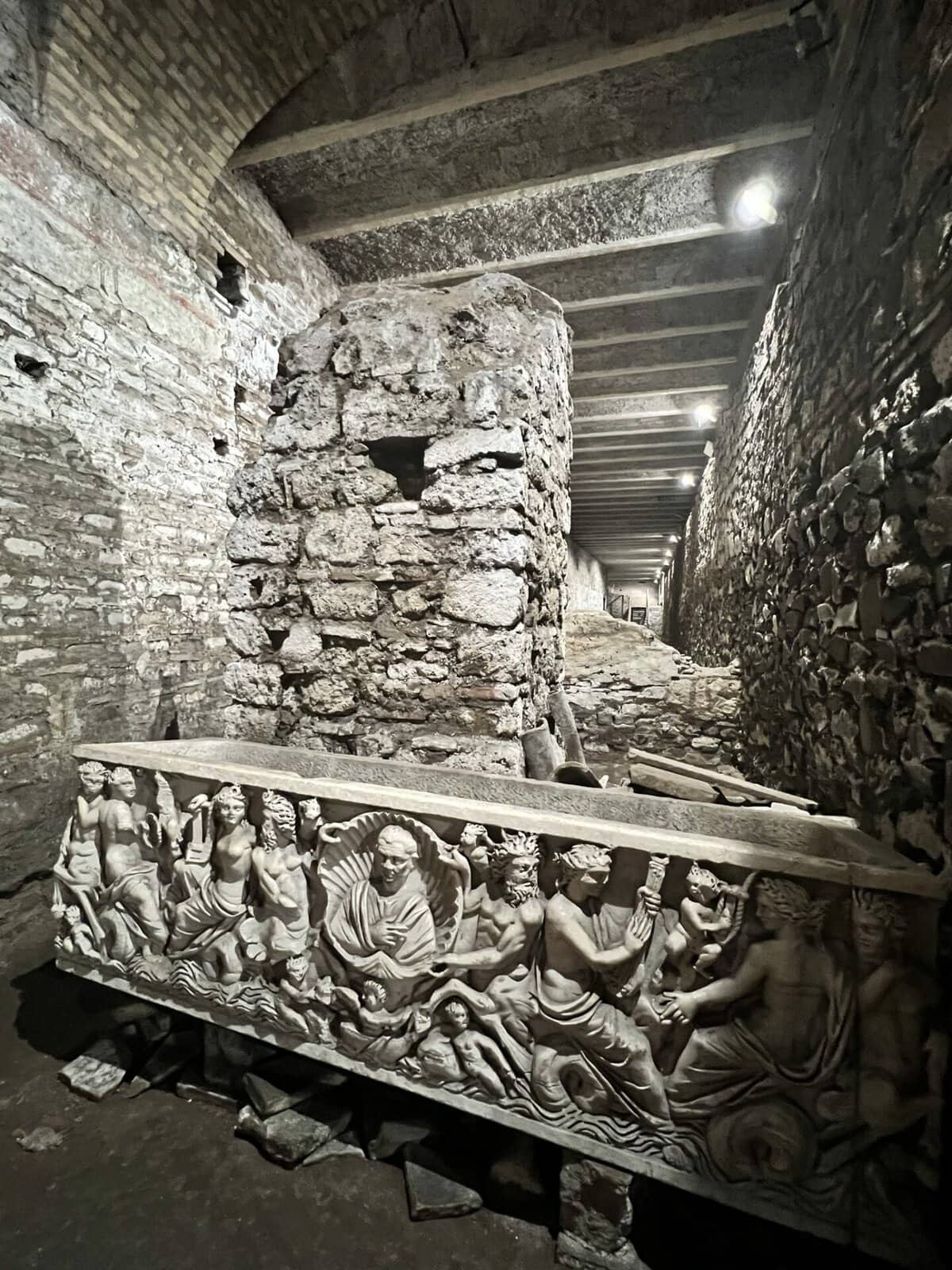 Remarkably, frescoes still cover the walls with immaculate form that date back to the 8th century. Three saints can be made out, including Saint Chrysogonus.
In addition to these findings, the space between the wall of the more recent basilica and the Paleochristian church is another display of frescoes from the 10th and 11th century. These images depict scenes from the lives of Pope Sylvester and Saint Benedict.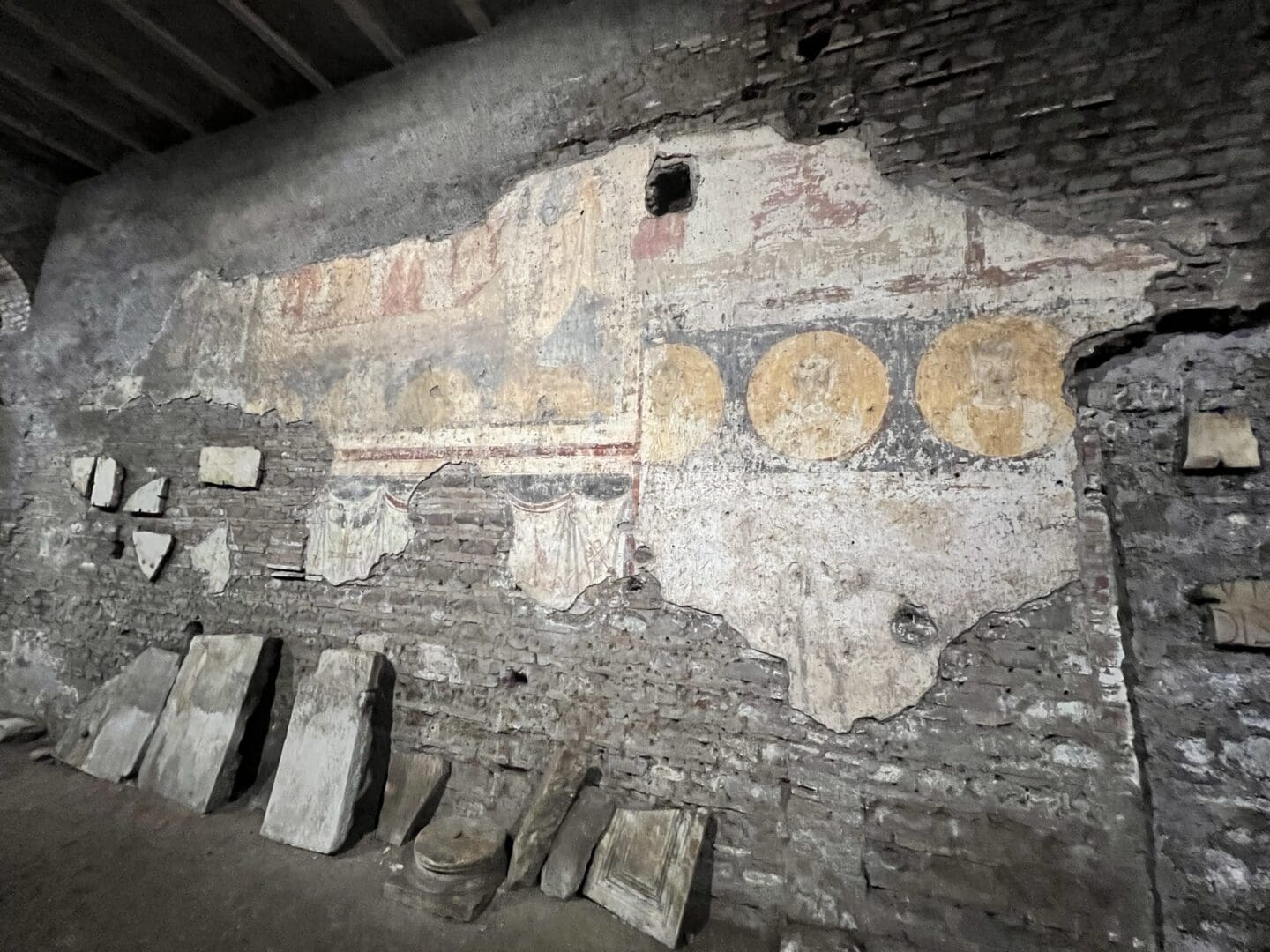 You'll be able to see ancient sarcophagus from the 2nd century including a tomb without a cover on it with clear engravings of what appears to be muses.
You're free to spend as much time as you like down there exploring the walls, tile floors, frescoes, and oddities you may find. When we visited, we were the only people there.
What to know before going to Basilica San Crisogono
There isn't any signage about visiting the church crypt under Basilica San Crisogono. You have to just know about it! Entry is 3 euros per person.
The excavation site is open daily from 7:30 – 11:30 am and again from 4:00 pm – 7:00 pm. Once entering the church, walk back to the far left hand side of the building. There is an office with an attendant at the desk.
Important! Keep in mind that you will be unable to access the crypt during any church service that may be going on at the time.
It also goes without saying to not remove any items you find in the crypt. Let's keep this space preserved for future visitors and future generations to enjoy and learn from!
Address: Piazza Sidney Sonnino. Cross the Tiber River along Ponte Garibaldi into Trastevere and walk for two minutes. The church is on the right hand side by some huts selling refreshments and souvenirs. Look for the bell tower!
Related Posts
Pin it for later!