Looking for where to find the best views of Bologna? Bologna is a charming history city well known for its incredible food, architecture, and local vibe.
While this city is best explored by foot and wandering the streets, there is no shortage of views of Bologna.
Bologna is one of my all-time favourite places to visit in northern Italy. This historic town is less-frequented by tourists compared to places like Rome or Florence, and you'll experience some of the best meals and unique things to do in Bologna.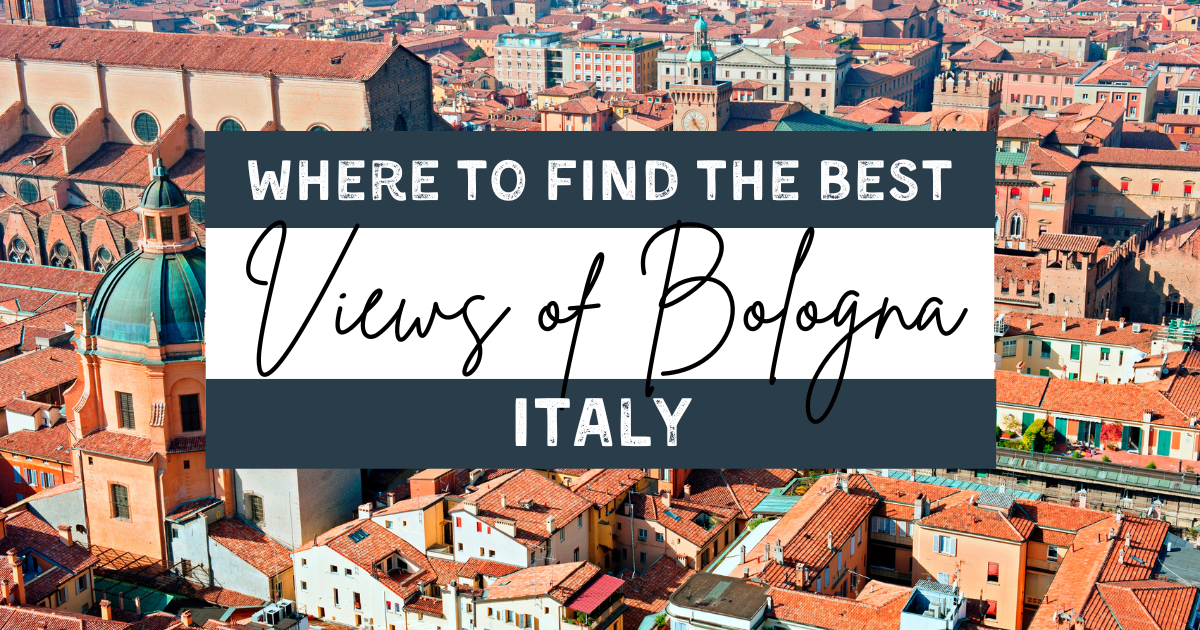 Seeing Bologna from above makes you appreciate this town that much more.
Colourful buildings and rooftops provide a unique photo opportunity and will help you understand why this city has been nicknamed "La Rossa"; the historic centre has an expanse of red rooftops that haven't changed much since the Middle Ages.
Some of these best views of Bologna require an admission fee, like the top of the Basilica di San Petronio and from the top of the Two Towers. But, some of the views are free things to see in Bologna!
Is this your first trip to Italy?
Here's what to know before going!
This post contains affiliate links which means I earn compensation when you click on the links at absolutely no extra cost to you! Feel free to read my disclosure policy. Thank you for supporting my blog!
Plan your next vacation using these tools!

✈️ Book flights: SkyScanner
🏨 Book hotels: Booking.com
🚘Book car rentals: RentalCars.com
🎫Book tours: GetYourGuide
🌍Favourite travel item: Packing cubes
🧳Favourite travel bag: Osprey 40L Fairview
🩹 DIY Travel Medical Kit
💸 20 Cheap Travel Items Under $20
The Best Views of Bologna
Climb to the top of Bologna: the Asinelli tower
The Two Towers in Bologna are undoubtedly Bologna's most famous landmark.
Located just a short walk from Piazza Maggiore, the Two Towers (also known as Le due Torri) – Asinelli and Garisenda – tower above you as you walk up to them. These towers are actually leaning – and you can climb up one of them!
These two towers are the remains of a group of 180 towers that once existed in Bologna in the 12th and 13th century. Over the years, other towers collapsed or were demolished, but the Le due Torri remain.
The most famous of the two towers is the Torre degli Asinelli, which towers 97.2 metres (318 feet) and leans at an angle of 4 degrees, which is more than the Leaning Tower of Pisa. In fact, it's the tallest leaning Medieval tower in the world!
You're able to climb up 498 steps up the Asinelli tower for absolutely breathtaking views of historic Bologna. Red, yellow, and orange buildings are quite a sight to see from above, and you'll have stunning 360 degrees views all around.
There are a few platforms to stop and rest at, as well as guides telling you when you can climb or descend (since the stairwells are narrow!) and it's well-organized for climbs every 15 minutes.
It takes roughly 10 minutes to climb the tower. Rest up top and enjoy the cool breeze and views!
Tickets must be purchased online in advance to climb the Asinelli tower and tickets are by timed entry every 15 minutes. It's best to book your tickets at least a day in advance, especially on weekends when it's busiest.
Admission: 5 euros.
Hours: Daily from 10:00 am – 6:15 pm.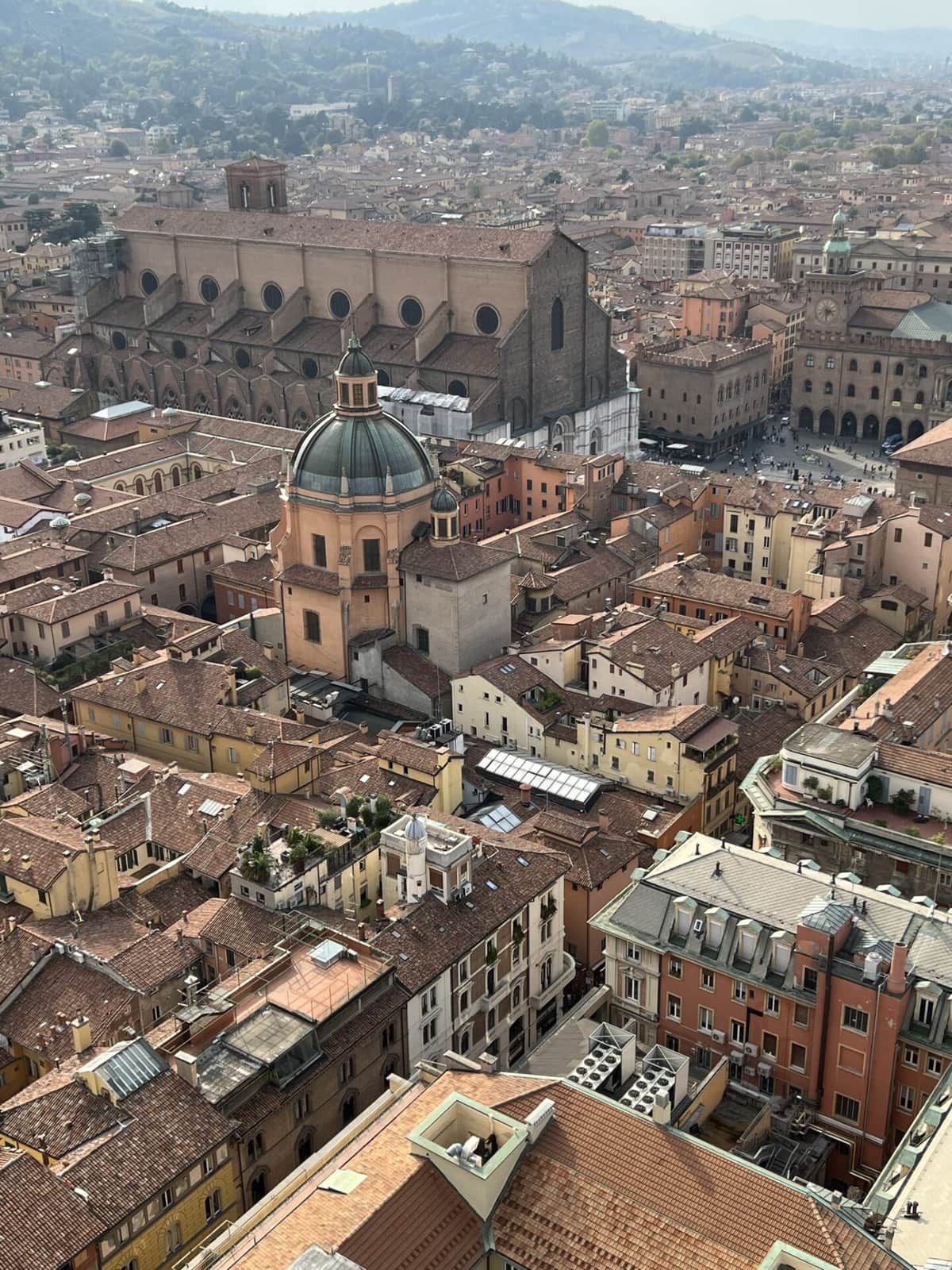 Palazzo D'Accursio
The Palazzo D'Accursio will give you a great view of the church and palazzo – and it's completely free to go to the top floor.
The views you have from here are similar to the ones you'll get from the Clock Tower, except you don't need to pay or book ahead of time!
Head up the stairs or elevator up to the top floor and head down to the windows for a view of Piazza Maggiore and Basilica San Petronio!
Unusual Bologna fact: These stairs are quite different at Palazzo D'Accursio. They're often referred to as the "horse stairs." These ramped stairs were built in the mid 1850s for the sole reason of making sure Bologna's governor could step right out of his carriage to his front door. Apartments were on the 1st floor (2nd floor in North American terms!) and the only way for carriages to make it upstairs was to build a special staircase.
Admission: Free.
Hours: 9:00 am – 6:30 pm Monday-Friday. 10:00 am – 6:30 pm weekends.
Clock Tower (Torre dell'Orologio)
Located in the Palazzo D'Accursio, the Clock Tower (Torre dell'Orologio/Torre Accursio) gives you an even better 360 view of Piazza Maggiore and Basilica San Petronio.
This unique experience in Bologna allows you to discover the city's landmark and symbol of power.
Take a self-guided audio tour through the tower halls to the clock mechanism that has been the heart of Bologna for centuries.
Admission also includes entry to the Municipal Arts Collection, a unique museum where you can uncover the history of Bologna. Enjoy the paintings, sculptures, and fabric ranging from the Middle Ages to present day, ending with a stunning display of Bolognese Baroque with the Sala Urbana.
Tickets must be booked online in advance.
Cost: 8 euros for adults
Reduced price: 5 euros (Bologna Welcome Card EASY and Bologna Welcome Card PLUS holders; children 4 – 12, 65+; Cultura Card holders)
Hours: Open 10:00 – 6:20, entrances at :00, :20 and :40 Tuesdays – Sundays. Tickets must be purchased online.
Observatory Museum (Museo della Specola)
The Observatory Museum in Bologna is well worth a visit, especially since you get an amazing view of Bologna at the end of a guided tour!
The Museo della Specola is fascinating for anyone interested in the history of stars, astronomy, and planetary science.
You'll be able to see ancient instruments up close that were once used by astronomers in the past, like massive wooden telescopes, armillary spheres, and various nautical and topographical instruments used for orientation.
Note: The Observatory Museum has an amazing view of Bologna in the old observatory tower which is 272 steps up. Stairs are spread out through a few levels of the museum, so the climbing is not done all at once. It's quite manageable and the views from the top are definitely worth it!

Admission: Guided tour by 5 euros, Tuesdays – Sundays.
Hours: 10:30 am, 12:00 pm, 4:30 pm. Tours last one hour.
Sanctuary of the Madonna di San Luca
The Sanctuary of San Luca has been a symbol of Bologna for centuries. This monumental church is dedicated to the Virgin Mary and is nestled on Guard Hill.
It's connected to the city by a road with the longest portico in the world! Known as the Devotional Portico of St. Luke, this enormous portico contains over 600 archways that span over 4 km and date back to the 1670s. It was even listed as a UNESCO World Heritage Site in 2021.
The Sanctuary of the Madonna di San Luca provides gorgeous views over the surrounding landscape. A panoramic terrace, known as the San Luca Sky Experience, tower 42 metres (138 feet) allows visitors to view 180 degrees of Bologna from the hills. It's the highest dome in Europe that you can visit!
It takes roughly an hour to walk to Madonna di San Luca from the heart of Bologna through the world's longest portico. You won't need to worry about rain or the blazing sun since you'll be covered, so this offers a picturesque option! You can also take the San Luca Express from town and get a tour of the city along the way.
I would recommend taking part in a food tour of Bologna and combine your visit with some local cuisine!
Admission: Free views from the terrace. Climb the viewing platform (San Luca Sky Experience) for 5 euros.
Church hours: Open 7:00 am – 6:00 daily.
San Luca Sky Experience: 10:00 am – 1:30 pm/2:30 pm – 6:00 pm Monday-Saturday. 12:00 pm – 8:00 pm Sundays.
San Luca Express
Adults: 12 euros
Kids 6-12: 6 euros
Kids under 5: 3 euros
Free: Bologna Welcome Card PLUS holders
St Peter's Cathedral Bell Tower
Often overlooked, the St Peter's Cathedral bell tower provides a unique view of Piazza Maggiore. The current bell tower measures 70 metres/229 feet and was built using the previous bell tower which was built in the 10th century!
An ancient bell, referred to as the "Nonna", dates back to 1594 and weighs a whopping 7,300 lbs! The "Nonna" is flanked by three other bells which require more than 23 people to play all together. Imagine that?
Be sure to visit the cathedral as well while you're here – it's free! You can observe sculptures and paintings by famous Italian artists.
The opening hours for St Peter's Cathedral bell tower are very limited, so if you happen to be in the area when it's open to the public, take the chance to see something not many people see!
Admission: 5 euros
Hours: Saturdays from 2:00 pm – 4:30 pm. The opening hours are very limited, so if you happen to be in the area when it's open to the public, take the chance to see something not many people see!
San Michele in Bosco
Deemed as the best view of Bologna, San Michele in Bosco sits atop one of the hills overlooking Bologna and provides a sweeping panoramic view of the city.
San Michele in Bosco has a rich history; the church is of ancient origin and was rebuilt several times over the years. It was used for many purposes including barracks, a prison during Napoleonic times, a villa for the Papal legate, a hospital, and a residence for the King of Italy.
As one of the oldest churches in Bologna that still houses art by artists like Carracci, the views from the magnificent terrace of San Michele in Bosco provides postcard worthy views, and it's entirely free!
You can walk to this view of Bologna by foot in about 30 minutes from the historic city centre, or by taxi or bus 30. However, there are beautiful sights along the way and a walk is definitely worthwhile!
Admission: Free viewing access. No admission to the church.
Hours: 24/7
Related Posts
Pin it for later!