The Asinelli Tower provides the best views of Bologna for just 5 euros! If you're up for the 498 stair climb, it's worth the payoff.
Looking to stay active while visiting Italy's food capital, Bologna? If you are up for a challenge and want one of the best views of Bologna, you need to pay a visit to Le Due Torri and climb the Asinelli Tower!
The Two Towers (Le Due Torri) in Bologna are arguably the historic city's most famous landmark and most popular tourist attraction. Just a few steps away from Piazza Maggiore, you'll be able to see another one of Italy's less-frequented leaning towers.
The Two Towers – Garisenda and Asinelli, are the one of only a few remaining towers left in Bologna from the 12th -13th century. There were once around 100 towers around Bologna! Many of these towers collapsed due to poor construction, while others were demolished.
These iconic towers are a link to the past and to what Bologna was once like in the Middle Ages.
Out of the two towers, the most famous one is the Torre degli Asinelli. It towers over Bologna at a staggering 97 metres (318 feet)! This makes this tower the tallest Medieval tower in the world.
Asinelli's twin, Torre degli Garisdena, leans at a whole 4 degrees, which is more than the Leaning Tower of Pisa!
One of the most unique things to do in Bologna is to climb the Torre degli Asinelli, if you're up for the challenge! And believe me, the effort is worthwhile! The panoramic views from the top are breathtaking and you'll be able to see miles in every direction.
This post contains affiliate links which means I earn compensation when you click on the links at absolutely no extra cost to you! Feel free to read my disclosure policy. Thank you for supporting my blog!
Plan your next vacation using these tools!

✈️ Book flights: SkyScanner
🏨 Book hotels: Booking.com
🚘Book car rentals: RentalCars.com
🎫Book tours: GetYourGuide
🌍Favourite travel item: Packing cubes
🧳Favourite travel bag: Osprey 40L Fairview
🩹 DIY Travel Medical Kit
💸 20 Cheap Travel Items Under $20
Le Due Torri: Bologna Towers history
Bologna's two towers have a long-standing history in Bologna. These iconic towers are at the heart of the historic city centre and are well worth a visit, even if you're just marvelling at them.
The climb to the top is 100% worth doing. It is a challenge, but with enough rest stops, it shouldn't be a problem making it to the top.
Related: 15+ Best Places to Visit in Northern Italy
Asinelli Tower history
The Asinelli Tower is Italy's original tallest tower! Standing at 97.20 metres, it was likely built for defensive purchases during the 11th century. It was taken over by the Asinelli family at the beginning of the 12th century.
The tower was built on the initiative of a young man who used to transport gravel and sand with his donkeys – "asinelli" in Italian – which would explain the family name!
In 1398, a fire destroyed the internal wooden structure of the tower and partially melted the selenite walls – a crystallized form of gypsum – at the base.
Masonry steps and a 30 metre high vault were added to prevent any future incidents. In the 15th century, a guarded fortress was added to the base which served as a prison and gallows for churchmen who were sentenced to death.
Asinelli Tower is Bologna's best known symbol of Bologna, and you can see why! This beautiful tower is a powerful landmark in this historic city and can be spotted from any number of locations in Bologna.
Related: History of Bologna's Teatro Anatomico
Garisdena Tower history
The Leaning Tower of Bologna, the Garisenda Tower, leans at a stark 4 degrees – a whopping 3.22 metres (10.5 feet) at the top. This is more than the Leaning Tower of Pisa (and isn't as busy to visit!).
This tower was built in 1100 and was owned by the Garisdena, a wealthy family of money changers.
Garisenda Tower once stood 12 metres/40 feet higher than it is today. Town council wanted to tear the whole tower down in the late 1200s due to its steep inclination, but could never fund the initiative.
In 1353, ruler Giovanni Visconta da Oleggio managed to remove a portion of the top of the tower. Today, Garisenda stands at 47.50 metres/156 feet.
It's said to have been leaning since it was built and has even made its way into poems by Dante Alighieri, including Dante's Inferno.
What happened to all the towers in Bologna?
Of the 100 towers that once existed throughout Bologna, today only 22 survive. Originally used for defence and a sign of power, their construction, for unknown reasons, fell by the wayside during the 14th century. Many were demolished or incorporated into other buildings.
Climb to the top of Bologna: the Asinelli tower
What to know about climbing Bologna's tower
Tickets must be purchased online to climb Bologna's Asinelli Tower. Tickets cannot be purchased on-site. Once you select your climb time, you will be guided to line up along one wall of the tower.
We felt as though the climbing was very well organized; the passages are narrow and with ticket holders entering every 15 minutes, it meant everyone was spaced out enough and there wasn't any crowding on the (narrow) stairs.
The stairs are all wooden – quite impressive really, given its age! You can tell they've been worn by hands and feet over the years. Don't forget to look up – but hold on – it's high up there and you could feel dizzy.
Through the cutouts on the tower, you may notice pigeon nests, gusts of cool air, and some neat perspectives as you make your way up.
We were told it takes roughly 10 minutes to climb Asinelli Tower. I was first in line with my husband right behind me, and I didn't want to hold anyone up, so we just kept going without taking much of a break.
There are a few platforms to stop and rest at, as well as guides telling you when you can climb or descend to prevent any climbers and descenders from meeting on the stairs.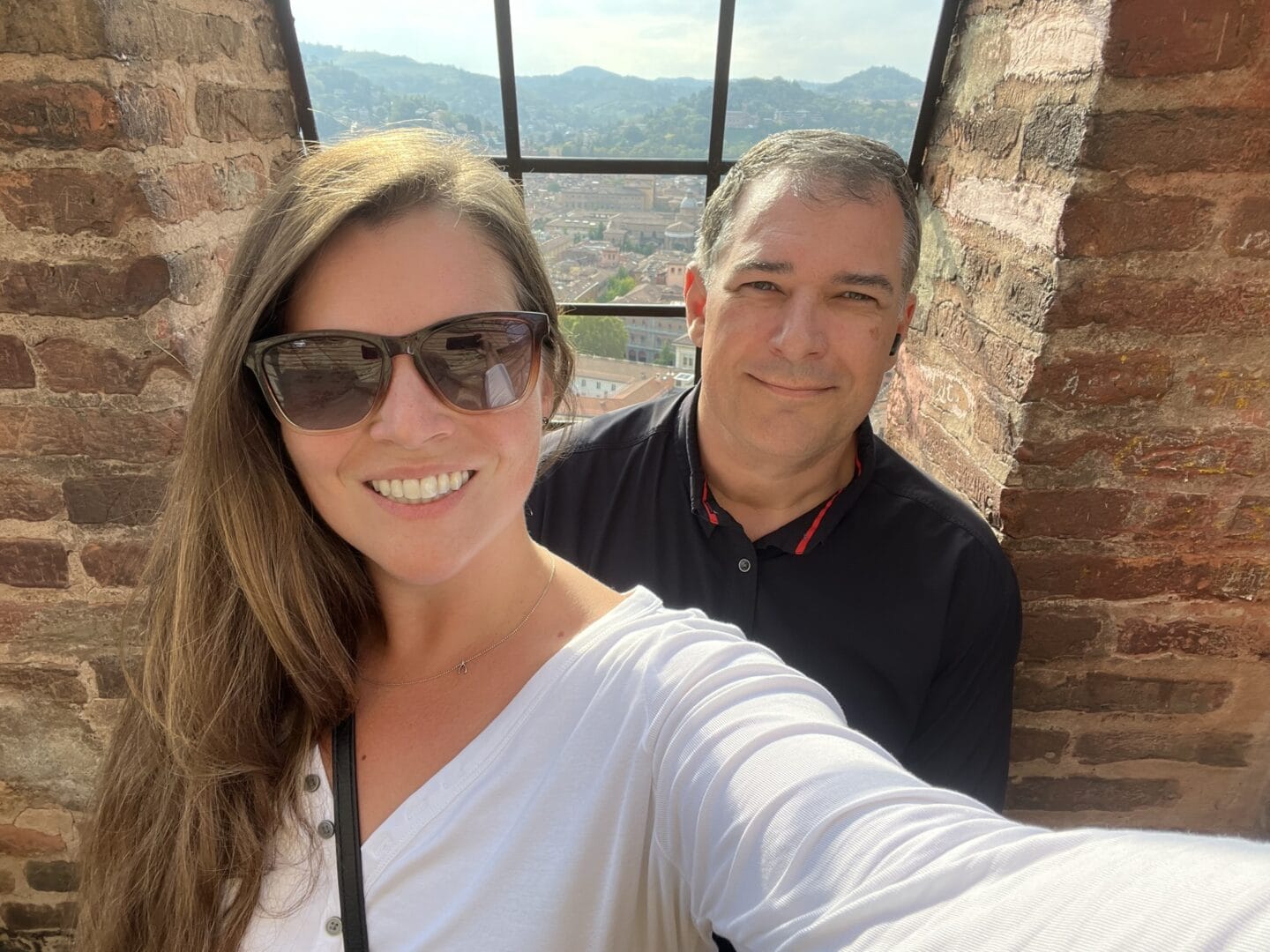 My lungs felt like they were on fire once we reached the top, but the views were absolutely unreal! You will have 360 views of Bologna and beyond.
Panoramic views over the red city have to be experienced. You'll have a unique perspective of Piazza Maggiore, the ancient Roman road of via Emilia, and green rolling hills of Emilia Romagna. The top of Asinelli Tower is caged, so if you're feeling brave, lean over and see how high you really are.
The entire experience at the Asinelli Tower is estimated to take 45 minutes.
Related: 10+ Free Things to do in Bologna
How long does it take to climb Asinelli Tower?
The entire experience at the Asinelli Tower is estimated to take 45 minutes.
It takes roughly 10 minutes to climb the tower's 498 steps. Rest up top and enjoy the cool breeze and views!
To summarize what you need to know about climbing the Asinelli Tower
Book your tickets online in advance
There are 498 stairs up! Take appropriate rests when needed.
This activity is not mobility-friendly. There are no lifts.
The views are worth it!
P.s. Need to cool off after? There's a gelato shop just around the corner from the towers. We went straight for a scoop afterwards! We deserved it after that climb!
Torri degli Asinelli Tickets
Tickets must be purchased in advance to climb the Asinelli tower. Tickets are purchased by timed entry for 5 euros.
Start times are available every 15 minutes from 10:00 am – 6:15 pm. It's best to do it at least a day in advance, especially on weekends when it's busiest.
You can also book the Asinelli Tower with a food tour! Bologna is an amazing place to take a food tour. Some of the best food in the world is found in Bologna, be sure to eat everything you find!
Asinelli Tower entrance fee
Admission to climb the Asinelli Tower is 5 euros, or free with the Bologna Welcome Card.
Asinelli Tower hours
The Asinelli Tower is open daily from 10:00 am with time slots every 15 minutes (.00, .15, .30, .45).
During the summer, the last climb begins at 7:00 Monday-Wednesday and 8:15 Thursday-Sunday. Off season has slightly shortened last climb hours. Check the Bologna Welcome site for the most up to date information.
Related Posts
Pin it for later!