When it comes to finding the best donuts in Niagara, competition is fierce! We're so lucky to have a bunch of great bakeries around in the Niagara Region to find that perfect, satisfying donut.
I gladly took one for the team for this research, and any diet I may have been on went straight out the window. Because you know, I had to do it for the people. 😂
Donuts are a Canadian staple and are often considered the "breakfast of champions" when combined with a beloved coffee – most notably, from Tim Hortons.
However, there are loads of amazing donut shops throughout Canada, and if you're in the Niagara Region, you've really lucked out, because we have some pretty special places to get some tasty treats.
Let's check out the top spots to find the best donuts in the Niagara Region!
Beamsville Bakery
Starting with the bakery that's dangerously right around the corner from me in Beamsville, Beamsville Bakery has been loved by the Lincoln community since 1958.
Family-owned since 1974 and bringing a history of the Netherlands to Beamsville, this bakery provides delicious donuts of varying flavours, including seasonal favourites like key lime pie, apple spice, and coconut cream, with fan-favourites all year round like strawberry and blueberry-filled donuts, maple dip, apple fritters and the classic Long John.
P.s. Your best parking option is to park in the No Frills plaza parking lot and to cross the street at the lights or street parking if you can manage a spot – there is very limited and awkward parking at Beamsville Bakery!
Address: 4966 King St E, Beamsville, L0R 1B6
Hours: Monday 9:00 am – 2:00 pm, Tuesday – Friday 8:30 am – 5:00 pm, Saturdays 8:30 am – 4:00 pm.
Price: From $2.35
Homestead Donuts
Homestead Donuts is quite possibly my favourite donut shop in Niagara. Why? Because they taste so good. They're also one of the cheapest places to grab a donut in the region at $1.42/classic donut.
Years ago at a friend's Stag and Doe, they were serving up Homestead Donuts' donut holes and that's when I fell in love.
Located in Thorold, the shop isn't very large but they have a very good selection of classic and specialty donuts, from jam-filled, chocolate dip, cinnamon buns, black forest fritters, and my all-time favourite, the Maple Long John.
Fun fact: Homestead Donuts bakes an average of 2000 Long John's daily!
Be sure to arrive early in the day because this place is quite popular! Grab a donut and head over to Lock 7 Viewing Centre and watch the ships pass by.
P.s. you can also find Homestead's donuts at Captain's Cabin in Port Dalhousie if you don't want to drive to Thorold!
Address: 26 Pine St S, Thorold L2V 3L2
Hours: Daily 8:00 am – 4:00 pm
Price: Ranges from $1.42-$2.50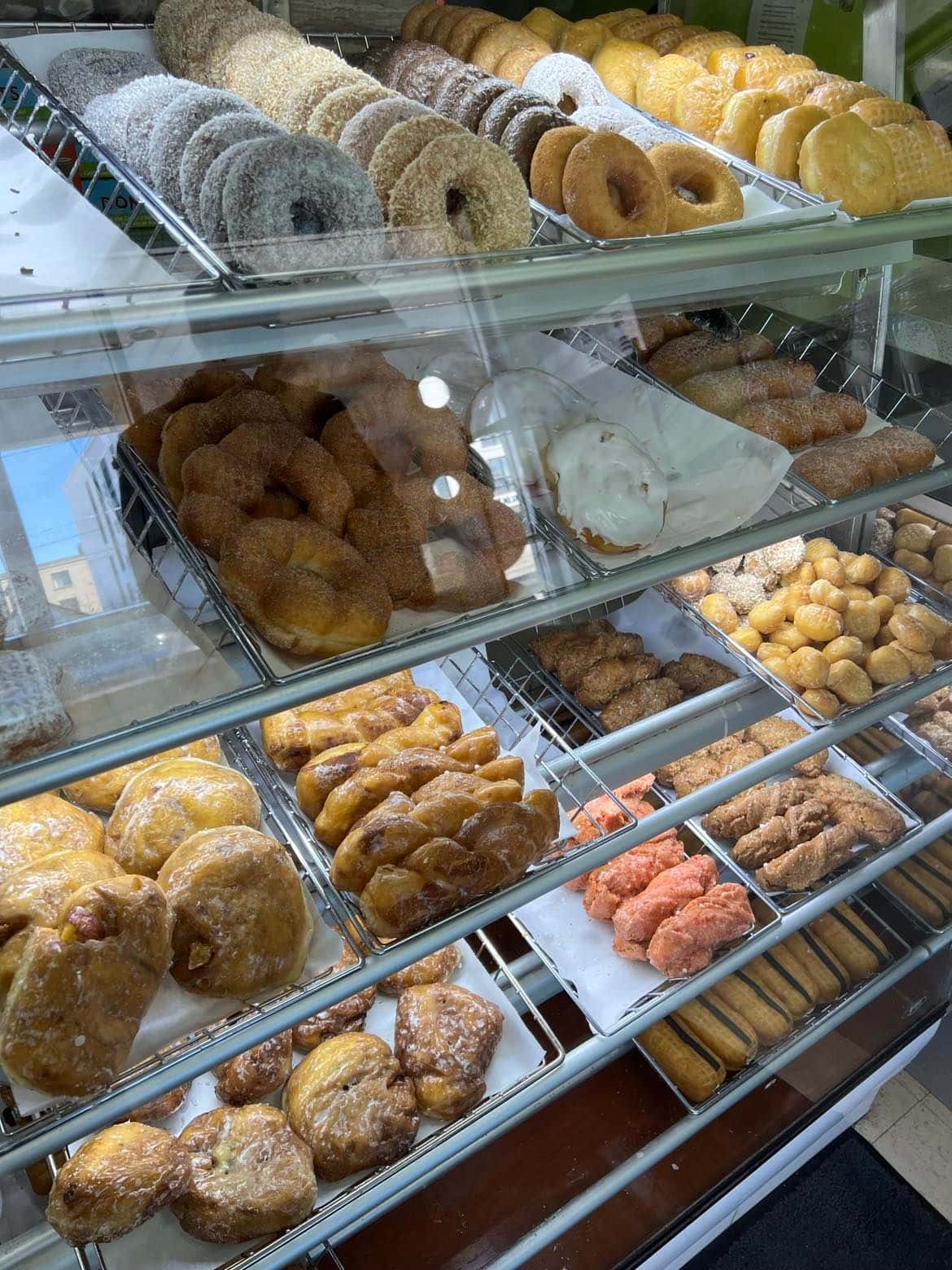 Beechwood Donuts
Ever since Beechwood Donuts opened in 2015, they've been one of the most popular places in Niagara to grab a donut. Their gourmet donuts have developed a somewhat of a cult following – and for good reason. They're really, really good.
An even bigger bonus if you're on a plant-based diet, is that Beechwood's Donuts are all entirely vegan! If that throws you off as a non-vegan, you can't even tell there's no dairy or eggs in these sweet treats.
There are limitless flavours to try (bet you can't just pick one or two!) but get there early – big hitters sell out quickly and you may often find yourself waiting in line. But trust me, the donuts are worth the wait!
You can order your donuts online up to 10:00 pm the night before if you want to pre-order and pick up the following day.
Tip: Not sure what to try? My favourite donut is the Strawberry Shortcake cronut. It's life changing.
P.s. You can also have them delivered!
Address: 165 St Paul St, St. Catharines, ON L2R 3M5
Hours: Monday – Saturday 10:00 am – 6:00 pm, Sundays 10:00 am – 3:00 pm
Price: Ranges from $2.15-$3.25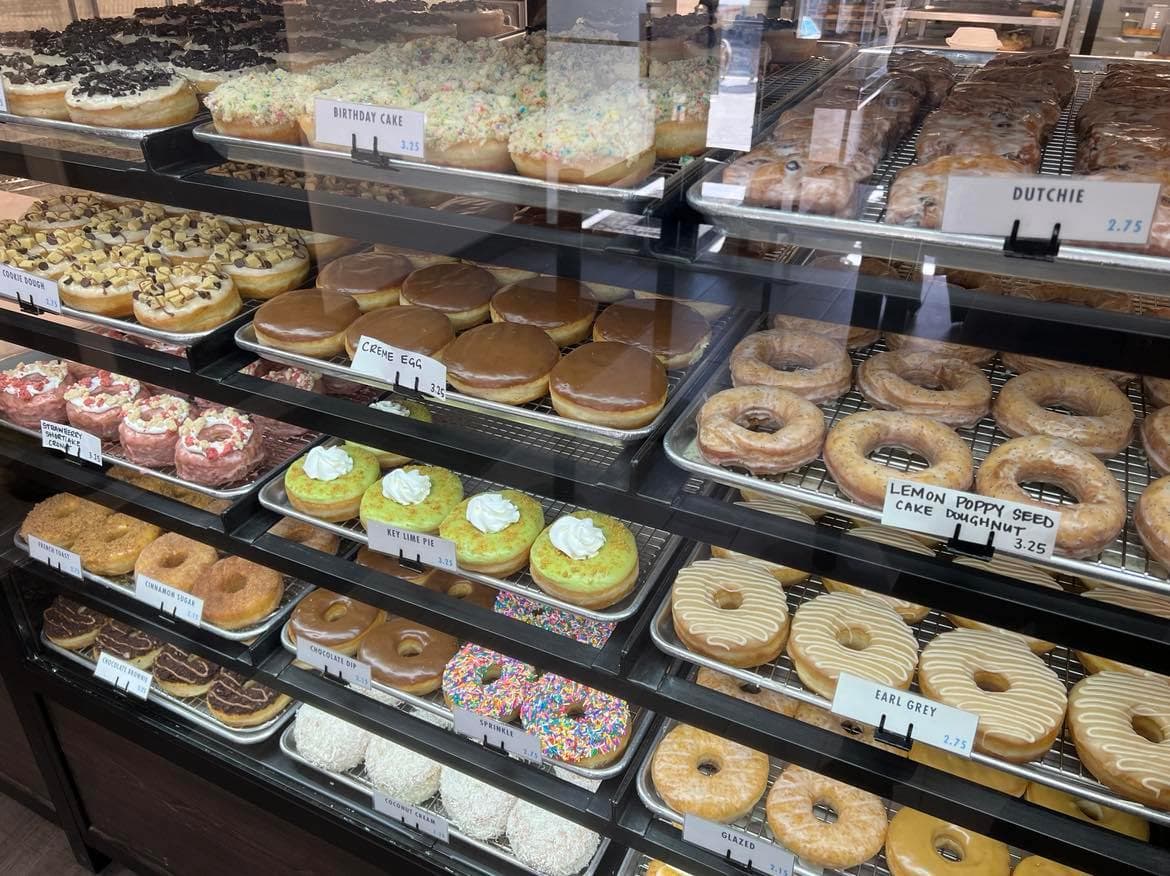 Dohboy's Diner
While Dohboy's Diner isn't in your expected location for a donut shop, this St. Catharines favourite has crowds flocking here for not only great donuts – they offer much more than just that!
Dohboy's Diner's menu is fairly extensive and offers great value. Many will recognize this establishment as a previous Donut Diner, and there's a nod to the past with rock and roll charm in a cozy diner setting.
Retro red booths and vinyl records line an entire wall, giving it a vintage vibe that will transport you back to the 50s.
The service is super friendly and there's a great assortment of donuts, including cutely decorated ones for kids (and kids at heart!).
Ps. Long Johns and speciality donuts are made in-house. Dipped donuts are decorated in house, and the base donut for these ones come from Homestead Donuts. You can't really go wrong with any choice here!
Address: 429 Glendale Ave., St Catharines
Hours: Mondays-Saturdays 7:00 am – 2:00 pm, Sundays 7:00 am – 1:00 pm
Price: $2.25/donut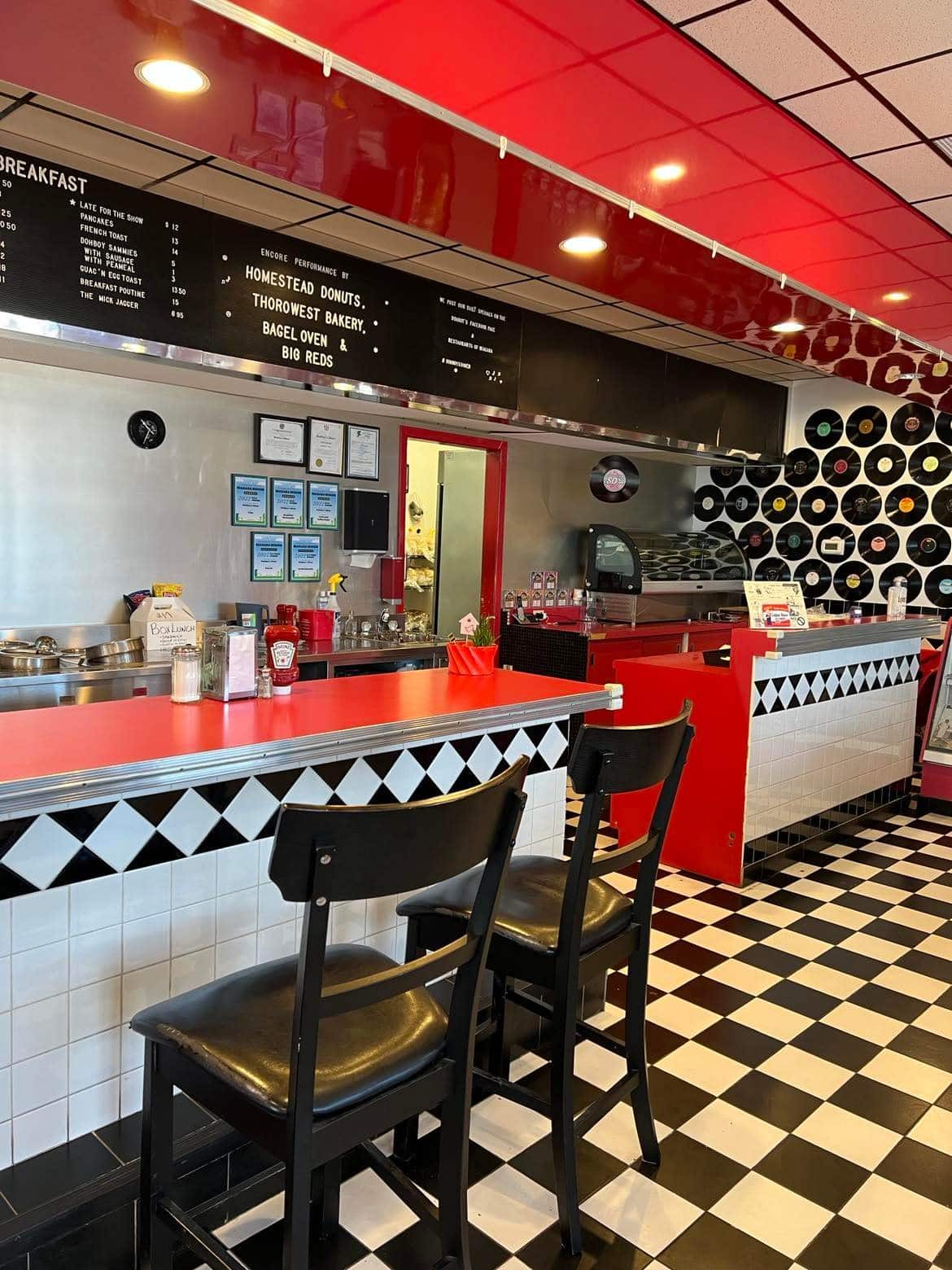 Country Fresh Donuts
Country Fresh Donuts in Niagara Falls has been highly recommended throughout the community for years.
This local donut shop is just a short 2 minute drive from Clifton Hill (or 15 minute walk if you want to exercise those donuts off!). This nondescript building is a hidden gem in Niagara Falls and is definitely worthwhile if you're visiting the area.
Donuts here are made fresh! You can find some unusual donut flavours here, like carrot cruellers, and some harder-to-find flavours across the region like walnut crunch and cherry chip (my favourite!).
Even though delicious donuts of all flavours are sold here, they're well known for their incredible wonton soup! Country Fresh Donuts is a great place to eat for cheap in Niagara Falls and you'll get a major bang for your buck!
It's important to note that Country Fresh Donuts is cash only – so be prepared! Arrive early for the best selection of donuts, because this donut shop is a local favourite!
Address: 5076 Victoria Ave, Niagara Falls L2E 4E2
Hours: Daily from 5:30 am -11:00 pm
Prices: Range from $1.23-$1.90
Related Posts
Pin it for later!