Westfield Heritage Village is a photographer's dream.
If you're looking for socially-distanced, family-friendly attractions in the Niagara Region, Westfield makes for a great family outing and provides tons of photo opportunities, especially during the fall!
Just 45 minutes from Niagara or roughly 90 minutes from Toronto in Rockton, Westfield Heritage Village is an open-air museum featuring over 30 historic buildings spanning 200 years of Canadian spirit and culture!
During a sunny Wednesday in October, we decided to visit this historic place based on some photos I saw – and thought – I need to get here ASAP!
I am SO glad we decided to visit when we did; the leaves were falling, the sun was shining, and the sound of crunching leaves combined with historic buildings just really felt like fall.
The buildings are closed but the grounds are open. You can also book a tour on Sundays and Holidays – more on that later!
I won't spoil it all for you – you'll just have to come visit for yourself! 🙂
We were fortunate the weather ended up cooperating with us, since the day started out as rain and there is no shelter here, but it ended up with us having the place virtually to ourselves!
Upon entering, you'll come across a map of the village displayed. You can also grab an excellent printed map for a self-guided tour with details of each building.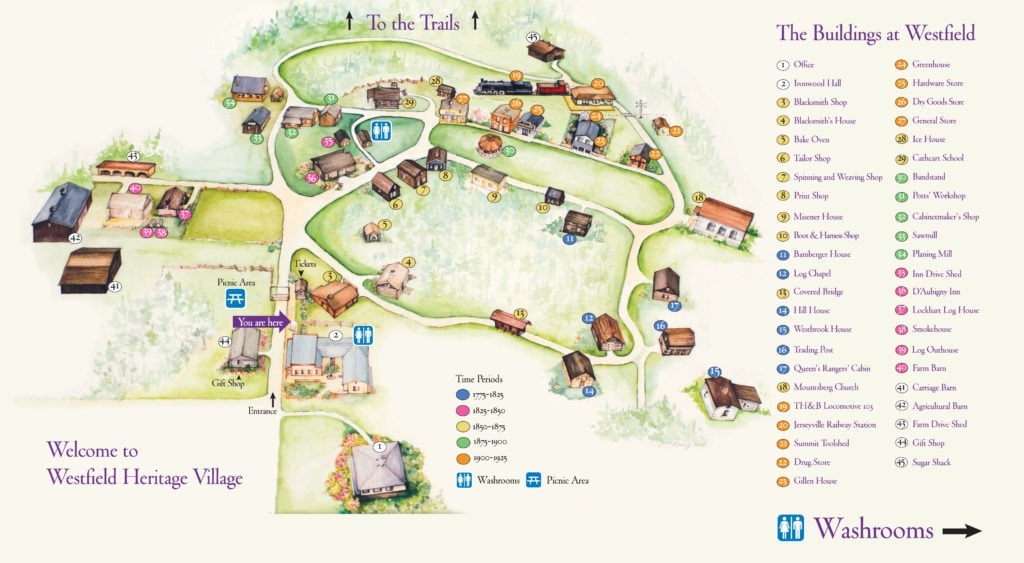 There are 35 buildings for you to view, and they're all so charming.
It would be a great spot to come with a morning coffee to go for a stroll, or relax in the Victorian Bandstand in the heart of the village to take in the views.
What's also interesting is you can do a virtual tour by downloading TaleBlazer. If your phone doesn't have data, there is a Wifi spot outside the Ironwood Hall (at the entrance) you can use! Once you download the "game" for Westfield, you don't need data to use it. Bonus!
What to see
Once we entered through the gates we headed right and followed the trail, stopping every few feet to snap some photos.
October is the perfect time to visit. The leaves make such a scenic backdrop for everything!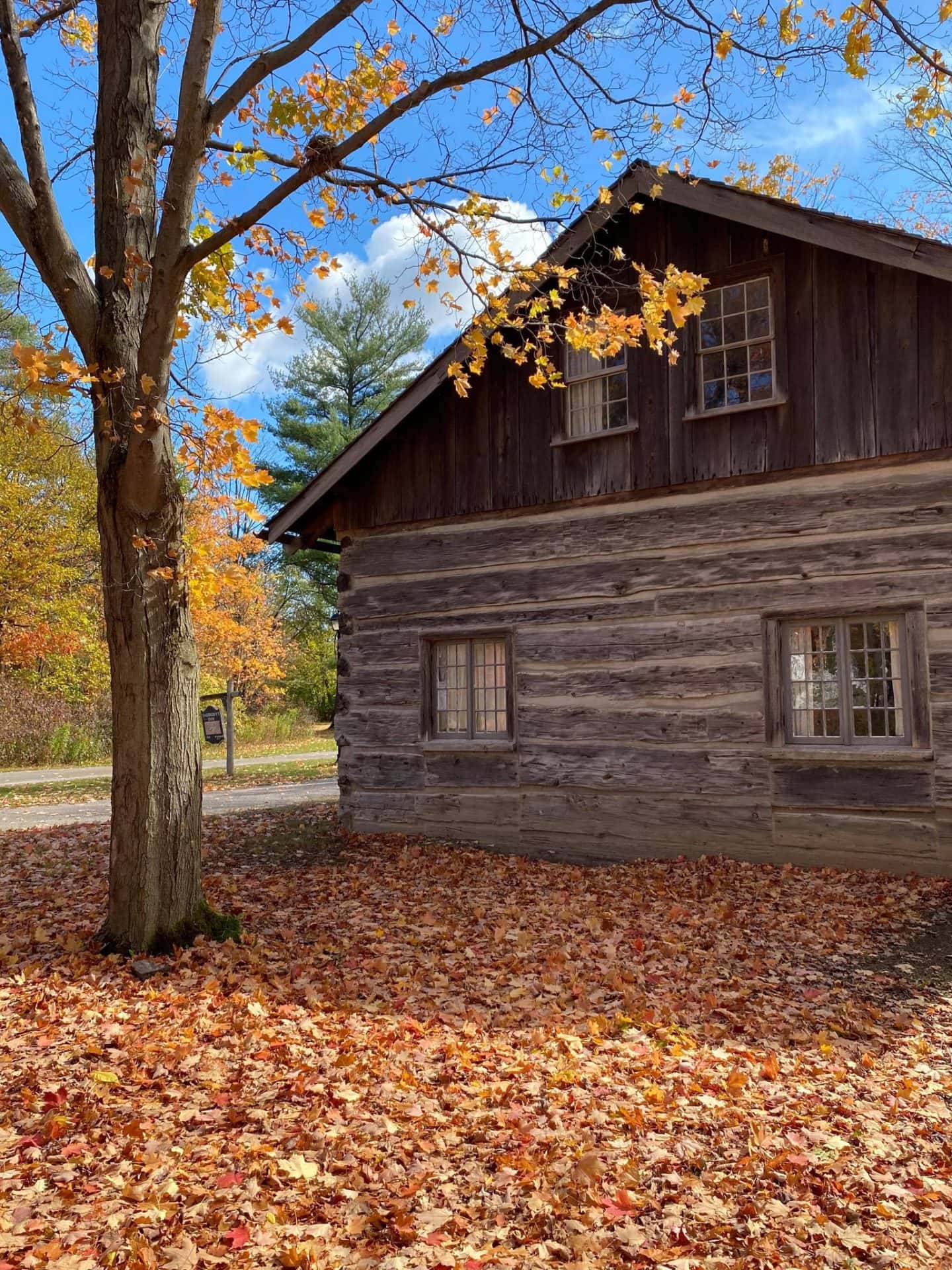 There are five different time periods of buildings here, starting back in 1775 all the way up to 1925. Each building was so unique and interesting.
Victorian Bridge
My favourite area was the covered bridge, a reproduction of the Victorian period. Again, I can't stress enough how well we timed visiting. We virtually had the village to ourselves and only saw three other people during our time here!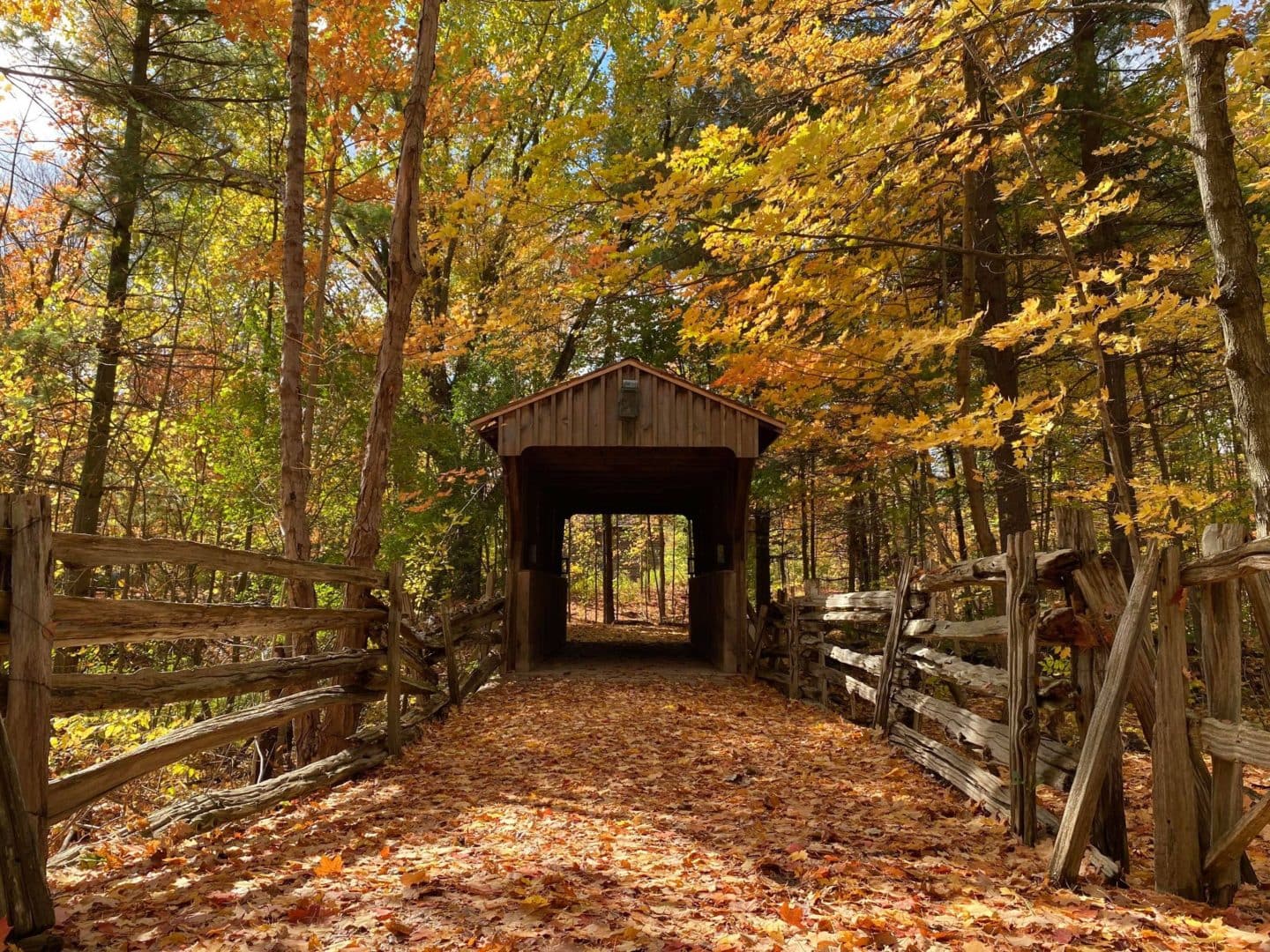 Hill House
Built in 1911 by the Hill family on the Six Nations Reserve, it's displayed here as a home from the early 1800s.
Trading Post
Once the home of a family in 1841, records show this building may have been built as early as 1801 (!!!).
It's furnished as an early 19th century Trading Post.
I fell in love with the pop of fall colours all over the village!
Log Chapel
This is believed to be the oldest log church in Ontario! It was built in 1814 and was once used on the Six Nations Reserve.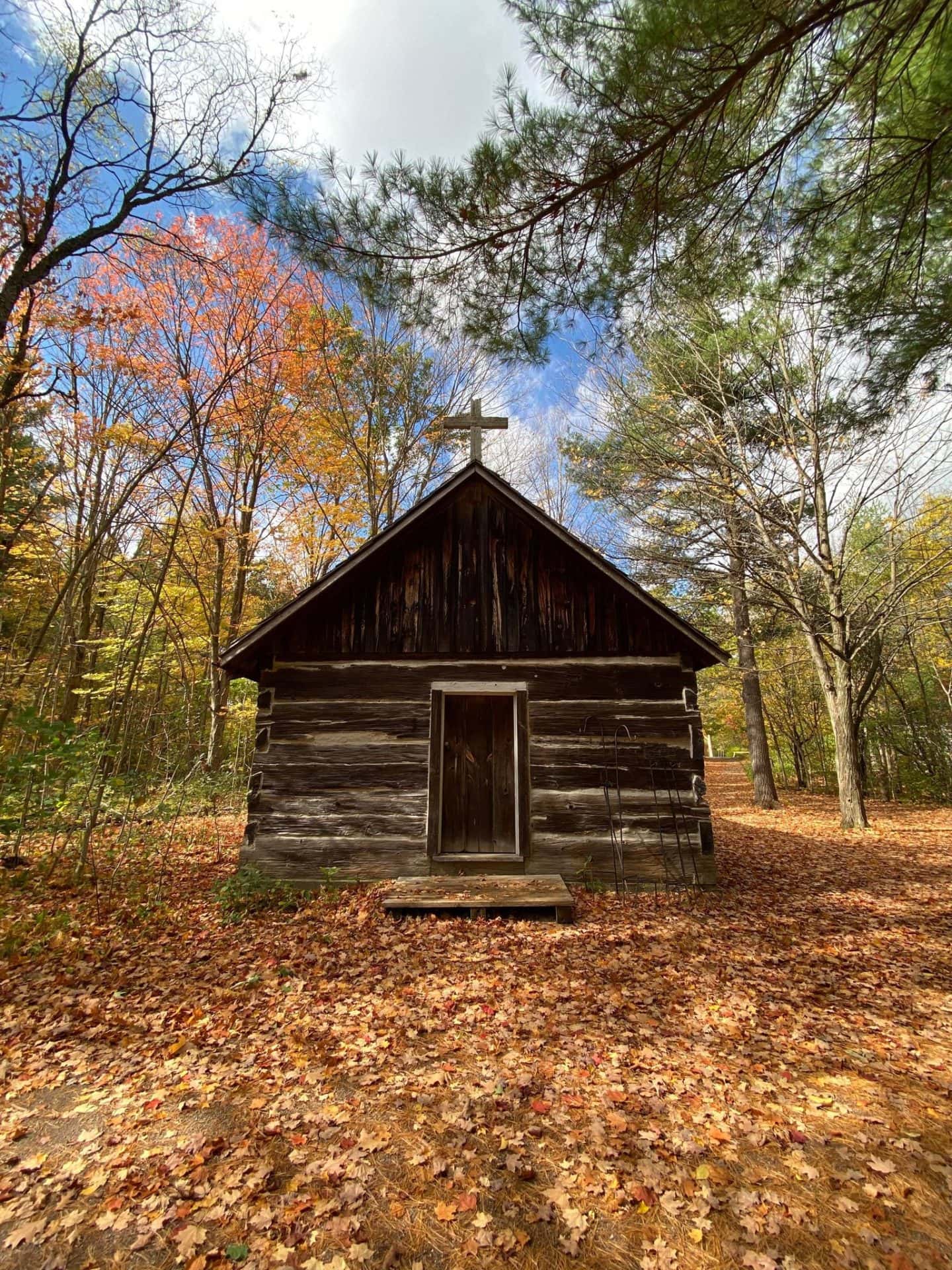 Mountsberg Church
Westfield Heritage Village hosts all kinds of functions, including weddings. You can get married in this church, which was built in 1854!
We strolled around behind the church and noticed a small graveyard with some worn headstones.
TH&B Locomotive 103
There is even a TH&B Locomotive from 1910 displayed here, and it's only one of two of its type to be preserved!
It's awe-inspiring to see the size of this train in person.
Prior to 2020 BC (Before Covid 😂), this area was open to explore inside. It's closed for now, but would be fun to come back and do once it's open again!
The train station displayed here used to be located in Jerseyville and was built in 1896.
It was actually featured in the movie, Anne of Green Gables, as well as the TV series Road to Avonlea!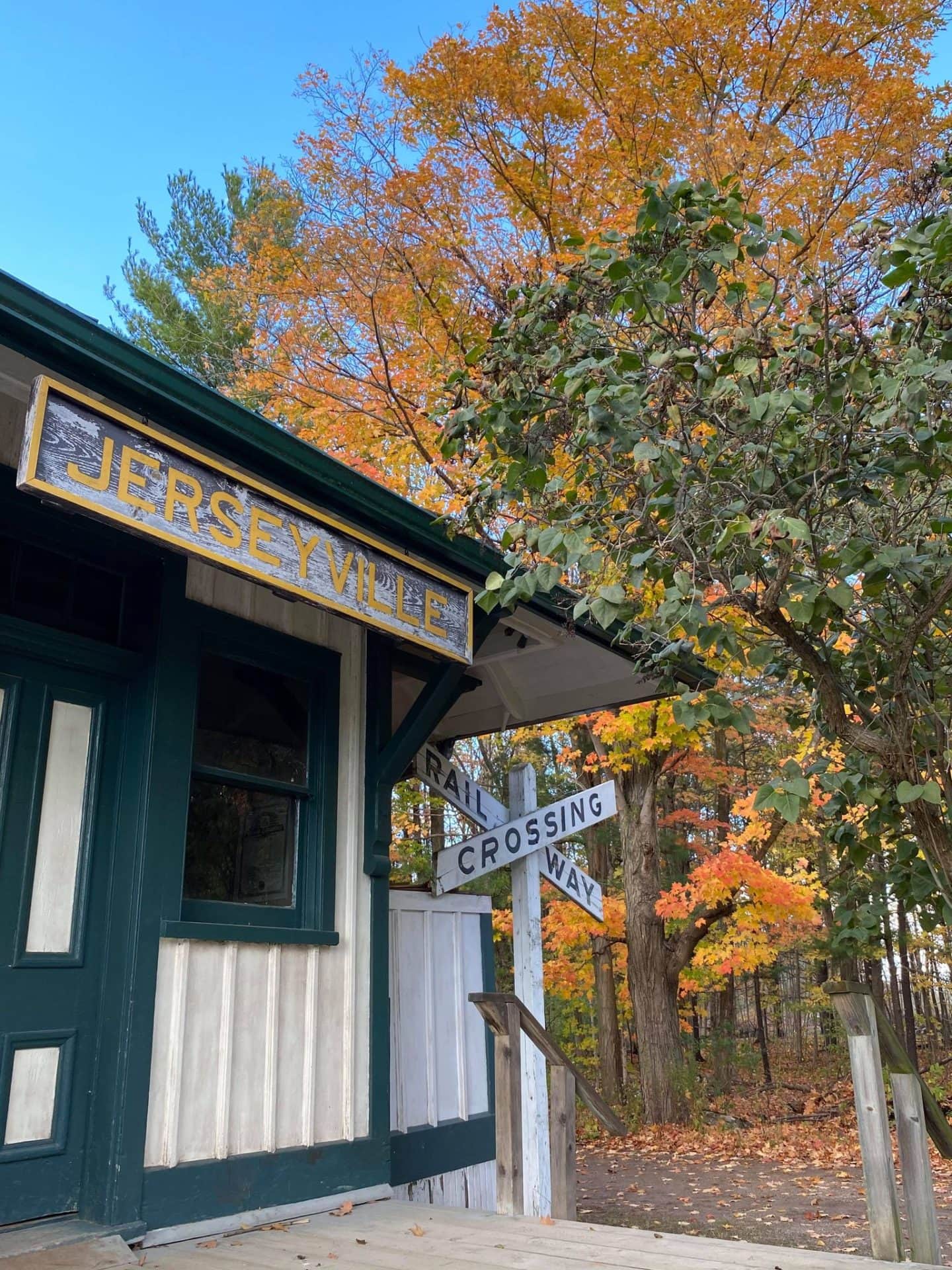 We noticed this cute photo prop in the trees right by the Train Station!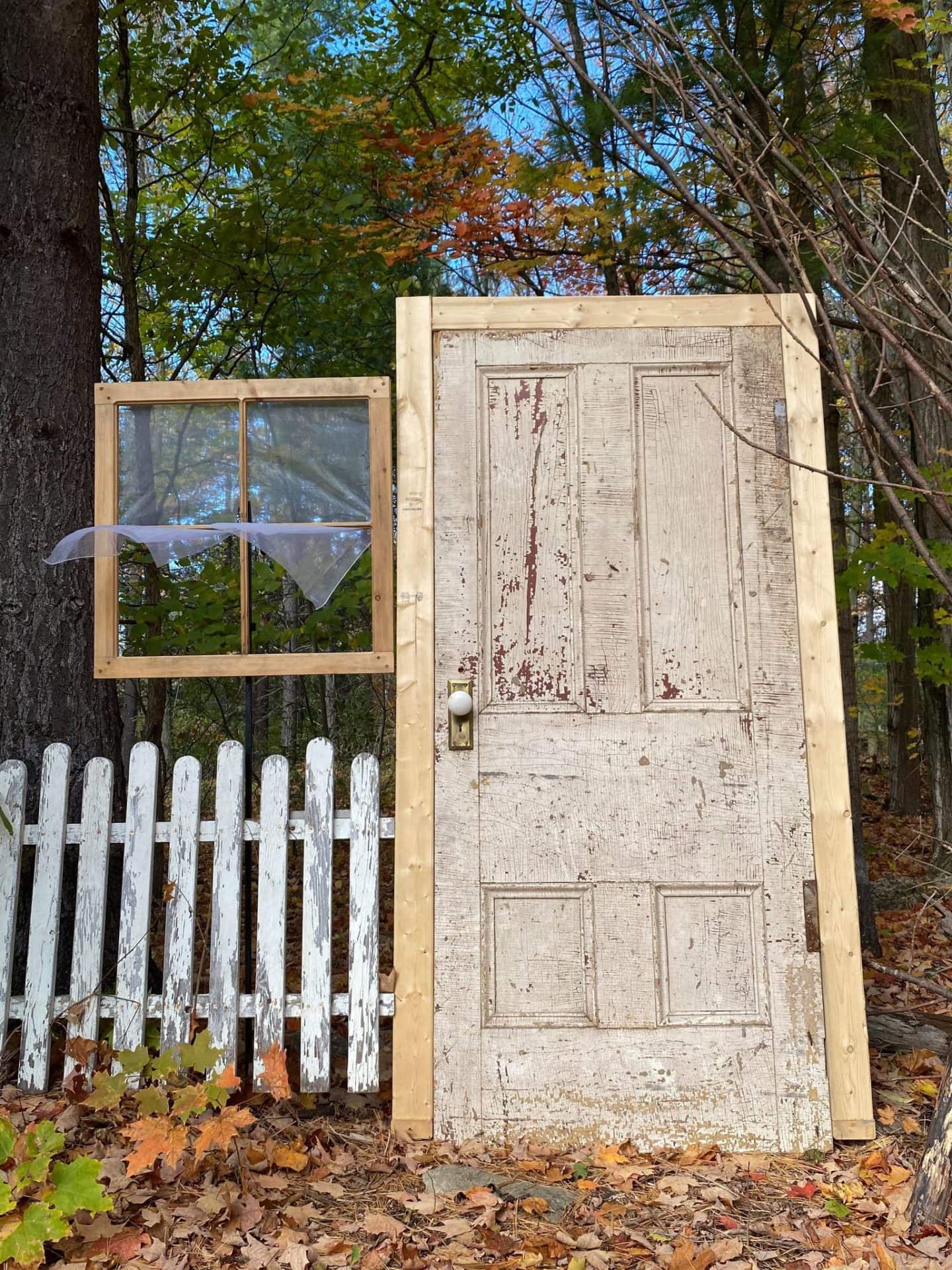 Drug Store
This was probably my favourite building. I can't tell you how many photos I took of it. I think I was enthralled that the tree behind it was orange, like the building. 😂
Inside, there is an exam room and an apothecary.
We loved the stained glass artwork. This window was actually made for the first drug store in St. George!
Cathcart School
Imagine going to school here?
Built in 1845, it wasn't actually mandatory to attend school until 1871, and get this – you only had to go for 50 days a year!
I grew up in the wrong era. 😂
The bell was originally used to call people to Methodist camp meetings in the village of Troy.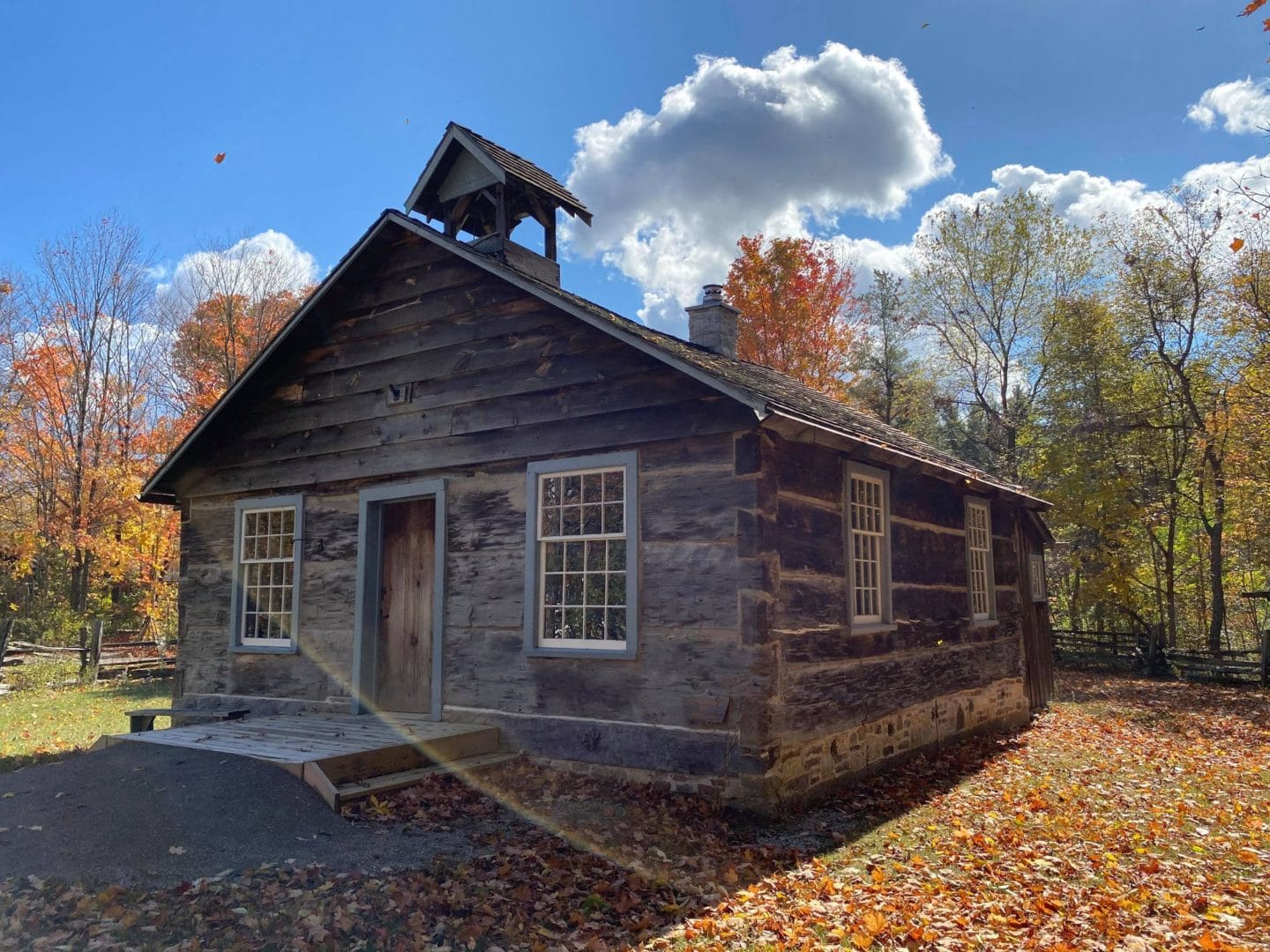 We were able to peer inside. Neat, eh?
Boot & Harness Shop
Each building was so unique and eye-catching. This Boot & Harness shop was built in 1853 in Waterloo County.
As communities grew, more leather shops opened up to meet increasing demand for shoes and harnesses, amongst other leather goods.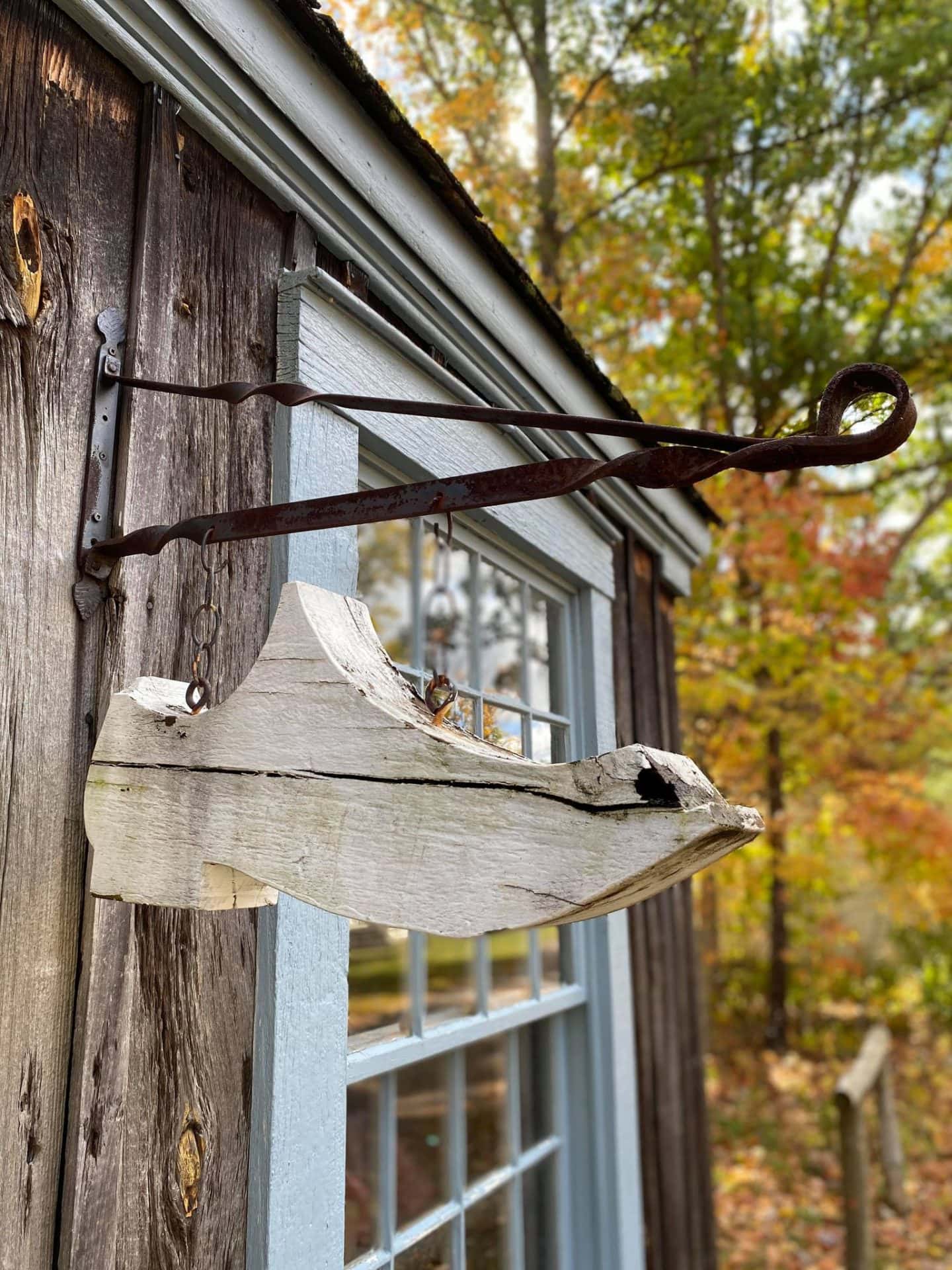 Bamberger House
This house was built in 1810 and was the oldest house in Hamilton before being moved here!
Sawmill and Planing Mill
Built around 1870, this Sawmill turned logs into lumber and in turn, was able to create various building types and allowed for an export industry.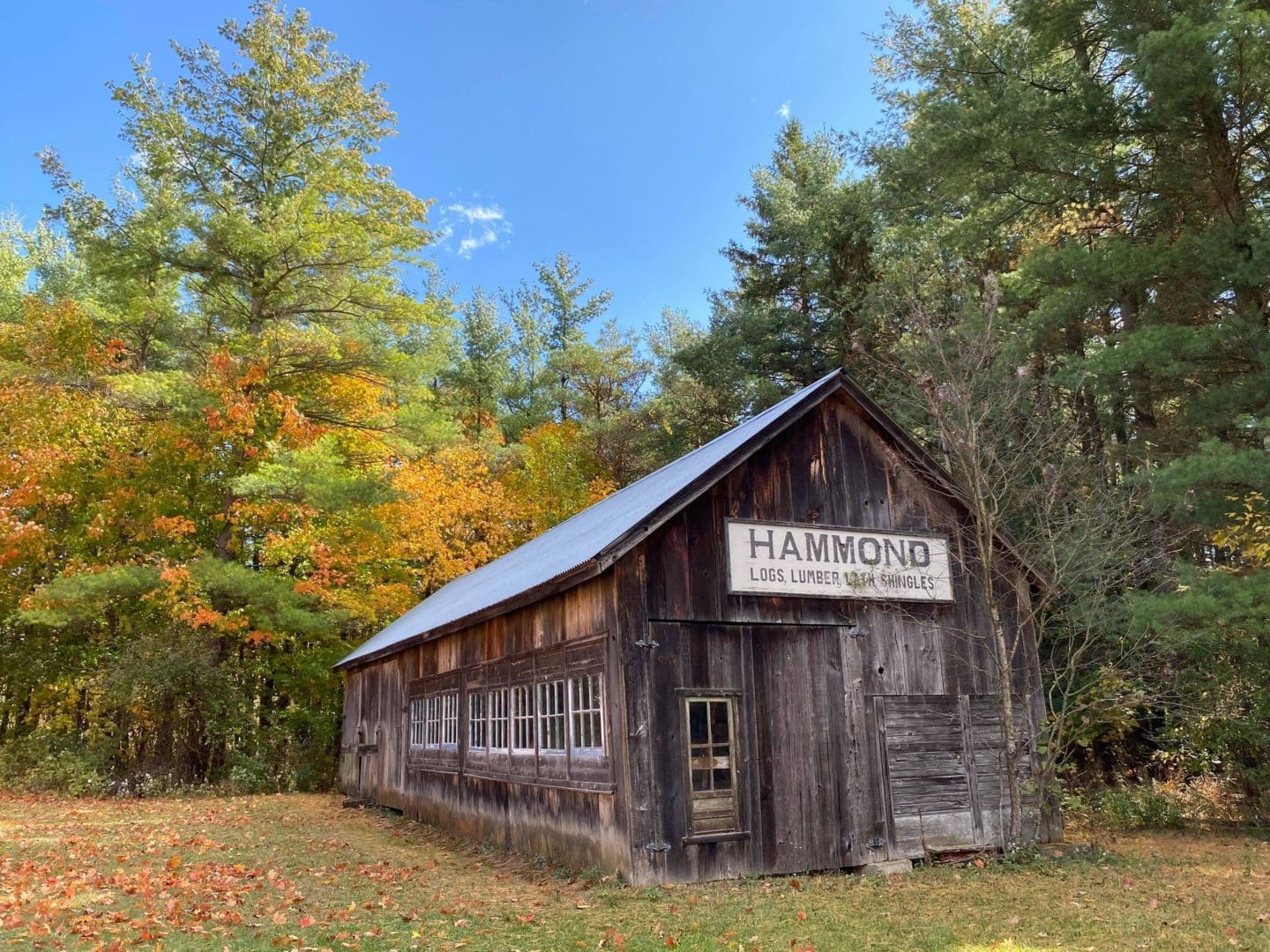 The Planing Mill is a reproduction representing a 1900s operation and contains a variety of original woodworking equipment.
Pott's Workshop
Built around 1866, Pott's Workshop served as a shop to manufacture spinning wheels, and then over time when demand decreased, it became a general workshop.
It also produced apple crates for nearby orchards.
I couldn't get enough of these stunning fall colours!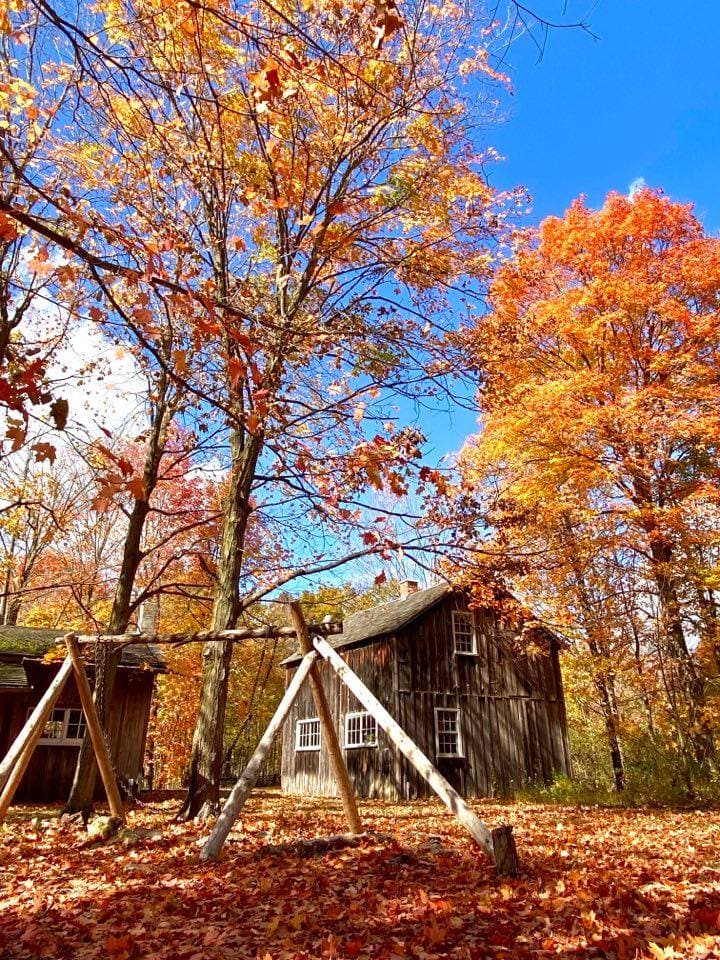 Farm Drive Shed
This was fascinating. Farm equipment sure has come a long way!
The Farm Drive Shed held a collection of unique equipment once used for, well, farming! I imagine using these was quite labour intensive, and probably very uncomfortable for the farmer!
Log Outhouse
I couldn't not include the outhouse!😂
This one was built in 1845. Aren't you glad we don't have to use these anymore?
Hiking Trails
You can also go for a walk through the Westfield Village Heritage Trails, but due to previous rainfall and soggy ground, we didn't take our chances the day we visited. You can see a map of the trails here.
There are over 8 km of trails to explore through wetlands, natural woodlands and plantation forest, and meadow areas.
We'll have to come back to explore these, because I see some ruins noted on here!
How much does it cost?
To access the grounds of Westfield Heritage Village, it costs $15 per car load. This is done via a payment machine at the entrance (which is SO easy to use, compared to others we've used before!!!). You don't even need to scan it upon exiting.
We found $15 to be VERY reasonable. We spent over an hour wandering the grounds (and probably would've been longer if we were able to walk the trails!).
When it comes to preserving heritage, we're more than happy to spend the money.
If you are a member of Hamilton Conservation Authority, your membership covers your entrance to Westfield, plus 12 other conservation areas.
Are you local? You can grab your membership here!
Westfield Six Spot Tours
If you would like to take a tour of six historical buildings, this can be arranged on Sundays and holidays!
Offered at 2:00 pm for up to 10 people (within the same family or social bubble), these tours give you an inside look at 6 buildings, complete with historical demonstrations, costumed interpreters, and an insight to how life was like in earlier times.
It costs $10 per person, plus $15 per vehicle, but children under 17 are no-charge.
You can purchase your tickets in advance by calling 519-621-8851.
Westfield Heritage Village also offers facility rentals and family functions (like weddings!), but you'll have to check their current offerings for any 2020 restrictions.
Sugar Shack
We saw signs leading to the Sugar Shack, but didn't venture down the trail to it because of the mud. It's typically open in March for the maple syrup programs, but for now we'll have to hold out and see if those programs will run this year.
What are the hours?
If you want to visit for passive use (viewing the buildings or walking the trails), the village is open daily from 8:00 am – 8:00 pm.
There are washrooms located at the front entrance, as well as some indoor porta-potties. We also found one behind Mountsberg Church.
Be sure to pack a mask to use the washrooms. 🙂
Are dogs allowed?
Service dogs are welcome! Well-behaved dogs on leashes are also allowed, with the exception of in buildings.
Are there stores?
We noticed a few stores here – plus an adorable Maple Sugar Shoppe – their gift shop! Stores are open on program days and on bigger event days.
There is also a General Store in the heart of the village.
There are loads of picnic tables near the entrance, so you could always bring a picnic, too!
How to get there
Depending on where you are in the Niagara Region, it could be anywhere from a quick 30-60 minutes, or 90 minutes from Toronto. Westfield is located in Rockton, just northwest of Hamilton.
Final Thoughts
Westfield Heritage Village is the perfect spot to come for a stroll, either by yourself or with your family. You can easily spend half a day wandering around the various buildings and through the trails.
Bring a picnic and enjoy the views!
Pin it for later!
Related Posts