Looking for a unique winery experience in Niagara? Fielding Estate Winery has its own heated wine domes for you to enjoy!
This unique wine dome lounge will be absolutely MAGICAL during the snowfall! It'll be like your very own snow globe! Fielding Estate Winery offers this fun activity which is perfect during the winter months!
How perfect and fitting for Canada, eh? They're each equipped with seating with up to six with couches, chairs and tables, complete with their own lighting. They all have their own heater and vented panels, if needed.
Last updated: November 2022
This post contains affiliate links and I may earn compensation when you click on the links at no additional cost to you! Thank you for supporting my blog!
About Fielding Estate Winery
Fielding Estate Winery has been in the region for 15 years (I actually worked in this vineyard during my summer co-op when I was studying Geography at Ryerson University!), and is one of many wineries found in the Niagara Region. Their wine is made from 100% Niagara grapes and their cider is pressed from local apples.
Fielding Winery is nestled on the escarpment in Beamsville, and offers stunning views of Lake Ontario and beyond in a relaxed atmosphere.
If you didn't know, Beamsville (where I live!) is a part of Lincoln, which encompasses Beamsville, Vineland, and Jordan, in the Niagara Region and is the largest wine-producing area in Ontario! It's known collectively as Twenty Valley. Niagara wines are some of the best!
There are over 50 wineries and vineyards in the Niagara Peninsula! And – fortunately for me, all of them are within a 30 minute drive of my house, with 20 of them being only 5 minutes from my doorstep. Jealous yet?😂
It's only a short hour drive from Toronto or Buffalo. The Niagara Region offers some of the best award-winning boutique wineries, and many are family-owned!
Our experience
We came here for my birthday earlier this month, and it was so awesome!
I booked our wine dome a few weeks in advance, and I'm glad I did because they booked up quick! There are 12 domes available to reserve for use for 90 minutes – plenty of time to sample a few wines and enjoy the scenery!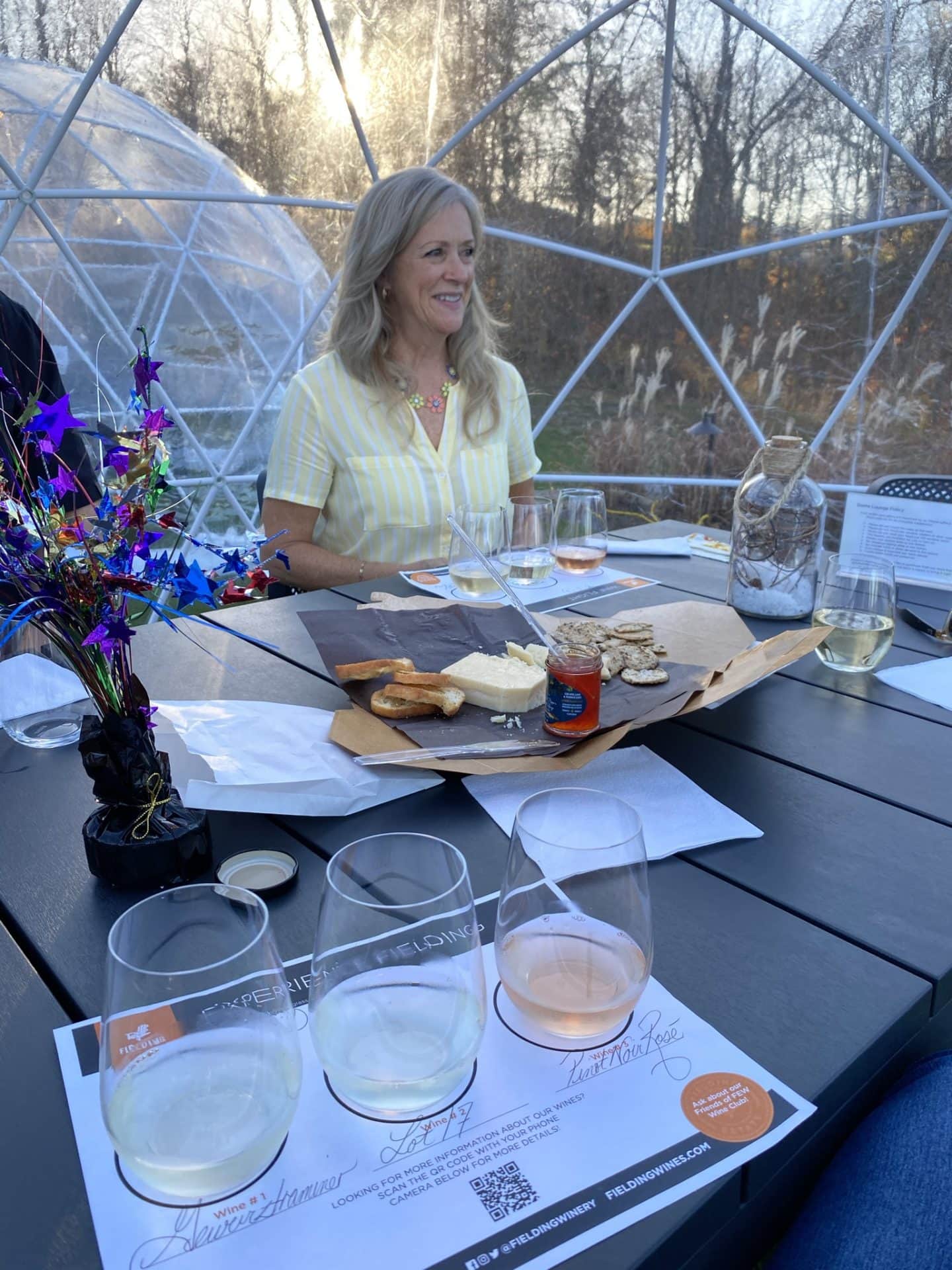 My mom and I ordered a flight of 3 (Lot 17 Riesing, Gewurztraminer, and Pinot Noir Rose, since even though it's fall I still haven't switched back to my red wine!). My dad ordered a glass of Pinot Gris, and Dana, who isn't really a wine drinker but is a huge cider fan, opted for a can of their craft cider.
Since it was only 3 in the afternoon we figured we better eat something – especially since I hadn't eaten anything that day and went on a hike during the insanely gorgeous 75 degree day we had!
We ordered cheese and crackers with preserves which was more than enough for the four of us.
We lounged – with the side panels open.
It was unusually warm this day (we were in tank tops and t-shirts!!!) and since the domes are transparent, they can act like a magnifying glass. Thankfully the sun sets earlier in November so soon enough the trees provided us with cooling shade.
This is definitely a unique experience I want to do when it's cold and dark out to test out the heaters and see the magic come alive at night!
Thanks to Fielding for the surprise glass of bubbly for my birthday.😊
How to reserve
Each dome can be reserved online for 1.5 hours for $20 (non-refundable). Enjoy wine flights, wine by the glass, cider, and cheese & crackers!
You can also book a premium guided indoor tasting experience along with their indoor wine lodge.
Seating is limited, so if you want to grab a spot in this whimsical wintry wonderland, be sure to book in advance!
Glasses of wine range from $9-$22, or you can get a flight of 3 for $15, or 4 for $20, which (in my opinion) is the best way to sample what they have on offer!
My personal favourites are the Lot 17 Riesling and the Sparkling Brut!
If you want to enhance your winter experience with snacks, you can do that too! Order cheese (it's a whole wedge!) and crackers, preserves, olives and more.
Make a day of it!
Fielding Winery is located on Locust Lane – surrounded by 2 other wineries on this street alone – Locust Lane Winery and Hidden Bench, plus 4 more around the corner! You can access all of these within a 3 minutes' drive – making the perfect winery visit to Niagara.
Fielding Estate Winery is also along the Bruce Trail if you're up for some winter hiking! The Niagara Region is also a fun place to explore outdoors in the winter. See what there is to do around Niagara!
You should also plan a visit to Historic Grimsby Beach – it's a short 10 minute drive from Beamsville Bench and it's like stepping into a child's fairy tale!
How to get there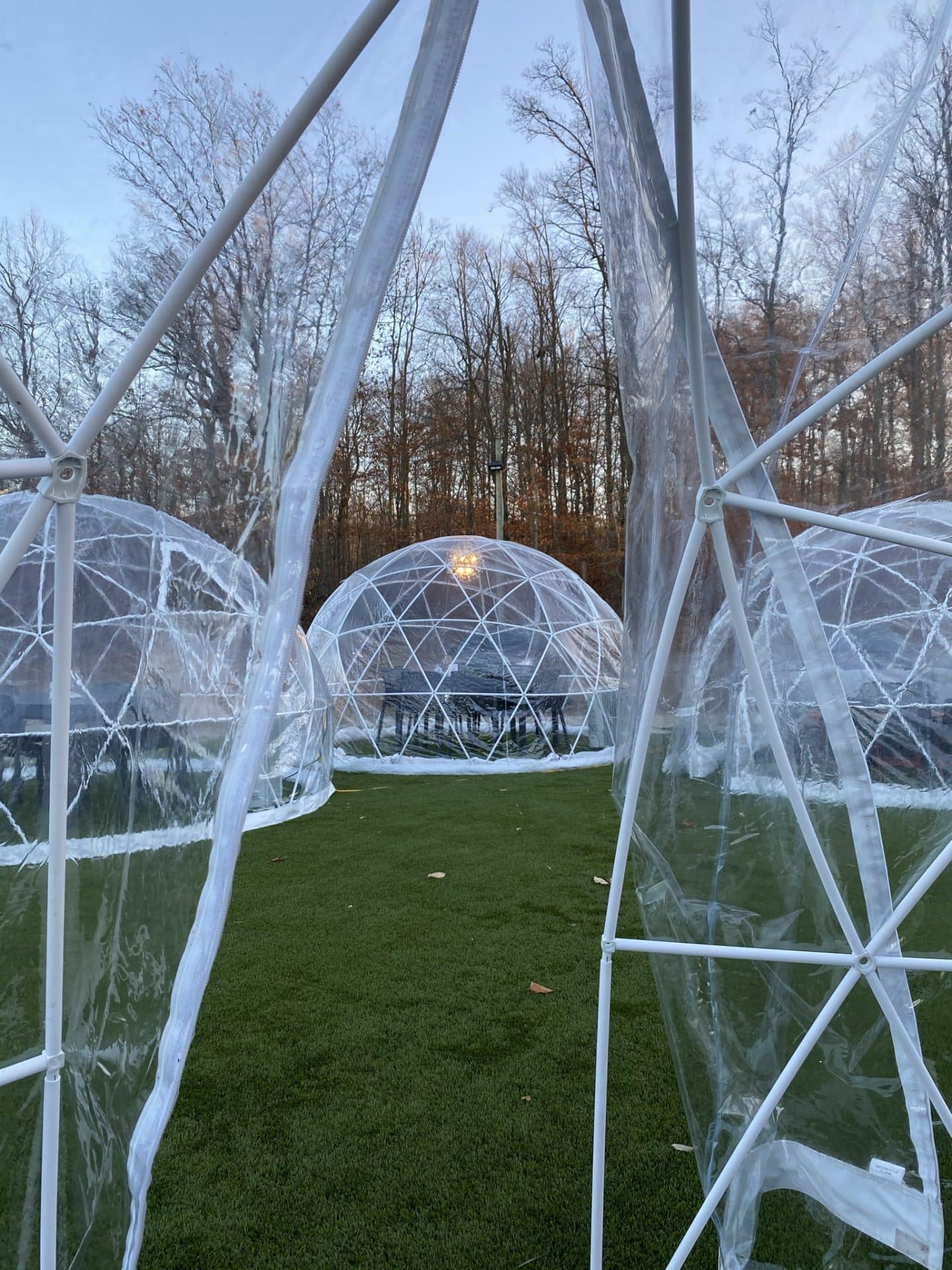 Final Thoughts
Experience Canadian winter in Style at Fielding Estate Winery in their new Wine Dome Lounge! I can't wait to come back here when it's snowing.
Related Posts
Pin it for later!