Who knew there were so many different types of tents?
There are numerous kinds of tents available – from one you can throw in your backpack weighing only a few ounces to ones designed for large families – and if you can imagine the perfect type of tent there is a good chance you'll find what you're looking for!
Factors such as price, space, ease of setup, weight, and versatility will all come into play when choosing the right style of tent for you.
A tent provides one of the most basic human needs: shelter. Did you know the oldest tent discovered was found in Russia, dating back 40,000 BC?! For centuries, tents have been a convenient and portable means of shelter.
Since then, tent innovation has come leaps and bounds ahead as camping became popular during the 20th century. Now a staple for campers and hikers alike, tents became lightweight, durable, and waterproof, and have allowed us to get back to our roots and immerse ourselves in nature while still maintaining some modern comforts.
Tents come in all shapes, sizes, and styles and it can definitely be overwhelming! Not only do you want it to be a shelter, but also a place to get comfortable and cozy for the night.
Here's a guide to the different types of tents and their features to take into consideration. Find your perfect style of tent and get outdoors!
Don't have enough time to read through this all right now? Save it for later!
This post contains affiliate links which means I earn a small commission if you purchase through one of my links at absolutely no additional cost to you. Feel free to read my disclosure policy. Thank you for supporting my blog!
Which type of tent is right for you?
Depending on your needs, the kind of tent you need will vary. Do you need something to accommodate just yourself or a family? Something to withstand harsh elements? A tent you can travel light with?
Fortunately there are numerous options when it comes to picking the right kind of tent to head outdoors with.
Dome Tent
Dome tents are the most common tent style today, and are shaped like a dome. It's one of the easiest to set up and has two poles crisscrossed in the centre that forms two semi-circles to anchor four corners of the tent.
A rainfly sits on the top of the poles for added protection from the elements. Come tents have a decent amount of space, with its relatively high centre point, along with its domed roof to shed water.
They're mostly made out of breathable mesh with a waterproof floor and can accommodate anywhere from two people to twelve people.
You'll also come across some dome tents with a vestibule in front of the entrance to act as a makeshift mudroom to keep out dirty gear and to dry out.
Dome Tent Pros and Cons
Pros
Easy to pitch
Lighter than other tents
Good amount of head space
Comes in a variety of sizes
A-Frame Tent
A-Frame tents were extremely popular at one point because of its simple design and durability. They're shaped like a capital A, or a wedge, and were originally made of canvas supported by a steel pole on each end. Once made from canvas, A-Frame tents were durable and lasted for years.
The main structure consists of heavy-duty poles with ropes that are tied into stakes to each corner of the tent, forming its shape. Often there will be a centre pole that goes between the two, giving the tent its signature look.
While stable, A-frame tents are bulky and can be heavy when packed.
A-Frame Tent Pros and Cons
Pros
Easy to set up
Stable
Comes in a variety of sizes
Cons
Bulky
Not a lot of headroom
Heavy
Multi-Room Tent
As the best option for large families, multi-room tents – also known as cabin tents – are more similar to a house than a tent. They're designed to have more room for added privacy and extra gear storage. Multi-room tents are separated by a divider and range from 2 rooms to 5 rooms.
Since Multi-Room/Cabin tents are larger, it makes them more difficult and heavier to carry. Pitching them takes practice and more people, but provides the added space and privacy you won't find in other tent styles.
Multi-Room Tent Pros and Cons
Pros
Privacy
Lots of space
Great for families
Cons
Heavy
Requires more effort to set up (more than one person)
Unstable in strong winds
More expensive than other tents
Backpacker Tent
Long-distance hiking on your mind? Finding an ultralight tent that is able to withstand the elements is crucial; the last thing you'll want to do is lug around a heavy tent!
Backpacker tents are small in size, lightweight, and extremely durable. They're also less expensive than the typical tent design, but you'll find the materials used are high-quality and therefore impacts the pricing.
Backpacker tents are made of high quality materials and have a lower profile than other tents and can accommodate one to two people.
Backpacker Tents Pros and Cons
Pros
Ultra-light and takes up minimal space
Fewer poles
Cons
Not a lot of headspace
Only made for one to two people
Not made to withstand harsh conditions or weather
Not designed for long-term camping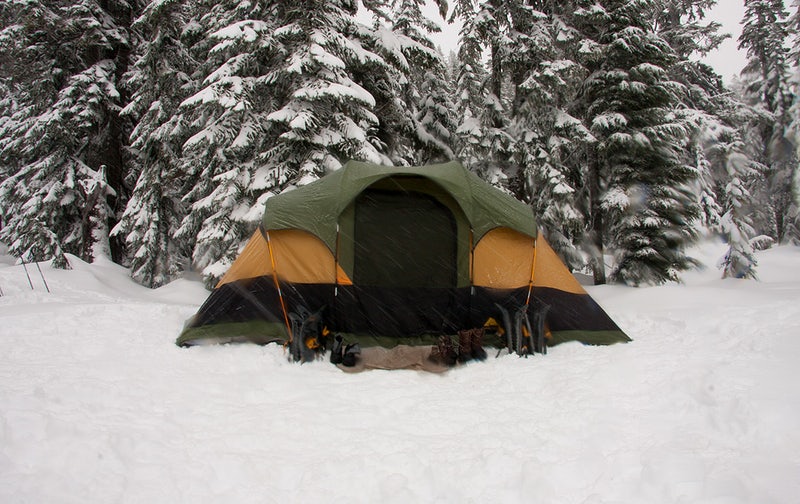 Geodesic and Semi-Geodesic Tents
As a variation of the dome tent, geodesic and semi-geodesic tents offer increased support. The tent poles cross over each other many times and intersect to form triangles, giving maximum stability from the weather and wind.
Geodesic tents are commonly used by mountaineers and long-distance backpackers who expect to encounter high winds, heavy rain, and snow.
Geodesic and Semi-Geodesic Tent Pros and Cons
Pros
Extremely stable
Good amount of headspace
Better than dome tents for holding up in inclement weather
Cons
Can be difficult to pitch
Limited sizes
Large packed size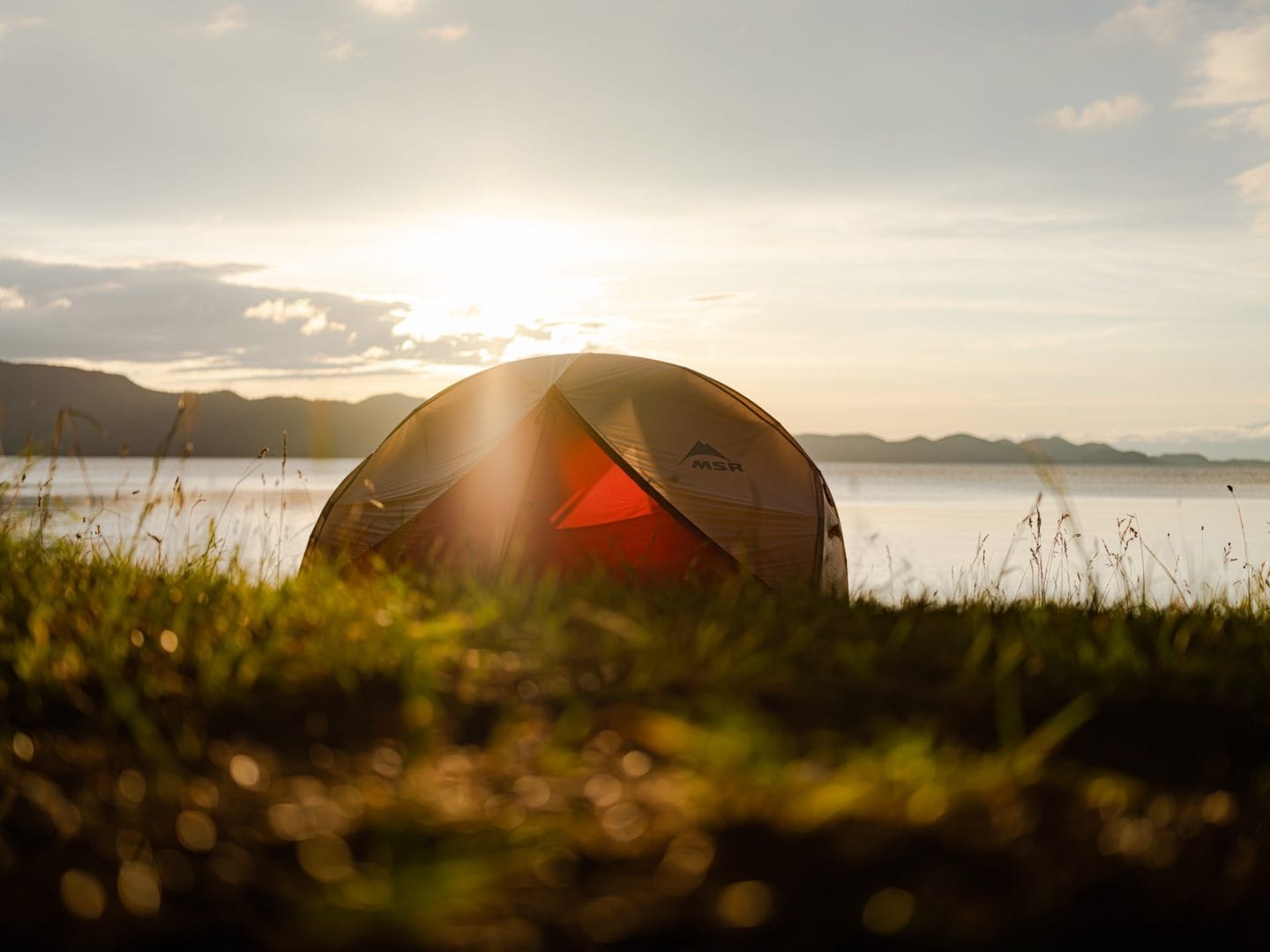 Pop Up Tent
As a somewhat new kind of tent, pop-up tents have grown in popularity over the last few years, and for good reason: they can be set up instantly! These instant pop-up tents are designed with spring-loaded poles that form into shape within seconds. They're lightweight, convenient, and quick to set up.
They're awesome for spur-of-the-moment adventures and can accommodate between one to six people. They're inexpensive and ideal for summer camping adventures.
Pop-Up Tent Pros and Cons
Pros
Ultra-fast to set up
No poles to fiddle with
Small size when packed
Cons
Unstable in wind
Not designed for extreme temperatures
Not intended for extended camping
Tunnel Tent
Similar to dome tents, tunnel tents are long and cylindrical in shape, just as the name indicates. They're held up with a series of poles wrapping from one side to another, giving the tent its rounded shape.
Ideal for large groups of people, tunnel tents have high head clearance and offer more room than a regular tent.
Tunnel Tent Pros and Cons
Pros
Lightweight
Identical pole lengths
Cons
Not ideal for high winds
Can sag in the middle if not pitched properly
Inflatable Tent
Inflatable tents are relatively new to the camping culture. Instead of standard tent poles that hold the tent up, air beams are inflated to help support the tent structure.
An air pump is required and due to the early stages of product design, their durability and ability to withstand extreme weather varies greatly.
Inflatable Tent Pros and Cons
Pros
Easy for one person to set up
No metal poles
Cons
Requires an air pump
Heavy to carry
Teepee/Pyramid Tent
Teepee tents, or pyramid tents, are exactly what you think they are. They're cone-shaped tents with a central pole acting as support and material draped around the centre, often canvas. Only a single pole is needed but it can be heavy to set up.
Teepee tents today are made of modern materials with guy lines (rope to tie the tent down).
Teepee Tent Pros and Cons
Pros
High ceilings
Easy to set up
Cons
Flooring not always included
Can be heavy
High pitch point
Bivy Tent
A bivy tent or bivy sack are minimalist shelters made for a single person with an added layer of protection against the elements. It's essentially a sleeping bag with a cover and resembles a cocoon.
Bivy tents are made of waterproof or water-resistant materials to protect against the wind and rain. They weigh much less than a typical one-person tent and are easy to transport and set up.
Bivy Tent Pros and Cons
Pros
Easy setup
Lightweight
Less expensive than a tent
Keeps you warmer
Cons
No space inside the bivy sack to do anything
Will need a waterproof cover for your gear
Hammock Tent
Hammock tents provide an elevated living space that's connected between two – four trees with suspension straps. They are versatile, comfortable, and provide a lump-free surface to sleep on.
There are a variety of hammock tent styles ranging from one to three person camping. Some styles are equipped with a platform. This kind of tent offers a lightweight option.
Hammock Tent Pros and Cons
Pros
Provides ground clearance against wet, uneven terrain and insects
Lightweight
Comes in a variety of styles and sizes
Cons
Pitching hammock tents requires trees
Can be difficult to set up
Car-Top Tent
Car-top tents are attached to the roof of your vehicle and provide an elevated sleeping space which is accessed by a ladder attached to the tent door (or vestibule).
These are typically quite robust and spacious tents that are lightweight and keep you off the cold and/or muddy ground. Car-top tents can accommodate up to roughly 650 lbs, making this a great option for families!
Being elevated also means you'll have a better view! Some car-top tents come with built-in sky panels so you can sleep under the stars.
Car-Top Tent Pros and Cons
Pros
Easy to set up
Sturdy and weather-resistant
No lugging around involved!
Often sold with inbuilt mattress
Cons
Only suitable for roadside camping
Expensive
Aerodynamic drag can add fuel cost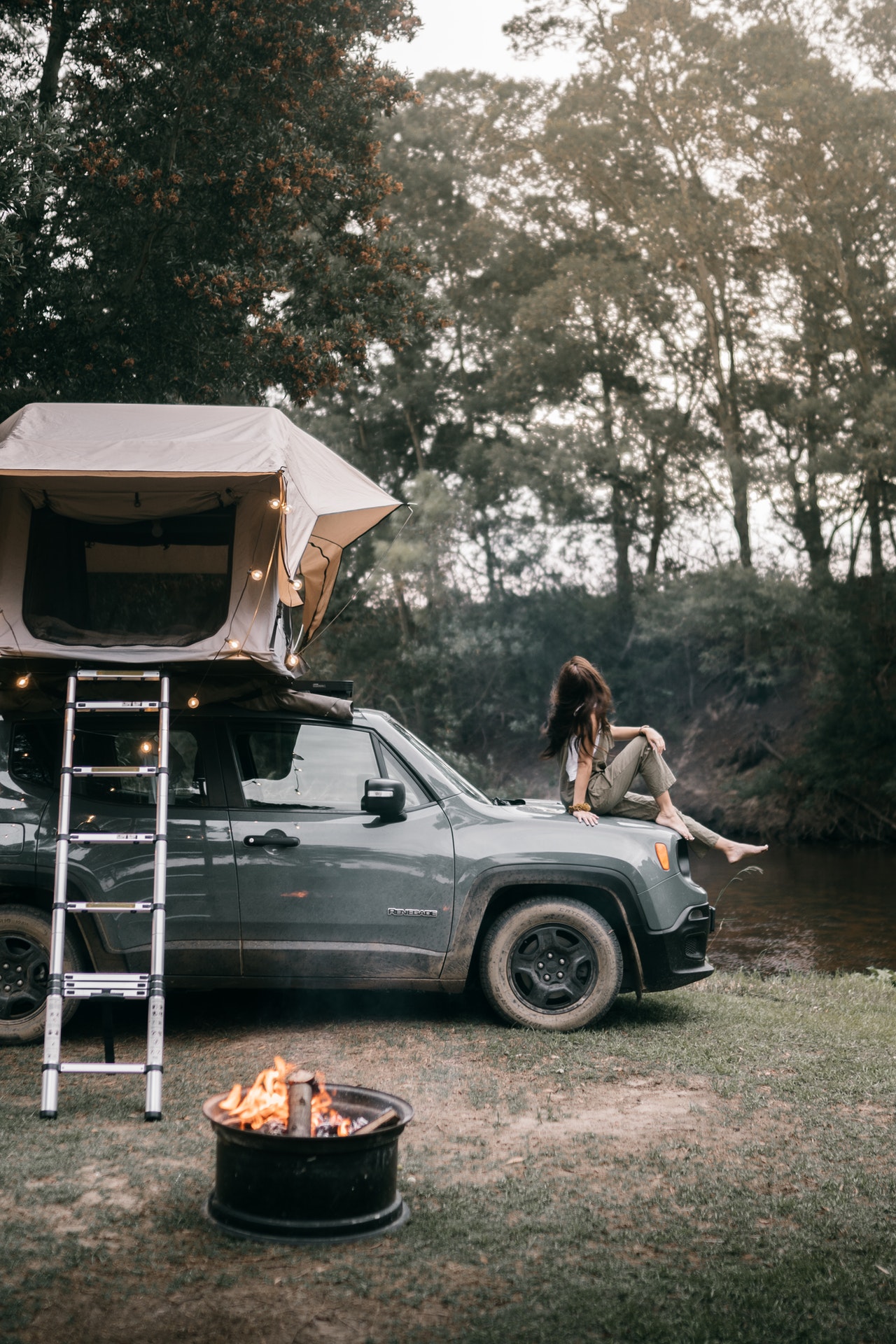 SUV Tent
An SUV tent is a camping tent that attaches directly to the back of your SUV. This creates a combined dwelling space between the tent and the vehicle. Some SUV tents can also serve as a stand-alone tent if needed.
There is a entrance to the tent and also a large opening that attaches to the back of your vehicle. This allows the camper to choose between sleeping in the back of the vehicle or in the tent, and access items stored in the SUV.
SUV Tent Pros and Cons
Pros
Versatile
Variety of styles
Easy to assemble and provides an off-floor sleeping option
Cons
May not be an option for those with small vehicle sleeping spaces
Related Posts
Pin it for later!