While we were in South Africa, part of our 9 days with Mafigeni Safaris included a cheetah bush walk experience at Tshukudu Game Lodge – you can read about my time with Mafigeni here! This was a highlight for me and one of the things I was looking forward to most!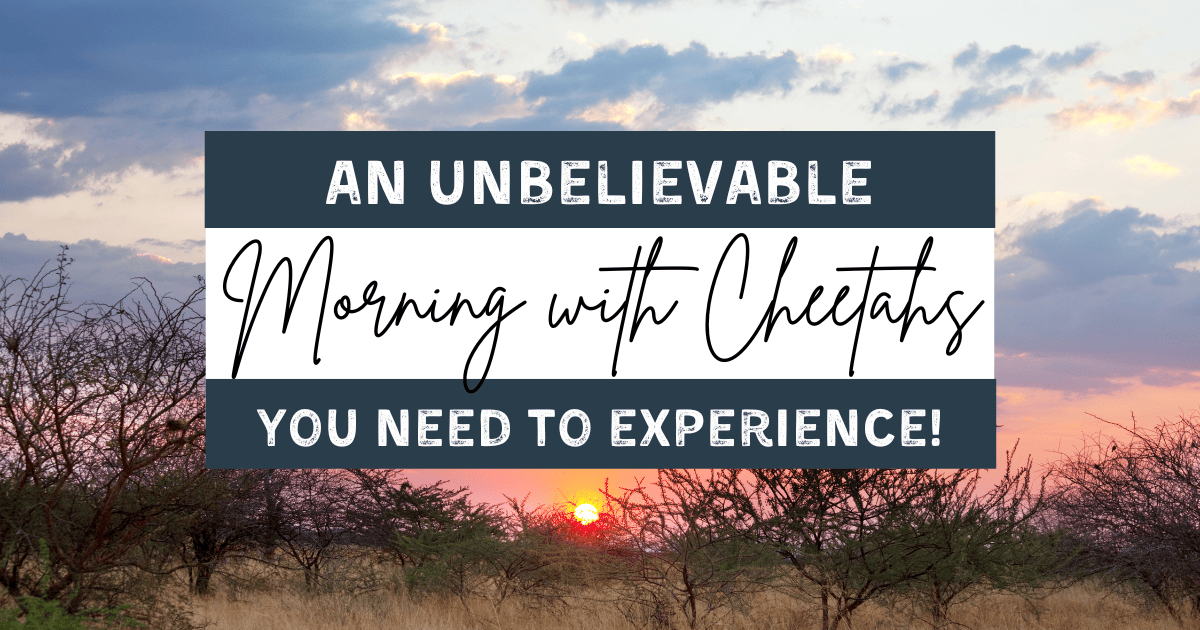 I distinctly remember the night before, our guide informing us that it would be an early start. Ok – we thought – they've all been early starts so far, meeting around 7 or 7:30 for breakfast before taking off for the day. How we were mistaken! We had a meeting time of 4:30 am and were shuttled on to the bus to get us to Tshukudu in time for a sunrise bush walk with cheetah.
Two hours later and still half asleep, we arrived at Tshukudu and met our guide (and owner!), Chris, for the day. He informed us that we were going to walk (not far!) to where he last spotted their two resident cheetah.
Ok – whoah – we're just going to fearlessly walk up to these two wild cheetah that are right by the lodge? Isn't anyone concerned?
A back story
Tshukudu Game Lodge is a reserve bordering Kruger National Park with all types of animals ranging from rhino to lions to wildebeest and everything in between. They are a "Big 5" reserve which means they are home to Rhino, Lion, Elephant, Cape Buffalo and Leopard (if you're lucky to spot one)!
There are chalets which you can stay overnight in dotted around the grounds – and because these chalets are out in the open at the reserve, it really meant that any animal could come up to your chalet in the middle of night.
As we walked our way out to the cheetah, our guide casually told us this story of a young lady who was staying in one of these chalets. They had gone to check on her and found the front window was smashed and there was blood all over the room. That young lady was nowhere to be found and they thought – oh no – what attacked her??
As it turns out – she was hiding in the wardrobe. Something (either a lion or cheetah) was chasing an impala and it jumped through the window. She had no idea what was happening so she hid until she was found. Sadly, the fate of the impala was different. This is the story we heard before we even saw any cheetah, so I'm sure you can understand my concern here.😂
We arrived just in time for sunrise – which really was a beautiful moment. There is something about early morning light that is so magical.
We saw these two beautiful big cats, brothers Hunter and Floppy (aptly named because he had a deformed ear). Sadly, just before our visit, their sister Ntombi was killed by hyenas from a neighbouring property. She – according to our guide – was one of the friendliest big cats around. She was the runt of the litter and rejected by her mother, so was hand reared and received regular bottle feedings and attention. Now her brothers carry on her legacy.
Hunter and Floppy were unfortunately orphaned a young age when their mother, Savannah, was killed while she was protecting them from lions.
When the team at Tshukudu found out Savannah was pregnant, they moved her to a secure location to protect her cubs from the fate that met her first litter. Because they had such a close eye on them from an early age, they are habituated to humans because of their circumstances as cubs, and although they live on their own terms, they often visit guests at the lodge, relaxing at the pool, and joining on morning bush walks.
Seems surreal, doesn't it?
A morning visit
Here we were – surrounding these two sleeping cheetahs who refused to acknowledge our existence. They had just fed on an impala the day before (you can see Hunter's extended belly) so they were quite lazy – making a prime photo opportunity for us!
Each of us were able to slowly approach Hunter while our guide attracted him long enough to hold his head up. His fur was soft but course – not quite like a cat but not rough either. It was dense and not at all what I expected.
We learned that cheetahs are the only big cats that have their claws out at all times. This is because they are built for speed – and require their claws for traction and grabbing on to their prey. For this reason we were warned to move very quickly out of the way if Hunter rolled over. One swipe of those claws could do some damage, even if it wasn't intentional!
It's funny how many comments I get about my photo with Hunter and the questions about whether he is alive or not. Yes – he is VERY much alive! 😂 I never in a million years would have thought I'd be right next to a cheetah, and so calm too!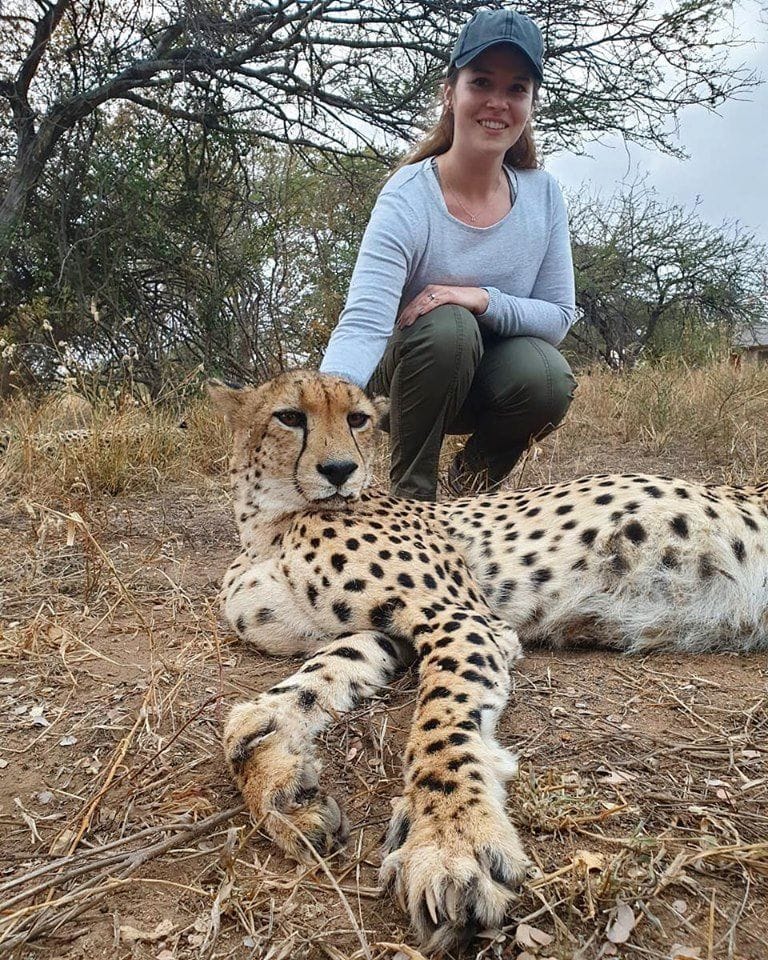 The original intent of coming here was to have an early morning bush walk with these two – but given they were digesting their meal, they didn't seem too interested in walking alongside us. That was a little disappointing, but I can totally relate to how he must have felt after a big meal and I am so grateful for the photos and the opportunity to see them so close!
We left Hunter and Floppy to snooze in the peaceful daybreak and we made our way back to the main lodge.
Quick Cheetah Facts
We learned so much about these fascinating animals with our fantastic guide. He even told us about their black line tear-drops under their eyes and how they serve as an anti-glare device so they don't get blinded while they're sprinting after prey. Cheetah are also one of the most easily domesticated cats and their domestication goes back to Ancient Egyptian civilizations dating back to at least 1550 BC.
Everyone always wants to know how fast a cheetah can run – and it's a staggering 112 kph (69.5 miles per hour for my American friends!). They are built for short bursts of energy, but as the fastest land animal, most of their prey usually doesn't stand a chance.
You know that old saying, "I don't have to outrun a bear, I only have to outrun you?" Throw that adage out of the window.😂
An early morning game drive
Shortly after our visit with Hunter and Floppy, our group of 13 was split in to two 4×4 open-air safari vehicles for our early morning game drive which was SO awesome because it allowed for unobstructed views of our surroundings – but at that time of day it was so cold! This is where I was grateful for my jacket and scarf (see my 13 must-pack items for a safari here)!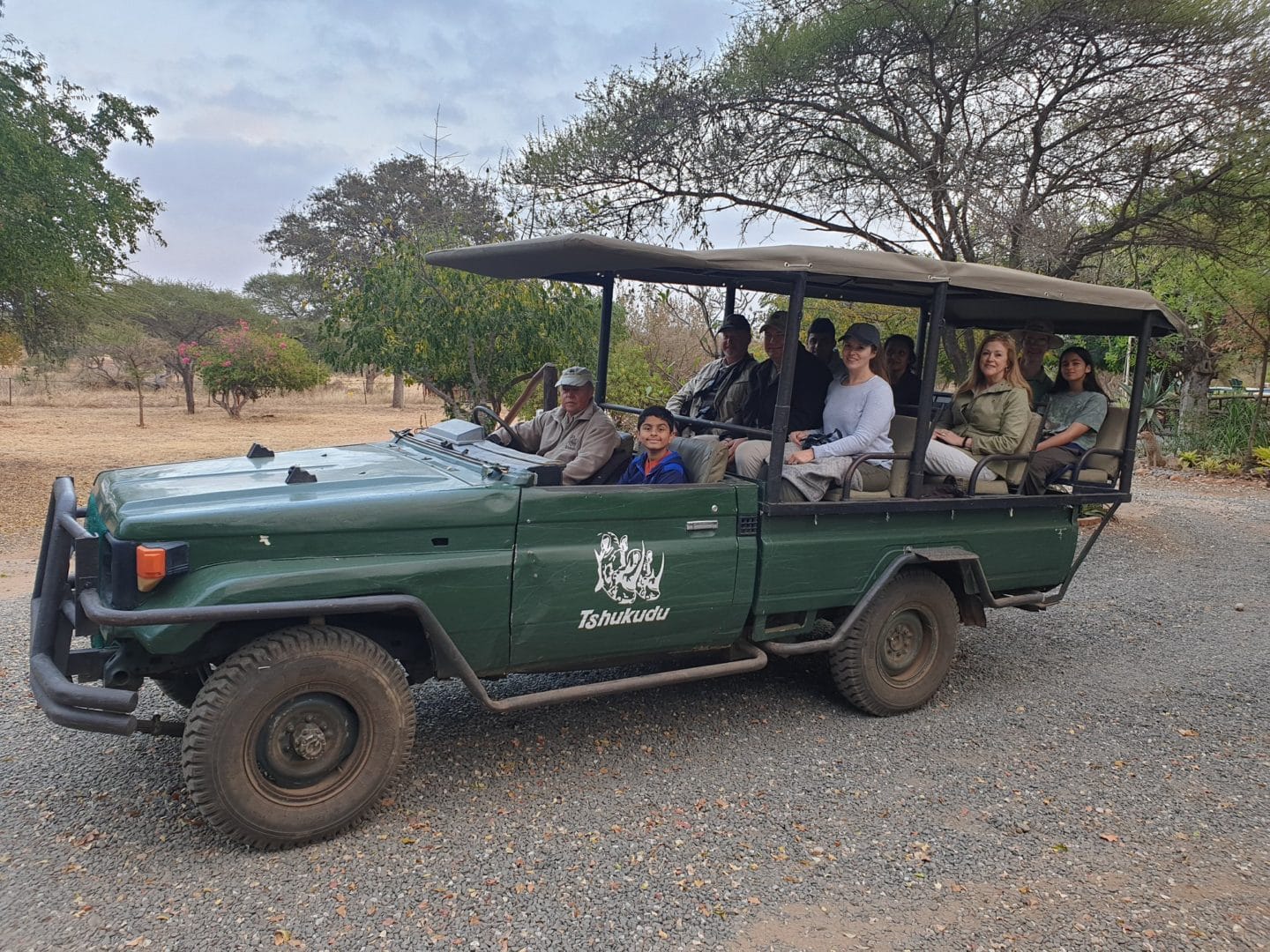 From here we drove around the reserve scouting for wildlife. We first came across a herd of cape buffalo – which can be quite aggressive if provoked. I was laughing (crying?) at my husband as I clung on to his arm as we went off-roading through scrubby bush just to get up close to the herd. Mothers with babies corralled them to the middle and we were given the side-eye from a few. And I thought – there is literally nothing stopping this cape buffalo from ramming our vehicle right now and we have no protection.
Once I saw they really didn't mind us being there, loudly making our way through the brush, it was amazing to get up so close to them. We eventually made our way back to the main road before getting a call on the walkie-talkie that there was a rhino sighting (eek!).
No such luck trying to find this older rhino (much to my disappointment), but we DID learn all about rhino poop. Yes, that's right, we all leaned outside of our safari vehicle just so we could get a closer look at these desicated piles of poop on the side of the road. What are we doing?
I had no idea that rhino use their droppings like a social network. The chemicals that show up in it give indications of age, health, reproductive status, etc. These community toilets are known as "middens" and can sometimes be 65 feet across. Now that's a sight to see. 😂
Just as we were getting our important photos of said midden (I still don't know why we took photos!), we got another call about a lion sighting. Here we go again!
Bumping along the dirt road whipping our heads from side to side to take everything in was pretty exhilarating, considering we knew there was a lion to be seen!
The thing with lions is they're quick and they blend in so well with their surroundings, especially at this time of year (going in to South Africa's winter) when there wasn't a ton of greenery around. We eventually spotted him – and I tried to withhold my jealousy as the other half of our group got their first. He darted away into the brush so naturally we had to follow him.
The shrubs and trees in South Africa aren't like the ones you'd find here in Canada or the USA. They are sharp and have barbs on them, and as our driver went off-roading and deeper into the brush, I found myself nearly in my husband's lap trying to avoid getting snagged (ps. I got my fair share of whips and snags but it was worth it!).
We trailed this young male for a bit before it came nearly impossible to go after him anymore, and I was grateful not to get stuck out in the open. 😂 We drove around for a bit more and saw loads of wildebeest which are surprisingly much smaller than I envisioned after watching The Lion King as a child (and a 30 year old), birds of prey and vultures, before making our way back to camp.
A perfect way to end the morning
By 8 am we were back at the lodge for a buffet breakfast – scouting for animals makes you hungry. There was an expansive display of pastries, cereal, and an omlette station cooked to order. We shared stories (and laughs) about what we saw and all admitted that for it being such an early morning, we were all wired (or maybe it was the copious amounts of coffee??).
I wandered over to the terrace overlooking a huge bird feeding area – and couldn't believe all the hornbills (think Zazu from the Lion King!) and these cute grey birds called the "Go-Away-Bird".
AKA my spirit animal.
Were they annoying? Is that how they got their name? It's actually because of their call – it sounds like they are saying go away. I can relate.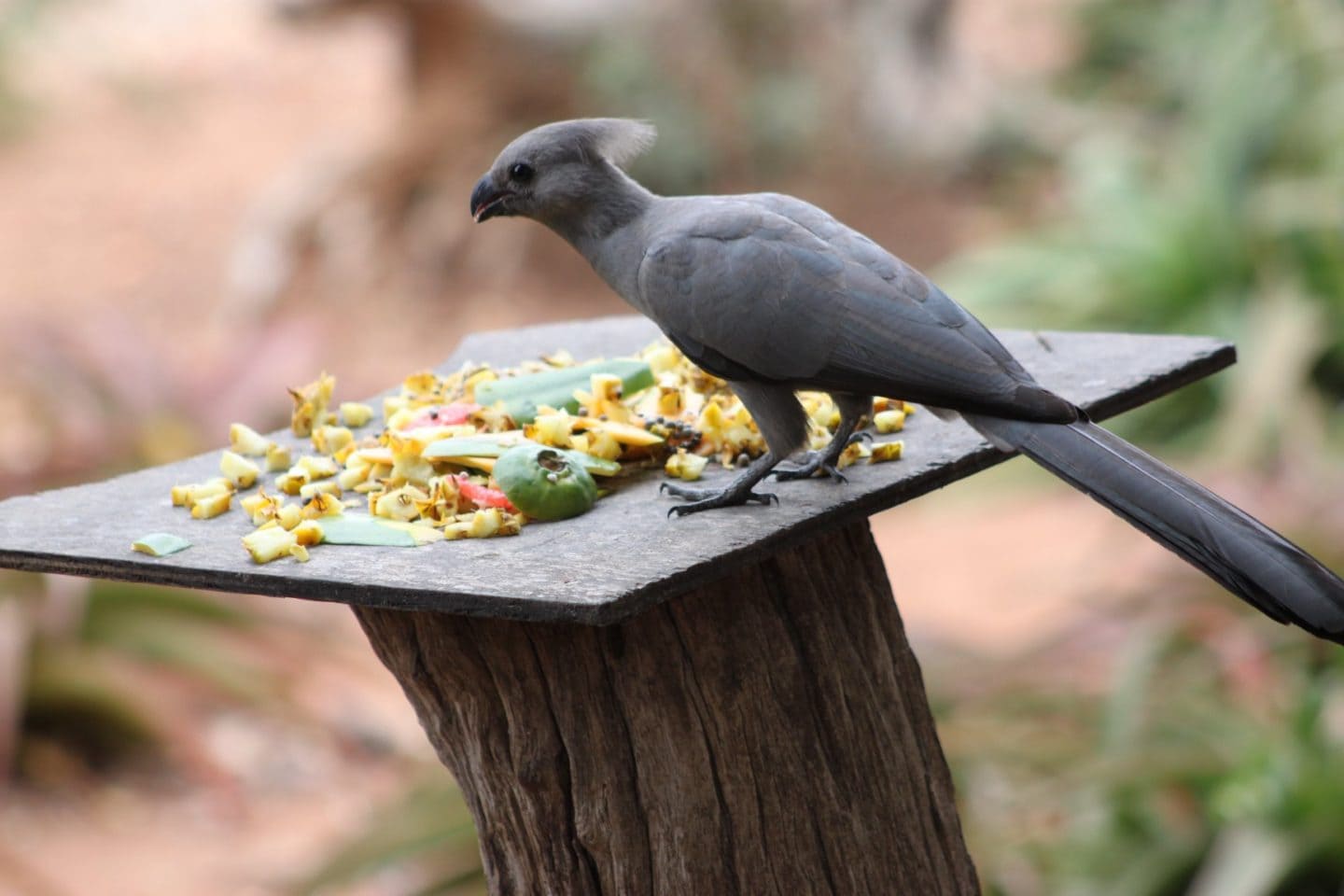 Final Thoughts
Visiting Tshukudu Game Lodge and interacting with cheetahs was a dream. I never would have anticipated being this close to a wild animal on purpose, let alone petting it! If you have the opportunity to do something like this, I would highly recommend coming here. The guides are knowledgeable and you'll learn some amazing facts about the wildlife here. You'll be able to get up close and personal with big cats and maybe even spot some of the Big 5!
This is definitely an experience I will never forget. Thank you to Mafigeni for bringing us here!
Pin it for later!