If you are arriving in Johannesburg, South Africa, on a late flight, chances are you will want to spend the night in Johannesburg before either making a connecting flight the next morning or starting your tour.
You have a few options for hotels at OR Tambo International Airport, but City Lodge Hotel is the most reasonable accommodations within walking distance of the airport.
City Lodge Hotel at OR Tambo is conveniently located at Africa's busiest airport, and is just a short 5 minute walk from arrivals via a covered walkway.
With a full service restaurant and bar open all throughout the day, you can grab a bite to eat or drink whenever you are here. City Lodge Hotel at OR Tambo is also adjacent to the Gautrain Airport Station.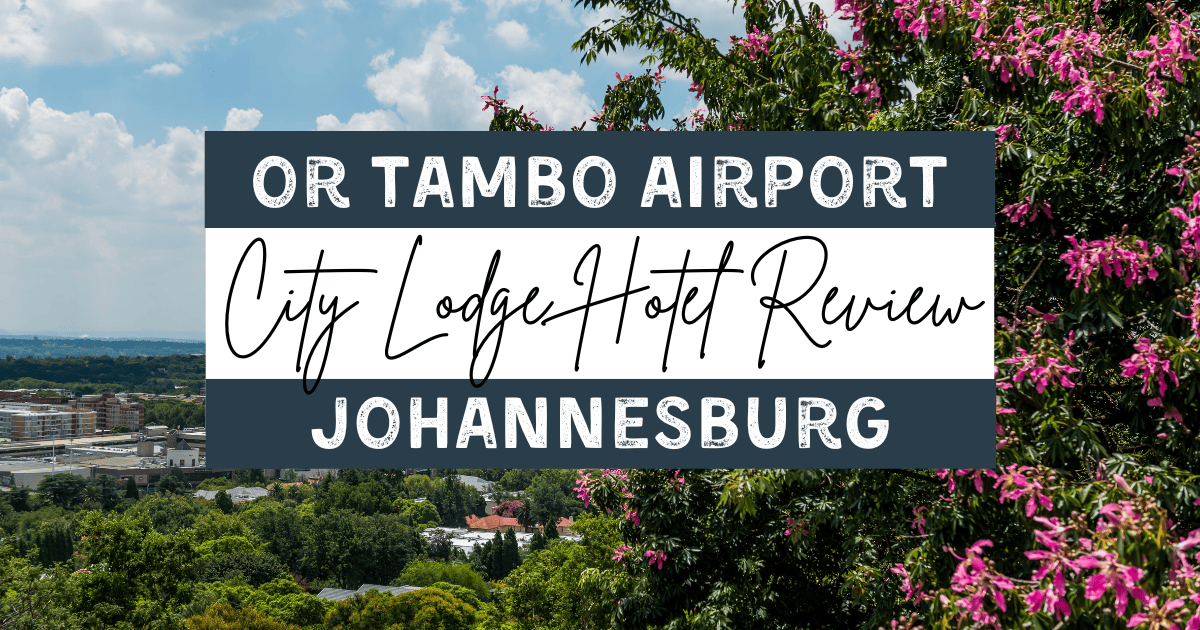 This post contains affiliate links which means I earn compensation when you click on the links at absolutely no extra cost to you! Feel free to read my disclosure policy. Thank you for supporting my blog!
Plan your next vacation using these tools!

✈️ Book flights: SkyScanner
🏨 Book hotels: Booking.com
🚘Book car rentals: RentalCars.com
🎫Book tours: GetYourGuide
🌍Favourite travel item: Packing cubes
🧳Favourite travel bag: Osprey 40L Fairview
🩹 DIY Travel Medical Kit
💸 20 Cheap Travel Items Under $20
Rooms at City Lodge Hotel OR Tambo
Rooms are quite comfortable with a double twin bed, writing desk (which I'm writing from right now!), chair and table, safe, TV, closet, and kettle.
You can also book a king-sized bed or adjoining family room. There is also a pull-out drawer for storage where you will find an extra blanket.
The bathroom has a full tub and separate shower. The shower is more telephone-booth style, but it was a welcome sight after flying for 17.5 hours!
We also normally sleep with a sound machine at home, but I was pleasantly surprised that it was quiet at this hotel. You couldn't hear any adjoining rooms, water running, or people in the hallway.
And it's not just me saying that – even though I was really tired – my light sleeper husband said the same.
The only thing we noticed was there was only one panel of outlets in the room. There aren't any on either side of the bed, which can sort of be a drag if you like to lay and bed, go through your phone, and charge your device at the same time.
You will also need to make sure you have a power converter and adapter with you in South Africa if you are arriving from North America.
The sockets above the desk accommodate different types of plugs, including South African (with 3 round plugs), British (3 square pins) and North American (2 flat pins), and Continental European (2 round pins).
While you may be able to get away with charging your phone on this plug, it really isn't set up for our charging at home.
We bought his awesome Universal Power Adapter kit off of Amazon that comes in its own travel case, and can charge via 3 regular North American plugs, 1 quick-charge USB 3.0, 2 USB 2.4A, and 1 USB C. After so many failed power adapter kits we've purchased in the past, we were glad to stumble across this one.
It was worth the investment (and if you have time, keep an eye on Prime deals!), when you consider basic kits go for $25-$60 at airports. We came across one in Atlanta for $59.99 with the option to only charge one device on a regular plug.
There is a built-in fan, that may be annoying to some, but doesn't bother us and is a minor thing compared to the fact we can safely charge our devices.
Overall, City Lodge Hotel is the perfect choice for accommodations at OR Tambo Airport, especially if you are travelling on a budget. When we booked our room, rates were just $125/night.
Amenities at City Lodge Hotel OR Tambo Internatinal
We arrived at OR Tambo around 7:00 pm, and by the time we made it through a very long wait at customs, we arrived at our room at 8:30 pm.
The elevators are also a bit strange; there are only 3 floors, but some rooms start with a 4000 number. The elevator floors list the room number range on the button, so just select the one that corresponds with your room number!
There is a pool next to the restaurant and outdoor along with a gym, if you feel like you need to get a workout in.
The lobby decor is tastefully designed, and you will find a complimentary water station with different fruit-infused water.
You will also find a water cooler heading towards the restaurant down a corridor if you brought a reusable water bottle to fill.
That being said, the water is safe to drink in Johannesburg, especially in urban areas. I'd be more cautious in rural areas, however, and if bottled water isn't always accessible, you can purchase water purification tablets.
We enjoyed dinner and drinks as well as a buffet breakfast at the #Cafe Restaurant and Bar at City Lodge Hotel OR Tambo. The food quality is excellent and the selection is varied enough to suit numerous types of dietary requirements.
If the weather is nice, there is a comfortable patio outside with chairs and tables if you want to cozy up with a drink.
In the lobby lounge, there are flight information boards, and the hotel offers uncapped WiFi throughout.
If you happen to need laundry services while you're there – you can do that too. Just allow enough time to send your items away and have them returned.
City Lodge Hotel OR Tambo Restaurant
If you wish to have a meal or drink at the restaurant, the rates are incredibly reasonable.
There were 15 of us, and we ordered two rounds of drinks, some pizzas, a burger, and snacks, and it was the equivalent of $125 CAD – where could you get together for that in Canada or the USA!?
Dana's cider came in at a mere $2 and my G&T was $5. To give you a reference for food, pizzas were about $6 and burgers were $5-$6. The food is delicious and after having plane food for a day, it was nice to have a proper meal.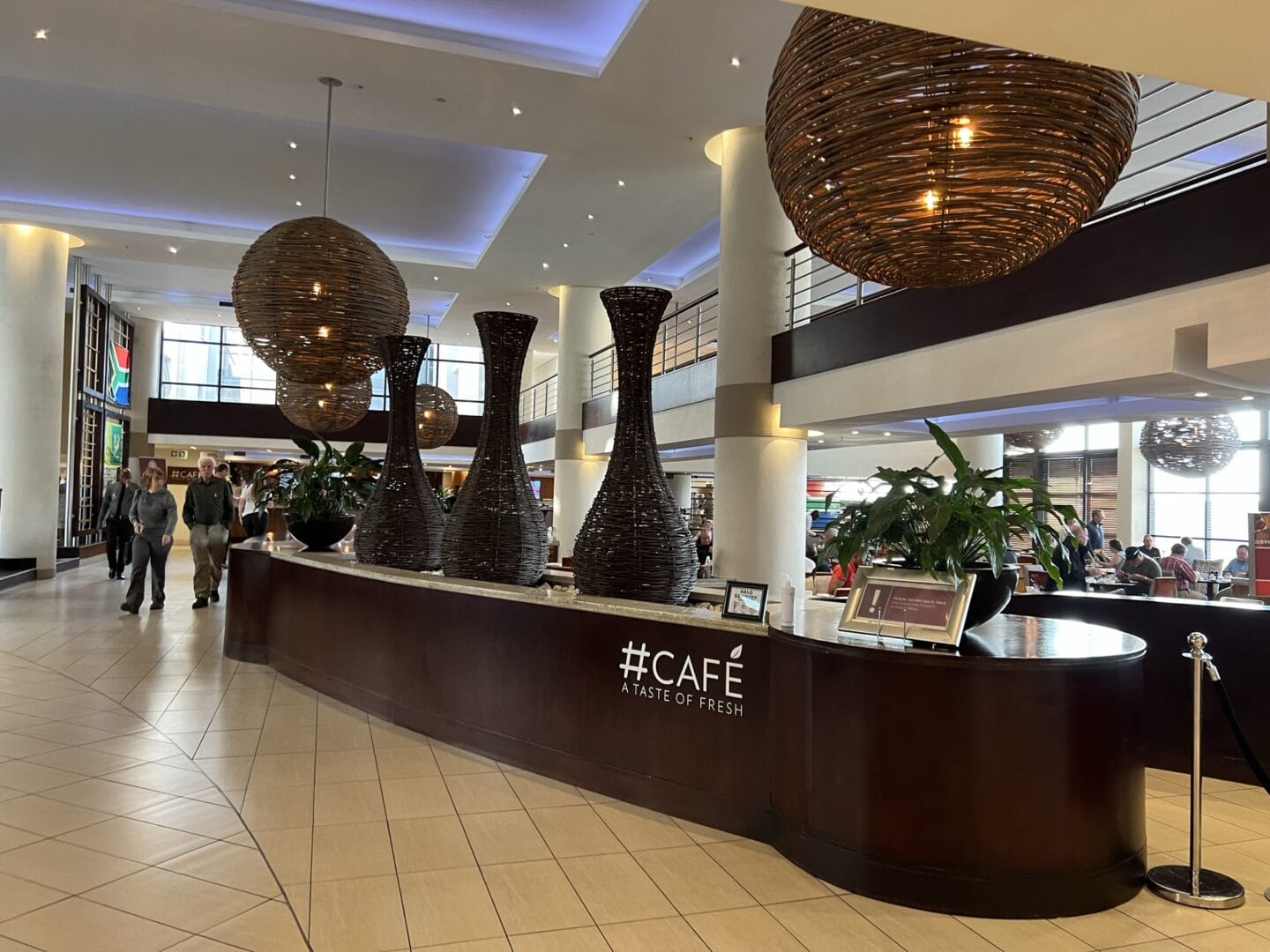 If you see the roasted nuts on the menu – ORDER THEM! They're freshly roasted and still warm when you get them.
You also have a choice to enjoy a buffet at the restaurant for dinner, OR you may choose to order a la carte.
Depending on what you are in the mood for and how hungry you are, it may be more economical to get the buffet. You can charge the bill to your room or pay at the end of your meal.
How to Get to City Lodge Hotel OR Tambo from Arrivals
Getting to City Lodge Hotel OR Tambo from arrivals at the airport is easy.
Follow a well-signposted walkway which skirts along the parking garage. It's a mere 300 metres from arrivals and is accessed by a private elevator. It's a simple walk and you will be there in less than 5 minutes. It's a great way to stretch your legs after flying!
You do not need an airport shuttle, which makes this a great quick and easy choice to get to your hotel after a long flight at all hours of the day!
It's important to note that when you exit the arrivals at the airport, continue walking across the street towards IHG Intercontinental.
Do not allow anyone to help you with your bags; they do not work for the airport. Unless you see someone wearing a vest from OR Tambo, keep walking. You can also rent trolley carts if necessary that can be wheeled straight up to the elevator.
Staff are very friendly and you're provided a WiFi password with your keycard upon arrival.
Hotels at OR Tambo Airport
While you do have other options for hotels at OR Tambo, we are so happy with staying at City Lodge Hotel. For a place to rest your head, shower, and have a meal, either before starting your adventure in South Africa or before you fly to your next location or home, in my opinion it's the perfect choice!
Your other options for hotels at OR Tambo Airport Johannesburg include:
Which Hotels are Walking Distance from OR Tambo Airport?
There are only two hotels within walking distance from OR Tambo Airport in Johannesburg. The other hotels require a taxi or shuttle.
By choosing a hotel within walking distance, you'll save on taxi or shuttle costs, and time!
Plus, if you stay at City Lodge Hotel at OR Tambo Airport, you'll save a bit of money compared to IHG Intercontinental. It's a no-brainer for me! Get a good night's rest before heading off on your African adventure!
Related Posts
Pin it for later!