Very few hotels leave me speechless, but when we pulled up to the Cresta Mowana Safari Resort & Spa in Botswana, my jaw dropped. It's the most beautiful place I've ever been to.
Nestled on the banks of Chobe River along the Botswana and Namibia border, this serene resort is one of those places that felt like a dream.
Luxury exists in harmony with nature and this location presents a unique opportunity to explore the natural wonders of untamed Africa.
With tranquil surroundings and breathtaking views of sunrises and sunsets with Namibian floodplains as a backdrop, the comfort, gourmet cuisine, African-inspired menus, and friendly hospitality made Cresta Mowana Safari Resort and Spa a living dream.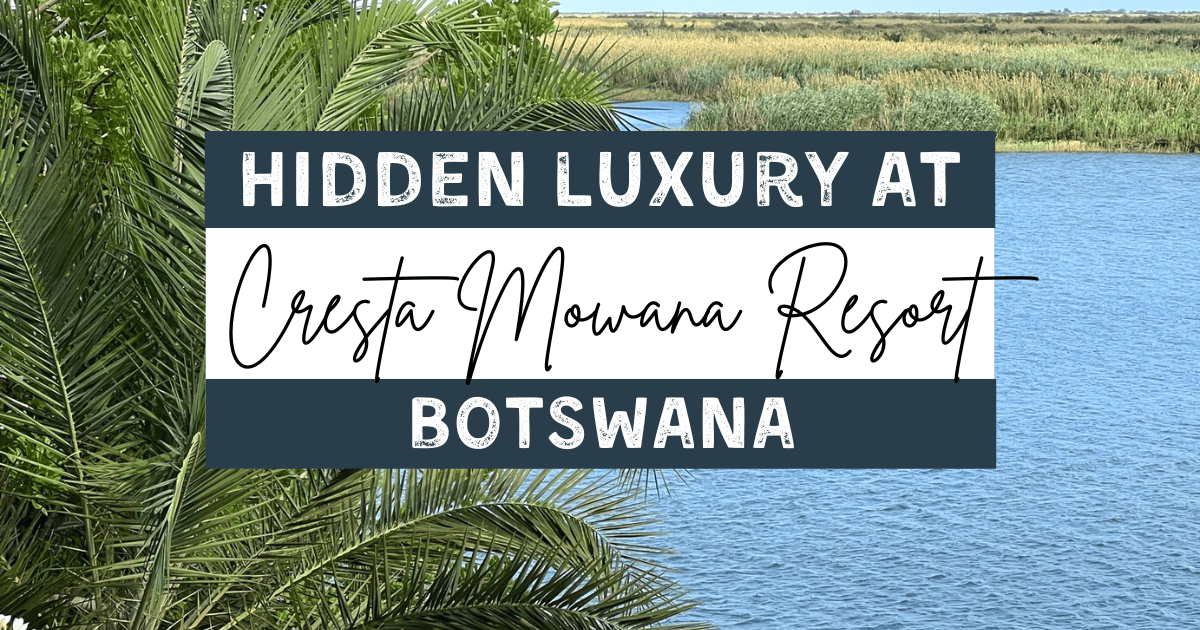 This post contains affiliate links which means I earn compensation when you click on the links at absolutely no extra cost to you! Feel free to read my disclosure policy. Thank you for supporting my blog!
Plan your next vacation using these tools!

✈️ Book flights: SkyScanner
🏨 Book hotels: Booking.com
🚘Book car rentals: RentalCars.com
🎫Book tours: GetYourGuide
🌍Favourite travel item: Packing cubes
🧳Favourite travel bag: Osprey 40L Fairview
🩹 DIY Travel Medical Kit
💸 20 Cheap Travel Items Under $20
Luxury meets Nature at Cresta Mowana Safari Resort & Spa
We didn't intend to stay here on our 12 day African tour, but with Kasane border control closing at 4:30 pm, we missed our crossing to Ichingo River Lodge in Namibia and had no choice but to stay in Botswana for the night. It ended up being one of the best places we've ever stayed.
Cresta Mowana Safari Resort and Spa would be perfect for honeymoons and anniversaries. The tranquil setting truly feels as though you're at a luxury resort and it's by far one of the nicest places we've certainly stayed (ever)!
Once you walk through the front entrance of Cresta Mowana, you're greeted by a stunning centuries-old baobab tree.
The resort was built around the tree which I think is really beautiful and ties in with its surroundings seamlessly.
After a welcome drink and a brief check-in, you're free to make your way to your room and your bags will be dropped off for you.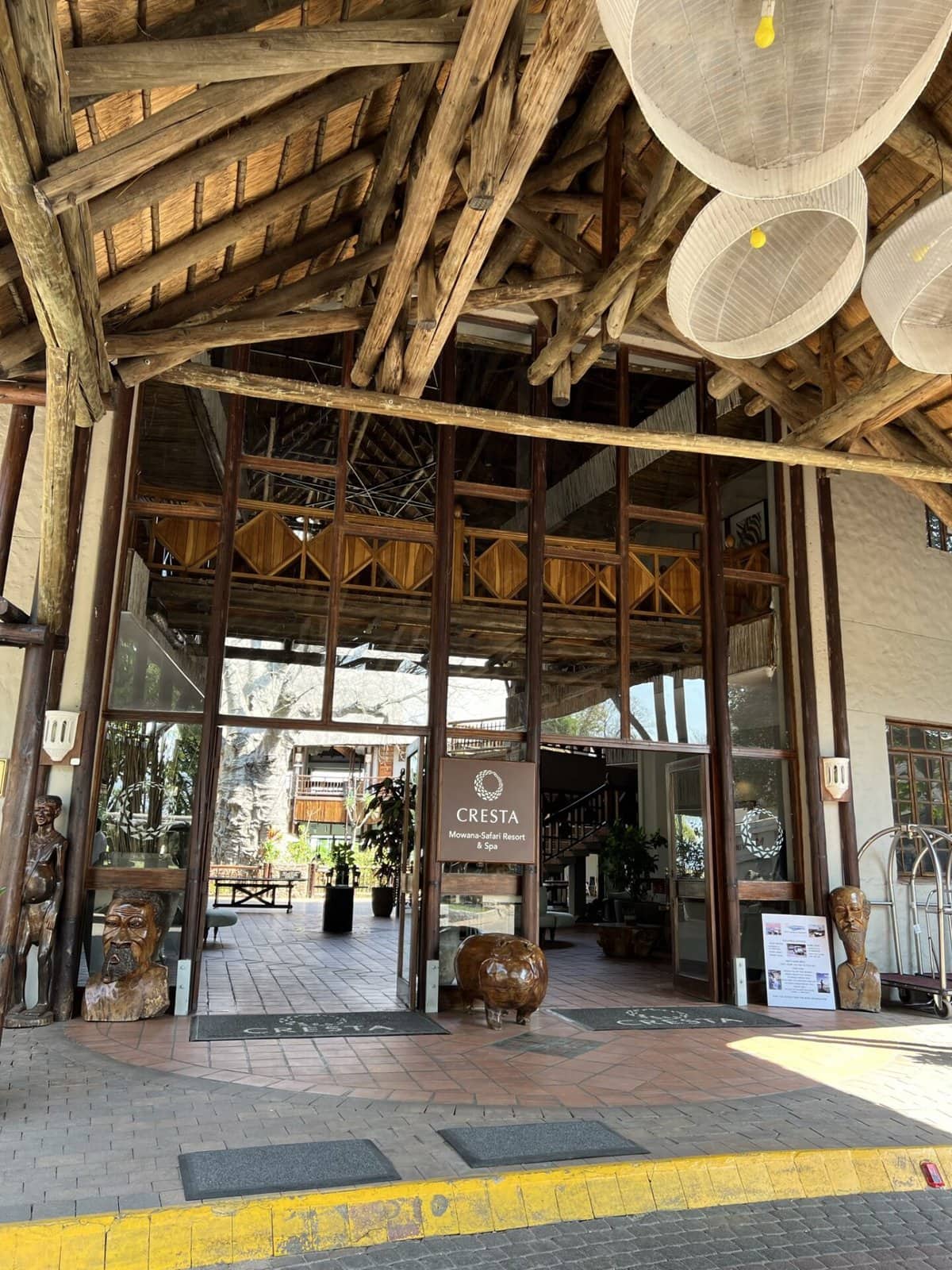 Getting to Cresta Mowana Safari Resort in Botswana
Depending where you're starting from, you can either catch a flight to Kasane in Botswana which is a mere 10 minutes away from Cresta Mowana.
However, the flights aren't always reliable as Air Botswana reportedly cancels flights regularly. This was supposed to be our original route, but due to cancelled flights, it meant we'd be flying from Cape Town to Livingstone, Zambia.
Fun fact: We really didn't know where we were flying to, and we actually had to ask what country we were in when we landed. 😂
Livingstone is about an hour from the border in Botswana. We arrived at the four corners of Africa; where Zambia, Zimbabwe, Botswana and Namibia all come to a point.
The crossing is simple but tedious; you have to hop out to disinfect your shoes leaving Zambia because Botswana has a hoof and mouth disease problem.
Then you hop back in your vehicle, hop back out at another building to have your passport stamped leaving Zambia, then walk across the floor to the other side of the building where Botswana immigration is to get your passport stamp to enter the country.
We had to dig our footwear out of our bags in the dark to sanitize them for hoof and mouth once again. We had to switch vehicles because the one we were in was registered to Zambia, and before long, we were on our last 20 minute drive to the gorgeous Cresta Mowana.
Cresta Mowana Safari Resort and Spa Review
The sprawling landscape of Cresta Mowana is nothing short of peaceful.
This large property sits along the banks of the mighty Chobe River and is home to all sorts of wildlife, including bushbuck, warthogs, and a variety of birds.
Signs are placed along the river banks warning you of wildlife that may appear like crocodiles and hippos; and after a few days of cruising along the Chobe River, I can guarantee for a fact they are most certainly in the water.
Every design element is well thought out; the use of natural materials tied in beautifully with its surroundings and the Baobab trees on the resort. You immediately feel connected with nature.
Chirping birds and a gentle breeze bring reprieve to the heat.
Rooms at Cresta Mowana Safari Resort
The 112 rooms at Cresta Mowana are nothing short of elegance with a luxury feel we weren't expecting. The room opens up to a high vaulted ceiling with a fan and air conditioning.
A four-poster bed draped in beautiful netting sits in the middle of the room with a small sitting area to the side of the room. There's a balcony that overlooks the Chobe River and we spent time here when we were able.
There's nothing more relaxing than sitting in the quiet waiting for a chance to see some wildlife.
The bathroom has a large half-moon shaped shower with a separate tub. A glass panelled window allows for natural light to stream into the bathroom. We woke up with the sunrise due to the light coming through the window (but of course, if you want to sleep in, just be sure to close the bathroom door!).
Rooms are equipped with tea and coffee, snacks, mini bars, and satellite TV – but that's one thing we never turn on during our travels! You're encouraged to tune into "bush TV" – meaning – views of the river!
Good to know: When we checked in, we were offered a welcome drink and were informed that should we need any medical care while on property, they would arrange everything for us. We did, in fact, require medical services while we were there and they quickly arranged for transport to a medical clinic in Kasane.
Cresta Mowana activities
Cresta Mowana would be amazing for honeymoons, anniversaries, or even weddings. We could've happily spent a couple weeks here and left fully recharged.
After a stroll around the grounds, we came across a beautiful pool and lounge area with daybeds, a fire pit area with seating, restaurants, bars, and a gorgeous deck down by the river.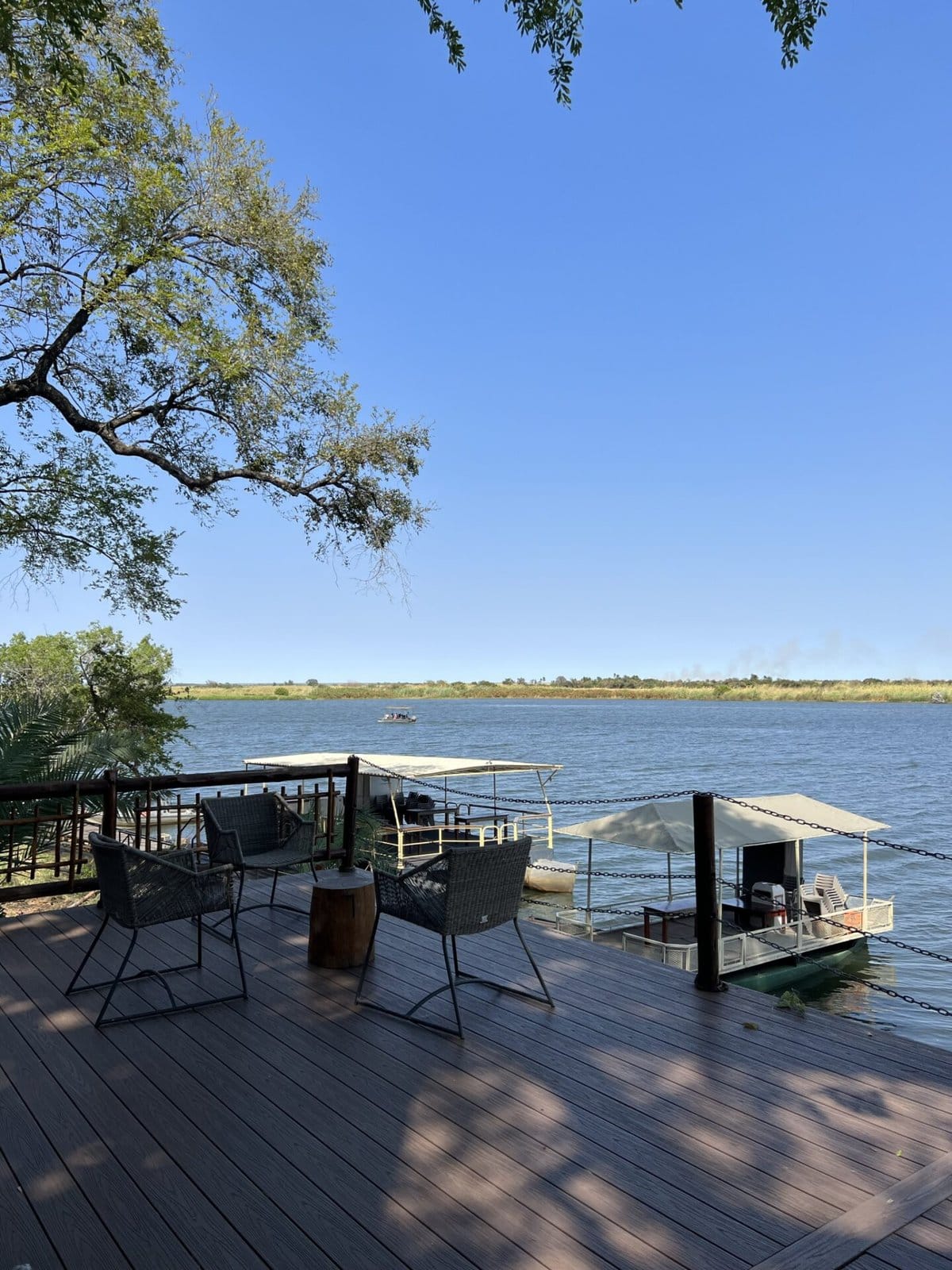 Cresta Mowana Safari Lodge and Spa not only offers relaxation and unspoiled views of the Chobe River, it also offers an on-site spa and 9 hole golf course.
The real draw of this property is its proximity to Chobe National Park. Just a short 15 minutes away, participating in safaris can be organized by Cresta Mowana.
Whether it's a morning game drive or river cruise, this is one activity that truly can't be missed. Chobe National Park is famous for its large herds of elephants, and seeing hundreds of them in person is an incredibly moving experience.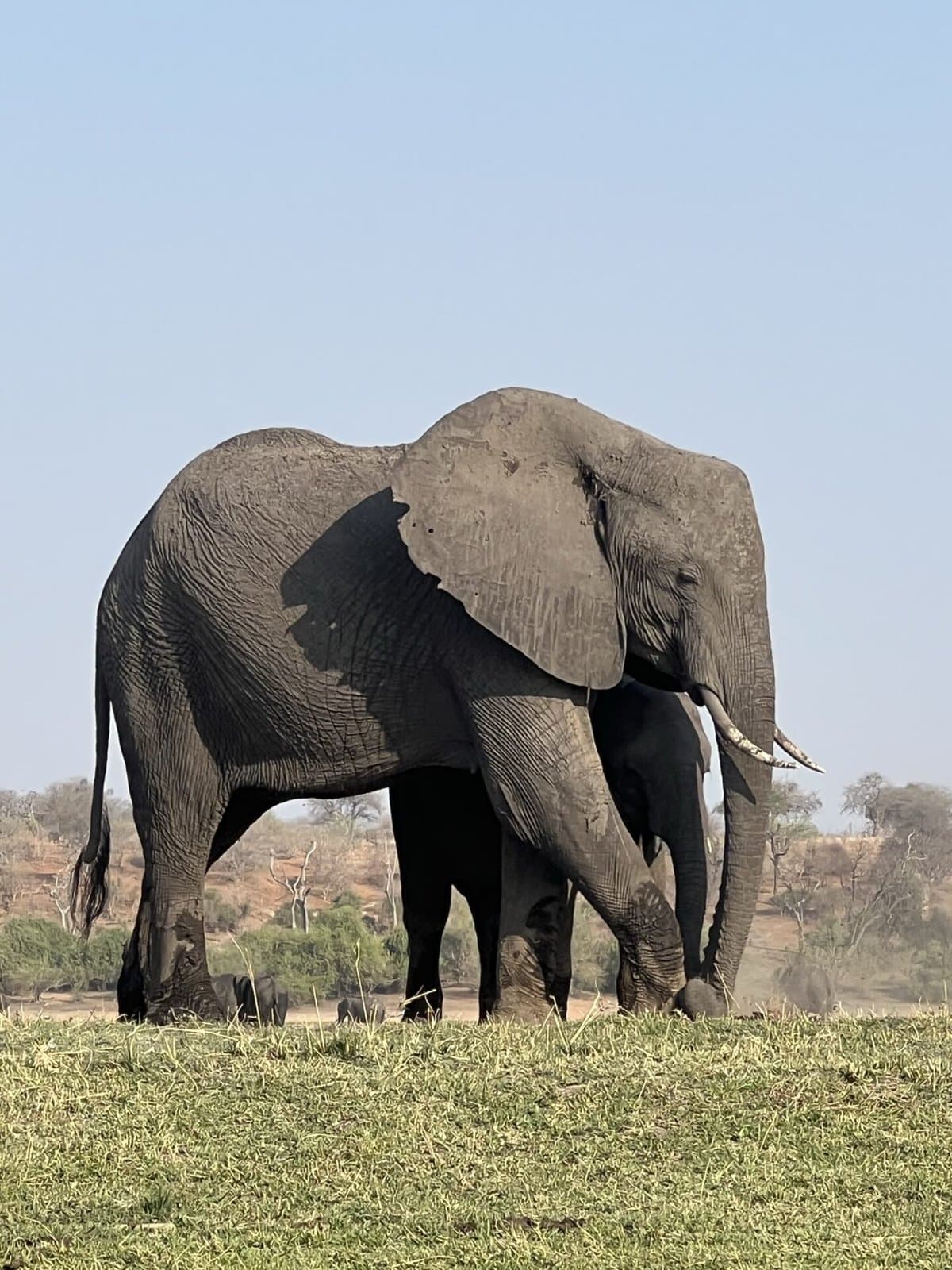 Chobe River is also known for some of the best fishing in Africa, where anglers fish for the elusive Tiger fish.
Of course, you don't need to leave the resort since everything you need to enjoy your surroundings is right on-site.
You have a choice of three restaurants for meals, plus a bar by the pool so you don't have to go very far to stay hydrated.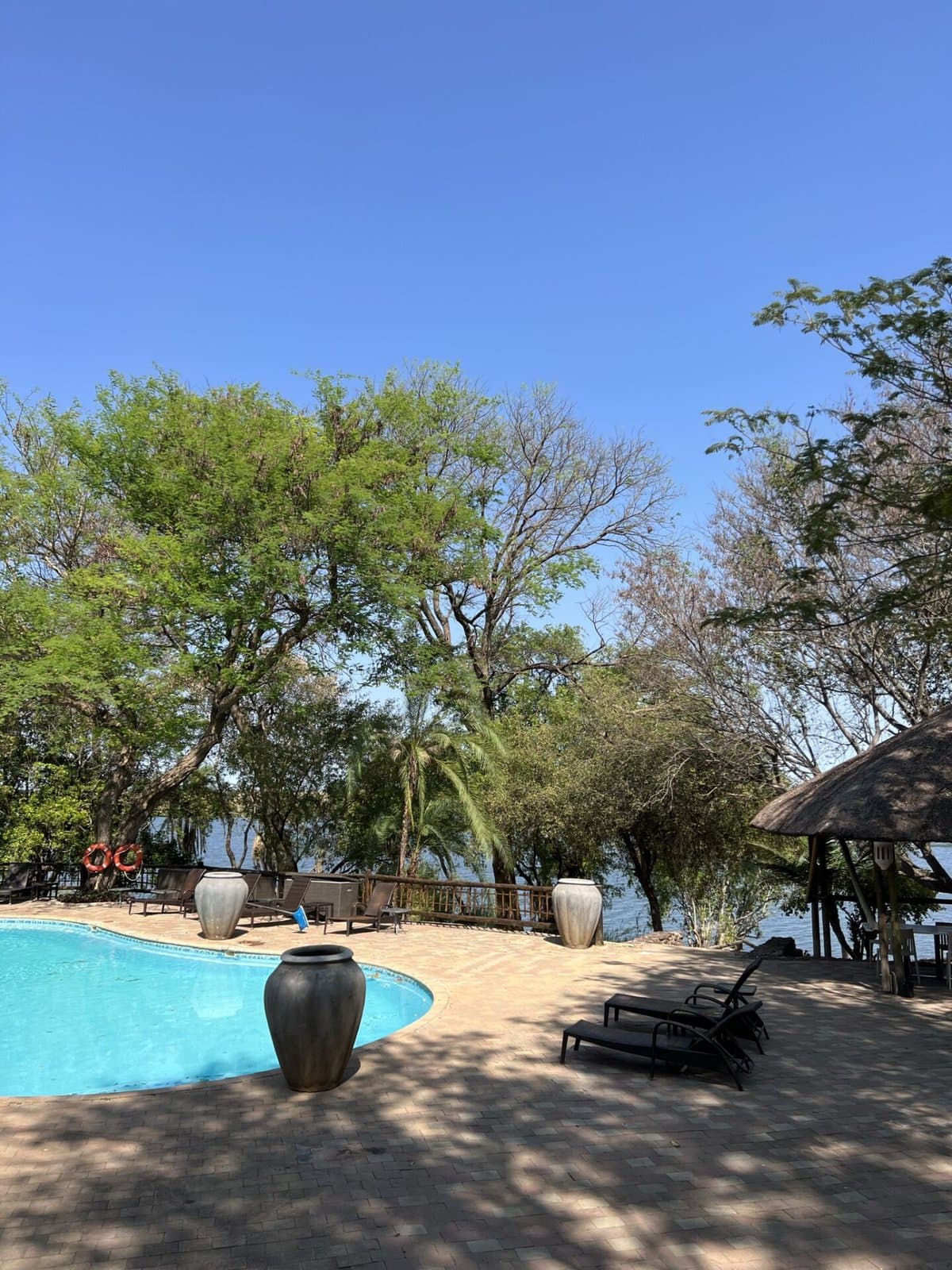 Related: 14 Must-Pack Items to Bring on Safari
Unexpected Luxury at Cresta Mowana Safari Resort & Spa
Luxury meets old traditions at Cresta Mowana.
The baobab tree is almost a thousand years old and the resort is named after it. Be sure to visit the tree at night; it's lit up beautifully after dark, and don't forget to look up at the star-studded sky.
Cresta Mowana's unique location is on the banks of the Chobe River where four African countries – Botswana, Namibia, Zambia and Zimbabwe – meet.
Chobe National Park game reserve is famous for its elephant population. Elephants aren' the only animals you'll see here; you'll also see plenty of crocodiles, hippos, giraffe, zebra, buffalo, hundreds of species of birds, and if you're lucky, lions, cheetah and leopard, too!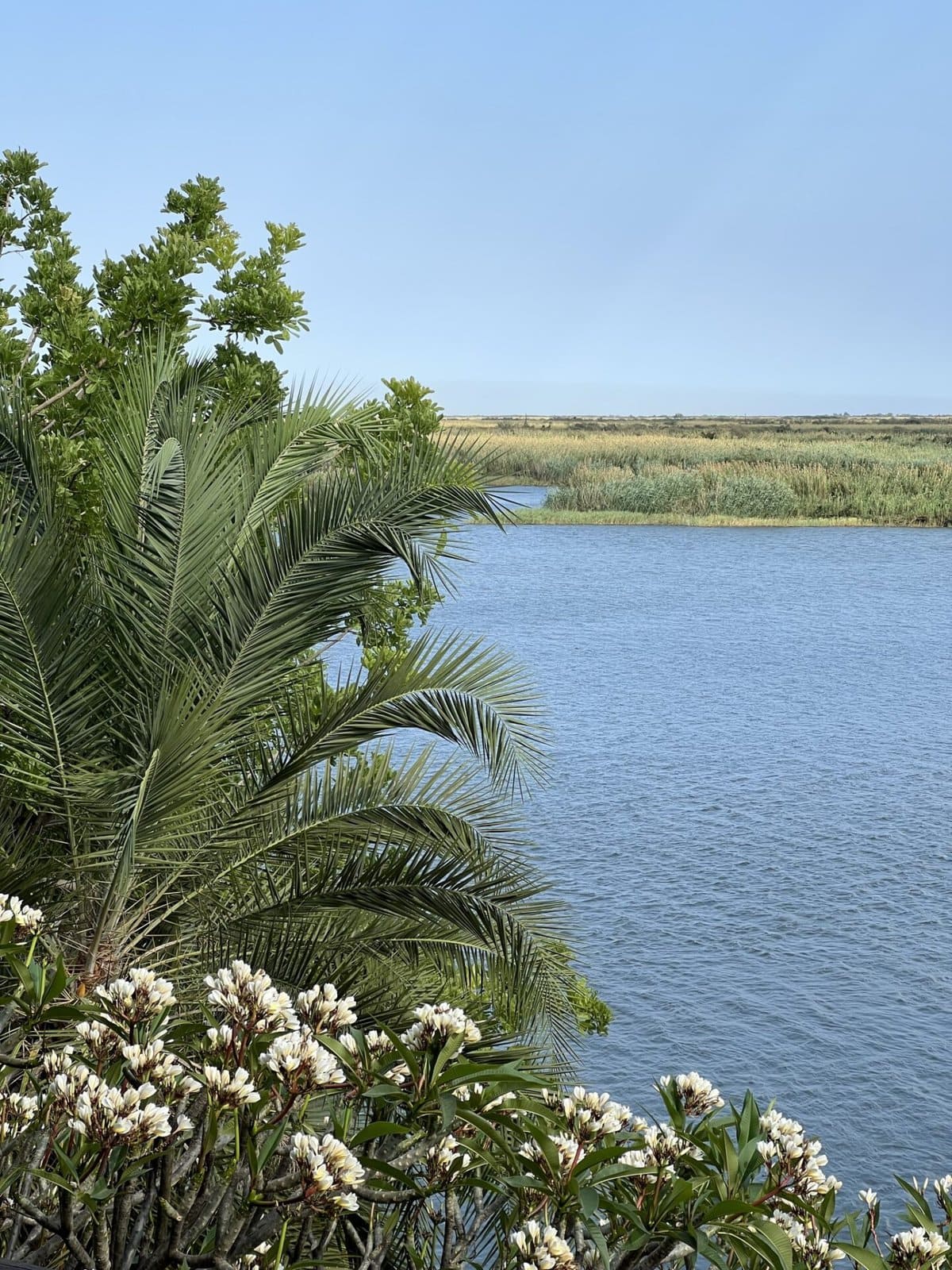 Cresta Mowana Resort surprised us in the most unexpected way. We found so much beauty throughout this property in Botswana and it quickly became one of our favourite places we've ever been.
Pure relaxation in the heart of Africa surrounded by wildlife. It doesn't get much better than that.
Related Posts
Pin it for later!