Tucked away at the easternmost point of Namibia on secluded Impalila Island is Ichingo Chobe River Lodge. This tented lodge is perched on the edge of the Chobe River; a serene place that takes you away from it all.
Covered by forest canopy, this piece of paradise is perfect for those seeking rest and relaxation. It's one of the places we loved the most, and is popular for its fishing, birding, and wildlife sightings.
If you're considering a stay at Ichingo Chobe River Lodge, I hope this review answers your questions. It's one of the most memorable stays we've had, between the hospitality, accommodations, and abundance of wildlife viewing.
Plan your next vacation using these tools!

✈️ Book flights: SkyScanner
🏨 Book hotels: Booking.com
🚘Book car rentals: RentalCars.com
🎫Book tours: GetYourGuide
🌍Favourite travel item: Packing cubes
🧳Favourite travel bag: Osprey 40L Fairview
🩹 DIY Travel Medical Kit
💸 20 Cheap Travel Items Under $20
This post contains affiliate links which means I earn compensation when you click on the links at absolutely no extra cost to you! Feel free to read my disclosure policy. Thank you for supporting my blog!
How to get to Ichingo River Lodge
The only way to get to Ichingo Chobe River Lodge is by boat, via a river border crossing from Kasane in Botswana.
Depending where you're coming from originally, you have a couple options to get to Kasane Immigration Office. Since the office closes at 4:30 pm each day, you have to ensure your travel day allows for that.
Our original plan was to arrive from Cape Town and fly to Kasane, Botswana, but an unreliable flight schedule had us fly to Livingstone, Zambia instead.
The drive from Zambia to Kasane is about an hour, or you can arrive from Victoria Falls in Zimbabwe in two hours. You can also fly directly in Kasane International Airport which is a short 10 minute drive away from the embarkation point.
Our Zambia to Botswana experience was a unique one. Since we arrived late in the day, we had to stay overnight in Botswana before heading to Namibia the following morning.
In Kasane, we went into an old building, had our passports stamped by a very friendly agent, and hopped into a boat, with two smaller boats for our luggage, before heading off down the river.
We pulled up to a tiny port; Namibia customs. There isn't any signage, so if you were cruising down the river you'd have no idea this was the customs area!
We had to hop out of the boat, walk a few minutes to the immigration building, had our passports stamped, walked back to the boat, hopped back in, and continued on down the river to our next stay: Ichingo River Lodge.
The warmest arrival awaited us at Ichingo. We arrived to vervet monkeys playing in the trees and sand, and were handed a welcome drink before being given the WiFi password and having to fill out an indemnity form.
P.s. The only place you are able to get WiFi at Ichingo is in the lounge area, and it was spotty at best. However, you are in the middle of no where – and it's nice to take a break from the outside world and immerse yourself in what's around you!
Ichingo Chobe River Lodge Accommodations
This was our first time ever staying at a tented camp. Ichingo Chobe River Lodge has eight Meru-style canvas safari tents that are also air conditioned – a welcome comfort in an otherwise hot and arid environment. These tents are permanent and have an attached, "regular" bathroom – so think of it like glamping!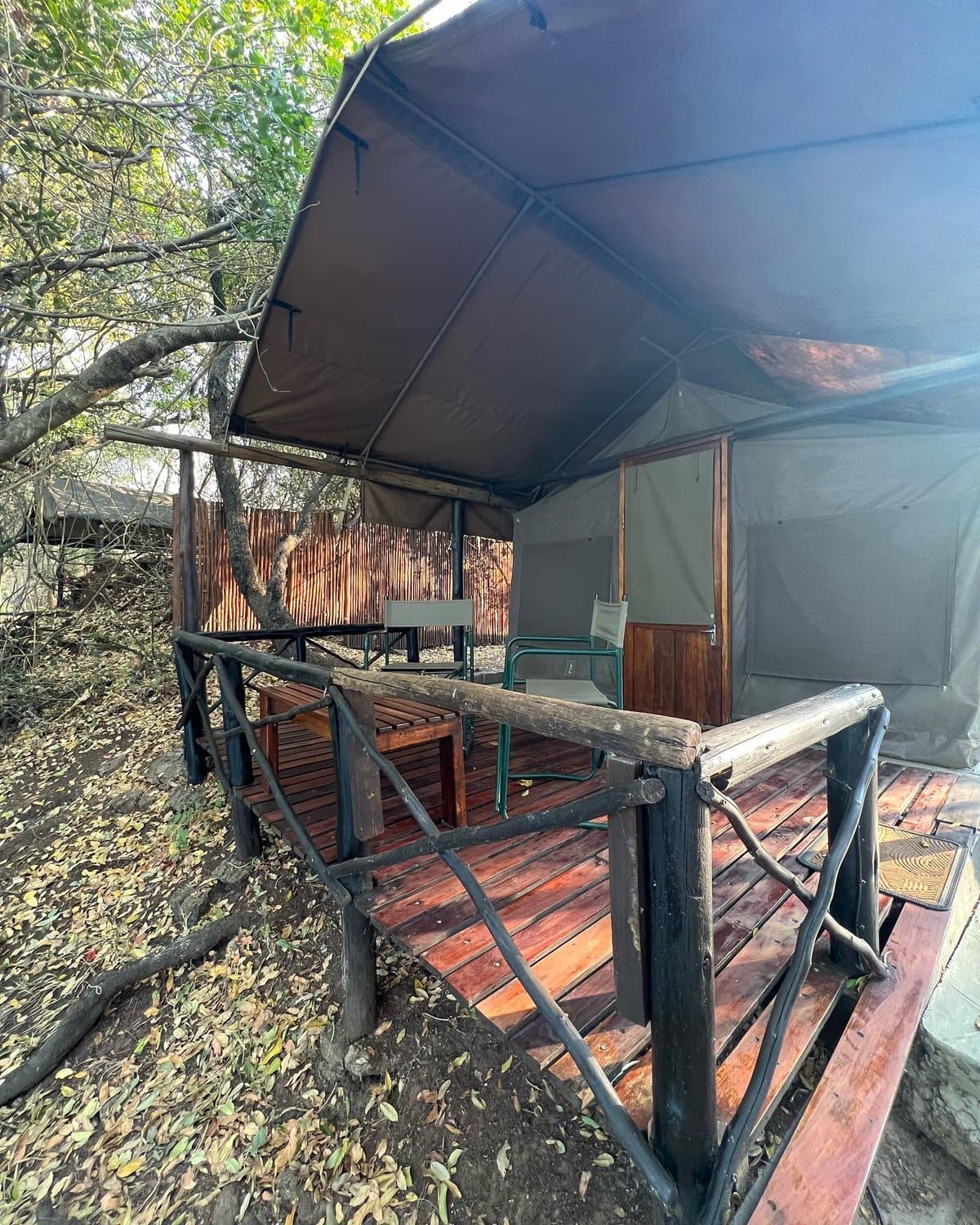 There are panels along both sides of the tent you can unzip and roll up for a nice cross-breeze. You're also left bug repellent in your room which was a nice touch – and my recommendation is to use it, especially if you didn't bring your own!
I felt like I was in an Indiana Jones movie, with a table with two antique glasses and a sherry decanter.
The tents are so unique; each is private and has its own quiet balcony overlooking the river. Everyday we saw vervet monkeys playing around the grounds and in the trees – even right above our tent.
While most of the tents are set up to accommodate couples (with a king bed or two twin beds), there are provisions for families as well. We were there with a family of four, and there is a family-style tent consisting of two tents side by side; one with a king bed and the other with two bunk beds accommodating up to 4 kids under the age of 13.
Each tent has its own modern bathroom, with a shower. Be mindful to not drink the water (it's sourced from Chobe River) so be sure to get a few extra cans of water from the bar to brush your teeth with.
We had one of the best nights of sleep at Ichingo River Lodge. There's something so lulling about falling asleep to the sound of rushing water.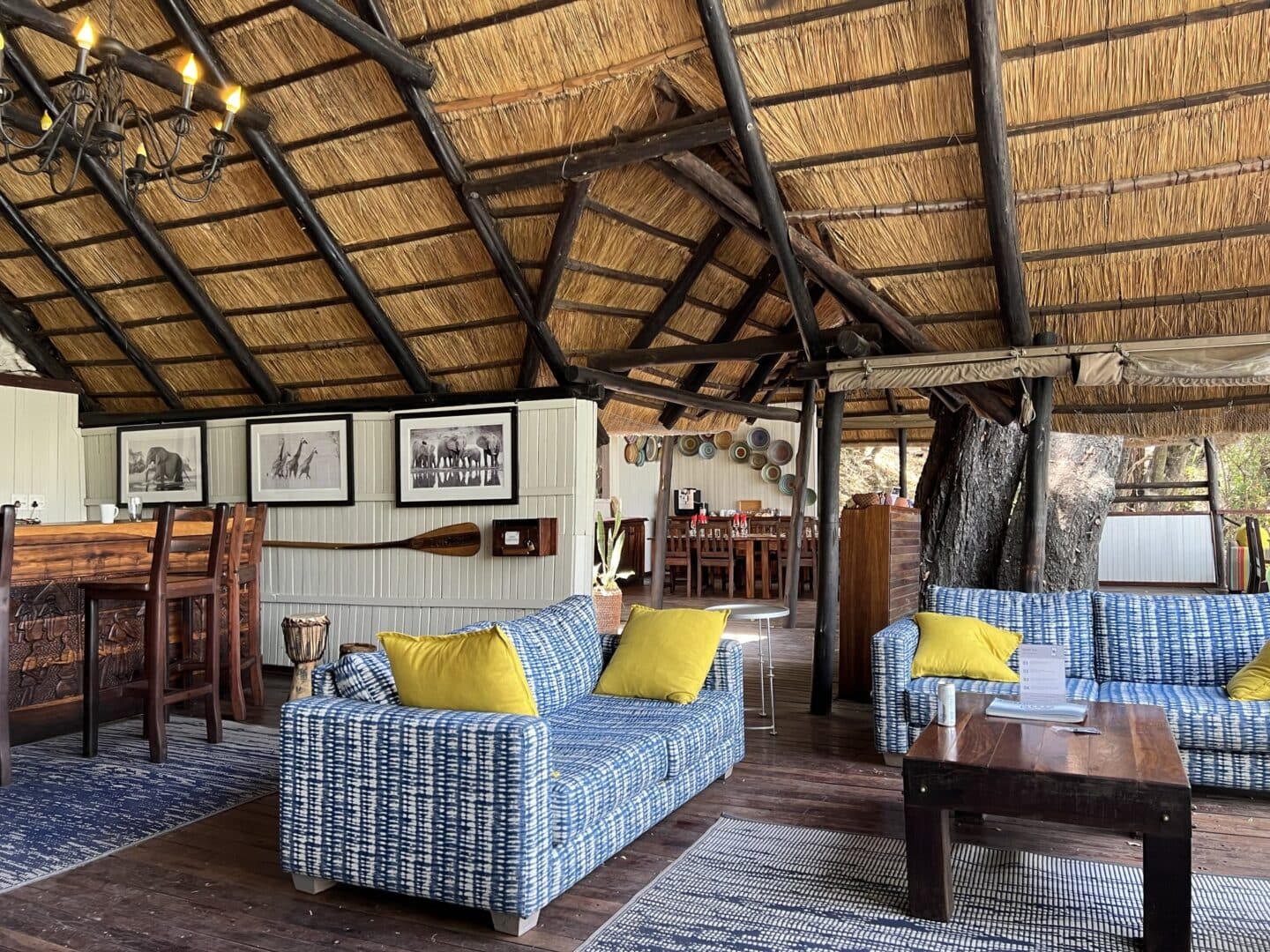 Inside the lodge there is a comfortable and quiet lounge area with couches and chairs and the famous Kennedy's Bar offering drinks and canapes while you relax.
You'll find a bookcase offering different types of reading materials, or sit along the edge of the deck with binoculars to catch a glimpse at a wide variety of birds.
Relax at the pool or soak in the sun from a lounger overlooking the flowing rapids of the Chobe River.
All-Inclusive Experience at Ichingo Chobe River Lodge
One of the things we loved most about Ichingo River Lodge was that it was all-inclusive. From meals and drinks to activities, everything was included. We even had laundry done (after a week of travelling throughout South Africa, we needed it!) and it was brought back the next day neatly pressed and clean.
The meals are amazing at Ichingo; it's all made on-site and a drum is beat before every meal so you know when it's time to serve. All meals are served family-style at one long table.
Breakfast is served buffet-style with offerings of meat and cheese, yogurt, cereal, and pastries. There is also an a-la-carte menu should you want to start off your day with eggs.
Lunch was also served buffet-style, and we had everything from fresh fish cakes, pasta salad, lasagne and a variety of vegetables. Fresh baked bread awaited us at every meal.
Of course, this is served with wine or beer if you choose to have a midday tipple. You're on holiday, after all!
Dinners were spectacular at Ichingo. You're served a three-course meal which could be soup or some type of salad dish to start.
Many of these ingredients are grown at Ichingo's garden at the back of the property. We were served succulent lamb one night, complete with an assortment of vegetables and potato, and a prime fillet of beef with creamed spinach another night with sweet potato. It's some of the best food we've had anywhere in Africa.
Wine, beer, water, and soft drinks are all included. Hard liquor is an added fee, but with everything else at your fingertip, who needs it? You will never go hungry here; portions are large and hearty to keep you going!
P.s. Since Ichingo River Lodge is situated along the river banks, the amount of insects at night may shock you. It was so bad one evening when moths were attracted to the lights that we had to eat in the dark!
Ichingo Chobe River Lodge: Things to Do
What I loved about Ichingo was that the service is completely personalized. Whether you want to sit around and relax, go fishing, visit a local village, or go on a game drive along Chobe River, which forms part of Botswana's Chobe National Park, how you spend your time is up to you.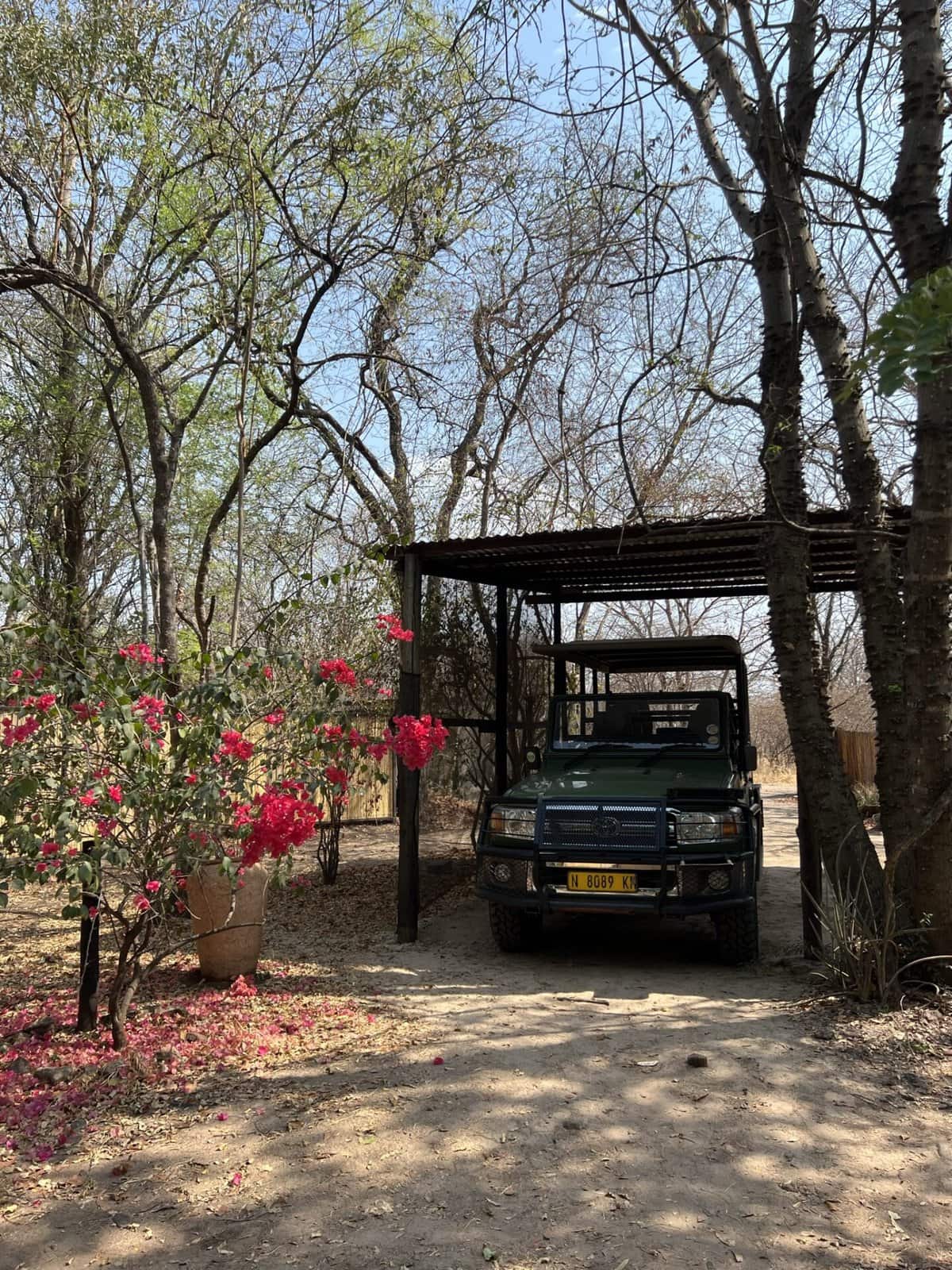 Fishing at Ichingo River Lodge
People from all over Africa (and the world!) visit the Chobe River to experience some of the best fishing in Africa. Visitors try their luck fishing for elusive Tiger Fish, the most powerful power to weight ratio freshwater fish in the world.
All fishing equipment is included, too, which makes travelling here easy for the avid angler.
Sunset river cruise along Chobe River
Our guide took us out on our first night for a sunset river cruise.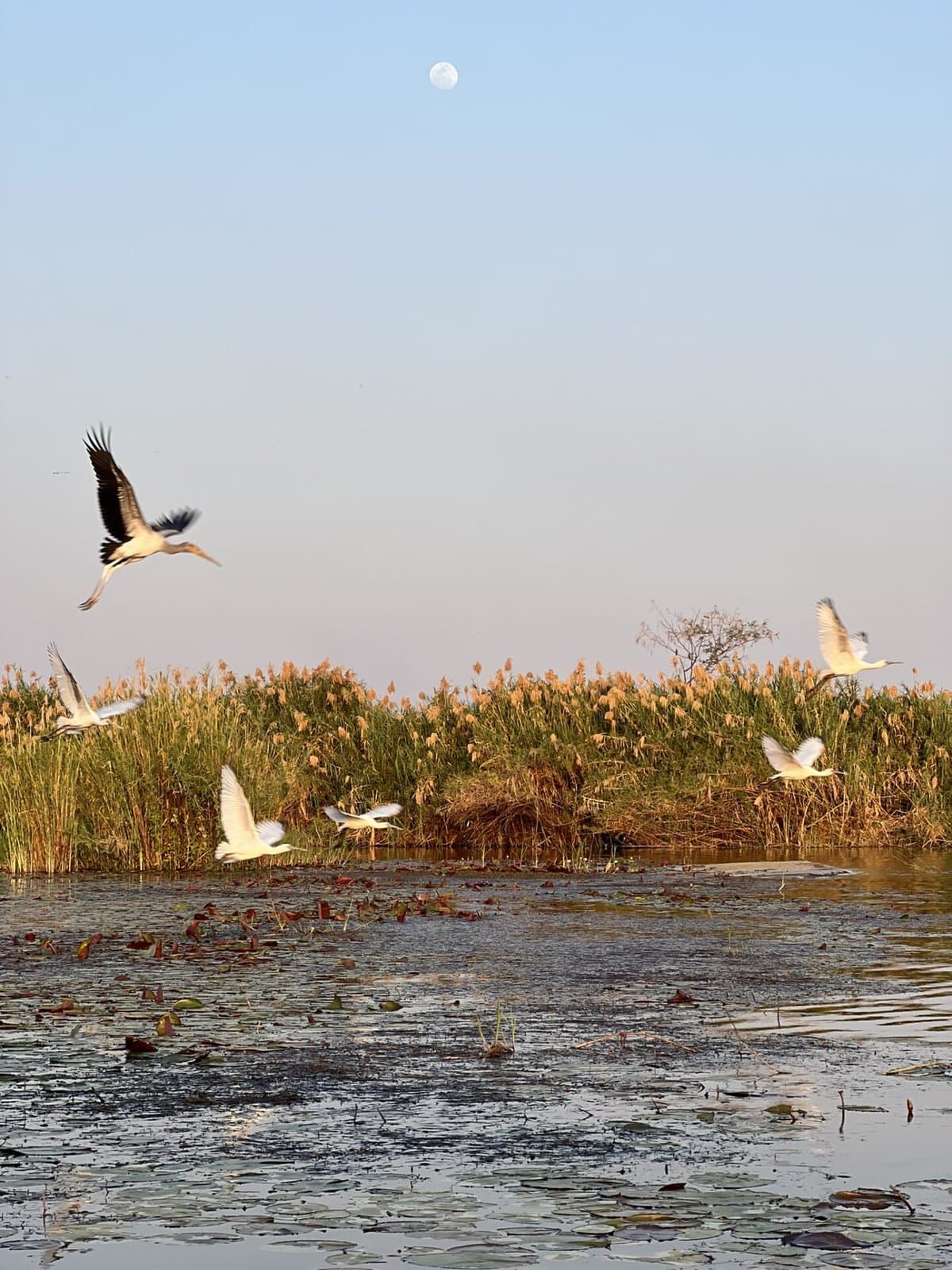 We travelled along the Chobe River an hour before sunset and saw all sorts of birds, hippos, and crocodiles, before seeing one of the most beautiful sunsets I've ever seen.
The evening light was stunning and we enjoyed a glass of wine watching the sun set below the horizon.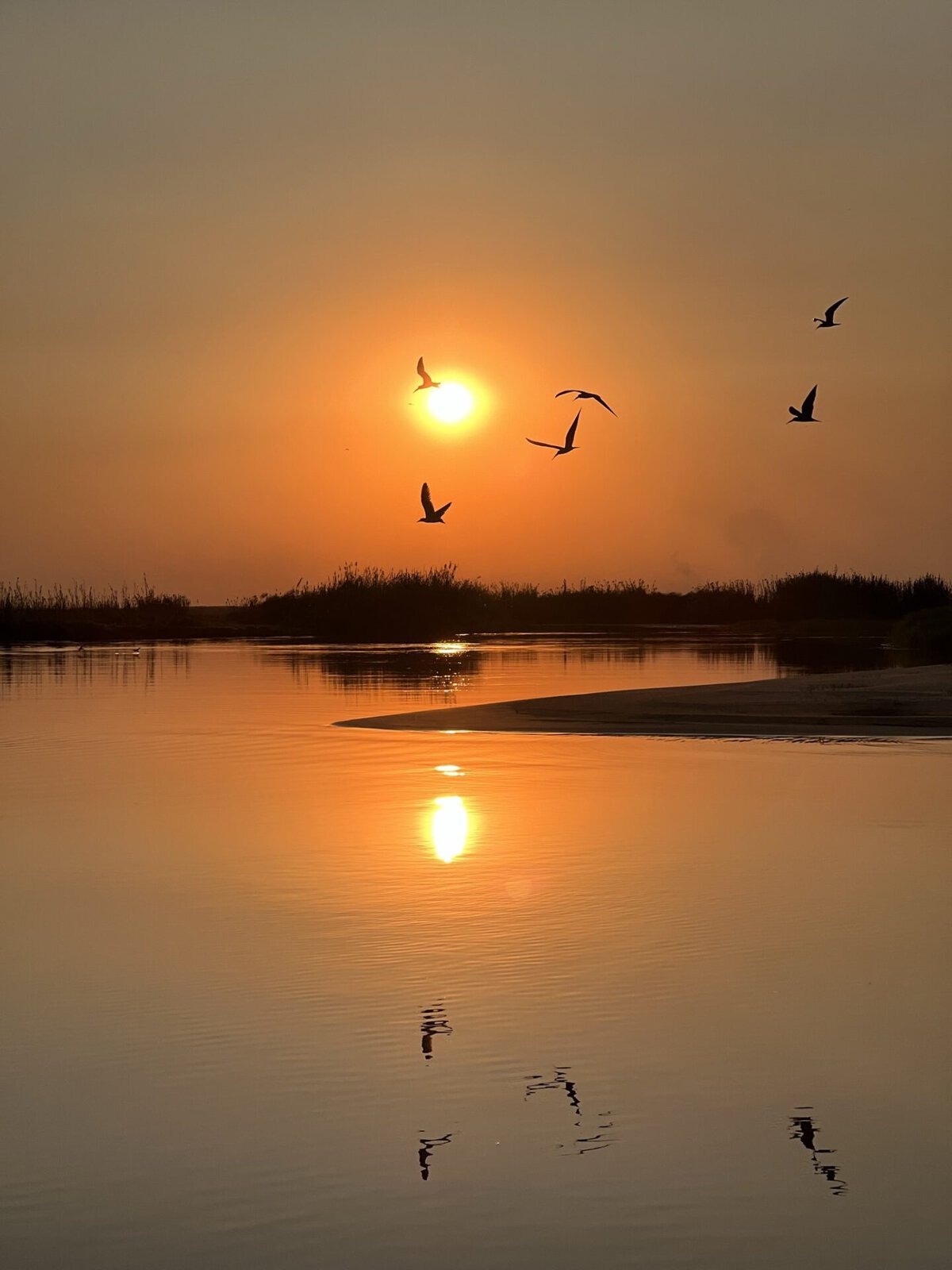 Visiting the local village
You can also choose to visit the local village on Impalila Island.
Kafubu Village is a short 10 minute walk from Ichingo River Lodge. We were warmly welcomed by the women of the village with a traditional song and dance. There are handmade crafts on display with various carvings of animals, woven bowls, and trivets.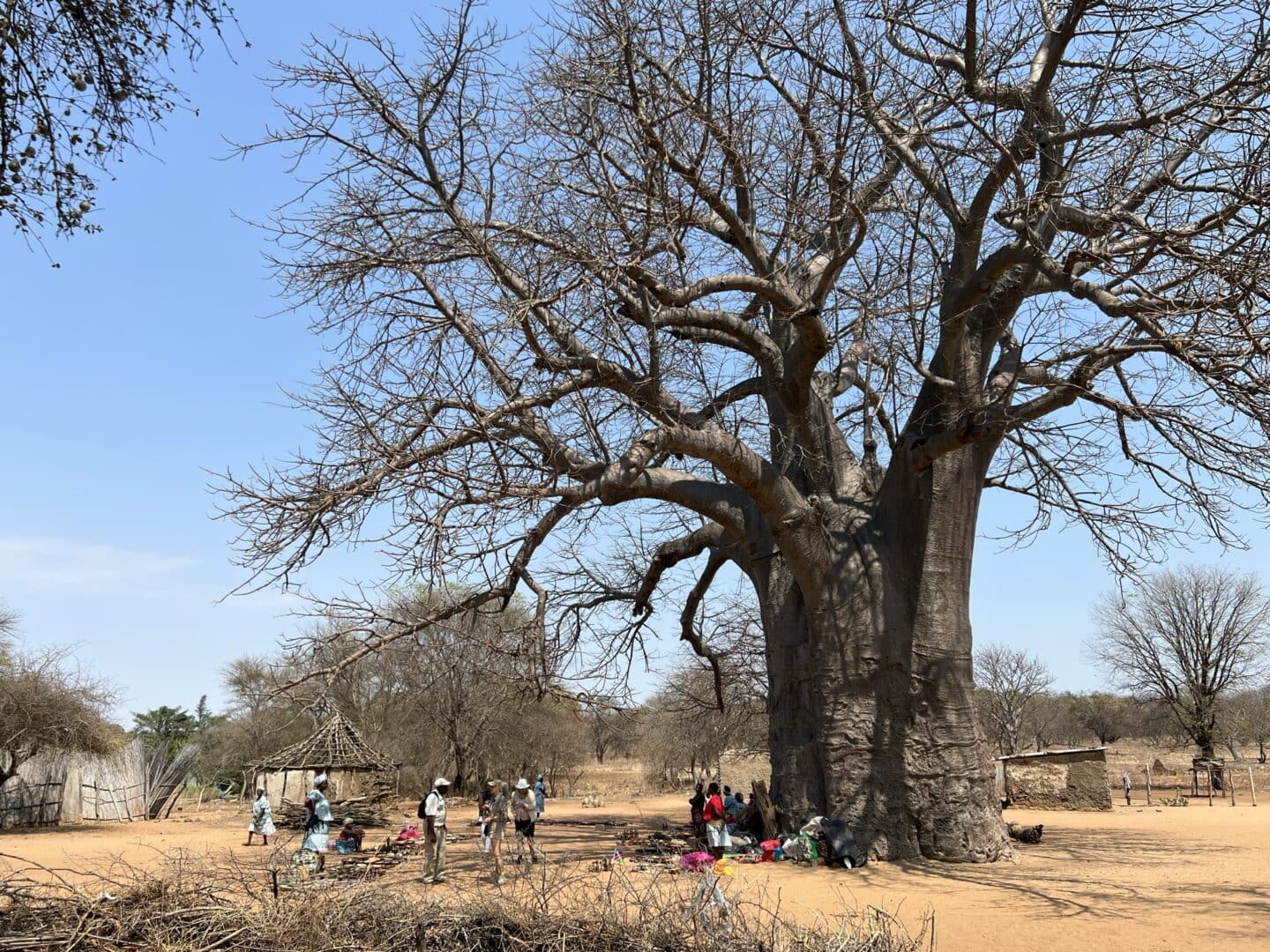 Kafubu Village is home to one of the largest Baobab trees I've ever seen, which is well over 2000 years old. We walked through the village and passed by their homes made of mud and thatch.
It was too hot to walk to the school that day, but it was an eye-opening experience visiting the village.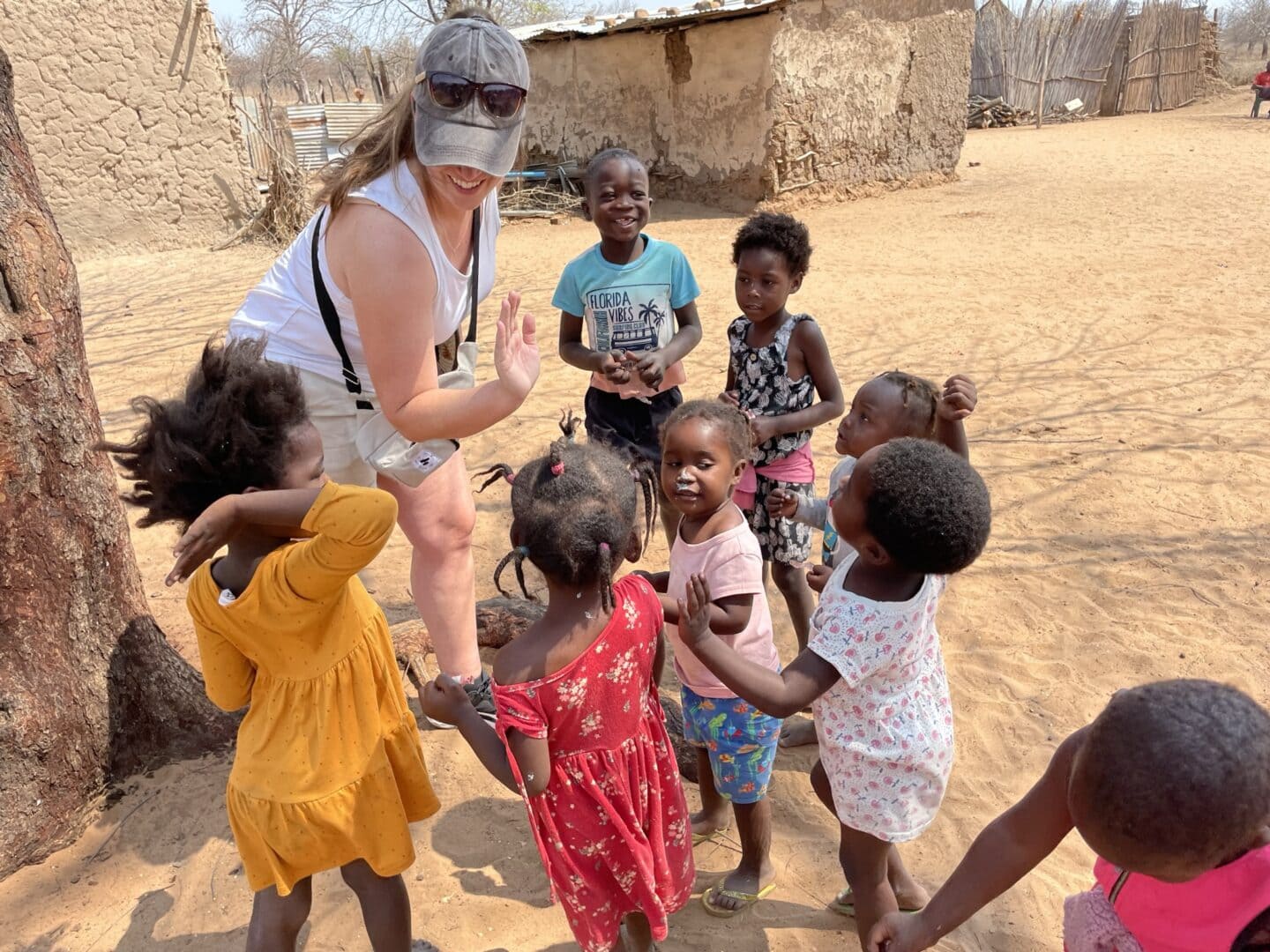 Chobe National Park
Of course the real highlight for us was the river cruise along the Chobe River and into Chobe National Park.
This may be one of my favourite safaris we've done so far in Africa.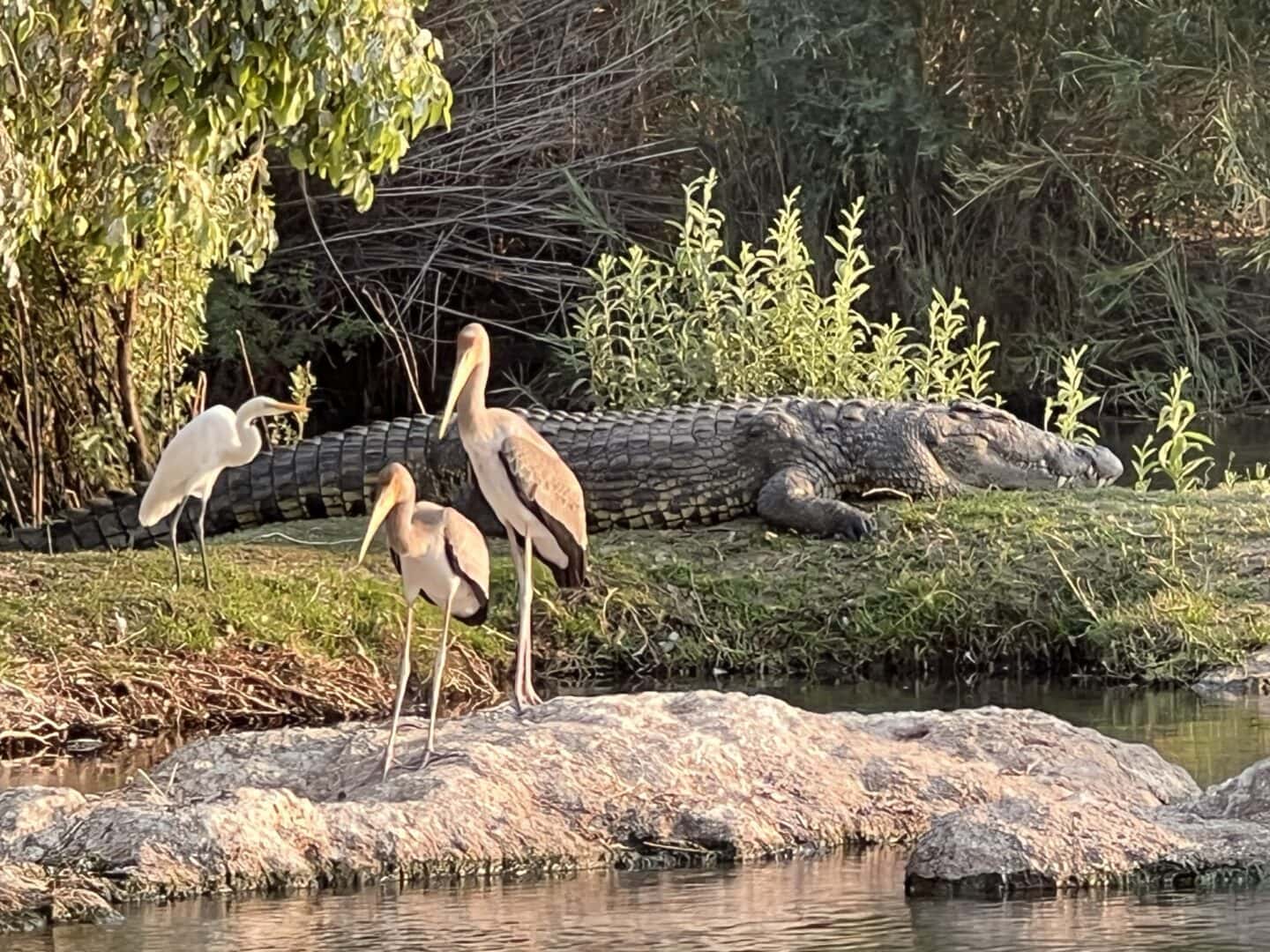 I have never seen so many elephants before in one area, and we learned that Chobe National Park has the highest concentration of elephants in the world.
We pointed our boat to the river bank and sat there enjoying a glass of wine as we saw young males, mothers, and babies grazing on the fields of Botswana.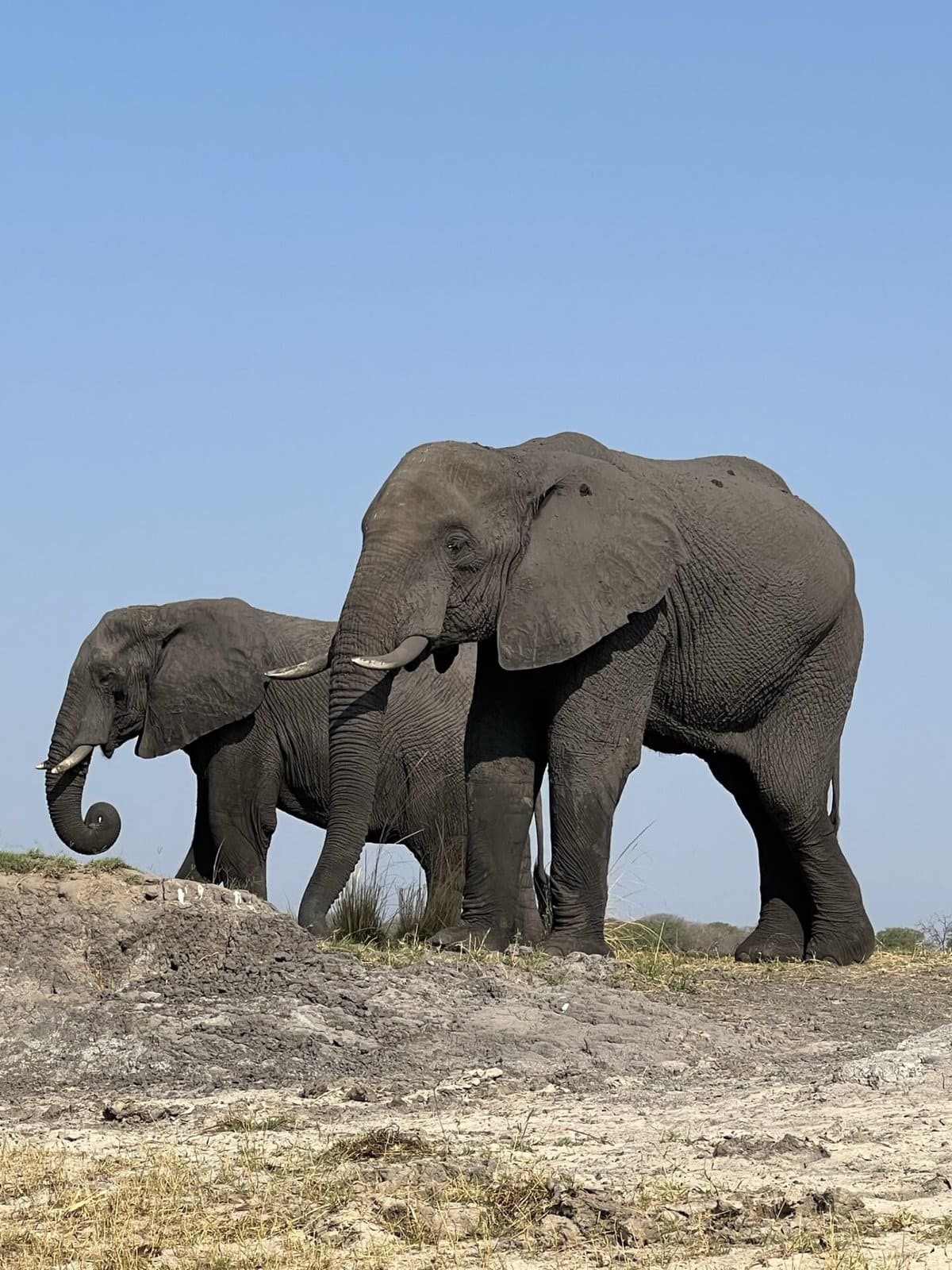 The sight can't quite be put into words. We easily saw 150+ elephants at Chobe National Park. We also saw tons of crocodiles, hippos, and birds. It was truly a remarkable experience and one I certainly won't ever forget.
Staying at Ichingo Chobe River Lodge
It's not hard to understand why so many people return to Ichingo Chobe River Lodge.
From fishing to amazing safari sightings, warm hospitality, amazing food, and luxury tent camping, this lodge is in the heart of nature and allows you to escape the sights and sounds of the outside world. Staying at Ichingo Chobe River Lodge is a true African experience.
Check rates and book your stay!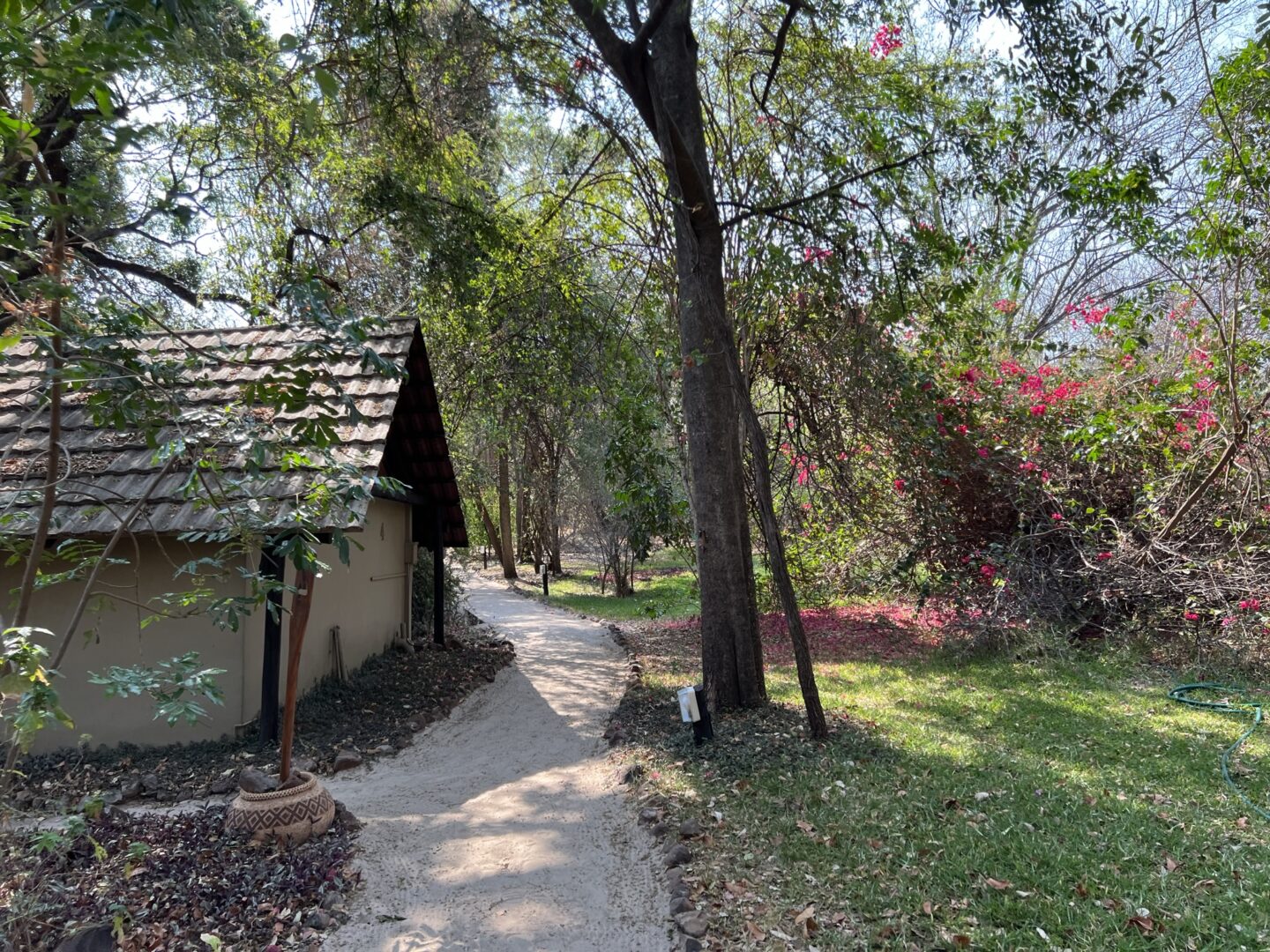 Related Posts
Pin it for later!