Heading out on an adventure of a lifetime in Africa? Check out these helpful African safari tips.
If you're heading off on your first safari in Africa, you're in for a trip of a lifetime!
Nothing can compare to seeing these incredible animals in their natural environments, and you really do get up close and personal. There are a few African safari tips you should know before going on your first safari.
This post contains affiliate links which means I earn compensation when you click on the links at absolutely no extra cost to you! Feel free to read my disclosure policy. Thank you for supporting my blog!
Plan your next vacation using these tools!

✈️ Book flights: SkyScanner
🏨 Book hotels: Booking.com
🚘Book car rentals: RentalCars.com
🎫Book tours: GetYourGuide
🌍Favourite travel item: Packing cubes
🧳Favourite travel bag: Osprey 40L Fairview
🩹 DIY Travel Medical Kit
💸 20 Cheap Travel Items Under $20
African Safari Tips & What to know Before Going
I've been to five African countries and two safaris, so I've picked up a few helpful safari tips along the way! Here are some African safari tips I wish I knew before I went!
1. Know what to pack for an African safari
There are a few safari essentials you'll want to pack for your trip to Africa.
Everything from sunscreen to a jacket (mornings can be freezing!), power banks, scarves and more. Here's my list of safari must-haves and carry-on essentials to make your packing easier!
2. Pack light
Consider travelling with a carry-on suitcase or a backpack. Chances are, you'll be hopping around a lot and you'll want something small and portable to travel around with.
Flights within Africa are generally on smaller flights that don't have a lot of storage, so minimize your overall wardrobe and repurpose some items and create a few outfits out of a handful of key clothing items.
P.s. My favourite travel backpack is the Osprey Fairview (or Fairpoint). It's 40L and fits within carry-on sizing parameters! It converts from a backpack to a duffle bag easily.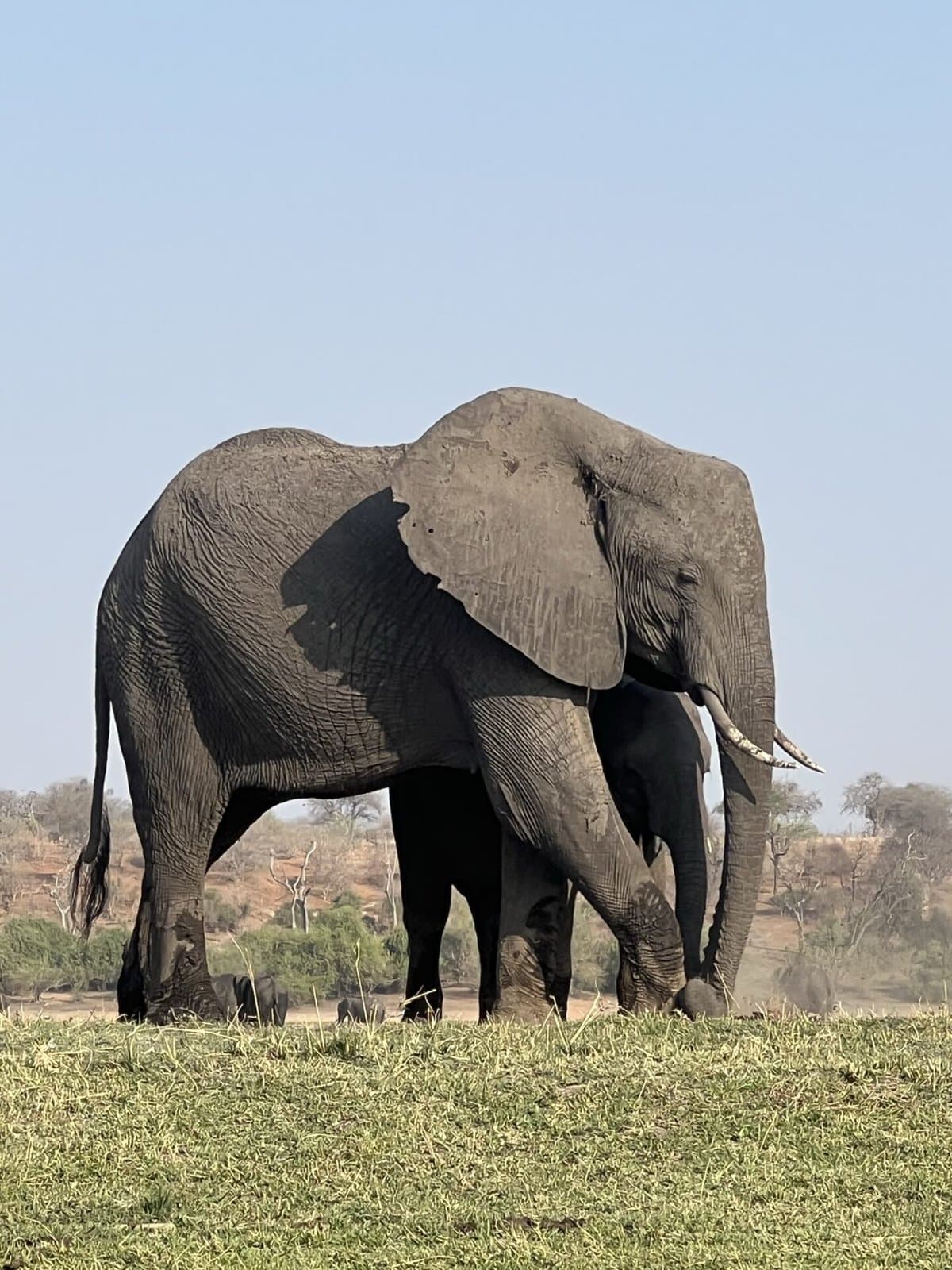 I was very sick on our 12 day trip in Africa. What started as fatigue and congestion turned into feeling like I was swallowing glass and a chesty, mucusy cough.
What did I pack in my medical kit?
An apocalyptic amount of Imodium and motion sickness pills, but alas, I did not pack anything for cold and flu. Whoops. 😅
This obviously isn't as much of an issue if you're in a city where you can go to a pharmacy, but when you're out in the middle of nowhere it presents a problem.
Here's your reminder to pack all the medication in your travel medical kit.
Ps. Here's a guide on how to prepare your home for travel, including a printable checklist to help you remember everything!
4. Be ready for early morning starts
Be ready for early morning starts.
I mean early.
4:00 am wakeups aren't unusual especially if you're going on safari (but I promise it's worth it!).
This can be a bit of a shock, especially on top of long travel days and jet lag. Just don't expect a leisurely safari, especially if you want to see wildlife.
They're most active at dawn, so be ready for some really morning starts! There is no rest for the wicked on an African safari. 😂
5. Don't expect to have WiFi (and even if you do, it sucks)
One thing you can't rely on having is WiFi. That isn't always a bad thing.
Just don't expect to be sitting in bed at night scrolling through Instagram or posting photos on Facebook – because it's not always possible.
Depending on where you are, you may only have spotty service in the lobby area of a hotel. In larger cities like Cape Town and Johannesburg, this is generally a non-issue.
You can get an eSIM at the airport, or online ahead of time and activate it once you're where you're going. Just watch for the eSims you purchase at the airport; make sure they're usable in other countries throughout Africa if you're planning to do some country-hopping.
You may not always have WiFi accessible, but you're on holiday. Enjoy the peace and quiet!
Get $3 off your first Airalo eSIM with my referral code!
6. Stay hydrated!
After a few dehydration episodes, I will always travel with hydration packs from now on.
It's very easy to become dehydrated – starting with your flight there. This is my most important African safari tip.
Our most recent trip to South Africa was a 16 hour journey and I know I didn't drink enough. Combine that with not knowing where the next bathroom will be, several hours of travel by car, and hours in a safari jeep – you learn to limit your liquids pretty quickly.
The best advice I can give is to find out when breaks will be. Is there a bathroom nearby? When's the next stop? Take small sips if you're concerned about having to use the bathroom frequently (like I am).
Dehydration is a nasty thing to experience (think headaches, fatigue, sore muscles, etc). Don't let this ruin your holiday!
This leads me to my next point…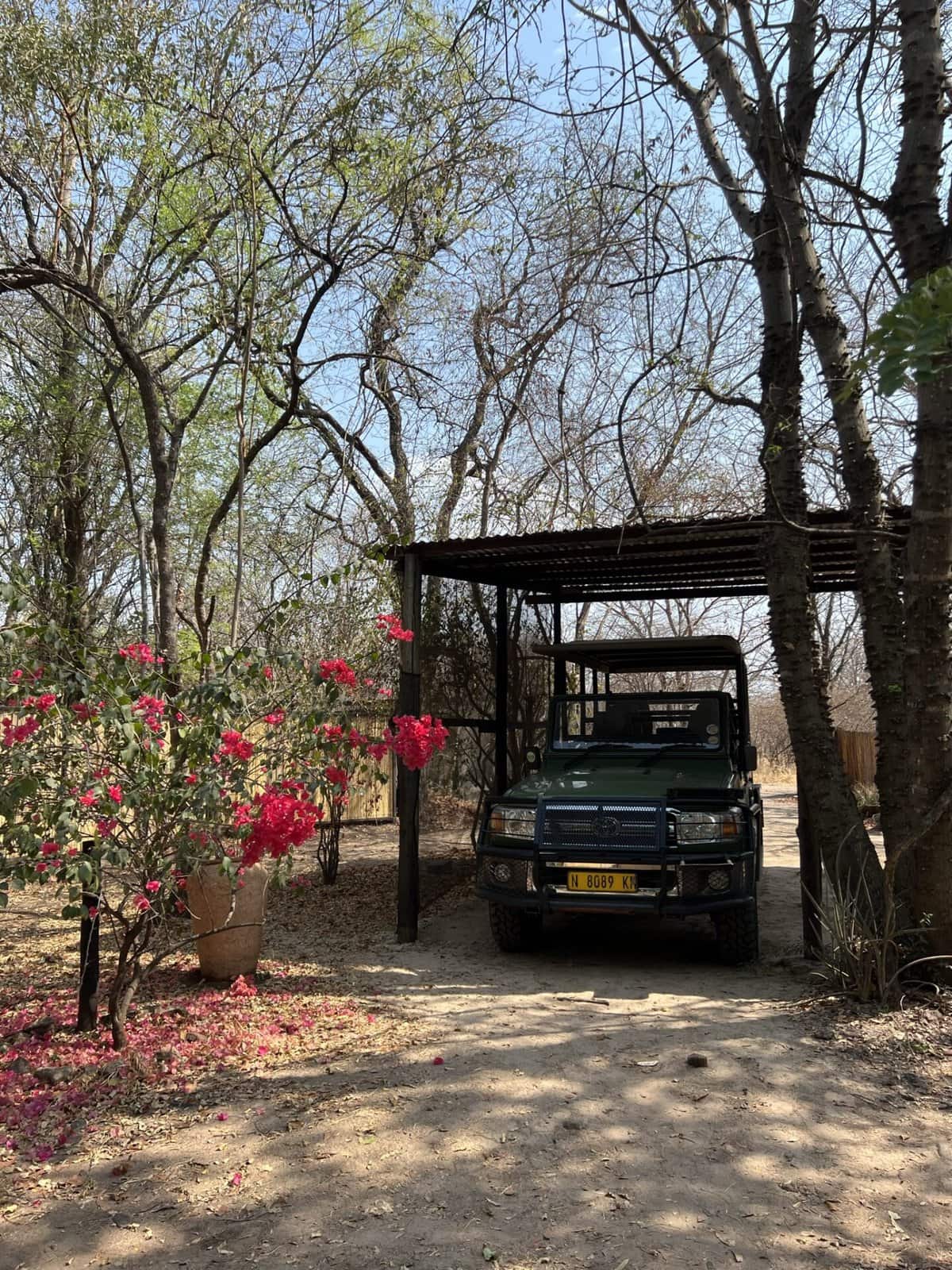 7. But be prepared for bathroom shortages – and you may need to pay
You may be thinking, "you just told me to stay hydrated now you're telling me there may not be a bathroom?"
Sorry. 😅
Scouting out bathrooms is a weird hobby of mine.
But as someone who has to go pee three times after a cup of coffee, you start sourcing out where the nearest washroom is.
Fortunately, most safari companies realize people actually need to use the bathroom from time to time, so most stops are planned between the 2.5-3 hour mark.
Some of these washrooms may also require payment – in coins. This sucks if you're only carrying bills. If you're at a store, see if you can purchase something small and get some change – or see if they'll break a bill for you.
Related: 5 Quick Tips for Staying Regular While Travelling
8. Be mindful of tap water
Still on the topic of hydration, this one deserved it's own section.
While the tap water in large cities like Cape Town and Johannesburg are safe to drink, it's the rural areas you want to look out for.
When we stayed at Ichingo River Lodge in Namibia, they used the Chobe River water for their shower and taps. We brushed our teeth with canned water. It's odd to get used to but it's much safer than contracting some type of water-borne disease.
If you don't have access to bottled or canned water, you can pick up some water purification tablets to bring along with you to add to either a glass or a reusable water bottle.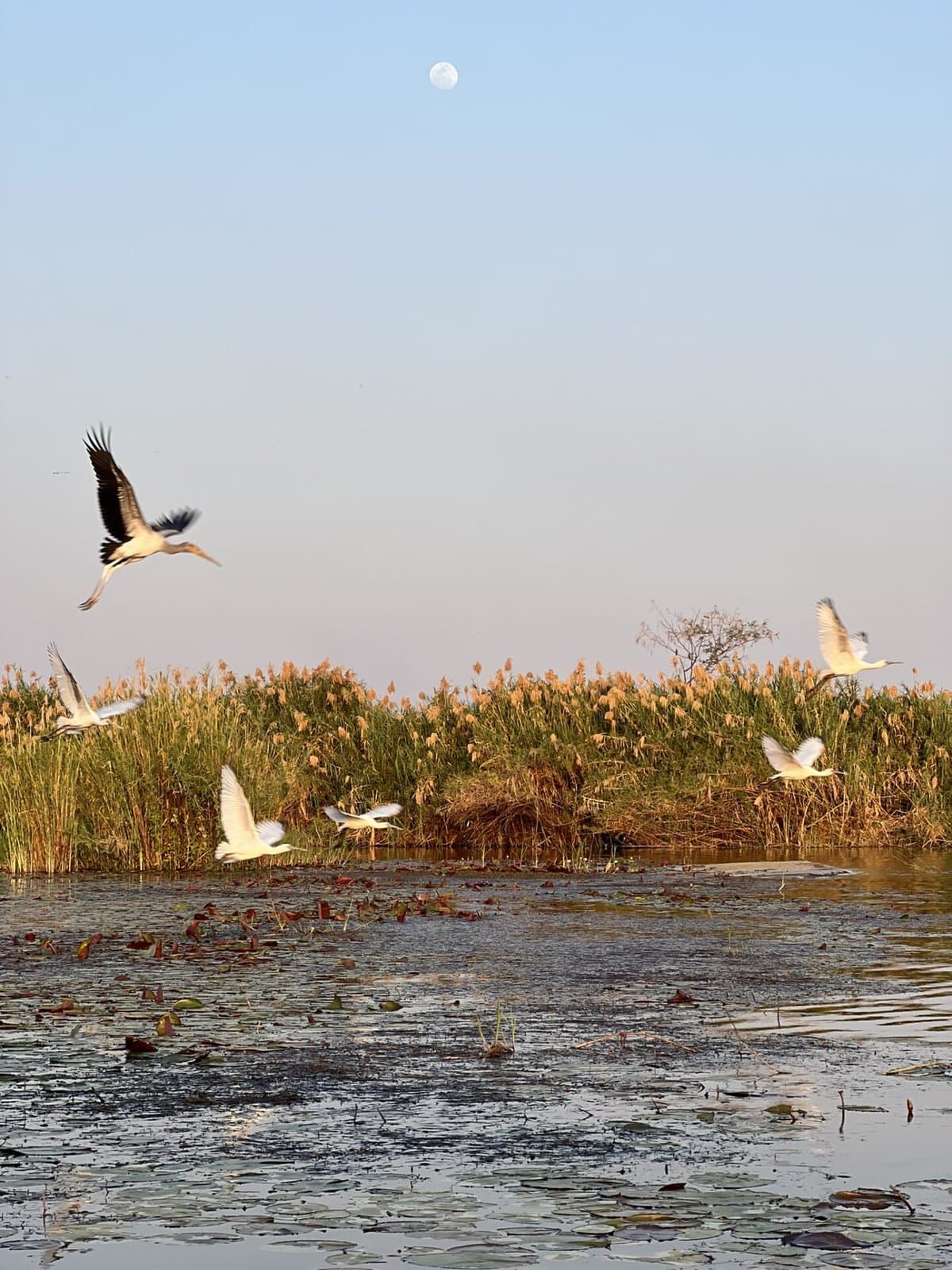 9. Bring a credit card (or two) and enough cash
While credit cards are often a heavily relied-upon method of payment, the reality is your card may or may not work, depending where you are.
Unfortunately we experienced this on our recent trip to Africa – where it worked in remote places but not in major cities.
It's also important to note that USD isn't always accepted as currency, either (except in the event of purchasing visas trans-border). If you're planning to spend a while in a country, it's best to get some of their local currency either at your bank at home or a local bank once you arrive.
And a word to the wise – bring more cash than you think you may need. Some scenarios may pop up that you're least expecting, like an emergency visit to a clinic in Botswana or an added visa fee to get into Zimbabwe.
10. Try the local cuisine
You would be doing a disservice to the beautiful continent of Africa if you didn't try local cuisine!
Whether its Bobotie in South Africa, Jollof Rice in Nigeria, dikgobe in Botswana, or a variety of unusual game meats, they're all worth trying and enjoying.
You can even get adventurous with your taste buds; I tried a mopane worm in Zimbabwe, which is something that is often eaten because of its high protein content!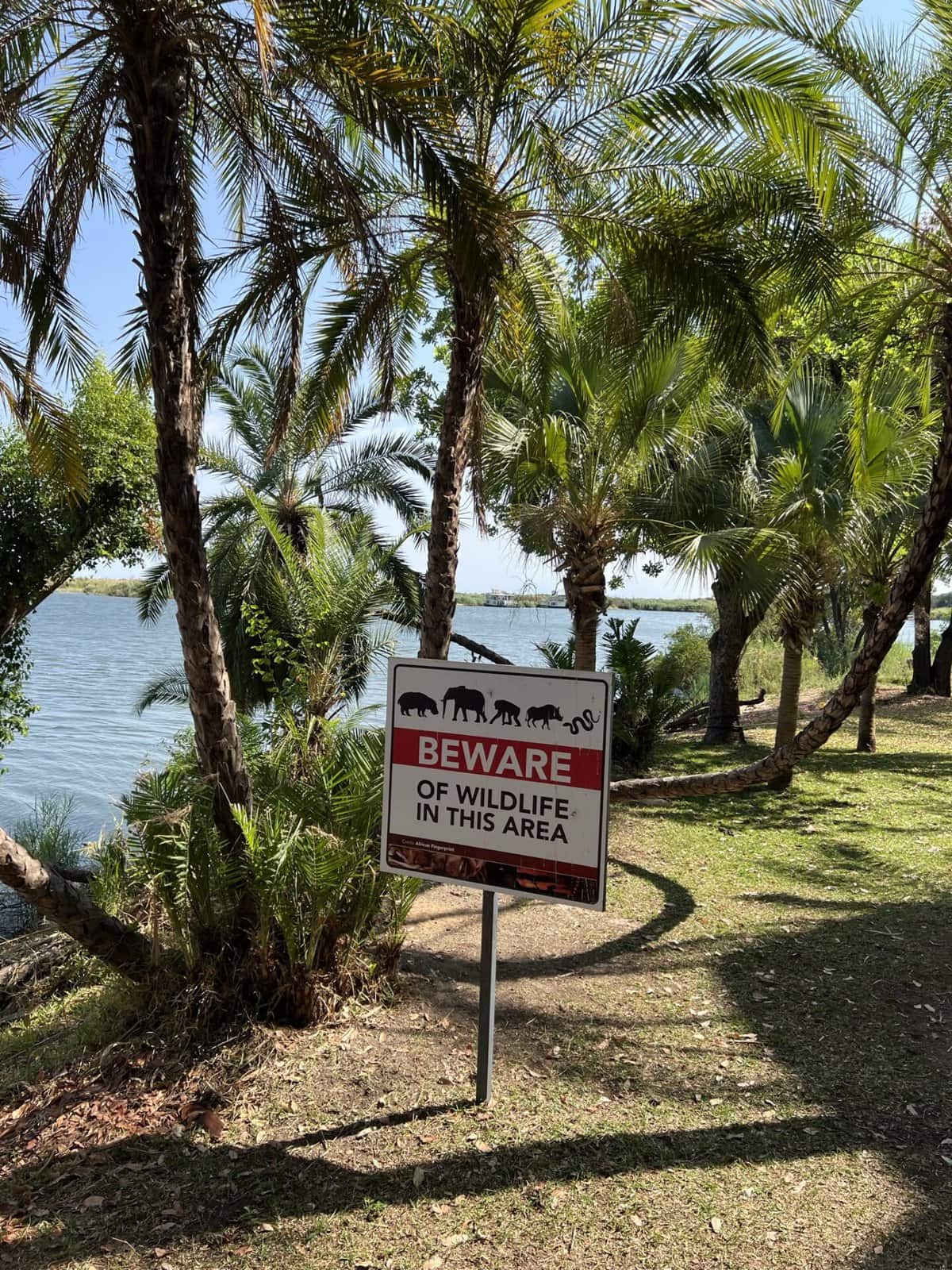 11. Check for malaria risk zones, and prepare yourself
If you're travelling to remote areas, especially ones on the water like Chobe National Park, be prepared for a lot of bugs.
While most accommodations offer bug spray and regularly spray the rooms and properties, bringing your own can minimize any chances of it not being available.
If you're travelling to an area considered high risk for malaria, you may want to consider booking an appointment with your Doctor well in advance of your trip to get any necessary medication.
While pills can help protect you against mosquito-borne illnesses, they can also upset your stomach – hence why I always overpack Imodium/Loperamide in my travel medical kit.
If you can't get pills prior to leaving, plan on bringing bug spray, bug deterrent cream, and long-sleeve shirts and pants.
It was a waiting game for me when I got home from our recent 12 day African trip to see if I got malaria.
Symptoms typically show up within 10 days, and the bites that were all over my legs were the itchiest I ever had.
Fortunately I didn't end up contracting it, but knowing what it would've been like, I definitely would've made an appointment with my Doctor sooner as a preventative.
12. Bonus tip: Keep your blanket from your flight!
A final word of wisdom: If you're given a blanket on your flight, keep it for early morning safaris.
This is of course, if your luggage allows. Early mornings are bone-chilling cold, combined with the wind from being in an open-air jeep.
We ended up taking blankets from our room at Kgalagadi Lodge with us to Kgalagadi Transfrontier Park because the temperature was near freezing at 5:30 am.
If you don't think you'll have room for a fleece airplane blanket, just be sure to pack something warm with you – along with a scarf to protect your face.
Check out more items to pack for a safari
African Safari Tips: Things I wish I knew
I hope this list of tips for your first African safari is helpful! I really wish I knew a few of these tips before I went for the first time. As long as you're prepared for what may come your way, the experience is absolutely magical.
Related Posts
Pin it for later!