After visiting Kruger National Park, I was excited to see a completely different landscape at Kgalagadi Transfrontier Park.
Forming part of the Kalahari Desert, Kgalagadi Transfrontier Park quickly became one of my favourite game-viewing parks in South Africa.
As Africa's first transfrontier park, Kgalagadi is located in the far north of the Northern Cape. It stretches over to the south west of Botswana and runs along the border of Namibia.
This area is a hidden gem in Africa; being away from major routes, it doesn't see a lot of visitors compared to other well-known reserves, making it ideal for serious game-viewers.
Plan your next vacation using these tools!

✈️ Book flights: SkyScanner
🏨 Book hotels: Booking.com
🚘Book car rentals: RentalCars.com
🎫Book tours: GetYourGuide
🌍Favourite travel item: Packing cubes
🧳Favourite travel bag: Osprey 40L Fairview
🩹 DIY Travel Medical Kit
💸 20 Cheap Travel Items Under $20
This post contains affiliate links which means I earn compensation when you click on the links at absolutely no extra cost to you! Feel free to read my disclosure policy. Thank you for supporting my blog!
Where is Kgalagadi Transfrontier Park?
Kgalagadi Transfrontier Park is located in the southern Kalahari Desert. 73% of the park in Botswana and the remainder in South Africa.
Located in the southern hemisphere, Kgalagadi spans the border between Botswana, South Africa, and Namibia and is predominantly located in the southern part of Africa.
The closest airport to Kgalagadi is Upington Airport, 250 km away/2.5 hours. The best way to visit is by catching a flight from Cape Town or Johannesburg and renting a vehicle to drive yourself.
How big is Kgalagadi Transfrontier Park?
Kgalagadi Transfrontier Park is 3.8 million hectares.
Related: 12 Helpful Tips for your First African Safari
How big is Kgalagadi compared to Kruger National Park?
Kruger National Park is 2.0 million hectares, making Kgalagadi Transfrontier Park nearly double the size!
What makes Kgalagadi Transfrontier Park unique?
Kgalagadi Transfrontier Park offers a unique African safari in an area home to a few mammals you are unlikely to encounter in the more popular national parks.
While you won't find animals like rhino or zebra here, you may get a chance to see what Kgalagadi is best known for – its predators – from black-maned lions to cheetahs, leopards, hyena, and jackals.
It is also a remarkable place for birdwatching, with a variety of predatory birds, including falcons and owls, as well as other vibrant African birds. There are approximately 280 species of birds at Kgalagadi.
As part of the Kalahari Desert, Kgalagadi is a semi-desert savanna. Sand ridges cover most of the park, and when the first rain falls, various annual plants burst into flowers and bring colour to the arid landscape.
Climate and temperature at Kgalagadi Transfrontier Park
Having never experienced a desert environment before, the temperature swing was a shock for us. It's absolutely freezing during the night with temperatures reaching scorching levels during the day.
Kgalagadi receives most of its rainfall during the summer months of October and April in the form of thunderstorms. You can see the violent lightning strikes on charred trees throughout the reserve.
Average rainfall is between 120 mm – 200 mm.
Average temperatures for Kgalagadi is 40°C (104°F) in the summer to -6.8°C (21°F) in the winter. Frost occurs occasionally during the winter.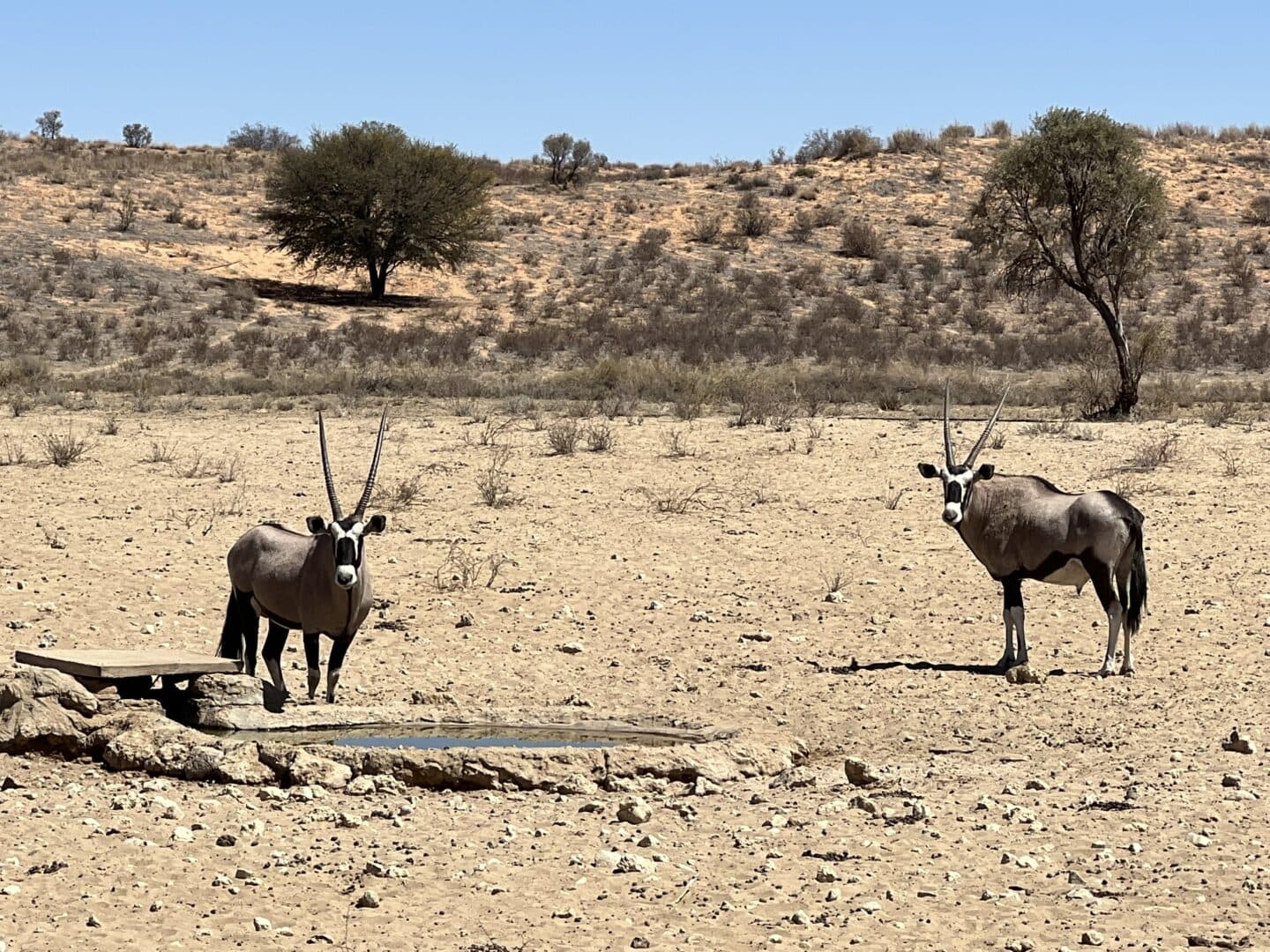 What animals can you see at Kgalagadi Transfrontier Park?
We weren't sure what animals we were going to see at Kgalagadi, given the arid landscape that first appears inhospitable.
Would you believe the first animals we saw within 10 minutes were lions?
Aside from the big cat draw of Kgalagadi, where you can see lions, cheetahs, and leopards, you'll also find springbok, blue wildebeest, gemsbok, ostrich, hartebeest, and eland roaming around the park.
An abundance of meerkat and ground squirrels are often seen, too.
We got lucky and saw honey badgers as well. Hyenas, bat-eared foxes, and giraffes can also be spotted.
Kgalagadi Transfrontier Park is one of Africa's best safari parks for seeing cheetahs, which thrive by hunting in its river valleys. We unexpectedly saw a cheetah perched on top of a sand dune which will forever be one of my favourite memories.
Birders will love Kgalagadi, especially those interested in birds of prey.
With nearly 280 species of birds, there is a variety of falcons, vultures, and owls often seen. Other vibrant birds commonly seen are the lilac-breasted roller and crimson-breasted shrike.
My experience at Kgalagadi
For two days we rode in open air vehicles crossing the dry and arid desert, where red undulating dunes and scrub fade into the horizon.
We crossed into Botswana as we passed through a huge dry river bed. This environment is home to lions, cheetah, blue wildebeest, hartebeest, gemsbok, jackal, ostrich, springbok, and numerous birds.
Today we took an alternate route on the banks of the river bed where the landscape was vastly different. Sand dunes were dotted with shrubs, grasses, and flowering green trees.
We saw a lot more birds, as well as kudu, lions, meerkat, ground squirrels, jackal, steenbok, honey badger, ostrich, wildebeest, hartebeest, lots of beautiful gemsbok, springbok, and more.
Words can't really describe how gorgeous, rugged, and harsh this environment is. Seeing these animals in their natural habitat is something that can't quite be put into words.
Can you enter Kgalagadi Transfrontier Park from Namibia?
Located in both South Africa and Botswana, and with Namibia on its western boundary, Kgalagadi Transfrontier Park is accessible through one of 5 main gates. Visitors can enter and exit in South Africa, Botswana, and Namibia.
Kgalagadi Transfrontier Park Entrance Fee & Prices
South African Residents
R116/$6.20 USD per adult, per day
R58/$3.10 USD per child, per day
International Visitors
R465/$25 USD per adult, per day
R233/$12.40 USD per child, per day
*2023 Pricing
Do you need a 4×4 to visit Kgalagadi Transfrontier Park?
A 4×4 with high ground clearance is preferable and definitely recommended.
Not only does it help with navigating the roads (some of which can become quite deep and sandy), it also provides a higher vantage point for game viewing. Even in our open-air safari vehicle, we had difficulties traversing some sandy dunes and at one point nearly got stuck.
Quick Tips for Visiting Kgalagadi
If you're heading out on an early morning game view drive at Kgalagadi, be sure to dress warmly.

Temperatures in the early morning can be near freezing, and if you're in an open-air vehicle, it makes it almost unbearable.
Layer up with a sweater, windbreaker, long pants, and even a scarf and hat to keep you warm until the sun comes up. We ended up grabbing blankets from our lodge to keep us warm.
Bring sunglasses, hat, sunscreen, and SPF lip balm to keep you protected from the elements. The sun can be deceiving.
Be sure to also bring water with you! There aren't any places to purchase water within the park, so come prepared.
There are rest stops with washrooms and picnic areas (not as often as you think, though!) and be sure to pack up all litter and take it with you.
Always remember never to feed the animals, and beware of scavenger animals (like jackals) nearby.
The speed limit within Kgalagadi is 50 km/hour. Adhering to the speed limit prevents an abundance of dust, and minimizes the chance of hitting an animal that may be near the road.
Many of the roads have sharp turns and are narrow which can be dangerous when driving at high speeds. Be sure to also stick to the roads and never drive on the dunes or riverbeds to protect the delicate environment and animal habitat.
If you are visiting Kgalagadi Transfrontier Park and are entering and leaving from the same gate, you do not need to bring your passport with you. However, if you want to exit through a different gate and into another country, you will need to carry your passport.

We didn't need ours since we entered and left through Twee Rivieren, but we took photos of ours to keep on our phone in the event we needed them while we were out.
Most importantly: bring your binoculars! I'm so glad I brought mine with me so we could see these animals even clearer.
Related: 14 Must-Pack Items to Bring on Safari
Accommodation near Kgalagadi Transfrontier Park
Whether you're driving to Kgalagadi or are booking an organized safari tour, I highly recommend staying at Kgalagadi Lifestyle Lodge.
This lodge is a short 5 km from the Twee Rivieren gate and offers comfortable and modern amenities. While you can stay within Kgalagadi Transfrontier Park, lodgings can be quite rustic.
Kgalagadi Lifestyle Lodge has private chalets and has an on-site restaurant, bottle shop, mini grocery store, and pool to relax in during the hot afternoons.
If you choose to stay within Kgalagadi Transfrontier Park, cabin and camping prices can be found on the South African National Parks website.
Related Posts
Pin it for later!