Located just a short drive from the majestic Niagara Falls, the Butterfly Conservatory is a hidden gem that offers visitors a unique and immersive experience with nature.
With over 2,000 butterflies fluttering around in a lush tropical environment, this attraction is a must-visit for anyone looking to escape the hustle and bustle of the main tourist area and reconnect with the beauty of the natural world.
The Butterfly Conservatory is a popular destination for visitors of all ages, and offers an educational opportunity to learn more about the lifecycle of butterflies and their importance in the ecosystem.
So if you're visiting Niagara Falls and want to check out something different apart from the Falls itself – the Butterfly Conservatory is a nice change of pace.
This post contains affiliate links which means I earn compensation when you click on the links at absolutely no extra cost to you! Feel free to read my disclosure policy. Thank you for supporting my blog!
Plan your next vacation using these tools!

✈️ Book flights: SkyScanner
🏨 Book hotels: Booking.com
🚘Book car rentals: RentalCars.com
🎫Book tours: GetYourGuide
🌍Favourite travel item: Packing cubes
🧳Favourite travel bag: Osprey 40L Fairview
🩹 DIY Travel Medical Kit
💸 20 Cheap Travel Items Under $20
About the Butterfly Conservatory
The main attraction of the Butterfly Conservatory is, of course, the garden itself. Spanning over 11,000 square feet, the indoor garden is home to a variety of tropical plants and flowers that provide the perfect habitat for the butterflies.
As you walk through the garden, you'll be surrounded by a rainbow of colors as the butterflies flit around you. Be sure to take your time and observe the different species of butterflies, from the vibrant blue morpho to the delicate monarch.
The Butterfly Conservatory in Niagara Falls is home to 40 species of butterflies – totalling 2000 of them at any given time! This is the largest indoor exhibit in North America.
About the Butterfly Life Cycle at the Conservatory
Surprisingly, butterflies only have a 3 week lifespan on average. While 30-40% of butterflies are produced at the Butterfly Conservatory, the remainder are brought in from around the world, including the Philippines, El Salvador, Australia, and Costa Rica!
The chrysalis are shipped between layers of cotton to protect them, then are counted and documented by species on trays. Once they've been sorted, they're hung in the emergence window as they develop through the four stages of metamorphosis.
For butterflies produced at the conservatory, host plants are brought in so females can lay their eggs. A female butterfly can lay 150-200 eggs within 24 hours!
Once the eggs hatch, the larvae feed on the plants they're on before looking for a safe place to pupate. Since they're so well camouflaged, they're hard to spot!
They're cut away from the plants and taken to the lab to attach to boards to mount in the emergence window for their final stage of metamorphosis.
Once the butterflies emerge from their chrysalis, they spend time drying their wings before taking off in the conservatory.
Meeting the Butterflies
Upon arriving at the Butterfly Conservatory, there is a desk to purchase your ticket, or if you already have one with your Niagara Parks pass, you line up to get a fun photo taken and your ticket scanned.
From there, there is a a 5 minute video describing what the Butterfly Conservatory is about and some fun facts. I recommend watching this, as it helps understand what is going on behind the scenes and all the work that goes into having these beautiful butterflies on display!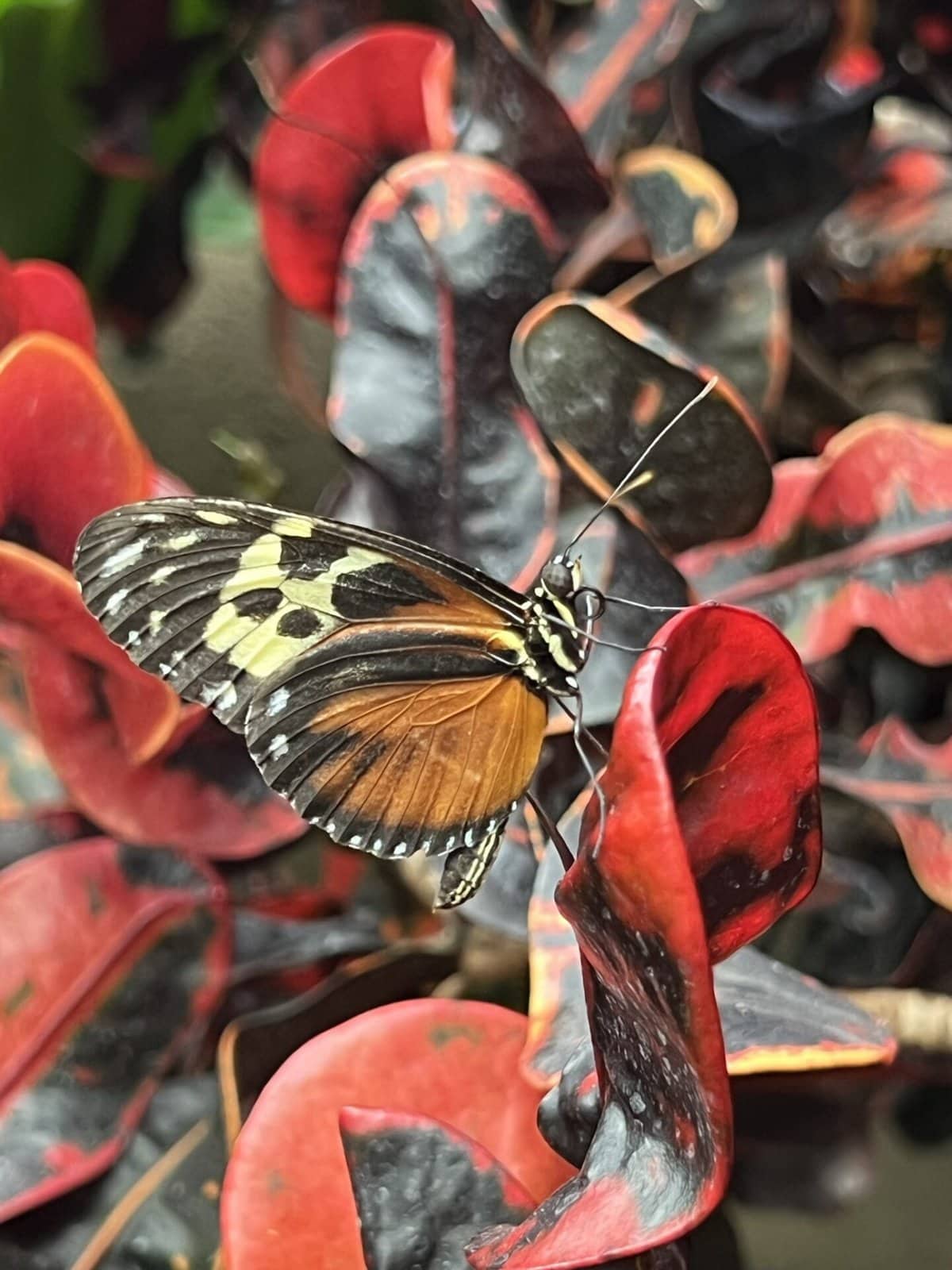 When you enter the conservatory it's like you're walking into a tropical sauna. This climate-controlled environment is kept at a steady 27°C/82°F and you may find you may need to take your jacket off if you're wearing one!
Since visiting the Butterfly Conservatory is self-guided, you're free to wander around the 600 feet (180 metres) of pathways that wind through the conservatory.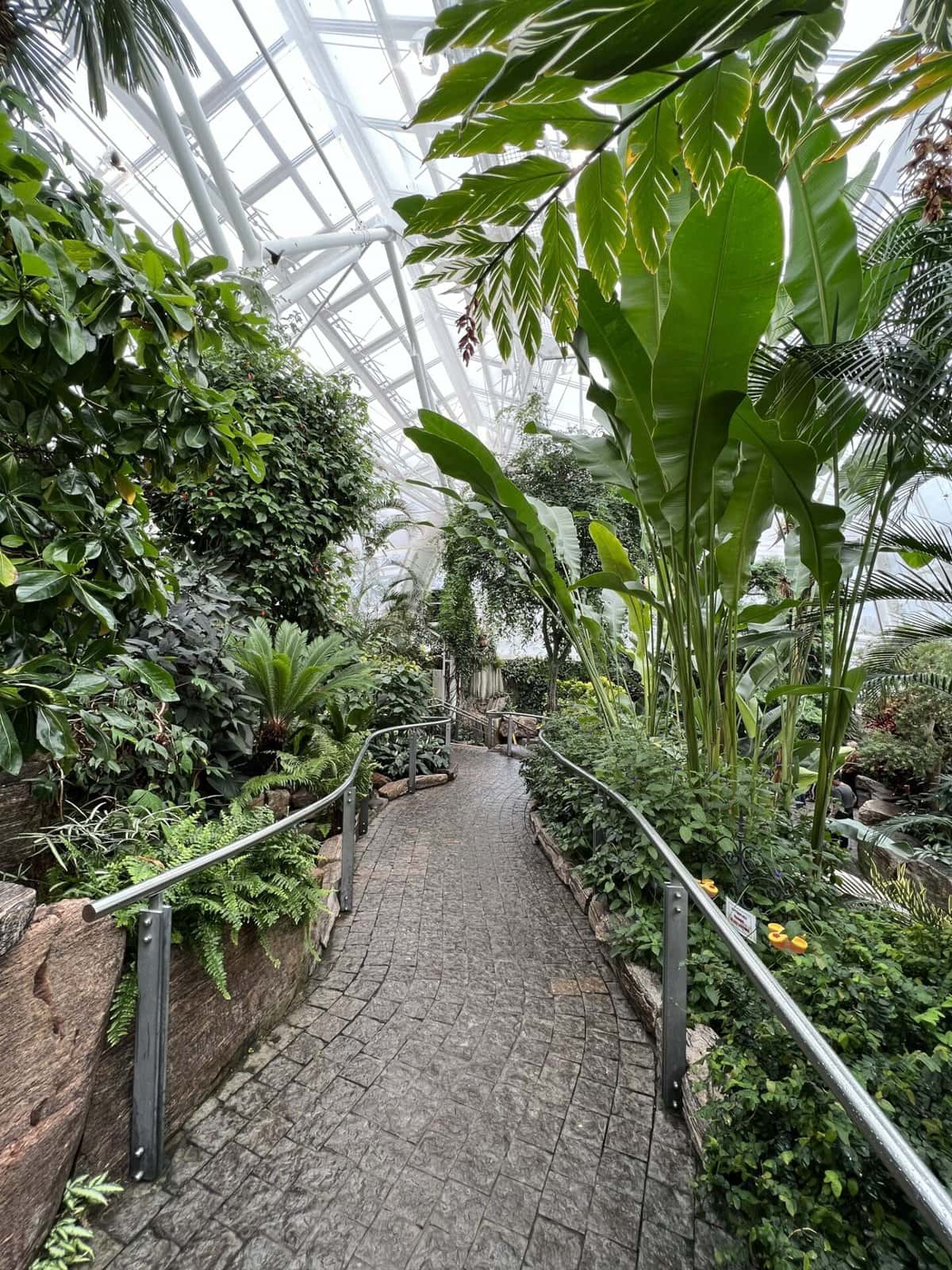 You'll find tons of lush tropical plants, a pond, and a waterfall, too!
The Butterfly Conservatory is a photographer's dream, since you can get face-to-face with hundreds of different butterflies. We've seen all kinds of colours; from blue, neon green, black, and red.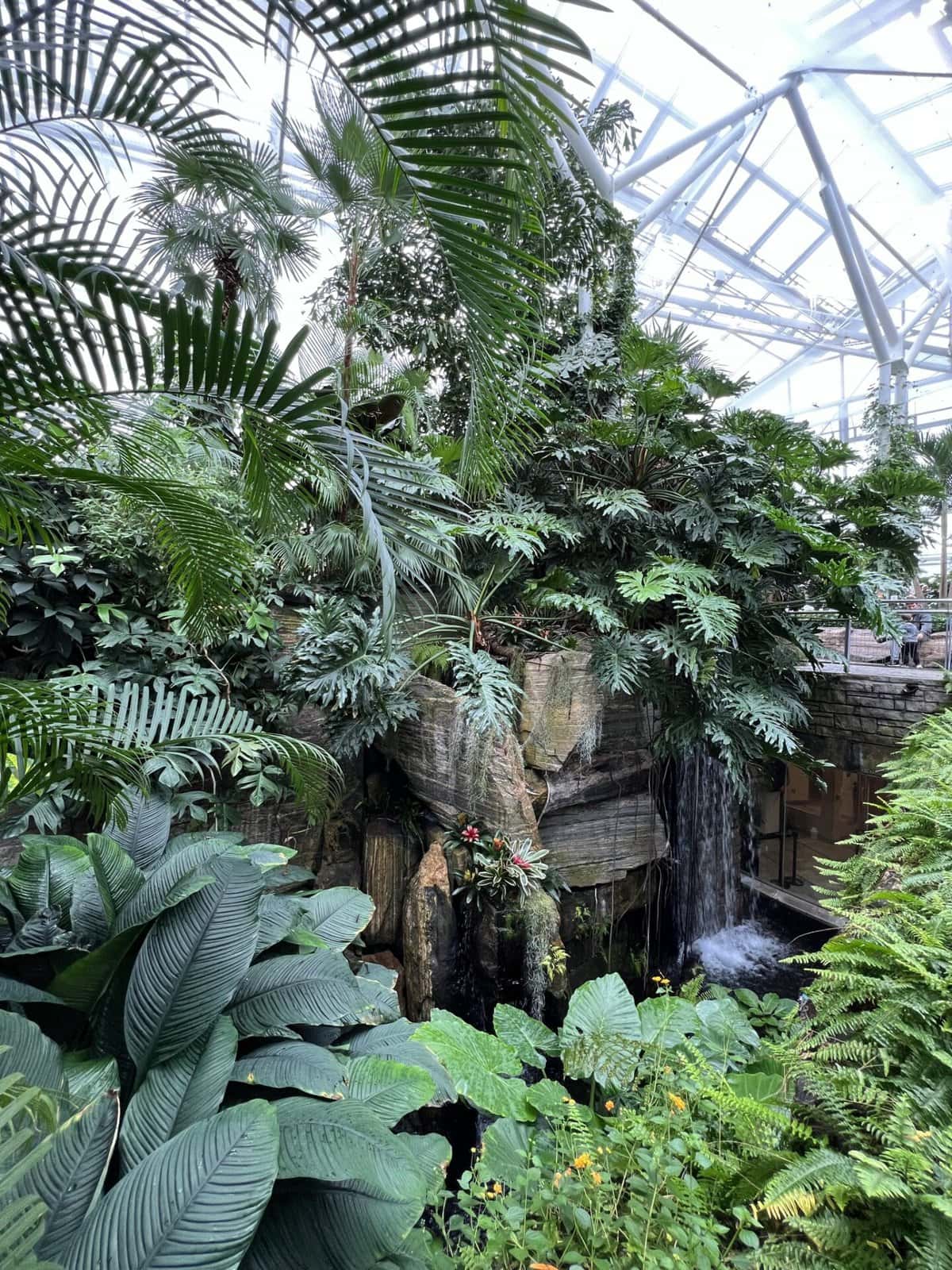 The Emergence Window
You may find yourself spending lots of time at the Emergence Window, like we did!
The Emergence Window is where you can see butterflies in the stage where they leave their pupae, dry their wings, and prepare for their first flight. You'll find an assortment of butterfly species at the window in different shapes, colours, and sizes. It's fascinating to watch!
Is the Butterfly Conservatory worth it?
The doses of colour, peaceful environment, and tropical ambience definitely makes the Butterfly Conservatory in Niagara Falls worth it!
Whether you visit during the dreary winter months, a rainy day, or any time of year, visiting the Butterfly Conservatory is a fantastic experience for people of all ages.
Kids will love the chance to get up close and personal with butterflies and will marvel at the chance to have one land on them! But who am I kidding, I love it just as much if one chooses me to land on!
For $17.50/adults and $11.50/kids, it's an activity that's self-guided where you can choose to spend your time freely and as long as you like.
There are plenty of areas to sit and relax in the conservatory as you watch butterflies flutter around you.
To get the most bang for your buck and time in the area, take a walk through the Botanical Gardens before or after, which is free! With over 100 acres of landscaped grounds and gardens, there are thousands of plants and flowers, herbs, vegetables, and a huge rose garden with over 2000 roses!
How to get tickets for the Butterfly Conservatory
You can purchase tickets on-site at the Butterfly Conservatory. This attraction is open year-round (except Christmas Day).
Admission for adults as of 2023 is $17.50 for adults and children 3-12 are $11.50. Children under 3 are free.
I highly suggest purchasing a Niagara Parks attraction pass (it's one of my best money-saving tips for visiting Niagara Falls!), which includes admission for a variety of Niagara Parks attractions, depending on which pass you get. All passes include the WEGO bus!
How long does it take to walk through the Butterfly Conservatory?
Most people spend between 60 minutes – 90 minutes at the Butterfly Conservatory.
While it isn't a large facility, we easily found ourselves spending lots of time watching butterflies emerge at the Emergence Window, soaking in the relaxing environment, and snapping photos of these winged beauties.
What is the best time to visit the Butterfly Conservatory?
Since the Butterfly Conservatory is open year-round, there is no bad time to visit! If you visit during the spring or summer, you can also tie in a visit to the Niagara Parks Botanical Gardens while plants and flowers are in bloom.
However if you're short on time when you visit, I would prioritize the Butterfly Conservatory in the winter or on rainy days when outdoor activities may not be as enjoyable.
What do you wear to the Butterfly Conservatory?
If you want to maximize your chances of butterflies landing on you, consider wearing bright colours or floral patterns. You can also wear perfume to attract them, and move slowly to attract them!
When we visited last, we actually saw a butterfly land on a lady's shoulder and lay eggs on her.😂
How to get to the Butterfly Conservatory in Niagara Falls
The Butterfly Conservatory is located at 2565 Niagara Parkway, about 9 km from the Niagara Falls on the Ontario side. You will also find the Niagara Parks Botanical Gardens at the same location.
It's easily accessible by car by following along the Niagara Parkway for 15 minutes from the heart of the tourist area.
Good to know: If you have a Niagara Parks attraction pass, the WEGO transit pass is included, which makes navigating Niagara Falls without a car a breeze! The WEGO has numerous stops around Niagara Falls and all the Niagara Parks attractions.
If you don't have an attraction pass (which I highly recommend purchasing since you get the most bang for your buck), you can also purchase a 24 hour or 48 hour pass for $12/adults or $8/child or $16/adults or $12/child respectively.
If you are driving to the Butterfly Conservatory, parking is paid at a rate of $5/hour (or included in the Niagara Parks Annual Parking Pass).
Tips for visiting the Butterfly Conservatory in Niagara Falls
No outside food or drink is allowed inside the Butterfly Conservatory
Watch your step! You may often see butterflies on the paths and walkways inside the conservatory.
Remember to never touch a butterfly's wings! If you need to move one off a path, place your fingers in front of its front legs, and it'll either walk up your hand or fly away.
The Butterfly Conservatory is an accessible attraction in Niagara Falls.
Browse through the gift shop on your way to out to pick up some unique souvenirs, including take-home butterfly kits!
Be sure to make the most of your visit to the Butterfly Conservatory by also stopping by the Niagara Parks Botanical Gardens!
There is always something in bloom and it's free to visit! This is one of my favourite free things to do in Niagara Falls and it's beautiful year-round.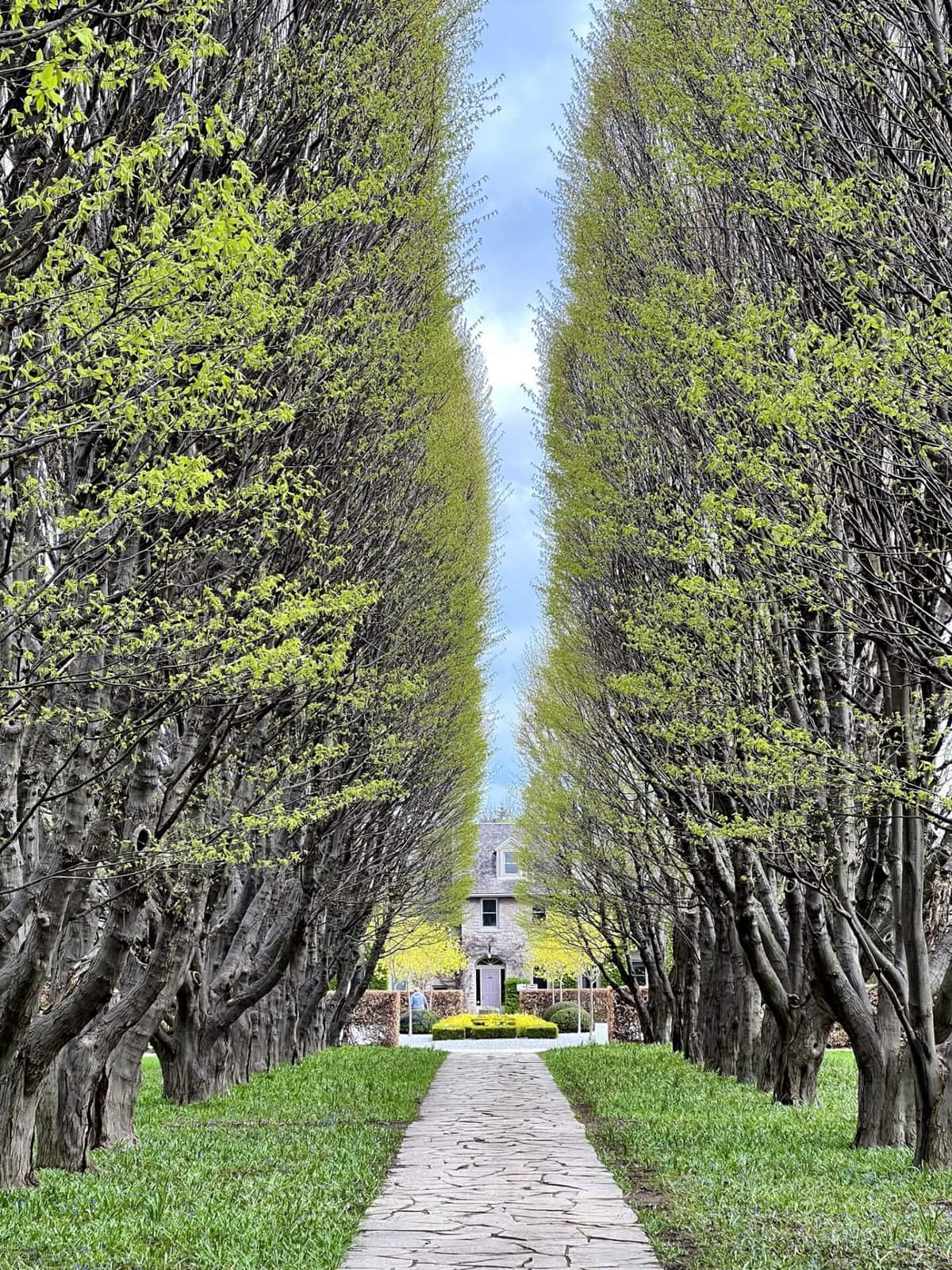 Why not stop by the Floral Clock when you're in the area? And, if you are visiting in the springtime, be sure to not to miss the Centennial Lilac Gardens while they're in bloom!
Related Posts
Pin it for later!