Looking to add some unforgettable places to eat during your travels throughout Africa and the Middle East?
During my time travelling and talks with friends, many of us find that food is one of the best parts about experiencing a new country. Who doesn't love trying new food?! I love learning about traditions and culture, food preparation and spices used. Food brings us all together and each country is unique in its offerings.
I don't know about you – but I'm longing to visit some countries in the Middle East and Africa, like Israel, Jordan, Namibia and Egypt. There is SO much beauty to be seen and the food looks incredible!
The 19 unique African and Middle Eastern destinations will surely fuel your wanderlust and I'm so excited to share this awesome list of some of the most remarkable places to eat, as told by travel bloggers!
This is the third post of a four-part series of favourite restaurants from around the world, put together inspire you, and more than likely make you start planning your next vacation – I know I am!
Africa
Carlos, Cairo, Egypt
If you are ever in Cairo and want a restaurant that serves authentic Egyptian cuisine in a relaxed environment, then head to Carlo's restaurant and café.
Carlo's is part of a chain of restaurants called Le Pacha 1901. An Egyptian "Pacha" or a man of significant wealth started building his dream boat but unfortunately passed away in 1901 before finishing it. In the early 1990s, the boat was salvaged and turned into a complex of restaurants featuring cuisines from around the world. Carlo's is a must visit if you want to enjoy your meal outdoors with a spectacular view of the Nile River.
Another Carlo's restaurant opened in Heliopolis, 20 minutes away from Cairo International Airport. It is located inside a villa that was converted in 2018 into what's now called the 1920s Boutique Hotel and Restaurants group. This classical villa was built in 1920 by Jacob Yacoubian who was head of the Armenian community in Egypt at that time. Whether you go for lunch or dinner, the charming fountain area and the aromatic trees are very pleasing.
For appetizers, I recommend their feta cheese with tomato salad or their "sojouk" which is a local spicy sausage. I love their "charcassia" which is a chicken dish with rice and a delicious creamy walnut sauce. My husband enjoys their mixed grill platter with veal "kebab", veal "kofta" and chicken "shish tawook." My daughter is a big fan of their "moussaka" which is similar to the Greek version only with an extra layer of minced meat and is usually eaten with white rice or Egyptian flatbread. Both restaurants are licensed to serve alcohol and they also have "shisha."
Club Nautico, Mindelo, Cape Verde
Contributed by Mario of Rest and Recuperation
Cape Verde has a great food scene. The mix of African and Portuguese culture influenced heavily also the most typical dishes of the archipelago.
There is one city that I highly recommend you to go if you want to experience local culture, music and food: Mindelo, the capital of Sao Vicente, one of the westernmost islands of Cape Verde. Wrongly not considered as a primary tourist destination by many visitors, Mindelo deserves to be seen if you go to Cape Verde.
My favourite spot of the city is the port, perfectly placed to enjoy some of the best sunset of the Atlantic Ocean. Just off the port is also the best restaurant in town: the Club Nautico. As the name suggests, the theme is all about sailing. But what really makes the difference with the other restaurants of Mindelo is food: excellent fish and beautiful meat skewers are the most famous ones.
But my favourite is cachupa, the typical Stew with beans, corn and meat. And especially its day-after version, with a fried egg on top. Whatever you want to eat, the Club Nautico is the place to stop for a tasty meal!
Les Rapides, Brazzaville, Democractic Republic of the Congo
Contriubuted by Wendy of The Nomadic Vegan
While the food at Les Rapides is not bad at all, the real reason to come here is for the spectacular views. Just outside the city center of Brazzaville, it's located right at the confluence of the Congo River with the smaller Djoué River. The meeting of these two rivers creates a series of rapids, and the restaurant has a large outdoor seating area with multiple terraces looking out over the water.
It's the perfect place to relax while watching the canoes and riverboats gliding along this river that has long mesmerized explorers and intrepid travelers in Africa. You may even get to see some additional entertainment. When I was there, a local young man was practicing his own form of whitewater rafting — without a raft! The first time I saw him get carried away downriver, I was afraid he was drowning. But he jumped out, ran back to where he started, and did it all over again.
Having a drink or a meal at Les Rapides is a popular thing to do on the weekends in Brazzaville, at least among the locals. But since international tourism is almost non-existent here, you'll likely have the place mostly to yourself if you come mid-week. There's a small hotel attached to the restaurant, so you could even base yourself here if you wanted. The menu includes local specialties like saka saka and fried plantains. Don't expect everything that's written on the menu to be available, though.
Carnivore Restaurant, Nairobi, Kenya
Contributed by Nadine of The Expat Mummy
Carnivore – Kenya's 'Beast of a Feast' restaurant.
Carnivore Restaurant in the Kenyan capital of Nairobi, is a national institution. Since its inception in 1980, tourists and Kenyan locals have flocked there in their hundreds. They come for the best of Kenya's meat, on the menu at Carnivore is crocodile, ostrich and in the not too distant past even zebra, wildebeest and giraffe.
In its heyday in the late 1990's Carnivore sat up to 1000 people a night, all hoping to get a taste of the exotic. Carnivore features an all you can eat buffet in the style of Brazilian churrascaria steak houses. The meat is skewered on traditional Maasai swords, roasted in front of you over hot coals before being served on fiery skillets. Until Kenyan banned the sale of game meat around the turn of the millennium many of Kenya's native animals were on the menu. Nowadays the restaurants still serves ostrich, crocodile, rabbit and camel as well as beef, pork and chicken gizzards and livers.
Carnivore can claim further notoriety for inventing Kenya's best loved cocktail the Dawa. Dawa literally means medicine or magic potion in Swahili and is now served in restaurants and bars all over the country. A cocktail that kicks a punch, vodka or gin with mashed limes and huge portions of honey, served with a stick of sugar cane.
No visit to Nairobi is complete without checking out Carnivore, when the lights go down and the Dawa's kick in, it's the best place for dancing and debauchery in town.
The Rock, Zanzibar, Tanzania
Albi from Ginger Around the Globe
One of my favorite restaurants that I have ever visited is literally on pictures in magazines for any exotic destination. It is called Rock and it is located in Zanzibar. The reason why is it called the Rock is simple – it is pretty much just a house on a rock. And it gets better.
The rock is located on the beach. If you have never been to the beach in Zanzibar, you would know that in low tide the water is pretty far from the beach and in high tide, it would flood the beaches. So in low tide, you can just walk to the restaurant where on the high tide, you must wait for a boat over there to pick you up. Pretty adventurous.
The restaurant itself has a very exotic but stylish look. If you sit on terrasse, you can have an amazing view of the sea. The prices are relatively high for Tanzania but then again – you don't visit a place like this every day.
Remember to reserve a table, especially in the high season between June and September, otherwise, you might need to wait for one. Last recommendation – definitely order coconut tiramisu. Never had a better one.
Yellow Card Cafe, Zanzibar, Tanzania
Contributed by Joanna of The World in my Pocket
The Yellow Card Café is without a doubt one of the best places to eat in Jambiani, a quiet village on the east coast of Zanzibar. Located close to the beach, The Yellow Card Café specialises in local dishes, cooked in a traditional style, either in a creamy coconut milk broth or on the grill.
The seafood dishes at the Yellow Card Café are so delicious that you would want to return over and over just to try everything on the menu. The octopus in coconut milk, served with spiced rice, stands out. The octopus is cooked to perfection, tender, and the rich cream makes it melt in your mouth. The rice is cooked with spices such as cinnamon, nutmeg, cloves and cardamom that are sourced locally, from the spice gardens on the island.
The seafood platter at the Yellow Card Café is the absolute indulgent treat. Featuring two types of lobsters, langoustines, king prawns, octopus, calamari, and grilled tuna, the feast is served with a delicious fresh garlic sauce on top, lemon wedges and a massive plate of fries on the side. Order this for lunch and you won't need to have dinner anymore.
The Dusty Road Township Experience – Victoria Falls, Zimbabwe
For a completely original dining experience check out the Dusty Road in Victoria Falls. They say an experience… and of that there is no doubt.
Set within a residential area in town, as you walk through the front gate and onto the property, the experience has already begun. An old blue pick-up is propped up against a wall. While other kitsch style objects are placed around the section, that immediately grab your eye.
The natural red earthed floor, the outdoor kitchens preparing different elements on the menu, all add to the charm of the Dusty Road Experience. And if you wander through the house to find the bathroom, you'll likely take a while to stop in each room and take in every corner.
The Dusty Road takes the best of local and traditional foods. You have the sense that this place has been put together by someone who is passionate about their culture, the food and community. Then you meet the owner and you realize that yes, she knows her stuff. She has a wealth of knowledge about local produce and brings them together to create something unique and very special.
Every aspect of the meal has been taken into consideration – from the drinks, starter, main, through to the sweet nibbles at the end. Even the tables you eat from and the glasses you drink from are part of the experience.
The food served in this magic place just can't be beat. The Dusty Road reflects Zimbabwe culture and tradition and is delivered in the most creative and loving way possible.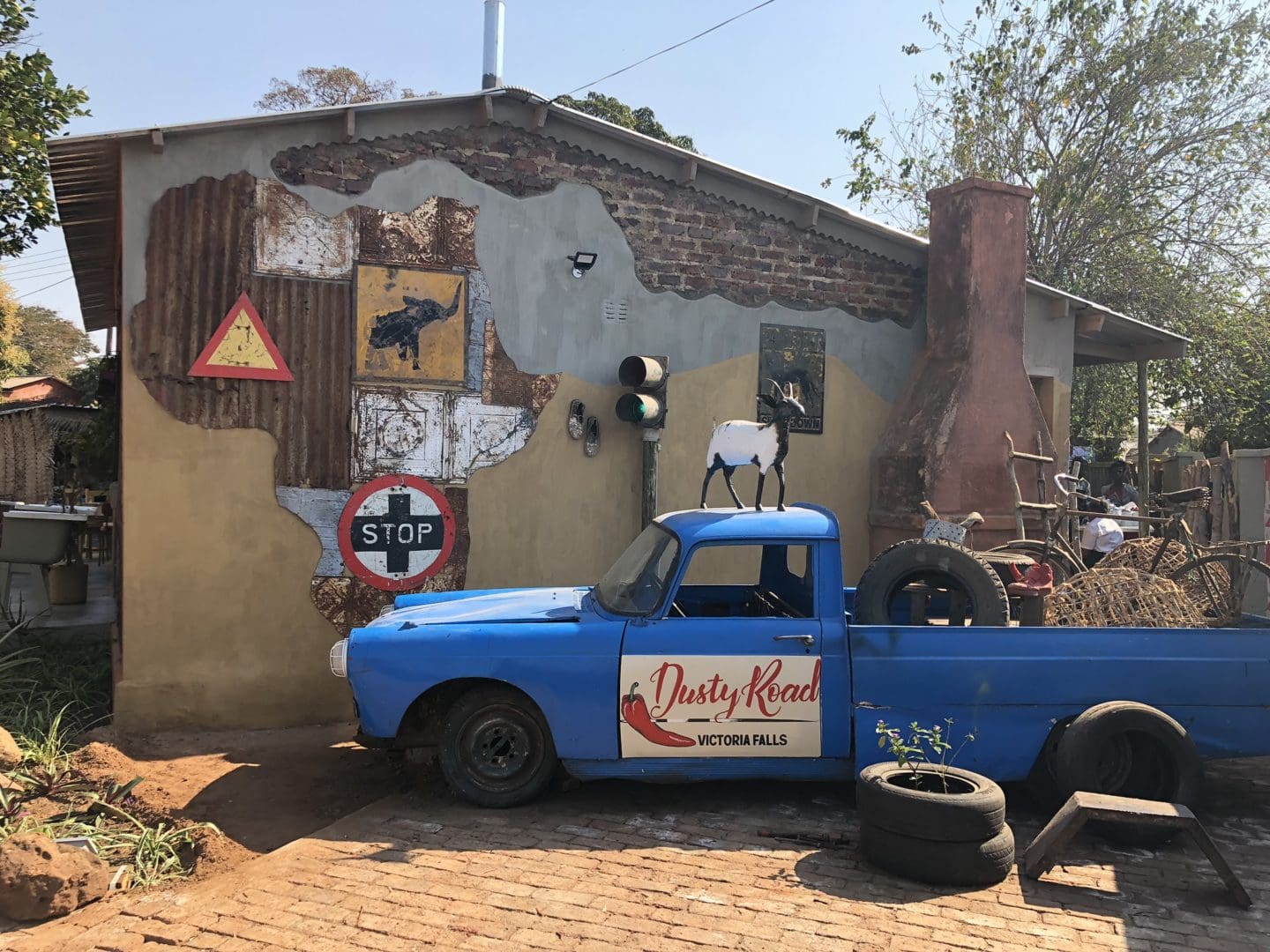 Joe's Beerhouse, Windhoek, Namibia
Contributed by Ed of Safaris Africana
There aren't too many restaurants in the world serving shish kebabs made up of a selection of safari animals, but for this delicacy Joe's Beerhouse in Namibia's capital Windhoek has you covered.
The restaurant is a wonderful and welcoming find, tucked away in the Windhoek suburbs. It's a hybrid German/African outdoor eatery with a tiki-bar-meets-braai-party decor (another unique selling point), and is something of an Windhoek institution.
Aside from being an amazingly fun venue for a meal, the highlight of the restaurant is the incredible menu, offering all sorts of weird and wonderful animals – many of which you're likely to see on a safari game drive. The shish kebabs may not sound enticing, but they're certainly unique, and (in part, at least) are tasty – made up of zebra, crocodile, kudu, oryx and springbok, served with a mango-chilli sauce. There's also plenty of more traditional BBQ meats to choose from, including the house speciality, giant pork knuckle.
At a time when new culinary discoveries can be hard to find, Joe's Beerhouse is an authentic restaurant with real character, and a one-of-a-kind atmosphere. If you're in Namibia, this should be top of your eatery list. (My top tip, avoid the zebra. The taste was extremely potent, and a little too tough – no matter how much delicious Windhoek larger I tried to wash it down with!).
Malealea Lodge, Lesotho
Contributed by Wendy of The Nomadic Vegan
Lesotho is a tiny mountain kingdom in Southern Africa that's well off the beaten track. Lesotho's tourist attractions are mainly natural ones, and staying at a rural lodge is a great way to enjoy the scenery and natural surroundings. I highly recommend Malealea Lodge, which offers plenty of opportunities for hiking and other outdoor pursuits. It also has an on-site restaurant that serves up delicious communal dinners every night.
All the guests eat together, sat around large tables, so it's a great way to make friends if you're traveling solo. There are no à la carte offerings, just a daily set menu. But if you have any food allergies or other special needs, the staff are happy to accommodate with a little advanced notice.
As my husband and I are both vegan, we spoke to the cooks about what we do and don't eat, and they prepared delicious meals for us every night of our stay. I was extremely impressed with the dishes they were able to come up with, given the very limited availability of fresh produce in Lesotho. Not much grows in this stark mountain landscape, but nevertheless Malealea Lodge always served a very colorful plate with lots of vegetables and plant-based protein sources.
They often replaced meat in our dishes with soya mince — a local product that we were very happy to discover. Even though vegetarianism and veganism are not common in Southern Africa, this powdered, soy-based meat alternative is popular because it costs less than meat and doesn't have to be refrigerated. And the Malealea Lodge cooks worked wonders with it!
Pot Luck Club, Cape Town, South Africa
Contributed by Paul of The Two That Do
The Pot Luck Club in Cape Town where we were fortunate to recently celebrate a wedding anniversary is without doubt one of Africa's best and most innovative restaurants.
Located in Woodstock, one of Cape Town's coolest suburbs on the top floor of the Old Biscuit Mill it boasts a site as edgy and unique as its menu.
Rather than adopting the traditional menu of starter, mains and dessert the Pot Luck Club instead bases its tapas style sharing plates around the 5 basic tastes of salty, sour, sweet, umami and bitter. Mixing African products with a strong Asian influence our own stand out dishes include the umami selection of smoked beef fillet with black pepper and truffle café au lait and the sweet option of beef tataki, hoisin dressing, coriander pesto and ponzu mayo. Do also look out for the mouth-watering salty choice of Korean sticky short rib with cucumber kimchi and fried rice.
Enhancing the visitor experience diners sit around a dramatic open kitchen and are served by the most attentive and friendly waiting staff we have encountered anywhere.
Their recommendation was to go for 4 dishes each so at an average of R150 or $8.50 per plate a meal for two without wine will cost an incredibly reasonable $70. However with such an extensive local wine menu on offer we do suggest you try at least one bottle!
Next time you're in this fabulous city make sure you book yourself a table at The Pot Luck Club.
Foliage, Franschhoek, South Africa
Contributed by Alya of Stingy Nomads
Foliage restaurant in the small South African town of Franschhoek is one of our favorite restaurants. Franschhoek, the food capital of South Africa, boasts some of the best restaurants and finest wine estates in the country. To be able to stand out here a place has to be really special like Foliage.
The restaurant is run by Chris Erasmus, a chef who finds inspiration in foraging. Every day he goes for a morning walk in the hills around the town to collect mushrooms, herbs, and berries that he uses at his restaurant. Some people say that dining at Foliage is like "feasting in a forest".
The place has an open plan kitchen where guests can see the cooking process. All ingredients are fresh and locally produced the restaurant doesn't have a storage room or big freezers. The Foliage menu will satisfy even an experienced food critique. The perfect combination of flavors and textures of dishes complemented with the best wines from the Franschhoek area makes special every lunch or dinner at this restaurant.
Needless to say that every dish looks like a piece of art put together with knowledge and a lot of love. We like dining at Foliage. This place never stops surprising us with incredible combinations of ingredients that one would never even think of putting together. If you want to come here for dinner you have to book a table a couple of weeks in advance.
The Lookout Deck, Plettenberg Bay, South Africa
Contributed by Mariza from Hoponworld
Located right on the edge of Lookout Beach in Plettenberg Bay, The Lookout Deck is a firm favorite among locals and traveling folk. And for a very good reason — it's gorgeous setting.
With a breezy deck that gazes straight out onto a powdery white sand beach and incredible ocean views, it's not hard to understand why The Lookout Deck is one of South Africa's best beachside restaurants!

Besides its incredible location, the mouth-watering food is another reason to add this restaurant to your list of amazing things to do in Plett. Their tantalizing menu dishes up everything from unbelievably fresh seafood and pub-style grub to local beers and boozy cocktails. Do try the raw oysters and their signature black mussel pot!

While The Lookout Deck is the perfect spot to kick back and soak up Plett's laid back vibes, you should know that they are almost always packed! Make a reservation a few days in advance, especially if you want to catch the epic sunset.

Oh, and travel tip – If you happen to be in the area between June to November, ask to be seated outside. If you're lucky, you might spot a few whales frolicking near the shore!
The Middle East
Dr. Shakshuka, Jaffa, Israel
Before visiting Israel, I was unaware of the incredible food I would find there. I was happily surprised at all of the amazing dishes I tried in Israel! My absolute favorite that blew me away was shakshuka. This popular dish often cooked and served in a skillet is made of a rich, flavorful tomato sauce and topped with fried eggs. Typically bread is dipped in the shakshuka and that's your meal – perfect for breakfast, lunch, or dinner! The first time I tried it was at Dr. Shakshuka in Jaffa, Israel, a district in Tel Aviv. Dr. Shakshuka is a world-famous restaurant with the best shakshuka! It has become a little touristy as it has gained attention, but locals still eat there and recommend it (at least they did to us). The price of shakshuka ranges from 45-50 shekels, depending on the type of shakshuka as you can add in different things like mushroom, eggplant, and veal. It's served with bread and pickles and there is a large menu of side items and other dishes.
Personally I loved the atmosphere of Dr. Shakshuka. There is an indoor seating area and a large outdoor area with brightly painted walls and decorations. The food was delicious and the dipping bread was so fluffy and perfect! I visited in December so the weather was chilly and warm shakshuka was the perfect meal. I was so glad to have discovered it and I highly recommend it!
The Old Man and the Sea, Jaffa, Israel
I wish I could go back to The Old Man and the Sea, in Jaffa, Israel.
The ancient port of Jaffa, just south of Tel Aviv, is mentioned in the Bible and may be the oldest port in the world. Its yellow-stone fortress overlooks a quiet harbor. Modern shipping traffic has abandoned Jaffa for larger accommodations, although the harbor still shelters local fishermen.
Walking along the water, at the base of the fort, you'll find The Old Man and the Sea. It features a variety of seafood for the main course, including delicious, whole fish. (I had to get used to my food staring back at me, though!) You can even order shrimp, which isn't kosher and is hard to find in Israel.
But the highlight of the meal is the 20 or more small dishes of salads, dips and vegetables that are laid down on your table soon after arrival! The hummus, falafel, fried cauliflower, baba ghanoush, creamy potato salad and fresh Laffa bread (large, thin pita) is incredible!
The style of meal is called Mezze, and it's popular around the Mediterranean. However, this restaurant is my favorite so far.
The restaurant is spacious and open, with tables out front, just steps from the water. Dozens of staff rush between tables, promising prompt service. The finale of your meal is Turkish coffee and tasty fried dough balls drizzled in date syrup.
The piping hot coffee is served very strong and sweet, but don't drink to the last drop. Dregs of coffee grounds sink to the bottom of the brew.
After your meal is finished, walk through the harbor front to head home, scurrying skinny cats as you go. Memories of this meal will stand the test of time, much like the walls surrounding it.
Dalida, Tel Aviv, Israel
Dalida in Tel Aviv is a fantastic restaurant that delivers an incredible food menu and an outstanding cocktail menu. The atmosphere is homely, with a lovely terrace in the back, casually comfortable vibe, and warm lighting throughout. It's a popular restaurant within Tel Aviv, located near the trendy Levinski market, and is absolutely vibrant when visiting.
The menu itself is full of incredible and unusual dishe which run the culinary gambit from octopus, to steak and offal. Each dish on offer is unique and has something outstanding to offer the palette, for foodies and non-foodies alike.
In a city already well known for its restaurant scene you have to compete well on quality, flavor and cost. Dalida delivers all of this and more with it's creative menu.
When we visited we ordered a taster menu, at the recommendation of the waitress, and had a tapas style meal with a variety of dishes arriving at a staggered rate. This was the best way to get a true understanding of all that Dalida had to offer – and by the end we had three clear favorites: Spicy feta brulee, Kibbe nayyea, and Bricohe steak and bone marrow.
Tip: Dalida offer 30% off both food and drinks between Sunday and Thursday from 6 pm – 7:30 pm. Israelis eat later in the evening so this offer is likely to help fill tables before the more popular , which tend to start around 8 pm.
Rumi Cafe, Amman, Jordan
Contributed by Maartje and Sebastiaan from The Orange Backpack
Amman is one of the most overlooked places in Jordan, as all travelers head straight to the famous rock temples of Petra. But the capital of Jordan is definitely worth a visit, if only to finally have some good coffee in Jordan at Rumi Cafe.
Amman is known for its ancient citadel, Roman theater, excellent museums and other historical sights in Amman. Rumi Cafe is quite different and far from historical. The look of this coffee bar feels a bit out of place yet refreshing in the dusty ancient city of Amman.
Jordan is all about tea, so you'll be delighted with the amazing coffee shops in Amman. Rumi Cafe is definitely our favorite with its delicious cakes and pastries and amazing.
The outdoor seating area is great to sit down for a quiet moment in the busy city. Rumi Cafe is popular with expats as well, as it has perfect spots to sit down with your laptop and do some work as well.
And if you're just in Jordan for the tea, Rumi serves some great ones besides coffee as well. There's not a lot of food on the menu, just some breakfast options like toast or yogurt with muesli.
ALBAIK, Saudi Arabia
Contributed by Marya from The BeauTraveler
If you get a chance to go to Saudi Arabia and craving for a fried chicken, instead of going to the typical KFC, I'd suggest you search for an ALBAIK restaurant near you.
Any local Saudi or expats who have stayed in Saudi Arabia will probably agree that ALBAIK has the best fried chicken in the country if not the world, even if compared with the international chains like KFC or McDonalds.
While they have the various menu from their signature fried chicken, sandwich, and even burger, their fried chicken is a must-try if you ever find yourself somewhere in Saudi Arabia!
Starting from 12 SAR (around 3 USD), you can get ALBAIK Chicken Meals package that consists of a few pieces of fried chicken, french fries, a bun, and a medium beverage. The generous portion along with the affordable price, it's a match in heaven when you get to taste their fried chicken!
It's so good that I almost believed that I didn't know anything about finger-licking good until I tasted the crisp and juicy ALBAIK chicken skin dipped into the garlic sauce. The latter complements the chicken that is already delicious.
ALBAIK has been so popular around Saudi Arabia, that I rarely go to their restaurant without queuing to order. But guess what? It's worth it!
At.Mosphere at Burj Khalifa, Dubai, UAE
By Kay from The Awkward Traveller
One of the best restaurants in the world also happens to be the HIGHEST restaurant in the world. Nestled at the top of the tallest building in the world, the Burj Khalifa, is the restaurant At.Mosphere, serving the chicest cuisine in the UAE.
While reservations are required, they are easy to make online and also offer you views of the city without having to buy a ticket to the observation deck!
The staff goes out of your way to make you feel like luxury from the moment you arrive. The restaurant is open for breakfast, lunch, dinner, and even high tea at At.Mosphere! High tea literally can't get any higher! Dinner tends to run more expensive, but the menu is constantly changing due to seasonal ingredients and holiday events. But, it IS located in Dubai, so of course, the menu is always equipped with at least one dish sprinkled with gold dust.
If you're more in the mood for a party atmosphere, no pun intended, the lounge area is open late with small bites and big drinks. On Tuesdays for Ladies' Night, the entire restaurant is converted to the highest club in the world with famous DJs and entertainers!
Just like Dubai, At.Mosphere is an experience in and of itself, but the food lives up to its winning reputation.
Curry Culture, Dubai, UAE
Contributed by Vaibhav of The Wandering Vegetable
When it comes to fantastic restaurants in the Middle East, then Curry Culture from Dubai has to be right up there with the best. Not in terms of views or the greatest ambience in the world but for sheer taste and flavour of the food. Having a meal here is one of the best things to do in Dubai.
Located inside the China Court at Ibn Battuta Mall in the Discovery Gardens area of Mina Jebel Ali, Curry Culture is a restaurant that serves delicious Indian (particularly north Indian) food. It is my favourite restaurant in Dubai because it serves, hands down, the best Indian food in Dubai.
I am an Indian but I've never had Indian food that's so tasty and wrapped in flavours even in India. It's this irony that makes the restaurant even more special with respect to quality Indian cuisine.
The restaurant serves lip-smackingly good Paneer (cottage cheese) Curries, Dal Tadka, crispy Tandoori Rotis, vegetable Biryani, Kebabs, Indian street food chaat items like samosas, tikki chholey, dahi batata puri, chholey bhature, etc. Their Veg Thali is a must-try!
And not just that, it serves a variety of non-vegetarian dishes too. Chicken Tikka Masala, Awadh Murgh korma, Dum Handi Chicken/Mutton biryani, fish tikkas, and crispy prawns are some of the non-vegetarian dish recommendations.
The Indian desserts served here are simply soul-satisfying. Be it rasmalai, gulab jamun, gajar ka halwa, or falooda, you are assured of a great sweet end to your ultimate Indian meal.
What works in favour of this restaurant besides the fabulous quality of food is it's pocket-friendliness, fast service, friendly staff, and home delivery/takeaway option. If you're in Dubai and craving for some delectable Indian cuisine, then head to Curry Culture for an absolute foodgasm!
La Mar, Doha, Qatar
Recommended by A Rai of Light
One of the key benefits of traveling is the opportunity to try cuisines from around the world. La Mar, a favourite among locals and tourists alike, offers the very best of fine dining in Doha.
Specialising in traditional classics with modern accents, it is also known for its rich flavours and diverse influences.
The extensive menu features specialty items and a whole lot of seasonal seafood. The authentic cebiches and charcoal-grilled meats are a particular favourite that are well-flavoured, paired perfectly with signature-handcrafted cocktails such as the pisco sour.
For dessert, you can't go wrong with the picarones or leche asada. The beachfront setting offers panoramic views of the Doha skyline while the mood of the interior creates a calm and relaxing ambience.
This upscale casual atmosphere is matched with extensive service, with the staff being very knowledgeable on the food items and are happy to recommend great choices.
Final Thoughts
You made it to the end of this awesome (long😂) post of 19 of the most remarkable restaurants in Africa and the Middle East. Was there one on here you'd like to try?
I personally can't wait to get back to South Africa! Have you been anywhere in these regions that you think is worthy of being on this list? I'd love to know – leave me a comment below and stay tuned for part 4 of this travel series of the favourite restaurants around the world!
In case you missed it, check out this list of 16 of the Best Restaurants in the Americas and 23 of the Most Awesome Restaurants in Europe!
Pin it for later!