Looking for some of the best restaurants in Ottawa?
This isn't your typical list. One of my priorities of things to do in Ottawa is to source out the best restaurants – not your typical pub fare or popular restaurants. I'm talking about restaurants in Ottawa that will tease your tastebuds or give you some of the best flavourful bites.
I love travelling. And what I love even more is travelling for food.
On our most recent trip to our nation's capital for Canada Day, I tried to find the best places to eat downtown for different cuisine we haven't tried before or can't find around us in the Niagara Region.
To me, being in Ottawa in such a multicultural country, it only felt right to branch out and try some different food influenced by countries from all over the world.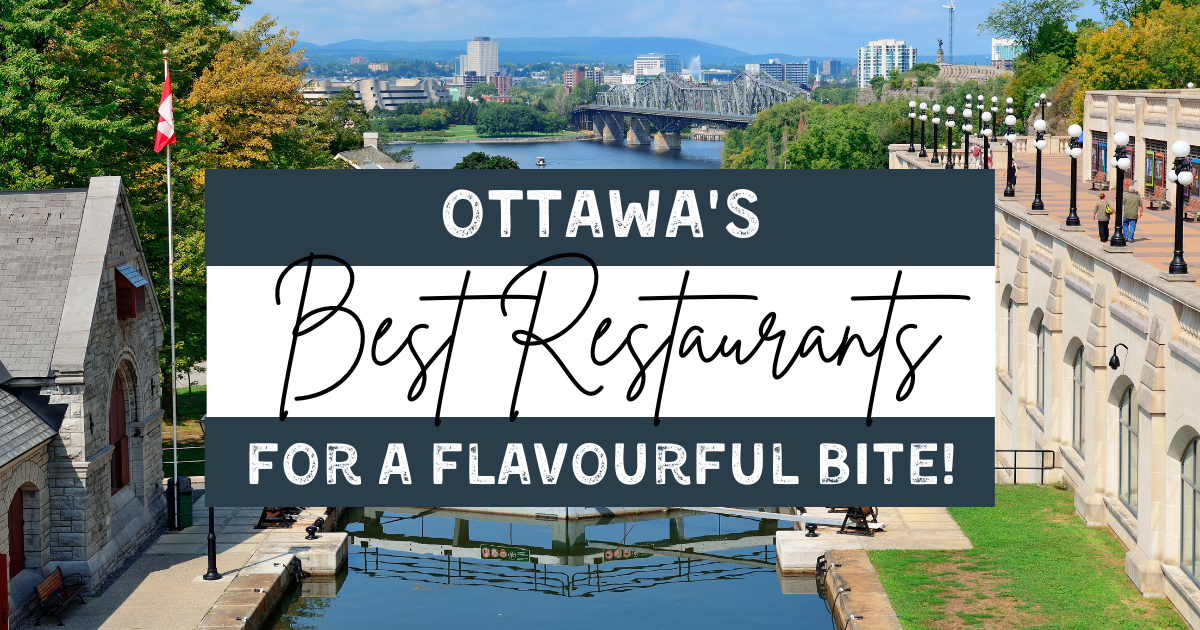 This post contains affiliate links which means I earn compensation when you click on the links at absolutely no extra cost to you! Feel free to read my disclosure policy. Thank you for supporting my blog!
Plan your next vacation using these tools!

✈️ Book flights: SkyScanner
🏨 Book hotels: Booking.com
🚘Book car rentals: RentalCars.com
🎫Book tours: GetYourGuide
🌍Favourite travel item: Packing cubes
🧳Favourite travel bag: Osprey 40L Fairview
🩹 DIY Travel Medical Kit
💸 20 Cheap Travel Items Under $20
While we were only there for 36 hours (and walked over 50 km!), I was so happy to find these amazing restaurants in Ottawa and would recommend them in a heartbeat. They're all awesome for their own reasons – so if you're up to trying some different cuisine, here's my collection of the best restaurants in Ottawa for a flavourful bite – which will only continue to grow once we return!
Related: 50+ Amazing Facts About Canada (You May Not Know!)
Ottawa is a very walkable city. Plus, being there for Canada Day meant road closures. We booked our stay at Sonder the O'Connor which was in the best location in Centreville and one of the least-expensive options. It was 20 minutes to Parliament Hill and right next to the Canadian Museum of Nature – which for me, couldn't have been better!
It was a full apartment unit, complete with fridge, stove, and dishwasher! We also had free parking for our two nights, the simplest check-in/check-out procedure, and the most comfortable stay. I wouldn't hesitate to recommend this place to anyone. And, they give you a $50 coupon to use at any of their other properties!
Ps. Wondering how I walked 50 km in Ottawa but didn't have my feet fall off?
I fortunately picked up a pair of Birkenstocks a week prior since I was dealing with some plantar fasciitis and I needed the arch support – wow, I really do feel like I'm getting old. 😂
They made it entirely possible for me to walk around the city comfortably. You'll want to break them in first so you don't get blisters on your soles. I also brought a solid pair of walking Nikes to change into for the evening. Food for thought!
Best Restaurants in Ottawa
In Ottawa, and specifically, downtown Ottawa (Centreville), you'll be surrounded by a never-ending choice of restaurants ranging from fast food, coffee shops, fine dining, outdoor patios, family-friendly and much more. It can feel a bit overwhelming to decide where to eat in Ottawa, but if you're looking to branch out and try something new, here are my suggestions!
El Camino in Byward Market
El Camino was on my list of places to eat in Ottawa if we had the time. We didn't intend on coming here, but since our chosen restaurant was under renovations, we decided to check out Byward Market for a bite to eat.
El Camino is the place to be. There's an outdoor patio, indoor cozy dining area plus rooftop patio. It was busy when we went around 9 pm, but had no trouble getting a table inside.
If you're looking for some awesome tasting Mexican food, you have to come to El Camino. From beef barbacoa, cauliflower tacos, roasted pig head, to eggplant tacos, there's something for every palate.
We decided to split the lamb quesabirria – which is a cross between a taco and a quesadilla filled with shredded meat and cheese and lightly pan fried. I was shocked by how much flavour it had for such a simple dish. It was served with a type of au jus with onions and cilantro which made the dish.
Tacos are around $7 a piece and are packed with flavour. The cocktails are pricey in my opinion at about $14.50 each, however, the margaritas we ordered ended up being the best ones we've ever had – so that was well worth it!
Plus, they're open until 2 am on weekends, which makes El Camino a perfect place to grab a bite after a night out in Ottawa. 😉
Address: 81A Clarence St, Ottawa (at Byward Market)
There is a secondary location located near the Canadian Museum of Nature which I would imagine would be much quieter than the popular Byward Market Area. It's located at 380 Elgin St.
Ceylonta
I love trying different foods from around the world. It's hard to find cuisine that we haven't tried around where we live, so when I found Ceylonta, it became the spot to come for a meal on our trip to Ottawa.
Ceylonta is a Sri Lankan and South Indian restaurant and for us, it hit the nail on the head for delivering the flavour-packed dishes we craved as well as the ultimate dining experience.
Family owned and run, the owners of Ceylonta welcomed us in as soon as we walked in the door. We were asked if we have tried Sri Lankan food before (we hadn't), but were familiar with many of the dishes.
We were suggested to order what we wanted, and the owner would make his suggestions and recommendations on what we should (or shouldn't) order.
We were told that since you can get samosas and dosas anywhere, not to bother. Since we were game to try anything, we decided to split two appetizers, one of the platters (which was more than enough for two people!), and a main dish.
The first appetizer was something we were told we can't get anywhere: coconut sambol. It's shredded coconut mixed with a bunch of spices, served with their own bread. It was very unique and unlike anything I've tasted before. His wife even came over and told me how to eat it properly!
The mutton rolls were probably one of the best things I've had in a while. The spice level was just enough to make you sweat but not enough where it's uncomfortable. 😂
We split a vegetarian Thali platter and added mutton. Six dishes of different vegetables ranging from sweet to spicy complemented each other perfectly.
The owner also recommended trying devilled chicken, which is essentially a type of curried chicken lightly fried. It reminded me of KFC but a much tastier (and spicier) version! We were even given a sample of their butter chicken that was made for a takeout order.
Be sure to try the Ceylon coffee and tea! Usually the coffee is served black and it's very spicy. The tea is milder and is served with condensed milk. The addition of spices like cardamom, ginger, and fennel really made for a unique after-dinner drink!
All this cost less than $100 with a few rounds of Cheetah beer, and it was a lot of food.
Address: 403 Somerset St W, Ottawa
Mazarine Brunch Ottawa
Mazarine definitely has to rank in the top brunch spots in Ottawa. This adorable Turkish restaurant is run by two sisters and there's a light and airy feeling that will instantly soothe you as soon as you walk through the door.
Offering modern dishes with a Mediterranean flair like avocado toast and eggs benedict, they also serve something unique to brunch cafes in Ottawa: shakshuka.
Shakshuka is a classic breakfast dish (or eat at any time of the day!) that originates in Tunisia, but is very popular in North Africa and the Middle East. It's a simple, but delicious dish of saucy tomatoes mixed with peppers or onions with eggs cracked right into the mix, left whole and poached.
The shakshuka at Mazarine Brunch Ottawa comes with a side of sourdough toast – and it's highly recommended (by our server, and by us!) to get an extra serving to sop up the tomato juices!
It's one of those brunch items you don't have to feel guilty about eating. 😉
In addition to our shakshuka, I also had to get the labneh, which is their own house-strained yogurt coated in three different spices: za'atar, mint, and sumac. It's drizzled with olive oil and served with pita bread and that is one dish I wish never ended.
Complete your brunch experience with Turkish coffee – filled with delicious spices and served black. It comes with a Turkish delight on the side to balance the spicyness.
Tip: Mazarine opens at 9:00 am, and you'll want to be there right for when it opens because it gets busy and it's a small restaurant! We arrived at 9:10 and it was already half full!
Address: 282 Kent St, Ottawa
Saved for next time:
Related Posts