Looking for the perfect wedding cake topper for your big day?
Adding a cake topper to your wedding cake allows you to add your own personality and style to your cake. The traditional cake cutting is such a photo-worthy moment that has withstood the test of time.
There are endless options for cake topper choices, so if you're on the hunt for the perfect one, whether it's personalized, monogrammed, affordable, or themed to your liking, you'll be bound to find the one that suits your style!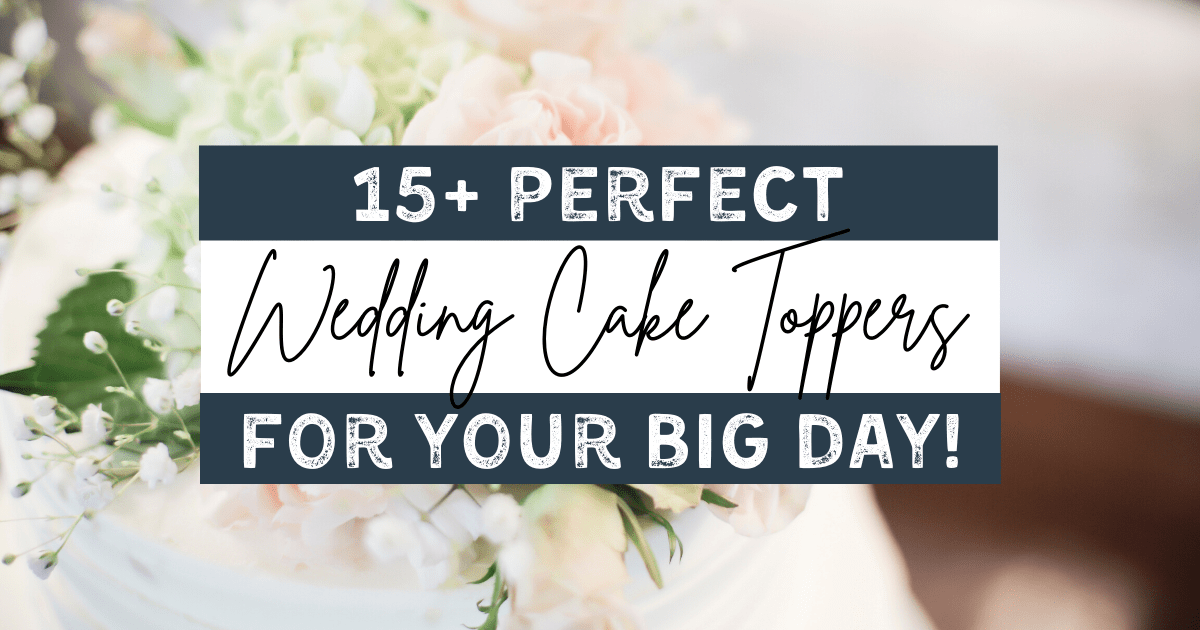 This post contains affiliate links which means I earn compensation when you click on the links at absolutely no extra cost to you! Feel free to read my disclosure policy. Thank you for supporting my blog!
Do I need a wedding cake topper?
No! You absolutely do not need one. I think they're a fun addition to cakes, but wedding cakes are beautiful on their own. You can also ask to have some flowers to be placed on your cake instead of a topper, or have some sugar flowers decorating your wedding cake.
Wedding cake toppers do not have to be expensive! I decided two weeks before we left for our destination wedding that I wanted one. I got mine from Hobby Lobby for $4 and hot glued toothpicks into the back. Yep. I was a budget bride. In the end it didn't matter anyway since I don't think anyone even looked at the cake. 😂
Michaels is another great alternative to find wedding cake toppers on a budget.
We also did not have a wedding reception or a photographer after the ceremony, so the photos of the cake didn't really matter to me, either. But if photos are important and you want to have your cake table as a focal point for your wedding, it doesn't hurt to draw attention to it – and it doesn't have to cost a pretty penny, either!
How do I transport my cake topper?
Many cake toppers are fragile, which means they'll need a little extra care if you're travelling. For destination weddings, I would recommend packing it flat in something sturdy (if it's a flat cake topper). I brought mine down in a file folder within a thick binder to prevent any crushing.
If your cake topper has some shape to it, be sure to pad it with tissue paper or bubble wrap, and inside a box if your luggage space allows for it. If it's really fragile, consider bringing it with you in your carry-on!
Unique Wedding Cake Toppers
Let's take a look at some wedding cake toppers, ranging from inexpensive ones, custom ones, beach-themed toppers and more!
Mrs and Mrs Cake Topper
Our Adventure Begins Cake Topper
Rustic Love Cake Topper
Vintage Cake Topper
Our Greatest Adventure Cake Topper
Cute Beach Themed Wedding Cake Topper
Custom Tropical Wedding Cake Topper
Happily Ever After Cake Topper
Custom Mr & Mrs Cake Topper
Silhouette Cake Topper (with pets!)
Simple Script Custom Cake Topper
Custom Beach Wedding Cake Topper
Wedding Cake Topper with Family
Custom Bobblehead Wedding Topper
Initials Monogram Wedding Topper
Custom Initials and Wedding Date Cake Topper
Custom Silhouette Wedding Cake Topper with Initials
What can I do with my cake topper after my wedding?
Lots of brides reuse their cake toppers! You can add it to a bouquet of silk flowers in your home, frame it, or create a shadow box full of wedding mementos!
If you've come up with your own creative way to reuse your wedding cake topper, let me know in the comments below!
Looking for packing lists?
Related Posts
Pin it for later!