I love visiting the UK. Fortunately, I have family there which keeps giving me an excuse to return! One of my favourite things to do while visiting is to explore nearby tiny towns. Stoke Bruerne was one of those places to visit on our most recent trip, and it didn't disappoint!
Stoke Bruerne is about 30 minutes from Northampton, where time slows down. This charming town is the perfect place to escape for a quiet, scenic day trip!
While Stoke Bruerne is a picture-perfect tiny town in England, there's plenty to do here to fill your time, whether you're visiting for a couple of hours or for a relaxing weekend getaway!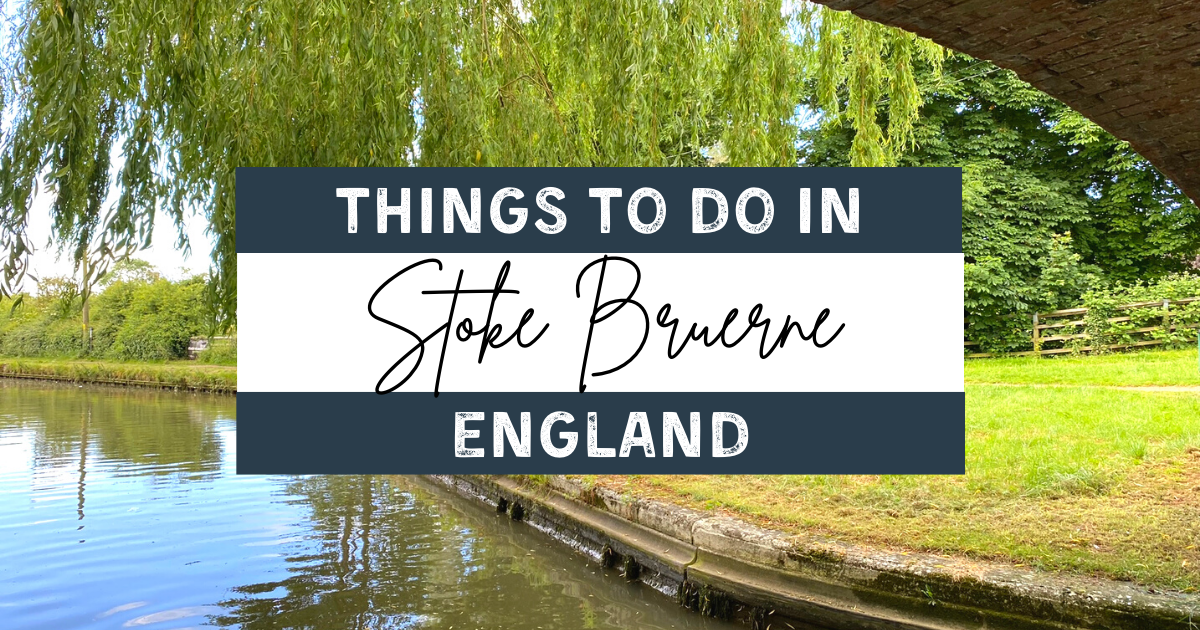 This post contains affiliate links which means I earn compensation when you click on the links at absolutely no extra cost to you! Feel free to read my disclosure policy. Thank you for supporting my blog!
Things to do in Stoke Bruerne
Visit the Canal Museum
One of the main things to do in Stoke Bruerne is the Canal Museum, located right along the waterway. This small but beautifully curated museum is on the first and second floor of a historic corn mill and is packed full of information about Britain's canals and the rich heritage of Stoke Bruerne, the Grand Union Canal, life of people boating through the canals to make their living, and the construction of the Blisworth Tunnel.
You'll also be able to see the museum's boat, 'Sculptor', moored out front. It was built in 1935 and is one of a few historic working boats on the canal. It used to transport cargo items such as coal and cotton up the Grand Union Canal.
There is a small cafe with coffee and light bites served to eat in, or beside the canal. Browse through the pre-loved book shop or gift shop for locally produced canal-inspired gifts!
The museum is closed on Mondays and Tuesdays, but open during the week from 10-4 Wednesday through Friday and 10-5 on weekends. The museum is free to visit.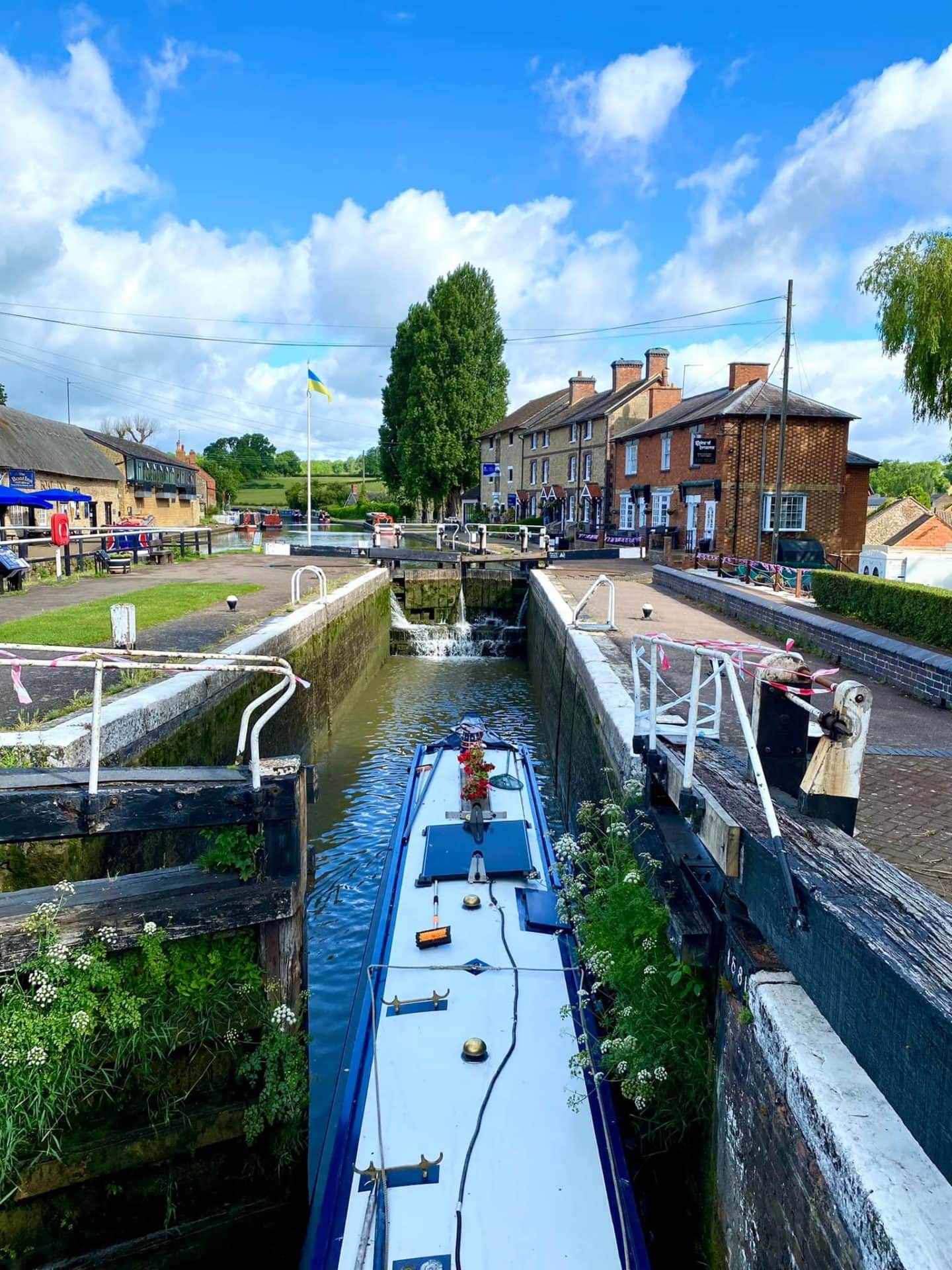 Take a boat ride along the Grand Union Canal
What better way to enjoy the historic and picturesque Grand Union Canal than by taking a trip aboard a narrowboat?
Take a public trip aboard Charlie from April – October. Adults are just £4 for a 25 minute ride and there is no need to book it – regular trips run every 45 minutes from late morning until late afternoon!
Private charters from 30 minutes up to 6 hours are available for hire aboard the Indian Chief. Travel through the Blisworth Tunnel on a boat that was named after the last traditional narrowboat in the Woodward family's cargo carrying fleet – the family that has owned The Boat Inn in Stoke Bruerne since 1877!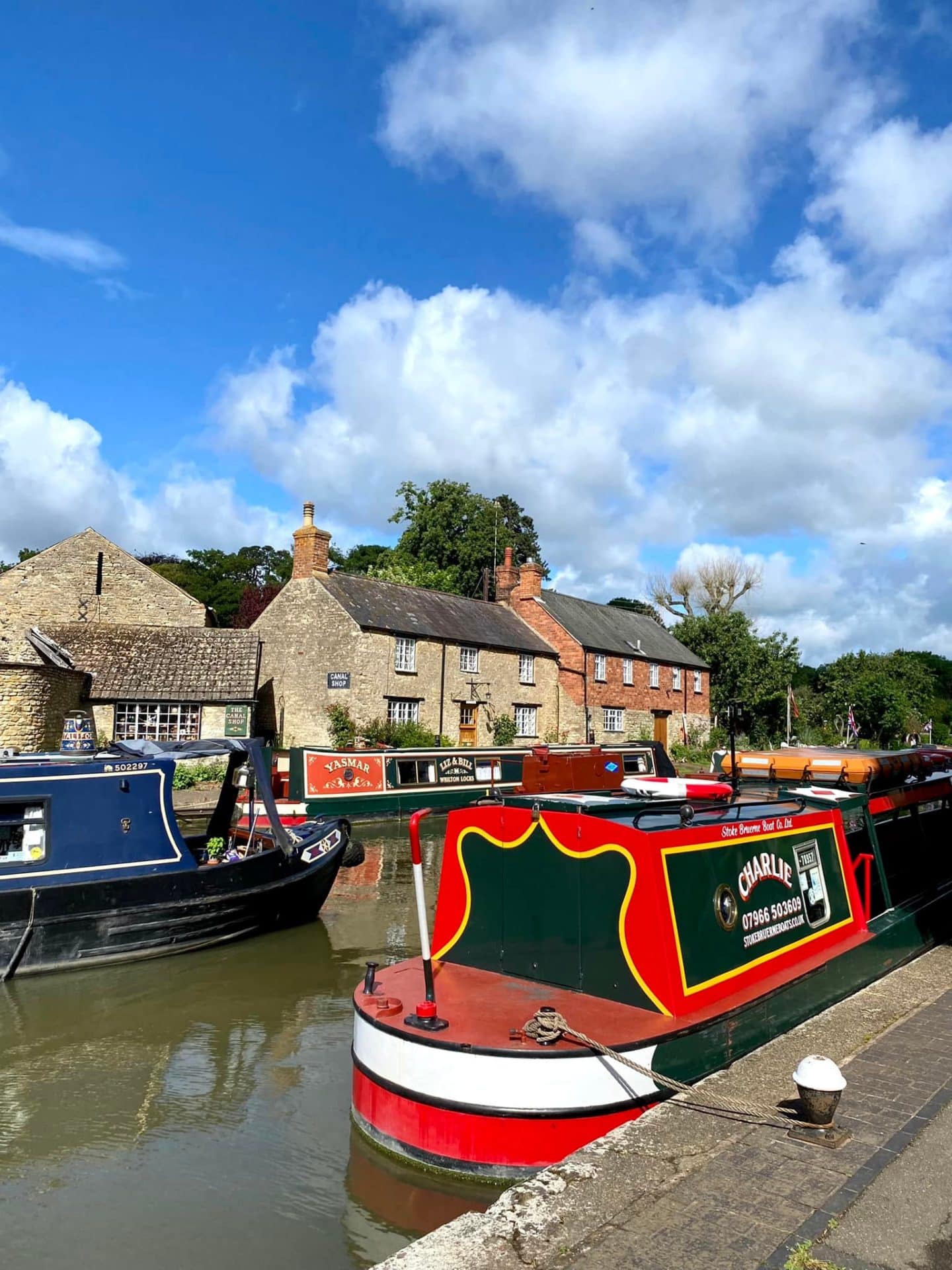 Stroll along the canal to the Blisworth Tunnel
The Blisworth Tunnel in Stoke Bruerne is located a short distance from the Canal Museum. There is a signposted walk along the canal which leads along the canal towpath to the tunnel, where you'll be able to see a section of the original tunnel support system.
Constructed from 1793-1805, the Blisworth Tunnel is the longest navigable tunnel in Europe and 9th longest canal in the world, at 2811 metres – almost 3 km! It was built to link London to the industrial midlands but has a tragic history – many lives were lost during the construction of the tunnel.
It's reported that boat users today travelling through the Blisworth Tunnel report strange lights and hear cries of workers lost during the construction.
You can pick up a free audio guide that takes you from the museum up to the Blisworth Tunnel.
Pubs in Stoke Bruerne
For a community of just under 400, there are plenty of options in Stoke Bruerne to enjoy a pint at a pub or for a meal! For visitors to the Canal Museum, the Waterside Cafe is a convenient place to grab a bite to eat, either for a sandwich, tea, something sweet or an ice cream cone. There are picnic areas to grab your items to go if you'd prefer to take your snacks to go!
Visit Spice of Bruerne for Indian cuisine, the Boat Inn for a variety of dining and pub options, or head over to the Navigation for upscale British fare and relax under willow trees in a beautiful garden area right along the canal to enjoy your meal.
Where to park in Stoke Bruerne
There is a car park at the Canal Museum. Mornings before 9 am are £1 for parking. After 9 am the fee is £3 for two hours. The parking ticket is also partially refundable if you're visiting the Canal Museum!
The second main parking lot in Stoke Bruerne is at the church on Shutlanger road. It's main grass, but has ample space if the Canal Museum parking lot is full. Parking is £2 via the honesty box and all proceeds go towards the church.
Where to Stay in Stoke Bruerne
You can stay right in the heart of Stoke Bruerne along the canal at 3 Canalside Cottages or 4 Canalside Cottages. These adorable cottages can accommodate 4 people (at 3 Canalside Cottages) or a couple (at 4 Canalside Cottages). It would be the perfect place to sit in the cozy living room and watch the boats pass by.
There is also the charming Old Chapel Boutique B&B which comes with breakfast and is situated right across from the Canal Museum.
Related Posts
Pin it for later!