Planning a destination wedding and don't really know what you're doing? Feeling like you're making mistakes and second-guessing your choices? It's okay. You aren't alone.
Destination weddings are unique; there are no "set rules" or etiquette associated with planning a them, and that can be a little scary. Believe me, I have been there!
That's why I wanted to share some of the best tips when it comes to destination wedding mistakes and how to avoid them. Learn from these past mistakes and plan your destination wedding with confidence; it's key to having a memorable event. I wish I had this advice when I was planning mine!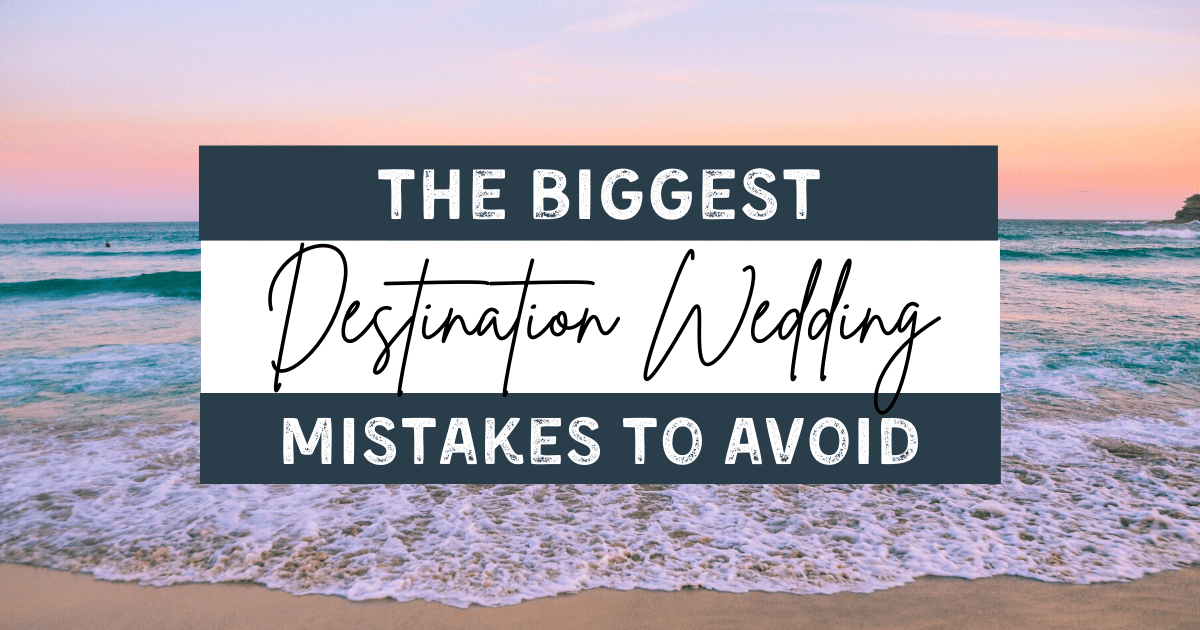 Don't let the title scare you off – of my 7 years helping destination wedding brides (over 6000 of them!), not one of them has regretted having a wedding abroad. They've all said it's the best decision they've ever made. These are simple words of advice learned by making mistakes to help your planning go smoother, which ultimately leads to a less-stressed bride!
This post contains affiliate links which means I earn a small commission when you purchase through my links at absolutely no additional cost to you. Thank you for supporting my blog!
Biggest Mistakes Made When Planning a Destination Wedding
Starting to plan your destination wedding and feeling unsure of where to start? Learn from these past destination wedding mistakes!
Arranging your own travel
I speak from experience – do not do this!
Brides (you!) have enough stress when it comes to planning a wedding, let alone a destination wedding! Arranging travel should not be your responsibility. This is why you need to work with a Travel Agent to help you do all the legwork and nitty-gritty away from you.
Travel Agents are free for you to use and will handle all the resort bookings, flights, questions, and issues that may arise. If you specifically work with a Destination Wedding Travel Agent (this is key), they will even communicate with the resort for you. All you need to do is let your guests know that if they have questions or want to book, to contact your Travel Agent! Do not take this on yourself!
Doesn't that seem like one less headache to deal with and peace of mind so you can focus on other things, like your actual wedding? I think so!
I booked with a large travel carrier in Canada, and it was my biggest regret. Knowing what I know now, they had me do things that should've been their responsibility. I ended up having to track down guests for payment, ask what type of room they wanted, made sure they booked on time, asked if they wanted insurance…yeah…I was my own Travel Agent for my destination wedding but didn't get anything from it but grey hairs. 😂
If you're in the USA or Canada and don't know where to start with Destination Wedding Travel Agents, feel free to contact me and I can give you the names of a few! P.s. I'm not getting a referral from these agents; these are ones I know and trust or have used myself!
Related: How to Fly With Your Wedding Dress (Stress-Free!)
Not creating a fake deadline for your guests
Great – so you've had some guests say they're going to book and come to your wedding – how exciting! Except the day comes and goes for them to actually book. Now what?
People ALWAYS wait until the last minute – I think by nature a lot of us are procrastinators – which I know stresses us out when we're trying to plan. Instead of chasing people down at the stroke of midnight, give a buffer as to when you really do need to know if they're attending or not.
There are two things with this: sometimes resorts sell out. If that happens before your guests book, they'll either be out of luck OR they'll have to stay at another resort and miss out on all of the other planned wedding events PLUS pay a day pass/event pass to attend your wedding.
It doesn't really matter if you give them a year in advance notice (I did), you will still have people waiting until the clock strikes midnight. They'll continually look for better deals and may end up losing out.
Ask if your Travel Agent will price match if your guests find a better rate (some do this).
So what's an ideal cut off date? Ask your Travel Agent. Start there. And tack on an extra month on top of that and let your guests know they have to book by YOUR cutoff date.
The faux cutoff date is more for your sanity than anything else. Your wedding coordinator can accommodate last minute additions, usually 2 weeks before. But if you're planning welcome bags, personalized favours, group events, etc., then it can definitely be annoying if you're still waiting for a headcount.
Pro tip: Include an RSVP card in your invite. Many brides use the deposit as an RSVP which is fine, but you still want to know from your other invitees if they are attending, so you have somewhat of an idea of who is planning to book!
For Canadians, things can be a bit different. If you get a quote for a group rate/wedding a year in advance, and the travel carrier comes back saying this is the rate and you have 30 days to put a deposit down, then your guests also need to put a deposit down (a year in advance).
This can ward some people off since that's quite a bit of time before to commit to your wedding. That being said, you can add 20% of your total group (or up to 50 seats, in some cases, whatever is greater) to your wedding group at your contracted rates up to 2 months prior. This comes with holiday exclusions.
This is not the same for all Canadian carriers, so be sure to ask your Travel Agent for details.
Related: What to Include in Destination Wedding Welcome Bags
Not considering the legalities
If you're choosing to have a legal wedding instead of a symbolic wedding, just remember that when you're doing the research for where you want to get married, that each country has different requirements when it comes to the legalities of weddings.
Each place has their own rules when it comes to timelines, witnesses, whether or not a blood test is required, document translations, etc. Be fully aware and prepared of this before you book! Ask your Destination Wedding Travel Agent for details.
Legal weddings also cost more, so that is something to factor into your overall wedding budget.
You may not have been aware of this, but it seems like 9/10 brides opt to get married legally at home first and have a symbolic ceremony at their destination wedding.
Related: Alternative Destination Wedding Guest Book Ideas
Not letting the location speak for itself
You can spend hours agonizing over the fine details (and that's OK!) but at the end of the day your guests aren't going to remember what napkins or charger plates you had…they're going to remember the breeze from the ocean, the palm trees, and the stunning scenery at your wedding.
Your guests are going to remember how they felt at your wedding, how much fun they had with you and how much time you spent with them, rather than what colour bows were on the chairs.
A lot of brides choose destination weddings specifically because there is less work involved in decorating. Don't try to customize every aspect of your day – it'll just end up making you miserable. This is what your on-site wedding coordinator will look after. Give them your ideas and let them work their magic!
I completely understand wanting to spend money on flowers, centrepieces, whatever it is! But speaking from experience the little details really don't make a difference overall.
Don't stress over the little things and remember the importance of the day!
Related: Questions to Ask your Destination Wedding Coordinator
Planning too strict of an itinerary
This is something I can't express enough – don't try to plan too much for your guests at your destination wedding. Remember, this is their vacation too! They paid a lot of money to come to your wedding – but it's only fair to expect them to want some downtime, too! And who knows – they probably have a list of things they want to do, too!
A lot of brides plan a welcome party, their actual wedding, and a farewell brunch for their guests – sometimes a group excursion (usually offered as an optional excursion).
You can always use your wedding website, Facebook group, or pre-arrival letter to recommend fun things to see and do in the area including activities and local tours.
We ended up hanging out with different guests throughout our wedding week, and there was no set schedule for it. It felt natural and not forced. If you see them at the bar, join them for a drink! Or hop in the pool with them for a bit. Just try not to take away from their vacation by too many planned events.
Related: Fun Excursions in Cancun and Riviera Maya
Not having a backup plan
I hate to be the bearer of bad news, but the weather is never a guarantee. You can analyze the weather patterns all day long until the cows come home, but ultimately it's Mother Nature who determines your wedding day.
That being said, the weather is one thing you cannot control, so there is no point in stressing over it. It will be what it is. But you can prepare a backup plan for your ceremony and reception!
I didn't know what our backup plan was until I physically arrived at the resort and I nearly had a meltdown. It was nothing what I had envisioned.
Fortunately we didn't need it, but this drives the point home that you need to be prepared. Ask your wedding coordinator what the backup options are, and ask for photos to help you envision the space. Some brides have been completely thrilled by the way their weddings turned out with bad weather and they said it was better than their original plan, so you never know!
The best piece of advice is to be flexible and go with the flow. And hey, rain is good luck, right?
Related: Fun Affordable Destination Wedding Favours for All Budgets
Assuming you'll save money
I don't know about you, but one of the main reasons I wanted a destination wedding was because I wanted a smaller wedding.
You would think this means saving a ton of money. However, a smaller wedding doesn't necessarily mean your wedding will cost less, once you factor in travel and everything else!
Now don't get me wrong, you can easily have a destination wedding for next to nothing, especially if you pick a place that offers a free wedding package.
Destination weddings at all-inclusive resorts doesn't mean it's all included (contrary to what some may think, especially your guests!). Your meals are extra. The bar is extra. Everything is extra.
A destination wedding can certainly cost the same, if not more, than a wedding at home. Between flights, accommodations, transfers, your wedding package, meals, vendors (and vendor fees), flowers and decor, plus taxes and fees…yeah. It can add up! There are a lot of hidden fees, so just be prepared when you're planning!
My wedding still cost $10K inclusive of everything and it was baaaaasic.
That being said, destination weddings are just amazing. Who doesn't want to travel, get married in a tropical location and have their honeymoon all at the same time?
Related: The Ultimate Guide to Tipping at Destination Weddings (Plus Printable)
Not drinking enough (water)!
Write this down as a note to self: drink water.
I've seen it happen. I've had it happen to me. You arrive at your resort, start having fun with your guests, drink a little too much and eat all. the. food. And then your wedding day comes and you're a bit puffy. Maybe you're even struggling to put your dress on. Trust me, it happens.
It's your wedding celebration, of course you're supposed to be enjoying yourself! Just be sure to drink lots of water throughout the day to flush your system of the added sugars and salt.
It's also very important to remember to drink water on your wedding day. The day is chaotic, there's a lot going on, and you'll be very busy. But it's also very easy to become dehydrated, so to prevent you from getting nauseous, getting a headache (champagne on an empty stomach won't end well!), or feeling a bit woozy at your ceremony in the heat, keep a bottle of water nearby to sip during the day.
It's a good idea to bring some single packs of electrolyte powder to add to your water.
To be honest, I think I only peed once that day and it was 10 pm at night. Don't be afraid of drinking fluids and having to use the bathroom while you're in your wedding dress. Enlist the help of bridesmaids to hold your dress (just a part of their regular duties!) 😂
Be sure to eat, too! Start your day with a nourishing breakfast to carry you throughout the day. Depending on which resort you are at, you can also have room service delivered to your room if that's where you're all getting ready, or send a few bridesmaids down to the buffet to bring up some plates of food to nibble on. You'll need your strength!
Related: What to Pack for an All-Inclusive Vacation (Plus Free Printable!)
Thinking there is a right way to plan a destination wedding
I get it. Planning a destination wedding is scary. There are no set "rules" when it comes to planning them. But this also works in your favour!
You have carte blanche to plan your destination wedding how you want.
Don't want to have the traditional first dance? Don't want to give favours? Want to walk down your beach aisle in barefoot sandals? Want to have your wedding reception on a yacht? Go for it.
Will some of your guests question your choices? Yep. Good thing it's not their wedding!
You can literally do anything you want. I didn't have a traditional wedding reception. We ate in one of the restaurants overlooking the ocean and it was perfect. We had no dancing, no flower toss, and no first dance. Is it a bit unconventional? Probably. But no one could tell us otherwise and we had no set list to follow. And it was freeing.
Concentrate on making your wedding memorable and don't get caught up on the fine details. Your wedding is already going to be memorable because it's a destination wedding and your guests get to travel to an amazing location.
Related: The Best Adults-Only Resorts in Mexico (Perfect for Honeymoons!)
Looking for packing lists?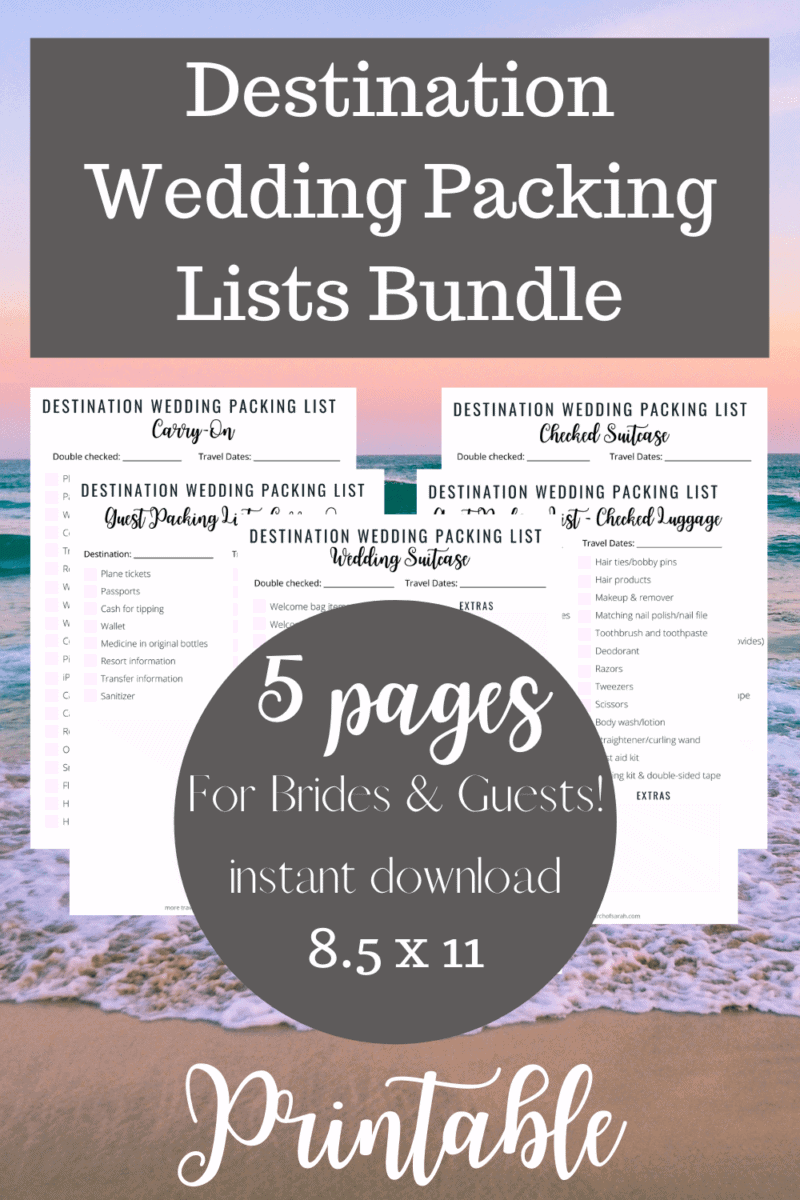 Related Posts
Pin it for later!