A day trip to Lewes offers the perfect escape from London, whether for a day or a weekend. This charming village in East Sussex is easily accessible, affordable, and brimming with history, activities, and delicious cuisine.
What better way to experience Lewes than visiting Lewes Castle on a day trip from London?
Discover things to do at Lewes Castle, how to get there, explore its history, and nearby locations in Lewes you could visit on a day trip from London!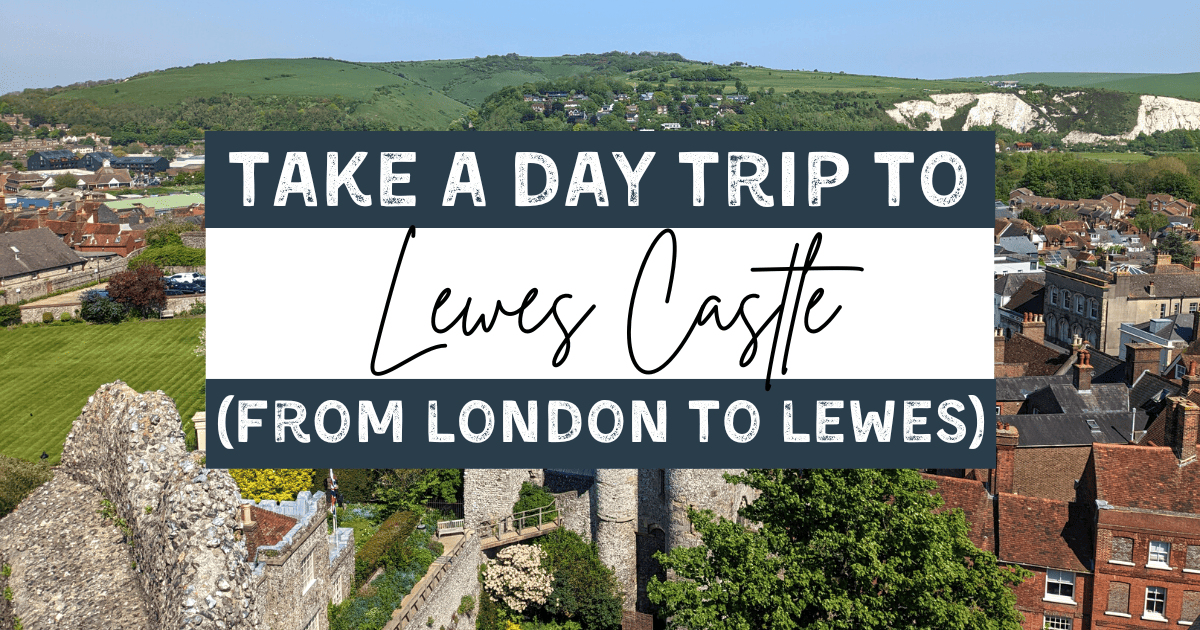 This post contains affiliate links which means I earn compensation when you click on the links at absolutely no extra cost to you! Feel free to read my disclosure policy. Thank you for supporting my blog!
Plan your next vacation using these tools!

✈️ Book flights: SkyScanner
🏨 Book hotels: Booking.com
🚘Book car rentals: RentalCars.com
🎫Book tours: GetYourGuide
🌍Favourite travel item: Packing cubes
🧳Favourite travel bag: Osprey 40L Fairview
🩹 DIY Travel Medical Kit
💸 20 Cheap Travel Items Under $20
Why Should You Visit Lewes?
Lewes is an extraordinary historical town with a fascinating mix of events that have unfolded within its borders. The abundance of stories could easily fill a three-season Netflix series!
Let's start with the famous Battle of Lewes. It took place on 14th May 1264. Henry III (from Lewes castle) lost the battle against Simon de Montfort who is now regarded as the "uncrowned King of England".
Next we have the Marian Persecutions. Between 1555 and 1557, 17 protestant martyrs were executed under Mary I. This is one of the reasons why every year they celebrate Lewes Bonfire on the 4th or 5th of November.
If these events weren't enough to get your attention, consider the Lewes avalanche of 27th December 1836. A colossal accumulation of snow unleashed the most significant avalanche in England, tragically claiming the lives of eight individuals among the fifteen who were buried beneath the snowfall.
Beyond its rich history, Lewes is a delightful town with independent shops, cozy cafes, and, of course, incredible attractions like Lewes Castle.
Also read: Thinking of working remotely? Here's all you need to know about Digital Nomads.
Getting to Lewes from London
Getting from London to Lewes couldn't be easier. Catch a direct train from London Victoria station and you'll be soaking up the Lewes station which takes about 1 hour and costs around £12 return ($14.54).
If you're driving, it's a straightforward journey along the M23 and A27 – just follow your GPS and you'll be there before you know it!
Not sure where to park? Keep reading…
Parking Tips for Your Visit
Finding parking can sometimes be a challenge when visiting popular destinations like Lewes Castle. Here are some tips to ensure a smooth arrival:
Street Parking: This is the most convenient way to park in Lewes. Keep in mind that spaces may be limited during peak hours, so it's best to arrive early! Street parking is very easy, all you need to do is use the RingGo app. This app is widely used in the UK and allows you to pay for your parking through your phone. Find out more about street parking in Lewes and parking charges.
Lewes Railway Station Car Park: If you didn't have any luck with street parking, consider parking at Lewes Railway Station Car Park. It offers convenient access to both the castle and other attractions in town.
Friars Walk Car Park: Located near central Lewes, Friars Walk Car Park is another option worth considering. From here, it's just a short walk to reach your desired destinations.
Remember to always follow local parking regulations and display a valid ticket or permit when required. With these tips in mind, you can focus on enjoying your day trip without the worry of where to park.
Related: Top 10 Free Apps to Download for Travel
Discovering Lewes Castle
As soon as you reach Lewes, head to the Lewes Castle & Museum.
The price to enter the castle and museum is £10 ($12.10), considering what you get out of it it's a bargain! Not only would you get an incredible experience from the castle but the museum is very interactive, informative and meticulously maintained.
Once you get inside the Castle, you can walk around its walls and visit the towers which are beautiful! The outside of the castle is surrounded by really well-kept plants and informative signs about the history and curiosity of what's in front of you.
A few tips for your visit to Lewes Castle…
For a breathtaking view, make your way up to The Tower. As you ascend its winding staircase, each step brings you closer to sweeping views that stretch across Lewes and beyond. On clear days, you may even catch glimpses of the English Channel in the distance! Right at the top of the tower, you will find different informative signs indicating the names of the surrounding areas and their distances from Lewes.
Carve out some time for yourself at the castle. At the bottom of the tower (right by the entrance) there are a few wooden chairs available to move around. You can get one and place it by the windows and admire the incredible view over the countryside.
Towards the end of your visit, there is an additional area within the castle that you can explore. This is the fun/play area where you can dress up using clothes and replica props used at the time of the castle. This space is designed for adults and children, and it's a great way to learn more about the castle in an interactive way.
Other Cultural Spots To Visit In Lewes
While Lewes Castle is undoubtedly a highlight of any visit to this vibrant town, there is so much more to explore beyond its ancient walls. Immerse yourself in Lewes' rich culture with these must-visit attractions:
Anne of Cleves House
Step into Tudor history at Anne of Cleves House, a beautifully preserved 15th-century timber-framed building. Explore the rooms furnished in period style and discover the fascinating stories behind this former residence of King Henry VIII's fourth wife. Don't forget to stroll through the picturesque gardens, which provide a lovely escape from the hustle and bustle of London.
Lewes Priory
Uncover the remnants of Lewes Priory, once one of the largest monastic sites in England. Wander through the picturesque ruins, where you can still envision the grandeur that once existed within these sacred walls. Take a moment to breathe in the serene atmosphere and appreciate the history that surrounds you.
The Grange Gardens
For a peaceful retreat amidst natural beauty, head to The Grange Gardens. These picturesque gardens offer a tranquil oasis away from the town's lively streets. Take a nice walk along the meandering paths, inhale the delightful scents of the flowers, and discover peace in this serene location.
Harveys Brewery
No visit to Lewes would be complete without experiencing its brewing heritage at Harveys Brewery. Take a guided tour of this family-run brewery, where traditional methods have been passed down through generations. Learn about the brewing process and sample some of their acclaimed ales while soaking in the charming atmosphere of this historic building.
👉 Book a half day Beer Tour of Lewes!
Where to Eat in Lewes
Feeling peckish after your journey? Lewes has a wide range of delicious dining options that cater to all tastes. Plan your visit to Café du Jardin. This cafe is super relaxing, the garden has lovely antique types of furniture and a break here is all you need after walking for hours around the castle.
For those after a traditional British pub experience, you can't beat The Snowdrop Inn – their fish and chips are legendary. The interiors of the pub are very cozy, decorated with wooden furniture and plants. And if you're lucky, you might even catch a live music performance while enjoying your meal.
And remember, no trip to Lewes is complete without a sweet treat from Flint Owl Bakery – their pastries are simply to die for! They also have amazing vegan orange and dark chocolate cookies that will leave you craving the recipe. It's a great idea to stop by on your way back from the trip and grab some sourdough bread. It's not only delicious but also more affordable than sourdough in London!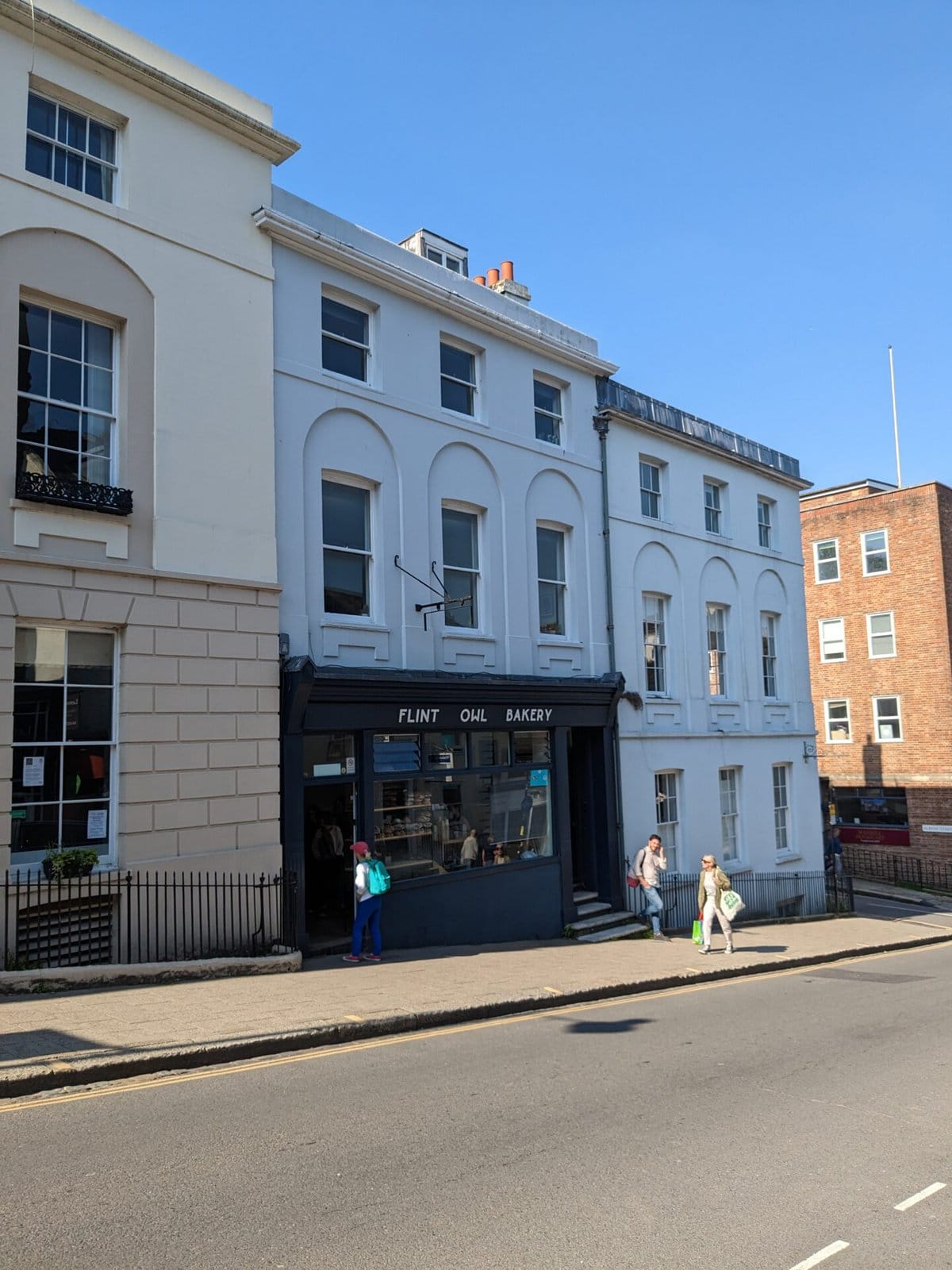 Related: Have food allergies? Check out some top tips on how to travel with allergies.
Places to visit around Lewes
Once you've soaked up all that Lewes has to offer, there are quite a few options of fantastic locations nearby that you can explore if you have your car.
A short drive east and you'll find yourself in the picturesque town of Eastbourne, home to the stunning Beachy Head and the highest chalk sea cliffs in Great Britain – the views there are something else!
Fancy a breath of fresh sea air? Head south to the vibrant city of Brighton. With its iconic pier, eclectic boutiques, and buzzing food scene, it's the perfect place to embrace the quintessential British seaside experience.
If you love history, a drive west will take you to the historic town of Arundel. Dominated by the medieval Arundel Castle, it's a place that's chock-full of history and charm. Arundel Castle is just one of many incredible castles to visit in England.
Also, another option just north of Lewes is the Ashdown Forest, which was the inspiration for the Hundred Acre Wood in A. A. Milne's Winnie the Pooh books. It's a beautiful place for a lovely stroll!
Also, remember to check out the charming town of Rye, even though it's a bit of a drive from Lewes. Known for its cobbled lanes and timbered houses, it's like taking a step back in time. The journey may take a bit longer, but it's definitely worth it!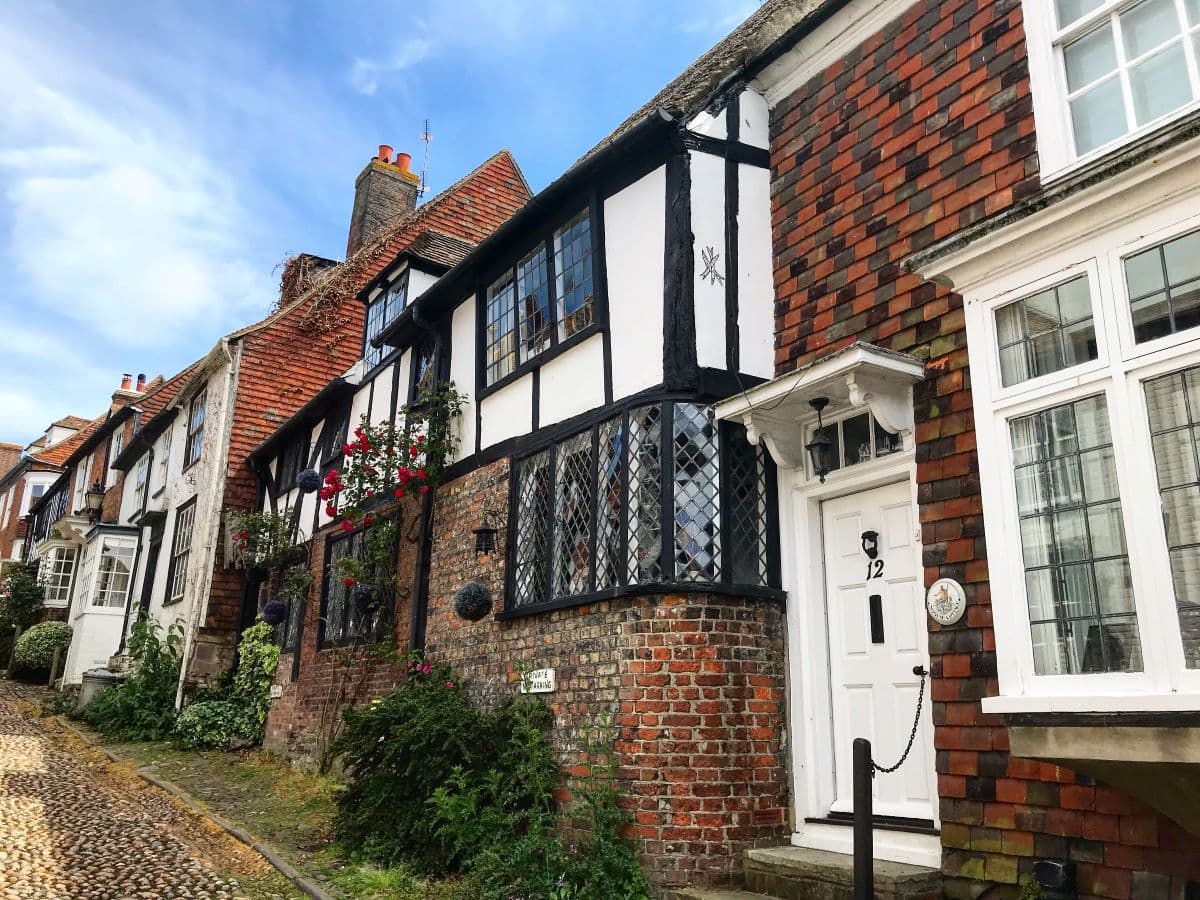 Take a day trip from London to Lewes Castle!
Hopefully this blog post about taking a day trip from London to Lewes Castle provided you with enough information about Lewes! It's a fantastic destination to spend a day or weekend throughout the year, offering a wide range of indoor and outdoor activities.
Lewes is a fantastic destination for families, offering a wide range of kid-friendly activities such as visiting the Castle, exploring family-friendly restaurants, and enjoying various attractions suitable for all ages.
This charming town has something to offer for everyone!
About the Author
Meet Silvia, a globe-trotter whose heart beats for Bali. Splitting her time between bustling London and serene Bali, Silvia has crafted a life as diverse as it is fulfilling. Her love affair with Bali began in 2020, igniting a passion to uncover and share the island's hidden gems. Silvia, through her blog The Good Observer, serves as your digital guide to Bali, equipping you with insider tips and secrets for an unforgettable solo journey.
Related Posts
Pin it for later!